Cataclysmic! Al Milgrom does breakdowns and Jim Mooney finishes as Spider-Man sweeps Black Cat up in a big embrace.

At this point, it suddenly dawns on Spidey that she's been alive the whole time and never came back to let him know, even as he's mourned her death. He demands an explanation, and she tries to leave as soon as he does, but he insists. She says there was no way she could let him know she was alive. Before she can tell him about her miraculous survival, Spidey flashes back to ASM 227 to let everyone know how we got here. Then…

Uh… ok…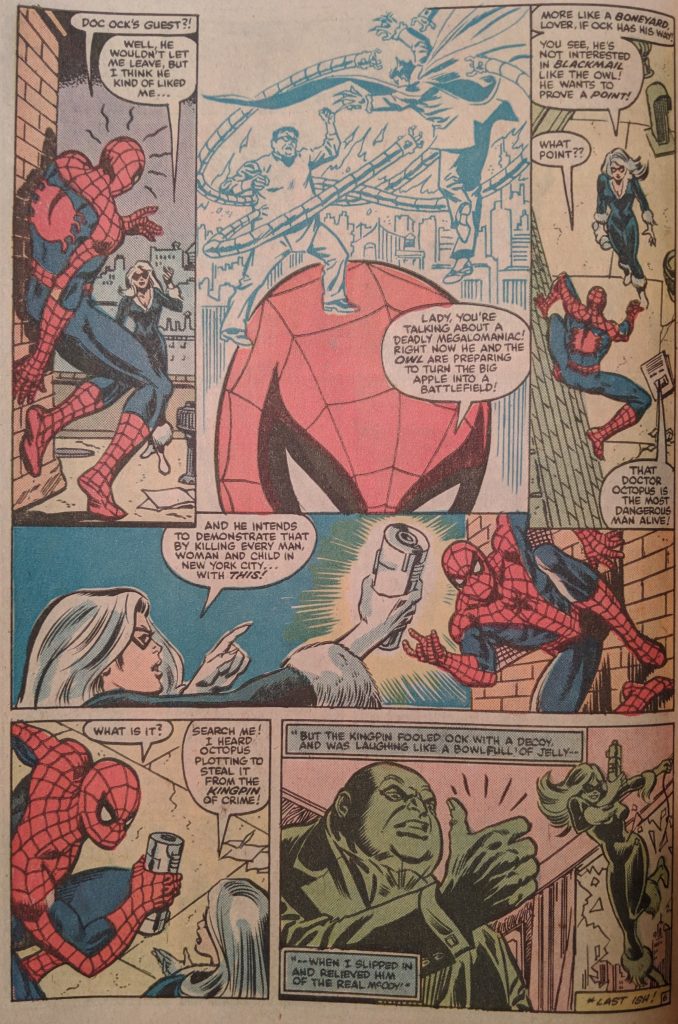 …Ok…?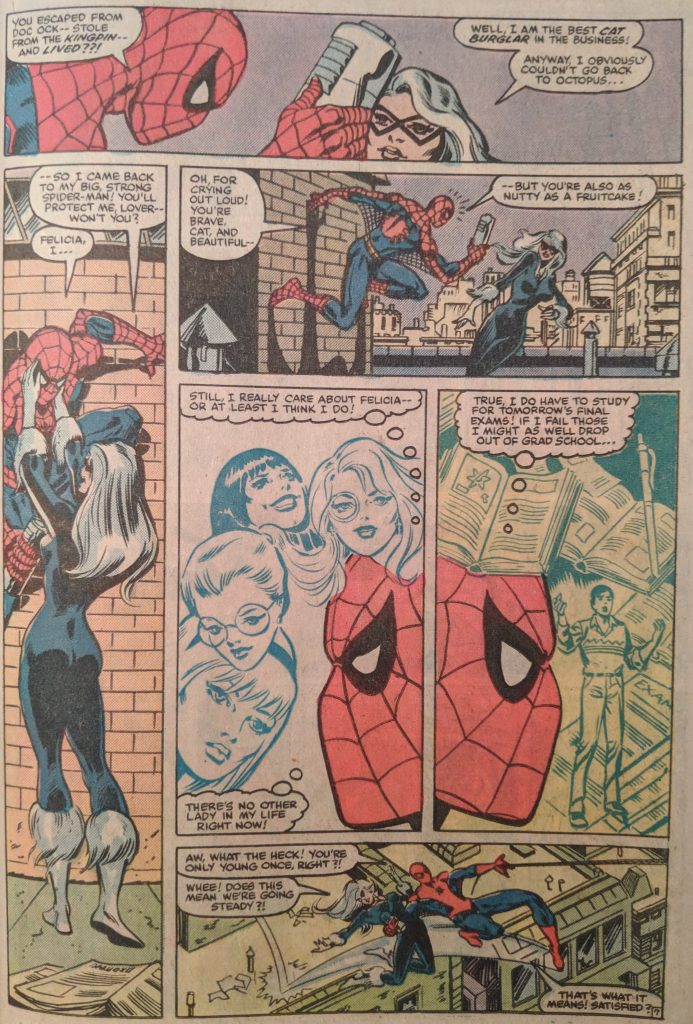 Ok. And so the most dysfunctional couple in comics is official. That sure was decided quickly. Spidey swings Felicia to the fancy hotel she lives in, borderline panicking as she casually talks about being a felon and says they should hang out here instead of doing anything about Ock & Owl's gang war as she goes to "slip into something more comfortable." But as Spidey waits for her to come back, his Spider-Sense goes off.

"The activator" for her life. Spidey goes with C) None of the above and dives into battle.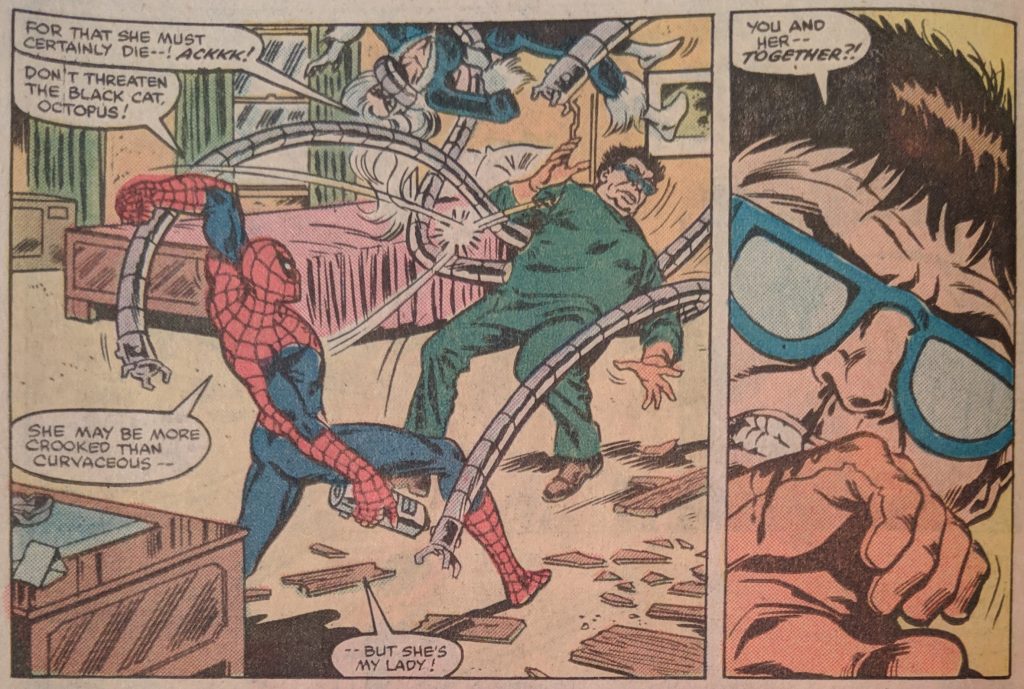 Aw, she broke his crazy heart. He just drops her then, deciding he'd rather kill Spidey in front of her, but she's so amped about his "declaration of love" there that she leaps onto Ock. She lasts a couple of seconds before he throws her almost right out the window, Spidey catching her at the last moment. But things go south quickly, and soon Ock has both the activator and Black Cat in his tentacles, and escapes in a helicopter. Spidey is not happy.

Son of a salamander, y'all! Spider-Man takes out Kingpin's guards with a silent ferocity and then demands to know what's going on in the underworld.

Kingpin says he's already in the process of moving his operations out of the city, but Spidey can find Owl and probably also Ock at The Owl's Aerie, which everyone just seems to know about like it's no big deal. Spidey swings off to try to save New York as Kingpin bemoans his crappy security. With Kingpin and The Owl involved, you'd think this story might pull in Daredevil, but I guess not. The month this came out, Frank Miller's last issue of DD was also published, so we're well into the era of him & Kingpin having a blood feud. At any rate, Doc Ock's submarine surfaces outside Owl's Aerie, and his army of goons attacks the place. Ock still has Felicia and the activator in his hand as he leads the attack.

How do you convince THAT many guys to goon for you? What's in it for them? Does Doc Ock provide dental? What do they do when he's missing, presumed dead, or in prison, as he so often is? Spider-Man shows up and gets wrapped up with the goons in spite of not really caring about them, as Ock & Owl begin fighting each other for the fate of their nuke. It's getting pretty violent as Ock knocks out Felicia so he can set her down. Then, realizing the darkness gives Owl an advantage, he drops the activator to lure Owl into the open.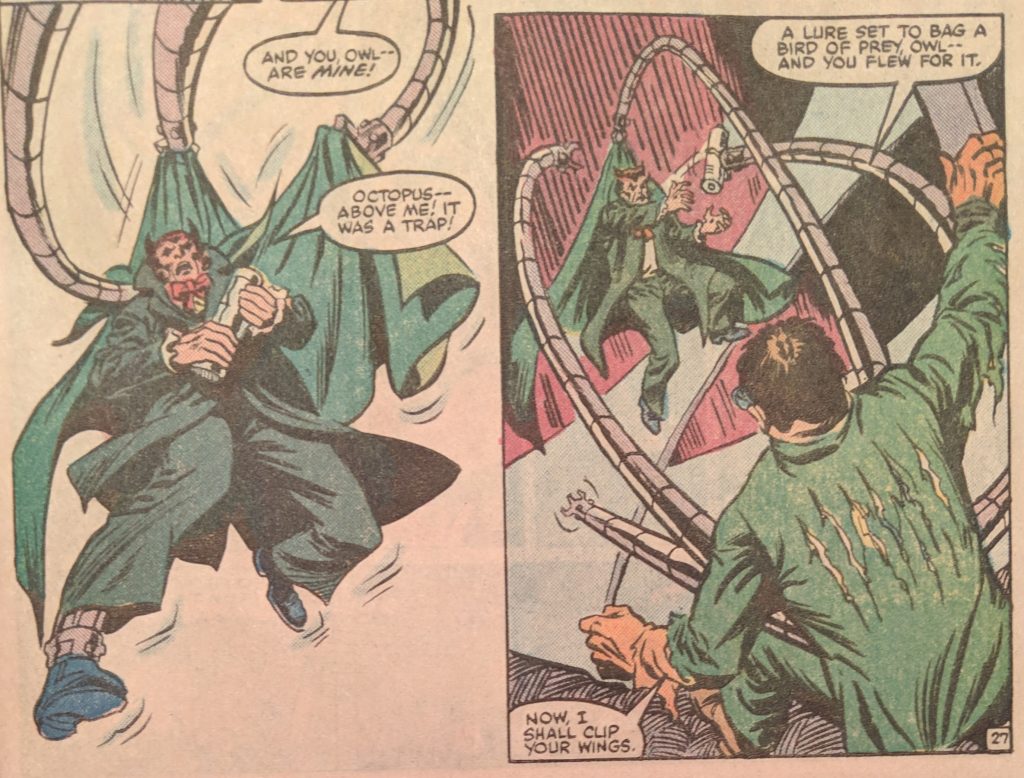 Spider-Man kicks into high gear beating up the endless swarm of goons and finally gets enough space to go after the real villains. He finds a badly broken but still alive Owl on the ground and assumes his gang will come help him, rushing on to find Ock & Black Cat. But when he finds them, Felicia has woken up and managed to steal the activator from his arch foe.
Ock just reaches up and rips the thing she's standing on out from under her, grabbing back the activator and her in the process, and talking about his plan to warn New York that their doom is coming so they'll know how cool and smart he is before they die when Spider-Man dives down from above.

Ock's trying to choke Spidey to death, but Felicia somehow peels some of the claws away from his throat (How could she possibly do this?). This infuriates him so much he starts smashing her against a wall, and that momentarily breaks his focus on Spider-Man.

Pretty brutal. With Ock down, Spidey rushes to Felicia, who's pretty badly beaten. She's amazed he beat Doc Ock so thoroughly, but he just suggests they enjoy a few quiet moments as the issue comes to a close. Shouldn't he, like, take her to a hospital? That was a pretty definitive beat down for Doc Ock. I don't think Spidey's ever gotten over on him like that up 'til now. This issue's big crazy goon fight evoked the Hammerhead/Doc Ock madness of the old days. That was fun. But we still have to deal with poor Felicia being bashed to bits, so come back next time for more Spectacular.