If half of this cover leaves you wanting to see more of John Romita, Jr. drawing Hulk Vs. Spider-Man action, well, let's hope I get to ASM Vol. 2 some day. Of course, if you're familiar with the issue I'm talking about, maybe you aren't eager to revisit it. But, as usual, I'm getting ahead of myself. So, it's a bit of a switcheroo here as the Power Man/Hellstrom feature is the main story. DeMatteis YET AGAIN spins a MTU story out of his run on Defenders. Outside our purview, though, so we move on to the 2nd bit of weirdness in a single issue: The Spidey/Hulk story…

(Hulk became smart in 272) Marvel did this remarkably often in the 80s, little special comics for certain papers. Some really specific, like comics for The Kansas City Star or The Denver Post. Others more widely circulated. After scrounging around online, I believe this is the story from Spider-Man & The Hulk: Special Edition, distributed in The Chicago Tribune in 1980. I've seen that book online, but never thought to get it. I assumed this kind of thing would be superfluous and probably more than a little silly. Also weird is the very manga style art of Tomoyuki Takenaka, in what appears to be his only Marvel work and maybe his only comics work, period. I wonder how Shooter found this guy, and why he never did anything else? As The Hulk rampages in typical Hulk fashion, a very Speed Racer-looking Peter Parker is on the scene.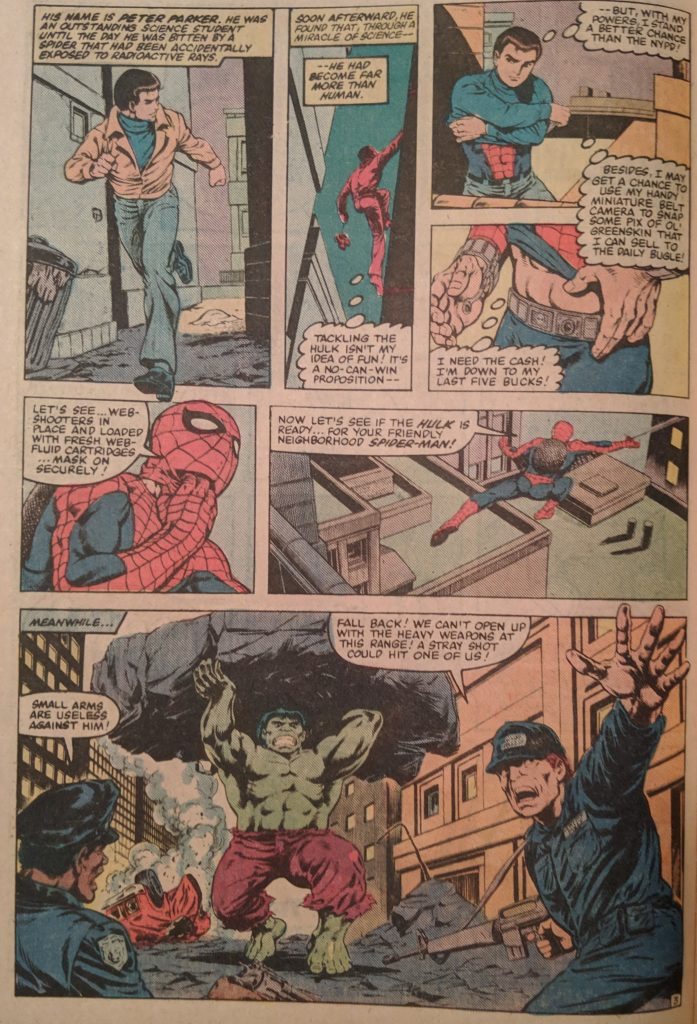 This is about what I expected from one of these newspaper comics, story-wise. Spidey continues to explain his powers and status quo as he engages The Hulk. I'm starting to get sad Takenanka didn't do anything else, too, because his Spidey looks really cool.

Spidey lures The Hulk away from the crowd and into your typical abandoned warehouse, then vanishes on him. With nothing to rage at, Hulk turns back into Bruce Banner, as Spidey assumed he would. So he changes back to Peter Parker before going back in there.

Nice going, Peter! We're told it's months later on the next page, and Bruce Banner has put a life together for himself in Chicago, but when he witnesses a mugging and tries to get some help, well, the muggers soon press him to become the other guy.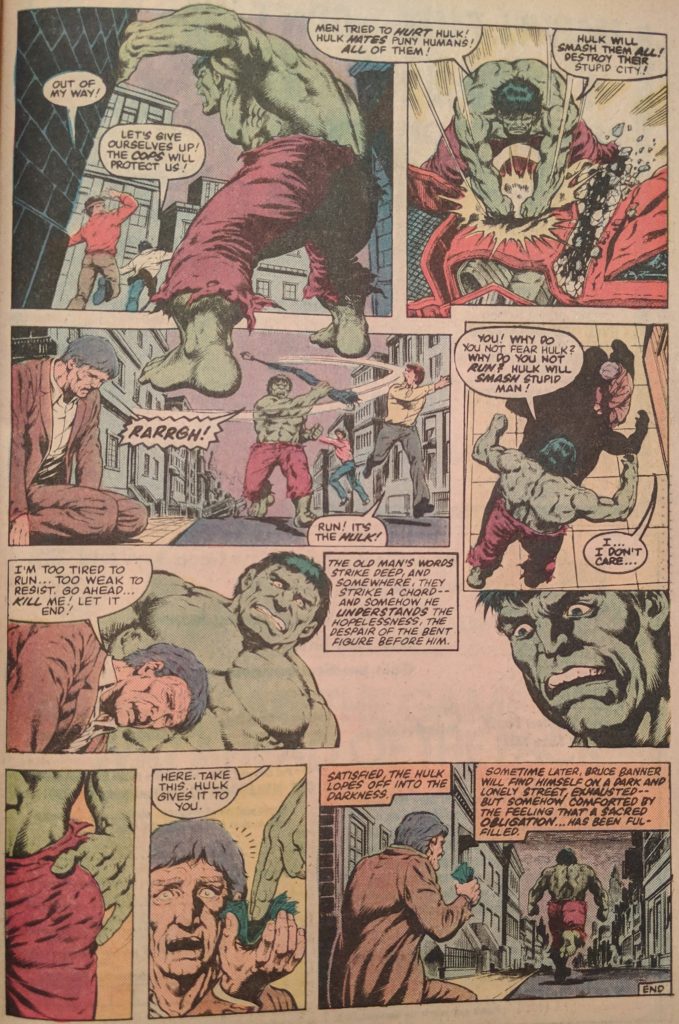 "Hulk give Hulk's last five dollars! Hulk hear you have to repay kindness when you get back on feet!" All this and a lesson learned. The manga-y art is so unusual for its time. What an interesting little story.