This may be a good place to mention, if I haven't yet, that the month on the cover isn't what it might seem. The cover date is actually the month newsstands were supposed to remove a book from the rack. I don't know exactly, but I think comics actually came out six months before the cover date. Hence what would appear to be a Christmas issue in March upon first glance. At any rate, it's a Christmas issue, and Kerry Gammill is back to pencil it. I usually don't show the splash because it's not full of crucial story, but I just like this Spider-Man, so here it is:

Just a cool Spider-Man. Spidey's on his way to Aunt May's for a Christmas party. He arrives, changes clothes, and unpacks a big pile of gifts from his web pack for Aunt May and her many tenants and heads on in.

Adorable. Comics can be really efficient. Look how well they've introduced all Aunt May's boarders, established the mood and filled the scene with business in just 4 panels. From there, we jump ahead awhile, everyone still having a good time… except Arthur, who's sad. Peter goes over to ask him what's wrong. He asked his granddaughter to be here, who he hasn't seen much over the years because her parents died in a plane crash, and he's pretty sure she's not coming. He shows Peter her photo as he tells him all this. Pete tries to cheer him up, and to get him back in the spirit by asking him to read one of his poems, but then his Spider Sense goes nuts. He makes an excuse about them being out of ice cream and runs out of the house, only to be magically put into his Spidey suit by a big, mysterious guy he doesn't know.

I didn't realize Spider-Man made it into the 80s without meeting The Watcher. That's surprising. The Watcher is, of course, a bit of prime Kirby/Lee cosmic craziness, an alien who lives on the moon, from a race of big bald guys sworn to observe everything that happens in the universe, but never to interfere. He is often in the process of interfering as he tells people this, and here he is, getting involved. Uatu the Watcher's heart is too big for his job. Spidey has no idea what to do, but decides he has to go try to find Bette Chekov somehow. Meanwhile, on the moon, The Watcher says few things he's observed have ever meant more to him than what happens tonight. The Watcher's deal has always been a little vague, but him seeming to know what's gonna happen BEFORE it happens feels off. He usually just appears in times of great significance to observe (Or interfere).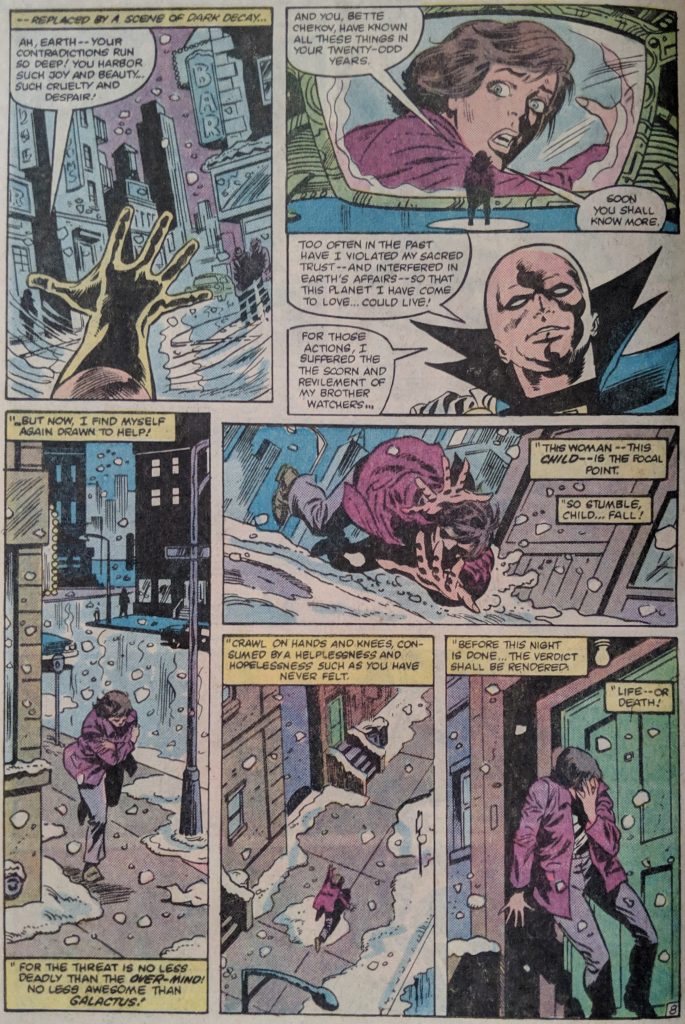 It's looking pretty real out there. Meanwhile, Spider-Man is swinging around Brooklyn, because he remembers Arthur once mentioning his granddaughter lived here (This seems unlikely, but ok). He has no idea where, though, so he calls information, and there's some Komedy Business about the operator not hearing the name right before he's on his way to Brooklyn Heights, and when he gets to her building, a dead woman is being brought out on a stretcher. Some tense moments between Spidey and the cops reveal the dead woman to be Bette's rooommate, which sends Spidey off with even more urgency trying to find her.

Well, that's random. And DeMatteis & Gammill seem to be playing fast & loose with the Spider Sense rules. After hearing Spidey's story, Cap tells him he can't give up, and if he needs help, he's got it, but Spidey thinks he's helped enough just giving the pep talk and takes off again. The Watcher is happy with his progress, and once again interferes, showing Spidey a vision of a seedy bar he knows in Manhattan through the jewel he gave him earlier. So he heads on down there and does what superheroes do in places like this.

It's Spidey's favorite informant, Joe Face, who, as we've seen, DeMatteis would later kill in the opening moments of Kraven's Last Hunt. This is apparently his first appearance. But he doesn't know anything, and Spidey leaves confused and frustrated, not suspecting that in the room above the bar, Bette Chekov is talking to a guy called Buck about some stolen cocaine.

Of course, Spidey heard the commotion and comes in through the window, taking out this "Buck Todd" (These names…), but Bette runs away while he's busy. Unfortunately for her, because a carfull of goons is outside waiting for her, and they chase her into a dead end alleyway. But come on, y'all, it's Christmas, even JM DeMatteis isn't gonna let anything worse happen to this girl on Christmas. Right? Riiiight?
Good grief.

Well, what a holly jolly Christmas. JM DeMatteis, man. What is his problem? "You know what these stories about colorful characters going on adventures are missing? Endless depression, that's what." Meanwhile, in space…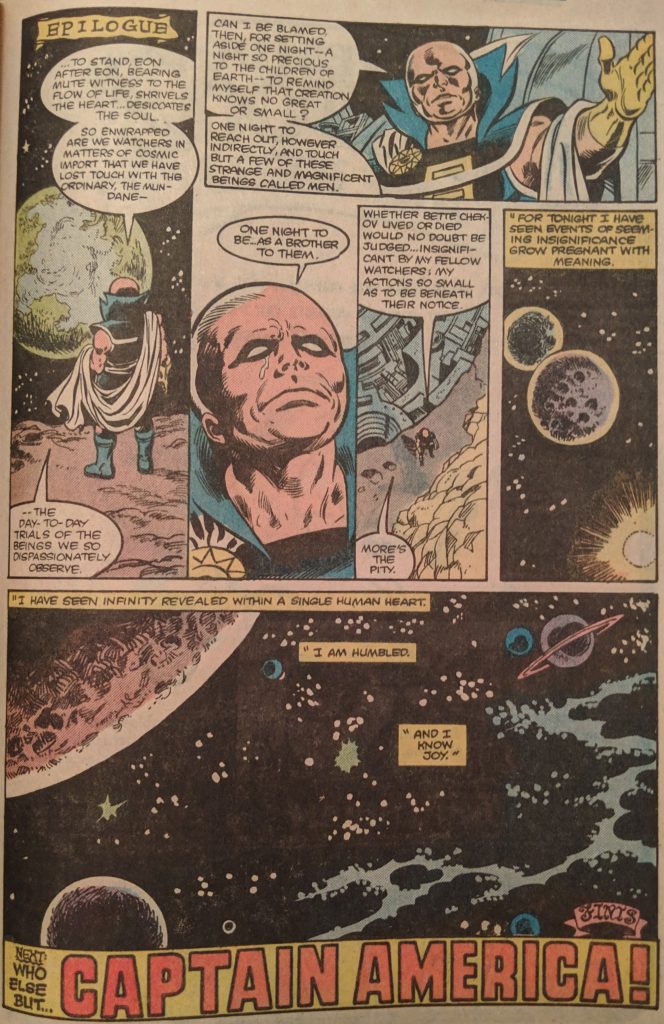 I wouldn't be patting myself on the back too hard since you coulda just told Spidey where she was before she wound up in a place where she could get shot, Uatu. Ugh. This one started out so nice, too. Fool I was to trust this writer not to try to bum me to with a Christmas story.

Come back next time to finally get into this super long TAC story I've been dancing around.