A double feature! Mike Esposito does finishes over Kerry Gamill's breakdowns this month. Tigra's back and still completely disinterested in the concept of clothes. She's leaping around the city, thinking she's late for something or other, when she sees a cop being surrounded by a bunch of good old fashioned hooligans drinking in the street and thinks she better intervene as one of them escalates things.

Why does her bikini top attach to her belt? I know this is Marvel New York, but I still kinda think if you were minding your own, just being a drunk kid about to assault a cop, and then a weretiger jumped on you… Man, I dunno, I think you'd be pretty messed up after that experience. Anyway, I guess if that cop likes a furry woman, he's in luck, but for now, she's off to her appointment, which turns out to be at an advertising shoot for "Kwikkee Burger, the truly heroic burger." Uh… ok. But wait, it gets weirder:

But Spidey quits instantly, saying he's had time to think about it, and he's out. He swings off, thinking he could've used the money, but his rep is bad enough. He was happy to see Tigra, again, though, because "she's a full-fledged knock-out!" For her part, Tigra has work to do. Look at this silliness:

Spidey tries to ask her out, but she honors her verbal commitment to that cop and he strikes out. He thinks he was probably just into her allofasudden because she reminds him of that certainly dead, certainly not due back in the books any second now Black Cat. but as he swings off, a giant dude walking down the street triggers his Spidey Sense, so he begins following him. Meanwhile, Tigra's at the police precinct, thinking she's only into this cop because of her long-lost love Bill from before she was furry, but she follows through, and soon they're at a restaurant, Tigra somewhat underdressed. But there's not much time to worry about that, because…

Why, it's the big guy Spidey was following, of course. Zabo is no relation to Calvin Zabo, aka Mr. Hyde. He was the muscle for the bad guy who financed the operation that turned Greer into The Cat back in the day, and she thought he died in a fight back then, but here he is. As they fight and she recaps this, he says that aforementioned bad guy, Mal Donalbain (That's what it says!) sent him for her.

Real slapsticky. As mentioned before, JM DeMatteis has 2 speeds. It sure took a long time for Spidey to show up considering he was meant to be following this guy. As Tigra runs down the street failing to reason with the big guy, the hijinks continue.

Good grief. The fellas argue over whose fault this is, Tigra frees herself, she and Spider-Man keep refusing to work together and making things worse, and the fight continues, as Zabo smashes himself, Spidey & Tigra into a Kwikkee Burger. I mean, obviously. Zabo rants about how that Donalbain guy was the only person who was ever nice to him, Tigra saying he was terrible and to forget about him, neither hero doing much to stop him.

Tigra's guy Carl rushes in backed by a ton of cops just then. Tigra realizes Zabo is just hurt and sad, and tries to get the cops to leave him alone, but while she's distracted, he almost knocks her out. She pleads with Spidey to stop the cops.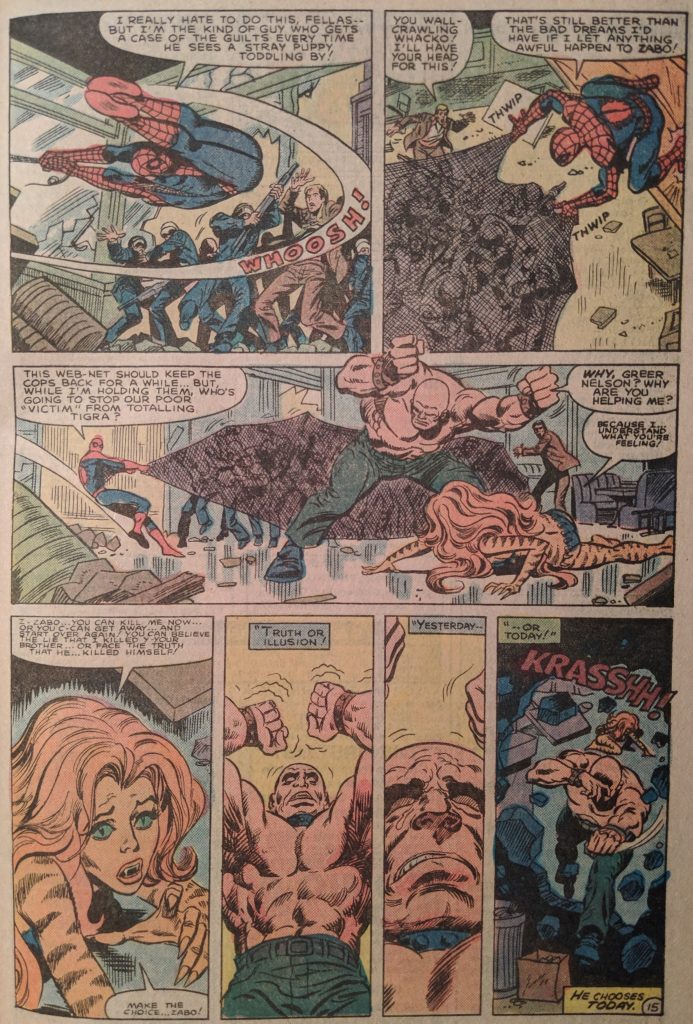 Tigra squares things with Carl, the guy from the top of the issue runs up horrified that Kwikkee Burger's new mascot just wrecked their flagship store, Tigra loses her deal, you know. She also breaks it off with Carl, realizing she can't live in the past, either. Spidey webs the Kwikkee guy's mouth to shut him up and everyone goes their separate ways. What a goofy issue. The rest of it is a very short Dr. Strange/Scarlet Witch team-up, as promised. There's also a brief letter by future Marvel comics writer Fred Van Lente. I love finding that kind of thing in the letters. And that's our show.