Did I pay $6 for this? I can't rightly say. I don't remember the acquisition of most of this set. It's been a long time. We rejoin the insane situation we left at the end of last issue, the mutant Tarantula still holding the probably dead body of James Melvin, and we see his boss, John Gamelin, is watching the whole thing from the video monitor left on last issue. Gamelin begins recording the whole grisly scene, as a furious Spider-Man berates Will O' The Wisp for letting this happen. Wisp feels no guilt, and explains how he used his mind control powers to bring Tarantula here in case he was needed. While both Spidey nd Gamelin think Melvin is dead, Wisp says he's not, and he wants to take him away to torture him some more. He warns Spidey to stay out of it.

Right about then, Tarantula decides to eat Melvin. Wisp's control over him is slipping, and while he deals with his spider-monster, Spider-Man snaps up Melvin and makes a break for it. Wispy subdues Tarantula, thinking about how both of them are victims of Melvin and Brand, and how he will have revenge. As he flies away, Gamelin decides this is way out of control, and contacts someone named D'Angelo about cleaning it up. Elsewhere, Spidey is trying his best to hide Melvin from the Wisp as he searches all over the city, but he knows he's not got much time. Melvin, for his part, thanks Spidey for saving his life and continuing to protect him by… demanding to be let go immediately, of course.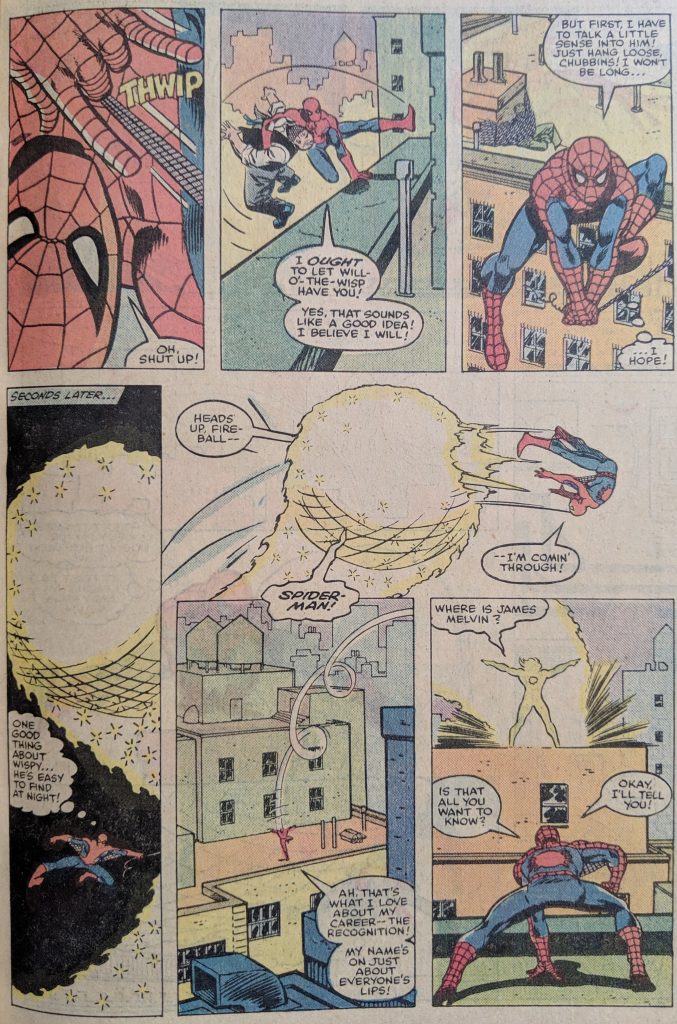 The tail of Spidey's word balloon going through Willy would've been cooler if it hadn't been colored wrong. Spidey tells Wisp he'll have to catch him if he wants to know where Melvin is, and begins leading him all over the city, trying to think of a plan. Meanwhile a TV news crew leaving a fundraiser spots The Tarantula creeping across the rooftops and starts chasing him. Back at the chase, Spidey finds himself at a power plant, and suddenly has an idea, but then The Wisp envelops him in energy and throws him to the ground.

It's a ruse of course, and Spidey manages to punch Wisp in the gut while is defenses are down before throwing him at the power plant. Wisp instinctively phases through the wall, and in the process, right through 3 operating dynamos. This plays havoc with his energy form, and he barely escapes.

He webs up Wisp and begins swinging him back to Melvin, all-but begging him to cooperate with the federal case being built against Brand.

Yeah, Tarantula is almost entirely a giant spider now, and that news crew is getting this whole fight on live TV. All of New York watches them fight for awhile, but the TV station is owned by Roxxon, who cuts the feed. With Spidey distracted by Tarantula, Wisp has a chance to kill Melvin, but Spider-Man has talked him out of it. One problem down, but Spidey's not out of trouble yet, as Tarantula deploys his newly grown webspinners to trap Spider-Man.

Yow. Thus do Stern & Romita, Jr. execute one of the dopey villains of the 70s with extreme prejudice. Look out, Big Wheel, you could be next! Melvin is horrified, and The Wisp uses his power of persuasion to push him to confess his role in everything to the police. He thanks Spider-Man for stopping his quest for revenge.

Down ending! Very 80s. No one can stop Roxxon. Indeed, while they may have changed management over the years, they remain a threat today, playing a big part in Jason Aaron's sprawling Thor epic You just can't keep an evil corporation down. As we've seen, that's it for The Tarantula, but he was eventually replaced by a new guy thanks to his co-creator, Gerry Conway. And there will be another Tarantula before we're done here. Well, sort of.

This issue features a glowing review of Spidey's battle with Cobra & Mr. Hyde by cartoonist Evan Dorkin, who was on the verge of a long comics career that's still going today when he wrote this letter. Always fun to see pros pop up in the letters. Next post, we'll start seeing with MTU and TAC were up to during this 4-parter.