Things sure got weird quickly around here, didn't they? This month, yet another inker jumps on, our old pal Frank Giacoia. We can depend on him to hew pretty close to the original pencils as Spider-Man faces off with Will O' The Wisp and whatever Tarantula has become.

Naturally Ranchy blames Spider-Man for this. It's step one when something goes wrong for most people. He tosses a big chunk of the wall at Spidey, who realizes that his foe is now much more powerful in addition to much more weird looking, and decides to test whether he got a Spider Sense in the deal.

LOVE that Tarantula retained his mustache in the transformation into a hideous spider man. Love it. Lack of Spider Sense confirmed, Spider-Man switches tactics to evasion and surprise attacks, while across the room, Melvin and his underlings attempt to contain Will O' The Wisp… somehow… it doesn't work out. Wisp wakes up and dives into the fight, telling Spidey to get out of the way so he can kill "this foul creation." But you know how Spidey feels about killing, so now he's kind of fighting on two fronts as Willy zips up above Ranchy and punches him in the head.

Typically great physicality there by Romita, Jr. In the time it took Spidey to deal with that, Wisp & Tarantula have smashed all the way out of the building, through 3 more walls, we're told, sending people outside running in a panic. They eventually fall into Jamacia Bay and disappear. Spidey's trying to decide what to do when some Brand goons run up behind him. His Spider Sense alerts him in time to web them up, and Stern very pointedly has him say he's learned not to tell people about his danger sense, because "secret weapons are best kept secret." Right you are, Spidey-and-Roger. A very nice change of pace. Alarms start sounding and Spidey thinks it's time to retreat, grabbing his camera and switching back to Peter so he can be seen leaving with everyone else.

Peter grabs a ride home, thinking it was a waste of life for Wisp and Tarantula to die like that, in much the same way he believes Black Cat did. He gets home, dodges Mrs. Muggins' attempt to get rent money, and gets into his place.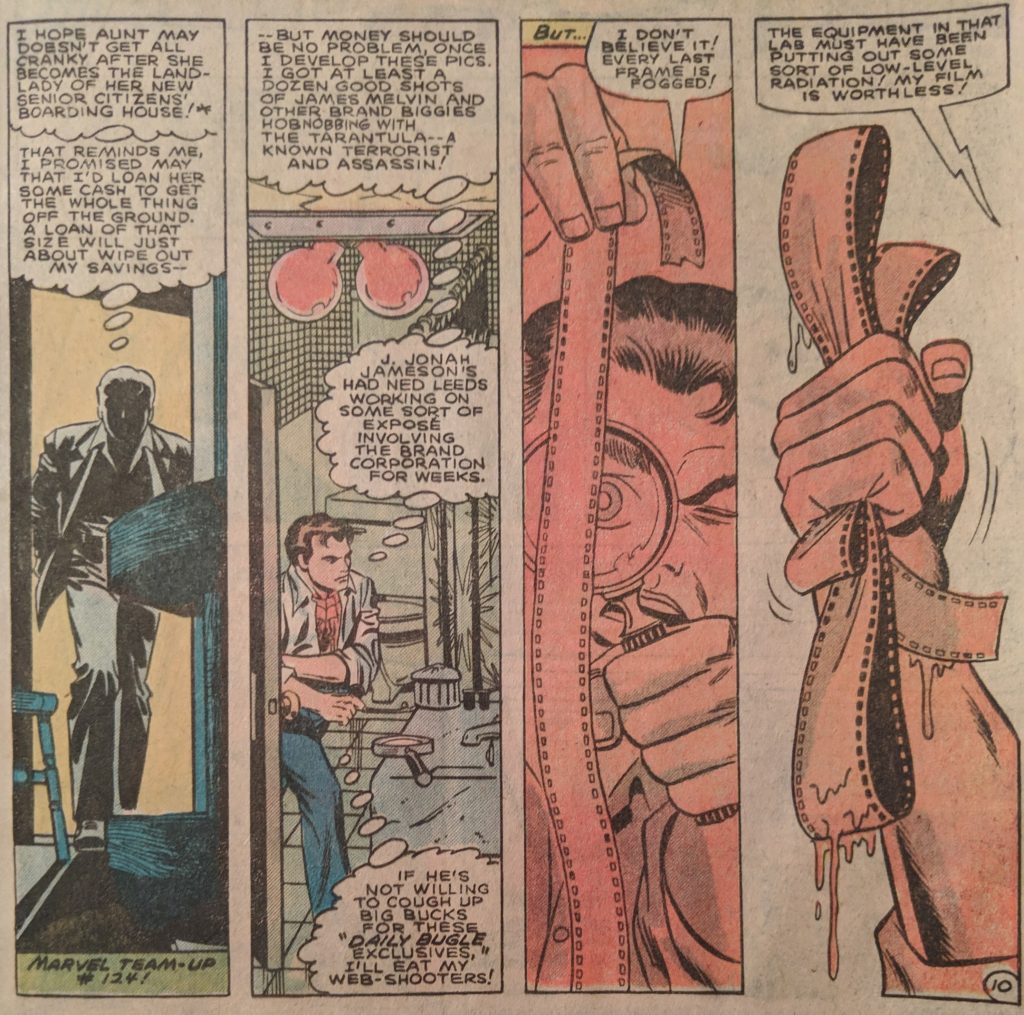 The ol' Parker luck. Later, at The Daily Bugle, JJJ has called a meeting of his Brand investigation team (Curiously, Ben Urich is not invited in spite of his very personal involvement) so they can meet Raymond Royton of the US Department of Justice.

Royton spends most of 2 pages recapping all manner of weird stuff Brand & Roxxon have gotten up to in issues of Avengers, Hawkeye, Iron Man, Deathlok, Marvel Two-In-One, and other titles, which include trying to steal a whole island of Vibranium, trying to sabotage Project Pegasus (Like in the Captain Marvel movie), creating a low budget Iron Man called Sunturion, and so on before getting to their hit on Nose Norton as shown in ASM, mentioning they believe Norton had intercepted some damaging Brand memos. Roger really did his homework for this one!

Yeah, turns out Spidey was outside the whole time, but it wasn't revealed 'til there. In the evening, Spidey breaks into James Melvin's place, hoping to find something incriminating. Melvin is home, and drunk, and heads into his study to get a video call from Roxxon President John Gamelin, last seen in MTU 87 (Which I guess I haven't posted about yet, but, uh, it's coming). Melvin begins telling his boss it was Will O' The Wisp, but that he's been taken care of, which Will O' The Wisp shows up. Whoops! Will O' The Wisp has been appearing in comics since ASM 167, almost 6 years prior to this one, and only now gets a proper origin, as Melvin recognizes him as "Jackson Arvad," which is quite a name. He was head of electromagnetic research, until an accident caused a power surge in their "magno-chamber," shattering it and bathing him in its weird energy.

He wants to kill Melvin, of course, but Spidey's still in the house, so that's not happening.

Spidey and Wisp go a couple rounds as Melvin tries to crawl to safety, but it's not that kinda night.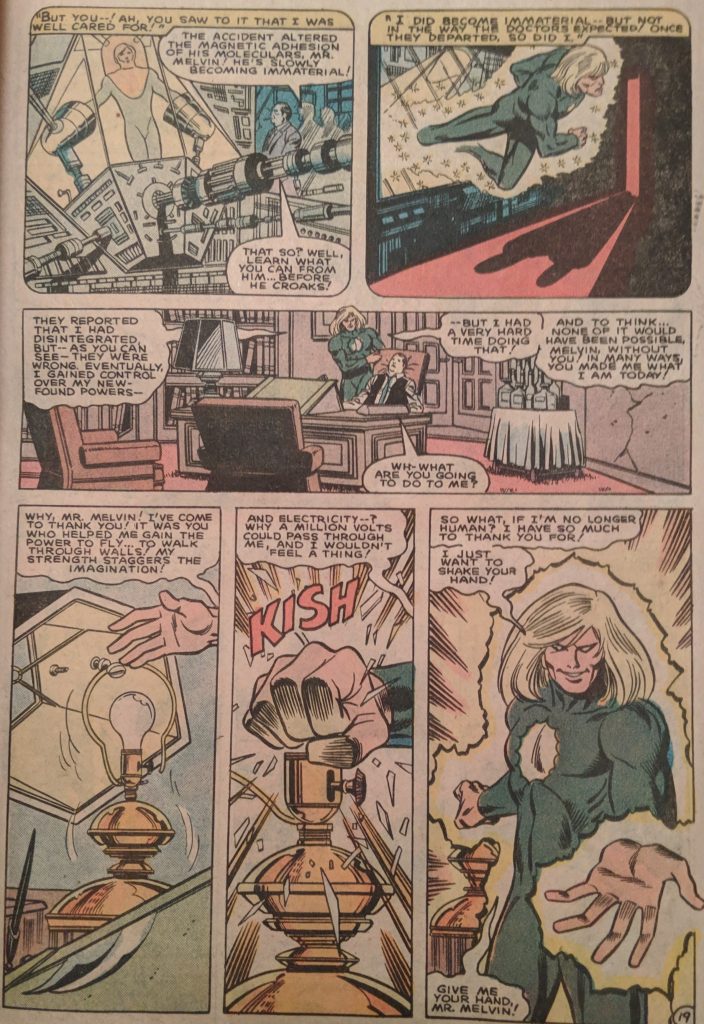 Pretty crazy! Come back next time for more monster-filled excitement.

In the letters, people are gushing about how awesome Stern & Romita's Juggernaut 2-parter was, and talking about how Spidey has been restored to his former glory. I'm far from the only one who thinks this is the best ASM since Stan Lee left, even though I was only 4 when this issue was published.