In this issue, John Romita, Jr. is paired with frequent inker Dan Green, and the difference is striking. Green worked over Romita's pencils on his first full-length job (Iron Man 115), and would continue to work with him on and off into the 1990s, most notably on two separate runs on The X-Men. A textbook workaholic, Romita, Jr. spent most of his career drawing at least two comics a month. He continued to draw Iron Man well into his run on ASM with Denny O'Neil, and will begin his first run on The X-Men before leaving ASM. He's a machine! Due to a guest appearance in a particularly weird story by a certain red & blue superhero, we'll be seeing a little of that X-Men run, but not yet! First we gotta look at this weirdo. Have we seen Will O' The Wisp before? I guess not. But this is far from his first appearance in Spider-Man, as we'll see eventually.

At any rate, it's Twilight at a Brand Corporation facility in Boston, and a mysterious intruder who can walk through walls is quickly revealed to be…

As he does his signature move of turning into a big ball of light and flying away ,Willy warns the guard that he and anyone else in here better leave, because he's gonna level the building. The guard pulls the "EVACU-ALARM" (Odd sign). Deeper in the facility, Willy finds a gas line too close to high voltage terminals, saying he always warned them about things like this, but they never listened, and then the whole place explodes. The guard watch as the energy ball flies away, saying this is only the beginning. Back in New York, Peter Parker & Ben Urich are developing Peter's film, hoping to get evidence that those suits shot first last issue, but Peter doesn't have any.

Betty complains that, these days, if she wasn't Robbie's secretary, she might not see Ned at all. Pete tells her to hang in there, and then runs into Amy Powell, who flirts at him as hard as she can, but he's in a hurry and confused by it and ignores her. This only makes her more determined to catch his eye. For his part, Spider-Man soon pops out of JJJ's private elevator just to harass him a little on his way home. I mean, that's classic Spider-Man 101 right there, and yet it didn't happen too much in the 70s. He wonders why he brushed off Amy earlier as he heads back to his place.

Mr. Pincus! I haven't seen him in awhile. You… maybe haven't seen him at all, at this point. He was one of a few new neighbors Peter got in the Denny O'Neil run. We turn our attention to a badly beaten Tarantula, who thinks half his ribs are cracked after his beating last issue, when some goons show up with a doctor. They offer him the power not just to beat Spider-Man, but to BE Spider-Man. That sounds like trouble! The next day, Spidey snags a Daily Bugle out of the trash after a guy's done with it and learns about Will O' The Wisp's actions last night. He recaps some previous Brand Corporation intrigue that I guess hasn't made the blog yet, so I'll put it here:

When ol' Rog moved to ASM from TAC, he brought a lot of his subplots with him, and this one's obviously boiling to the surface in a big way. Spidey further recaps that Willy said he got his powers at the Brand facility in that TAC story, and assumes it must've been him blowing up the Boston branch. Then he heads to school and finds out Brand is interviewing for interns, and rushes off to look into that, and then it's… The Marvel Guide To Collecting Comics, as advertised on the cover, right in here in the middle of the issue with a cool Walt Simonson cover. I'll get back to that in a minute. Peter heads out to a Brand facility in Queens. He signs in for an interview, and finds his hopes of snooping around dashed by tons of security. But then he spots the aforemented James Melvin.

He ducks into a bathroom to get up into the air ducts, and soon, Spider-Man is sneaking through the facility looking for signs of corruption. He uses his tracer to follow Melvin to what he says is one of the most sophisticated laboratory setups he's ever seen. He starts snapping pics, which seems like a weird choice. How'd you get in there, Peter Parker? But then some other guys bring in The Tarantula, and things get more complicated.

Ranchy sure has abandoned his government quickly. Spidey obviously decides this is a really bad idea and kicks his way into the room. He starts webbing everything up and fighting security, trying to stop this, but right then, Will O' the Wisp shows up.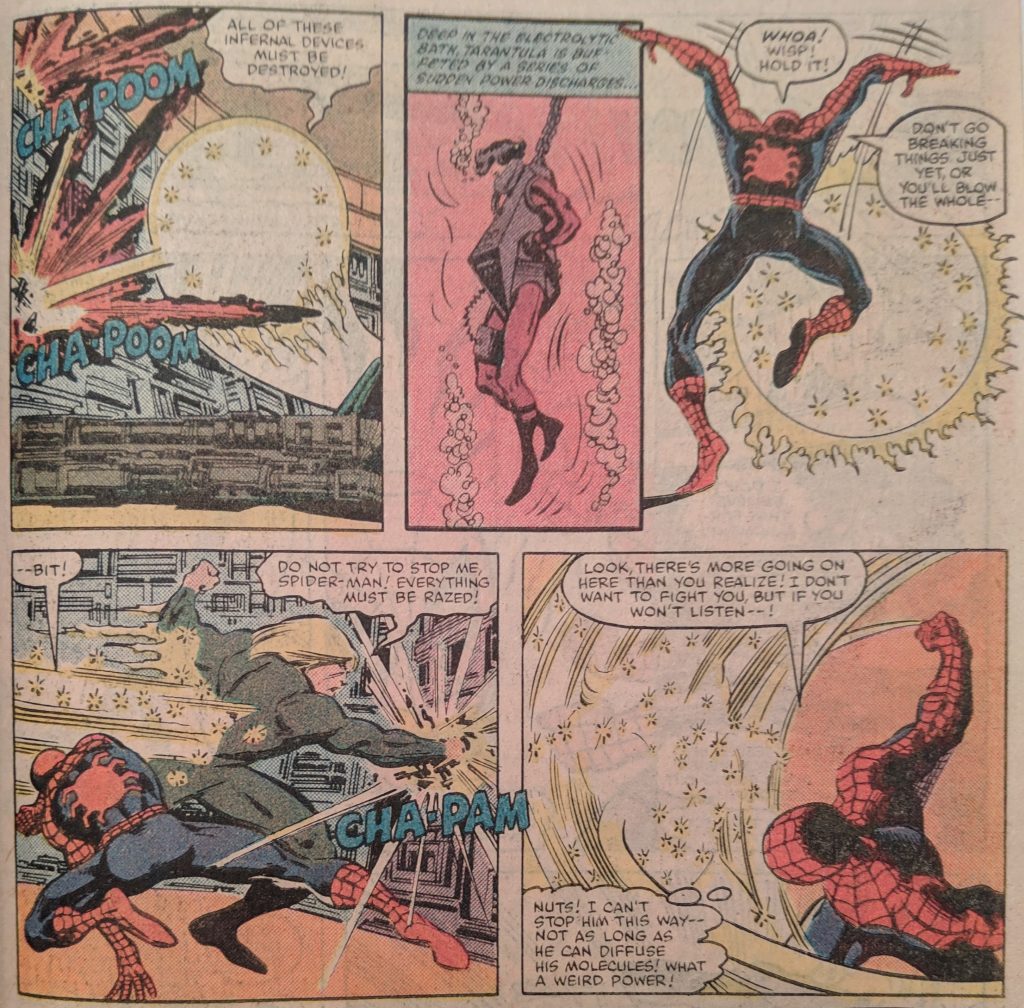 Wisp vanishes, but by trusting his Spidey Sense, Spider-Man is able to hit him at the exact time he reintegrates, knocking him down. He asks if he's ok, saying he pulled his punch as much as possible…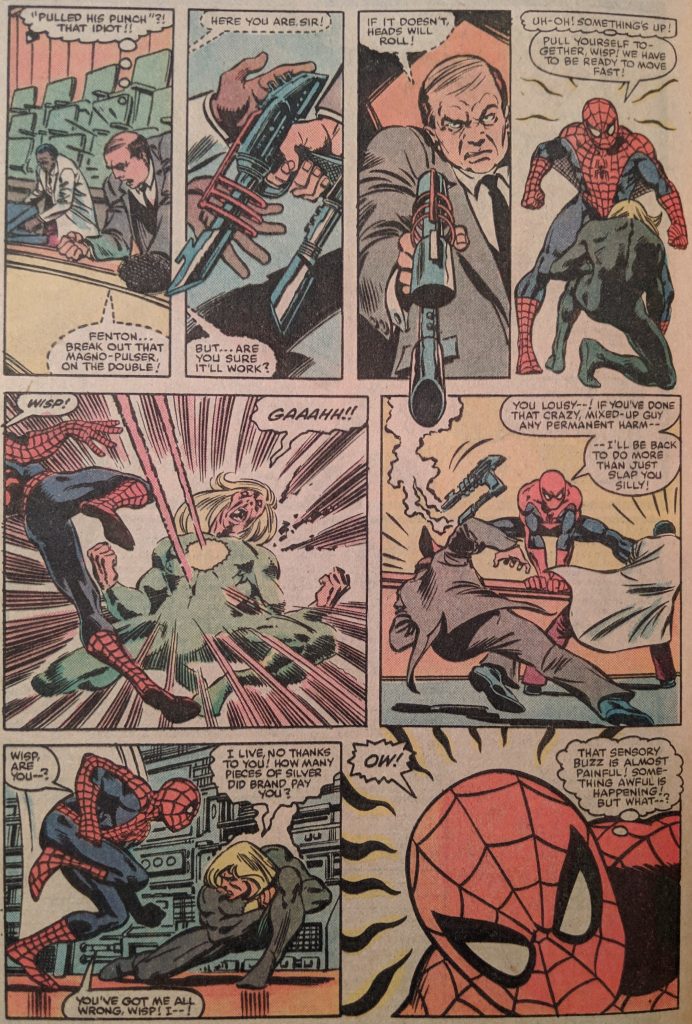 Spidey pulls Willy to safety just as the vat Tarantula was in explodes. He's not dead… but he might wish he was…

Well… that got weird. Come back next time, as things get even weirder. But first, the Marvel Guide To Collecting Comics. Here's that Simonson image: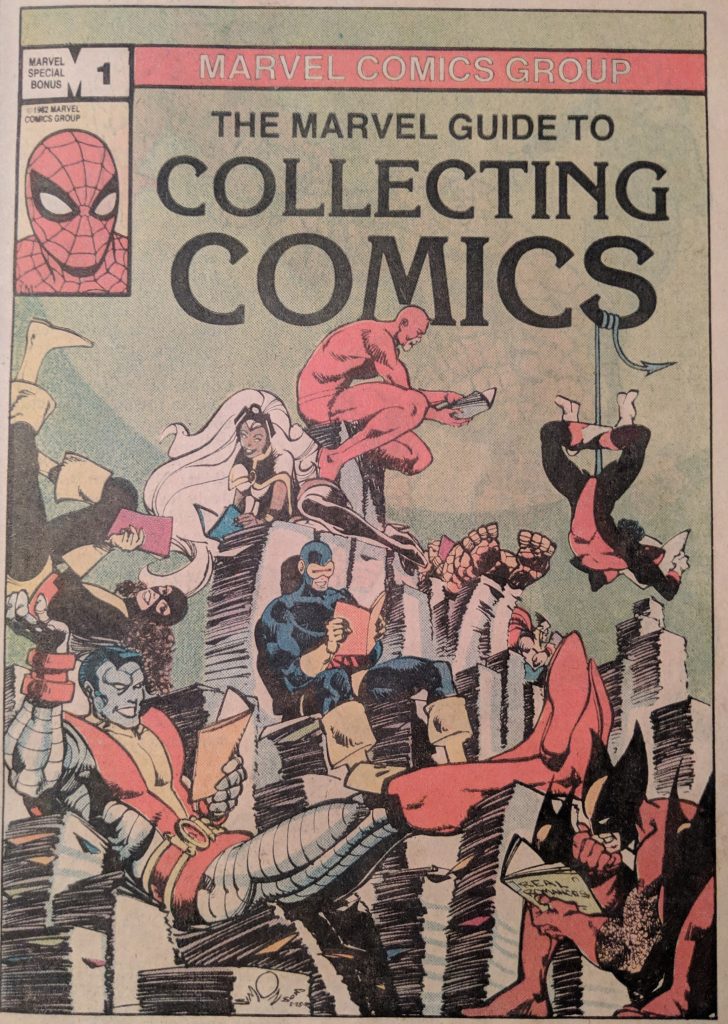 (Not that this can really be called the cover of anything) This bonus section explains the hobby of comic book collecting like you're an alien who's never seen a comic before in spite of, you know, reading this inside one. Like, there's a glossary of terms, there's this…

…there's essays about how fun comics are and how to find the right series for you, about how this stuff might be worth something someday, all sorts of weird stuff. Author Mark Burbey gives you this run down of the costs of some famous firsts…

$1100 for Amazing Fantasy 15! That's like $12,000-$30,000 these days. He goes on to tell you how fun it is to hunt for back issues (I certainly agree on that point), how to store comics, and talks about grading them before it's over. I guess it's a nice little primer. I wonder if this was ever distributed by itself.