"I realized I'm the bottom of the villain barrel, but I promise I'm scary now!" Strap in for what can't be a terribly good issue if The Kangaroo is in it. Jim Mooney hops on board to ink this one, which begins with Spider-Man being hailed by two guys on a roof as he swings by. They say they're advertisers representing Corona Motors.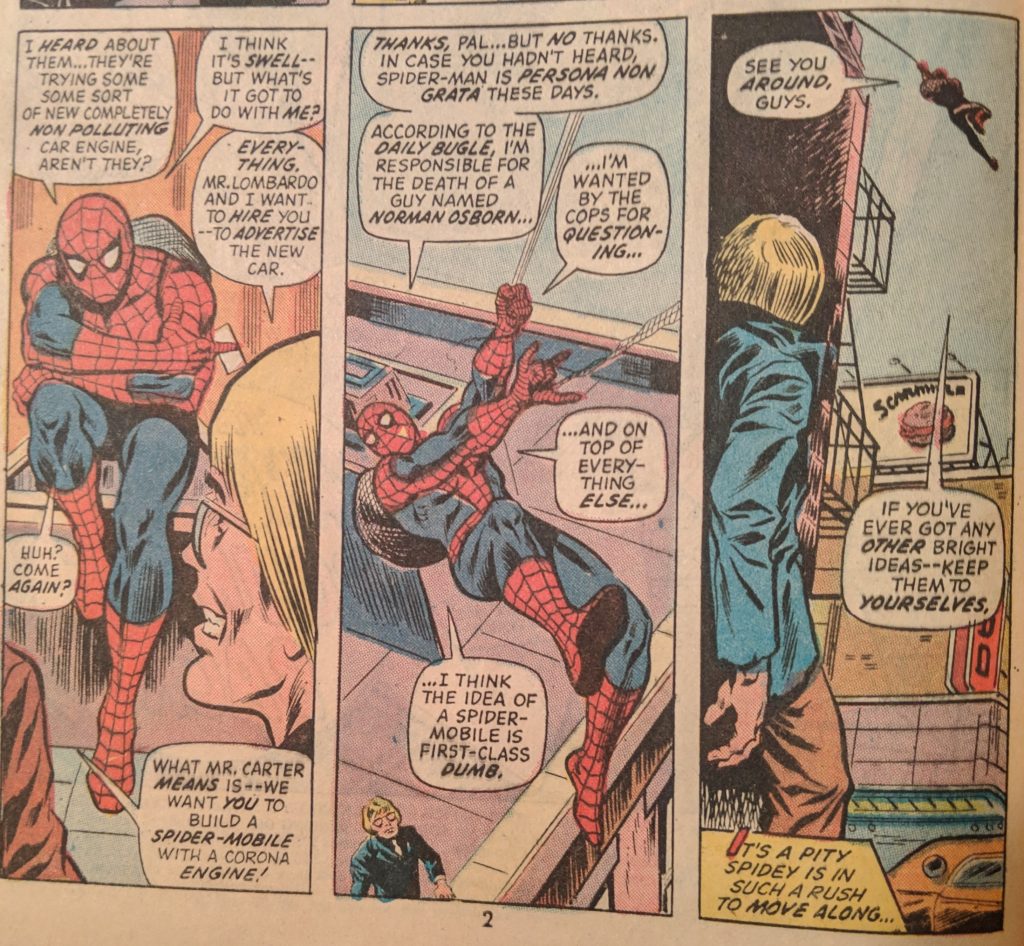 Such a nice guy, that Spider-Man. If those two guys happening to be on a roof Spidey swung over was too much of a coincidence for you, you will not survive the next page, as it turns out The Kangaroo was lurking in an alley nearby. He thinks about how Spider-Man beating him back in ASM 81 shook him so bad he hasn't had the nerve to try to steal anything again (Mission accomplished, Spidey!), but then, as luck would have it, Dr. Jonas Harrow, evil superscientist, is ALSO in that alley, and he says he's been looking for The Kangaroo. Good grief. He has a proposal for the Z-list villain, but we'll have to learn about that later, as we switch back to following Spider-man as he approaches the campus of ESU. Soon, Peter Parker emerges from an alleyway, still trying to figure out how to deal with the world without Gwen, when he's stopped by one of his teachers.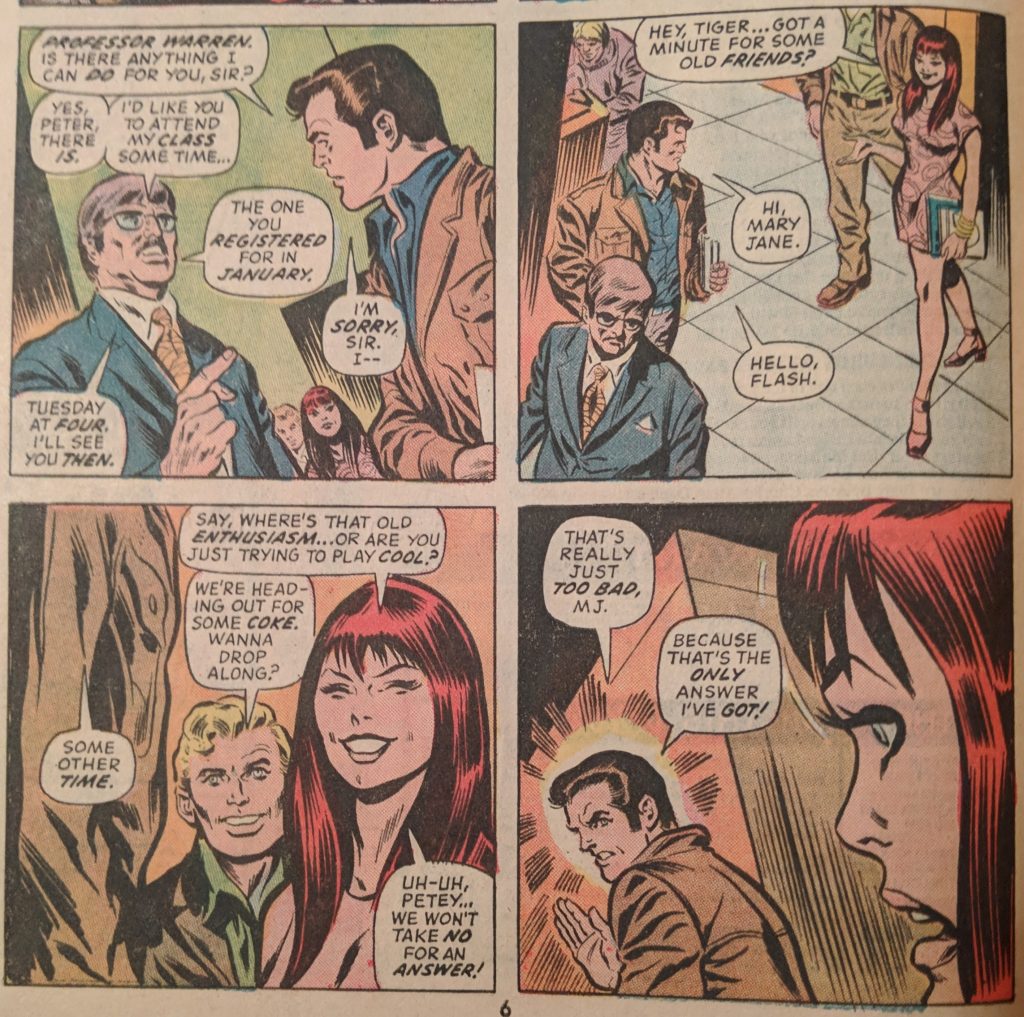 Wasn't he supposed to be conquering his inner turmoil or whatever? As our man storms off as usual, we get to one of Ross Andru's trademark page layouts for the first time, a sort of stair shape to break up the panels: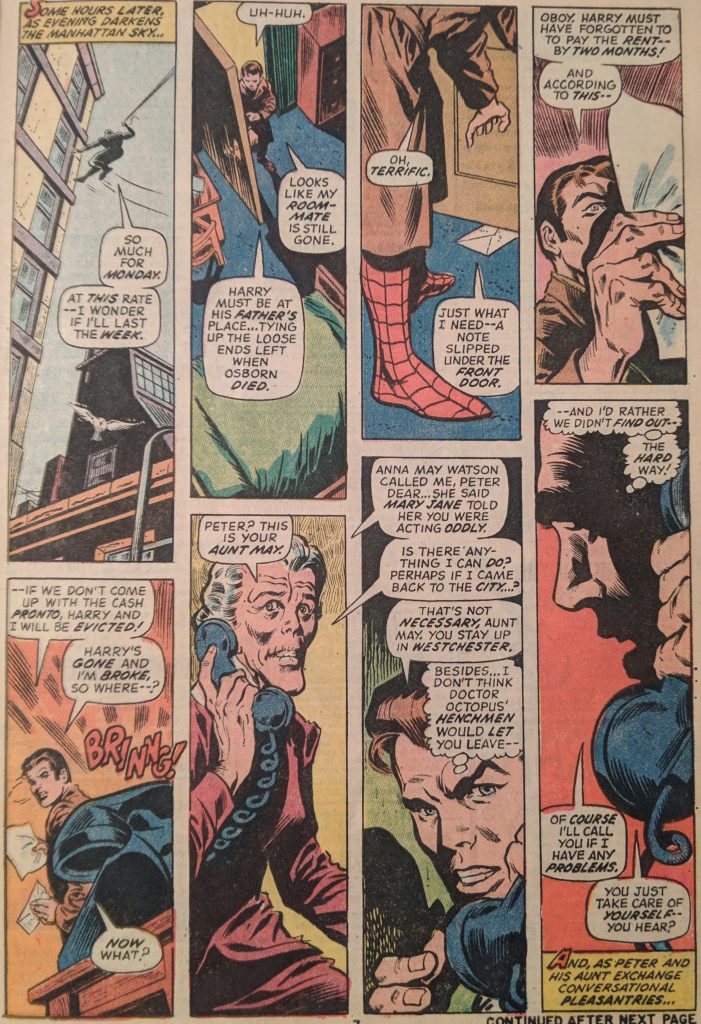 As Peter talks to his Aunt, Jonas Harrow begins operating on The Kangaroo to give him power. Well, it says he's performing a delicate operation, but it looks like he just put some gauntlets and boots on him. Don't tell me those are meant to be permanent?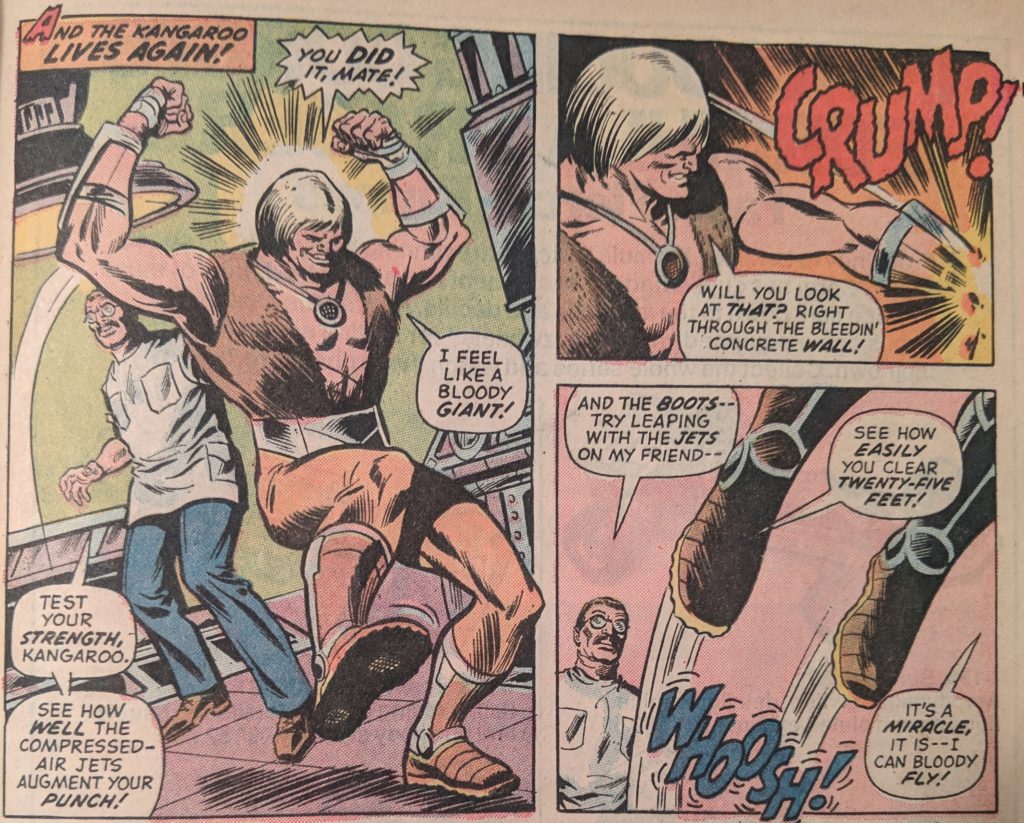 Kangaroo repays Harrow for the upgrade by slapping him across the room and leaving. He's a bad guy, you know. Later, we catch back up with Spider-Man, who's decided to take the advertisers up on their offer, if you can believe it, provided they give him a $1000 cash advance to pay his rent. They tell him there's no plans, and he has to build the car from scratch. What… would drive someone to ask a guy famous for not using a car to not just advertise a car, but BUILD a car? Spidey receives this information literally as he's swinging away, so he doesn't have much time to think about it before…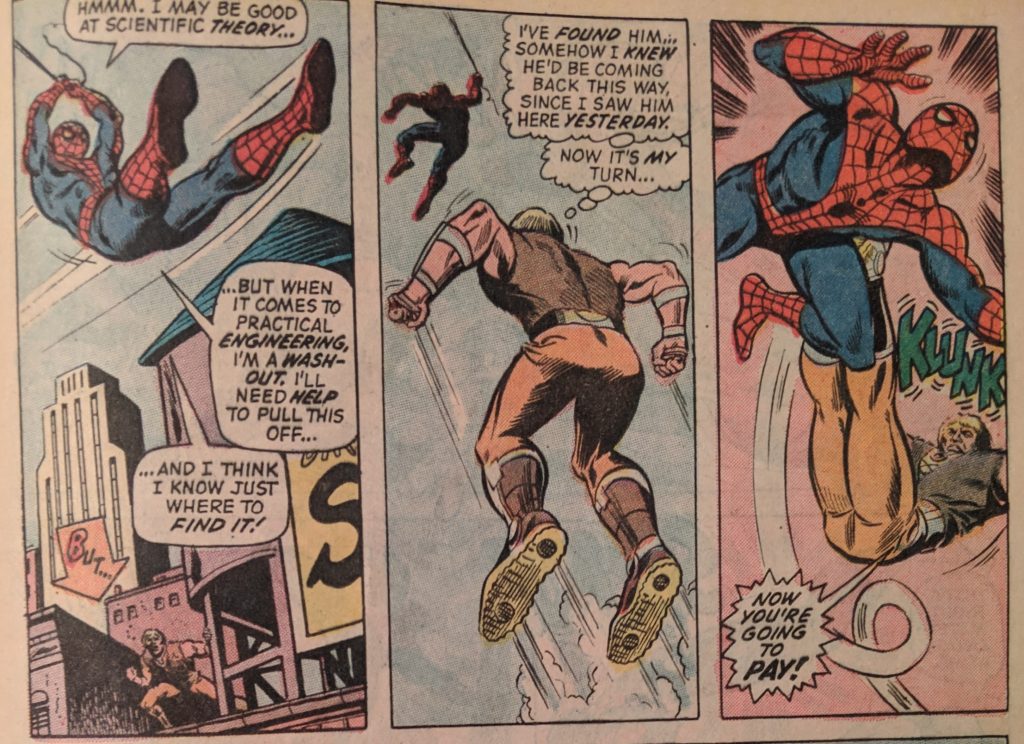 They only get to trade a couple of blows before The Kangaroo is crippled by a powerful headache. He says there's "a tiny voice in his bloody brain" telling him to go somewhere, and he obeys to end the pain. A bewildered Spidey just lets him leave. He moves on with his own business, going to see famous car aficionado Johnny Storm, the Human Torch.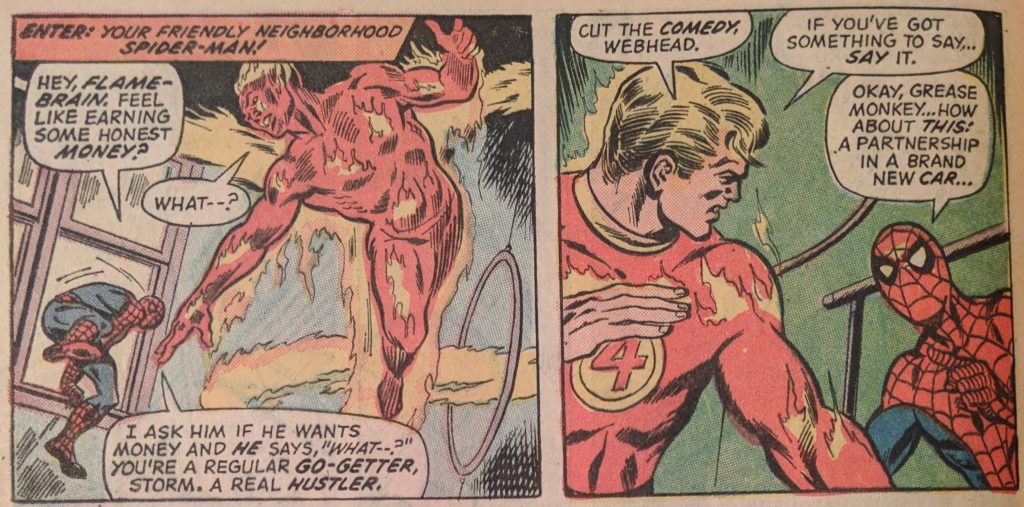 As Spidey talks Johnny into building him a car, J. Jonah Jameson checks in on his son. He demands he get special treatment… at the free clinic he brought him to to save some money. He also lets anyone who might be listening know who he blames for his son being in the hospital, and you will be shocked to know it's Spider-Man. JJJ blaming Spider-Man for literally everything can be tiresome. While he's yelling in a hospital, we find The Kangaroo has been compelled back to Harrow's lab, where he's told there's "a small mental pacemaker" in his head that can control him. Then Harrow orders him to go steal a radioactive isotope, so he gets right on that, which leads to Spidey & The Torch hearing a police bulletin about it. Spidey head out to deal with it, and it's fightin' time.

They smash around the lab Kangaroo has broken into for awhile until…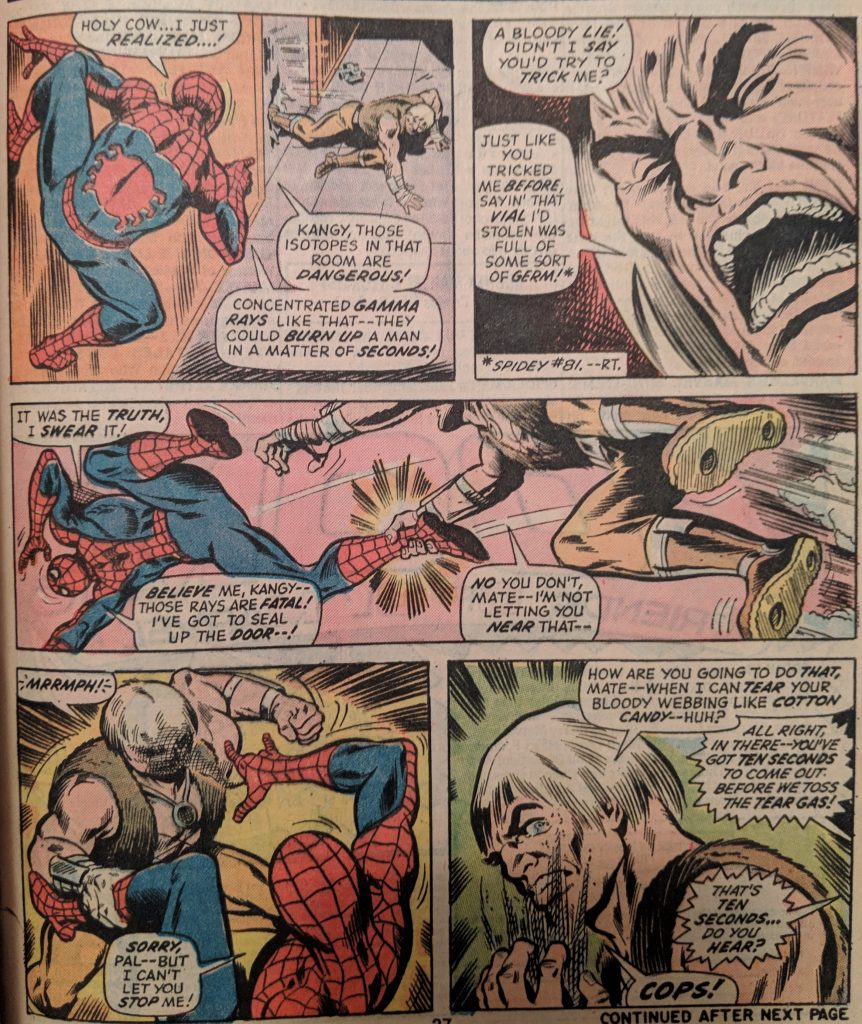 Kangaroo is clearly a super genius. The cops show up and threaten to tear gas the fighting pair, and this convinces Kangaroo, Super Genius, that it's a set up and Spider-Man is in on it. Spidey legit pleads with him not to go into the room with the isotopes…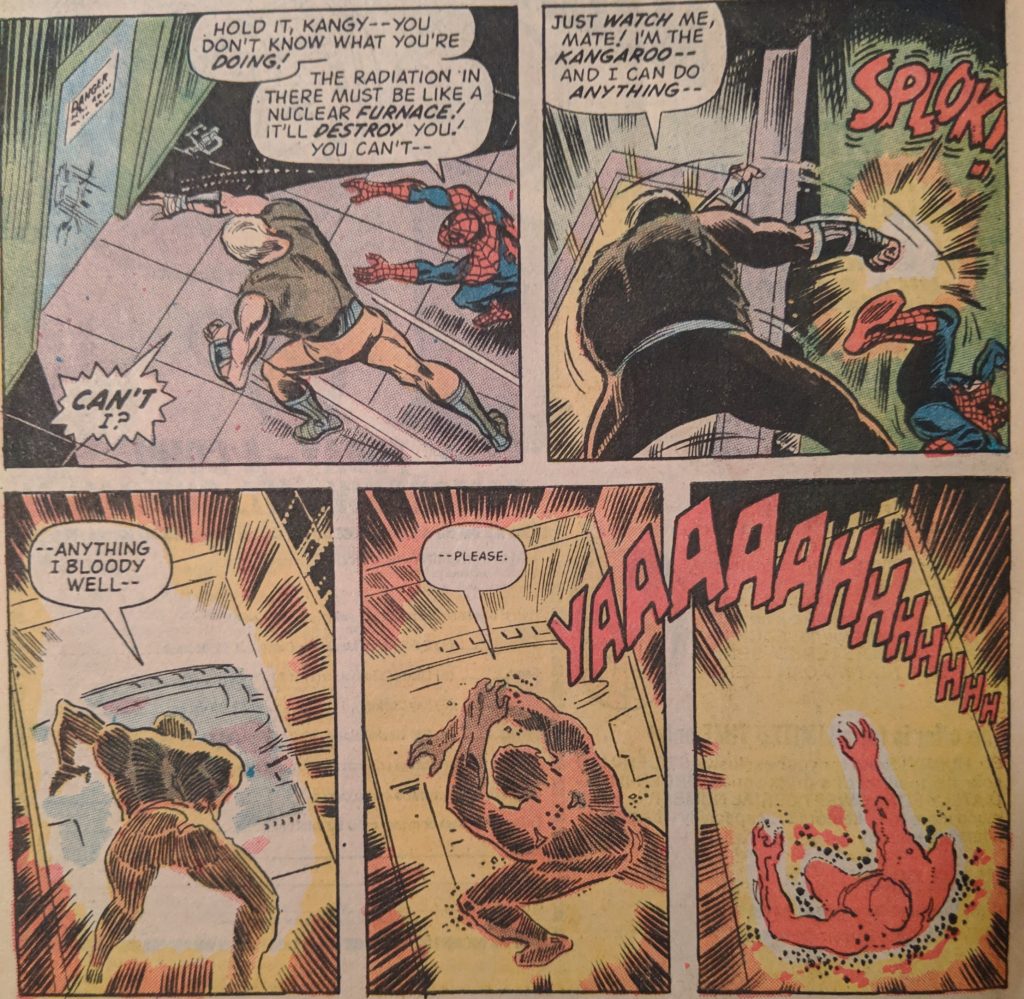 He died as he lived: incredibly stupid. The cops finally begin to move in, and Spidey realizes there's no one left to blame this break-in on but him, and they of course do just that as he flees the scene. His departure is watched by Jonas Harrow, who angrily drops and stomps on his Kangaroo control, saying one day, he will have "the power." Look out for that, True Believers. Meanwhile, Mary Jane has gone to the apartment Harry Osborn & Peter share to try to talk to Harry, but he won't open the door, so that's it for the not-so-timeless love story of Harry Osborn & Mary Jane Watson.

And on that chipper note, we're out. This is a rough place to be for the Spidey team. It would be messed up if he just got over Gwen immediately, but who wants to read a comic about Spider-Man swinging around wanting to die? Well, beside JM DeMattis, if his 90s run on the character is any indication. It has to be tough to try to find the right tone going forward. Speaking of Gwen, the letter column is still a circus.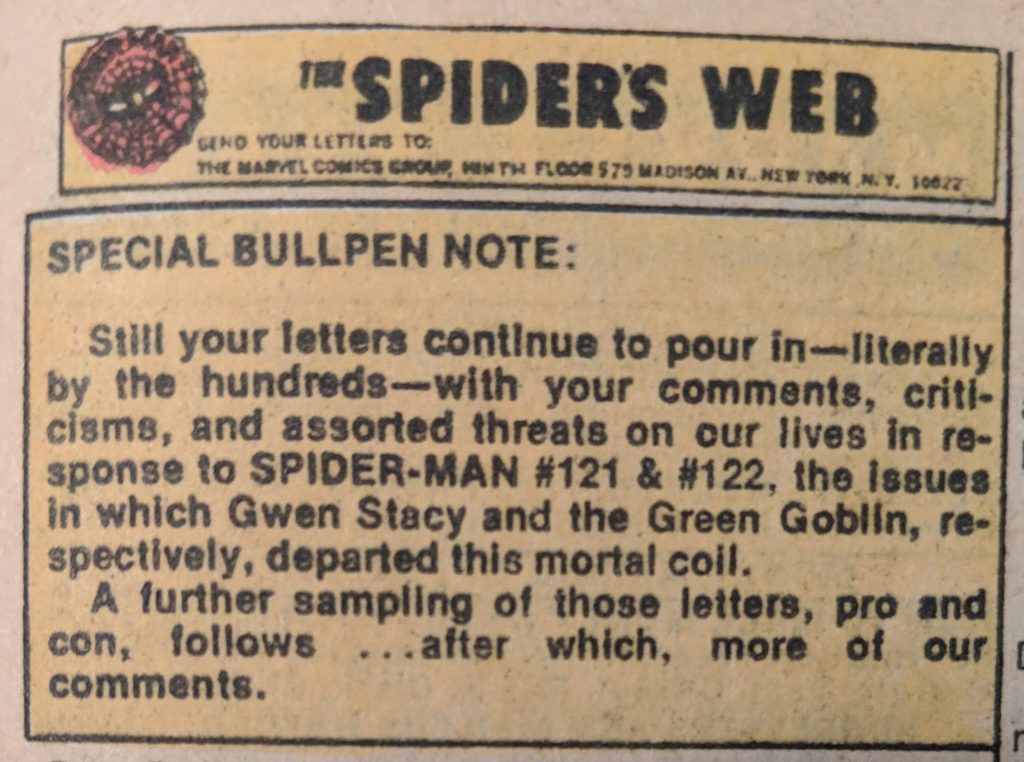 Comics fans haven't really changed much over the years.