Time to jump back to 1973, the Conway era, and the immediate aftermath of the deaths of Gwen Stacy & Norman Osborn. Gerry Conway still writing, John Romita & Tony Mortellaro on art duties. This issue opens with the cops recovering Norman Osborn's body. And, as usual for some reason, JJJ & Robbie are on the scene. Robbie asks JJJ who he thinks would've wanted Norman dead, but why bother, you know the answer.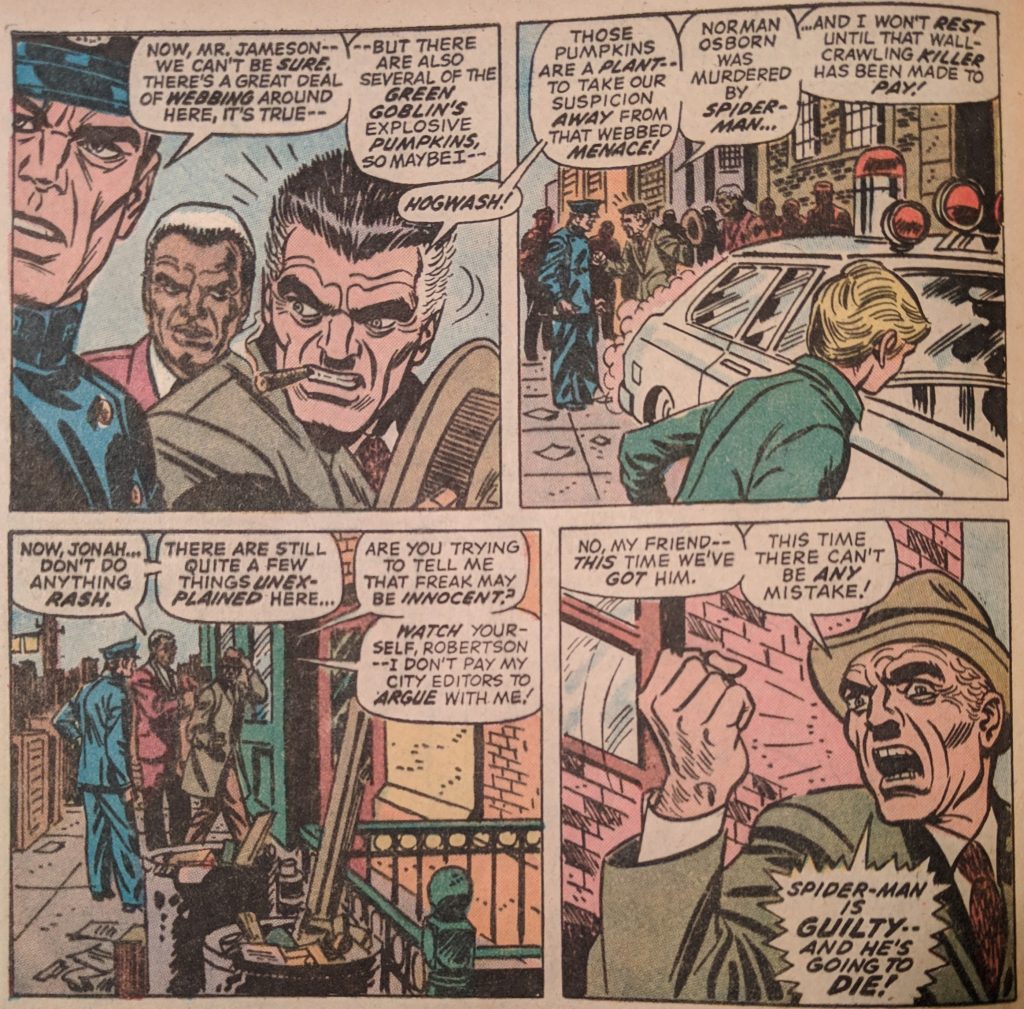 As JJJ leaves in his car (Why is he leaving Robbie here?), Robbie tries to explain to the cop why he works for a crazy person like Jonah. It's the usual. "He's actually a sweetheart," etc. It's never an easy sell. The cop tells Robbie the evidence suggests someone moved Norman's body before they got there. And as he does, the mystery man from the end of last issue is watching, Norman's Green Goblin suit in hand, thinking that if he'd been found as The Goblin, this would all be over. But since he was found as Norman, this will ignite a public outcry against Spider-Man. Meanwhile, being driven away, JJJ notices the front page of today's Bugle…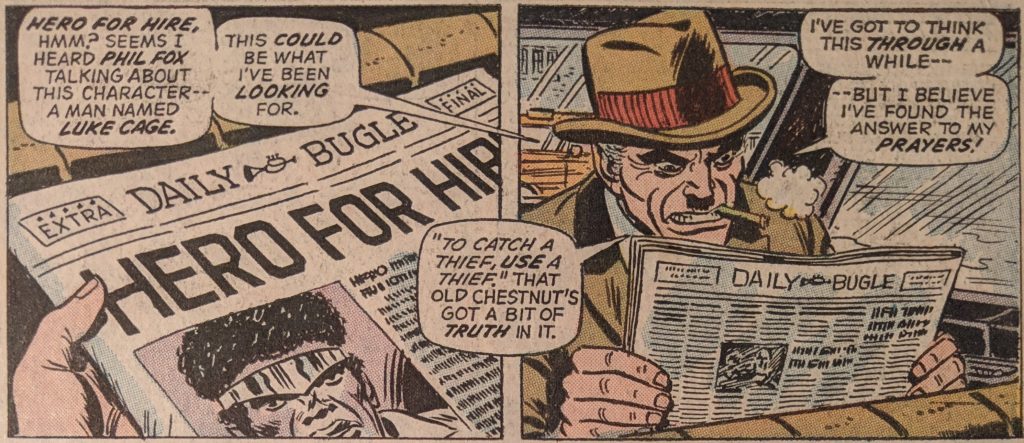 So that's gonna be a problem. The next day, everyone gathers for the funeral of Gwen Stacy.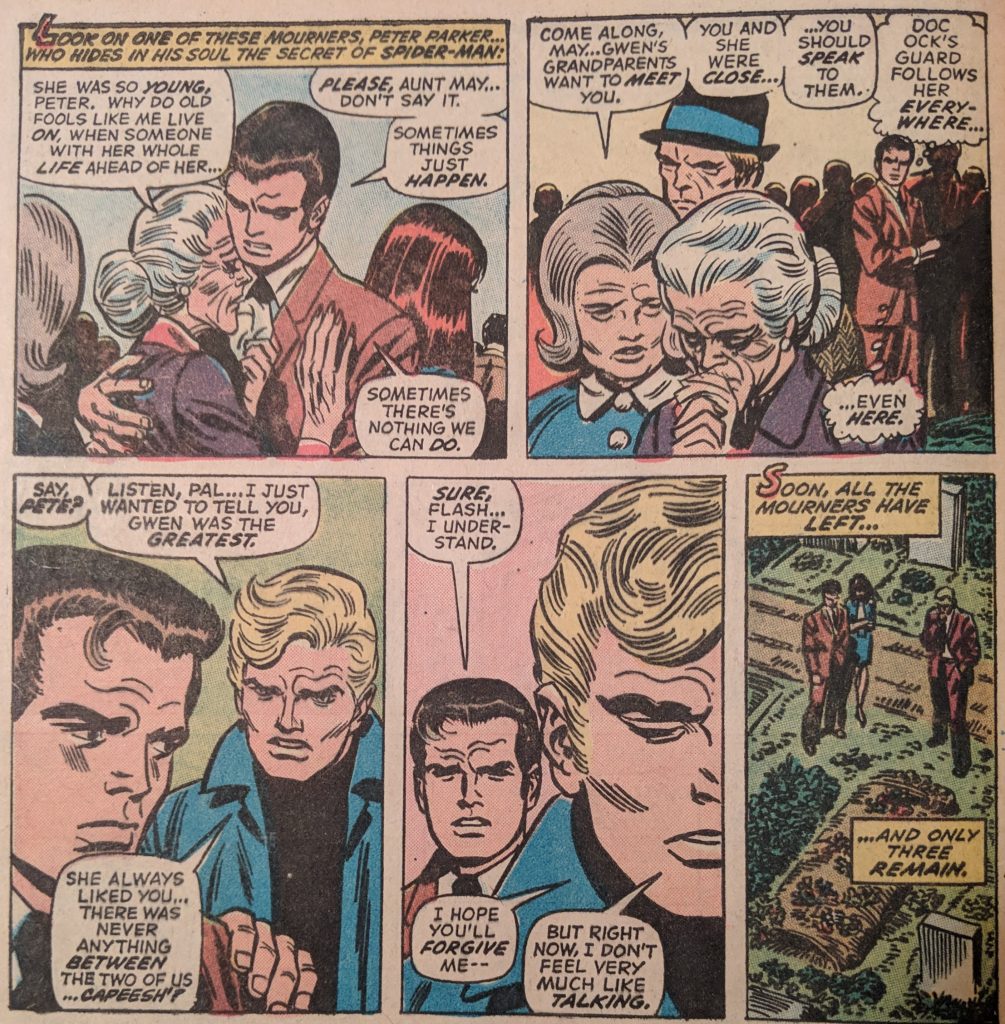 I've always thought it was cool how Robbie was positioned as a father figure for Peter, and here he is, paying his respects after people who knew Gwen better have left. He's a good man. As he takes his leave, MJ stays with Peter, and she offers to take him out for a cup of coffee. Meanwhile, JJJ was too busy to attend the funeral, because he's gone to find Luke Cage, whose deal is helping people for cash in these days. Cage says he doesn't take jobs on Saturday, but JJJ produces enough money to change his mind.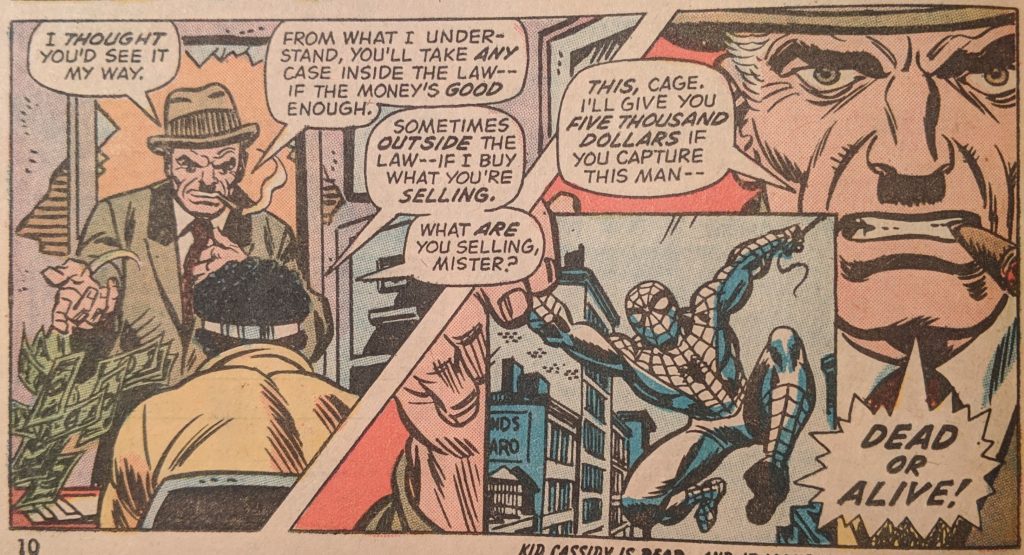 At that moment, Spidey is out swinging around, trying to improve his mood, but he's understandably too despondent. He says he feels more alone than he has in his whole life.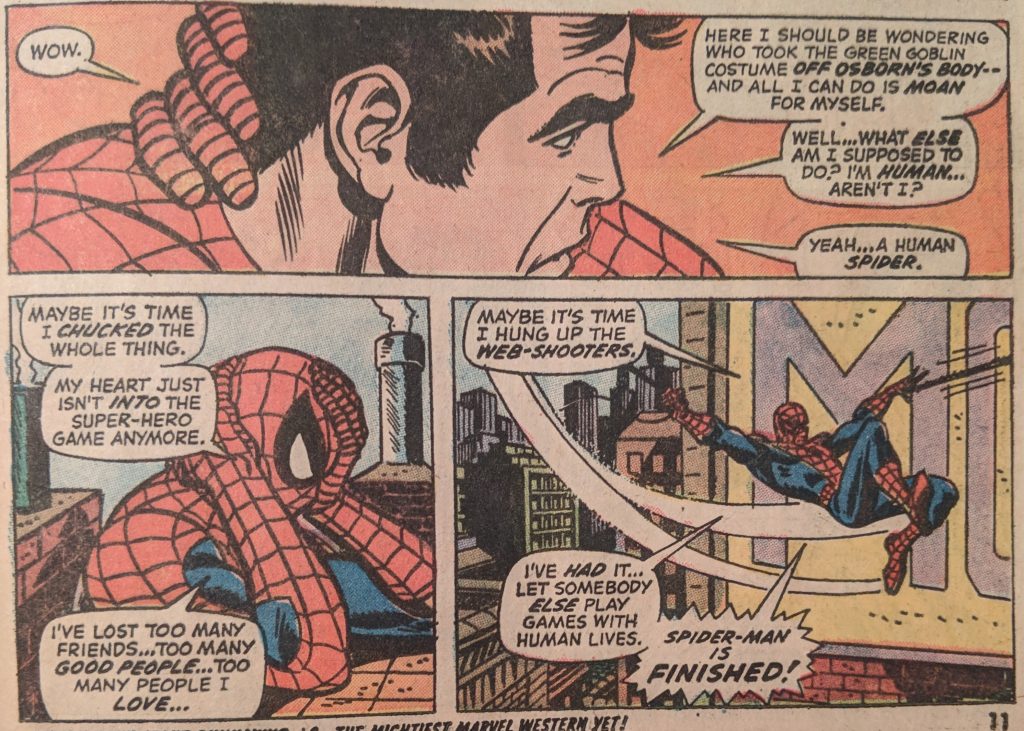 And that's right when Cage finds him, leaping into him in mid-air. Cage is upfront, telling him JJJ hired him and even saying his research turned up 3 places he was most often spotted so he could narrow it down to here. Naturally, it's on.

It's a pretty brutal slugfest, but Spidey eventually smashes Cage through a skylight and just leaves while he's inside the building. He swings home and gets back into regular clothes, and is surprised to find Harry there. He tries to talk, but Harry just gives him a vicious look and says nothing.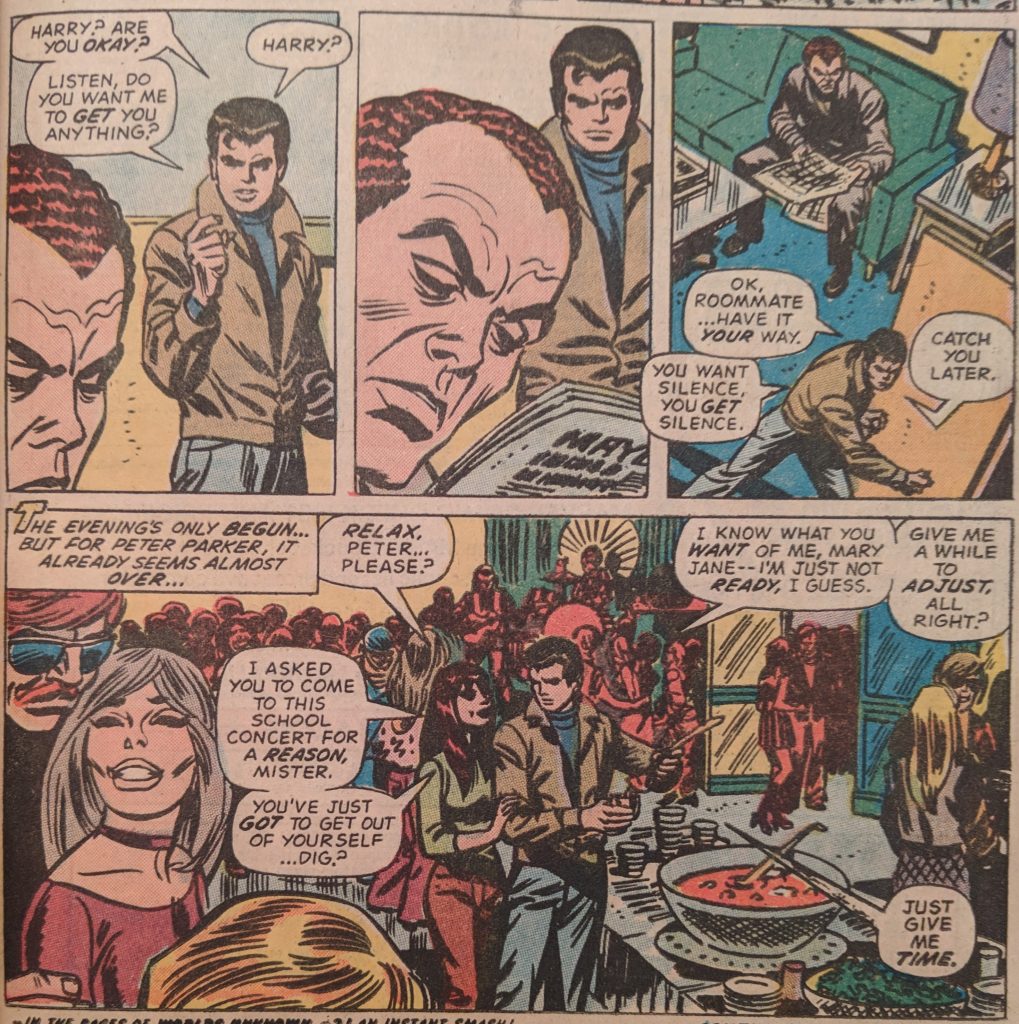 MJ's trying her best to help, the only way she knows how, but it's not working. And even if it was, the evening takes a strange turn when Luke Cage comes smashing through the wall demanding Spider-Man.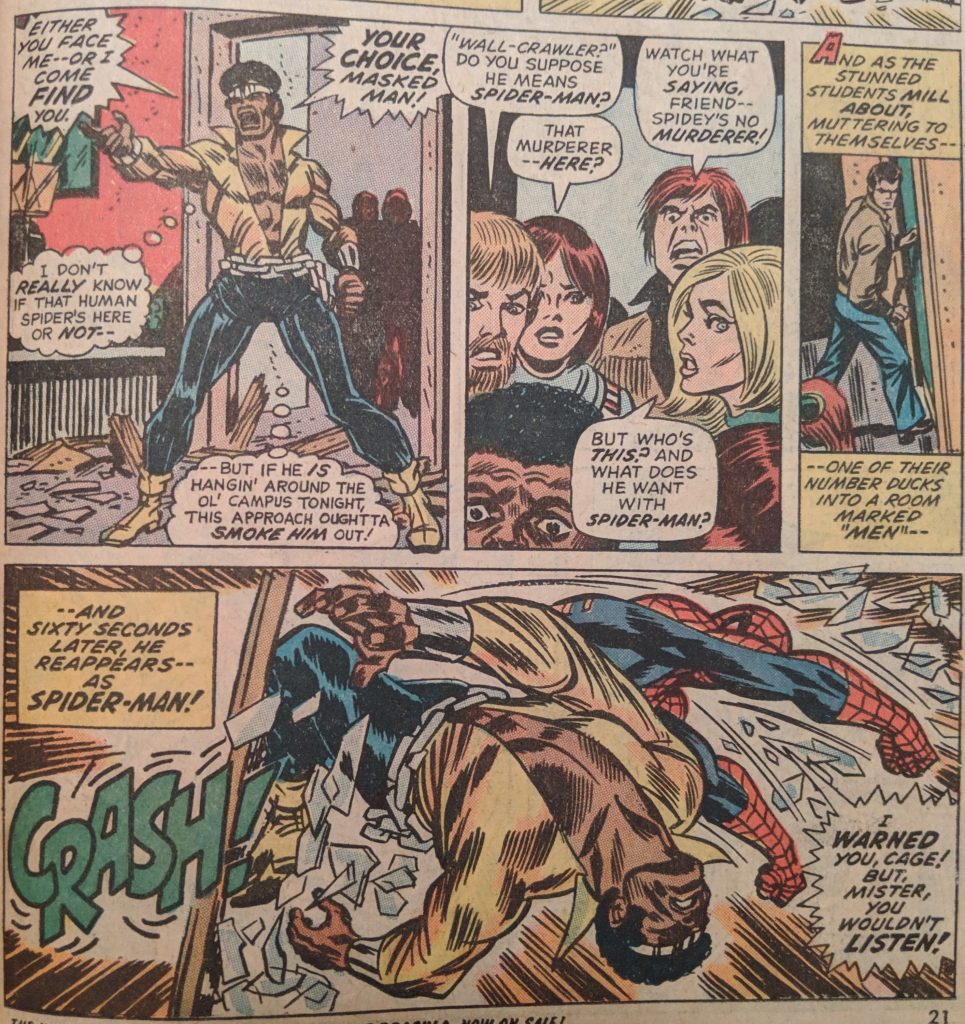 They get back into it, but Spidey suddenly realizes this is stupid. He's taking out his frustrations instead of dealing with reality, and he worries one of them is going to get killed. So he webs Cage up, apologizes for calling him a mercenary, and asks if they can talk for awhile.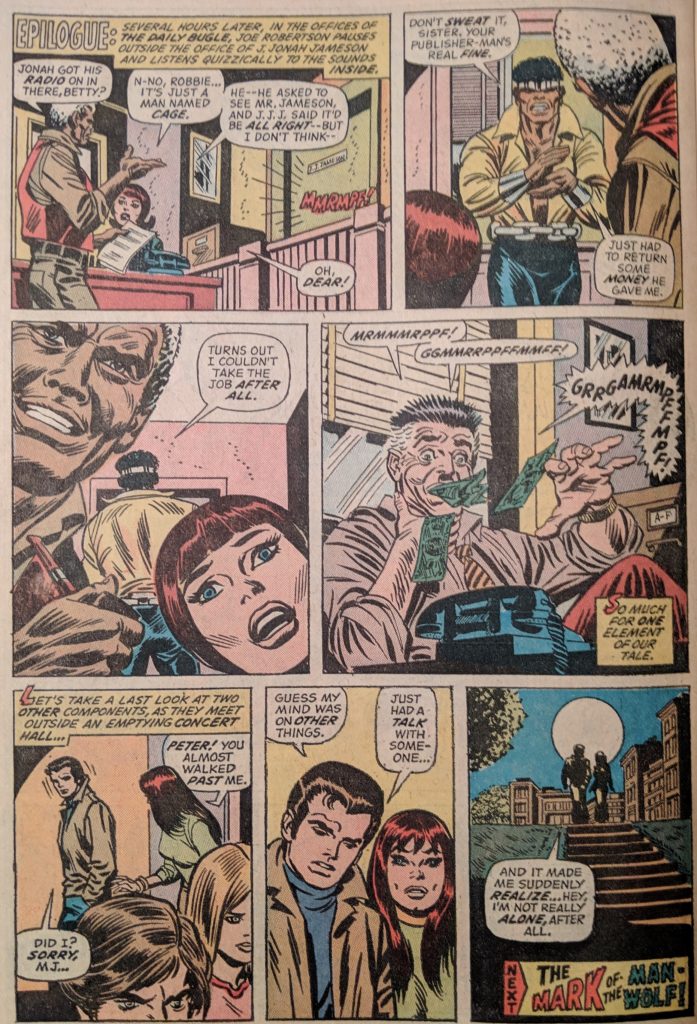 We didn't get to see Spidey & Cage's chat, but it must have been pretty good. So this is the strange status quo of Spider-Man for awhile. Trying to keep being an adventure comic with a heartbroken lead still grappling with the death of his beloved. A weird line to try to walk. It's about to get weirder.