Another blast from the past. Like The Lizard, it's been a surprisingly long time since The Vulture appeared. 30 issues, to be exact. Let's see what he's up to. It's snowing out, and Spider-Man is looking for Kraven. He gives up due to the cold, though, deciding to go home and go to sleep as he swings by the prison The Vulture has been in since his last appearance. Adrian Toomes is apparently dying, and his last request is to see his cellmate before he goes. His cellmate whose name is… Blackie Drago. A white guy. The old days were different, man.

Arranged… what? Is he poisoning Toomes? He just leaves, so we'll have to figure it out ourselves, I guess. Toomes gets really agitated having apparently been duped and begins to pass out, his previous battles with Spider-Man flashing before his eyes. What a sad recap. It starts when he's elderly and only includes him getting beat up. Soon enough, Blackie uses his position as a trustee to knock out a guy and steal his car, driving out of the prison. That was easy! It doesn't take him long to get to the spot where the wings are hidden, but the cops are right behind him…

He takes off into the sky, and it looks like we got a new Vulture. Of course, we've already seen Toomes back in the suit in previous posts, but for now… Anyway, the next day, Peter & Harry arrive at school, Peter now struck by a terrible cold from swinging around in the snow last night like a dumby.

Romita waited a respectful 17 issues before changing Gwen's hair from the Ditko design. Sent home from school, Peter sees JJJ lambasting Spidey on TV for saving Norman yesterday before a news bulletin lets him know there's a new Vulture in town. Speaking of whom, he's somewhere or other making a helmet to go with the Vulture suit…

This was honestly the right move. People love the original Vulture… Roger Stern is on record loving the "age vs. youth" quality of his rivalry with Spidey… but he's like 1000 years old. It's just weird. This makes perfect sense. Too bad it won't stick. The New Vulture immediately goes on a crime spree, so Spider-Man is gonna have to go into action, cold or no cold. Vulture kidnaps a guy with a briefcase full of money handcuffed to his wrist and takes up on top of the George Washington Bridge to try to get it off him when Spidey finally catches up to him.

Vultch goes spinning down toward the water as Spidey lowers his victim onto the bridge, but then Vulture is back. Spidey webs his legs as he flies by, but that's not a terribly smart move…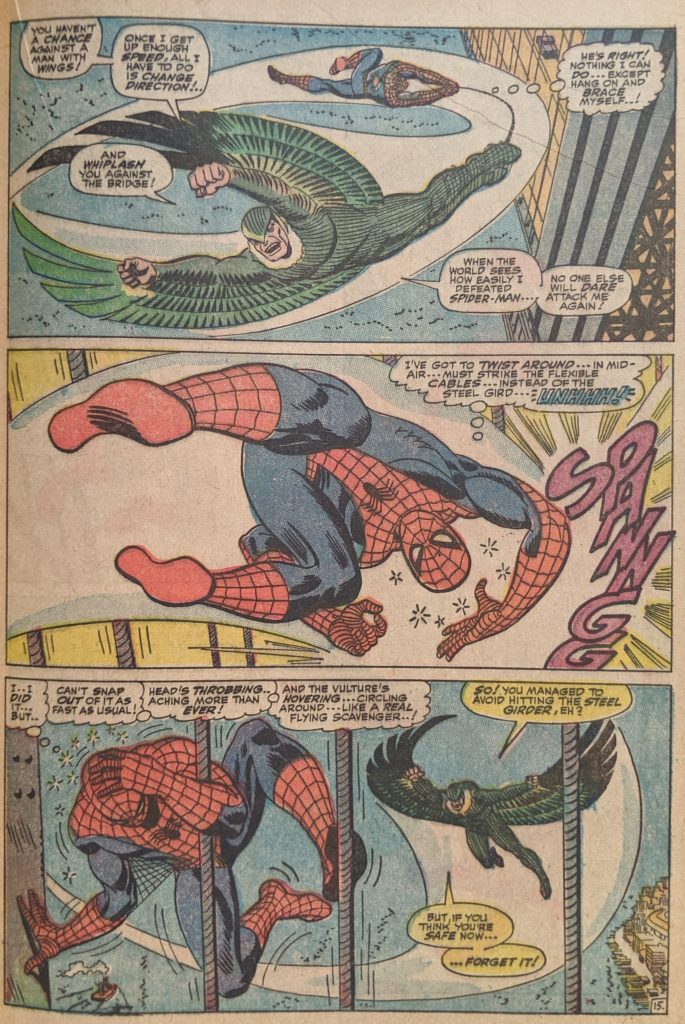 Now that's a Romita Spider-Man. Things keep getting worse for our man as Vulture swings around and uses his legs to put Spidey in a headlock, flying them around and beating on Spider-Man's head. Looks like a bad time.

Original recipe party machine MJ might be shallow, but she's fun to read. Spidey swings on the flagpole he saw and manages to kick Vulture in the face, but he's in really bad shape, and is soon falling off the side of a building. He latches on by reflex and actually blacks out for a second, still stuck to the way, before coming to with his foe bearing down on him.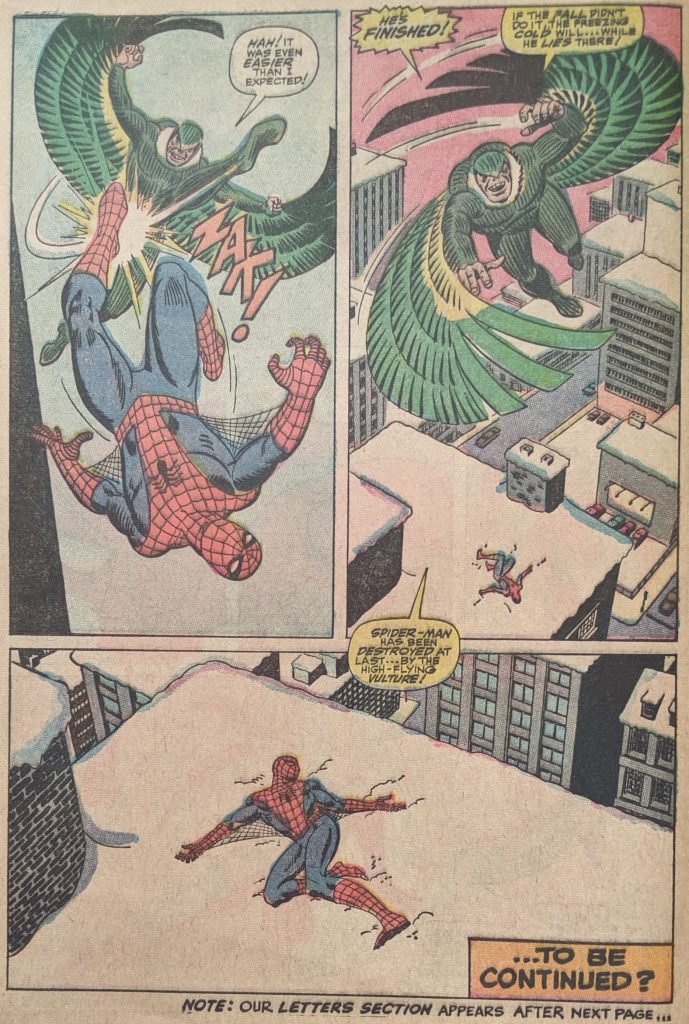 Yikes! A more grim death than Spidey is used to facing. This issue was really breezy by the standard of the period. Less dialogue, fewer captions, letting the art tell the story. Either Stan was trusting his artist more, or he's just starting to get pulled in too many directions to be covering every inch of the page in text. Come back next time to see if Spidey freezes to death. I mean, probably, right?