Ok, so this is maybe the weirdest post I'll ever make. I sit down to read ASM 47, won off ebay in February, 2019. Open up this cover promising Kraven, and Spider-Man is in mid-fight with Mysterio. And not in the usual "we put something exciting on the splash and then roll back to see how we got here" way. In an "I clearly missed an issue" way. But… it's 47. I just read 46. How? Answer: This is the detached cover of ASM 47 wrapped around a coverless copy of ASM 67. Seriously? Good grief. This was discovered way back on March 11, 2019, a solid month after winning the auction. Seems too late. To add insult to injury, I already bought ASM 67, presumably with cover still attached. So I go on ebay immediately to see if there's a 47 floating around that I might be willing to pay for, by chance. It's weirder than that. There's a COVERLESS copy of 47 up at a low price, "Buy It Now." So I figure… why not? I'll just put this cover on that copy. So, today I got the actual 47, and have placed it in its new cover. Good grief. What a bizarre situation. But… I can read it now, so here we go.

And we begin with a good ol' fashioned retcon. We learn that in one of Kraven's prior appearances, Kraven wasn't just attacking Spider-Man for fame, he was doing it because The Green Goblin offered him $20,000 to beat Spidey. When he almost beat him one time, The Green Goblin was actually there, watching. So Kraven figured he did well enough to prove he was going to beat Spider-Man in their next meeting and demanded half his money up front. When a mysterious agent of The Goblin refused on his behalf, Kraven followed him back to Norman Osborn's house, and determined Osborn must be on The Goblin's payroll. Strangely, Stan says this totally new background information could've happened during ASM 15 or 34, he doesn't commit, but it seems like it would've been ASM 15. But, at any rate, in ASM 34, Kraven was once again defeated by Spidey, and hasn't been in the book since, so he never got paid.

Whoa. A lot to unpack there. I actually like this a lot, and am surprised I've never seen it referenced before. Kraven just randomly deciding to hunt a dude instead of animals is such a flagrantly illegal and weird and silly thing to do. But being tempted with a big challenge and a big pay day by a master manipulator recontextualizes their initial conflict in a good way. Nice work, Stan & Johnny! 2-and-a-third-page flashback complete, we can now join Kraven in the present.

Romita is very much drawing Ditko's Kraven,to the extent that his face looks weird on Romita pages. The Goblin's not actually dead, of course, but the world at large doesn't know that, and neither does Norman Osborn, having lost his memory of ever being The Goblin. But Kraven still wants to get paid, so he decides to go take what he's owed from Norman, and sets out to find his Manhattan offices. Meanwhile, Aunt May is unpacking all her stuff at Aunt Anna's place when a visitor arrives.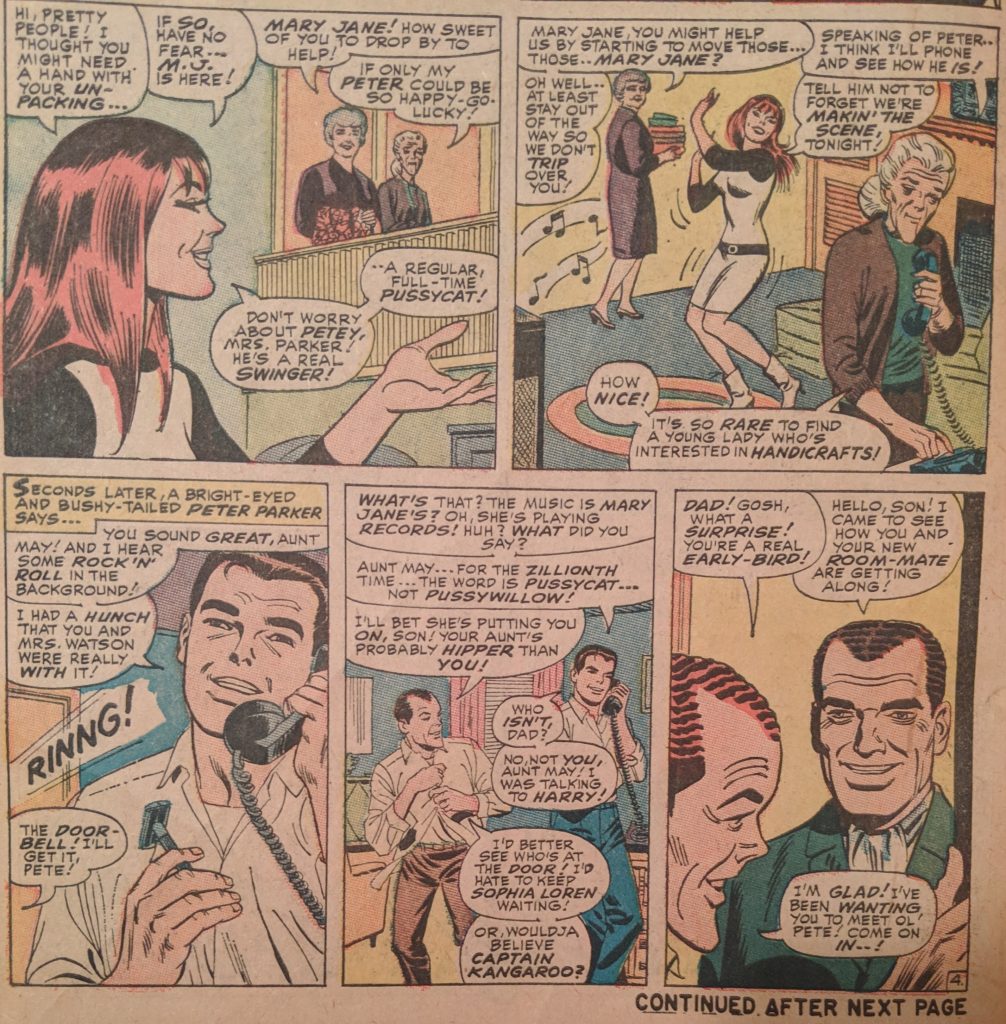 This whole "pussycat/pussywillow" runner is a combination of not very funny and kind of awkward in 2019, but Stan seems to be loving it. MJ showing up just to dance, however, is timelessly funny.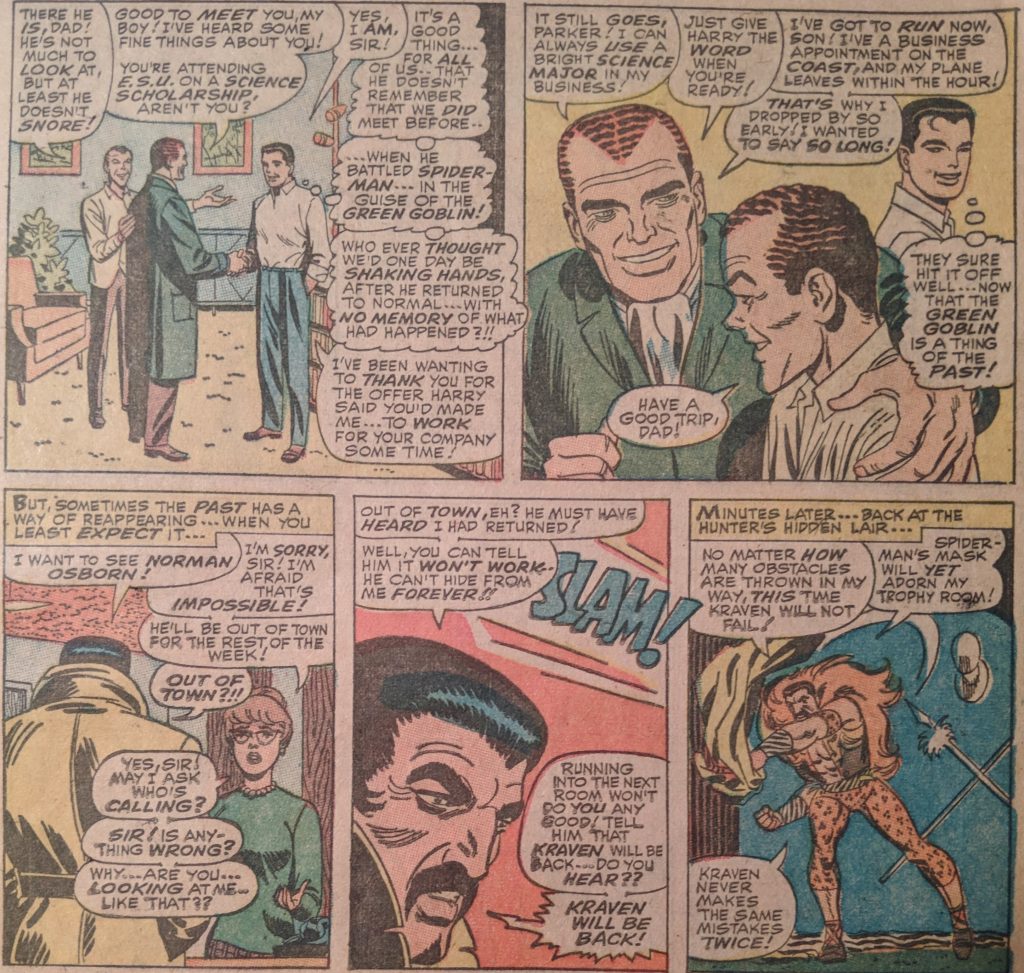 You can see Stan not knowing what to do with that middle Kraven panel and improvising. The Marvel Method can be really fun to watch in action. Kraven goes on to reveal to noone in particular that he can now shoot little lasers out of the lion eyes on his chest to "magnetize Spider-Man's muscular electrolytes," so he's pretty sure he'll have no trouble beating him this time. Whatever you say, buddy! We move then to ESU, where Gwen is making sure everyone knows about her going away party for Flash. There's a lot of banter about Harry and Peter wanting to take Flash's place as her dude now that he'll be out of the picture, but Gwen fends them both off. After class, Peter heads for The Bugle, hoping to sell Shocker photos and invite Betty & Ned to Flash's party.

Same ol' JJJ. Meanwhile, Kraven has gone out to The Osborn mansion in Westchester to get his money. He smashes through the front door and brutalizes Norman's poor butler until he's convinced he's not really there and then just leaves. Then we check in on Harry & Peter as they get fancy and go pick up Gwen & MJ in Harry's car. As usual, Peter thinks about how much he's into Gwen even though MJ is right there as his date, which is just… kinda gross… and then they arrive at the party, which Flash himself hasn't shown up to yet, but basically everyone else has.

As Stan has been assuring us the whole time, because comics in this period don't usually go this long without a fight, it's all coming together. Kraven says he'd recognize the son of Osborn anywhere (It's the hair, of course) and begins demanding to know where his dad is (How hard is it to believe a billionaire industrialist might travel for work???) in typically rough Kraven fashion. Flash leads a charge of college dudes trying to help his buddy, but they all get taken out in a single slap. Peter rushes off saying he'll call the cops, but of course…

While they get into it, Gwen & Flash help poor beat up Harry back inside, while an unfazed MJ watches the battle and calls it a "cool happening." Ned & Betty find a phone so Ned can call the story in to The Bugle, and since he's friends with Norman, JJJ grabs Frederick Foswell and rushes to the scene himself. As Kraven & Spidey keep fighting, Norman gets back into town, contacted by the butler, and gets a cab back to Westchester. But when he hears about the fracas with Kraven, he demands to be taken there. With all the regular people accounted for, Stan & Johnny can focus on the fight.

Spidey's in a bad way post-zap, but is saved by the arrival of Norman. As soon as he sees him, Kraven forgets about Spider-Man for awhile, snaring Norman with a rope and hauling him up to the construction site he & Spidey have been fighting on.

Strangely, Kraven decides he's done here, and "with the past behind him, he can carve a might future for himself," so he just leaves. Spidey wants to follow, but then the bound Norman falls off the tall perch they're all on, so he has better things to do.

That was a wacky one. Strange plot structure, and like I said, unusual that the fight was so late and so short. Osborn sticking up for Spidey really makes it seems like his Goblin days are behind him. Maybe they even were, as far as the team was concerned at this time. But, as we know… it didn't last.