Time travel is real, and we are back in 1966! To go from the absolute nadir of Spider-Man history back to the glory days is enough to make your head spin, but we are doing it. We are, in fact, going back further than most of the Stan Lee material we covers last time. Whenever that was. Here we'll pick up with just Jazzy Johnny Romita's 3rd issue on the title. He came to Spidey from Daredevil, intimidated by the idea of picking up after Ditko, but following orders. In his earliest work, he is visibly trying to maintain some continuity with Ditko's style, but as the months wear on, more and more of the John Romita style will emerge, and in the process, he will shape the look of these characters pretty much forever. His version of Spidey, Peter, Gwen, MJ, Harry and everyone else became a house style still followed by a lot of people even today, and his Spider-Man became the one that appeared on all merchandise and non-comics products until the 2000s. Quite a legacy! But at this point, he's still the new kid on the block. We also got Mike Esposito on the inks, and I'm surprised to be able to tell you we got colors by Andy Yanchus. Comics of this vintage don't credit the colorist, but it looks like they changed the credits for the reprint (Which also explains Esposito not being billed by the pseudonym "Mickie Demeo" he used in this period).

I hate to get rolling with a reprint, but it's what I got. This is the first appearance of The Rhino, and the first appearance of any core villain is going to be outside my price range. But in this era of Marvel Tales, they reproduced the original covers pretty faithfully, so just pretend it says "41" up in the corner and you've more or less got it. The splash promises the return of Betty Brant, an appearance by John Jameson, "the most exciting new purchase Petey ever made," and The Rhino, "the most fearsome villain of all!" Pump the breaks, there, Stan, it's just The Rhino.

Ah, the bike! I've read a bit of stuff with the bike in it, but I didn't know this is where he buys it. JJJ complains that no one appreciates how nice he is before saying he needs to get to "roasting Spider-Man's hide in an editorial." John wants to know why he hates Spidey so much, especially since Spider-Man saved John's life in ASM 1. Then he helpfully flashes back to that just in case you don't know it.

JJJ dismisses that as a publicity stunt by Spider-Man, though, and rants some more about him while throwing darts at a poster of him. John finally gets him off the subject of Spider-Man by telling him about his last mission in space, on which he went for a spacewalk and came back covered in mysterious space spores! Nobody wants that. So they subjected him to a bunch of tests, and nothing seemed out of the ordinary, but now he travels under armed guard at all times, because the government worries foreign agents might try to kidnap him to study the spores. Speaking of which, a ridiculous looking dude is trying to stomp into the US from Mexico…

That's pretty much the whole thing with The Rhino. Head down, run into stuff. Not the most versatile or exciting toolkit for a villain. As he stomps toward destiny, Peter Parker is walking down the street when he runs into…

Improbably, Ned Leeds runs into them as their awkward conversation sputters out, and Peter is actually relieved. He leaves them to chat, thinking he's really grown up in the last few months, when he sees a news bulletin letting him know The Rhino is smashing his way directly to New York. He thinks he's probably gonna have to fight him, and then sees JJJ on the street.

He walks home to Aunt May's, worrying she'll be scared of him on a motorcycle, but that news breezes right past her. She's trying to work up the courage to tell Pete about Anna's offer, but she can't do it. He can tell something's up, though. He wants to go webslinging to clear his head, but decides to work on his term paper, instead. Later, on the outskirts of the city, The Rhino smashes out of a train car to finish his trip on foot. And when a news bulletin goes out saying he's been spotted on the West Side, Peter gets suited up and heads out after him. But not before Rhino can crash into John Jameson's hotel room and kidnap him. Spidey finds them on the street, and it's fightin' time.

Romita is still doing very Ditko-esque fight scenes, still trying not to rock the boat too much.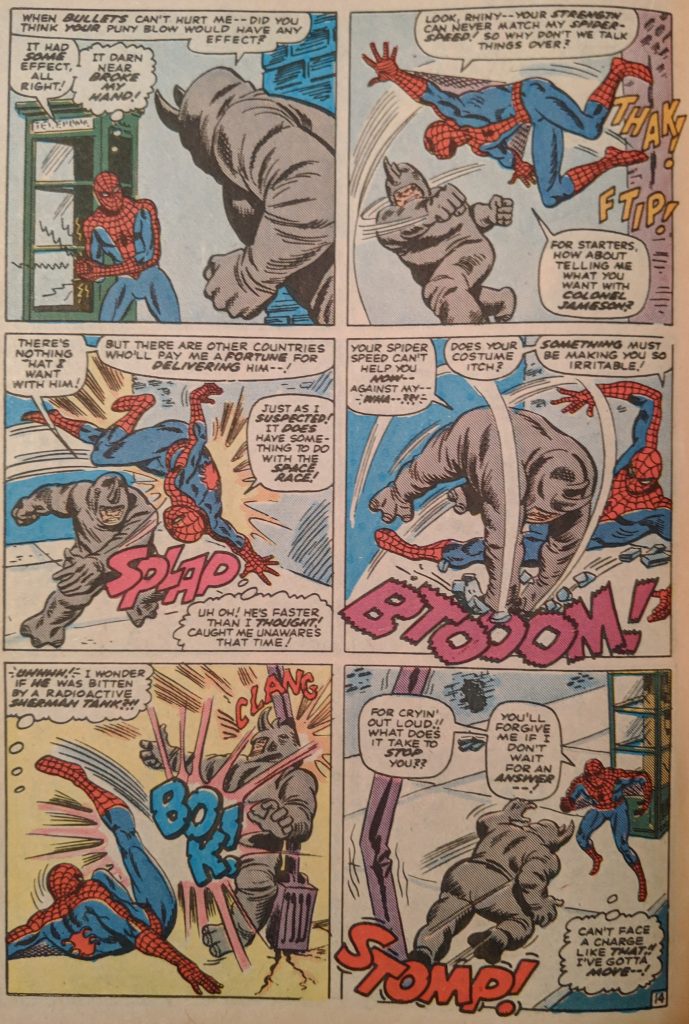 Spidey keeps goading him further into a rage, until he's completely forgotten Jameson. Spidey decides all he can do is keep dodging and hope to wear The Rhino out. During the fight, he wonders if he really fights for justice, or just to hear the crazy sound effects, which is pretty funny, and eventually…

Spidey scampers off before things can get weird. The cops are dismayed to learn they can't get the suit off of him, and worry he'll break out of any prison they put him in. JJJ is furious they didn't arrest Spider-Man, and no common sense from John will deter him. For his part, Peter realizes he didn't think to get any photos of the fight, and that's no good, but he doesn't let that get him down. The next day, he goes and picks up his motorcycle.

Wouldn't that be funny? Tune in next post for that. In a fun touch that I don't think was present in any Marvel Tales I've read before, this issue features a "Post Office of the Past" page, reprinting letters about the very issue you just read from the old days. That's fun.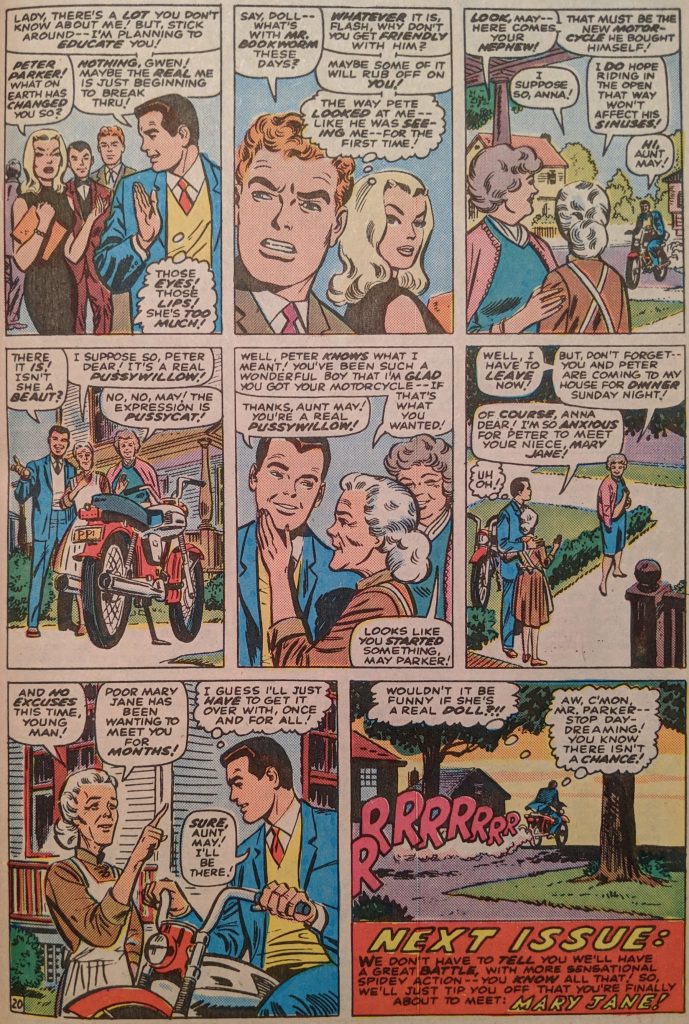 In this issue from 1966, Aunt Anna says Peter is "almost twenty." In a 2019 issue of Amazing, MJ said he's "in his early twenties." It's best not to dwell on comic book aging, but… it's absurd to think Peter is still supposed to be, like, 24 or something after all he's been through. Married, unmarried (not divorced, heavens no, don't say the "D" word!), almost a dad, killed, resurrected, started an international megacorp, lost an international megacorp, still not old enough to rent a car.