We're back to Spider-Man Unlimited, and it awkwardly came out in the middle of the Blood Brothers crossover even though it's not part of it. I'm having trouble deciding where it goes. It goes… wherever it is when this posts. It's a full-issue megastory, so big it takes way too many artists to tell. Evan Skolnick writes, Paris Karounos, Steven Butler & Steve Geiger pencil, Randy Emberlin, Derek Fisher, Paris Karounos, Scott Hanna, Al Milgrom AND Steve Butler ink, and Joe Andreani colors a story that opens with Spidey fighting his old enemy The Beetle, who is after him for the Spider-Skeleton.

Why did Ben say that? He knows exactly where it is? Spidey dispatches Beetle, making reference to having only just put him in jail back in SMU 9 and how sad that is, when he's attacked by someone else.

I like that bit at the bottom. As he flees the scene, Spidey is attacked by Jack O'Lantern, and this Spidey has no idea who that even is. Jack also wants the skeleton. And he's not alone!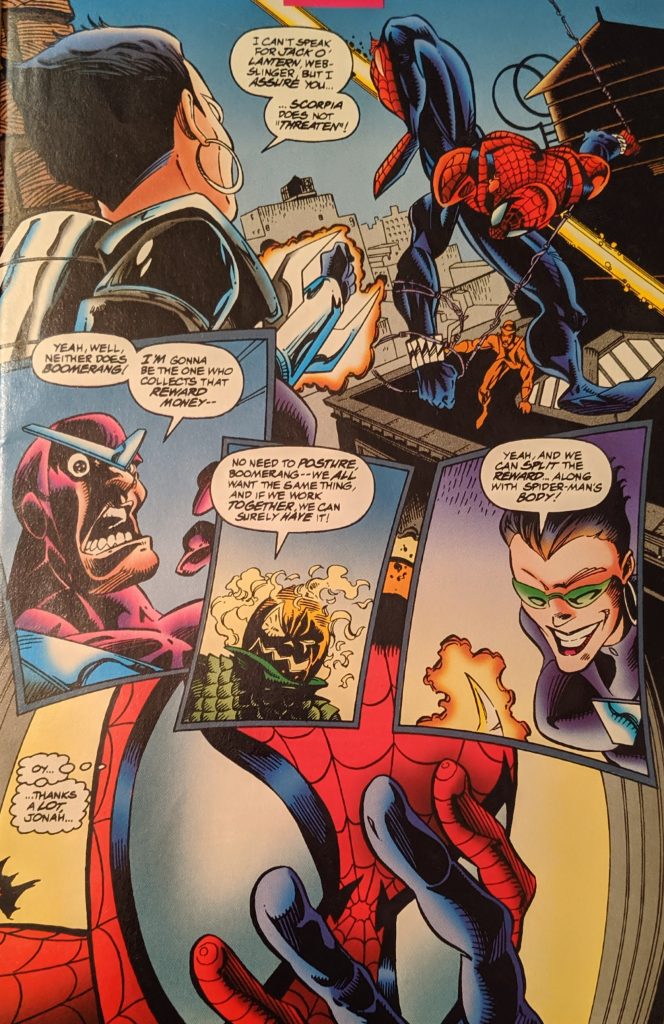 Yes, rather ironically, all the villains in the world are out to collect JJJ's bounty on the Spider-Skeleton. Hilariously, we just cut to Spidey getting home, implying he's really run the gauntlet to get here. Once home, Ben recaps… everything, really, before getting to the fact that JJJ has retained the services of a Dr. Shyam Holkar, "the world's preeminient forensic reconstructionist" (Ok!), to use his cutting edge technology to recreate the facial features of the body, assuming he ever gets ahold of it. Ben suddenly realizes that photo Peter took of him with the bodybag means that people might go after him to get the reward. So we cut to Peter to see what he's up to. He's hanging in his hotel room with MJ when the phone rings.

He meets JJJ with a Detective Sgt. Mason, who is about tired of all this skeleton business. When she realizes Peter's the guy who took the photo, she's curious how he did it, but he plays it off.

This first artist is interesting. Very stylized. Sometimes it looks terrible, sometimes, pretty cool. I wonder what they're up to now, if anything. I bet they got pretty good if they kept at it. JJJ demands a demo of Holkar's process to appease Mason, and with no skulls around, JJJ volunteers Peter as the subject. Peter is way not into this, worried they could accidentally discover he and the missing skeleton have the same skull, but he has no choice. Holkar's scanner is able to recreate Peter's head, then strip away the skin and muscle down to the skull, then recreate the face. This doesn't seem like the best test, but ok.

Yikes! Meanwhile, Spider-Man pays MJ a visit, hoping to catch Peter, but he's not home, of course, so he takes off. But he's spotted by The Shocker, who radios to tell various other goons where he's headed so they can follow him. Elsewhere, Peter is walking back to the hotel when a bald guy in a hood attacks him and throws him in an alley.

This is "The Pro," previously seen in the 2-month stunt where Scarlet Spider comics replaced all the Spider-Man comics. We'll get there eventually. He's convinced Peter is lying, so he puts a collar on him that contains a plastic explosive, and tells him to fess up or explode. That's certainly a method. Lucky for him, Ben was swinging by, and his Spider Sense goes off. He doesn't think he can do anything right now, but he does follow as The Pro tosses Peter in a car and drives off, but he's still being followed himself by all those villains.

The Pro takes the skeleton bag and puts it in his car, removing Peter's bomb collar right before driving off, which is all the opening Spidey needed. He drags The Pro out of his moving car and takes him out as Steven Butler takes over on pencils and all the bad guys show up.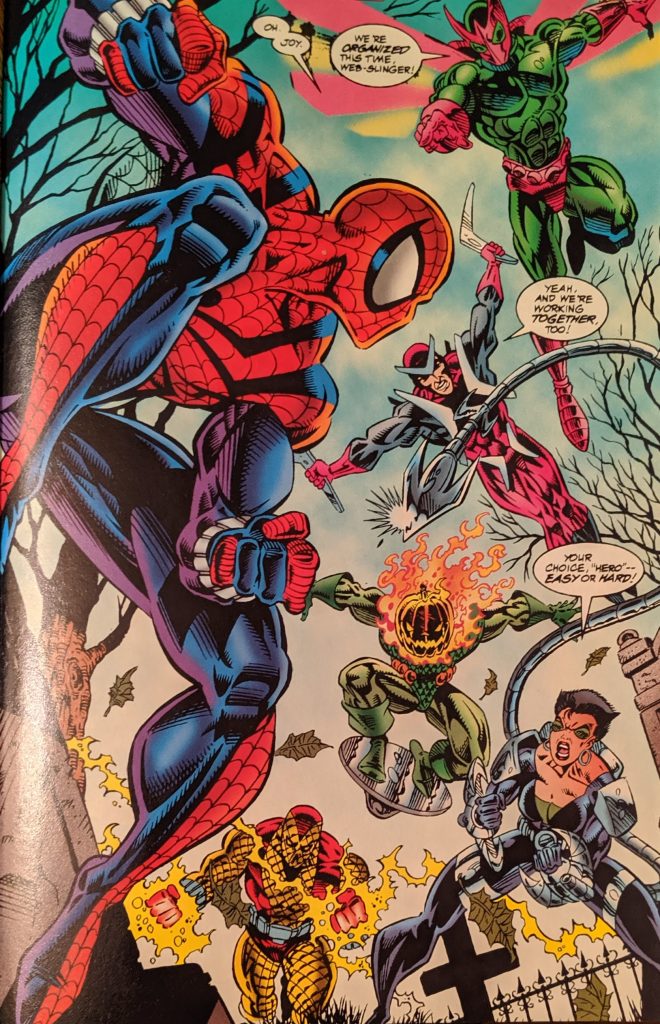 One wonders if Butler was done with Web when it was cancelled and replaced, or he would've liked to continue. He sorta gets to here. Anyway, the odds are not in Spidey's favor, but also, these goons aren't any good at working together, and over a series of gratuitous 2-page spreads, they do a lot to get in each other's way as they chase Spidey and the skeleton.  The Pro gets back into the game, shooting Shocker with a tranquilizer dart, and it's a running battle, with almost everybody getting a hold of the skeleton at one point or other. Butler does no less than 6 2-page spreads in a row to cover this fight. Spidey and The Pro manage to take down all the villains, and then Peter whacks The Pro in the head with his shovel, taking him down. Things are looking up until the cops and JJJ show up and catch both of them red handed with the skeleton. Spidey is about to run off with the skeleton, when Peter stops him, saying he'll be a wanted criminal forever if he doesn't turn it over. After a tense moment, 3rd penciler Steve Geiger takes over and…

The coloring team will continue this awkward and amateurish blur effect on stuff in the foreground and background for the rest of the book. Baby steps, I guess, but it looks awful. JJJ convinces Mason to let Holkar scan the bones and is delighted, while Spidey swings on behind everyone else's cars, totally confused as to why Peter did this. Peter seems ok, though, and I'm sure you can guess why.

Bull cookies, y'all. And that's it. Mason refuses to let Holkar try again, his incredible technology is proven to be worthless even though it isn't, a man's career is destroyed and our heroes are in the clear. Woof. As Mason tells the press she wants to apologize for this whole mess, Peter & Spider-Man slip away.

This one was actually a lot of fun. Fast paced and unusual, lots of villains, and a more satisfying end to the skeleton business than we got in the main titles. Nice work.

We're going to leave it here for awhile. Tom DeFalco's 2nd run will see the first volume of ASM out, so we've hit all the major eras now. Therefore, we're leaving 1996 to jump back 30 years. Next post, we'll rewind back to the early days with Stan & Johnny, and then move forward through the ages again, and repeat until we get back to this point. I, for one, am pretty excited to get back to the classics. Especially after these last 2 blocks.