Seems like trouble. I don't remember this one at all. It opens with Peter Parker bringing the photo he took of Spidey with the skeleton to JJJ.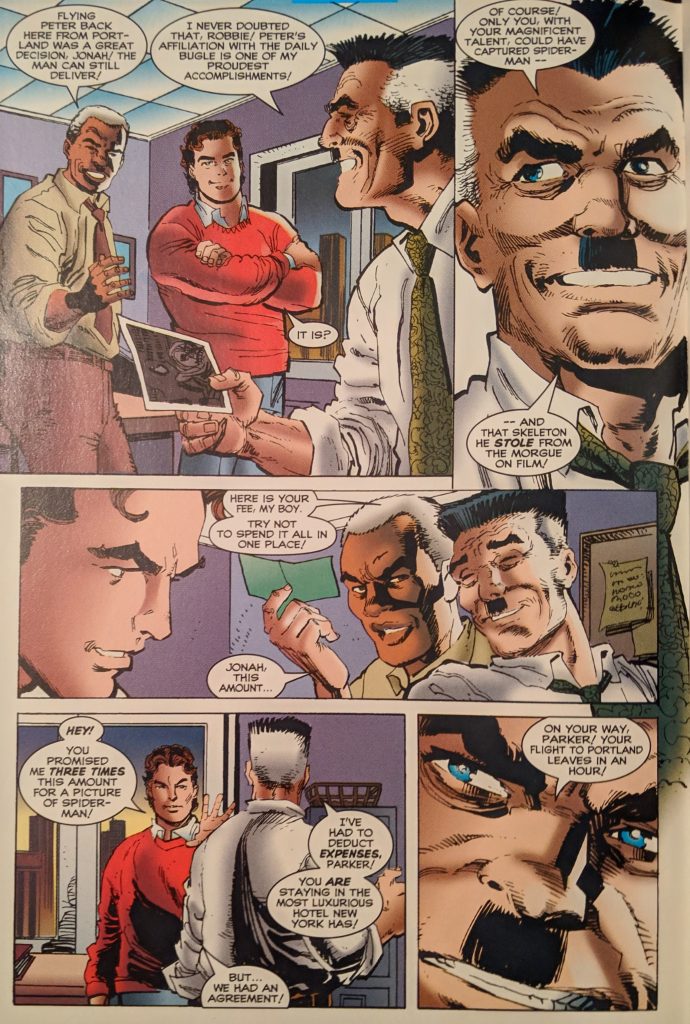 This feels like a regression to The Daily Bugle status quo of the 1970s. Like so many other things about Jurgen' book. Peter threatens to take his pictures to The Daily Globe, and JJJ relents. He also says he's hired a forensic specialist to reconstruct the skeleton "once I get my hands on it." This worries Peter. I want to know how and why JJJ could take possession of a corpse, for any reason, especially one involved in an ongoing police investigation. Again, it feel like a throwback to comics gone by. Meanwhile, at The Daily Grind, Ben Reilly's boss pulls him aside and tells him she likes how he "keeps the ladies happy," because just like you and me, he's got her female customers fighting over him, but also to tell him the social security office said his number was incorrect. Uh-oh! Fake people don't have real SSIDs! Foiled by bureaucracy! Then Jessica walks in.

Ben flashes back to Peter's origin, in case you don't know it. Then he says they have to talk about Jessica's father. She asks why he keeps bringing up her dad like she didn't randomly, awkwardly bring him up in every single one of their early conversations.

We haven't seen Spider-Man's 2nd encounter with the man who killed Uncle Ben yet, but, and I know you're not gonna believe this, that's not exactly what happened. Also, that collage is pretty bad! The composition isn't too hot, and the color makes half the figures into mush! Jessica says no one attended her father's funeral but her and the priest, and then she bounced around foster homes until she was old enough to strike out on her own. Ben tries to defend Spider-Man, but that's hopeless. Then police race by and change the subject.

He's right, that was pretty bad. Jessica tries to get some photos of what turns out to be a hostage situation in a jewelry store, and then Spidey shows up, smashing through the window into one of the gunmen.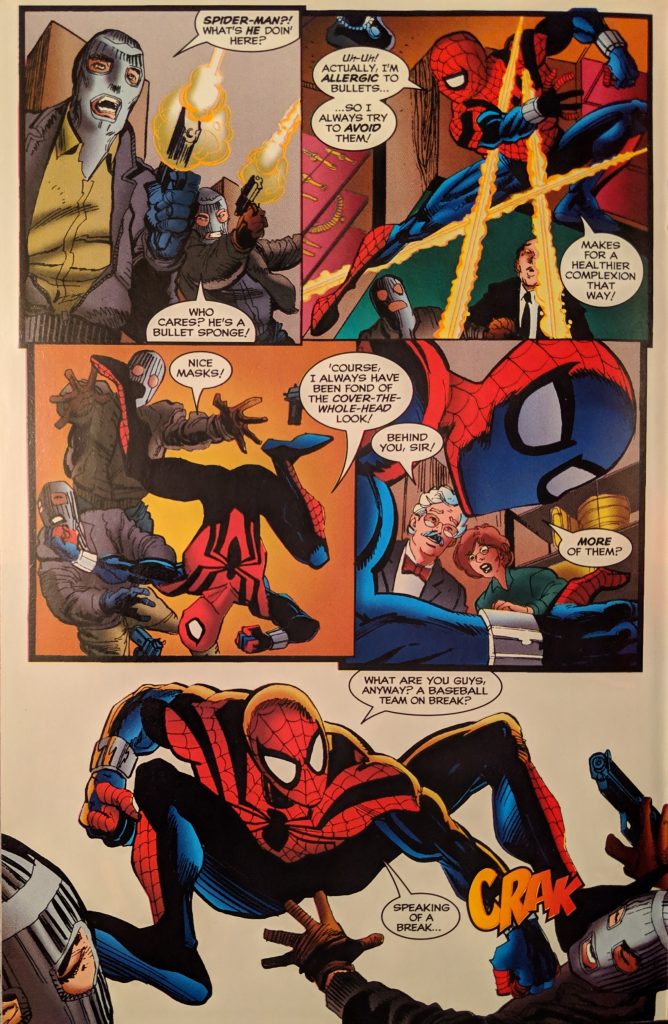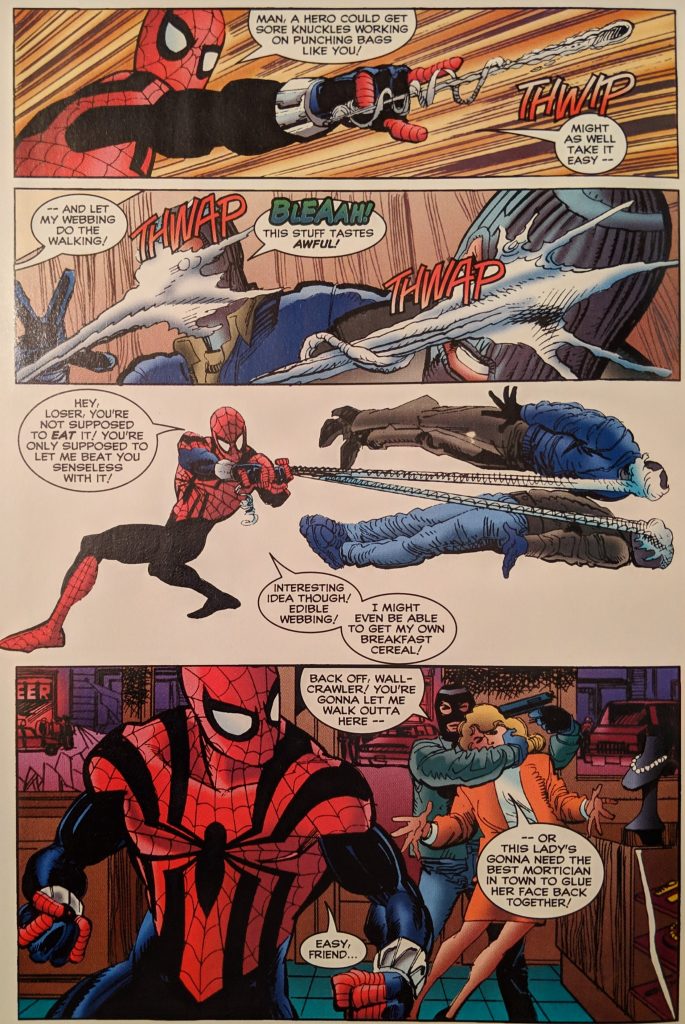 I posted that 2nd page for 2 reasons: 1. Check out Jurgens doing the non-standard web hand, that's cool. 2. HE IS TOTALLY BREAKING THOSE GUYS' NECKS!! That's insane! Unsurprisingly, Spider-Man lets the guy walk out with his hostage, then webs his gun and saves her. As he leaves the scene, Jessica is on his tail, having taken up a position on a nearby rooftop to try to get some good shots.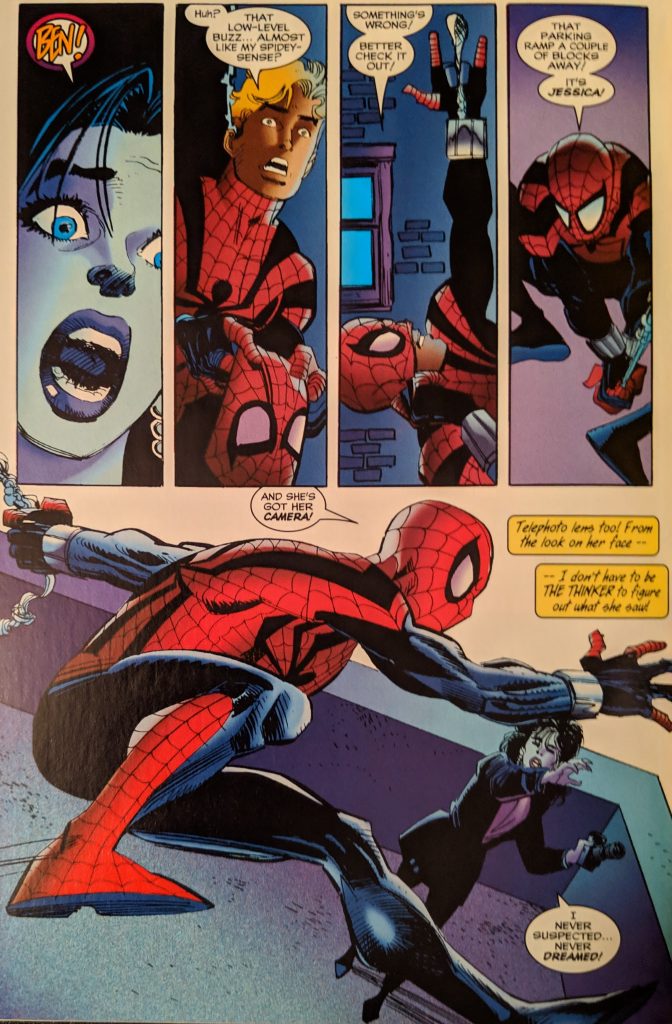 Rough times for Bargain Bin Spider-Man. Begs the question, how does his Spider Sense really work? He wasn't technically in danger, but it's gone off when his secret was threatened before. Ah, well. No one's ever gonna screw up worse than the time MJ set it off by being in Peter's apartment when he got home, just wanting to hang out. Gerry Conway. Ahem. The boys are, indeed, burying the skeleton. In a graveyard? Are they giving some dead person a roommate? They talk about how it'll be a moot point whether JJJ gets the skeleton if Jessica gives him those photos. Peter assures Ben her dad didn't die the way she said, but that doesn't get them very far, either.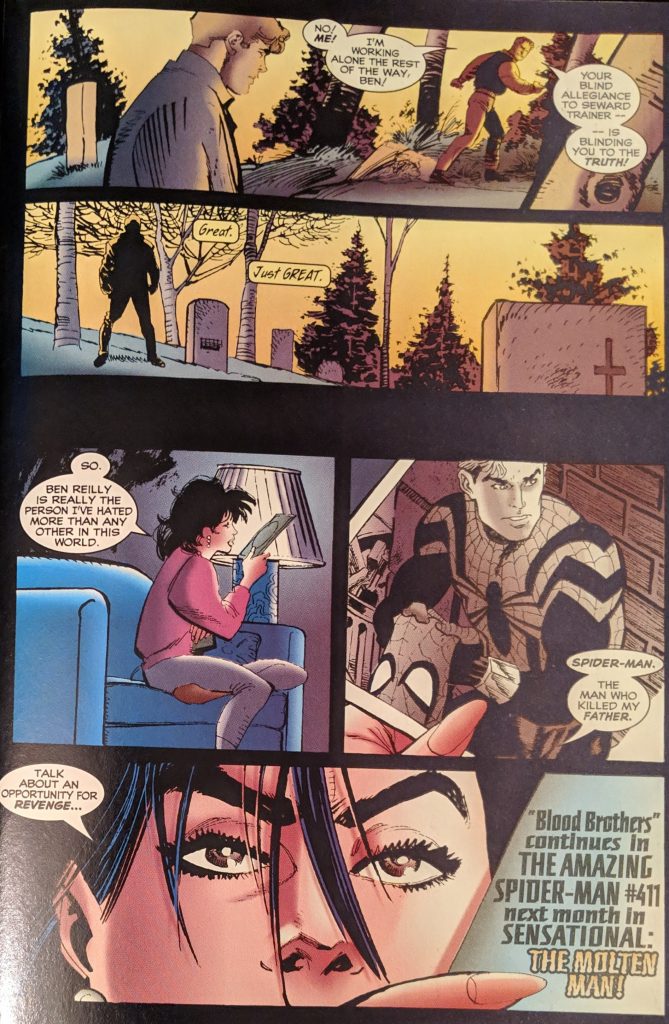 As an artist myself, I find it very difficult to make a character look like the same person from panel to panel. I would never want to do a book where 2 people are supposed to be identical. So! Things are looking grim for our heroes, and there's 5 more parts to this story. I assume things will get worse next time…
It just occurred to me for the first time: Jessica was a little girl when her dad killed Uncle Ben. Peter was 15. The age gap is as wide as I thought it was. That's gross. Not illegal or anything, obviously, but… gross.