Nothing says "no, thank you" for me like the appearance of Carnage, but here we go. I can't imagine my reaction in '95. "Hey, we're doing this fake Spider-Man thing, and now here's 4 months of the worst villain, too!" But, the joke's on me since I bought it all, I guess. In an opening sequence that feels like we missed a part, Spider-Man has come to Ravencroft with his Spider Skeleton dufflebag because he heard Carnage might have escaped, but the cops are here and they want answers RE: that skeleton. Didn't we end last issue on a cliffhanger at Jessica's place? Spidey says he can't talk now and webs their guns, but then John Jameson warns him the automated security system is going to be triggered by his antics.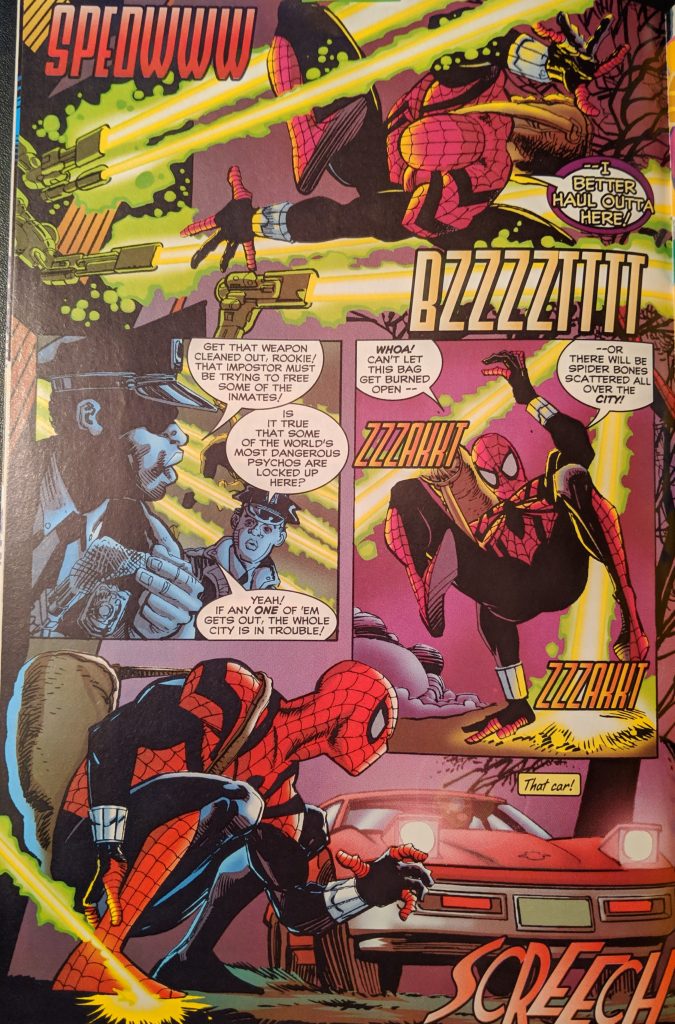 You'd think an institution that has to be saved form its own incompetence by Spider-Man every Thursday would have some kind of Spidey exception in the security routine. But guess who's driving the car, which I didn't realize was supposed to be pulling up and/or occupied until I turned the page despite the "Screech" sound effect?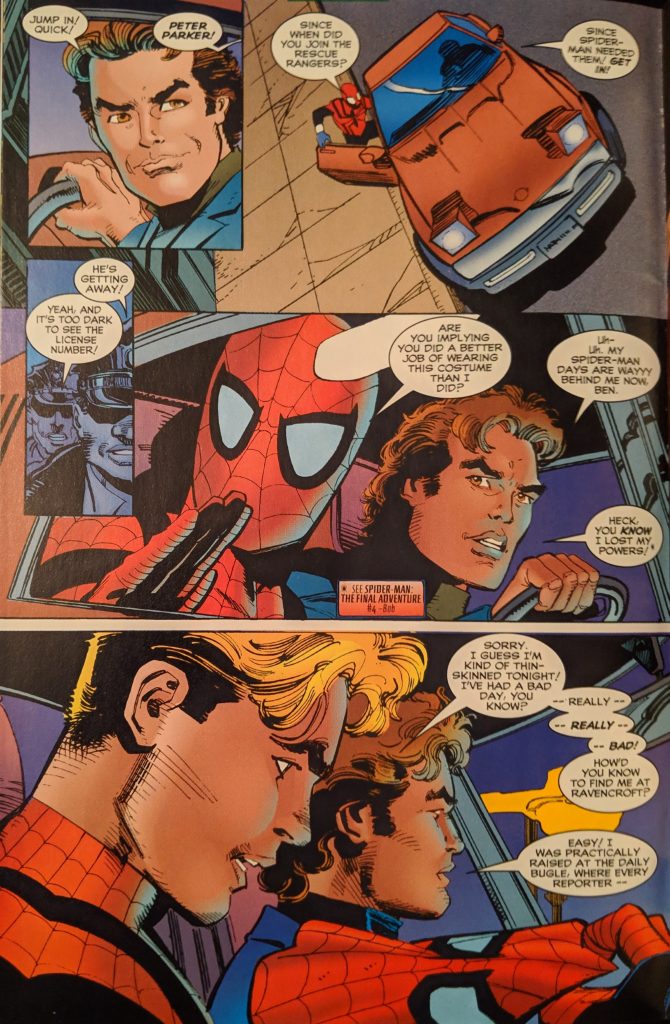 Peter Parker driving a car is surprisingly weird. Peter not knowing how to drive has been a plot point a few times over the years, but look at him. He heard about this fracas over the police scanner and decided to come help. Really? What did he think he could do? This makes no sense to me. Peter asks Ben what else is bothering him, and he produces a photo of Jessica on her 7th birthday (WHAT) and says he thinks her obsession with Spider-Man is related to her dead dad. ONLY THEN does he say he was at her place a few hours ago, allowing us to flashback to the end of the previous comic and see what happened. Sheesh. Jessica says she hangs up all her work to study it and improve. Ben says it seems like she has "a thing" for Spider-Man.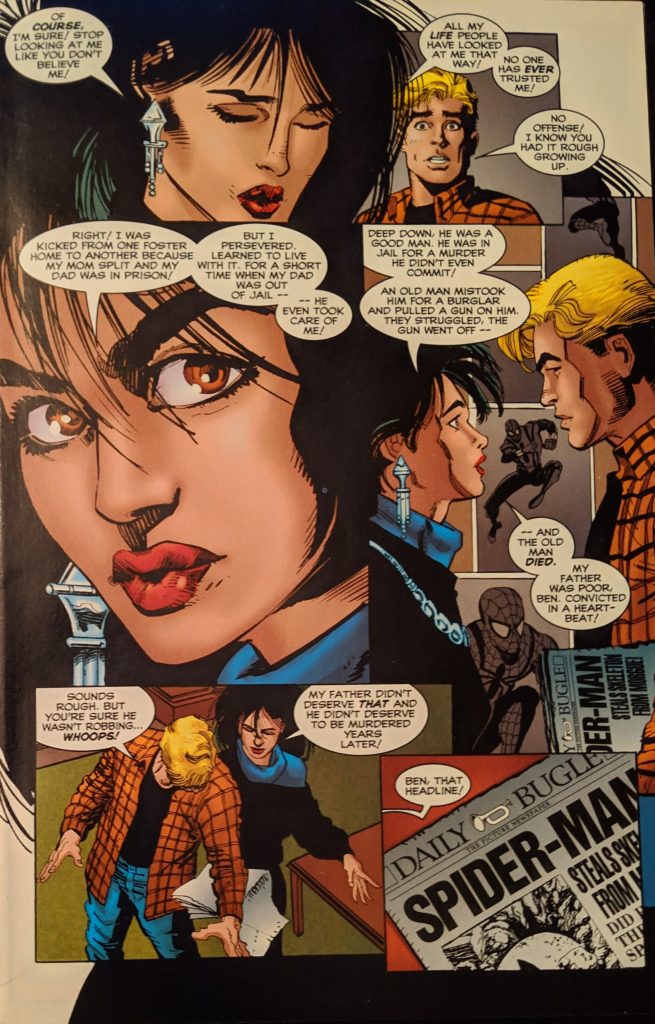 HOW DO I NOT REMEMBER THIS? Holy CRAP, are they going to make Jessica the daughter of the burglar who killed Uncle Ben? THAT'S HORRIBLE. I must have legit blocked this out. She goes on to say she hates Spider-Man, that he is a murderer, and if her dad were alive, he could prove it. This obviously makes Ben want more info, and then she goes…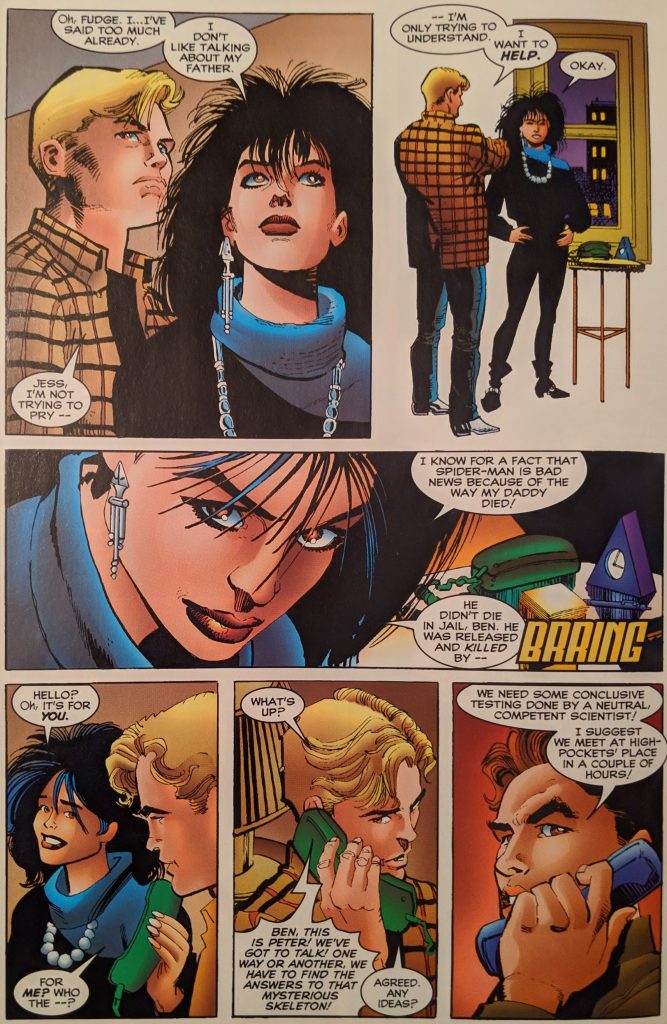 So Peter & Ben are going to take the skeleton to The Avengers and have Hank Pym look at it. That's extremely weird to me. Spider-Man has taken his science problems to Reed Richards so often in the past that it's predictable, but now, faced with maybe his biggest science problem of all, he goes to Hank? How well do they even know each other? At any rate, Peter tells MJ what they're doing and heads out. Then Ben goes to work. This is all still flashback, by the way, all taking place before the first 6 pages. What a weird way to structure the issue.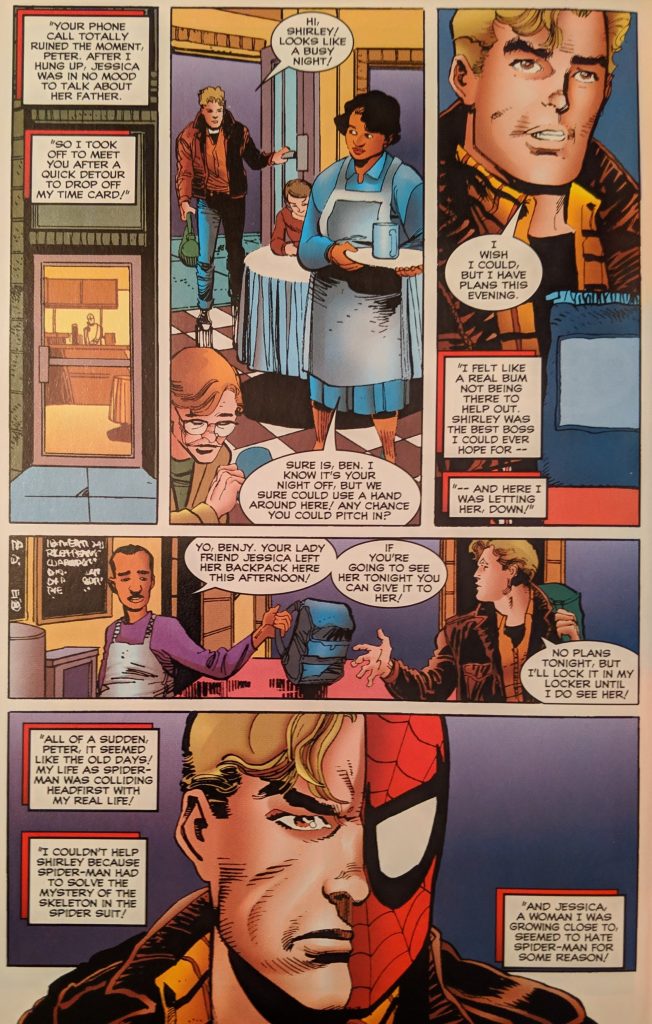 So that's how he got the photo of Jessica at 7. Then he swung off as Spider-Man, but he stumbled on a mugging victim whose description of his attacker sounded like Carnage. Who, you know, kills people for fun, so the idea of this guy being his victim and not dead is not… obvious. But, this was enough to send Ben to Ravencroft, where John Jameson assured him Carnage is locked up tight, but Spider-Man's entry apparently tripped the security alarm, bringing the cops, and then Spidey made the incredibly dumb decision to go outside instead of letting John report a false alarm, and we're FINALLY caught back up to the present.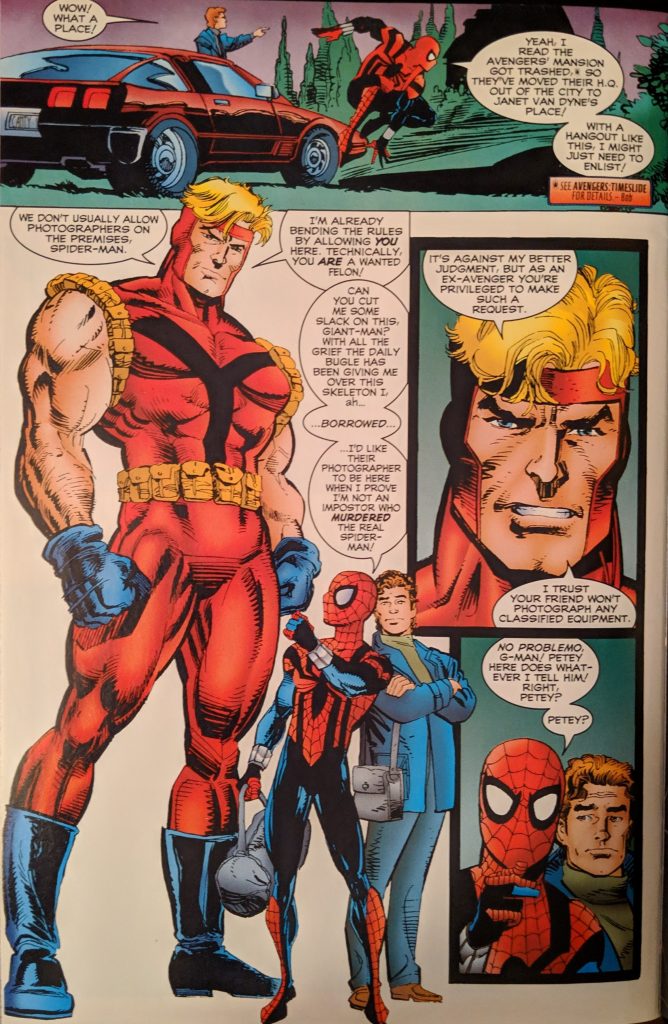 Again, they wouldn't get all this guff from Reed Richards. And they wouldn't have to travel so far out of their way. Why are they here? At any rate, Hank runs some tests on the skeleton. While he does so, Peter notices "a photo-enhancer" in the lab, and puts Jessica, age 7, in there.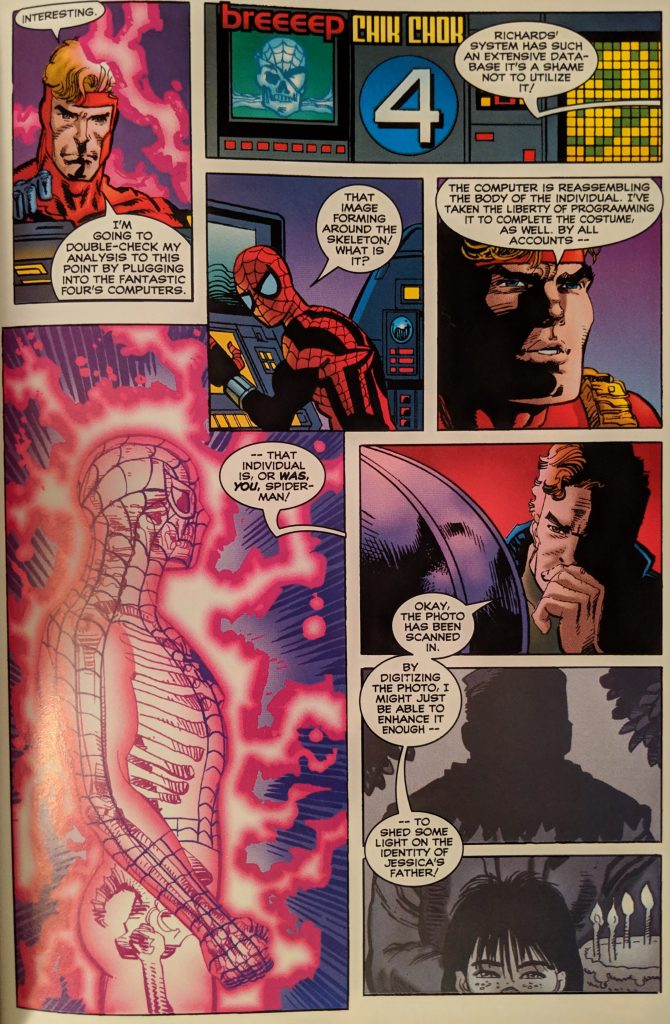 And they have to use the FF's database, anyway! WHY ARE THEY HERE?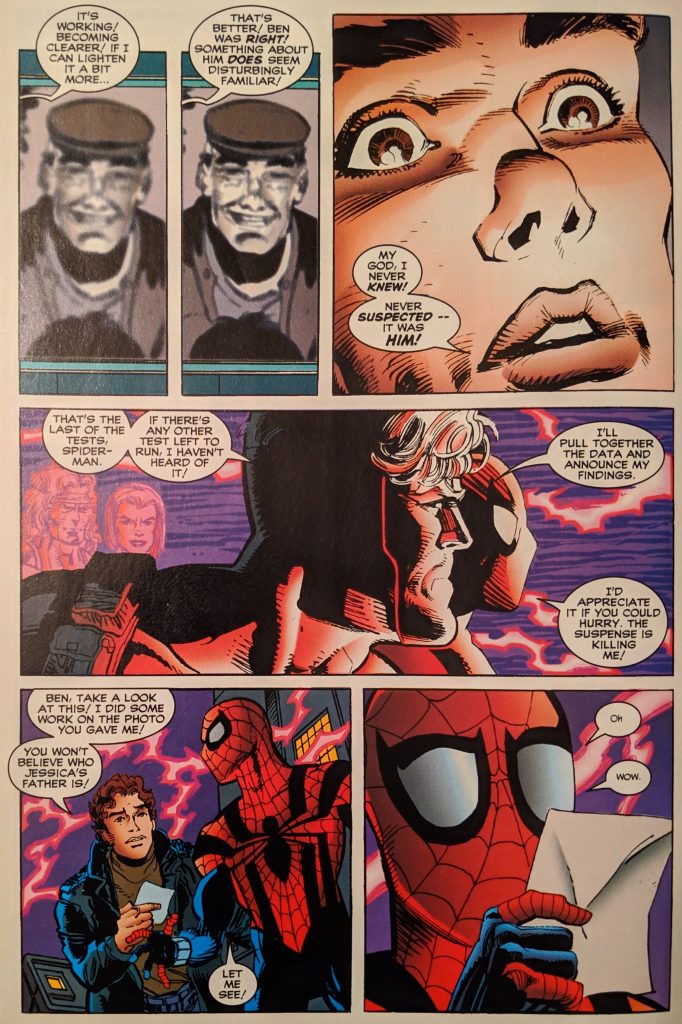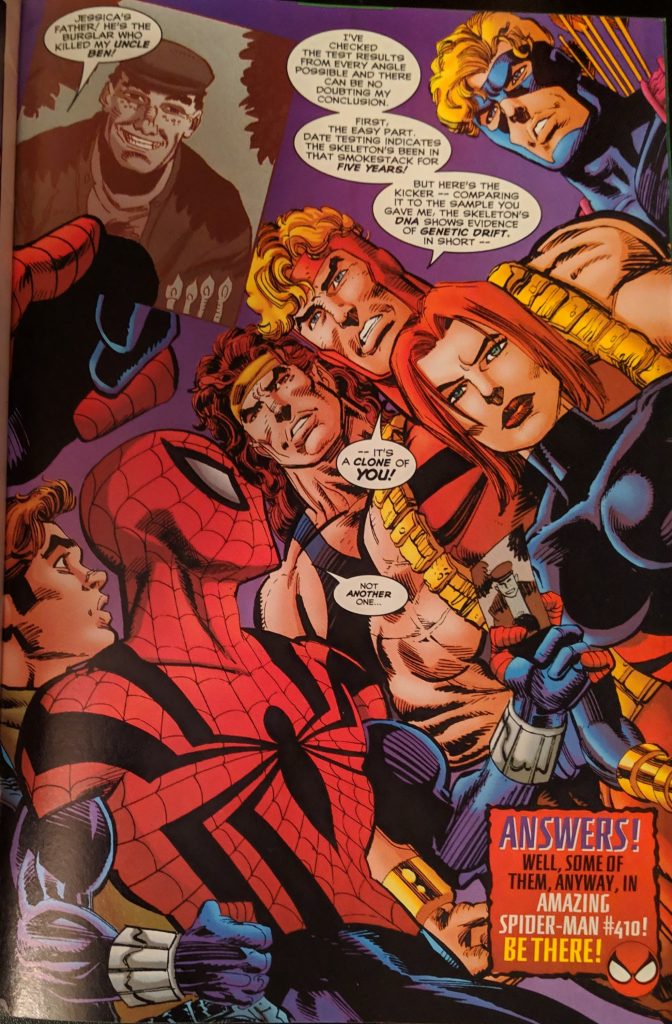 Dogs & cats living together, mass hysteria! Man, look at those bargain basement Avengers costumes. This is a low point for them, too. That's Hercules & Hawkeye back there, and Black Widow, though it's a lot easier to tell who she is at this time. So! Is that the original clone? (No) Is Jessica's dad really Burglar, Jr.? (I don't remember) Will they drag either of these plot threads out too long? (Probably!) Maybe there really will be some answers next time.