Every artist as their own approach to character design. A lot of guys have tells that make it easy to guess a character is theirs. The new characters on this cover are extremely Mark Bagley loookin'. Both feel like precursors to suits he'll use in the series Thunderbolts in a few years, in fact. Check out that spider light on the ground. A coloring trick not possible even just a few years prior. Anyway, here we are for the penultimate chapter in The Return of Kaine. Perhaps Kaine himself will figure into this issue more than the last. We open on Ben looking at his Spider-Skeleton, recapping pretty much his entire life in one page, which is nuts, and saying he wishes he could "gentle down with his lady Jessica," but this is no time for romance. Wishing he could what, now? Who talks like this? He switches into Spidey gear and recaps meeting Kaine and Rhino last issue and then swings off as we check in with Bob Burtsfellow, nope, sorry, James Johnsmeyer for still more sweet, sweet exposition. Via conference call, he and many of his fellow players explain what The Great Game is and decide to wager on whose goon can kill Kaine first, including Spider-Man as "a wildcard." That takes us to Kaine and Muse, who recap THEIR part in the story so far, my goodness, is anything going to HAPPEN in this comic, and then Bagley's surprisingly gangly take on The Rhino shows up.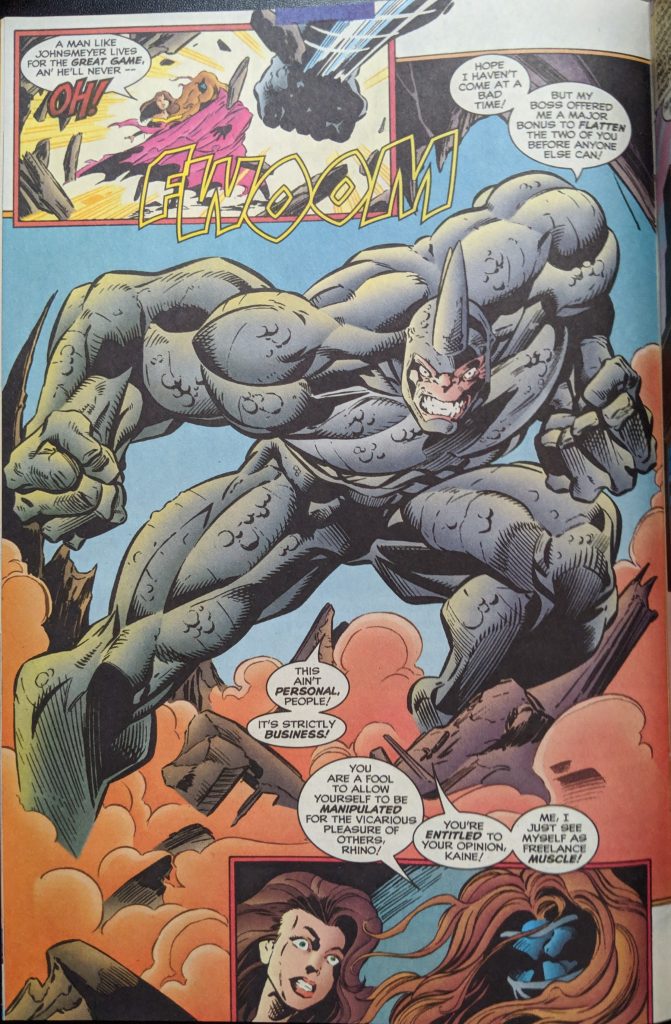 Rhino's always been kinda built like a beer keg, but look at that guy. He looks like he's got a 12 foot wingspan. We'll have to see how that goes in a minute, because we hop over to The Daily Bugle for the blog debut of reporter Ken Ellis.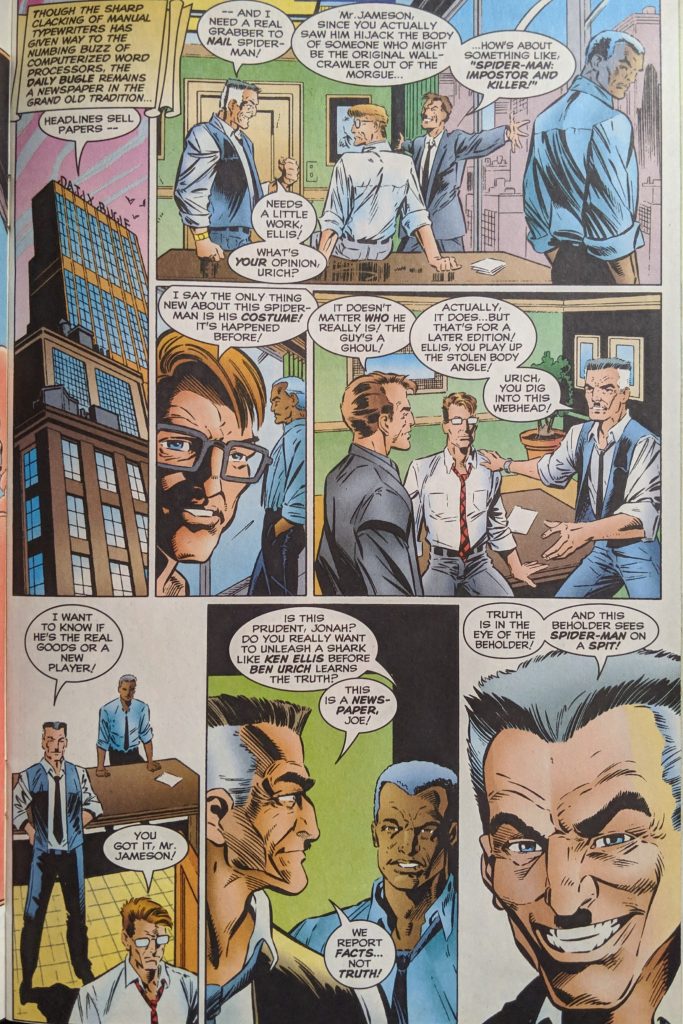 Spider-Man hitches a ride on one of a few news helicopters headed in the same direction, assuming they'll take him to Rhino & Kaine. It's somehow the correct choice, because that's where they're going. Rhino and Kaine are still duking it out, but then an energy blast announces the people on the cover have joined the fray.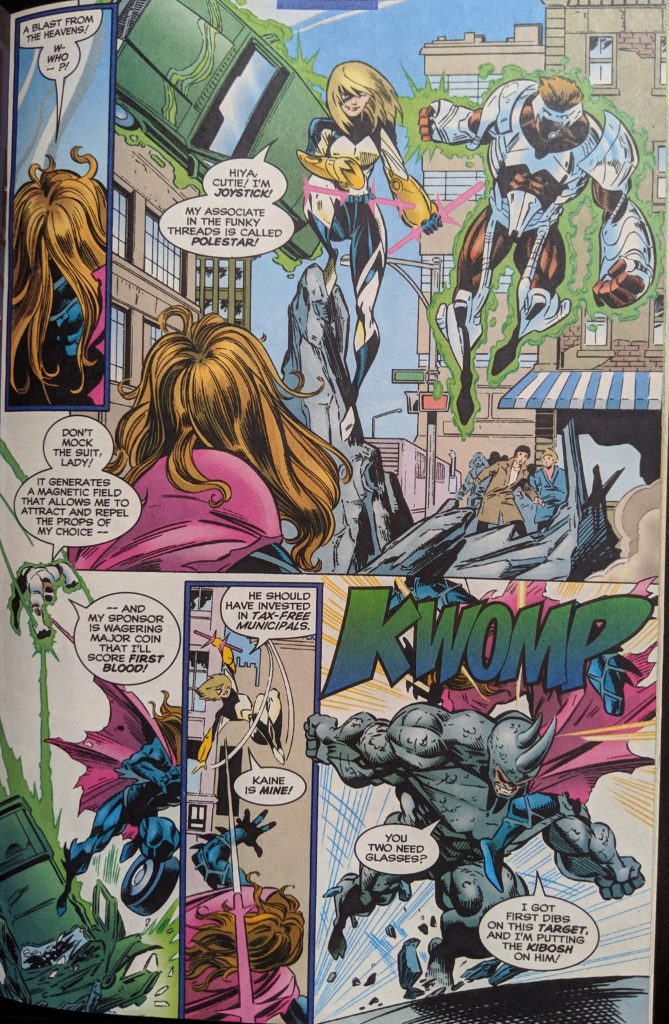 All the good names were taken, folks. This is actually Joystick's 2nd appearance. Muse tries to mindcontrol Polestar and gets kicked in the face by Joystick (I am not enjoying typing this sentence) while Rhino keeps gunning for Kaine. Then Spider-Man finally shows up.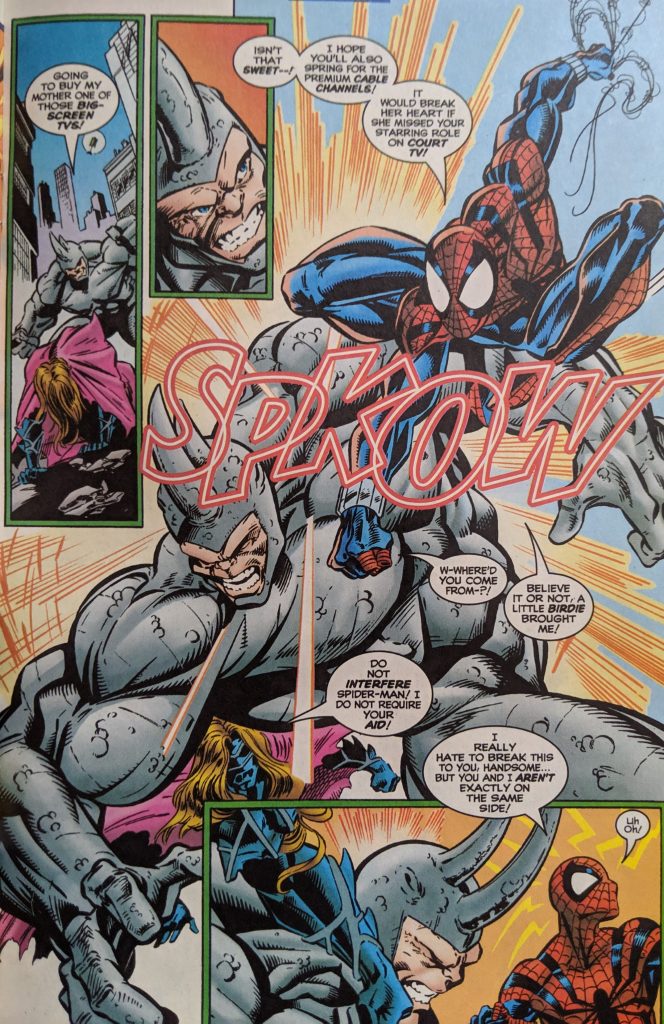 Polestar lets everyone know Spider-Man is worth double points, and then it's fightin' time in earnest. Kaine's high brow Stan Lee-esque dialogue really doesn't make any sense when you know he's a Peter Parker clone. It was awhile after his introduction before this was revealed, of course, but… it's weird. Being sad and evil is somehow the explanation for him saying things like "Your so-called sponsor uses you like a mindless tool — and your only concern is remuneration? I strongly suggest you reassess your priorities!"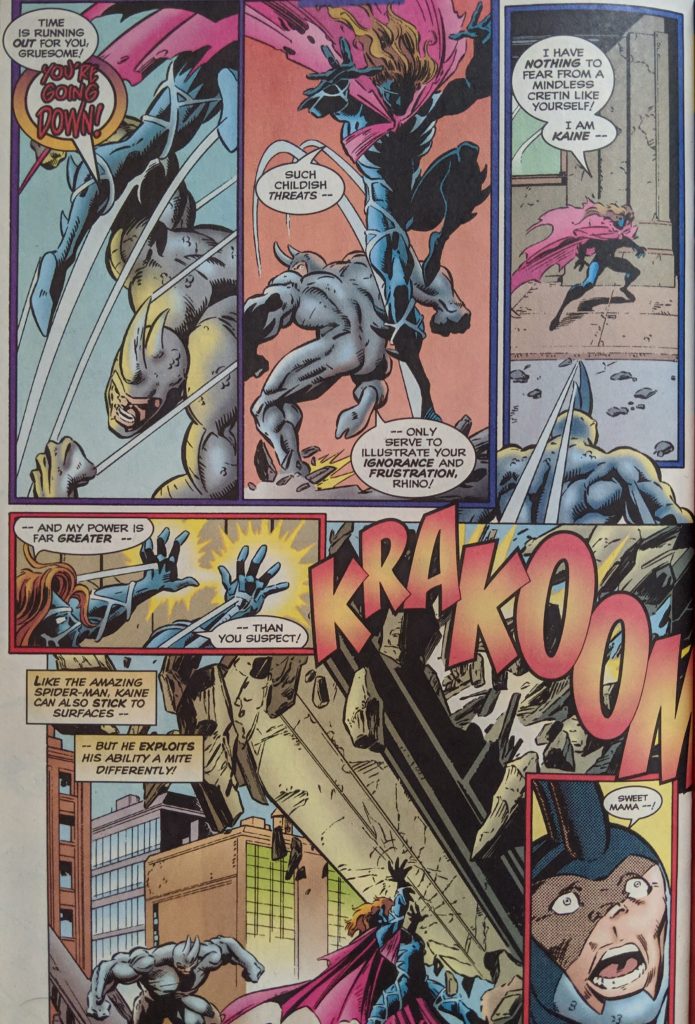 While Kaine is busy beating Rhino with half a building, Spider-Man smashes Joystick's gauntlets, blowing up the mechanism that powers her weapons. As she decides to flee, she tells Spidey it's a waste of time trying to turn her over to the police because she hasn't committed a single crime. Uh… this neighborhood is wrecked, ma'am. People live here. No time to consider her poor grasp of destruction of public property, though, because Polestar is still flying around. Spidey dupes him into crashing into a building like the lame he is, and he whines about how his boss is expecting results in the fiscal quarter from his investment.

Spidey is really givin' it to hose Wall Street fatcats! Or something! Too late for more, we're switching scenes.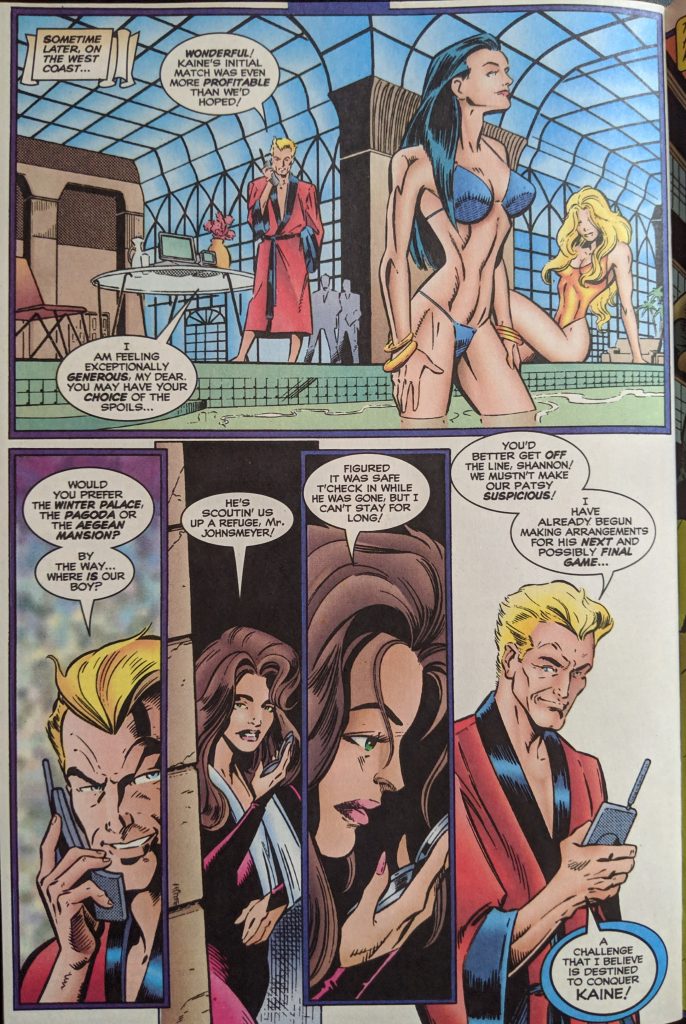 Did anyone NOT see that coming? Anyone? I still don't really understand the rules of this game, but Muse's treachery has been screaming off the page since they left Jack Johnson's house together. Watching Rhino and Polestar get arrested by supercops, Spidey thinks he's headed for what may be his final showdown with Kaine AND the end of The Great Game, in spite of… no real reason to think either of those things? Unless he's planning on killing everybody, why would this end any of that? I guess we'll find out together next post.