Yes, it's Kaine! But also: Oh no, it's Kaine! Kaine, as I'm sure this comic will awkwardly explain, is yet another clone of Peter, but a failed and deformed one that dressed extremely dumb and 90s and is dark and mean and whatnot. Yes, 3 Peter Parkers in the world at the moment. Ugh. What's weird is they will get it back down to a reasonable 1, and then go back up to 3 by 2016. Al Milgrom does finishes over Sal Buscema's breakdowns on this issue, which begins with Kaine waking up tied to a chair in a dark room. And as soon as he wakes up, a gang of the funniest looking "edgy 90s people" you've ever seen attack him.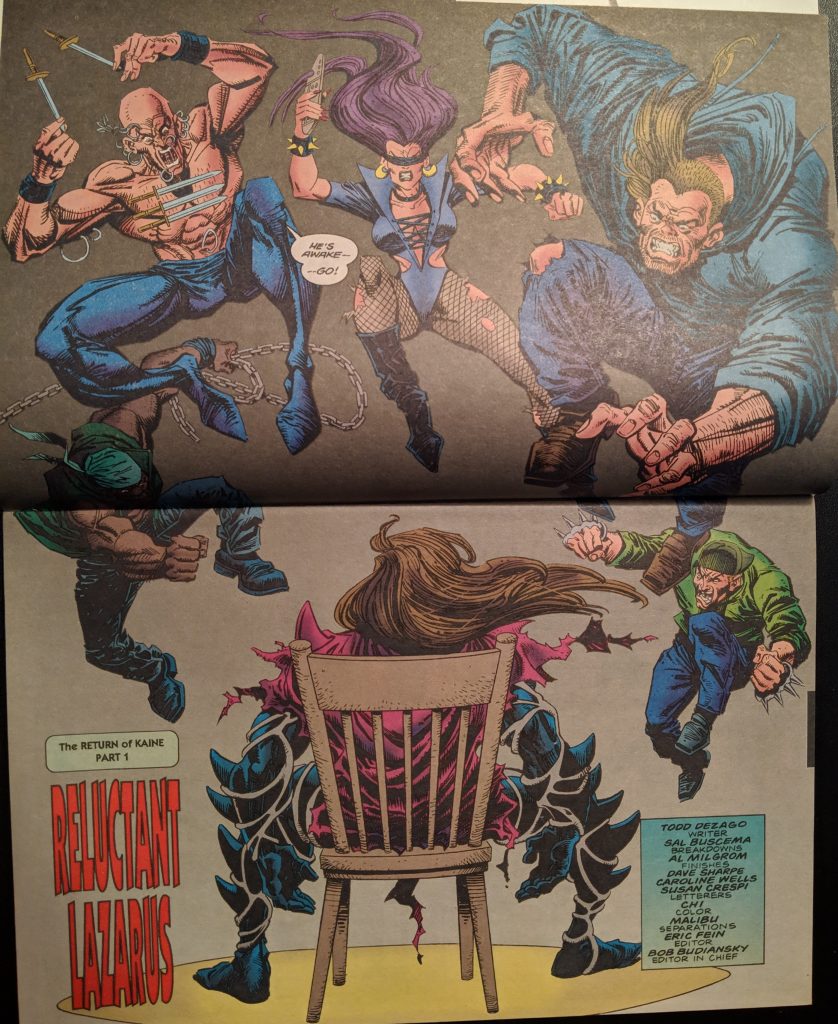 I want to draw special attention to the guy in the top left, whose piercings have piercings and who somehow has 3 knives floating in front of his chest in perfect symmetry with no obvious means of attachment. also to the guy on the top right for shaving one side and the top of his head and letting the rest fly free. That is a bold choice. Here's this lame in action against them: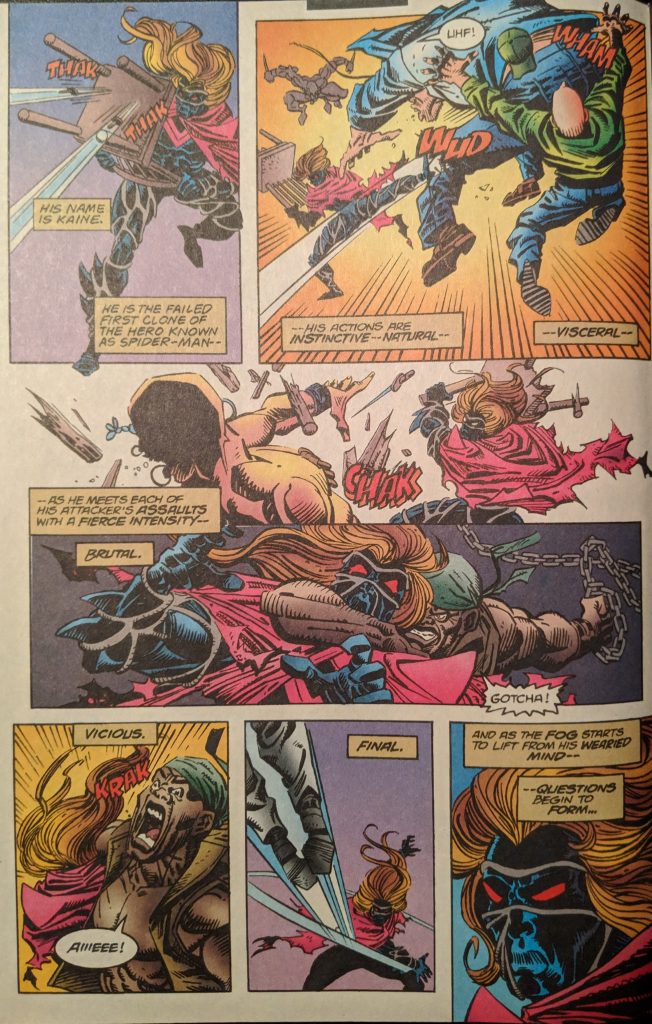 KNIFE GUY'S NAME IS PIERCE. This man has stunned me twice! Kaine gets PIERCE at a disadvantage and gives him "The Mark Of Kaine," meaning his puts his hand on him and scars him all up. "Now that's not a Spider-Man power!" you may be thinking. Yeah, well, he's a FAILED clone, so his sticking ability is so powerful and unpredictable (In just one hand, I think?) that he can mess up your face with his palm! So br00tal! 1995, baby!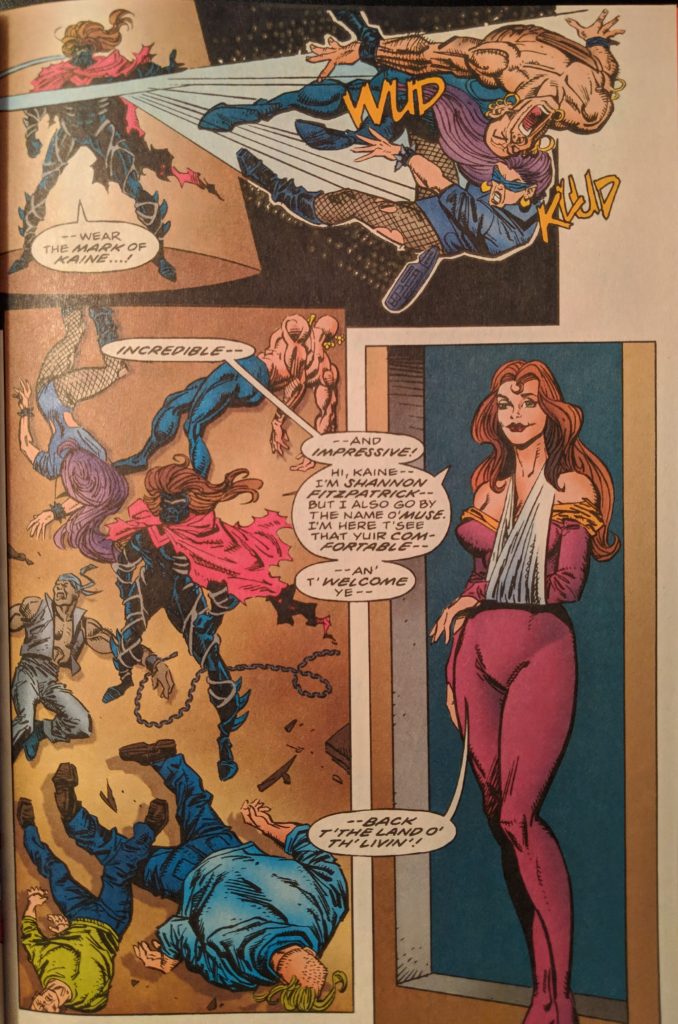 Incredible AND impressive! I do not recall this lady, but I assume she's appeared before on account of the arm. You might think we'd get some much-needed exposition here, but you'd be wrong, as we cut to Spider-Man swinging to work. When he gets there, Desiree Winthrop and her entourage sweep in behind him and literally push him out of the way. Here's a thing I'm beginning to realize: Desiree Winthrop and Jessica the Photographer Whose Last Name I Forgot If It's Been Given are both college students. Undergrads I must assume. Peter graduated college in 1978. Granted, it's only been "five years" Since 1975, but even so, I can't shake the feeling he's a bit old for these girls. Speaking of Jessica: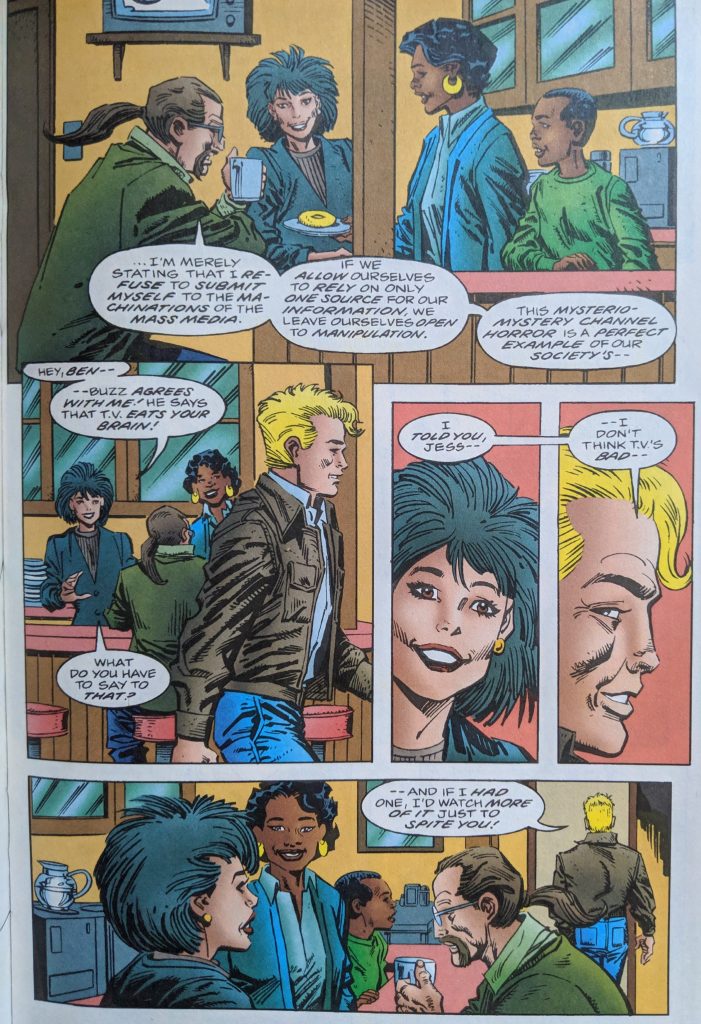 Do what now? Why's he being like that? Who knows we're off to Tahiti! To the villa of a billionaire named "James Johnsmeyer," somehow, to be precise. He's a player in The Great Game, and he's just lost a bet in which his girlfriend was collateral.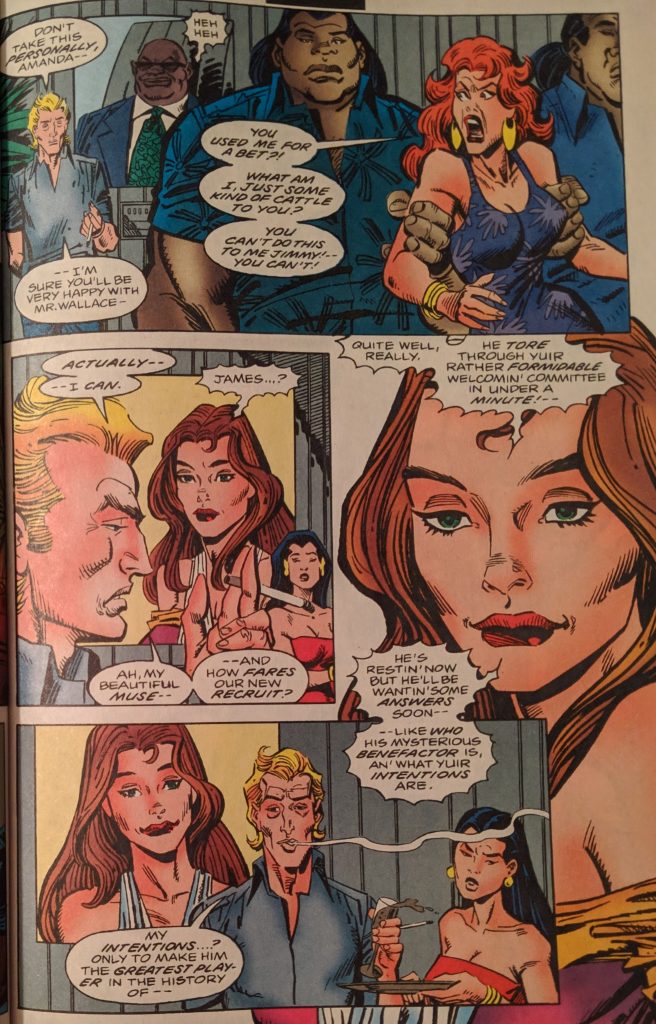 A delightful man! I'm gonna let him explain The Great Game (To Muse, who knows all this already) since we've not seen it previously: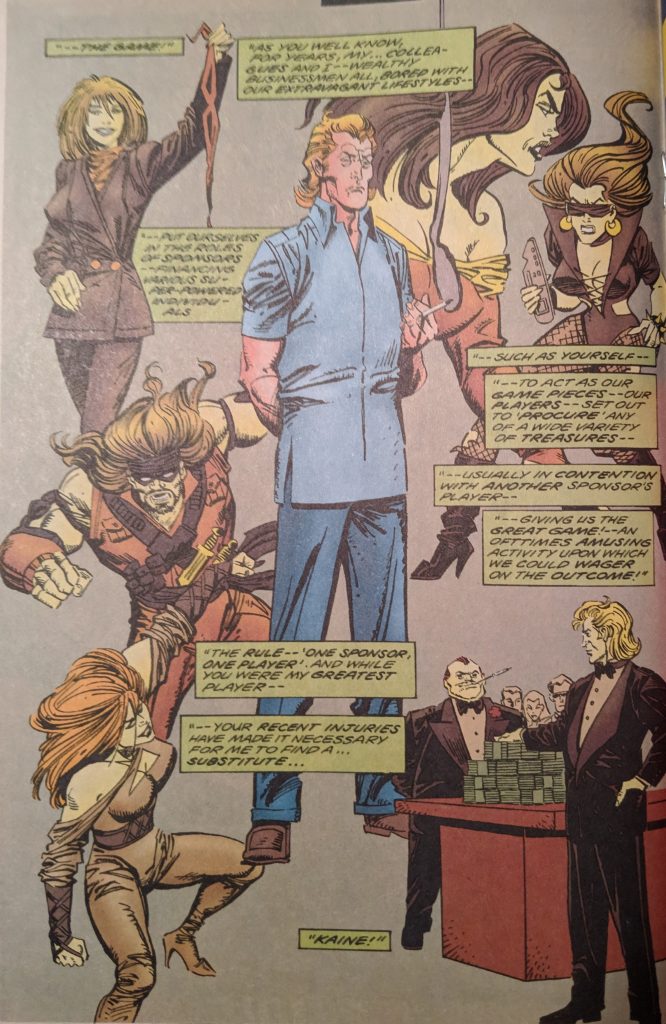 This idea has potential, actually. I could see it being in interesting about 10 years later in the hands of, like, Ed Brubaker or something. Here and now in 1995, less so. The improbably named James Johnsmeyer instructs Muse to treat Kaine like a king until he gets back to the states to make him an offer he can't refuse. He says this while blowing cigarette smoke in an employee's face, in case you weren't sure yet if he's a jerk after selling his girlfriend. Then this unintentionally hilarious page happens: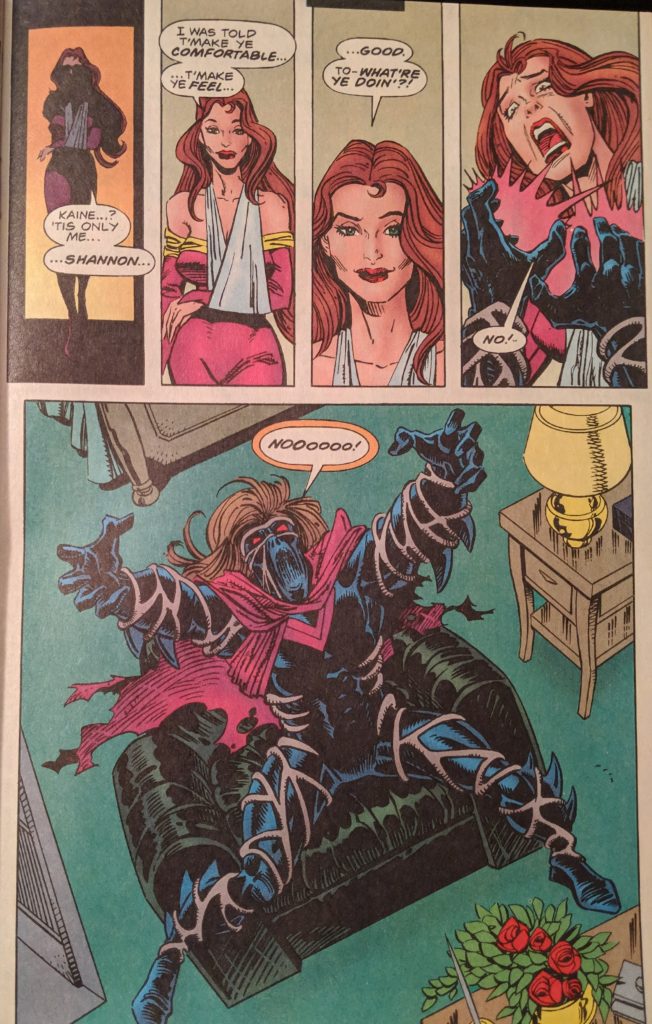 Wut? Like… what's supposed to be happening here? The next page makes it obvious, but…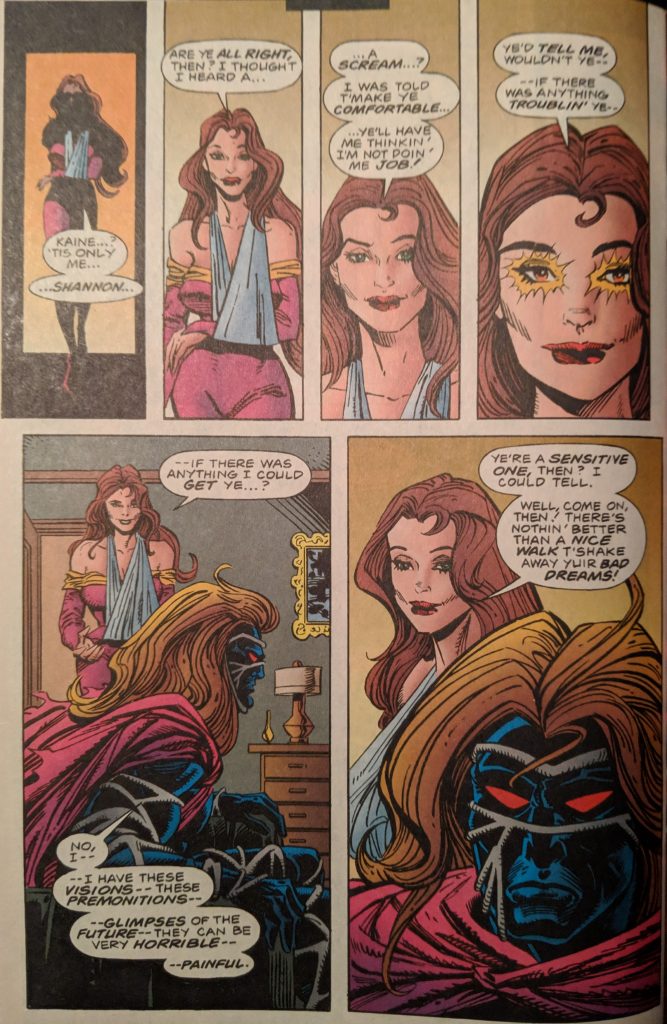 Terrible storytelling, guys. Also that last panel makes it look like Muse's whole head opens at the mouth like a Muppet. Halfway through the issue, someone finally gets around to explaining the beginning. Kaine was "killed" in his last appearance, but these guys had been trying to recruit him for awhile, and after his "death" they found someone had put him in a Tube O' Stuff that kept him alive. We also learn the guy with the hair earlier is called MOSH, because of course he is. Then Kaine is shown to a meeting with James Johnsmeyer, and his best friend, Kurt Kevinsworth. I may have made that one up. But we cut away before they can talk to go see Ben.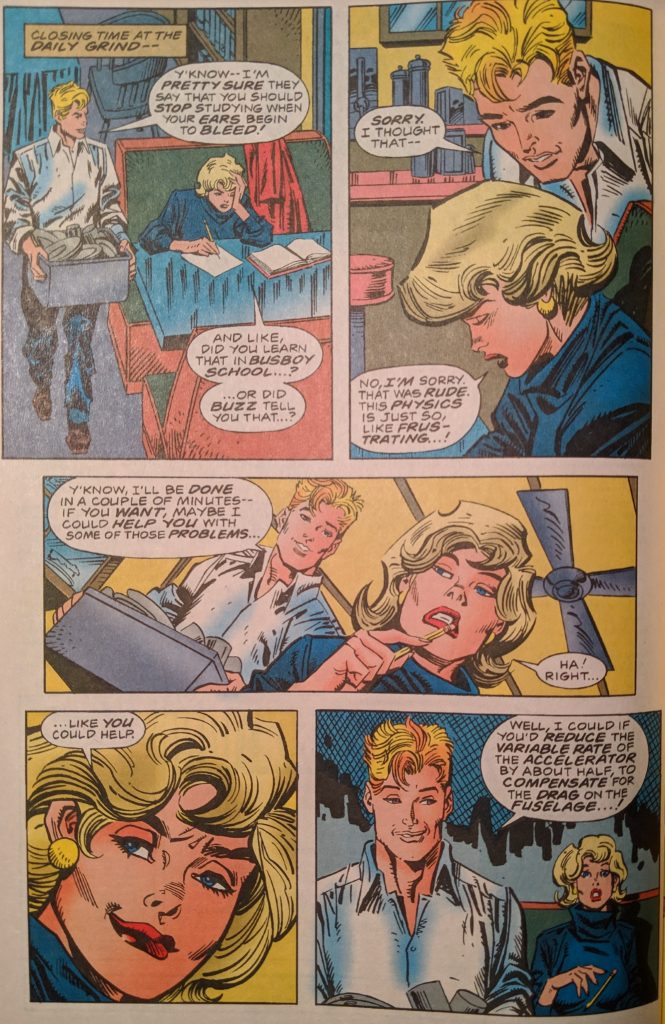 Fffffffart sound. Elsewhere, Jimmy Johnsmeyer gives a freaky fast rundown of what he wants from Kaine, to be his player in The Great Game, and Kaine just jumps over a fence and runs for it, which is kinda great. When some of the other jobbers get him at (giant 90s) gun point, Muse intervenes.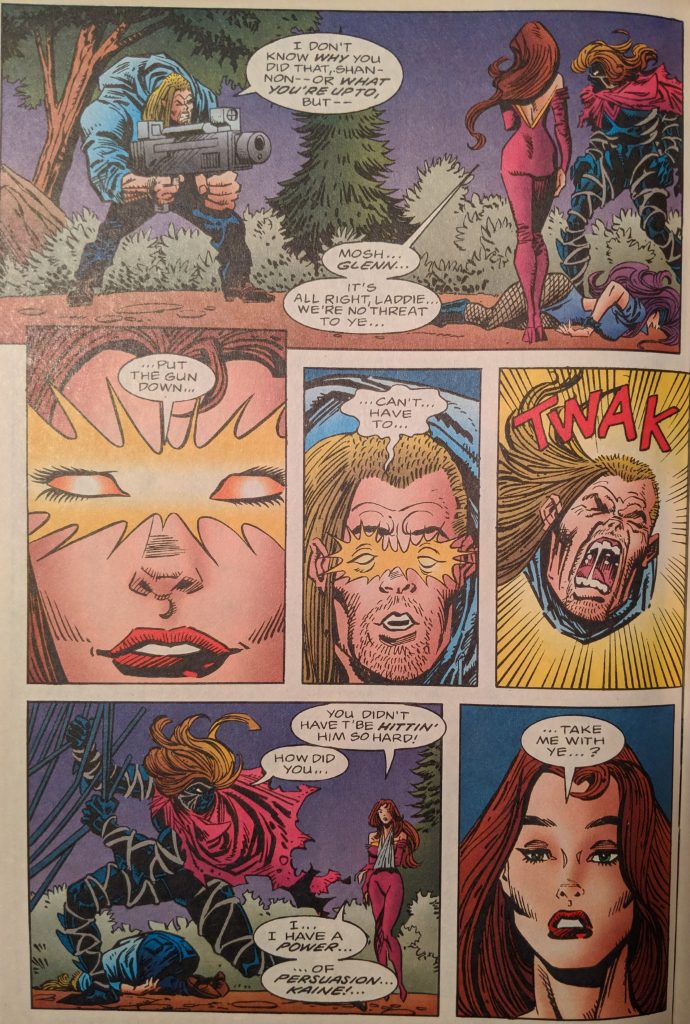 That hair is insane. So there's a twist. What will become of Kaine and his aggressively accented new paramore? Well, given the name of this arc, I'm sure we'll find out. First, though, this: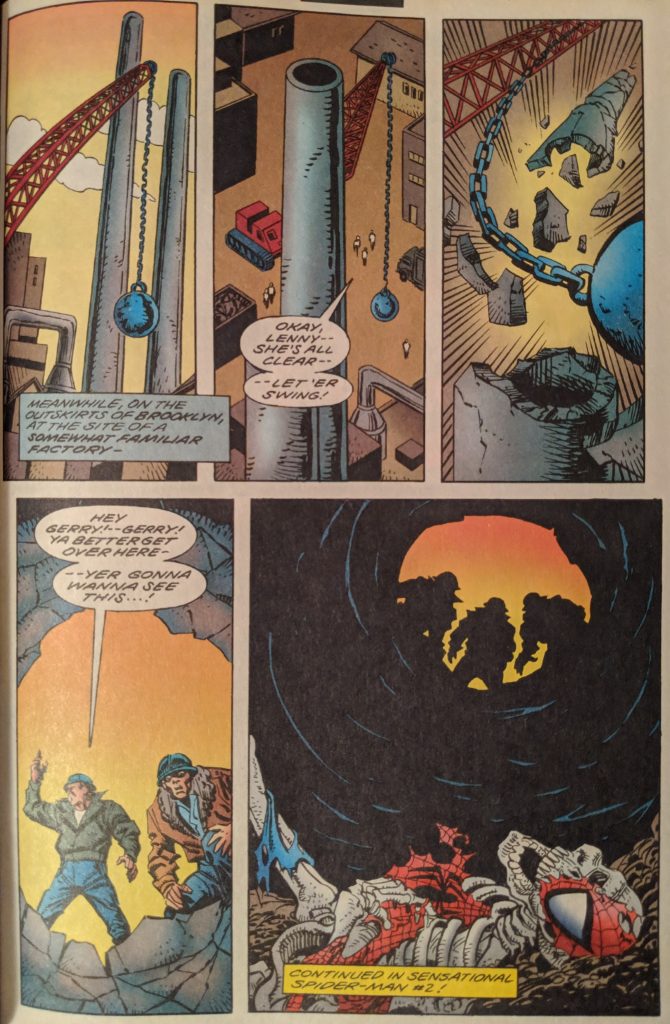 They are doing a really bad job of putting the clone stuff behind them. But, yeah, there's a Spider-Skeleton at the bottom of the smokestack Spidey dumped his clone in back in '75. What does THAT mean? We shall see. Don't get too excited. The lore has it that Spider-Staff introduced this plot twist genuinely not knowing what it means themselves. Total chaos.

Spider-Man appeared on 1 page of this issue. That's kinda wild. There's an old thing comics urban legend that says Jim Shooter decreed that there had to be a fight scene by page 8 of a Marvel Comic in the 80s. I don't know if that's true, but every comic certainly had at least one fight scene in olden times. Times have certainly changed by 1995.