I think that spot color blob is Mysterio's head? I don't know. People are still figuring out what they can and can't do in this new age of color. It's interesting to watch the use of the technology evolve. Color in today's comics is often absolutely stunning, but these are the babysteps it took to get there. In the days between our last block and this one, the Spider-titles adopted a system not unlike the Superman titles Dan Jurgens has just come from. Supes also starred in 4 monthly comics in this era, and they all flowed into each other. Generally speaking if there was a 4-part story, it ran in all 4 books, by all 4 creative teams, in a single month. Not all the time, but often. Which sounds like a nightmare to coordinate. Spider-Man started doing that, too. And now that each title has had a chance to reboot & reintroduce in its own way, we're getting back to that beginning with the "Media Blizzard" storyline. It's weird, but it's happening. And it starts on a freezing cold day in New York, with Spider-Man picking up a Daily Bugle and seeing an ad for "New York's mysterious new network, MYSTERY VISION!" Really… subtle… Mysterio. The facsimile of our man says he's too broke to own a TV or he'd watch. He recaps last issue and then goes back to work.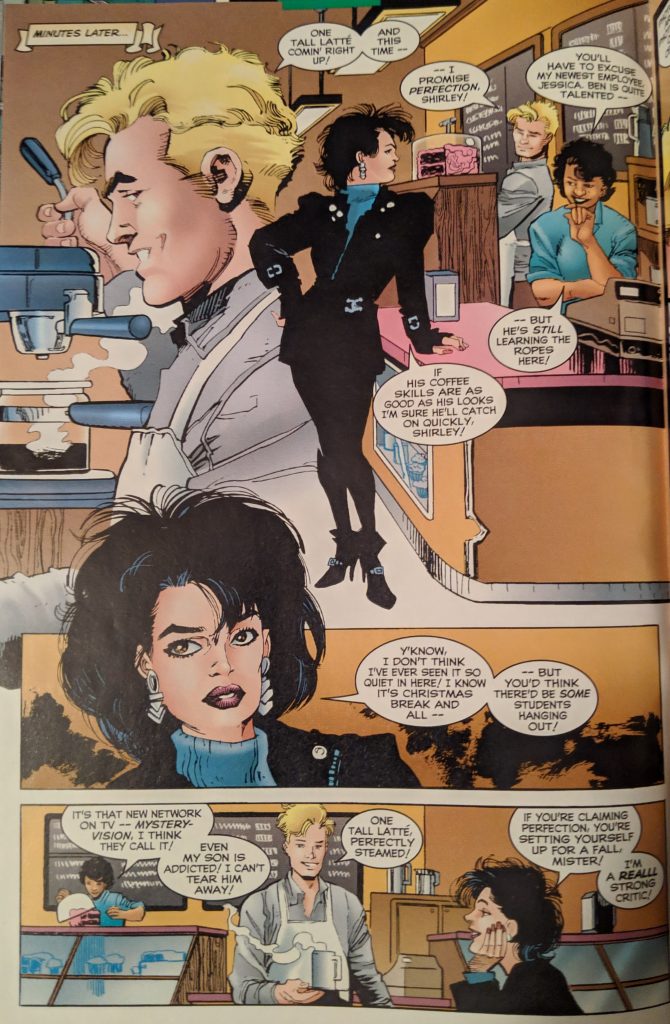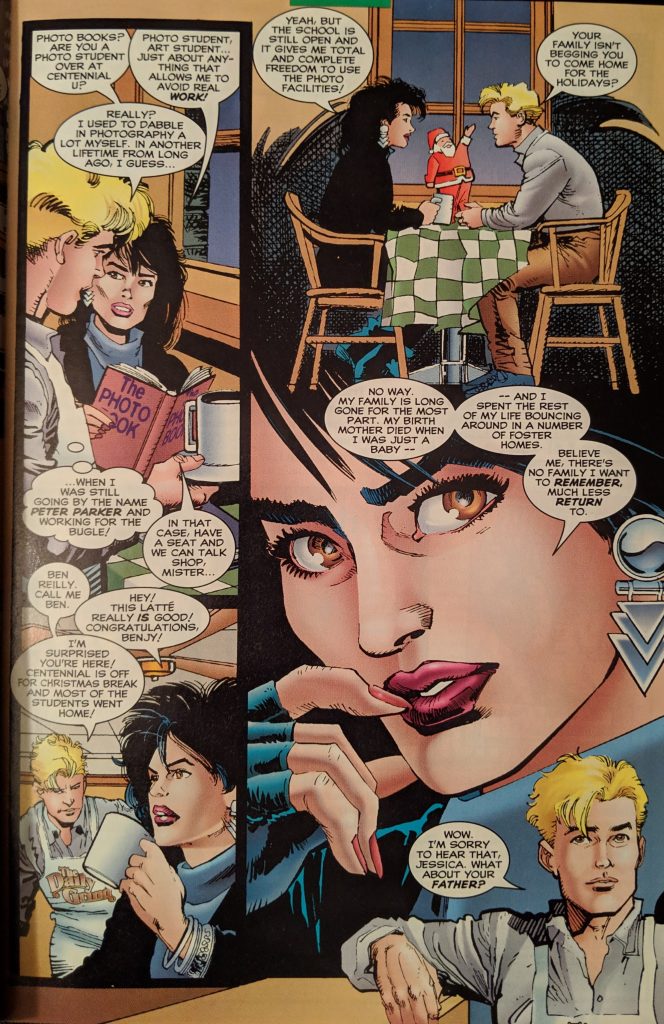 Guys, I think Jessica's gonna be Ben's girlfriend. It's kind of amazing how little I remember about these comics. I can pretty much tell you the history of Spider-Man, the real one, start to finish, but I seem to have blacked this period out. She says her dad was awesome but he died when she was a teen, then quickly turns the topic to Ben's life, which he does not want to explain on account of it being insane. She says she's off to develop some film at the school, and Shirley gives Ben an early night off to go see her work as it begins to snow.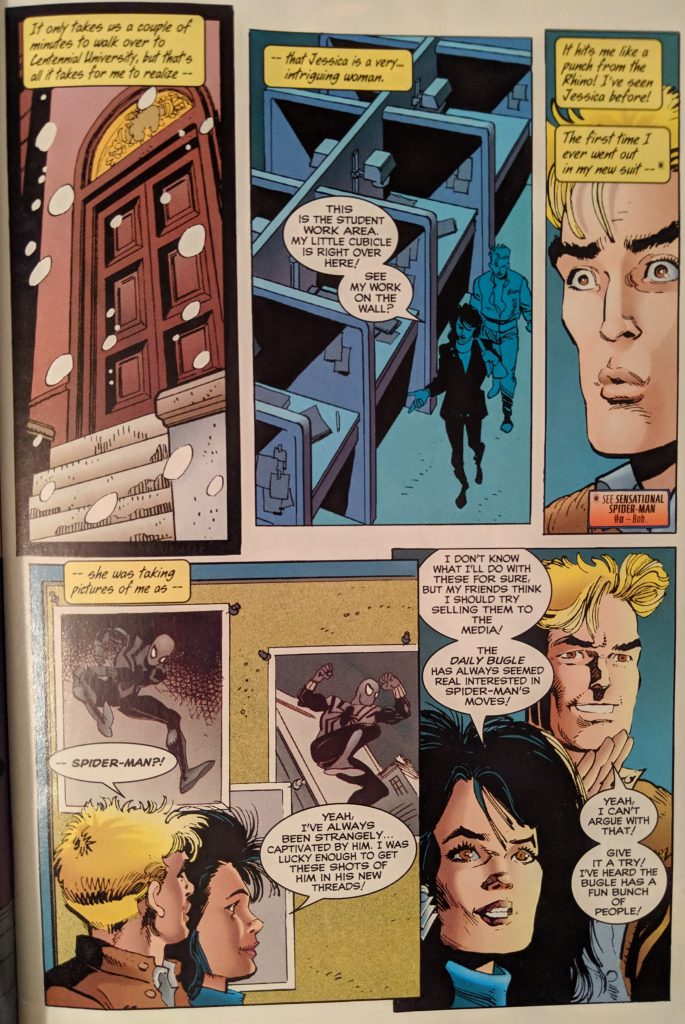 She says he can help her develop her film, but then Dr. Ramirez from last issue runs by, the guy who invented the DIT Chip, saying he has an emergency in the video lab. Ben says he feels bad about skipping out of work and they part ways so he can suit up.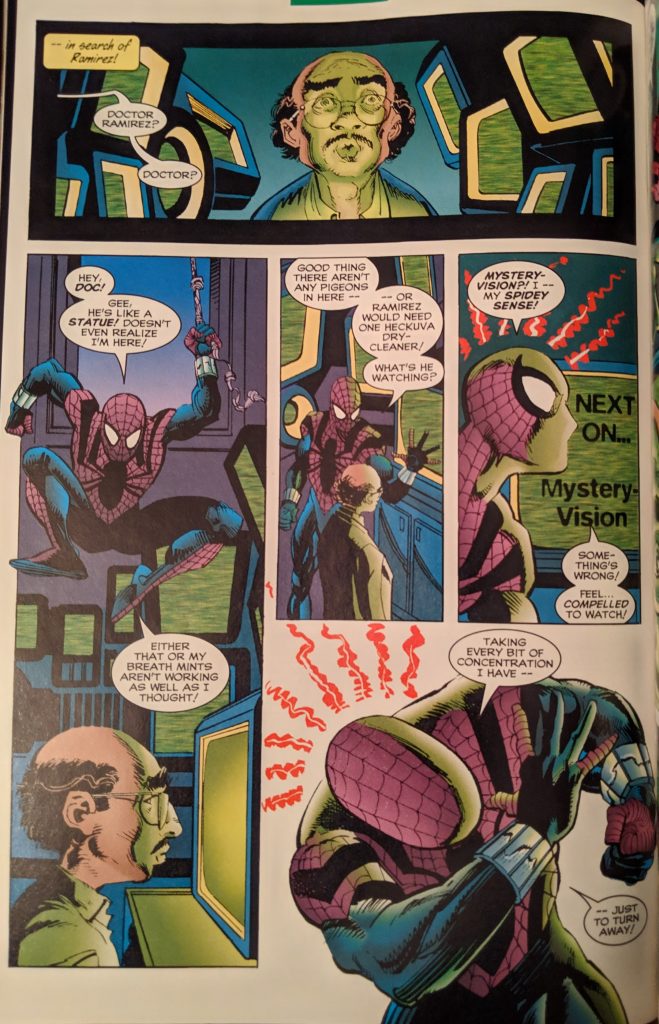 Spidey manages to look away long enough to find newspaper clippings about the network on the Doc's desk. Critics say all the programming is terrible, but ratings are through the roof, and even the critics can't stop watching. Spidey webs the screen so neither of them can see it anymore.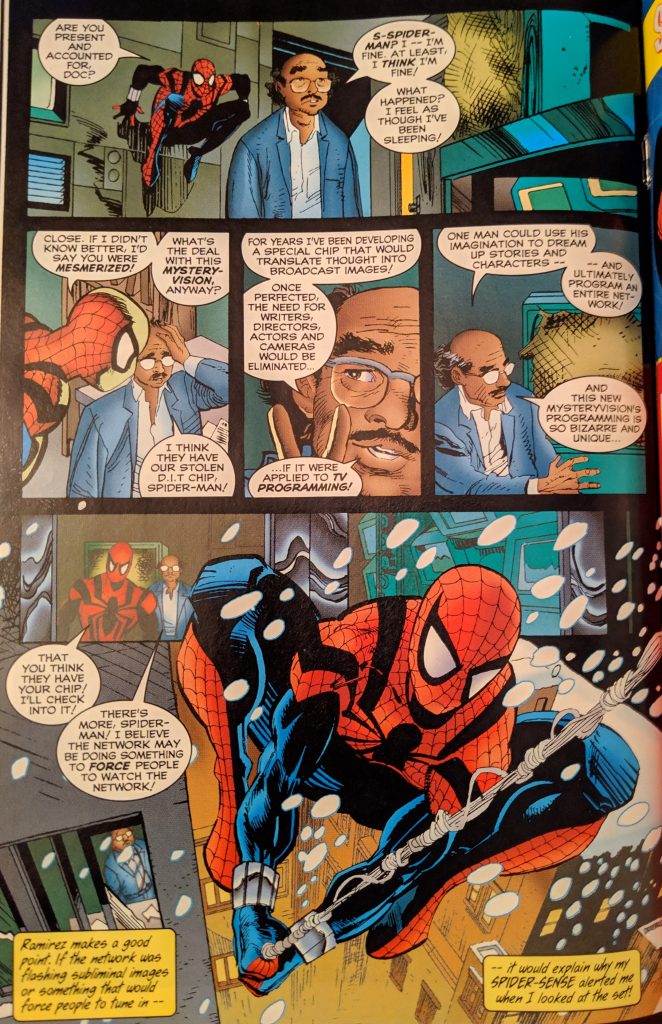 Thanks for the exposition! Spidey finds out what the physical address of Mystery Vision is, and that takes him to the run down theater from last issue. But inside…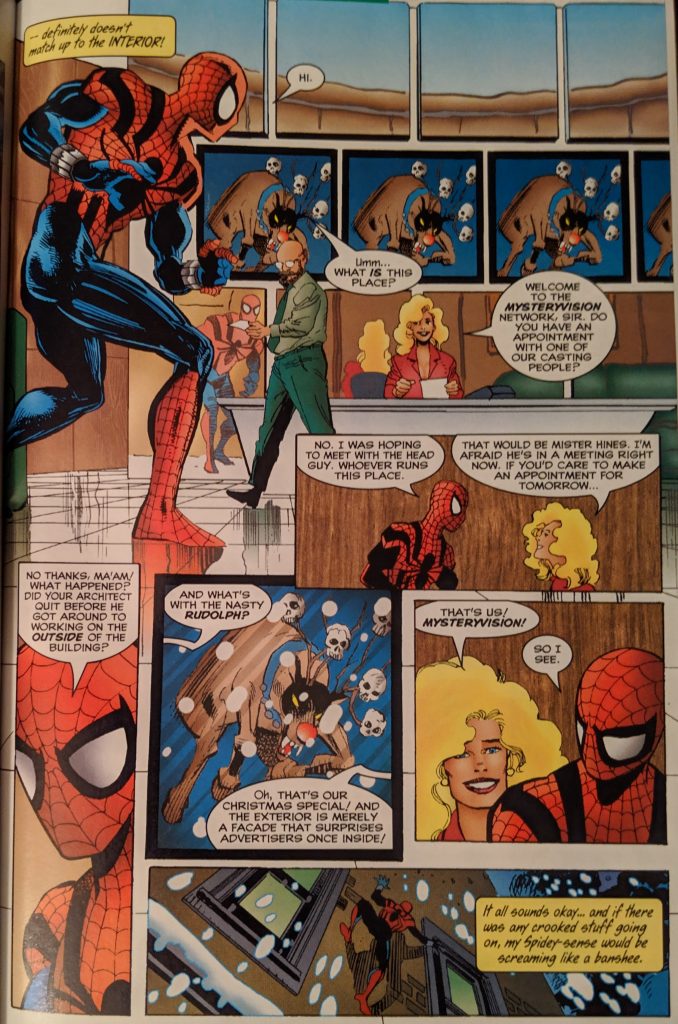 He still feels like something's up, so he climbs up higher and breaks in. He's soon discovered by "Randolph Hines," president of the network.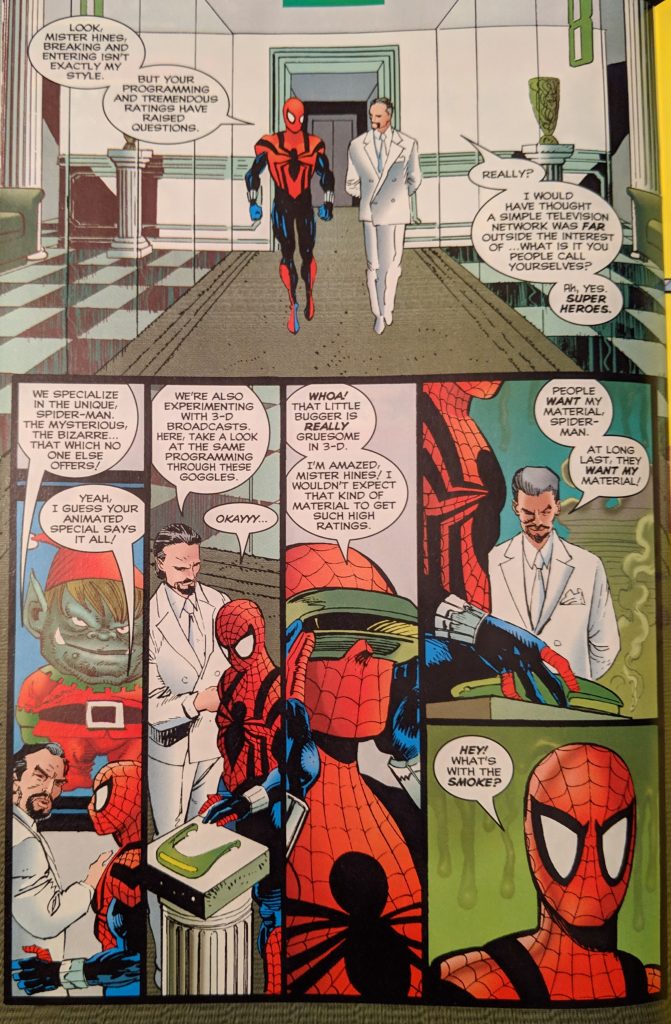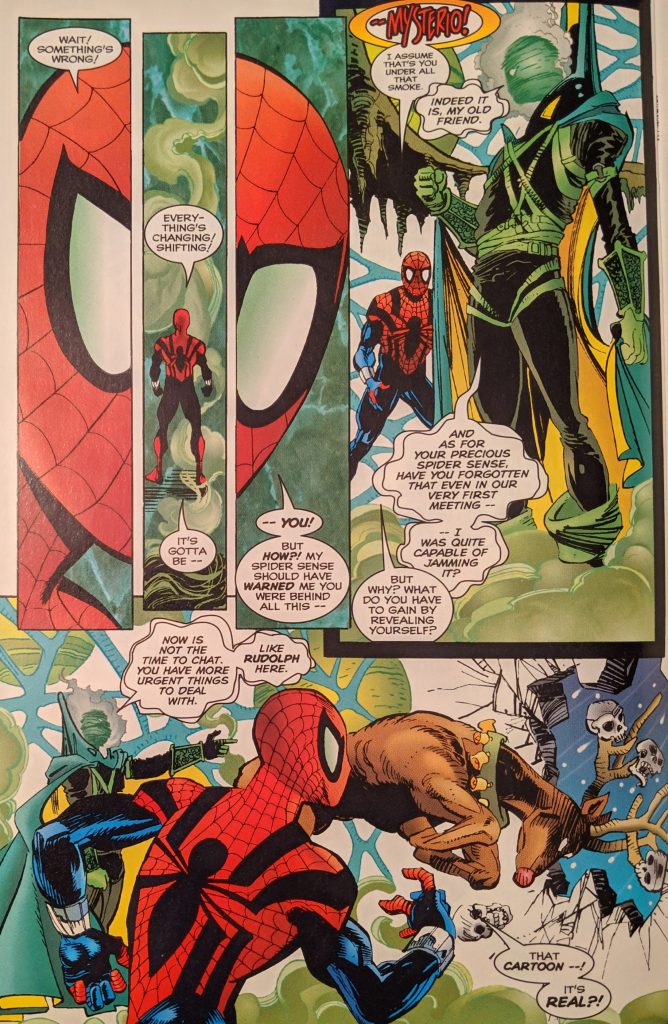 I HATE MYSTERIO STORIES SO MUCH. "Gosh, is that evil cartoon reindeer I'm seeing in the presence of the illusion guy REAL?" So he dashes out in the oncoming blizzard, and wouldn't you know it, all Mysterio's evil Santa cartoon characters are terrorizing the city. Ish.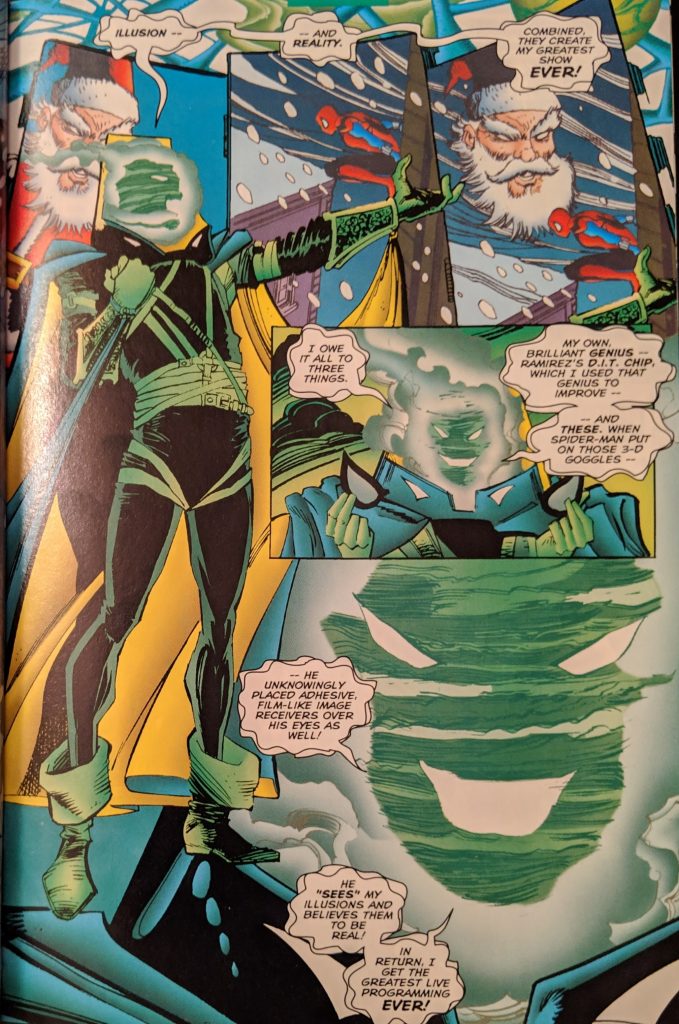 Wah waaah. Seems like a bad time for Spider-Man's webshooters to crap out on him again, and so they do. As he falls to his death (One of his signature moves!), Mysterio says, "Spider-Man equals viewers. Viewers equal ratings. Ratings equal advertising dollars. Groovy." Sure thing, man! Come back next time to see Spider-Man hit the ground and die, there is literally no way he can survive this. It's over!