Ya know, I think I had this one. I don't remember it, or how or why I had it, but I think I did. I have some theories. Anyway. Picking up where we left off, goons kidnapping Mikashi, goon about to shoot an unconscious Peter Parker. Then, a strange turn: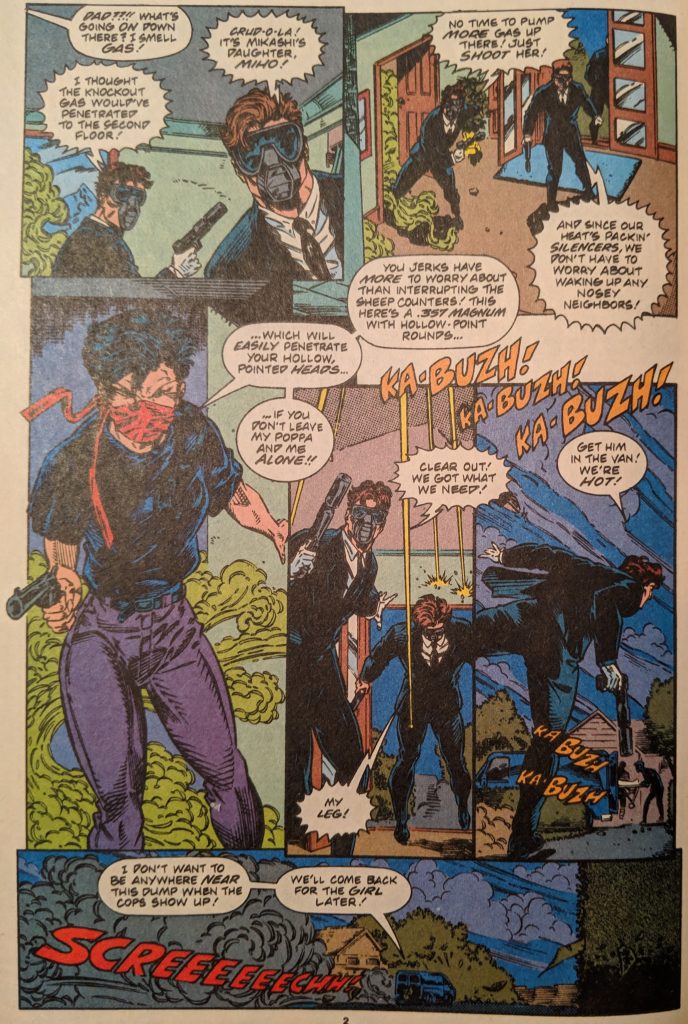 Sure, why not? Apparently the sound of a .357 Magnum firing is "Ka-buzh." Who knew? Miho is suspicious of Peter, too, who finds the bug in the room and crushes it so they can speak freely.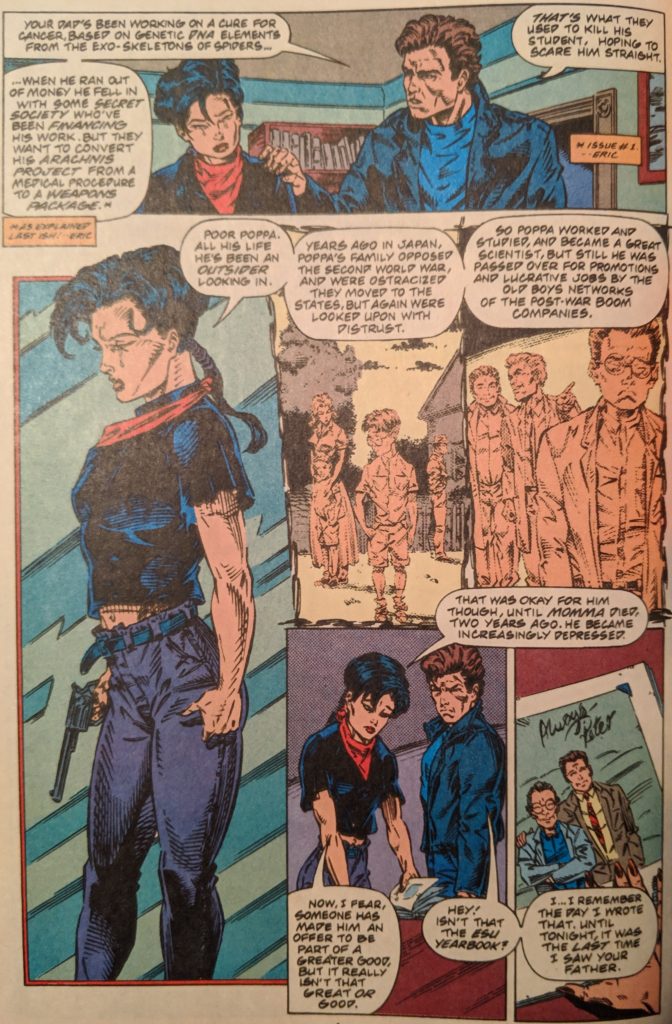 Peter leaves, vowing to bring her dad back. Miho says she hopes those goons come back, because she has plenty more bullets. Oh, the 90s. Peter thinks about how he's not really Peter anymore, he's Spider-Man, but he decides Spider-Man can still save Mikashi. Meanwhile, in the underground bunker The Jury was hanging out at, the Digger has brought back Sneak Thief. This is barely a Spider-Man comic. Everyone in it except him and The Jury is made up for this. I thought Mikashi's death sounded like the work of Styx, but it looks like Styx & Stone aren't coming back in this. I dunno, man.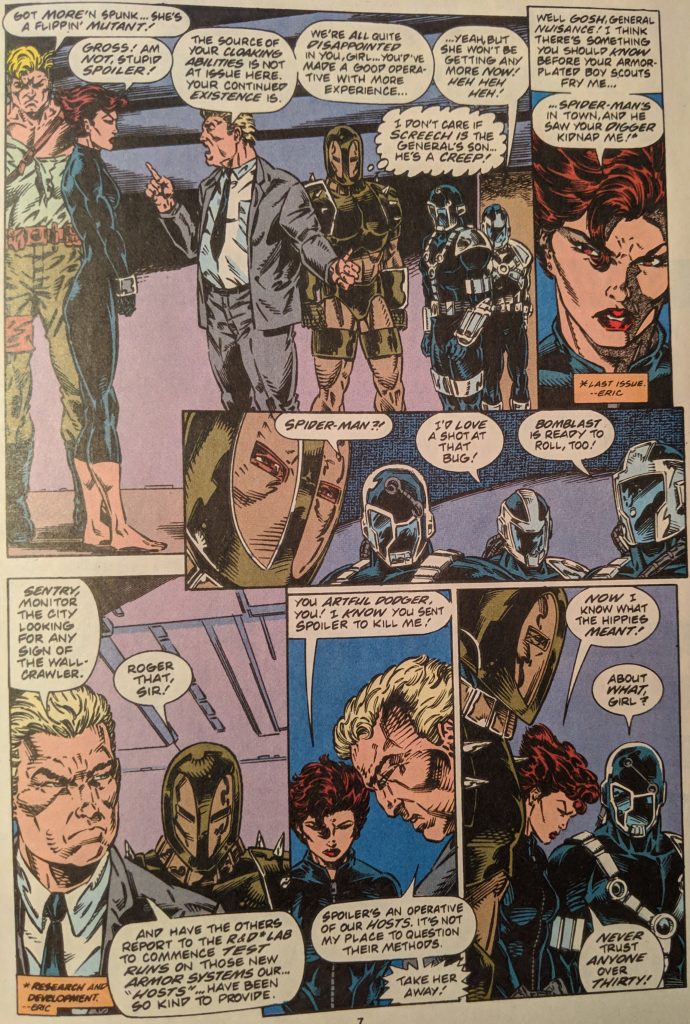 Casual racism toward mutants is real endearing. I guess this is our first look at The Jury suited up since I didn't bother to show the fantasy sequence in issue 1. Sentry, the leader, wears a 90s'd up version of the armor the Guardsmen wear at the supervillain prison The Vault. Where he worked until Venom broke out and killed his buddy, who was the General's son, prompting them to put together their little taskforce for killing Venom. But it looks like they've broadened their mission statement to include gooning for rich survivalists. Sneak Thief is dragged to "the Detention Unit," which is made to sound very scary, but not shown. One of the men in black insults The Jury, and they respond as you'd probably expect, and then Screech, the son of their leader, calls them all babies.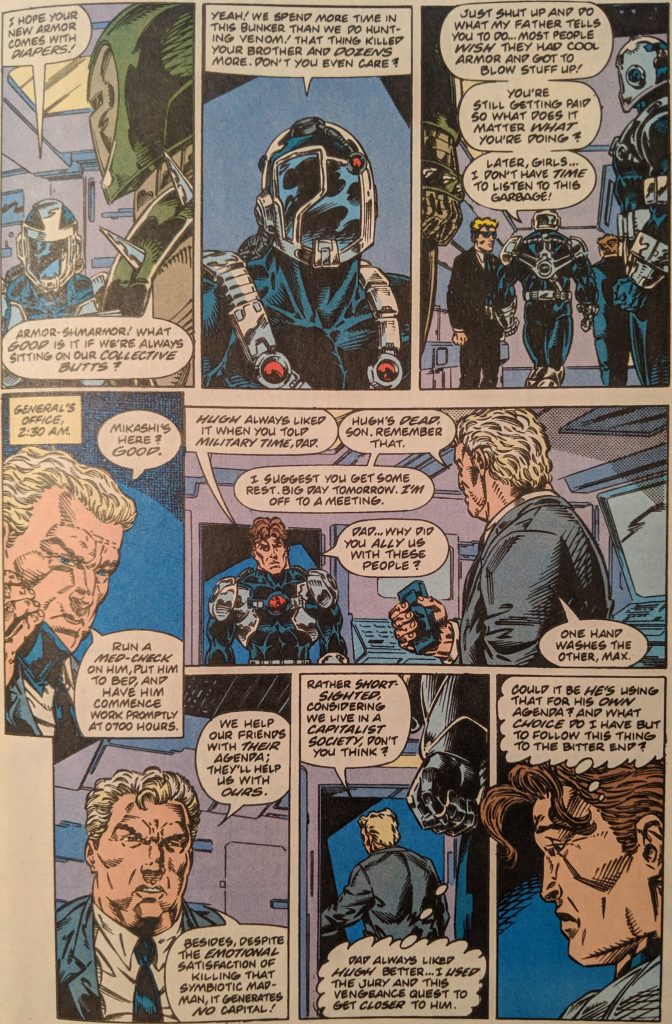 This dialogue is killing me. Spider-Man calls Joe Robertson and 3am, and he's at work, of course, because everyone in this comic is always awake. Why keep time stamping everything if that's just going to make less sense? He tells Spidey to get in touch with a Vickey Danner, The Daily Bugle's DC liaison, for info about the area. The General meets with the heads of the Life Foundation, referred to only as "Mr. D" and "Mr. T." Mr. D is both the coughing guy from the first issue and also Carlton Drake, dying of cancer and betting his fleeting life on The Arachnis Project, which is why Mikashi was kidnapped.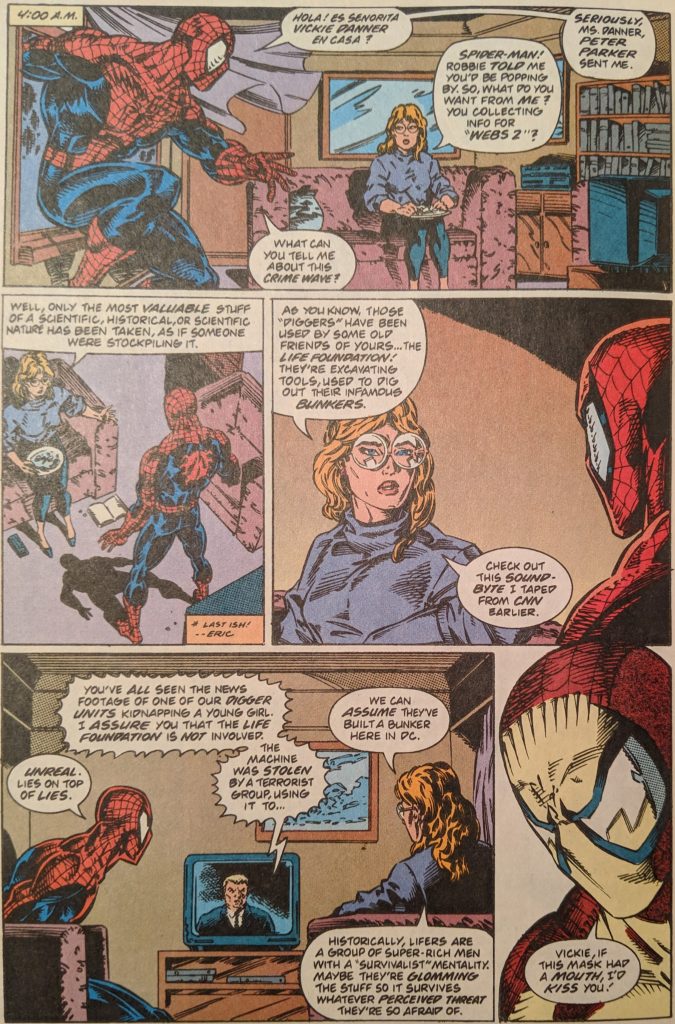 4am! This woman has clearly been drawn eating dinner Why is it 4am?? The "mystery man" who's clearly Venom gets on a plane from SF to DC, then we look at Sneak Thief, who finds a tracer on her that explains how the Digger found her, and helpfully tells us she doesn't know how she got her powers or how they work. Great character. Then she gets to work trying to break out of the dreaded Detention Unit, which just looks like… a room. Elsewhere, Spider-Man busts out a dated reference I didn't even remember until he said it: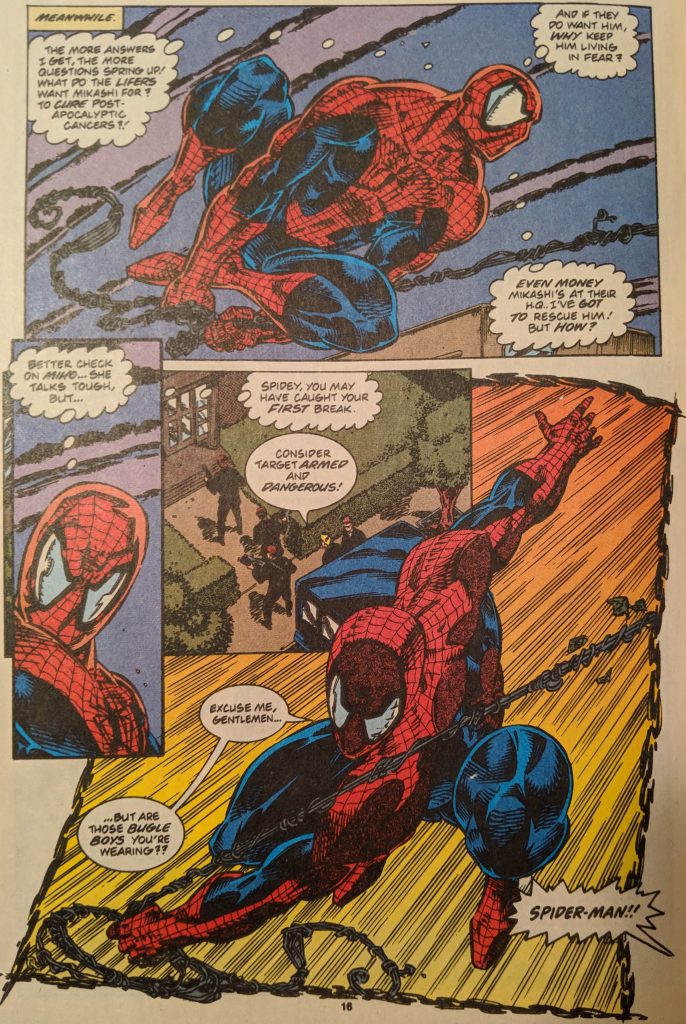 That was a totally a thing in the 90s! I never would have thought about it again if not for this comic. Thanks, The Arachnis Project 3. Just kidding, I am not grateful. Spidey makes short work of the goons and then tells their driver to just send the distress signal he was undoubtedly going for to save them all some time. That's kinda funny. The Jury is dispatched to deal with the distress call, so they're finally going to do something in this story now that it's half over. The van is driven into the back of a semi trailer, which is apparently how The Life Foundation hides their goons on ops, and then our hero's Spider Sense alerts him that trouble is coming. The Jury have been given upgrades by The Life Foundation, and Spidey rips through the roof of the truck to see the all-new Fall fashions.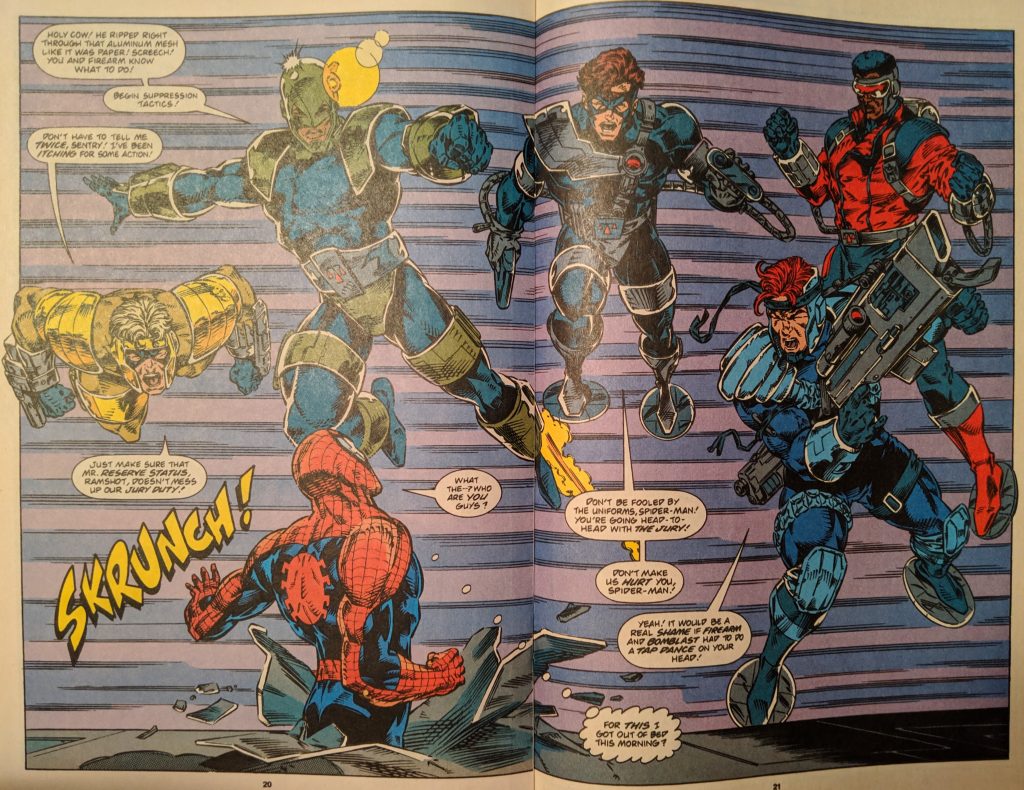 I don't think I'd call this an improvement, but it does make them much easier to tell apart, so that's nice. They all seem less protected by this gear, though. Who am I to judge, I guess? They start a running battle on top of a truck in the middle of traffic, and Spidey starts taking them apart.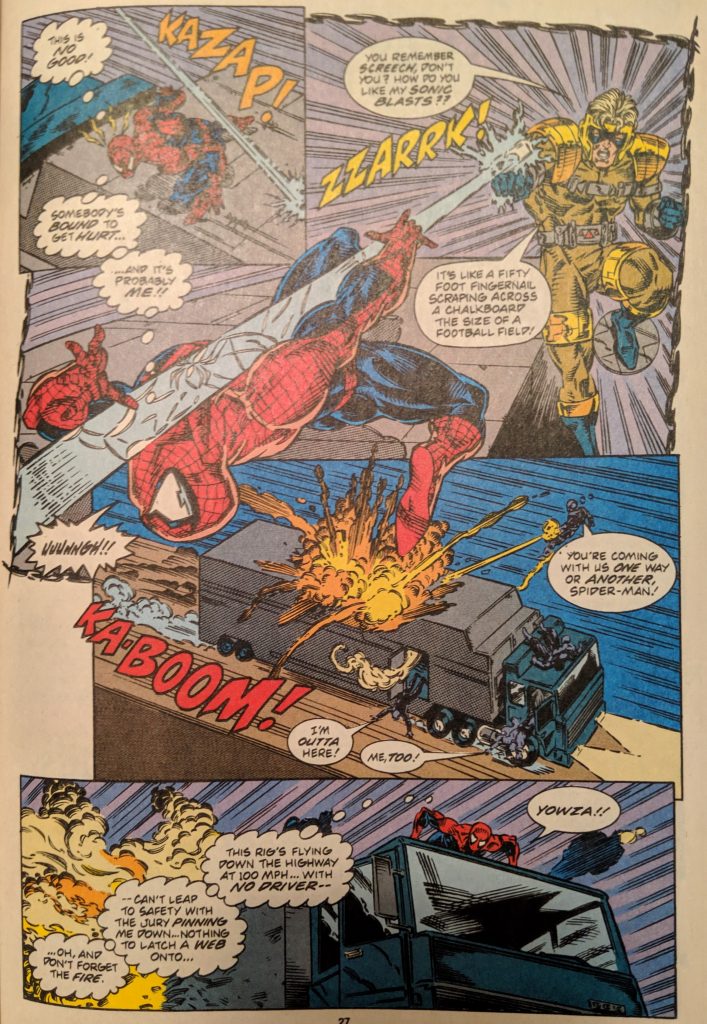 After Firearm's anti-grav thing is broken and he hits the ground, the one I thought was Firearm based on the 2-page spread up there asks him if he's ready to join him in quitting, but Firearm warns anyone could be listening in. Then the truck goes over an embankment with Spider-Man on top.

Ramshot is the one I thought was Firearm. No one seems to notice or care that there were at least 2 Life Foundation guys in that truck who are certainly dead now. They just net Spidey up and fly him away, To Be Continued. I can't believe they're pretending we don't know that's Venom coming from SF, and I'm rather surprised he's taking so long to get here just for marketing reasons. This series has been… a challenge. I am not enjoying it. Its amateur hour quality, its pointlessness and its complete removal from what's going on in the regular books make it feel even more like an empty cash grab. I wonder how it sold at the time. I mean, I was a Spider-fanatic, buying piles of comics whether they were good or not, and I didn't buy it. I rather regret having done so now, even at such low prices. Ah, well. Too late! Have to see this through.