Let's see how this turns out. DeFalco scripts this one himself. Picking up where last issue left off (WIth a bunch of exposition of course), Traveller usings his ill-defined powers to knock out both Spider-Men. Well, that's that, we can all go home. We get a page detailing how everyone else is outside watching helplessly in case you missed the other issues, and then Traveller's plans proceed.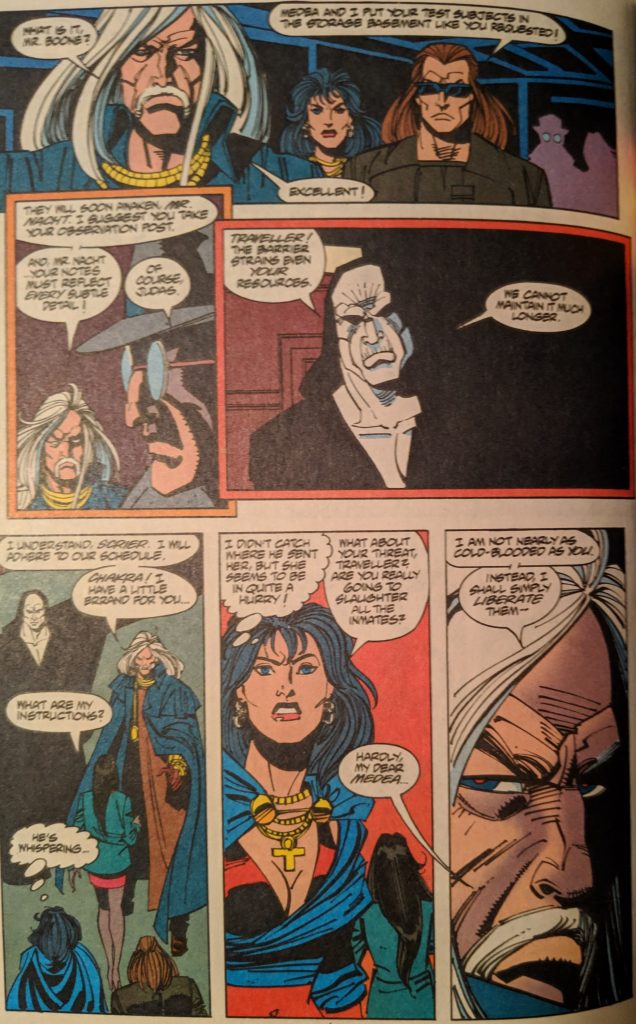 When the boys wake up, they appear to be in a warehouse space of some kind. Spider-Man jumps to the pretty reasonable conclusion that the clone is part of Traveller's plans, and they get to fighting again.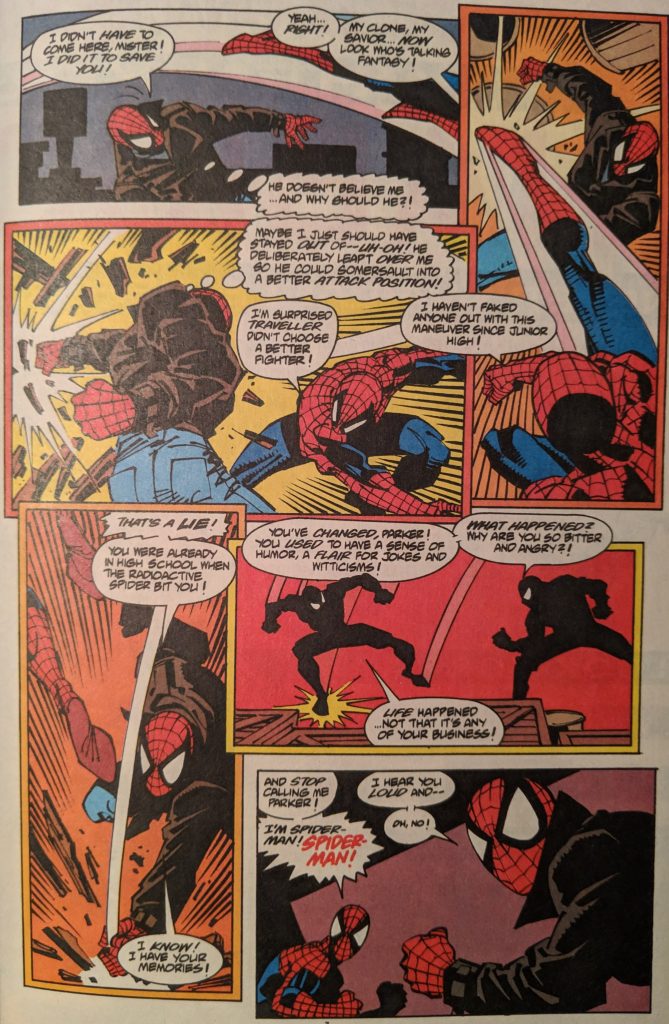 All the non-powered inmates rush at them, set loose, and the super mean new Spider-Man leaps into them, brutally attacking. This shocks and disgusts the clone, who's sloppily revealed in a caption to go by the name "Ben Reilly," who is way more worried about how vicious Spider-Man is than the encroaching mob.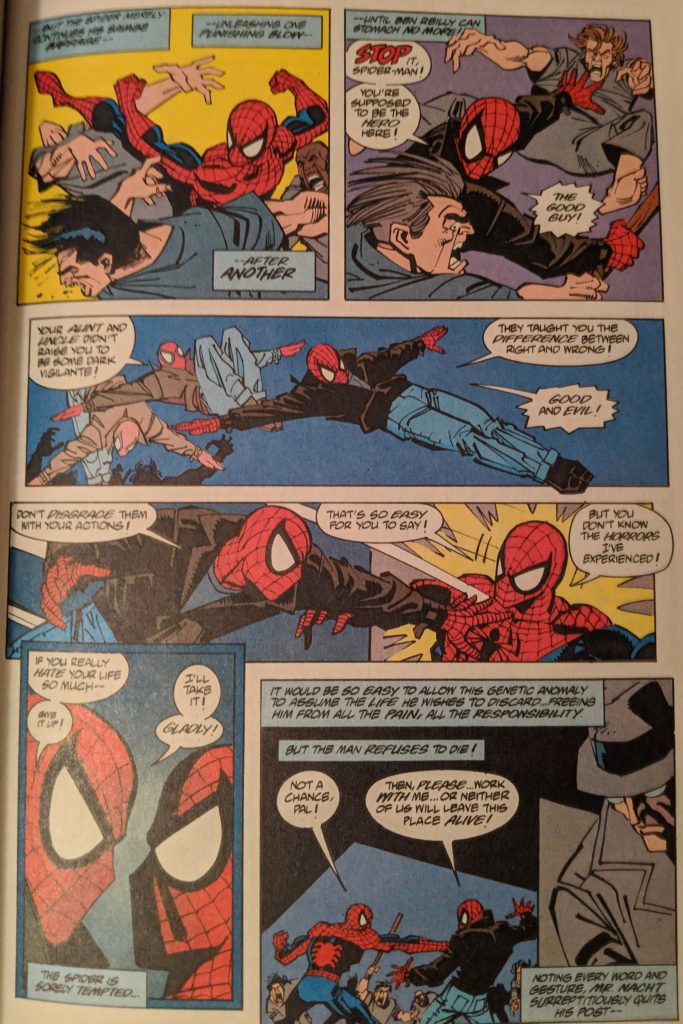 Nacht informs Traveller that the Spider-Men have joined forces. He says they're almost done here, and has Scrier expand the barrier around the institute, which knocks out all the people outside as it comes into contact with them. Then we go see what good ol' Mary Jane is up to.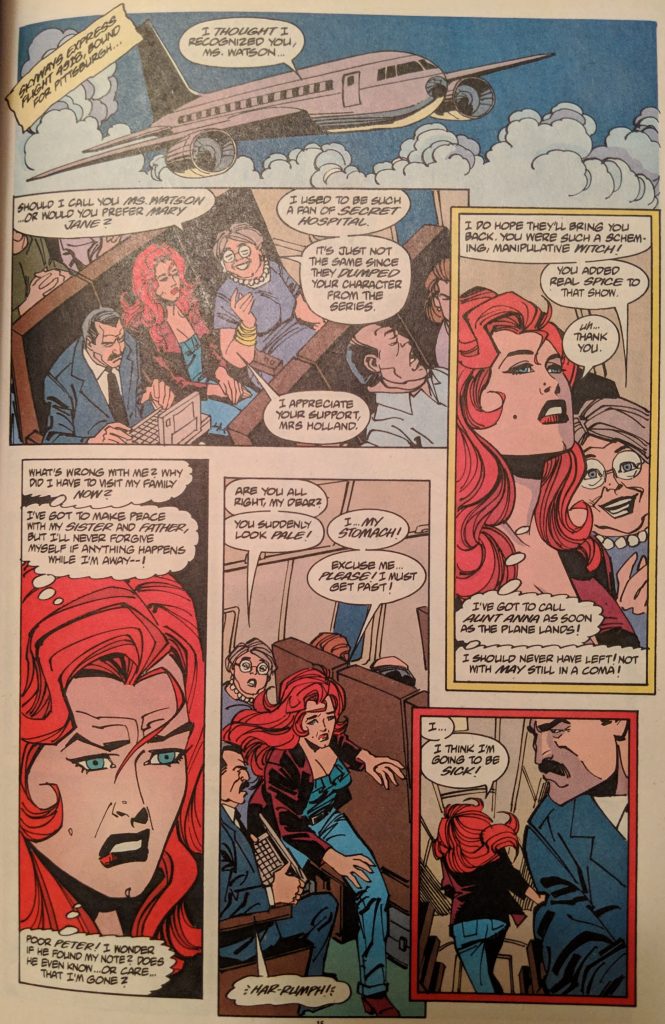 Havin' fun! Everybody's having a great time this issue, especially our Spider-Men, who encounter a jobber named "Wild Whip." He's got long hair and an electrified whip, and we will never see him again after this issue, so who cares? Ben knows him, helped get him locked up, apparently. They dispatch him as easily as they should, but then things get tougher, because the next guy to come through the door is Carnage. He's not actually done anything on this blog yet, but he's a serial killer bonded to the child of the Venom symbiote. He's not good news.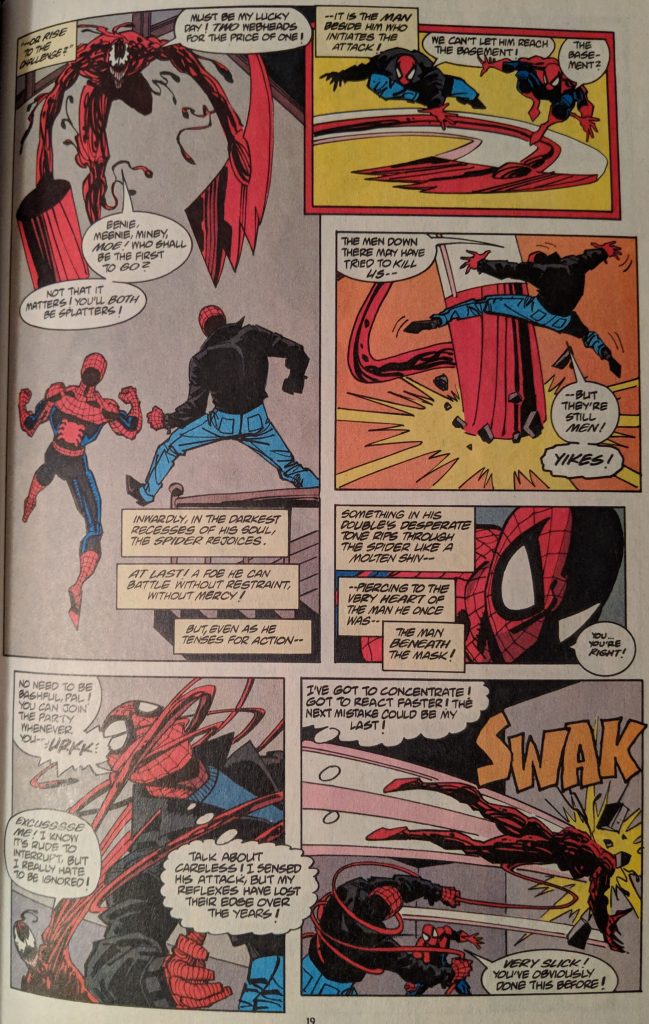 But even though Carnage's last major appearance was a dreadful 14-issue crossover where Spider-Man and a whole gang of heroes had an absurd amount of trouble bringing him down, the two Spider-Men overcome him pretty easily here.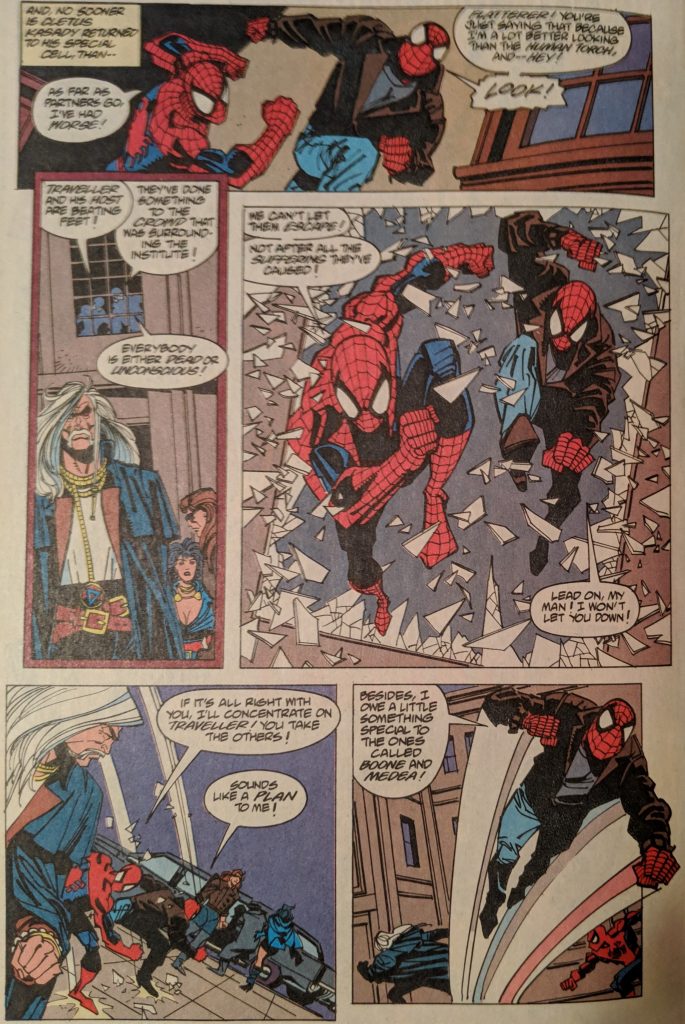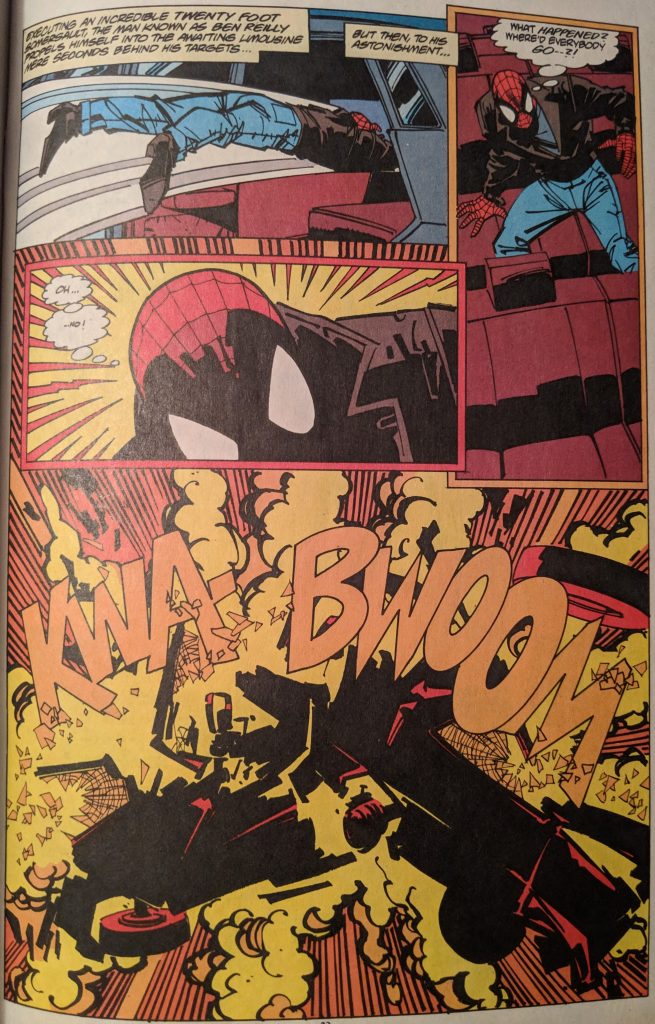 Oh no! Ben is dead. The End. Just kidding, we're not done yet. Spidey thinks he is, though, and that makes him mad. He chases down Traveller, who tells him he's been an interesting experiment, after all, and that they'll meet again as he forces him into unconsciousness. He's awakened by Dr. Kafka. John Jameson runs in and says all the inmates are in their cells, including Carnage. Spider-Man wonders why Carnage lied about killing everyone earlier, and also why he was so easy to beat. Then Edward finds a faked letter Traveller planted in the office, post marked the week before, apologizing because he can't make it, which makes them all believe the Judas Traveller they met tonight was some kind of imposter. Traveller and his goth band are driving off into the sunset.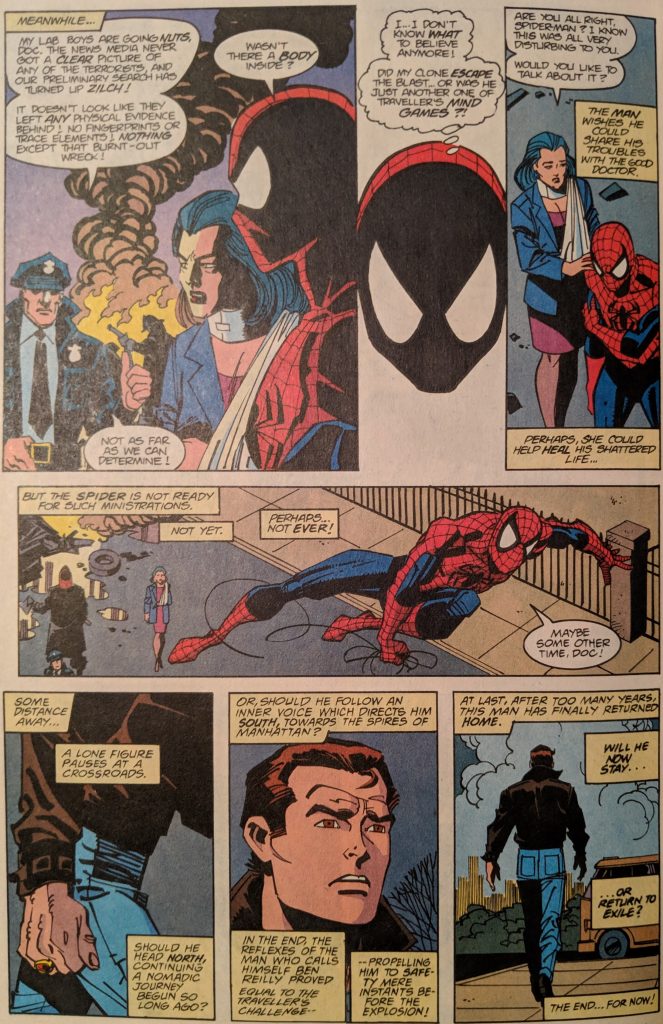 What a great question, already answered in the letter pages of every issue this month. Here's the last flipbook cover: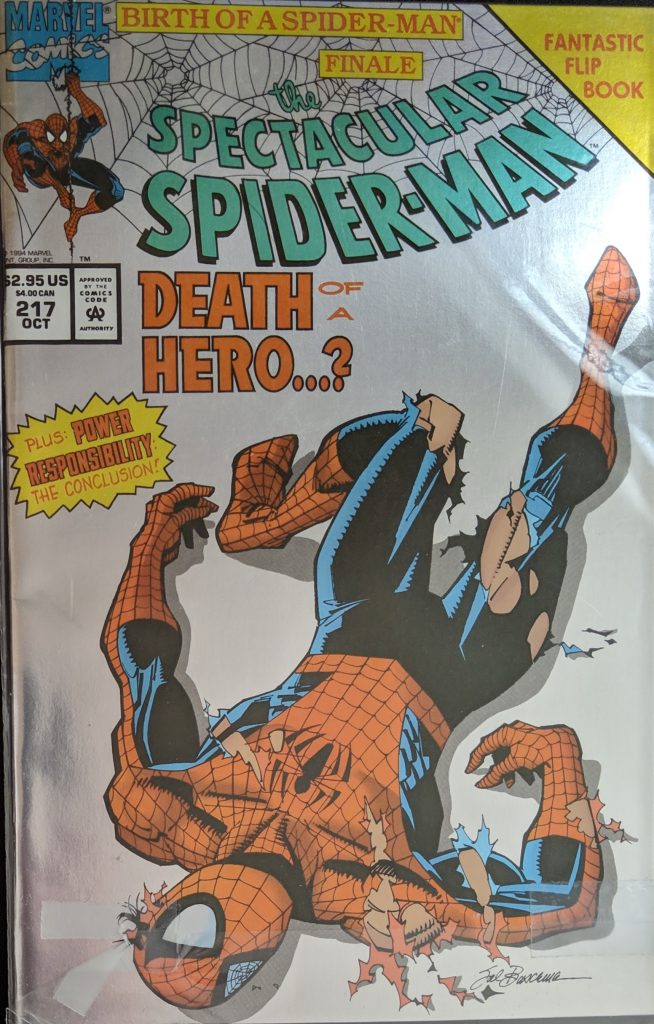 The story is mostly a remake of the relevant part of ASM 149, narrated by the clone. Sharp even replicates a lot of panels from the original. And it ends the same, with both Spider-Men caught in an explosion. And then we skip to the real Spider-Man disposing of the corpse of his clone by dumping it down a smokestack.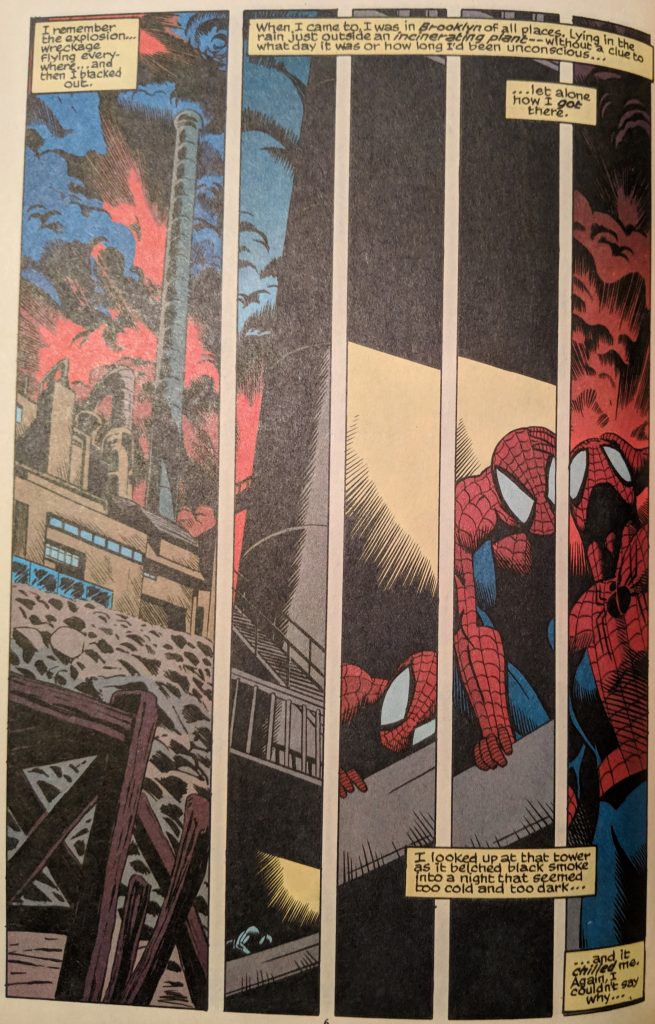 Note that he doesn't wake up in the smokestack. That's awkward. He swings back to Peter Parker's apartment, which is not where he lived back when the samples that created the clone were taken, and sees Peter & MJ embracing inside. He's ready to smash his way in there and stop the clone from trying to steal his life when he realizes the truth: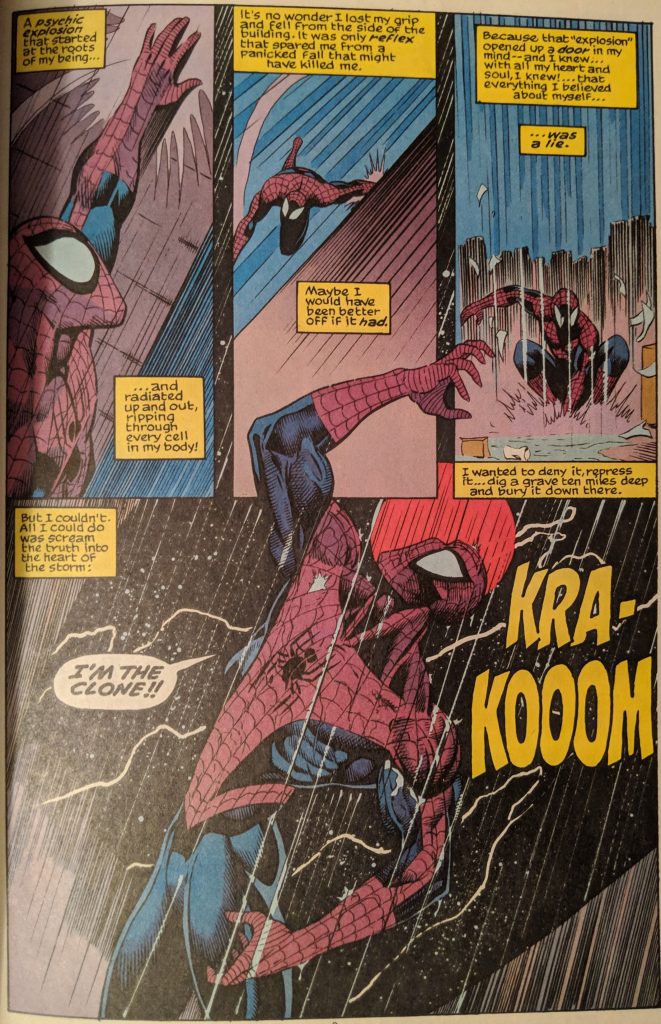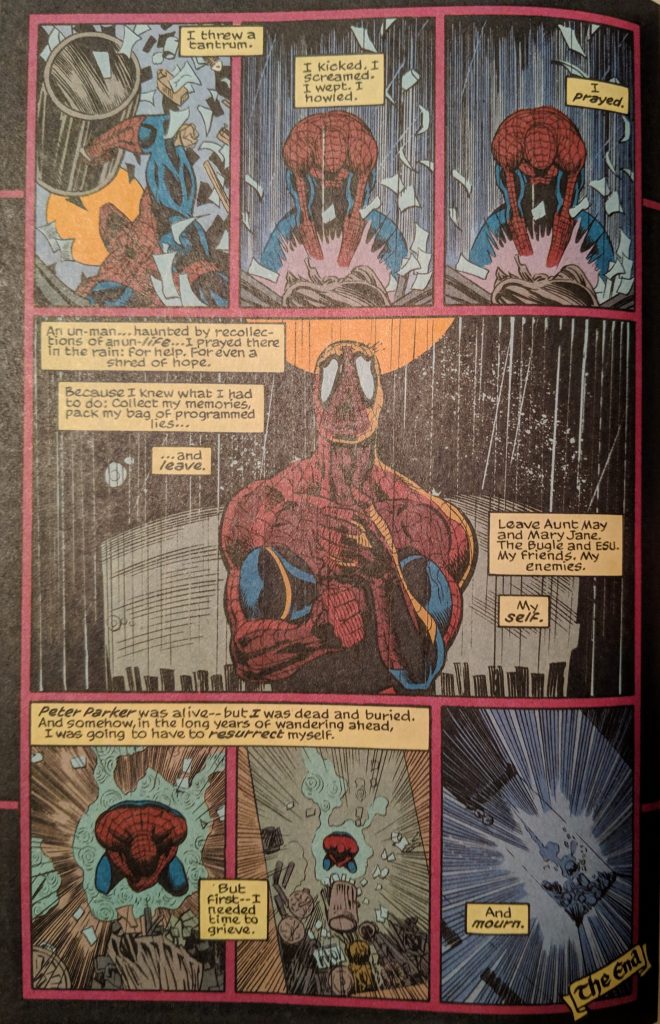 And there you have it. How Ben got it together and what he's been up to will be the first thing we look at next time we visit this era. For the next year or so, ASM and TAC belong to Spider-Man, and WEB and SM belong to Ben in a crappy new super identity, The Scarlet Spider. Aside from being a totally insane thing to do, this is actually kind of a relief for the line. As we've seen, 4 monthlies about a solo character can be hard to manage. Cutting it in half will help. On the other hand, 2 of those books are now the domain of a goofy clone. Pluses and minuses.