If you weren't reading comics in the 90s, you just don't know. The hype around this thing was pretty crazy. The shock of the stunt. I feel like the truth was out before they revealed it. Hard to keep that secret. By the time we got to this, if you were a Spider-Man fan, you were buzzing with excitement. Not necessarily a good excitement. I mean, good for some, nervous for others. I was the 2nd camp. This smelled fishy to me. But I jumped on the hype train like everyone else and let it carry me to these 4 comics with their shiny "chromium" covers. This issue is the debut of new regular WEB penciler Steve Butler, whose style was not my favorite. I felt like he was mostly aping Bagley, and didn't respect that too much. Will I have a different take now? Let's find out. He joins continuing writer Terry Kavanaugh and colorsit Kevin Tinsley as we pick up right where TAC 216 ended.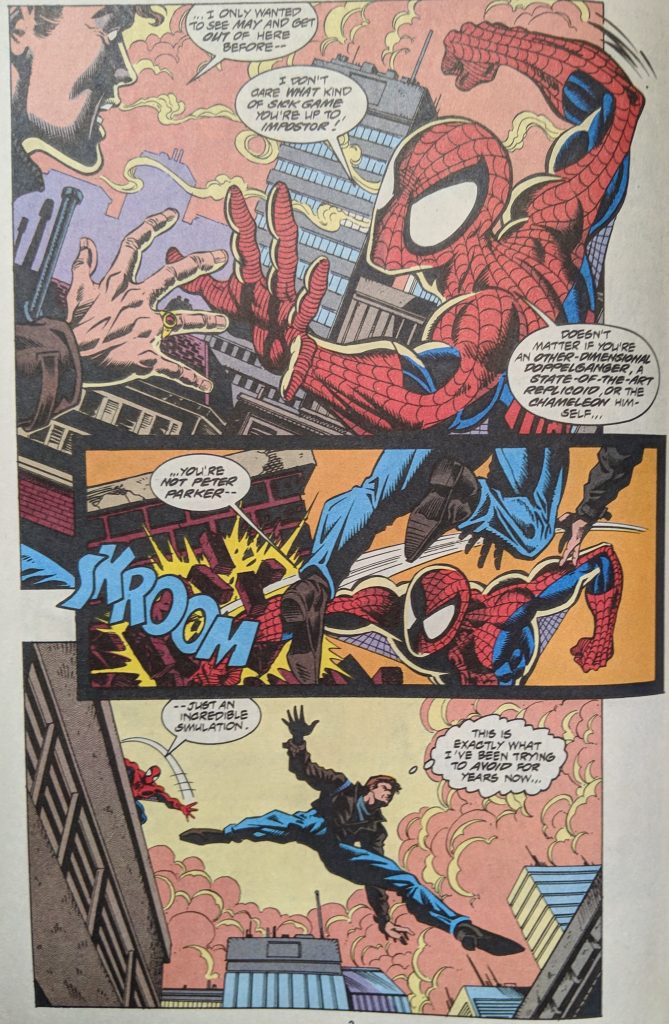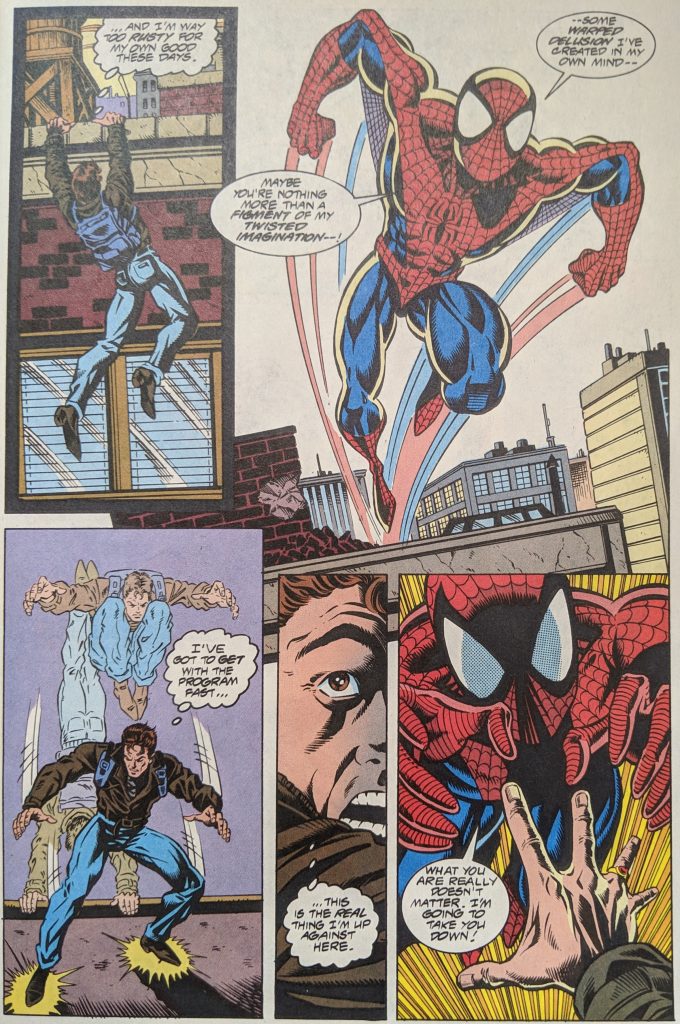 Spider-Man chases Peter across town, Peter just trying to escape, Spidey rather unhinged and out for blood. All that conciliatory talk from TAC 216 is out the window.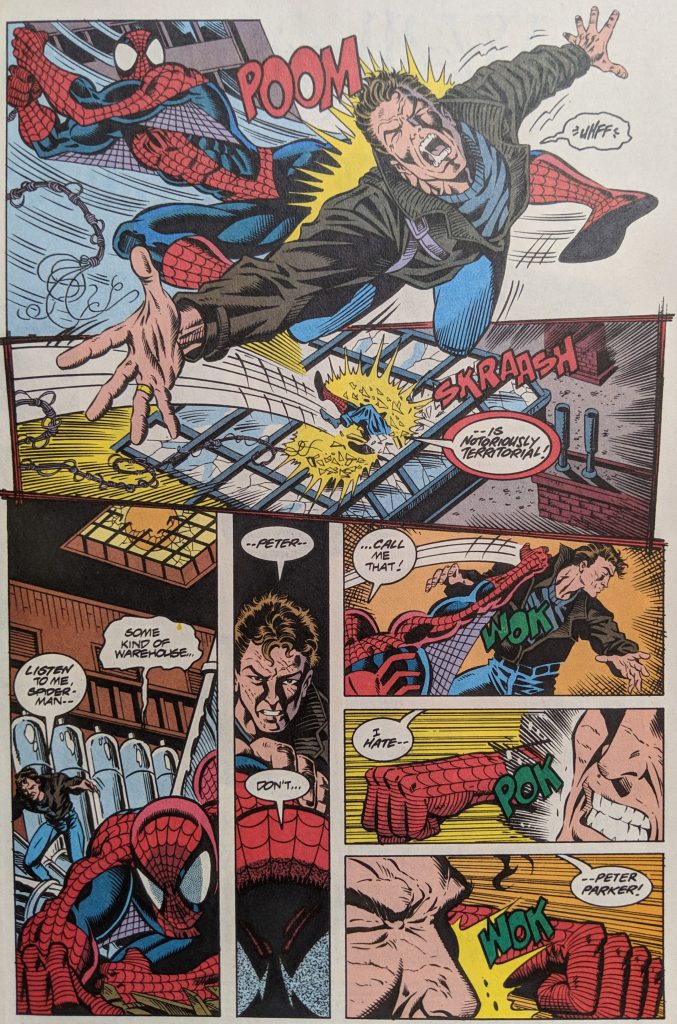 Sigh. We thankfully cut away from this insane fracas to a whole bunch of new weirdos on the scene: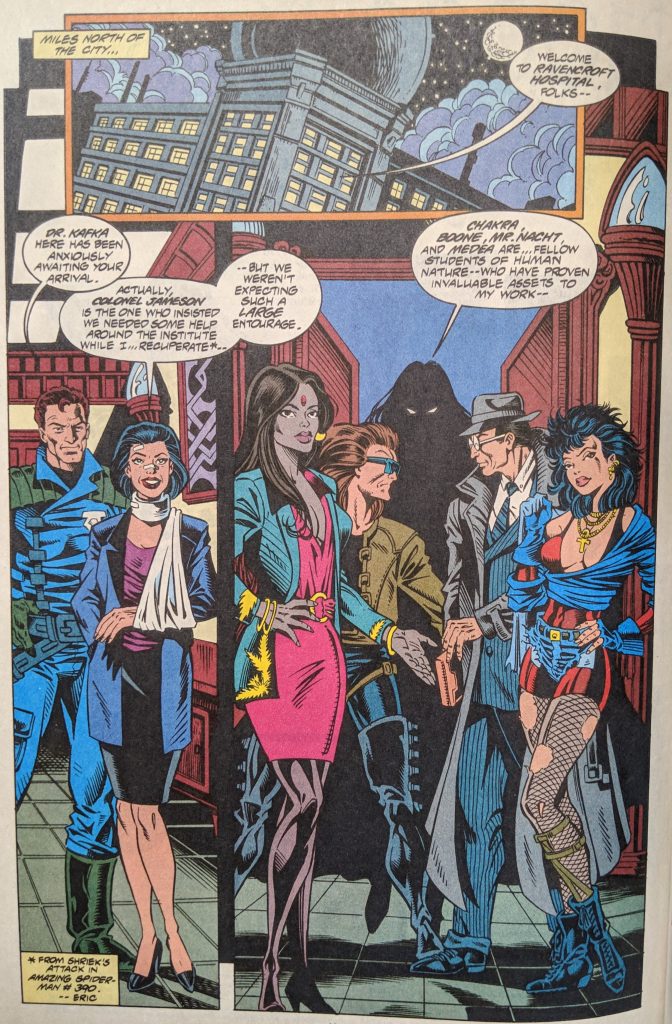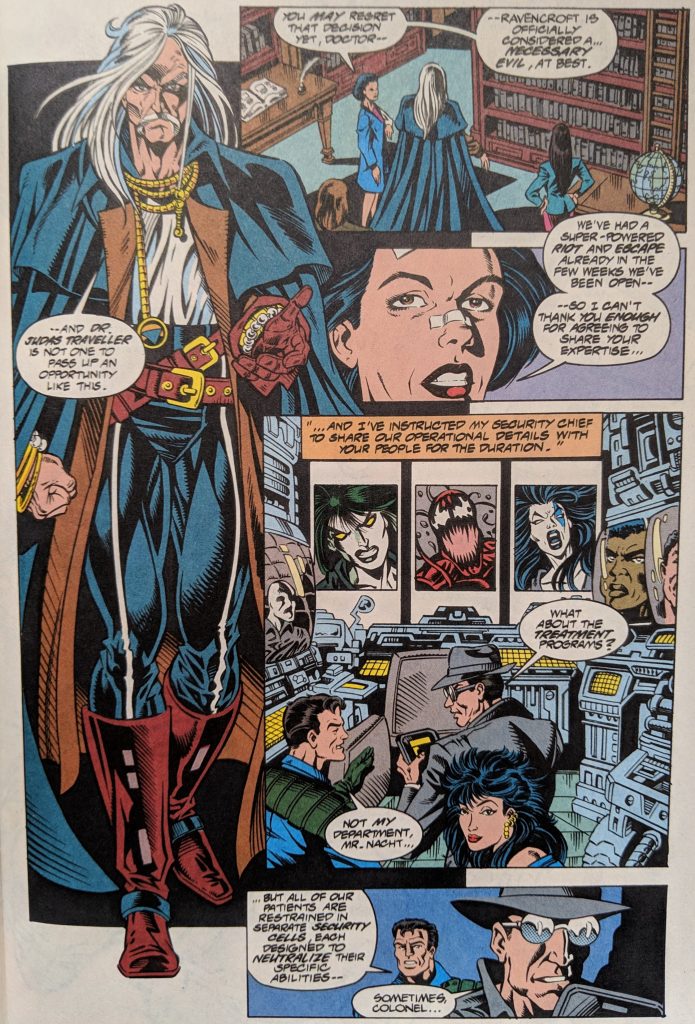 Sure, this mismatched goth band shows up to the institute and no bats an eyelash. Why not? There couldn't be ANYTHING weird going on here, right? Back in the warehouse, Spider-Man is still wailing on Peter, until he finally thinks for a second about how he's not setting off his Spider Sense and seems to care about Aunt May. Peter pulls Spider-Man's mask off.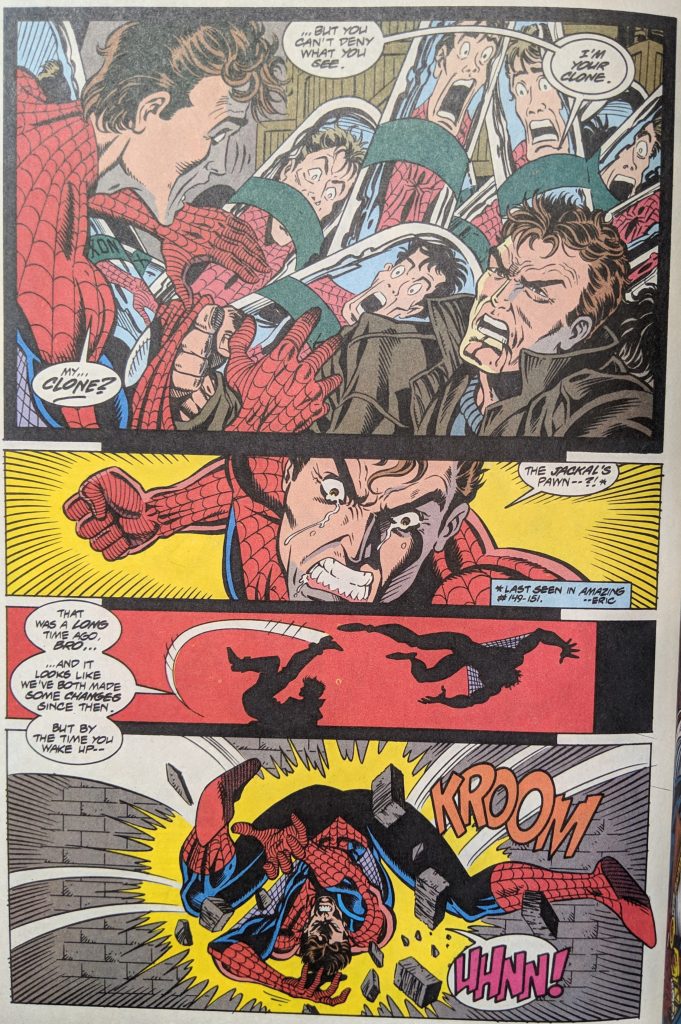 …he'll be long gone, he says, as we hop back to Ravencroft. We haven't covered the 70s clone business yet, which is kind of a shame, but the thing about it is, there was a Spider-Man clone, and he existed for a single issue. He was part of a larger scheme by The Jackal, which did stretch out for quite some time, but the clone itself was a pretty silly blip on the radar 20 years prior to this issue. This is a really random, questionable pull. Anyway, back at the institute, Dr. Kafka is getting to know the Victorian Supervillain cosplayer who's turned up to help her do her job. Holding a book by him called "The Criminally Insane," she says his theories are the cornerstone of what they do here. Well, if you built your business model around this guy, no wonder the building is on fire more often than not. She leaves him to get settled in, and as soon as she's gone, he reveals he & the band have "other plans." GASP! No! I can't believe it. He says Ravencroft is the perfect place for his "ultimate experiment," and begins touring the holding cells by walking into and out of shadows in different rooms. First he bothers The Chameleon, then terrifies the perpetually angry Shriek with a glance before getting to Carnage, whose symbiote slithers off of him rather than be touched by Traveller.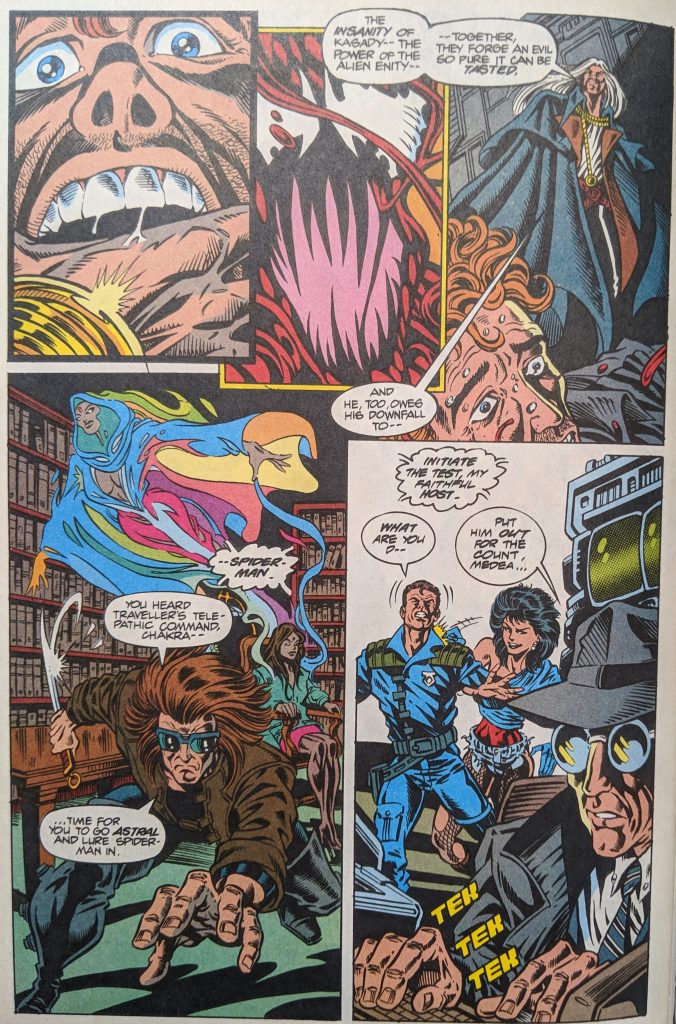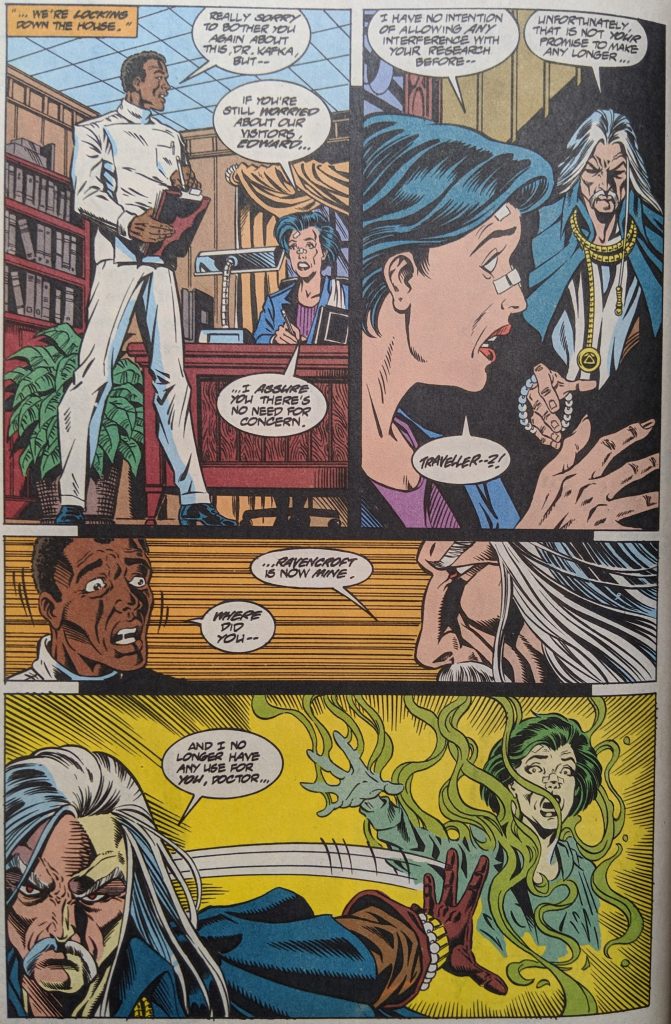 Butler can't decide if Kafka is skinny or chubby from panel-to-panel, a situation I suspect simply stems from comic book artists only knowing how to draw one body type, especially in this era. Even that doesn't explain her constantly changing haircut, though. I guess that doesn't matter now that she's green smoke. Spider-Man finally wakes up in that warehouse, and barely has time to pout about how he doesn't want that guy to be who he said he was when Chakra's astral form appears.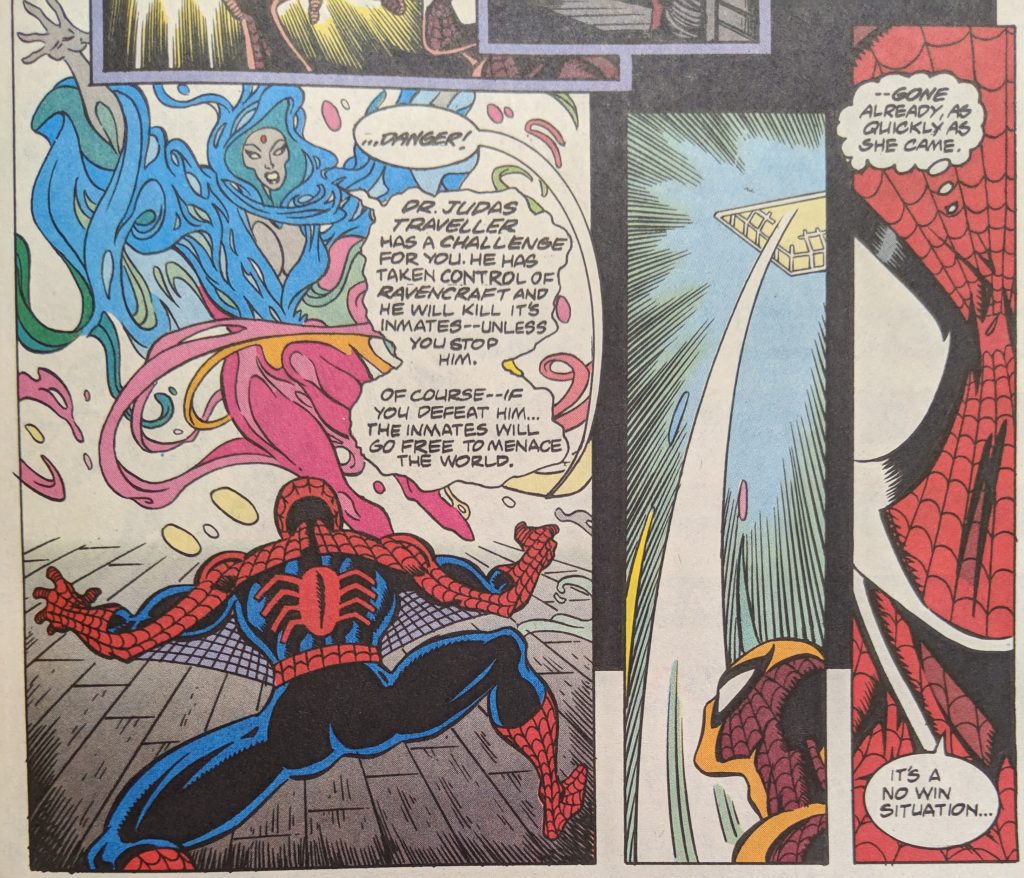 I assume Traveller is throwing open the front doors of the Institute there, but the staging makes it impossible to know what's happening and where.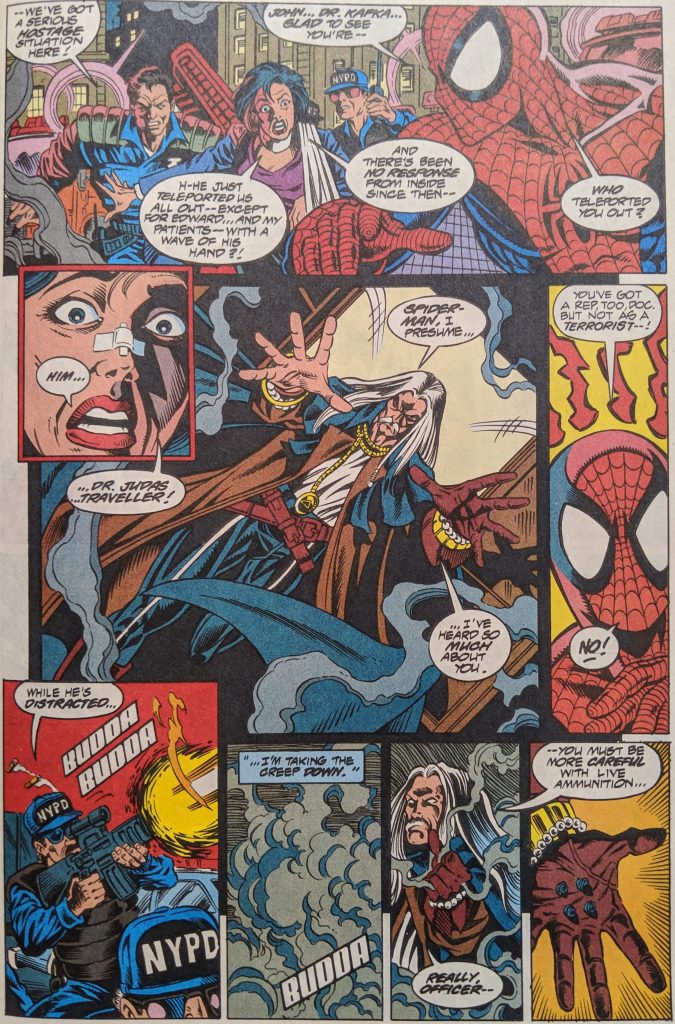 As he swings off to the trap, we see the clone hasn't even left, he was just hiding. He saw the whole thing, and decides Spider-Man is in no shape to deal with trouble alone. But he also thinks he's here to see Aunt May, not be a hero, while revealing he's got a Spidey mask & gloves in his bag. Speaking of May, Anna Watson has just shown up to be with her, and MJ is there. This flies in the face of earlier issues where MJ skipped town and MJ was still there and said Anna was there, respectively. Danny Fingroth is not a good editor. Then Spidey arrives at Ravencroft, which is surrounded by cops.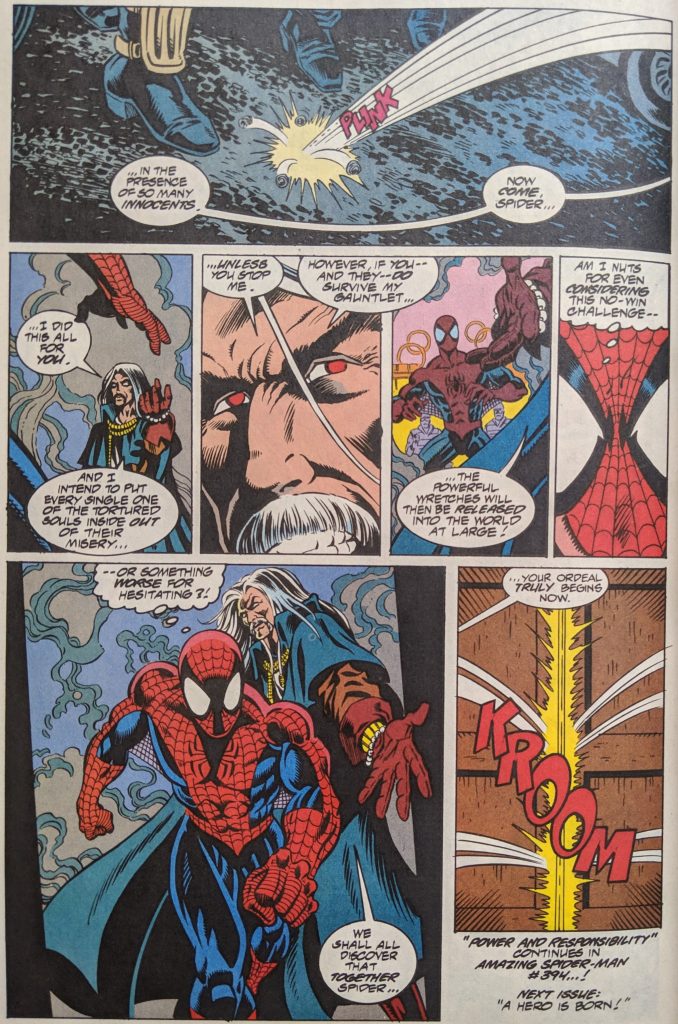 Yeah, Traveller responded to his thoughts. That doesn't bode well. In the letter column, they print a long letter by Steve Wachnicki, explaining how he's figured out who the mystery man is, and also thoroughly detailing how his return doesn't make any sense. Editorial assures him his concerns will be addressed. They largely will not, and those that are will be wildly unsatisfying. But that's for later. Right now, Spider-Man's gotta do a low rent Arkham Asylum storyline, and his clone's gotta do… whatever he's gotta do.

Each issue of this crossover is a "flip book," with a backup story filling in the clone's deal that you had to flip the book upside down to read. No gimmick was too gimmicky in the 90s. Here's the back cover to this issue: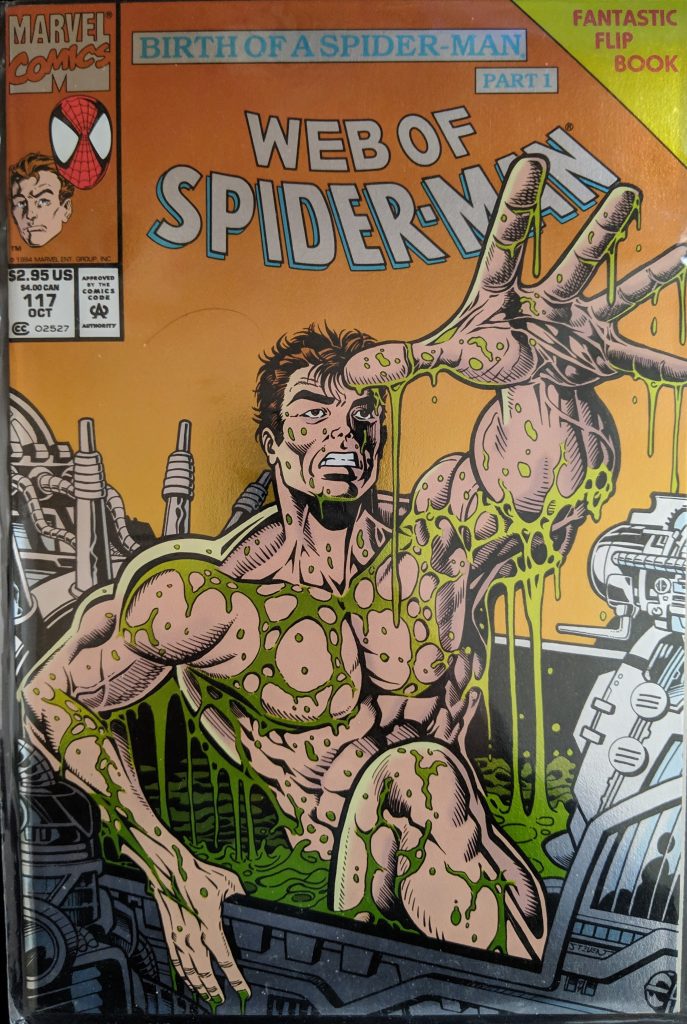 Behind it, JM DeMatteis, Liam Sharp, Robin Riggs & John Kalisz begin a 4-part feature detailing the clone's origins. Like, all the way back.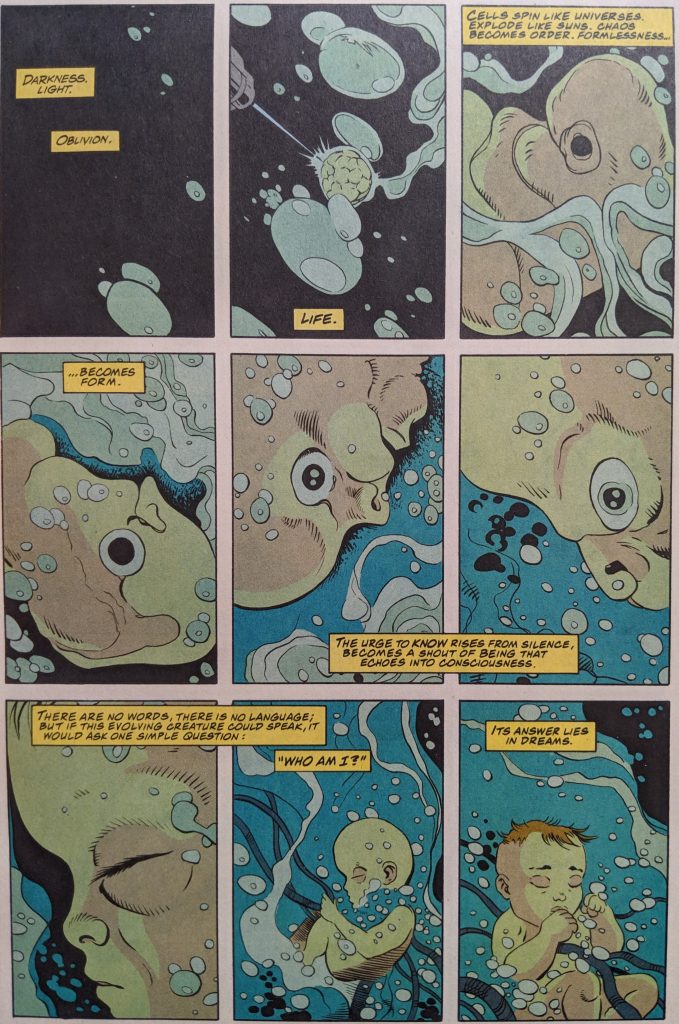 We see him grow into a full-sized 1974-era Peter Parker and then get released from his tube by his creator, who sucks.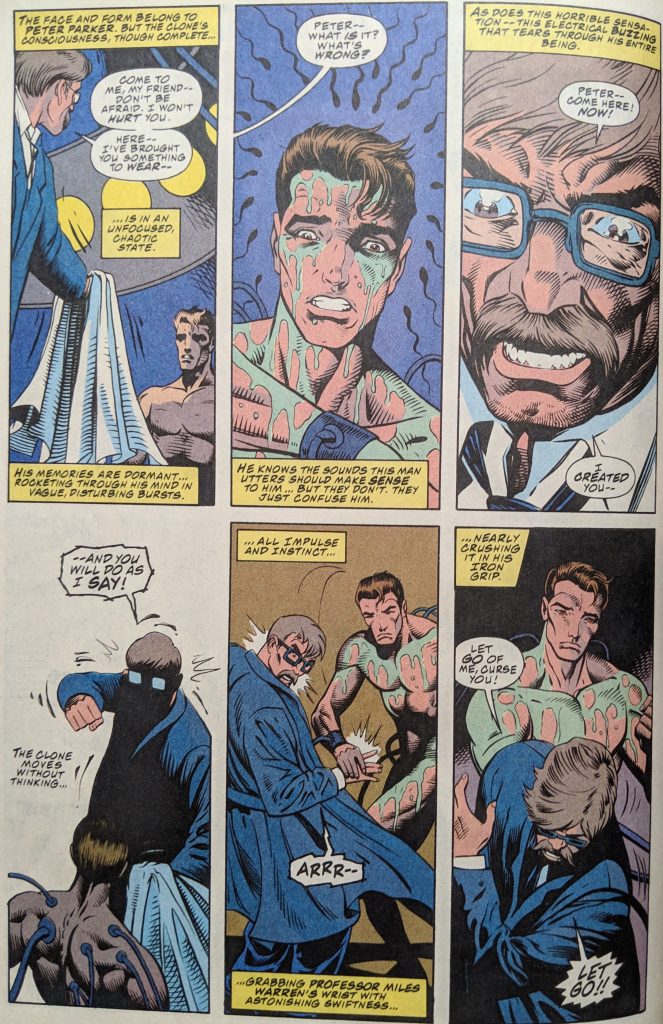 What, you thought something by DeMatteis in this era wouldn't be grim and depressing? That's Professor Miles Warren, Peter Parker's college biology professor, who has made a clone of him. Yeah, I know. Back in '88, TAC Annual 8 retroactively tried to come up with an explanation for how this guy could've had the knowledge and resources to actually do this (We'll see it eventually), but that only made things worse. Warren is also The Jackal, a minor supervillain, and also made a clone of Gwen Stacy, and is also dead. Gwen's clone… eesh, that's a whole thing, again made worse by that annual. Anyway, Warren zaps his Peter clone with a sonic device, tells him how much he hates Peter Parker while beating him, then puts him in a cell for an undisclosed period. He then comes at him with a syringe, saying he'll soon "go out into the world as Spider-Man" with no memory of this, but the clone belts him in the face and escapes. That can't be how it went down, so we'll see more on this next issue, whether we like it or not.