Perilously close to the oft-mentioned crossover now, but we gotta hit our first issue of Spider-Man Unlimited. Ninety cents! What a deal. Never read this one, so I have no idea what to expect, but I'll tell ya this: Thunderstrike is dumb. He's Eric Masterson, and for awhile, he was Thor. Because Thor was missing or something, I forget, Eric was the "whosoever holds this hammer," and he possessed the power of Thor. Which led to some amusing stuff with him trying to fake the Stan Lee Norse accent and fake his way through Thor's relationships with The Avengers and stuff. But once the real Thor inevitably came back, Odin granted him a magic mace, and he's continued to the battle for Truth & Justice as Thunderstrike. Like Thor, but a lil bit crappier.Thunderstrike is the creation of Tom DeFalco & Ron Frenz, having had a long run on Thor after ASM, and DeFalco is writing this one, so that checks out. Drawing this series this The Hardest Working Man In Comics 1994, Ron Lim. Ron was simultaneously drawing several things, and seemed able to do it, he was really something. In this era, he's just finishing up a beloved run on Silver Surfer while also drawing X-Men 2099 and Spider-Man Unlimited, too. SU is a "quarterly" title that just sorta came out whenever, just in case a new Spider-Man comic every week wasn't enough for you ("you" presumably being Marvel shareholders in this instance). Here, Lim is inked by a ton of dudes, for some reason, with colors by John Kalisz.

We open on Hydro-Man, who we haven't seen around here in awhile, accusing a card dealer in an illegal gambling den of cheating and soaking him. The owner of the establishment, one Frankie The Fish, is not too happy about this, and we see that Hydro-Man has goons! Hydro-Man is gooned up! Not usually the goon type. His goons are nervous, but Morrie is not.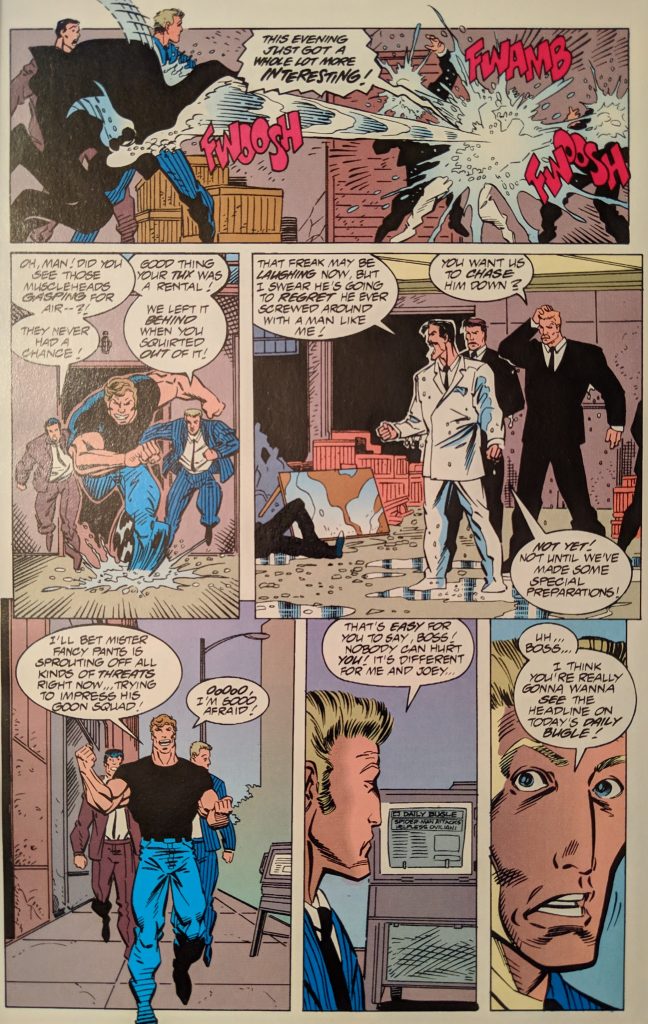 What's in the paper?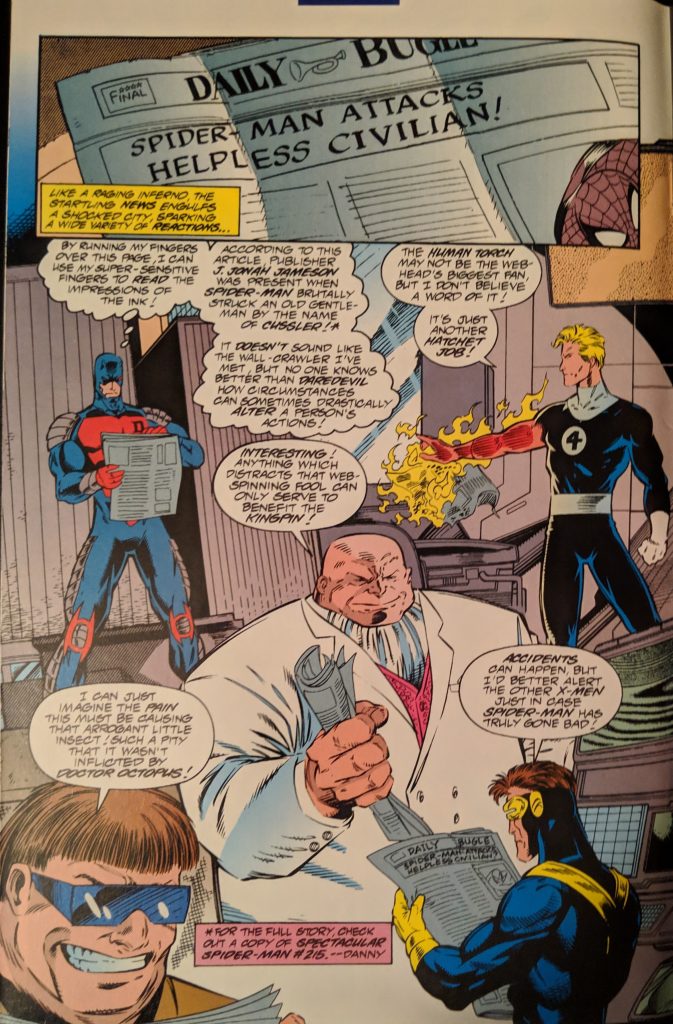 Yeah, that's what Daredevil looks like right now. The 90s are rough, man. Another person reading the terrible news is Eric Masterson, who excuses himself from his coworkers as his workday winds down, thinking Spider-Man helped him out recently in his own book…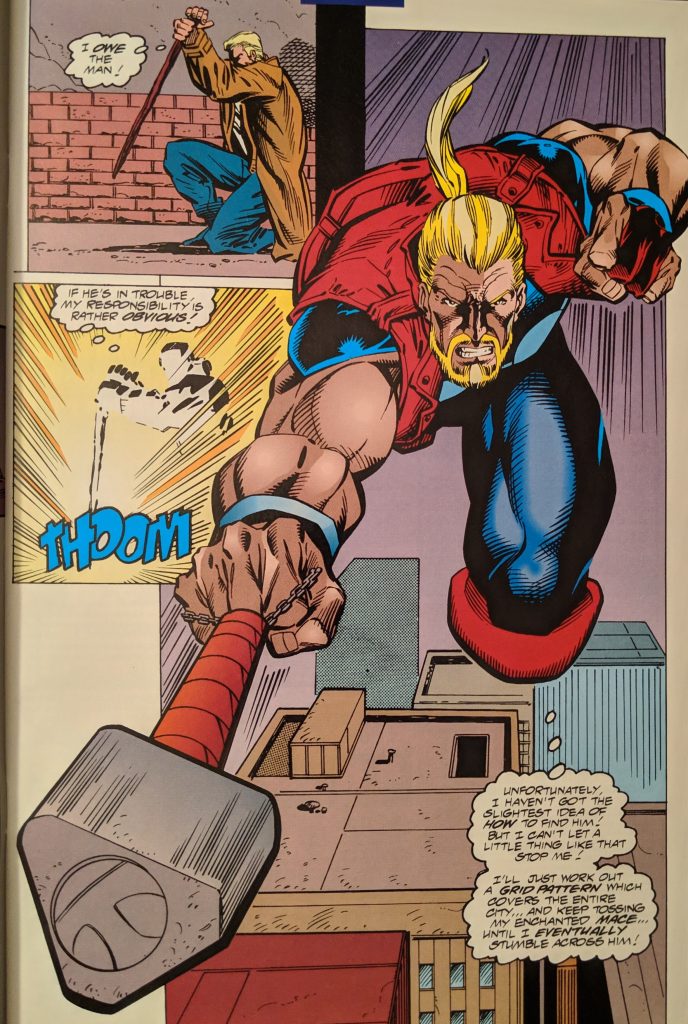 As Great Value Thor charges into the night, Spider-Man is asleep at home, having nightmares about being a bad guy. He wakes up, looks in a mirror, smashes said mirror, and heads out to pretend he's not Peter Parker some more.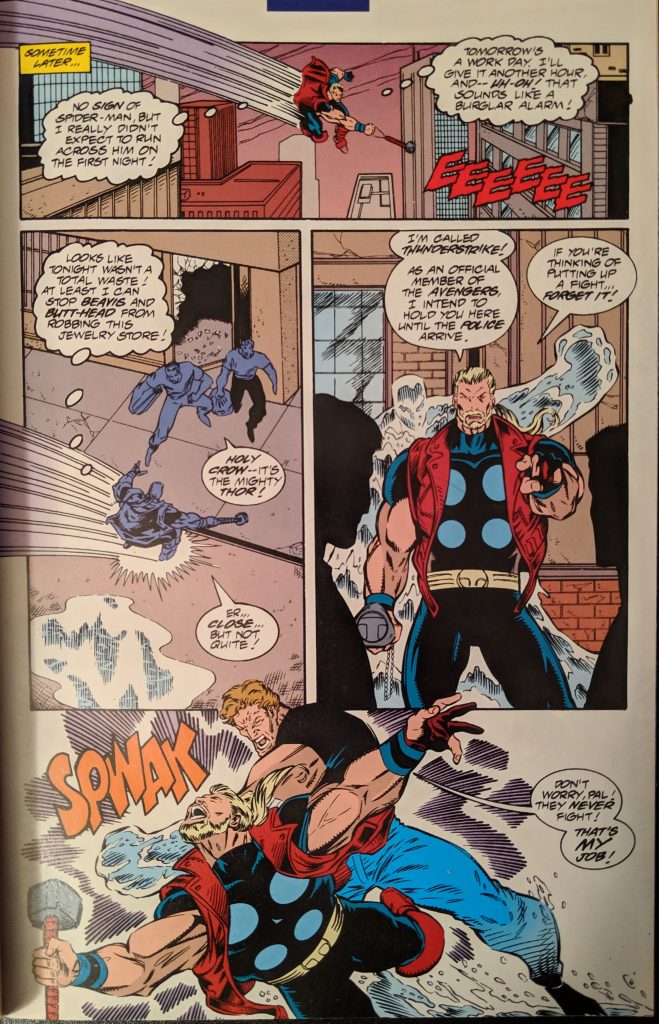 Thunderstrike proceeds to get completely trashed by Hydro-Man, which is pretty funny. Spider-Man heard the same alarm, and swings by to see the embarrassment. He decides to help by ripping some wires out of a street light and zapping Hydro-Man… and Thunderstrike, in the process. We cut away to that Fish guy swearing revenge on Hydro-Man, then back to the superheroes.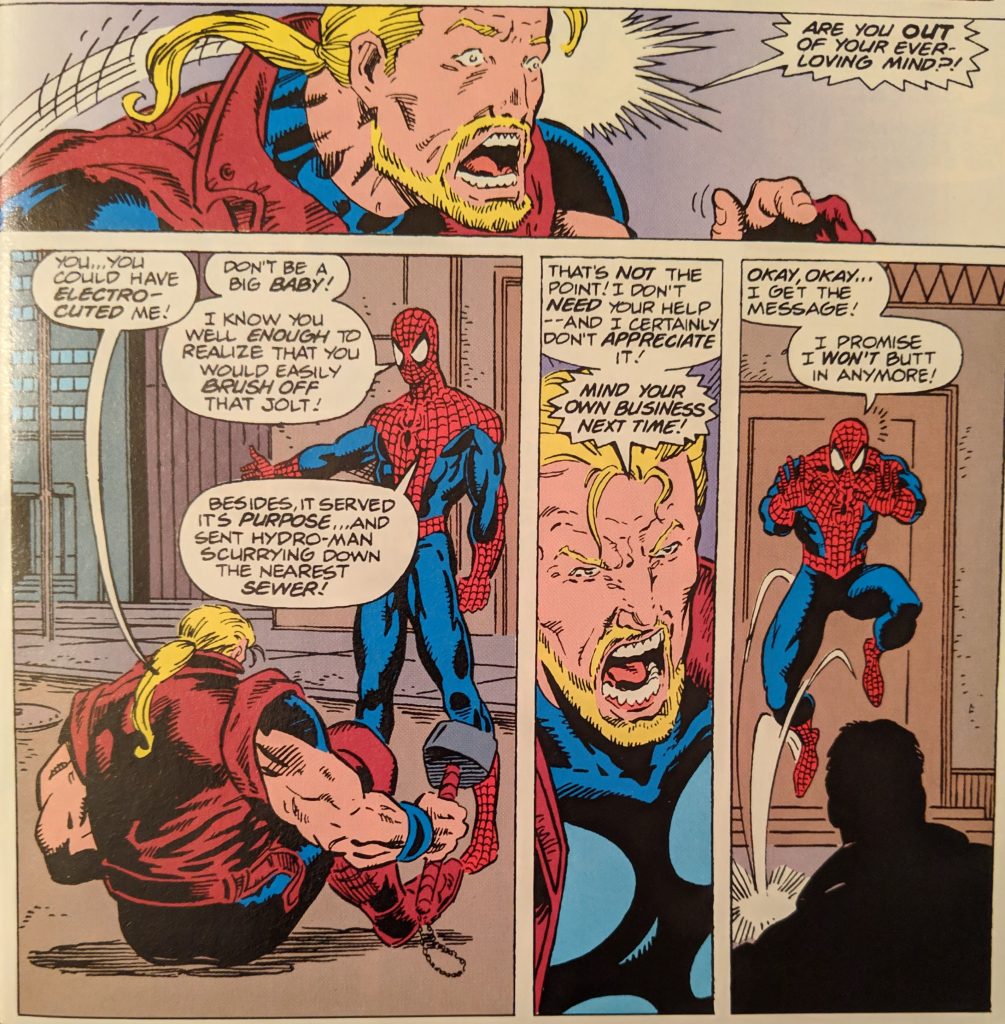 Thunderpants eventually chills out just short of Two Heroes Fight Over A Misunderstanding and says he was trying to find Spidey and help him. He offers to buy him dinner, and Spidey agrees. We cut to Hydro-Man throwing a fit about losing that fight in his hideout, then back to the heroes, now enjoying a pizza in costume.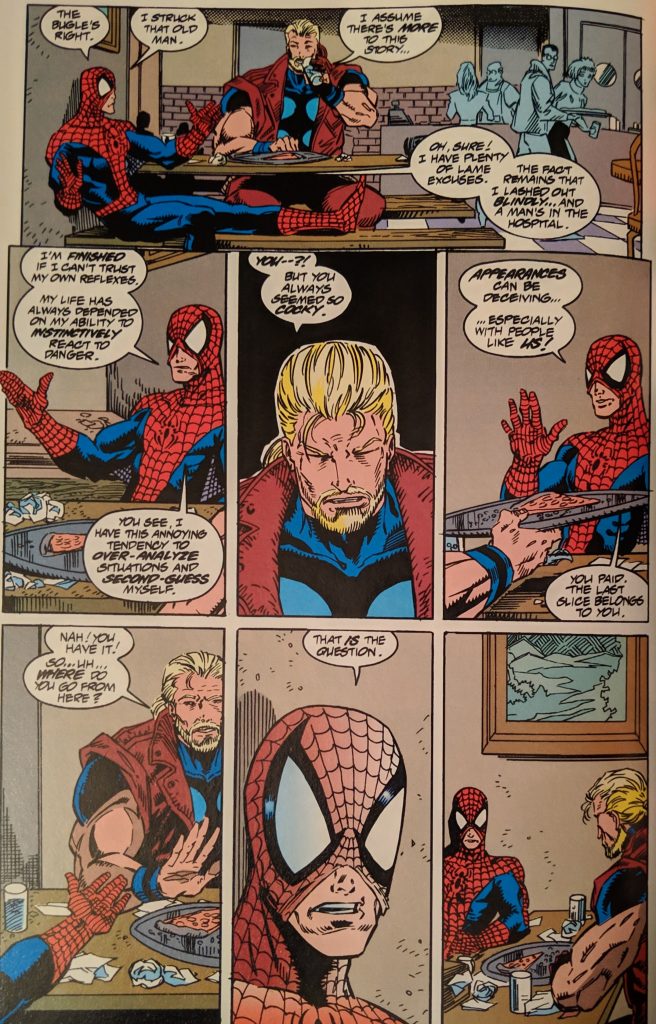 Some really awkward examples of digital color in this issue, like that random gradient on Spidey there. Just outside, Hydro-Man starts flooding the street to get the heroes' attention. They must've been fighting outside this pizza place. Attention achieved.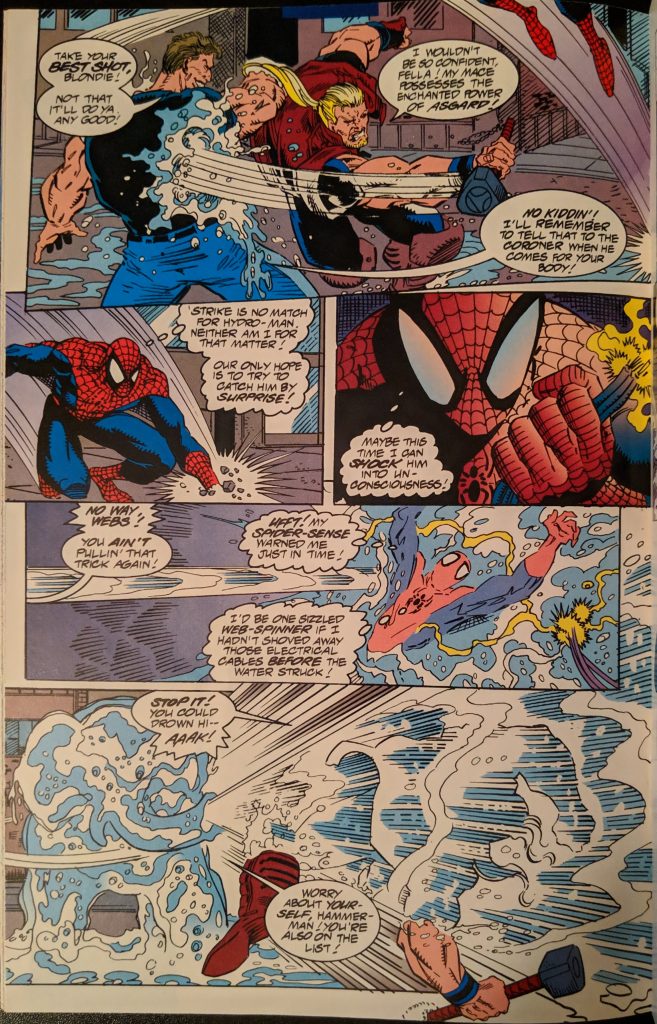 Hydro-Man proceeds to embarrass both heroes this time, and then something even sillier happens.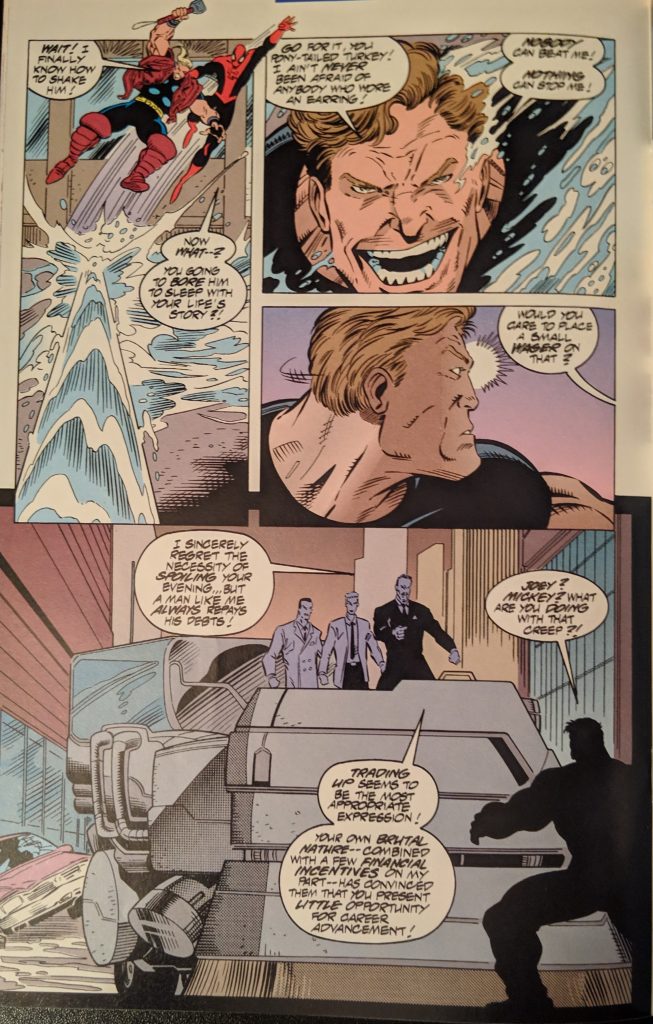 This is a random, nonsensical story. So Fish Guy has a giant "modified street sweeper," and Thunderstrike decides he knows how they can beat Hydro-Man. He antagonizes the watery weirdo and then lets out… I guess a lighting strike while in the water? Spidey calls it a "thunder blast," like that's a thing.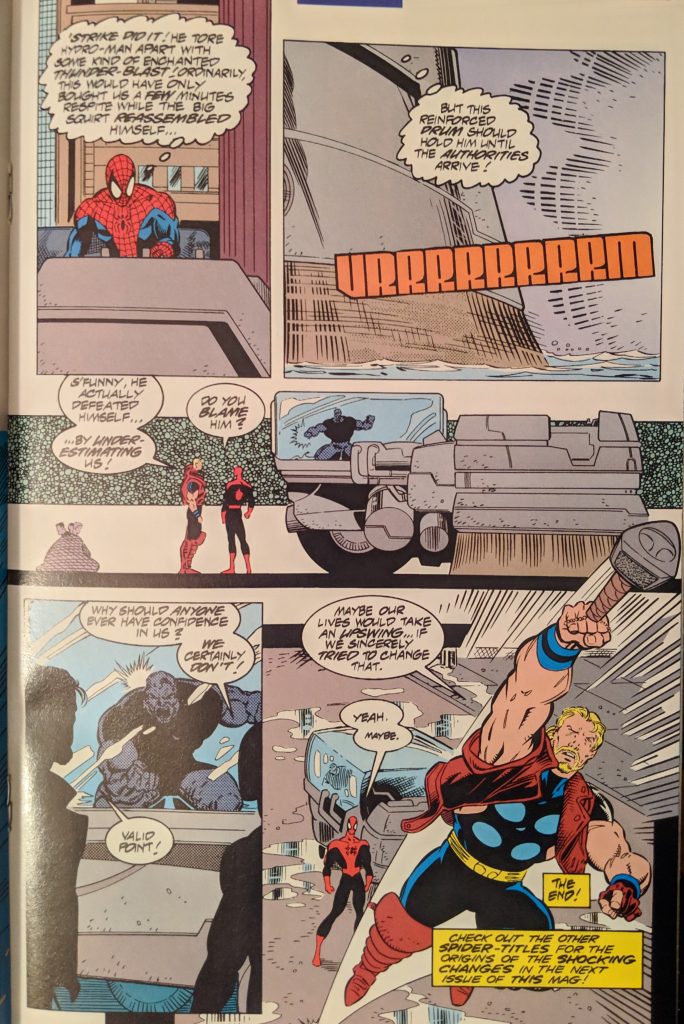 Well… that definitely happened. What a strange story. Five inkers clearly rushing to hit a deadline don't really do Ron Lim justice. But wait, there's unfortunately more! Spider-Man Unlimited is an oversized comic with several stories per issue. The 2nd feature is a Spider-Man/Luke Cage team-up. Luke, who just goes by CAGE now, is much tougher and more 90s-lookin' now. This one's by writer Marc McLaurin, penciler Scott Kolins, inkers John Holredge & Keith Williams, and colorist John Kalisz. And it's… ugly. Like, wild ugly. Kolins would go on to a long career of making comics I don't think look very good, but I've never seen on this bad. It's utterly insane, too. A blurb lets us know it takes place before ASM 390. Spider-Man is chasing Slyde. Slyde is a character in a "frictionless" bodysuit, so he can, you know, slide around, and he's a thief. Spider-Man has fought him a few times. This is happening in Chicago? I guess Cage works there right now? Spidey thinks he was there for a convention, but he's also still sort of in rage mode like in the comics we've seen so far? It makes no sense from jump, and makes dramatically less as it goes. Spidey boxes Slyde in with 4 web walls, and then perches on a lamppost to taunt him.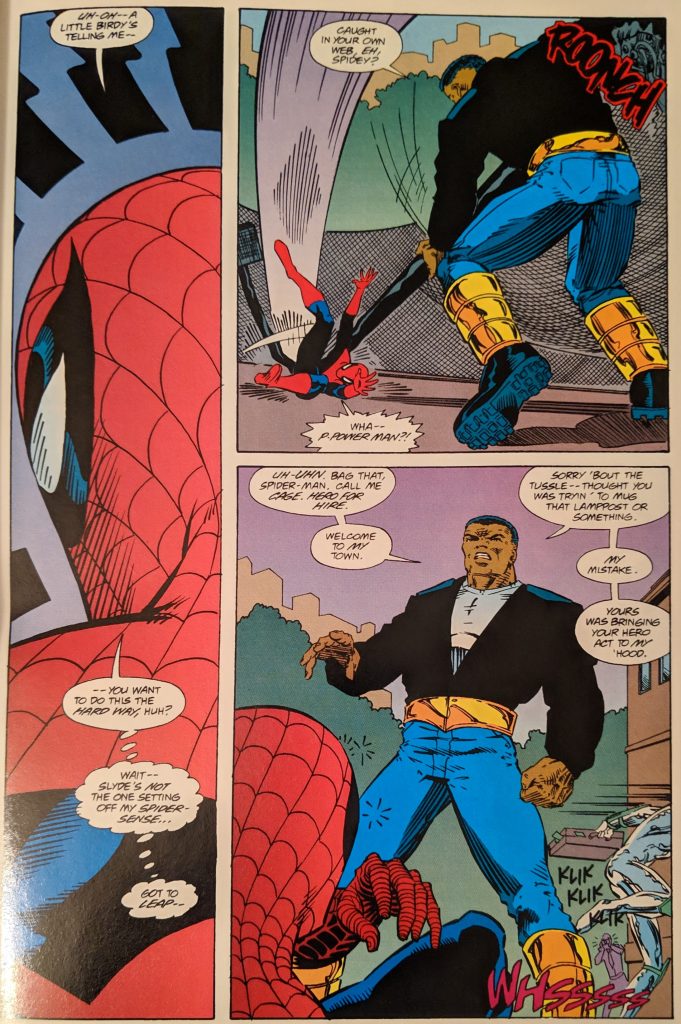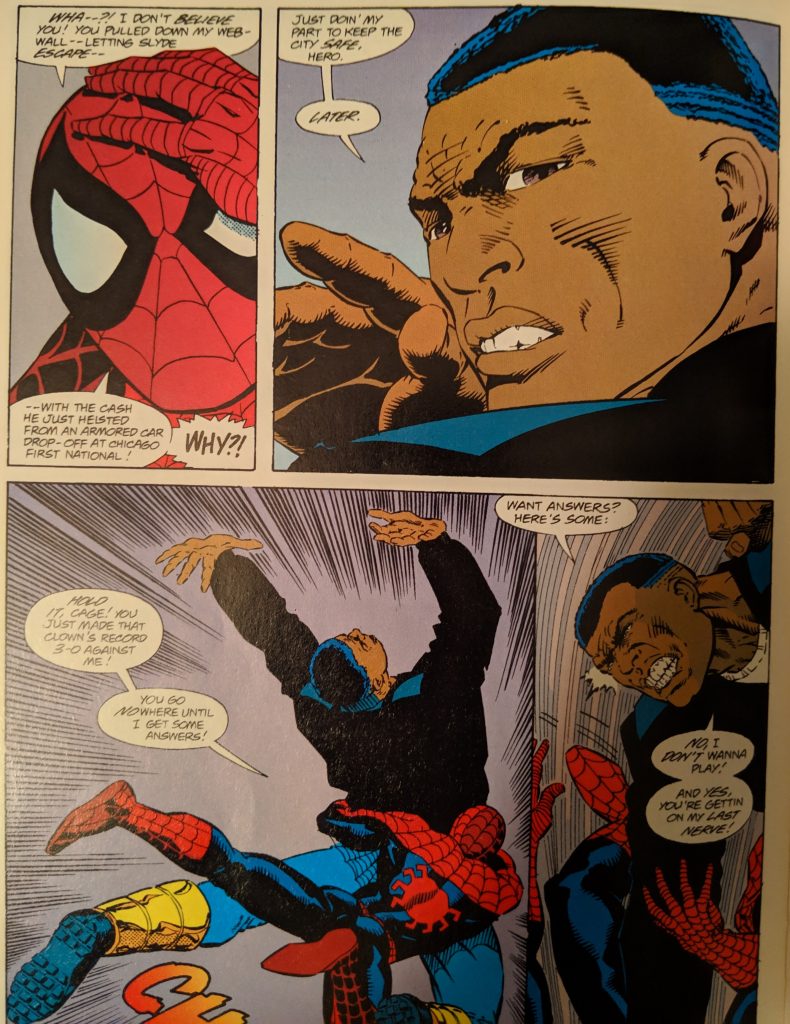 How is helping a criminal escape keeping the city safe? What is happening?? Spidey and Cage fight, Spider-Man saying, "You don't mess with Spider-Man! Not anymore!!" See, he's in rage mode. How did he go to a conference? Spidey wants to know why Cage let Slyde go, and Cage says he's funny. Then the cops show up. Cage is cool with them, apparently, and Spider-Man swings away. Then a guy introduces himself to the cops as Tony Reeves, Daily Bugle photographer (How many new photographers can The Bugle have???) in town for the photographer convention. He wants to know why the cops let the heroes leave, and they more or less ignore him Then he gets… pulled off a cliff? What is the geography here?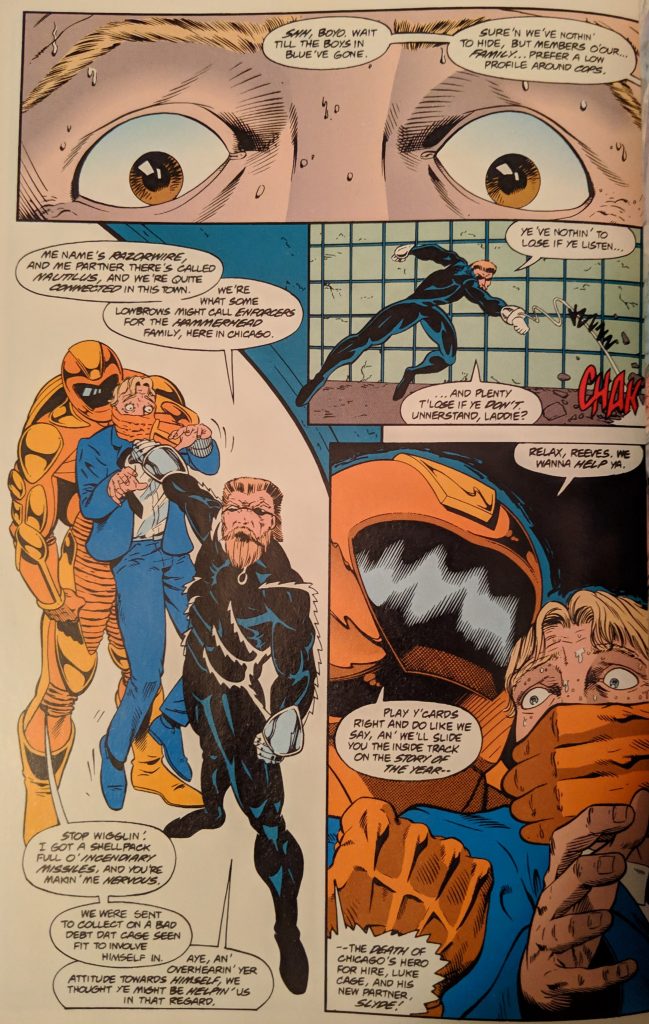 I am completely lost. I don't even know where this page is taking place. And then it's over. Peter Parker is at the convention, which he thought would help him get his head together. He was wrong. This guy Tony Reeves shows up and starts mocking Peter and telling him his friend Spider-Man is a crook and he's a bad photographer and WHO IS THIS GUY? Then Peter literally bumps into one Micky Hamilton, Pulitzer winning Chicago photographer. Cut to Cage's office, where we learn Slyde's brother is being held to ransom by The Maggia, and Cage helped him pull the robbery earlier to pay them. The deal is once they get the brother back, they will steal the money back and return it. This is needlessly convoluted. We see there's a spider tracer on Cage's jacket. Then we hit up the convention.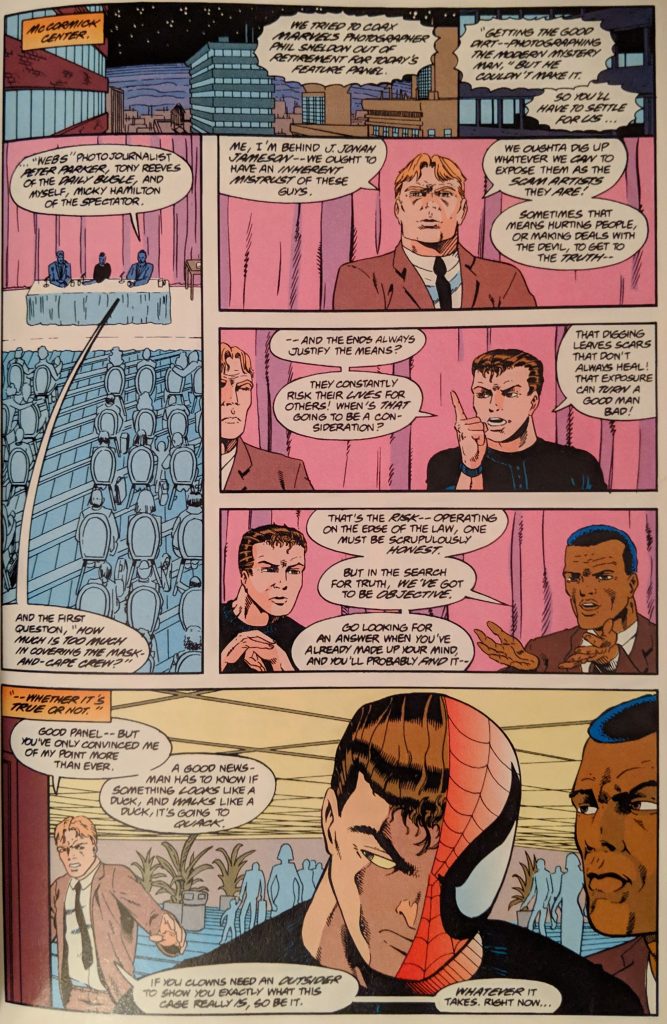 The amount of people who got work at Marvel when they clearly weren't ready yet in this era is astounding. Totally unprofessional looking books like this flooded the market. Look at Cage's insane head when they go to the swap for Slyde's brother:

Had I been a couple years older, even I coulda been drawing for Marvel back then. The bad guys from earlier are the kidnappers, and they decide to go back on the deal and try to kill Cage. That doesn't work. Meanwhile, this jerk Tony Reeves is taking photos of the whole thing when he makes a discovery.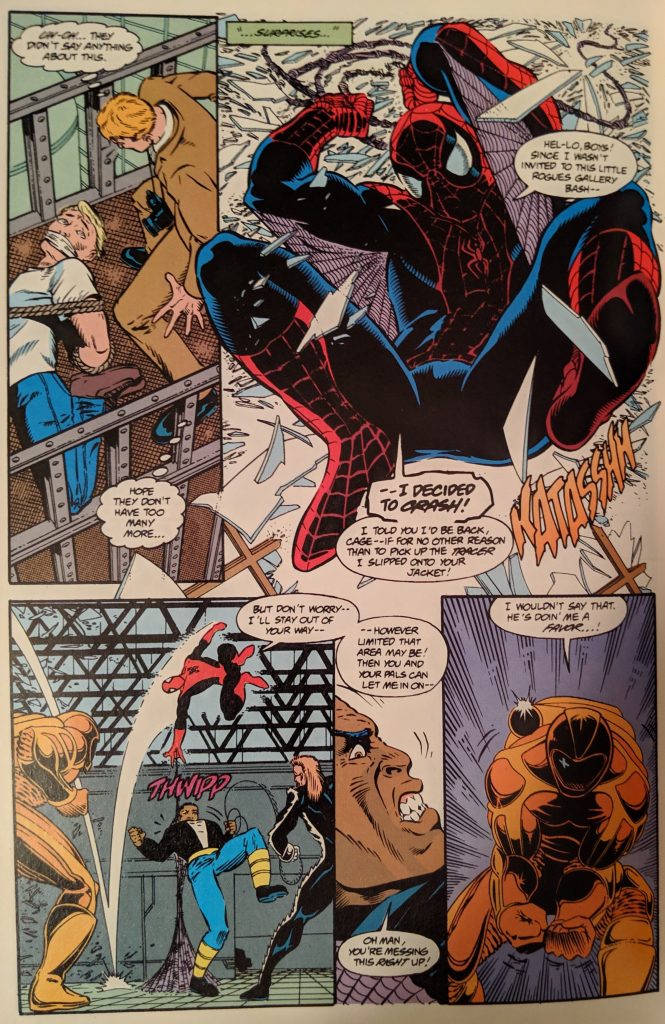 Orange Guy (I forgot his name already) seemingly burns Cage to ash, then Razorwire gets his, uh, razorwire around Spider-Man's throat, but Slyde saves him. Slyde begs Spidey to save his brother, and then he gets the razorwire around his throat. But then Slyde's brother starts calling for him, because Reeves untied him, but Reeves is mad at him for it.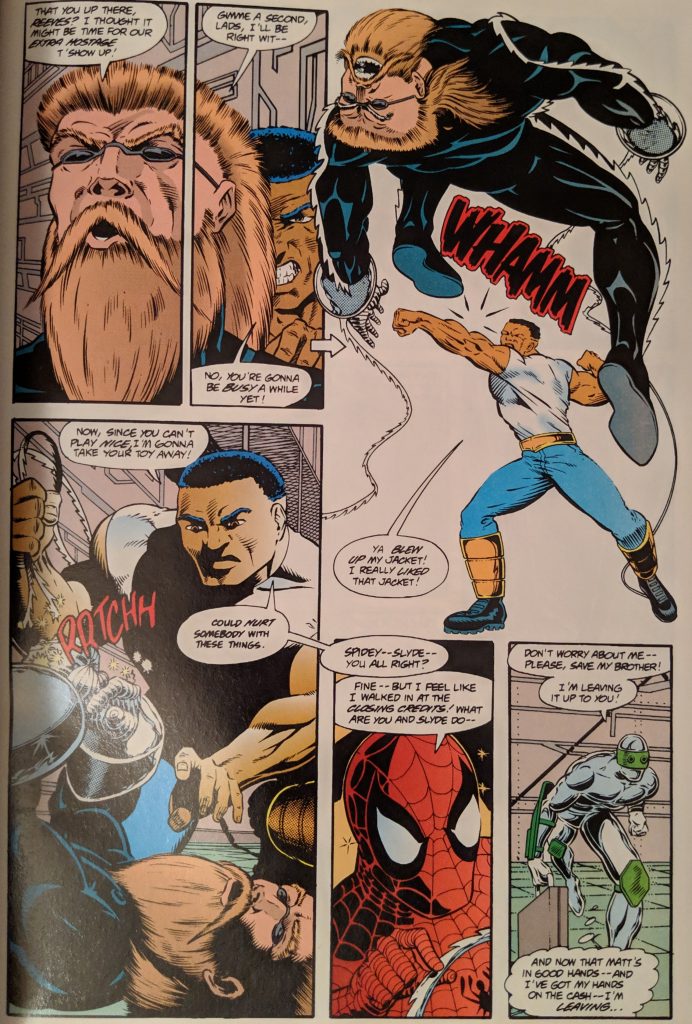 Slyde does what he always does and double-crosses Cage, who gets smashed into the beam supporting the catwalk the other guys are on by Orange Man. Spidey saves the regular dudes, Cage beats up Orange Man, I'm really over this. Orange Man's backpack is going to explode now Cage has messed up his suit, so Cage runs it outside to explode where no one less invulnerable than him will be hurt, Spidey putting up a web shield inside.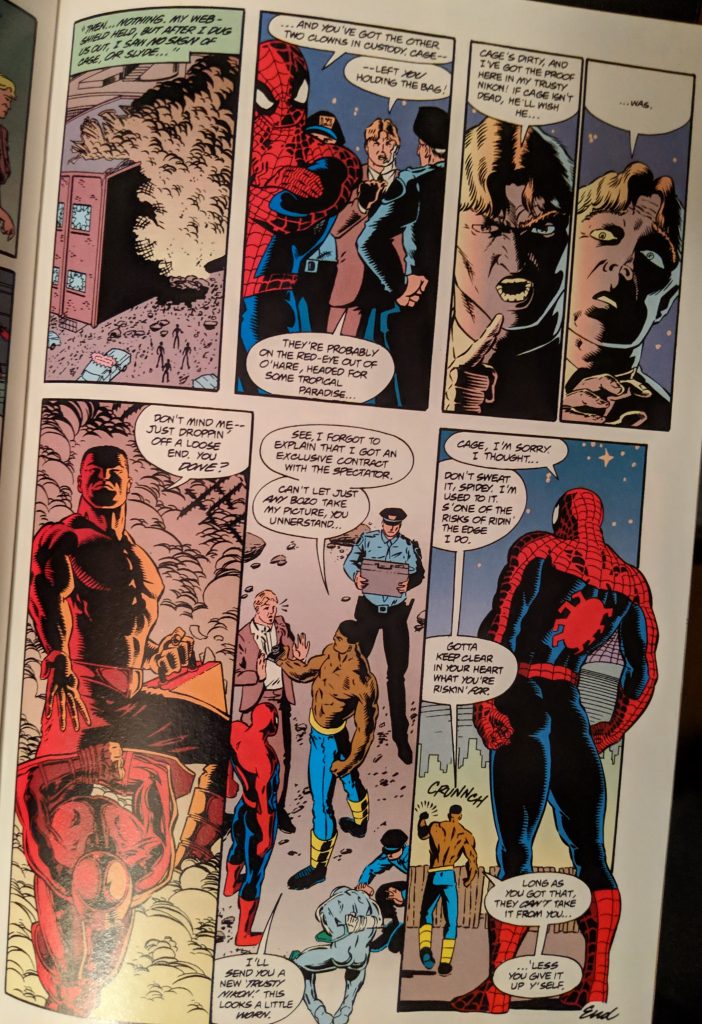 This is the first and last appearance of Tony Reeves, according to the internet. Good. Behind this is a short story about Flash Thompson written by Tom Breevort & Mike Kanterovich, with more hideous art by Kolins & WIlliams, now with color by Sarra Mossoff. Flash is working as an EMT (Man,if I knew that, I had forgotten), and he runs into another former high school quarterback who hates him for beating him in a game that he believes cost him a college schoalrship. He works as a janitor at Flash's hospital. He starts leaving threats on Flash's answering machine and engineering mishaps at the hospital. Then the guy tries to fight Flash in the hospital and gets fired. Flash thinks that without some lucky breaks, that could have been him. The end. This book really tried my patience in a way I did not expect. The Flash story was the best one, frankly, but I was over it by then. I'm not sure it was worth the 90 cents. It might go right back to McKay's.