Hey, we finally got to ASM. Now you've gotten a taste of the pikers having a run at making Spider-Man an insufferable sadsack, let's see the master do it. JM DeMatteis is joined in wasting my prized teenager money 25 years ago by penciler Mark Bagley, inker Randy Emberlin, and colorist Bob Sharen. Bags has been on ASM for years, at this point, and will continue on for several more before jumping over to do 111 issues of Ultimate Spider-Man, he's got a massive legacy with the character. He won The Marvel Try-Out Contest, which is so cool to me. He's a top notch storyteller, and famously quick, often drawing two titles per month.

This issue begins with Peter Parker throwing a tantrum in a location I don't want to disclose due to my probably futile attempts to not spoil the events that lead to this. I dunno. Is that dumb? Maybe it is. Anyway, he just got done tearing a table apart and yelling and stuff.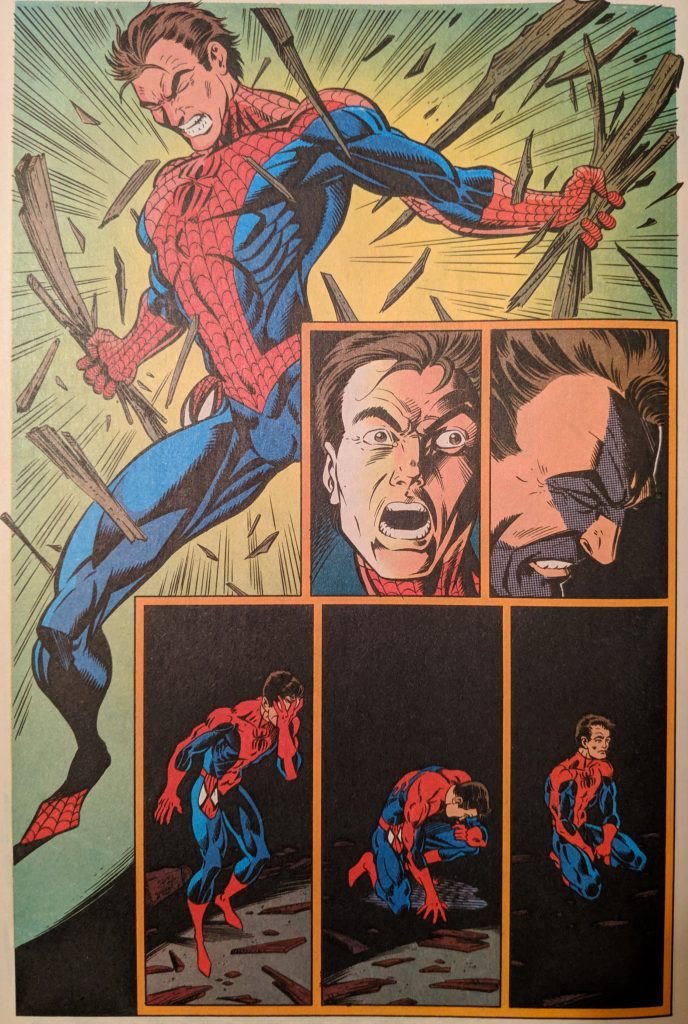 So, you know, havin' a good time. Meanwhile, out at the oft-mentioned but as yet unseen (on this blog) Ravencroft Institute, Dr. Ashley Kafka is observing a patient.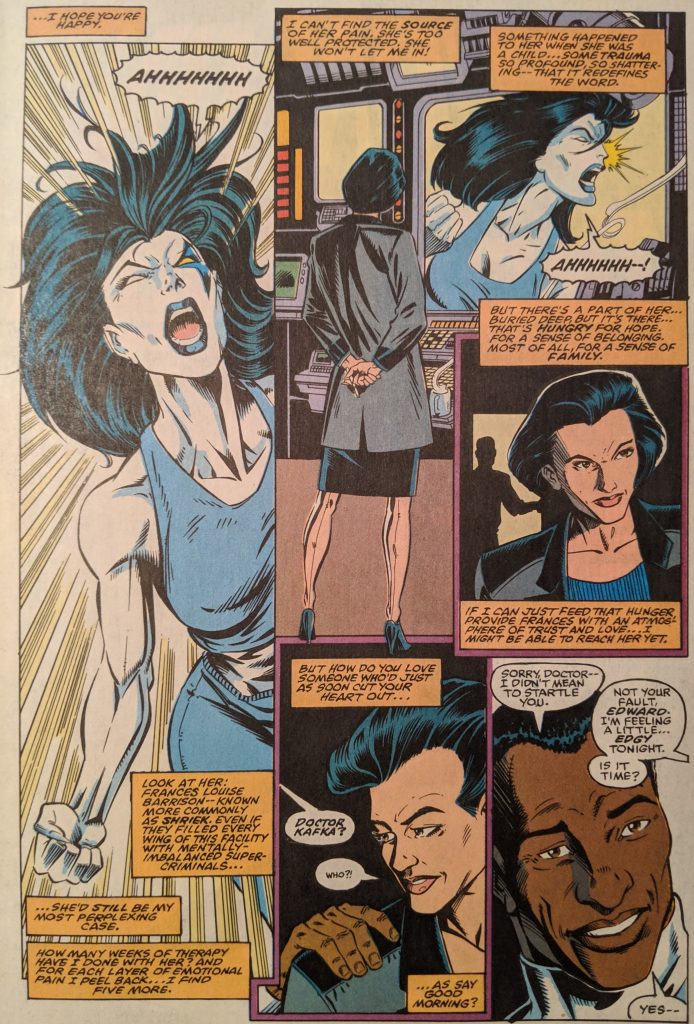 Why does this character have one glowing eye? Because it's 1994, dear reader, we're lucky she's not made entirely of shoulderpads. Ashley & Edward go check on Malcom McBride, who through Circumstances got infected with The Carrion Virus and became a new Carrion. Have we seen Carrion yet? Ok, yes, we have. Well, this is not that Carrion. Malcolm is "cured" now, but that doesn't make the guilt for the horrible things he did as a murderous supervillain go away. He's wild sad, so he's in the right book! When he tries to sleep, he has nightmares…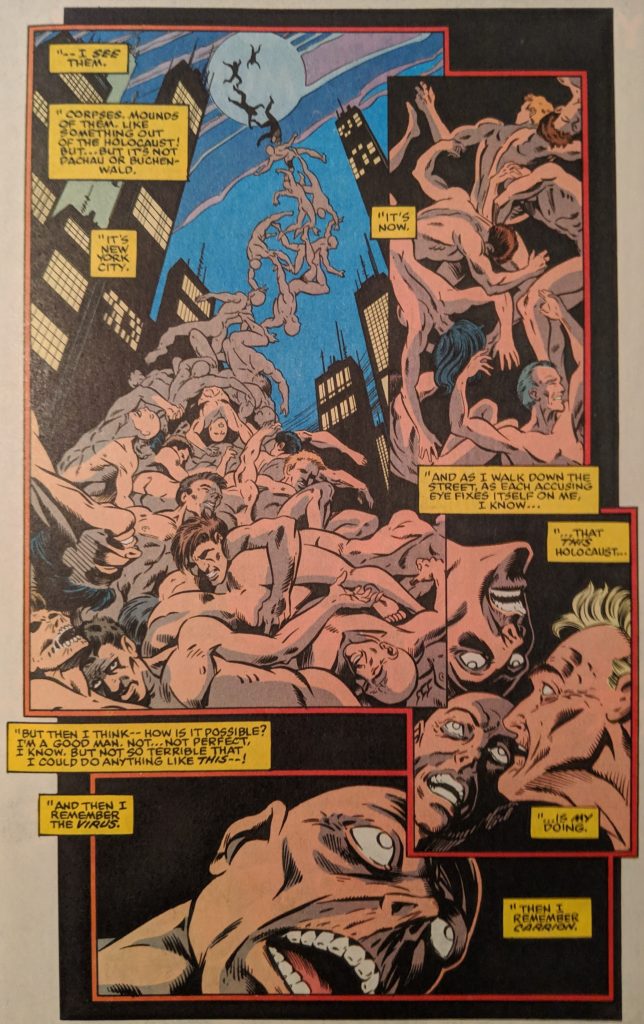 Then Carrion comes for him in his dream, and he hopes Carrion will kill him, because he deserves to die. Are we having fun here? Y'all into this? We switch from Malcolm describing his dream to Aunt May waking from one. She's been having nightmares about the burglar that killed Ben, only now he kills Peter. She's worried about him. Then we check in with MJ, and I remember a subplot from this era I forgot: MJ secretly took up smoking! And it's gross, and Peter was like "ew!" and she's still tempted. Totally forgot this.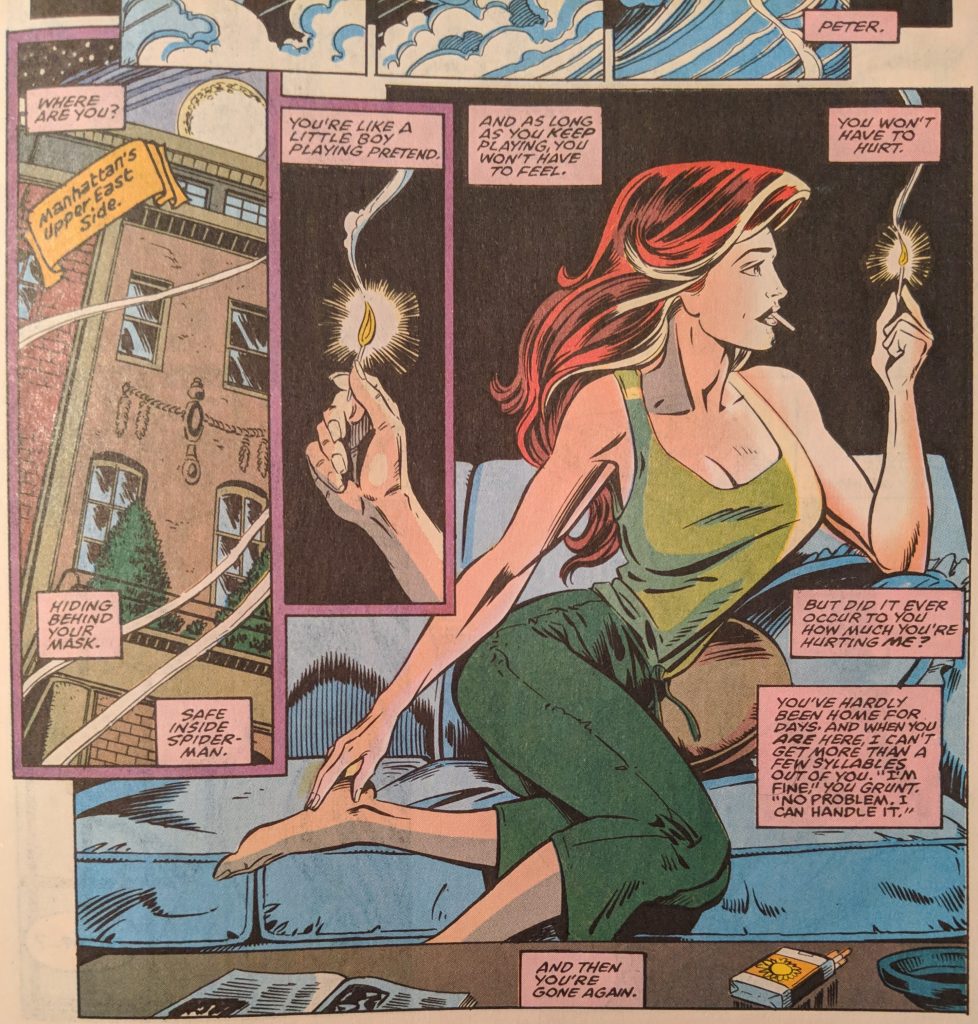 She compares the way Peter is treating her to living with her father, and we've seen how terrible he was. She's totally justified. She refuses to let him make her smoke and tosses her cigarette, then hears a creak that lets her know he's home.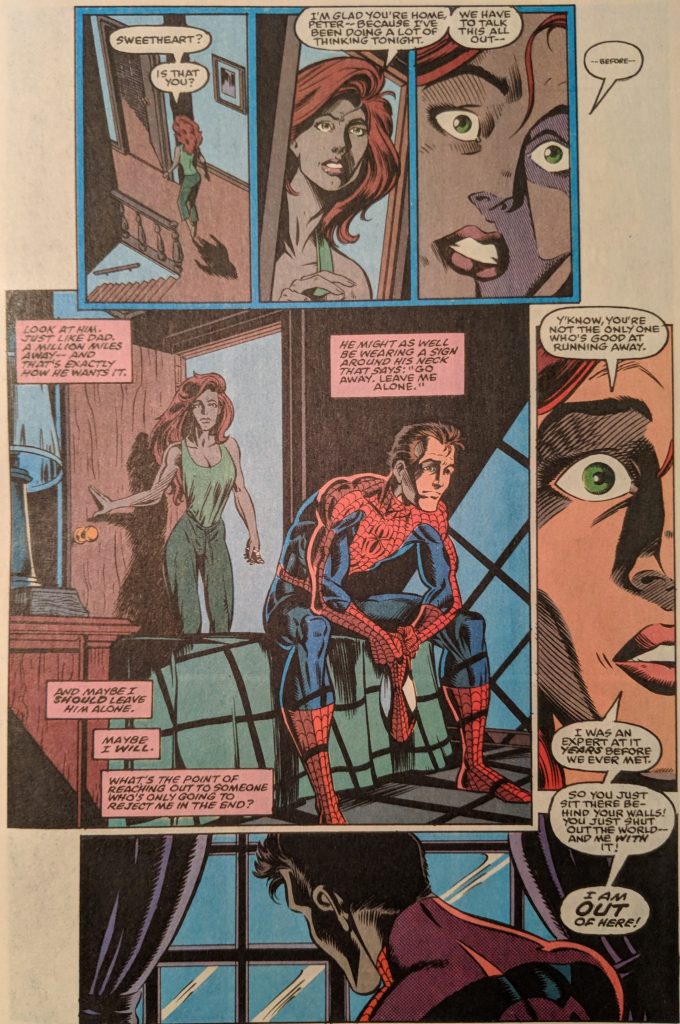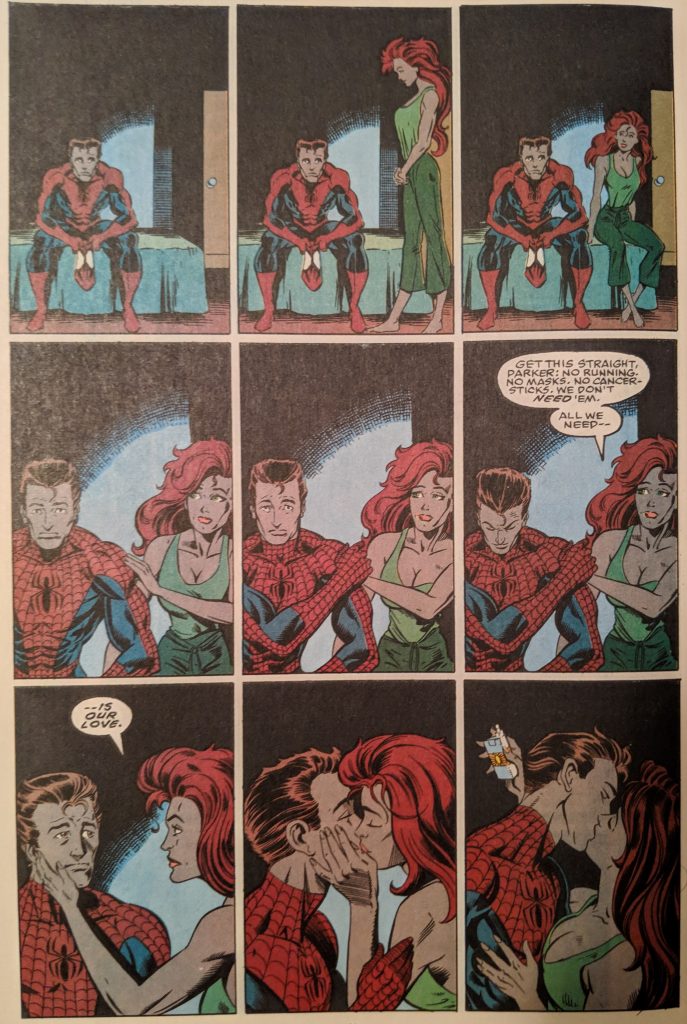 The prominent placement of the cigarette box is pretty funny there, but as they keep makin' out, she drops the box. SYMBOLISM. That smoking story was so lame. I'm not gonna get into it here, I just completely blanked it out of my mind and it's all flooding back. I'll have a lot to say about MJ having crap subplots at a more appropriate time. Right now, we're going back to Ravencroft, where Dr. Kafka is telling Malcolm he can't blame himself for what Carrion did through him. That it's not him (And it isn't, to be fair, it's a virus that turns you into Carrion. Anyone could be Carrion). He doesn't agree, and thinks he must be insane, so she decides to show him someone who totally is insane, and that is a TERRIBLE idea, Ashley, what are you doing? She takes him to observe Shriek raging in her cell. These two have a history, ya see.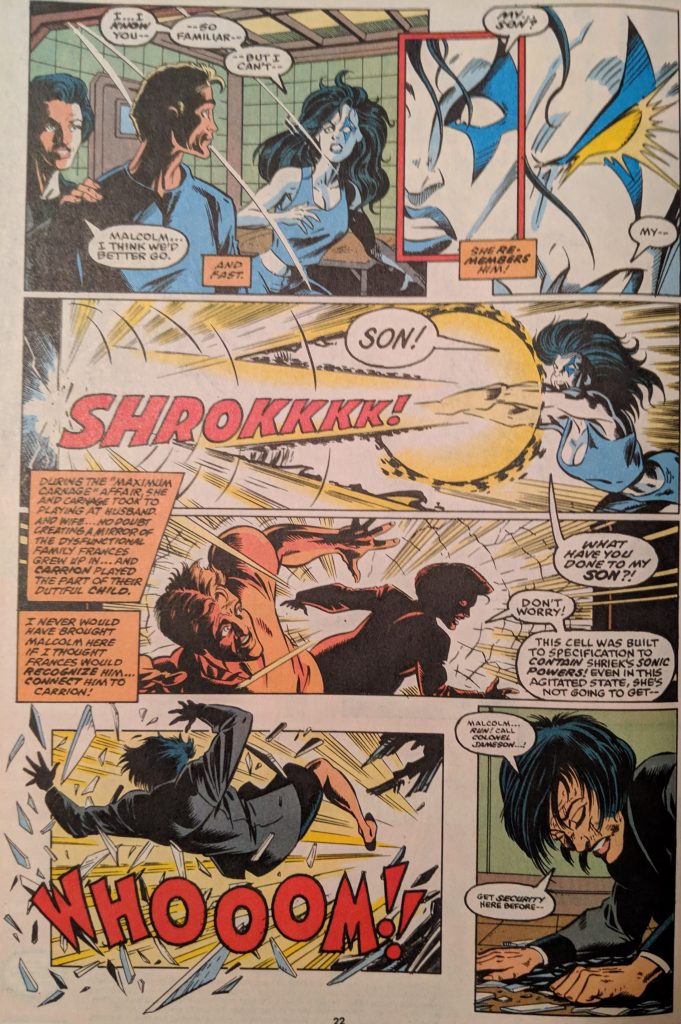 Dr. Kafka sucks at her job. She refers to one of the worst crossovers ever, "Maximum Carnage," a mindboggling 14-part exercise in excess from awhile back. At the time, a low point for the 90s era, but they were just getting started. Shriek chases down Malcolm being all crazy and motherly and then picks him up, smashes through a wall and flies them away as his real mom watches in horror through a window. I cannot stress this enough, Ashley Kafka should lose whatever license she has and be sacked. Meanwhile, MJ wakes up to find Peter gone, and is sad again. She finds her dropped cigarettes on the floor and throws them out the window, though, so at least there's that.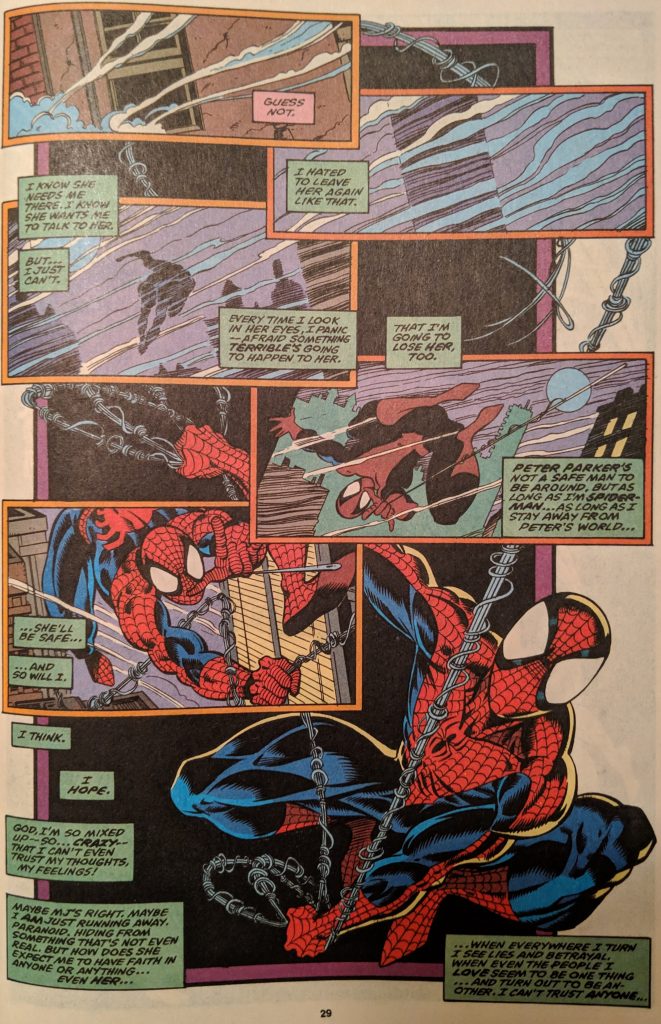 Spider-Mope thinks Dr. Kafka can help him, but we see she's in the hospital, pretty messed up, so probably not, and it's To Be Continued.