Joey Calaveri pitches in the script for the first 8 pages of this one, as Don Hudson & Fred Fredericks finish over breakdowns this time out. Lot of pinch hitters this issue. You ever think about how deeply integrated into our vocabulary baseball terminology is? I do. I don't even like baseball, but I use a lot of the terms. Hey, welcome to another installment of the Super Sad Spidey Show! Although, to be honest, it doesn't seem like Terry Kavanaugh has quite gotten with the program on that front. Spidey made a couple off-hand comments about being sad last issue, but it was largely normal. Let's see how sad he gets this time.

JJJ is at The Daily Bugle just before dawn. He couldn't go home after the fight he had with John. He worries that if he could do it all again, it wouldn't turn out any different right as John walks in. I mean, that fight didn't seem THAT bad. I feel like I've seen worse between them.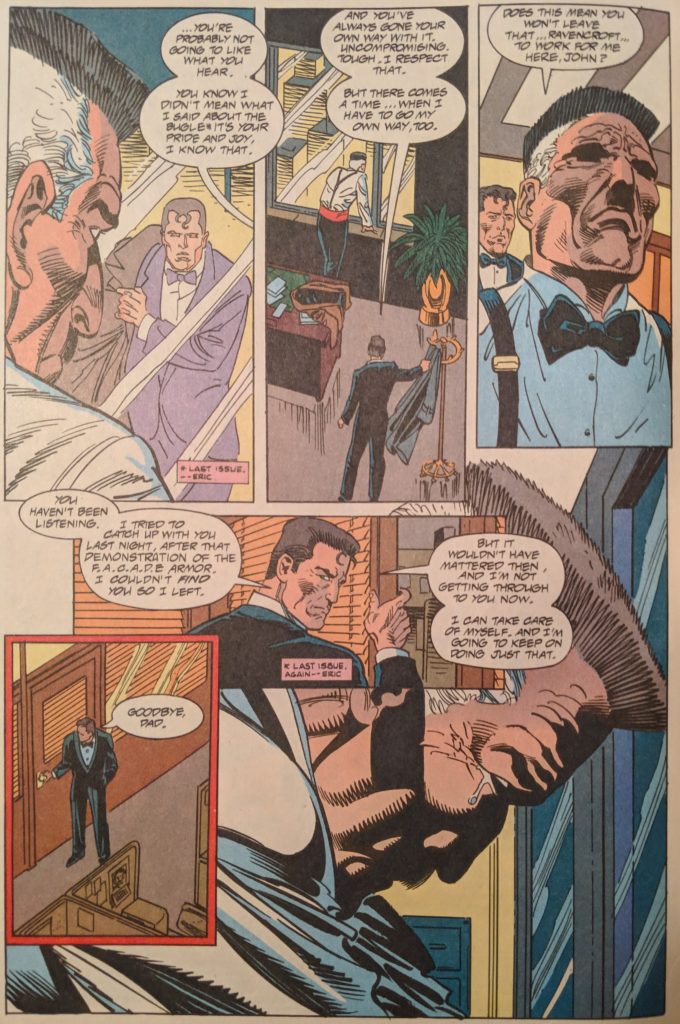 Aw, guys, come on. Elsewhere in the building, Cole Cooper & Lance Bannon have come to develop their film. Lance seems to be doing remarkably well. He says Amy thinks he's recovering at the hospital as he shoos Cooper away. Cooper finally takes the hint, and now he's sad, too. Web of Spider-Man: The Cavalcade of Sadness! Across town, Spider-Man stops a carjacking. He's cracking jokes and everything. In all the other titles, he's one Linkin Park song away from suicide, but here he's pretty much the usual. He also totals the car, a convertible, in the process, simply webbing the thief out of the seat and letting the car wrap comfortably around a telephone pole.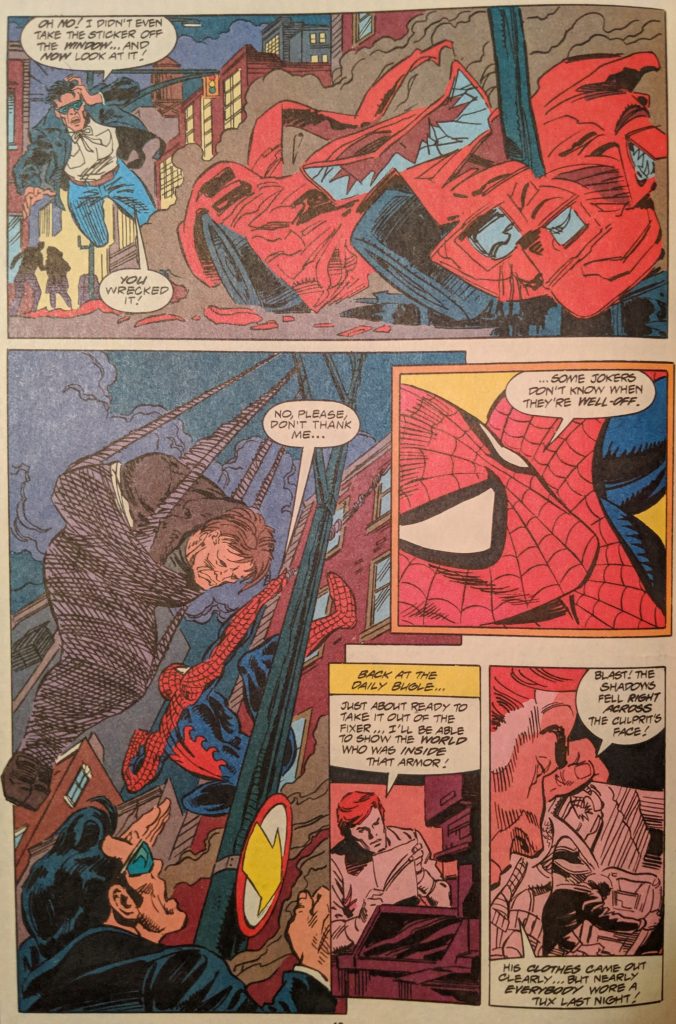 Why WOULD he thank you, tho? Totally in the wrong on this one, Spidey. Bannon, meanwhile, has just figured out who stole the FACADE armor when they smash through the door and zap him!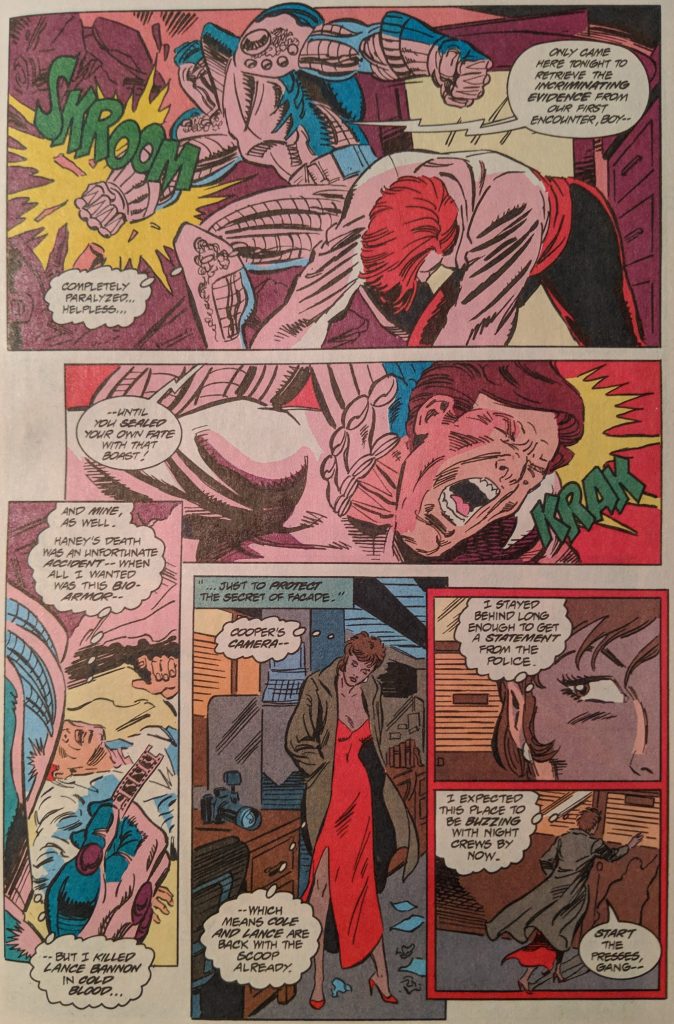 Aw, Lance! That's no way for Peter Parker's longtime rival to go out! Killed by some jobber in an ill-conceived and poorly explained super suit! 14 years in the book to go out like this. That's way too bad. Poor Amy. If he had to go, he could've at least gotten murked by The Hobgoblin back in those days. Died with some dignity. Ah, well. Betty Brant arrives on the scene, quickly finding Cole Cooper's camera and then going to JJJ's office to find his and John's coats hanging in an empty room (Did John leave his coat? Huh, he did, ok. Why'd he leave without it?). Is Kavanaugh trying to implicate the 3 of them, then? 'Cuz, like, come on. I guess maybe Cole, we don't know that guy, but… come on. Then she goes to the dark room and finds Lance's body.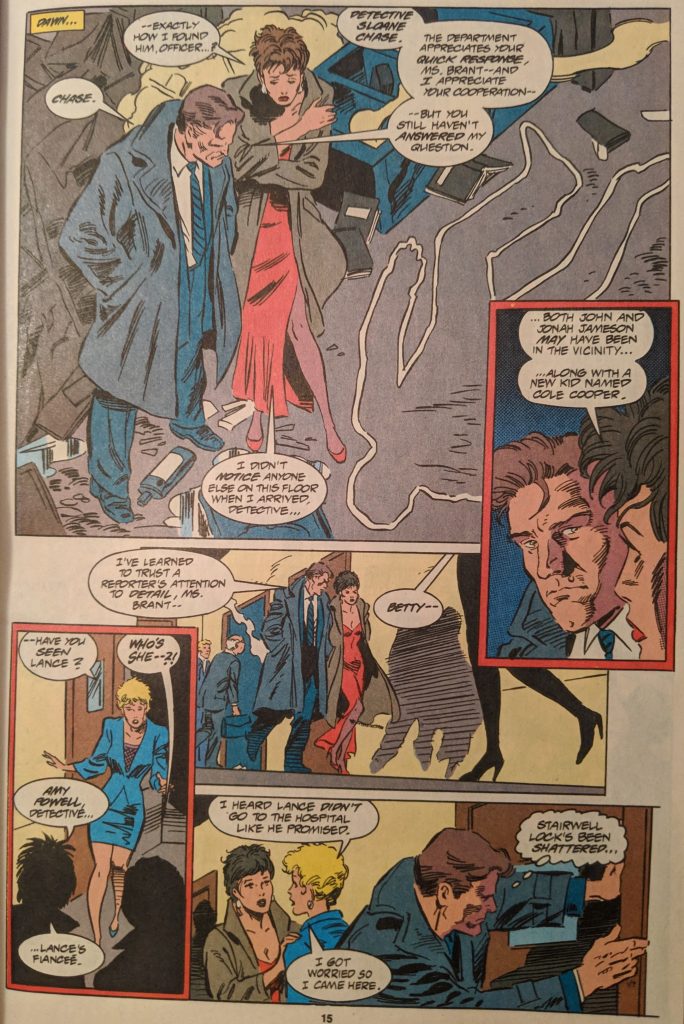 Poor Amy. I think Detective Chase is Kavanagh trying to get in on the long tradition of writers making up a cop foil for Spidey. Hours later, when The Bugle is open for business, it's an unusually quiet day, as you'd expect. That cop is hanging around to ask the 3 dudes from last night where they were. John straight up lies to cover for his dad, saying they both went back to his place to settle their differences (Why did he do that? Does he think Jonah did it?). Cooper sez he stopped at a payphone to call Amy, so she'd come distract Lance so he could see the photos. What? That's ridiculous, who is this nerd? Betty Brant, meanwhile, is furiously investigating everyone who was at the demo last night, looking for clues. And then we turn our attention to good ol' Aunt May, who's just home from the grocery store when she gets a phone call. She recognizes the voice, says it feels like ages since they last spoke, asks where they're calling from.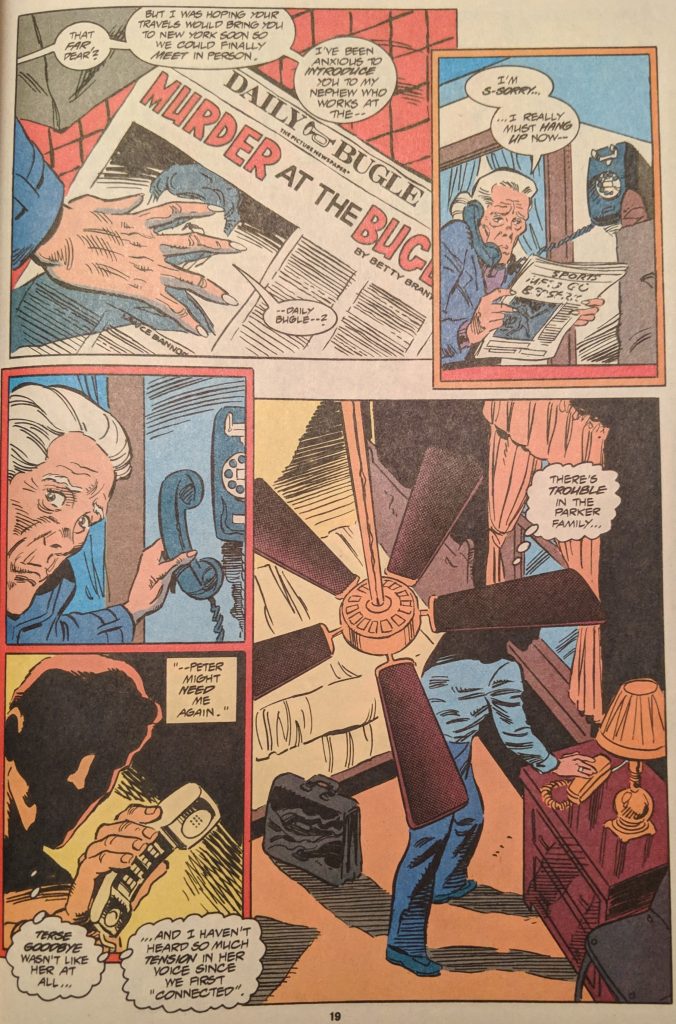 Now who could that be? This mystery man will be showing up a lot for a bit. If you don't know about this period in Spidey history, believe me, you will not guess who it is. Because it's way too stupid. But that's for later. This book is more than half over and all Spider-Man's contributed to it is wrecking a car, so it's night now, and he's shown up to The Bugle. He thinks that he hasn't been home since the fight at the museum (He's probably been out appearing in SM 46), so he only just found out Lance was killed. He manages to blame himself for Lance's death somehow as, inside, Betty is still combing the morgue for info as FACADE shows up and knocks out the security guard so he can go get her. What, no murder? Spider-Man is in the building now, and his Spider Sense has him right on FACADE'S trail, leading him down to the printers…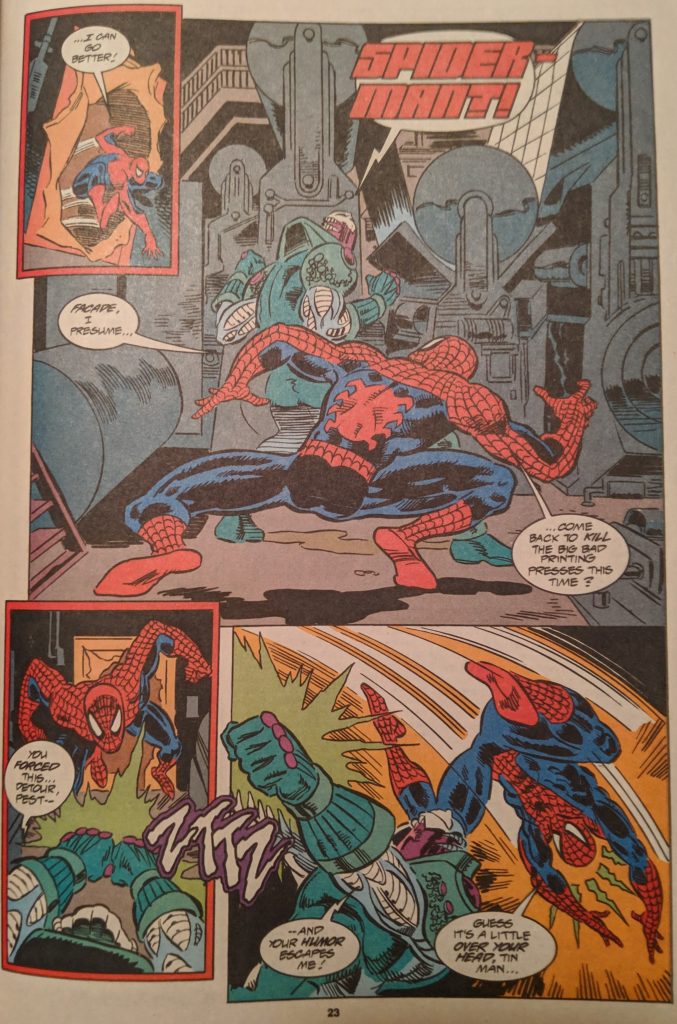 They tangle a bit, but then FACADE zooms off with his boot jets and gets behind Spider-Man, and throws a whole printing press at him before zapping him for good measure. Spidey's the first person he's zapped who's able to resist the paralysis, but not too well, so FACADE rolls the press over him and leaves as more security shows up, talking about getting Betty later. Spidey was just able to web up a little brace to avoid be smooshed. Betty isn't aware of any of this…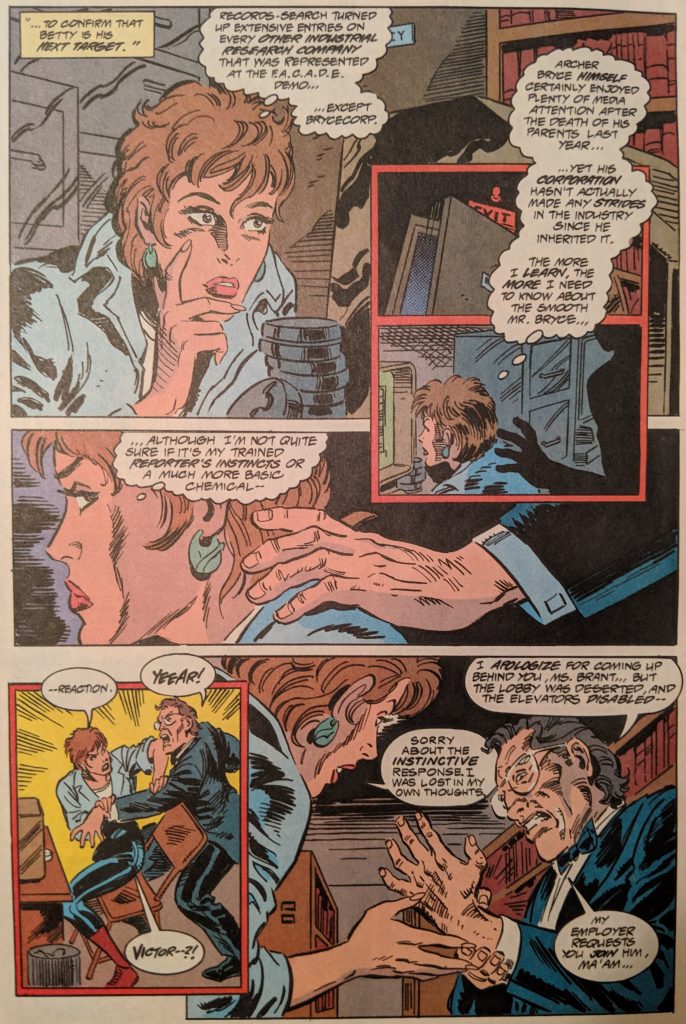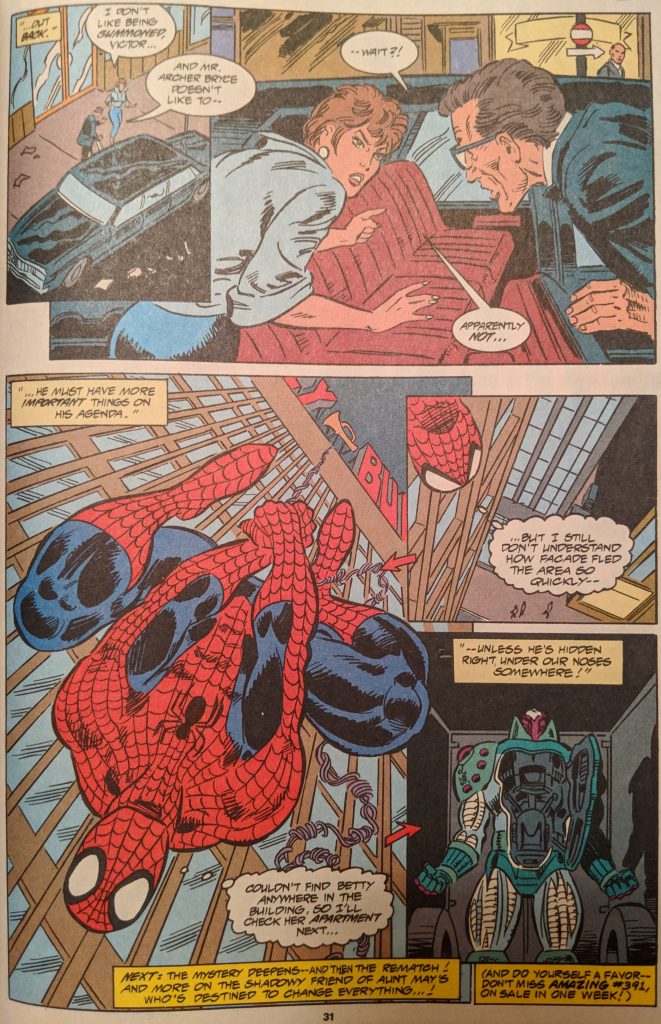 Whaaat? A lot of weird things going down tonight. More to come, I'm sure.