Well that's rather a spoiler, isn't it? I guess this is as good a place as any to talk about another change to the 1990s comics market that is most obvious on this title: coloring. Coloring has long been a thankless job in comics. Quite literally, a lot of the time. Marvel comics didn't even credit the colorist until the mid-70s or so (Though it was a good bet your book was colored by Stan Goldberg or Marie Severin). As the desktop publishing boom hit, and art & design could suddenly be affordably done on computer, things changed dramatically. As in so many other areas, Image Comics really set the pace. The digital color in their books was like nothing else on the stands. Some of them were garish and amateurish, some so slick they still look nice by today's standards, but there was no mistaking an Image title from its color alone. Marvel & DC lagged behind. Rumor had it that Marvel bought the upstart comics publisher Malibu in the mid-90s just for their coloring department. Right now, though, digital coloring isn't the norm, and you can really tell which books have it. This one certainly does. But even as coloring became more impactful, the color artist still never got the love they deserve. Referring to the writer, penciler and inker as "the creative team" and leaving out the colorist is a practice that continues today, even though today's colorists are incredible artists doing a ton of the heavy lifting. So take note of Kevin Tinsley's soft gradients and shading in this one. It was the cutting edge of comics art.

Things get rolling with Jason Macendale thinking about how he got where he is as pain overwhelms him but then it stops. Suddenly he's up and punching doctors and saying they can't kill him. Vladimir asks his dude Gregor why Macendale's not dead yet, and then…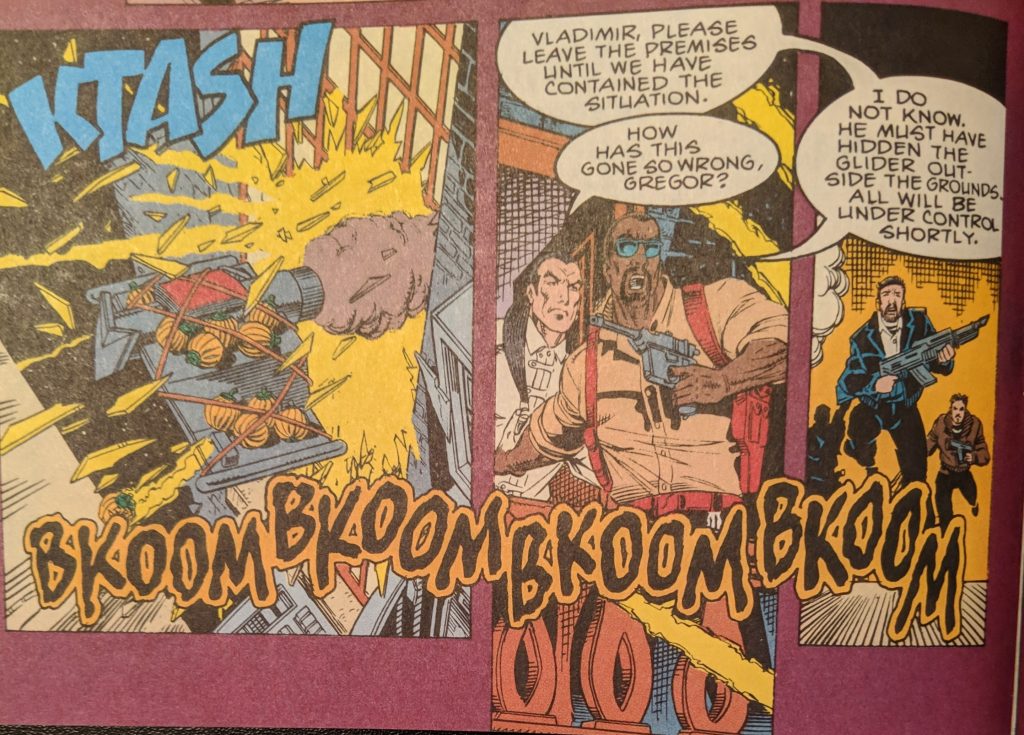 Vlad & Gregor seem remarkably calm about this. A nearly nude Macendale is now running around punching people out as he declares the experiment a success. Gregor shoots him in the shoulder and it doesn't even slow him down.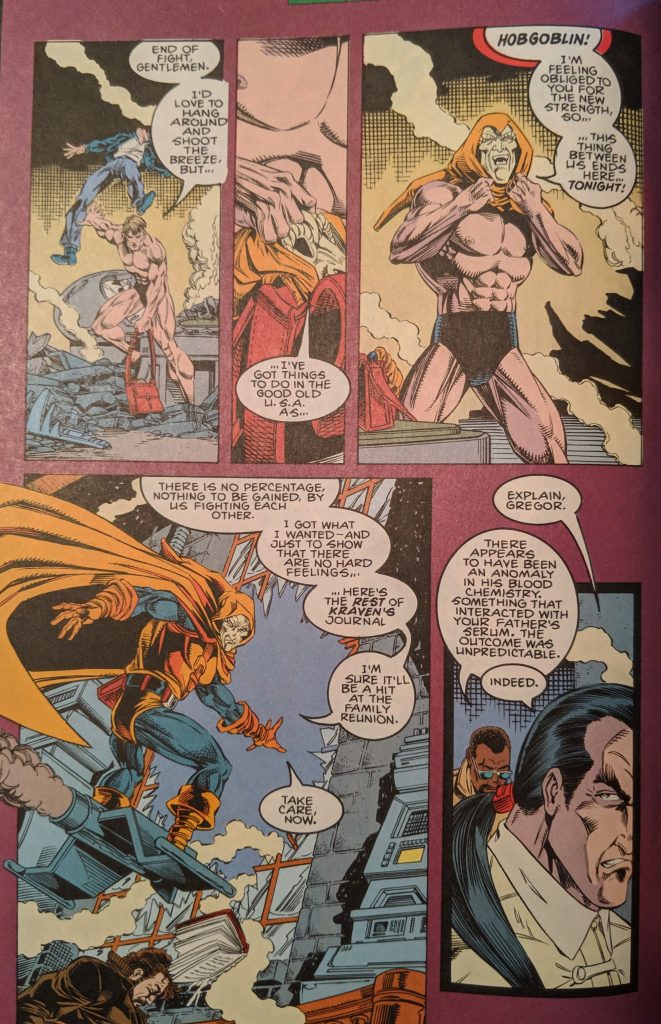 I wonder why the Russia pages in this issue and the last were all maroon? Back in the states, a fistfight between gang members has ended in Demogoblin killing them all, and Spider-Man has had enough of that guy. He says he's going to find him and put him away for good. Like… how? He totally punched him unconscious and put him in jail back SM 46 and that lasted all of a few minutes.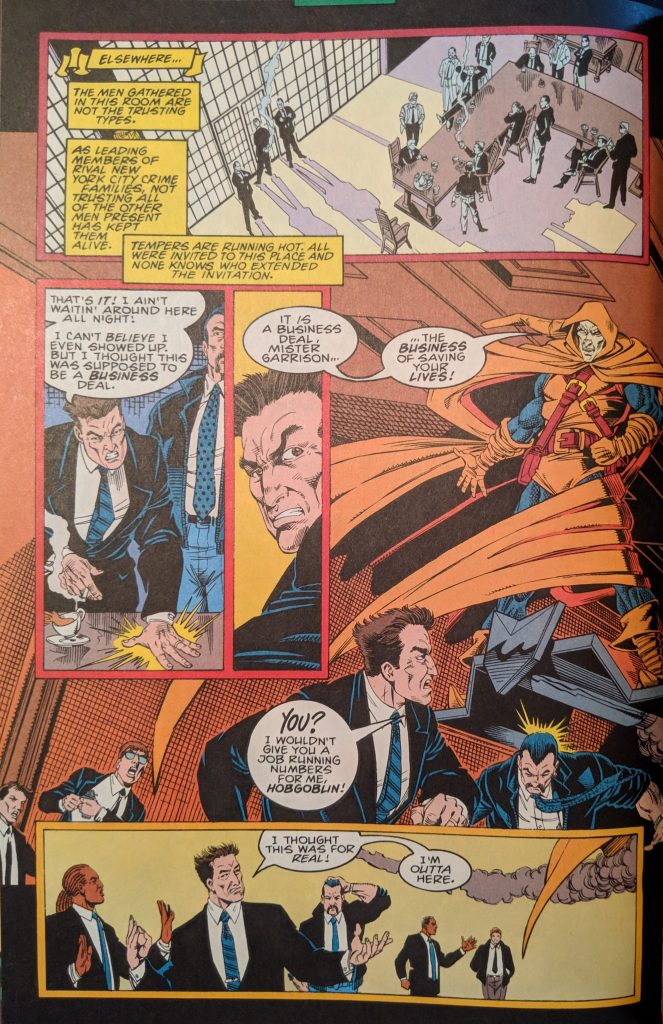 Hobby responds by breaking that dude's neck. The 90s! The assembled goons start a firefight, but they're no match for the newly empowered Hobgoblin. After messing up the goons, Hobby announces he's here to end their problem with Demogoblin killing their dudes. They say if he can really do that, he can name his price. Nearby, Spider-Man has accosted a couple of drug dealers who were arguing in the street, pointing out that they're just the kind of guys Demogoblin is killing, and asking if they just want to die or something. I think they do, they totally dismiss the pretty reasonable point Spidey is making. So he drops them off the roof. And then webs them back up, of course.

Later, we find Hobgoblin just casually chilling on top of a church, and Demogoblin flies up. Hobby's been waiting for him. Demo gives him a chance to not do this, but he's way into doing this, and tackles him through the roof of the church. But, also…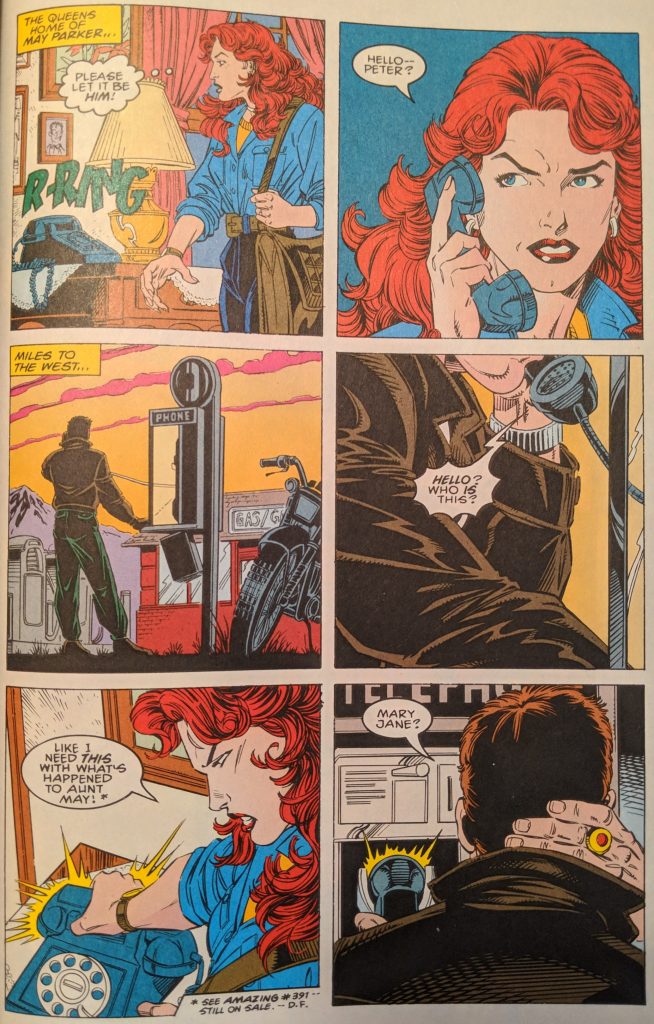 I throw up my hands. Can't be helped. Could this mystery man be on a path that will lead to the worst creative decisions ever made on the Spider-Man titles? He sure could!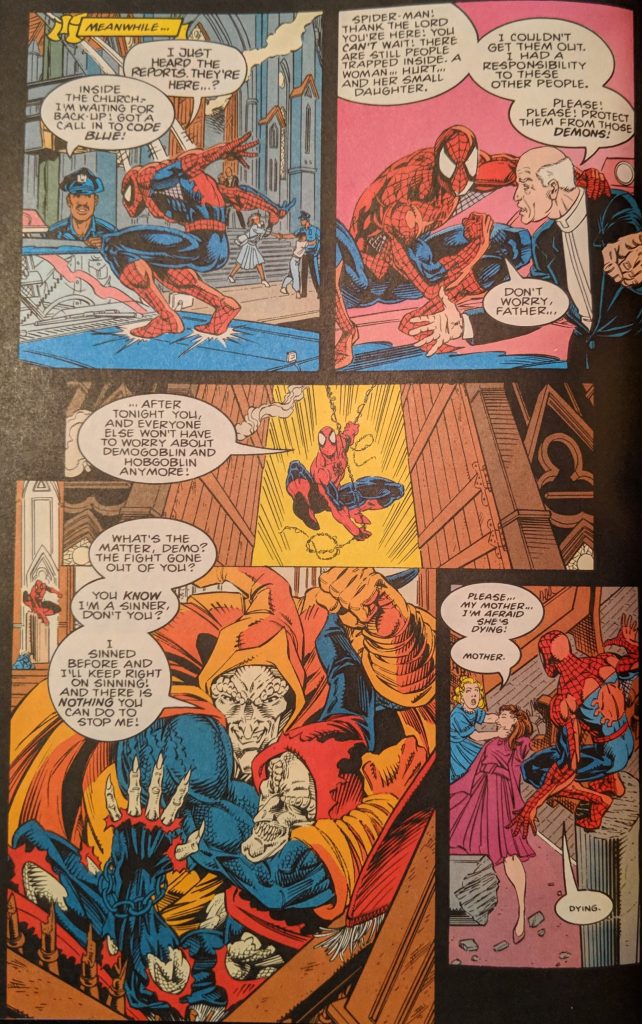 Spidey's sure not into that, and picks up a big broken piece of a column and angrily throws it into Demo. Hobgoblin mocks how Spider-Man will assume he can easily take him out, and he's right, Spidey totally underestimates him, allowing Hobby to really beat the crap out of him. Then he throws the unconscious Spidey away to go finish up his demonic other half. We hop back over to Russia for a sec to find out Vladimir is about to go through with the process of becoming super so he can carry out his father's legacy (How old is this guy meant to be, anyway? How old was his dad?). Back at the church, the two goblins' battle is tearing the place apart. Spider-Man, still woozy from the beating and some goblin gas, reacts in horror when he sees part of the church is going to collapse on that mother & child from earlier. Demo begs Hobby to spare the kid, but he's not hearing it.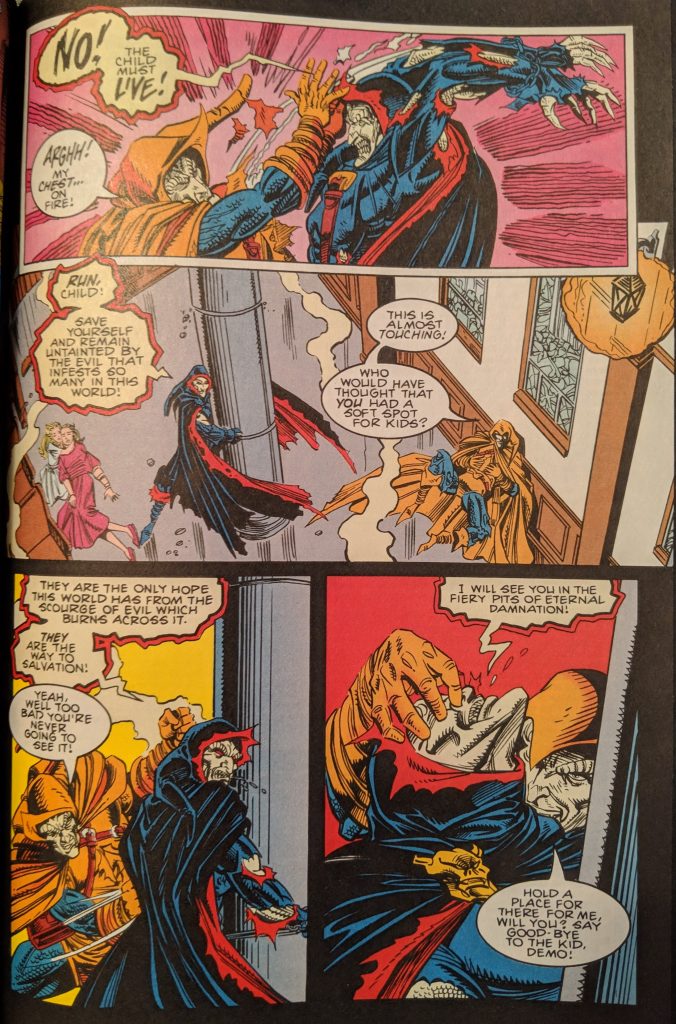 Spidey kicks Hobgoblin away, saying this is low even for him, as Demo asks him to save the kid. Spidey saves the Mom, too, then Demo says his time here is done, and lets the column collapse on him.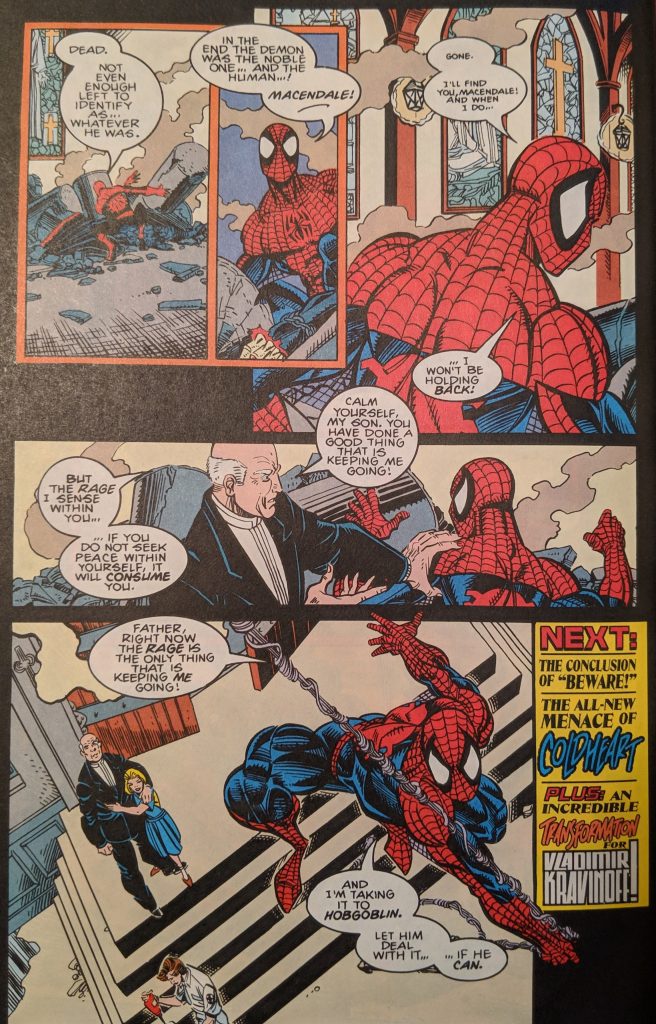 That's it for one of the weirder villains of this period. I shant miss him. But they restored Hobgoblin to being a high level threat and got rid of his dopey evil-er twin, so that's a win for the books over all. Now let's pretend Spider-Man swings off to rejoin the Web of Spider-Man story, already in progress.