So, because this stuff all has to happen somehow, we're going to assume that Spider-Man swung away from the end of WEB 113 and into this. Are you still bewaring the rage of a desperate man? I hope so. We all want to stay safe. Just be aware of it. These little magazine style blurbs on the front are interesting. Cover copy is always a crap shoot. The old days, when it was people talking, that could be a good sales pitch. This is kind of intriguing, giving you several reasons to open the book. But then you have stuff like that pointless "FORCE OF ARMS" caption on ASM 296 that seems like it's just there because someone thought something should be there (aka The DC Comics Method, still in use today, unbelievably). As we get further into the age of digital production, Marvel covers are going to fill up with text, just an absurd amount of useless text for no reason other than it's easier to do on computers than it was via paste up. It's so ugly. Then they'll go hard in the other direction, avoiding any copy other than comic name and story title. But, as usual, I'm getting ahead of myself.

Jason Macendale is wandering the wilds of the Ural Mountains in Russia, trudging through snow trying to find Kraven's son. He thinks the difficulty of all this is just what he needed.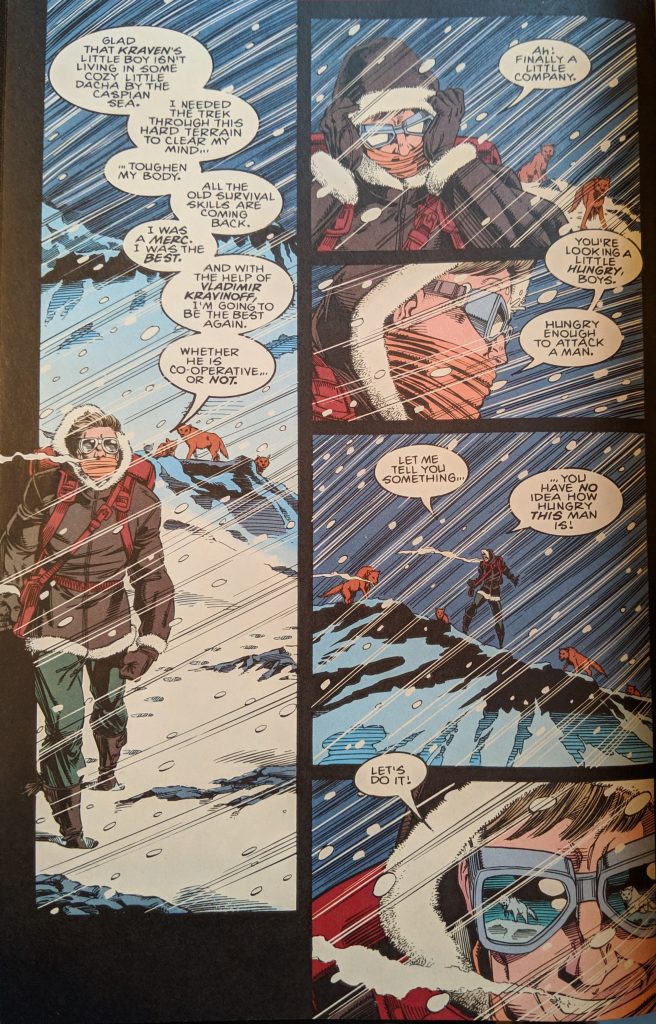 Post-1991 comic page layout makes it a lot harder to grab a small part of a page. Back in New York, Demogoblin is shackled up at Ryker's Island, awaiting transfer to The Vault, the maximum security prison for supervillains.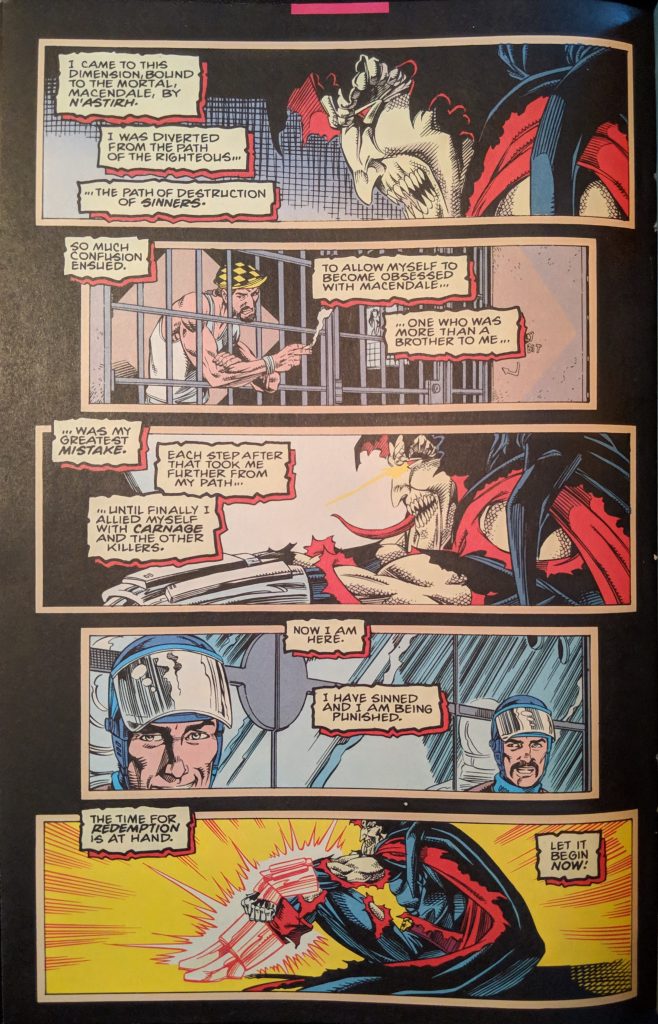 I wasn't going to post that page, but it amuses me that Tom Lyle obviously intended that other inmate to say something, which those guards then responded to, and Mackie was like, "Nah," so now they make no sense on the page. Collaboration is a 2-way street! Anyway, now the prison is under siege, and 2 hours later, Spider-Man shows up, complaining about how he doesn't want to do this. To add insult to injury, Lance Bannon is here, and asks him for some photos (Let's, uh, all pretend he is able to do this after the events of WEB 113). He decides to go on in and get this over with. In Russia, Macendale has arrived at the Kravinov estate. He hides something in the snow as his "back door," then just walks up and asks to speak to Vladimir Kravinov. After being told to leave his bag at the door, he's let in.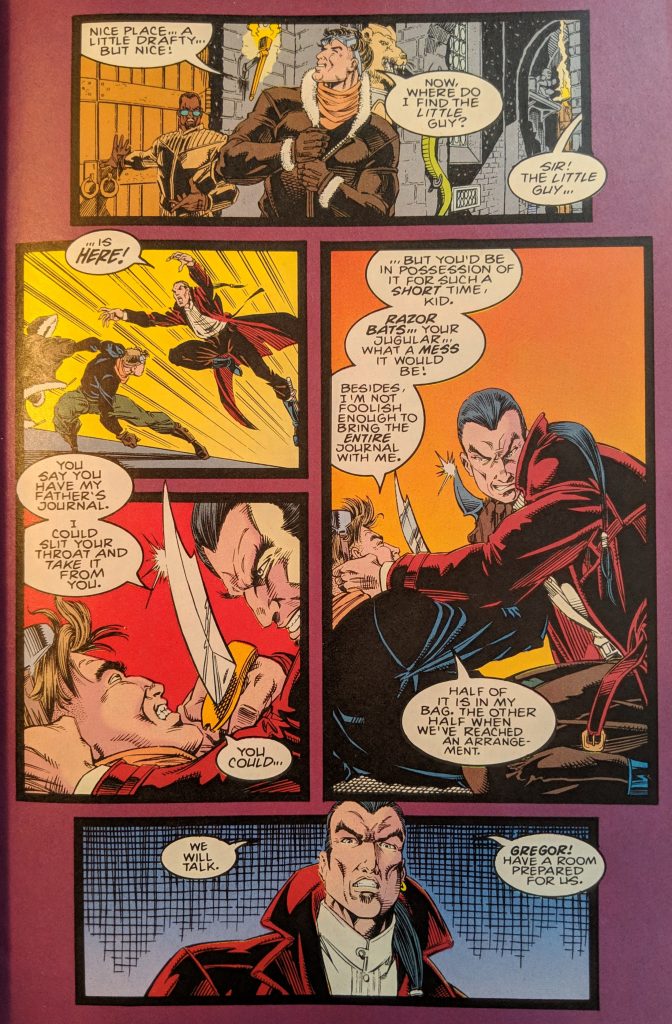 I think maybe Tom Lyle saw the name "Vlad" and went "Dracula, got it" in this design. On the other hand, he doesn't look exactly like Kraven, and he very well could have, so that's nice. Back in New York, Spider-Man is picking his way through the prison. It's dark, and all the prisoners are hiding in their cells He feels no sympathy for them, 'cuz he's emo now, MOM.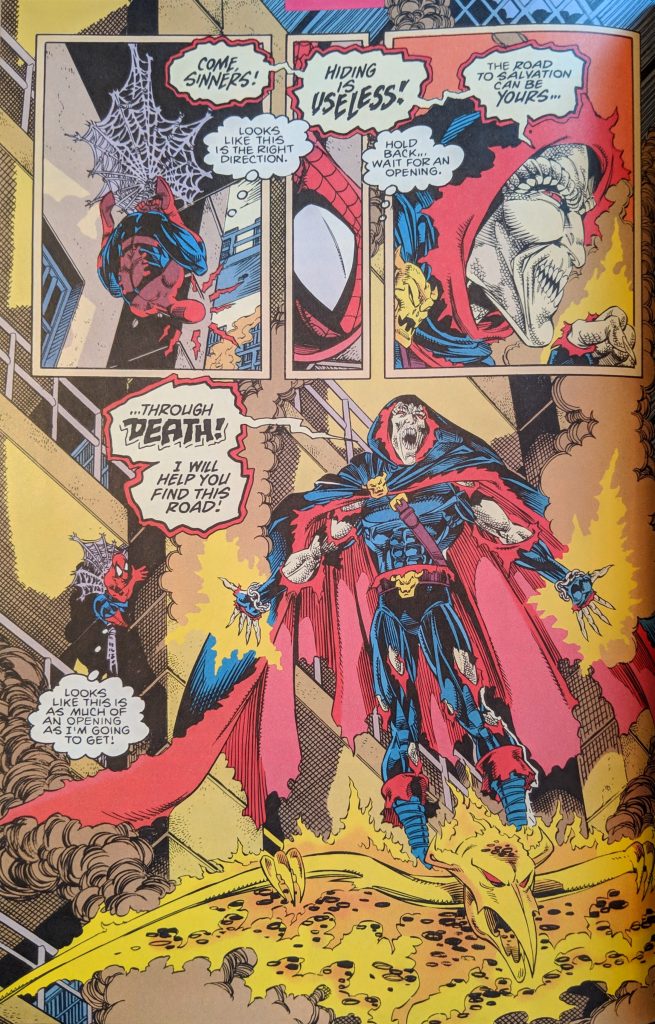 Before Spidey can attack, some random dude attacks him. Just jump kicks him in the back. He assumed his Spidey Sense was buzzing for Demogoblin, but it's weirder than that.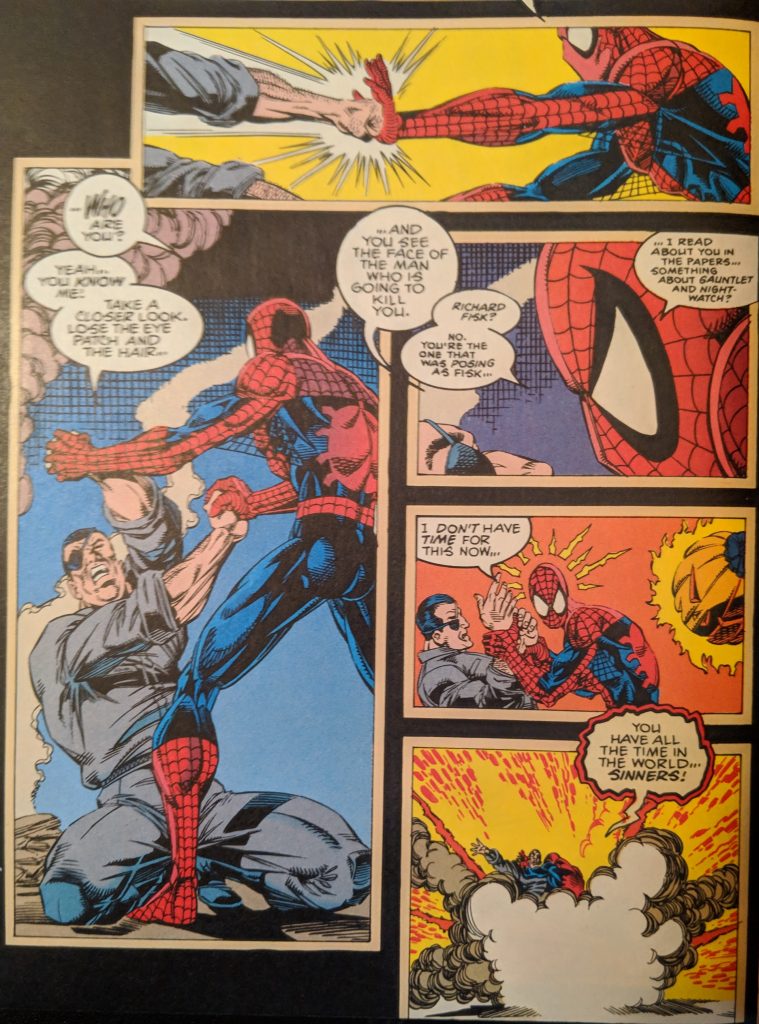 Random! In Russia, Macendale says he doesn't want money, he wants power. Some of the elixir Kraven used to drink to get all juiced up. Vladimir asks why he shouldn't just take the journal from him, and Macendale says "Because… you couldn't, kid!" Now hang on. He came here for the family juice because he knows he doesn't have the power to be a real player in the villain game now. And he's talking trash as a guy who, presumably, has access to the juice and, I would further assume, has used it. So he's like "Gimme the power I want, which I assume you have, which you couldn't use to stop me." So… why bother? I'm inferring a lot here. But it feels weird. Anyway, our guy Vlad responds by chucking a spear at him.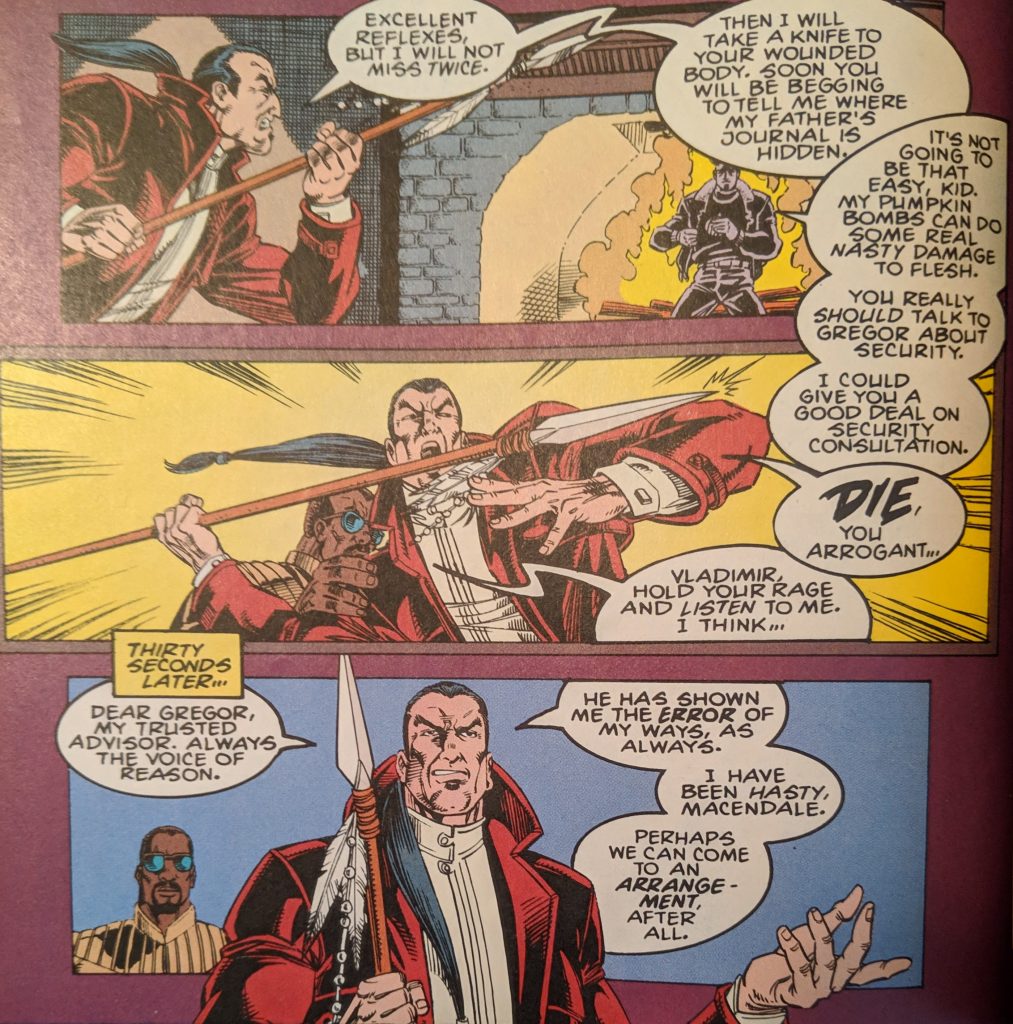 Feels like a doublecross is inbound. At Ryker's, Demogoblin has Random Eyepatch Man by the throat, and wants to talk to Spider-Man, assuring him Patchy is safe for the duration of the chat. Demo says his mission is to eradicate all evil, which isn't too different from Spider-Man's. He just wants to, like, kill everybody. He plays into Spider-Man's feelings that no matter what he does, his enemies always come back. He basically just says, "Let me kill this guy."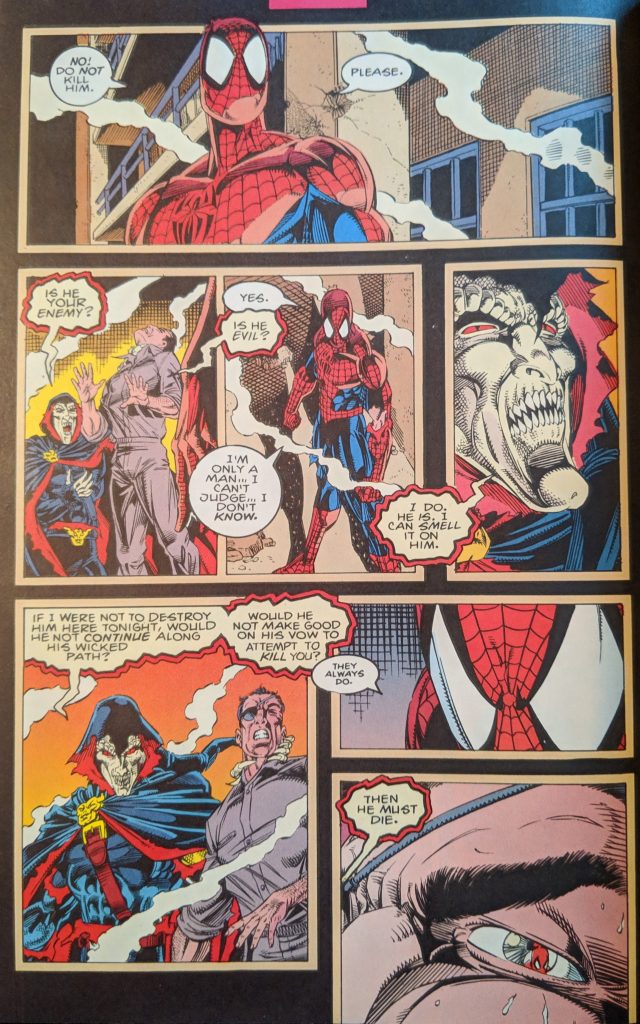 In Russia, Macendale has now been strapped to a table and hooked to some machines. Vladimir says they've been looking for a way to make Kraven's strength enhancing potion permanent, and they're going to test their process on Macendale. His lil buddy Gregor assures him that Macendale won't survive the process, and if he does, they'll just shoot him. Macendale knows he's being set up, and thinks he has a contingency plan. Everyone is being so nice! In Ryker's, Spidey webs Demogoblin's eyes and starts wailing on him. He thinks to himself that maybe he's right, though. No more Doc Ock, no more Goblins.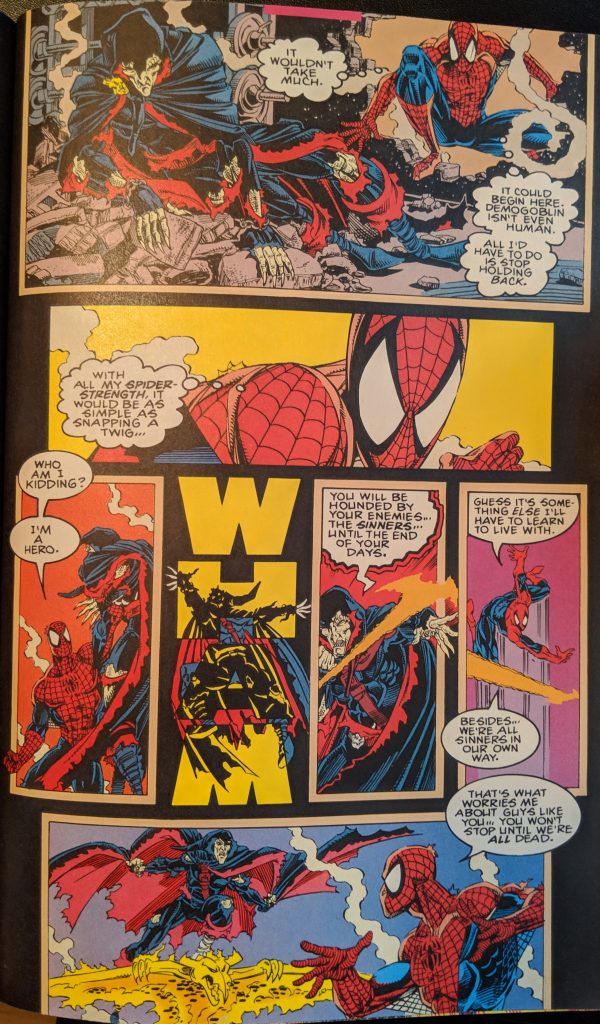 Demo says the pure will survive, if such a person exists, and begins raining bombs on our hero. He creates a huge web to save himself and 2 guards, barely containing the explosion.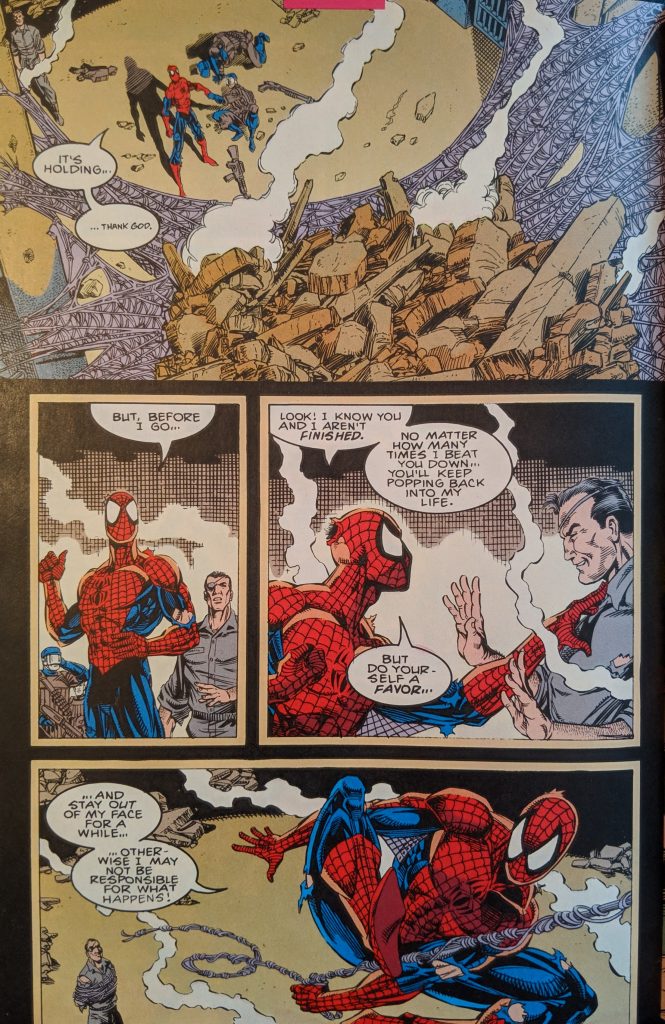 Seems like another instance where Lyle thought there would be different text. I legit have no idea who that is if it's not really Richard Fisk. One last time to Russia, where Macendale's body seems to be distorting under the effects of the treatment. He thinks he must be dying, so he sends a signal to his glider, hidden outside and loaded with pumpkin bombs, saying the Kravinov line dies tonight, and we're To Be Continued.