Al Milgrom's kind of beating Frank Miller to Sin City on this cover. We got us a fill-in. This one's written by James Owlsey, aka Christopher Priest, who just seems to keep popping up here in spite of his fall from grace in the Spider-Office a few months ago. Art chores are taken care of by Steve Geiger, regular inker Keith Williams, and Gregory Wright. This issue guest stars Dakota North, a very unusual character who is both supermodel and private eye. And as we begin, she's on the scene of a murder with a really self-righteous cop assessing the work of "The Slasher."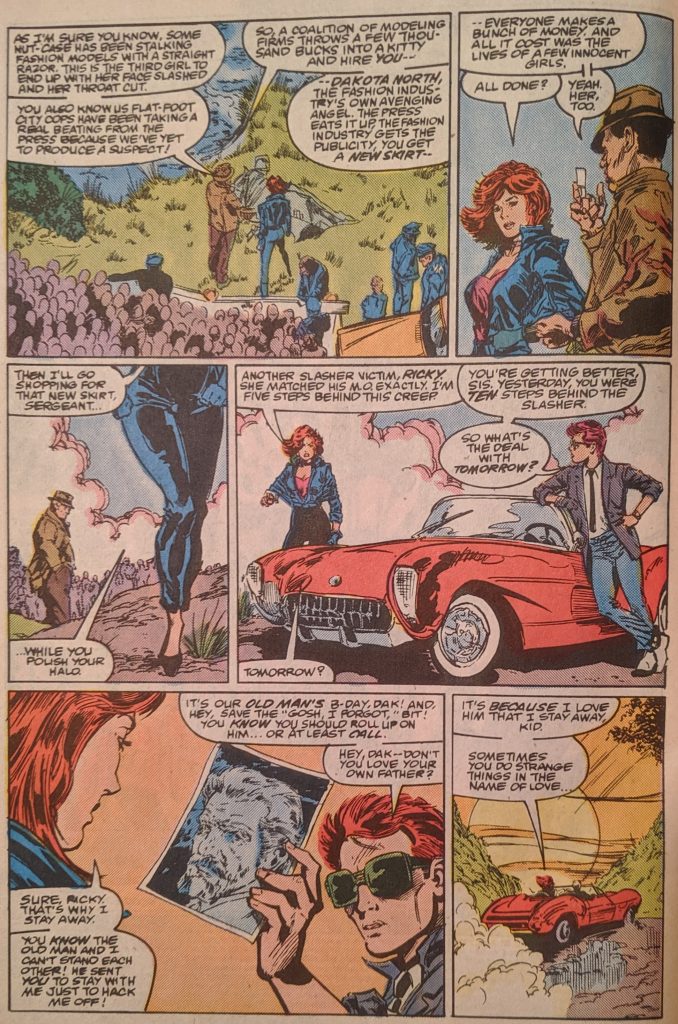 Big info dump! We jump ahead a few days to The Amazing Spider-Man landing on the roof of a convention center where he plans to meet MJ so he can change into Peter Parker when he's interrupted by 2 security guards. Half in his regular clothes and with no time to spare, he dives over the side of the building, making the guards think someone's up there committing suicide.He loses them by sticking to the wall, and accidentally spies on a woman in her underwear. He scampers off to go finish changing, and wouldn't you know it…

No one's tried to change MJ's hair in any significant way since the 60s, but this Steve Geiger is not afraid, apparently. That guy Harvey storms off, thinking he's got to find a way to get Elyse to notice him and bumping into Peter on the way. He goes in and meets Elyse before he & MJ take off. In a cab to… somewhere (Why'd they meet at Elyse's if they were just gonna leave?), Peter explains he has to go out of town for work, and MJ tells him she paid his taxes, which freaks him out. He's not used to the idea of his much wealthier wife sharing their finances yet.

In a somewhat confusing sequence, through narration, Harvey offers to pay the guy to break into Elyse's place and pretend to be The Slasher and then he'll show up and run him off, but this text is over the events of later in the evening, as Harvey's bus is late, and a guy who franky may or may not be the guy he hired does appear in Elyse's apartment with a blade. It's hard to tell from the art. He's not wearing the same shirt, but could be wearing the same jacket. At any rate, Harvey's not coming, but as it happens, Peter & MJ are, and so The Slasher or "The Slasher" flees, saying he'll be back. Peter runs to the window to check it out. Seeing no one's around, he quickly flips down to the ground. Finding no one, he runs off in what he hopes is the right direction. Whoever broke in is hiding nearby, and runs the other way.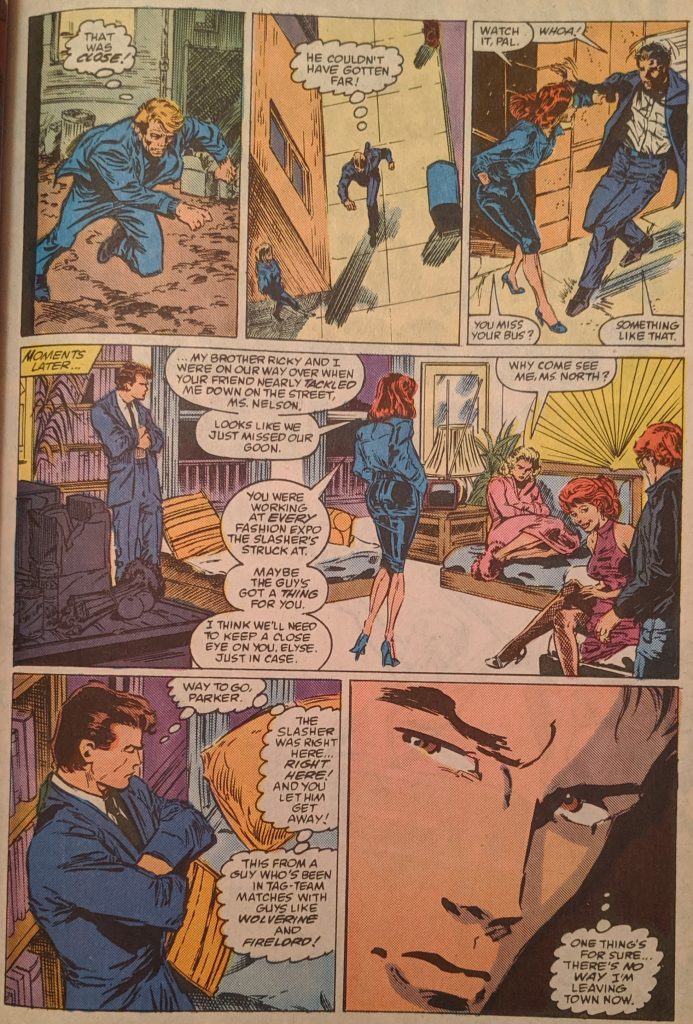 WHAT?? This Harvey guy accidentally hired The Slasher to pretend to be The Slasher?? We jump forward a few days again, as a bus containing Peter, Harvey, and Leslie, all unaware of each other, pulls up to the fashion expo. In a funny bit, they all don sunglasses, thinking in unison "she'll never recognize me with these shades!" as they depart the bus. We move our scene to Dakaota North, participating in security for the event. Dakota has come to believe the attack on Elyse was a setup, and MJ was the real target for reasons not yet revealed to us. A very suspicious cop checks on MJ & Elyse and Peter tries to sneak up to their room. He lied to MJ and said he left town this morning, but he couldn't do it. The cops catch him skulking around. Meanwhile, that guard comes back and locks himself in the room with the girls, revealing his straight razor.

Elyse smashes a glass in her attacker's face and then MJ kicks him in the gut and then flee, trampling the waiting Harvey outside. And then the guard comes out, and it's Leslie, and he tells Harvey this was a dumb plan. Honestly, the art is so inconsistent, I wasn't sure at all who that was. Dakota runs into the room just as Spidey arrives, and they quickly agree to team up. The big guy is spotted limping off into the amusement park, and Dakota takes off after him on a motorcycle. She tells Spider-Man to help her brother find the girls, but he chases her instead. Leslie/possibly-The-Slasher gets on a roller coaster in an attempt to hide from them, and Dakota simply rides her bike right up onto the tracks.

I guess that wraps it up. Man, that was a weird one. I'm not familiar with this Steve Geiger, but he made things much tougher. At the same time, interesting art style. Kind of all over the place, but interesting. I think a couple of times he swiped a Romita, Sr. Peter for a closeup? Kinda all over the place. Not Priest's finest hour, I must say, but certainly unusual.