For a time after TAC 100, Peter Parker, The Spectacular Spider-Man got the tagline "The All-New, All-Daring" above the title. It wasn't really all-new or all-daring… same cast and all… but it did come with an all-new creative team, including writer Peter David, who is back for these 3 issues. He co-created The Sin-Eater for a pretty famous story we'll get back to eventually, and I guess he's back to give the last word on his creation. He is joined by Sal Buscema, Vince Colleta and Janet Jackson (As ever, not that Janet Jackson). Sal drew most of the first 20 issues of this title, and now he's back, and he's not going anywhere for over 100 issues! That's commitment. And when he does leave, he will be unceremoniously dumped for a guy with no chops whatsoever because he's so far out of fashion in the 90s, which is pretty crappy. I'm not really a fan, but he's a dependable workhorse with solid storytelling, and neither of those things seemed terribly en vogue by the mid-90s. But that's getting way ahead of myself. Let's see if we can cover this story (Which I haven't read) without spoiling the earlier story (Which I have). Since we've never seen the Sin-Eater on the blog yet, the opening pages may give you an idea of who we're dealing with…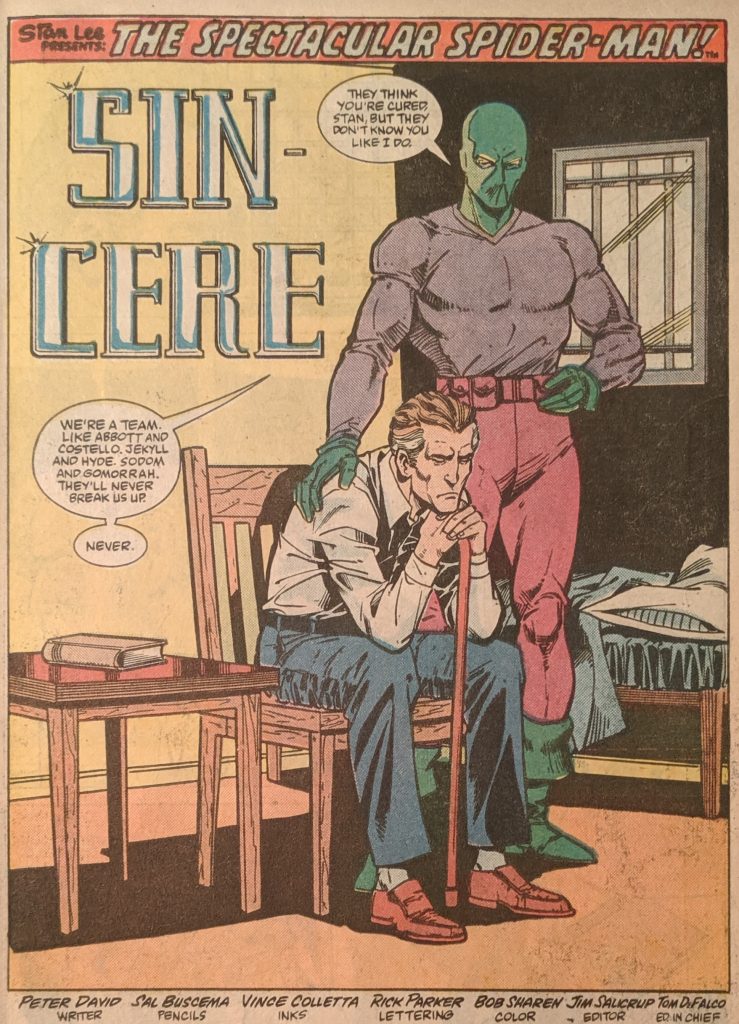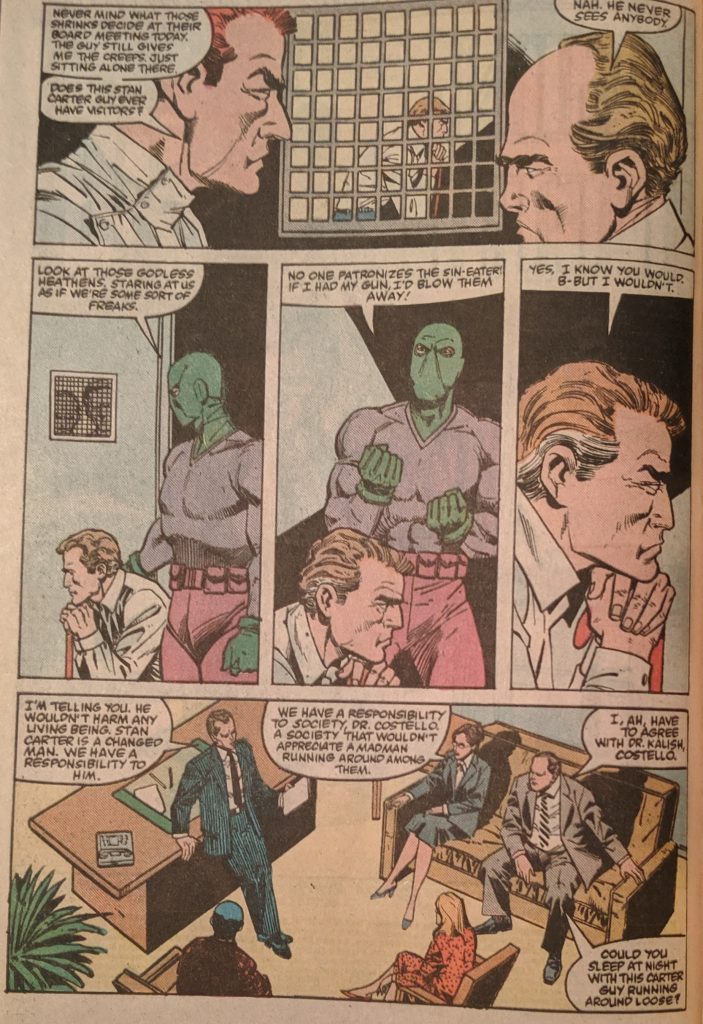 This is wild to me off top because… Like, Vince Colletta is rather infamous in the game, and not in a good way, and Sal Buscema is a pretty divisive figure (It's not just me), and yet this is the best looking work of Sal's career! So much grit and texture everywhere, wow! Art aside, that lady said "some spy outfit called SHIELD." Is SHIELD really not that well known? So, yeah, Carter went nuts, quit SHIELD, became a NY police detective somehow, and lost his partner to a shooting, sending him into a depression. He became a drunk, and that mixed with his exposure to crazy drugs and his hardline religious faith combined to turn him into The Sin-Eater, a murderous vigilante bent on wiping the sins of humanity from the face of the Earth. He killed all kinds of people, innocent people, cops, a judge, a priest, almost Betty Brant, while in his regular life as a cop, was assigned to catch, uh, himself. But eventually, Spider-Man caught him. Spidey had been badly affected by his killing spree and really beat the hell out of him.

Trouble's coming. This is followed by the flimsiest excuse for MJ to pose in a bikini, saying she's hoping to convince Peter to ditch news photos for this sort of thing by photographing herself on a timer for TWO WHOLE PAGES. Egregious, even for the time. Elsewhere, as if The Sin-Eater's all-but guaranteed upcoming killing spree weren't bad enough, Electro has gotten out of jail. He decides Spider-Man always humiliates Electro, so he wants to pull some jobs as plain ol' Max Dillon to keep a low profile, starting with a jewelry store.

While that's going on, we get back to Peter & MJ…

I cannot get over how good these pages look, for real. A big beef people have with Vince Colletta is he infamously erased backgrounds he didn't feel like drawing, which could be happening on this page, but the stuff that got printed looks fantastic. At any rate, peter is really livid, and he says he's going to get in his Spider-suit and go pay Carter a visit. Says he wants him to be nervous and looking over his shoulder. That shoulds like a great mental place to put an unstable murder man, yeah. MJ is not having it, so Peter just walks off. Seems like this is gonna be an ugly one. Peter gets Carter's address from Robbie at The Bugle, then Spider-Man is off, thinking about how not only did the Sin-Eater's rampage upset him tremendously, but he thought he'd found a friend in Carter only to be horribly betrayed. But as he talks to himself about it, he begins to question whether MJ was right. Then he gets to Carter's place, mobbed by reporters, and sees a man who introduces himself as Carter's agent addressing them. Spidey is furious all over again, thinking Carter is acting like a celebrity, and makes his way into Carter's apartment, intent on scaring him to death.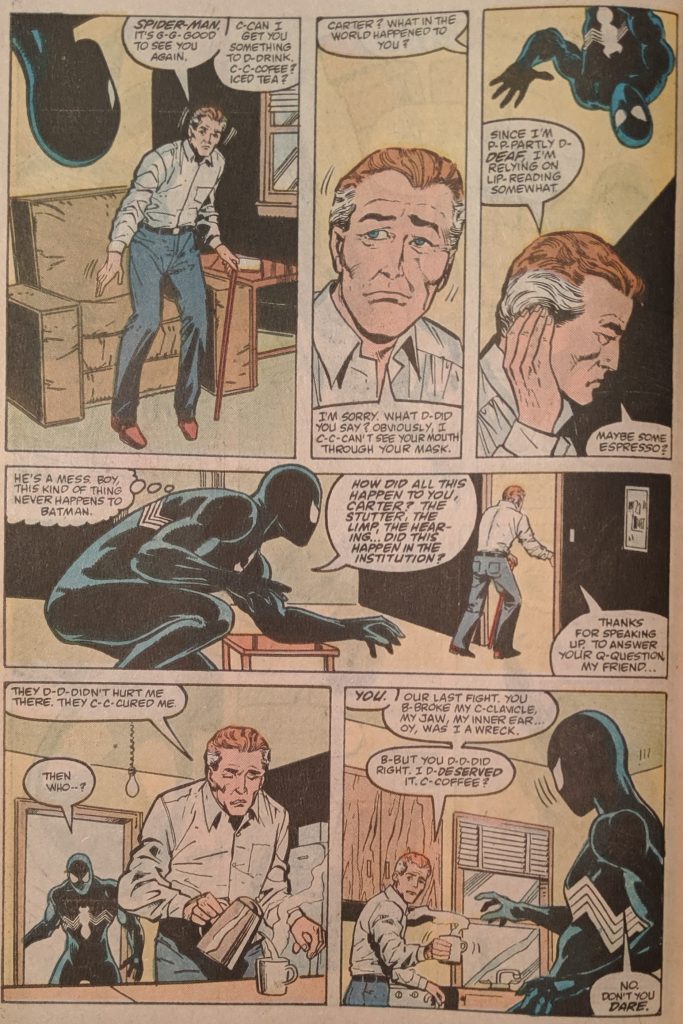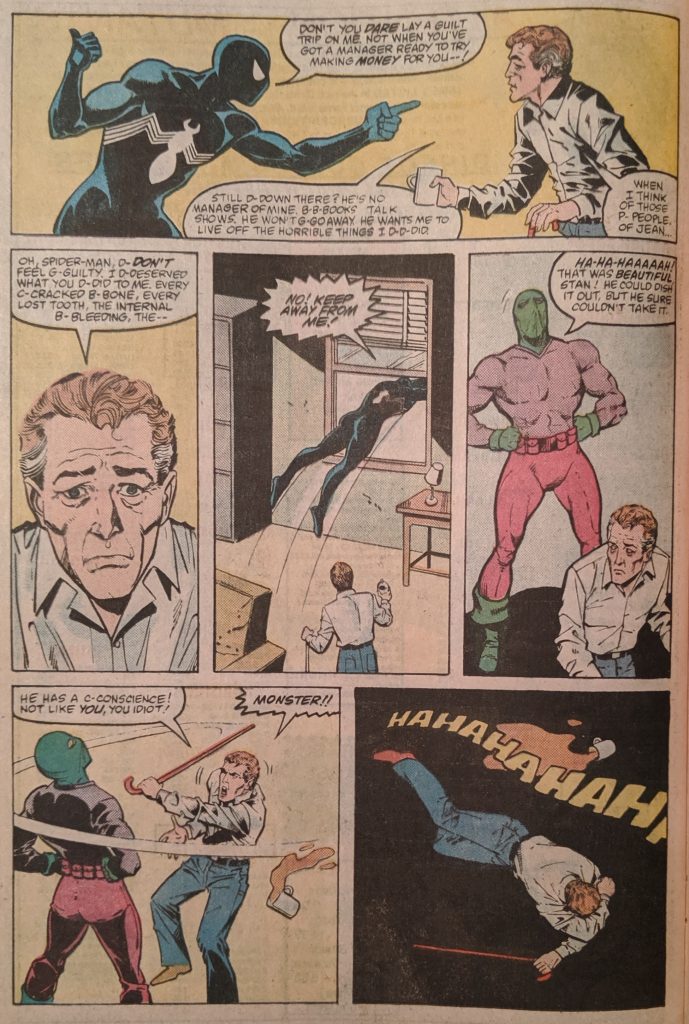 Yikes. Elsewhere, Electro's allegedly low profile crime spree has cops showing up at the latest place he's robbing, but since he's not in costume, they're not expecting a supervillain, and just get zapped. A very shaken Spider-Man is nearby, horrified that the monster he went to face is a nice old guy he crippled. He worries that maybe he's not pulling his punches anymore, that he's become JJJ's menace (Even though that all happened a long time ago), when he sees lightning. He recognizes Electro even though he's out of costume, and while he's so freaked out he really doesn't want to get involved, he's still Spider-Man, so…

Spidey's being gentle because he's rattled by Sin-Eater, and Electro exploits it. A joke from Spidey about not wanting to add anymore static to all the electricity flying around gives Electro an idea, and he really zaps Spidey, making him fall to the ground.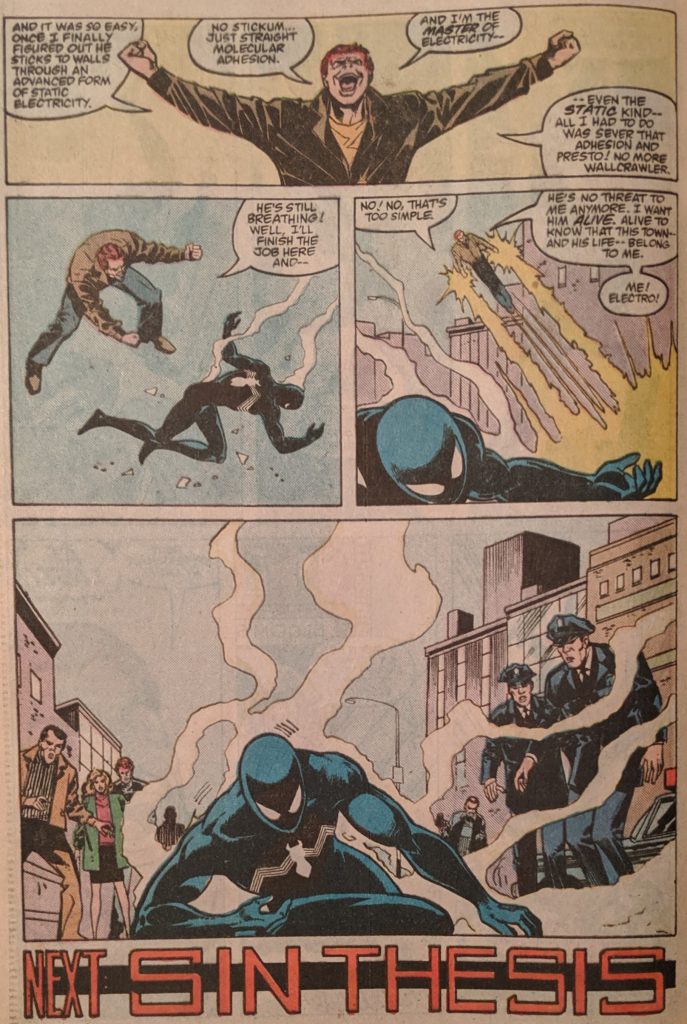 Uuuuuh… what? That doesn't sound very spider-y. That's a weird development. But, shaky pseudo-science aside, this was a pretty intense issue. Not to harp on it, but here's still another example of a dark Spidey story that's not just wallowing in angst like Kraven's Last Hunt. This was so much more affecting after just one issue, if you asked me. You didn't, of course. Let's see what happens next time.