Well, that seems cliche. This issue can be hard to get at a reasonable price due to an important cameo. We'll see when we get there. Same team as last issue as Spider-Man drops down on Mary Jane as she's walking some groceries home.

Newlyweds! Meanwhile, back at Midtown High, Jake the Jock and Ronda see a flash of light from Steve Petty's basement lab and go to investigate. An incredibly stupid choice. Steve's in there turning the "exoskeleton for testing bionic feedback loops" he randomly mentioned last issue into a battle suit to get revenge on all who have wronged him. Starting with Peter Parker, whose address Steve has apparently stolen out of the principal's office. Jake & Ronda run up right as Steve turns on the power.

Steve runs out of the room, lights bursting as he runs under them, leaving Jake & Ronda cowering in the dark, Jake horrified by what they accidentally did. Then we cut away to Roland Rayburn again, now sweet talking a coworker into letting him see privileged information, and that's when the reason this book can get pricey shows up.

This is the first appearance of Tombstone, who will soon be a pretty regular presence in the Spider-World. And Joe Robertson knows him! But that's for later. We do a 2nd interlude (Conway loves him an interlude) to see the man who's been tapped to be the new Tarantula undergoing a dangerous and painful looking procedure to get super powers, and then we're back with Peter & Mary Jane, asleep in Peter's apartment when his Spider Sense wakes him up. He walks out into the living room as all the lights and electronics come on and then go back off. He climbs up on the roof in his undies to see if there's an "overloaded powerline"? This is clearly just to get him out of the house, because…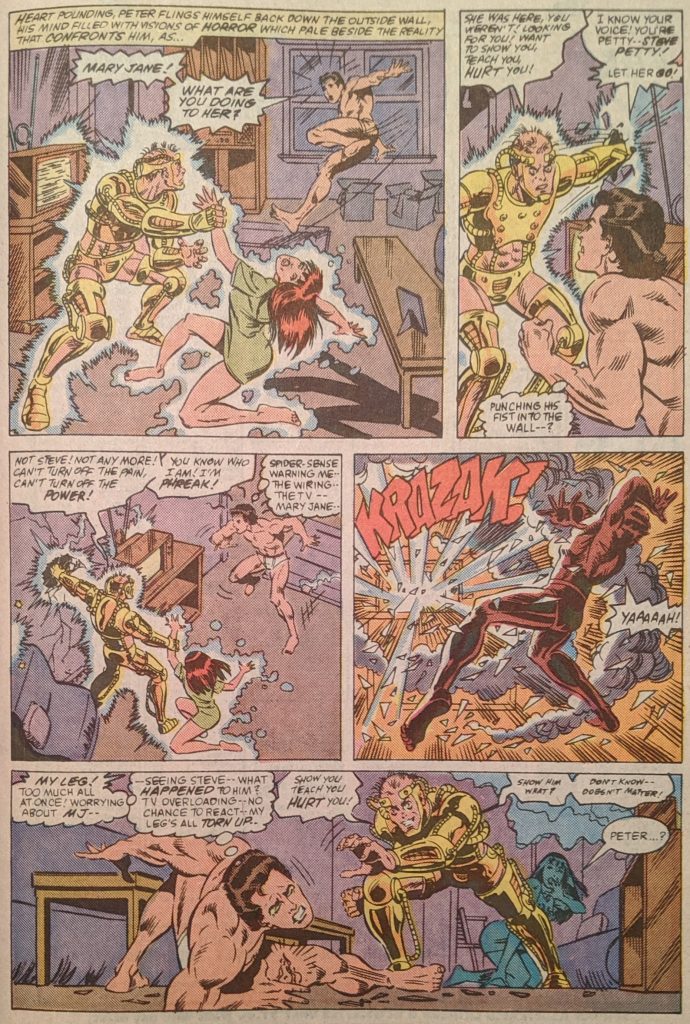 Peter grabs Steve and throws him across the room, but thinks it's like grabbing a live wire, and between that and his leg, he's pretty messed up. Messed up enough that "Phreak" is able to grab MJ and run off. Peter manages to get into his Spider-Suit, every movement agony, and heads out to save Mary Jane. He follows an obvious trail of malfunctioning street lights. Down on the street, "Phreak" is babbling and dragging MJ along until a cop on a horse tries to arrest him. Attacking the cop makes him let go of MJ, who runs for it.

Getting into the spirit of the times! Elsewhere and, we're told, a few minutes earlier, Jake & Ronda see Steve on the news. Jake feels responsible for Steve's current condition and doesn't want the cops to kill him, so he decides to go downtown and try to help. Not sure what he can do, but we'll see.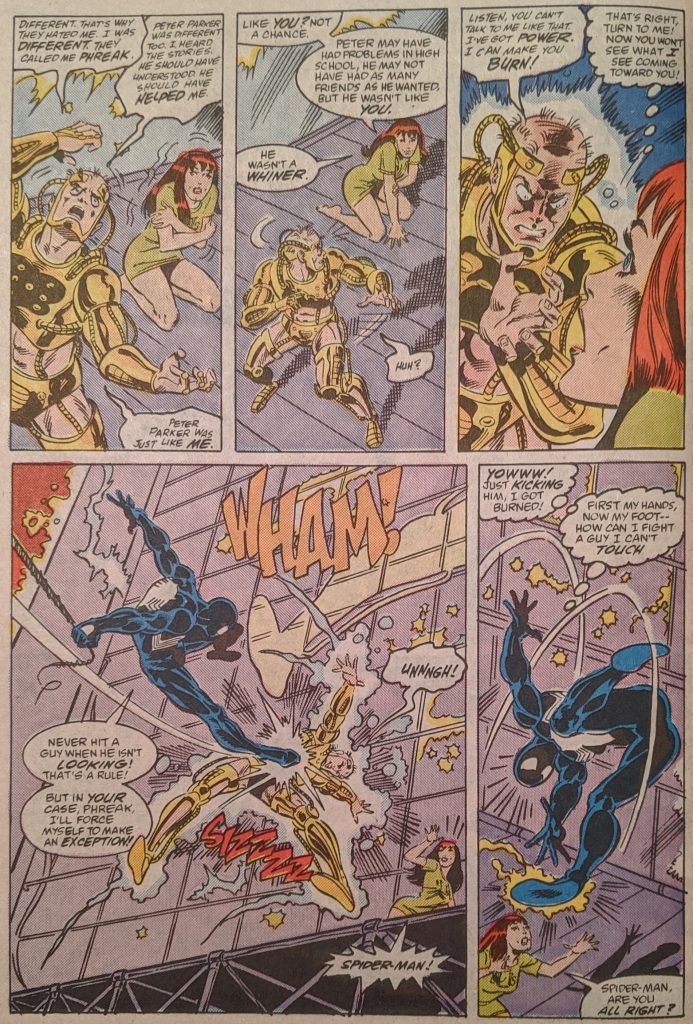 Phreak wraps Spidey in a powerline and zaps him pretty bad. Down on the street, the SWAT team is getting ready to go in when a Jeep crashes their perimeter, and Jake & Ronda rush into the building. Up on the roof, Spidey has to reach down pretty deep to find the strength to break loose, MJ shouting encouragement along the way, and he finally stops getting electrocuted.

Spidey knocks him back into the big electronic billboard behind him, frying his systems pretty bad and seemingly making Steve himself again. Such as that was. Spider-Man catches him in a web as he falls. The kids rush over to him just as the cops burst in.

MJ's awfully cavalier about what just happened. But I guess that's in keeping with her reaction to supervillain death traps all the way back to Stan Lee, so I can't say too much. But wait, there's more!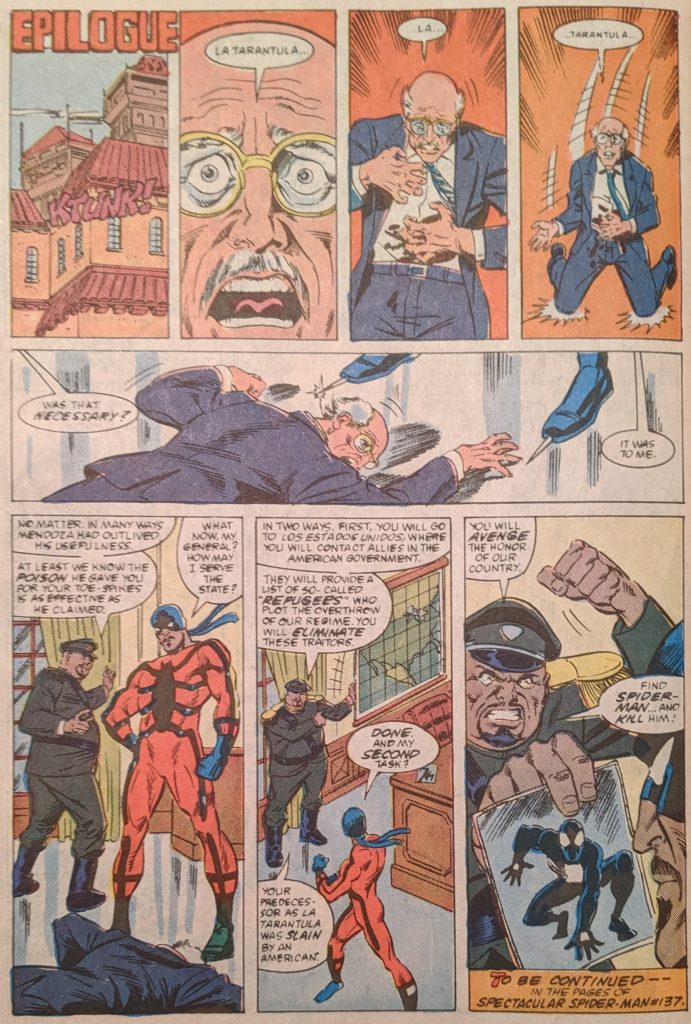 Yes, this story, and all the subplots Conway has been tossing out in these 2 issues, will continue in Spectacular Spider-Man. Why not start there instead of here? I have no idea. But that's how it is. Speaking of Spectacular, next time we'll rewind a bit and see the story it's been telling while these issues of Web were coming out.