Is Puma's belt supposed to say "IEII?" I don't get it. I don't think The Puma is a guy you want crashing your honeymoon. The situation between him & Spidey has evolved a little since we last saw him on this blog, though. Less attempted murder-y. This is the first book I've not actually read before in awhile. From 1987-98, I've read the vast majority of them, most as they came out, even. But not this one yet. It's written by James Owsley, aka Christopher Priest, with layouts by Alan Kuperberg, finishes by Jim Fern & Al Milgrom, and colors by Julianna Ferriter. Everyone who worked on the issue is given the middle initial "C" in the credits. Is it true? Is it an in-joke we'll never get? Who knows?

By this point, Priest's own version of the insane story behind the recently concluded Hobgoblin debacle has him shattering his friendship with Tom DeFalco and stepping down from the Spider-Man group editor position in something of a disgrace (We'll get to that one day). On top of that, DeFalco is now Marvel's 5th Editor-In-Chief, so it's always a bit weird to see Owsley's name show up in the credits of a Spidey book post-ASM 289. But he often has, scripting the 2 most recent issues of WEB to do more Hobgoblin fall out stuff and now this.

ANYWAY. The Puma has been called back to the Reservation he grew up on to run a gauntlet that proves he's still worthy of his powers, just like last time he appeared in Spider-Man. And he resents it, thinking that his biggest challenge here is not hurting anybody. But, he can't disappoint the tribal leader, his uncle, so he does it. The Puma is a member of a Native American tribe that Tom DeFalco made up, whose rituals and behavior feel fake as hell even to someone ignorant of Native tradition like myself, and the whole thing is super uncomfortable every time he appears. And this one is a direct callback to his last appearance, as shown in ASM 273 & TAC 111. The Puma is prophesied to defeat a great evil, and he faced that evil back then.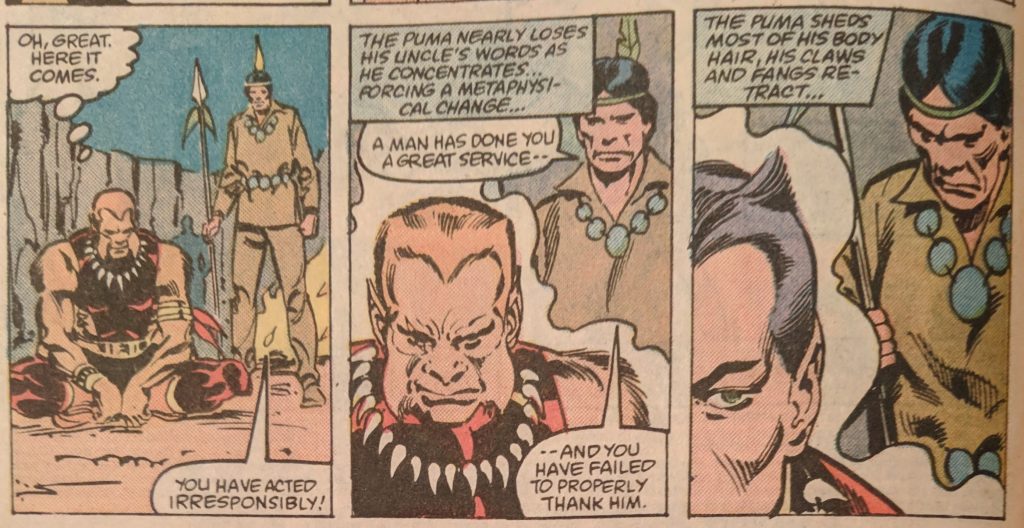 Spider-Man, of course, who helped Puma in that battle (Again, thanks to me doing all this out of order, we'll see this later). But, as Thomas' uncle says, he didn't thank Spidey for his troubles. They recap that previous story briefly, and then Thomas asks his uncle what he wants.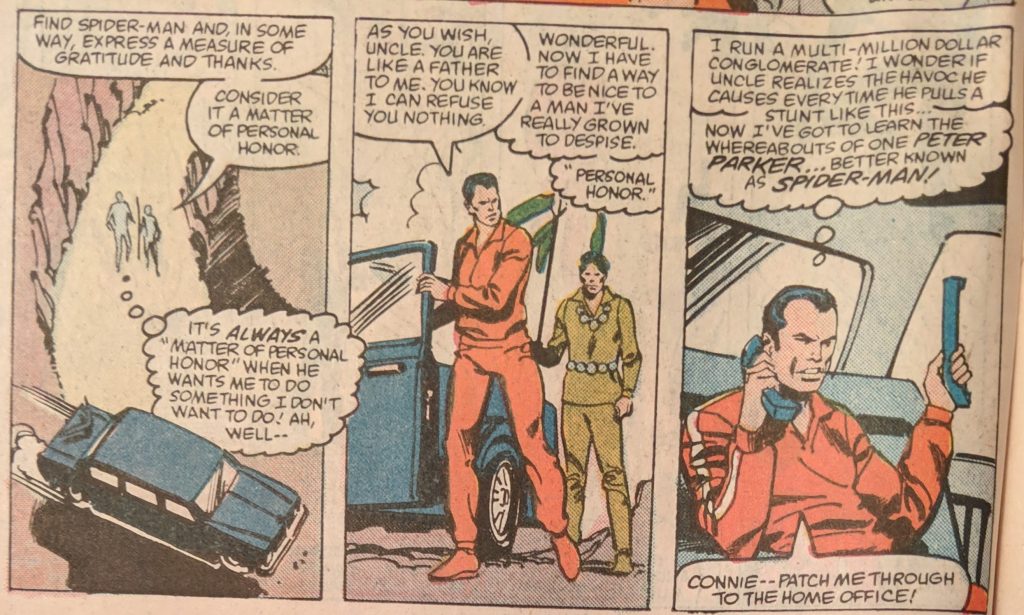 Why, he's in Cassis, in the South of France, on his honeymoon, arriving at the villa MJ's pal "Bruce" gifted them.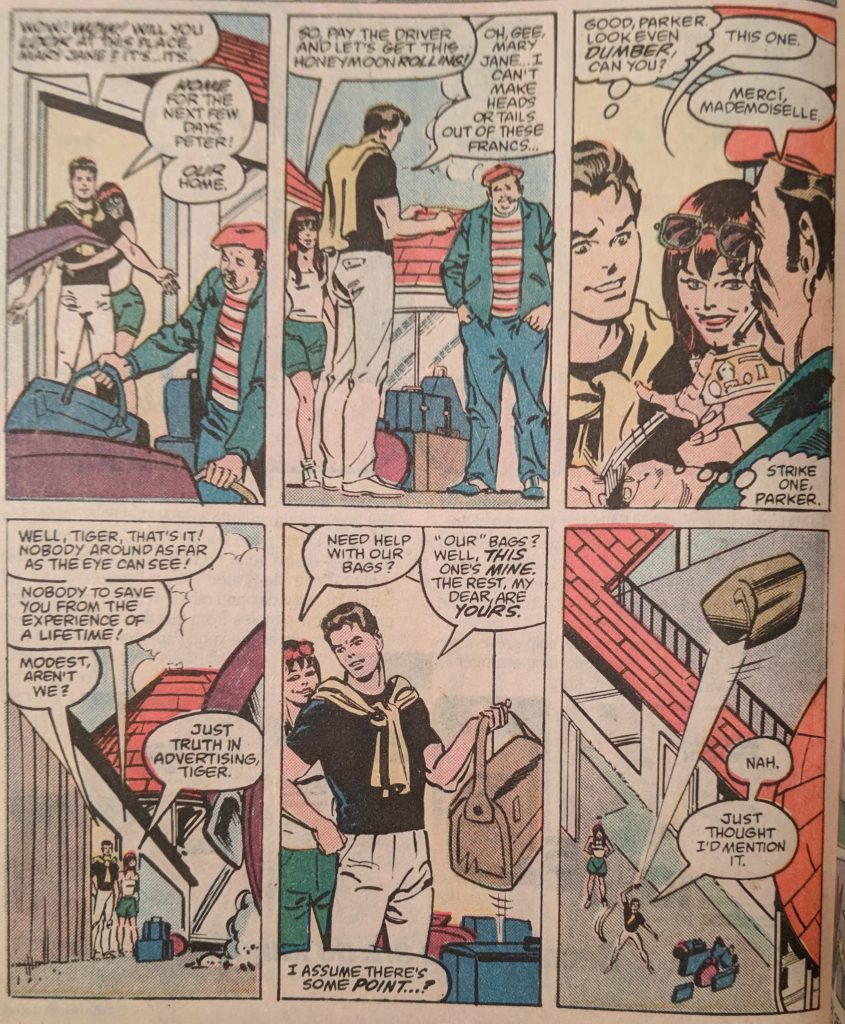 Peter chucks all their bags up onto the balcony, excited to be able to use his powers without worrying for once, and then they check out the crazy-nice place they're staying in. We then cut to "days later," as the newlyweds walk along the beach, and Peter frets that MJ is used to stuff like this, and he can't afford it, and maybe she's made a mistake marrying him. Sensings his worry, she distracts him by running into the ocean to skinnydip. I mean, that'll probably do it. Then we skip to dinner at a fancy restaurant, where Peter is feeling really out of place, and MJ is just happy to be with him. Get your head in the game, Parker.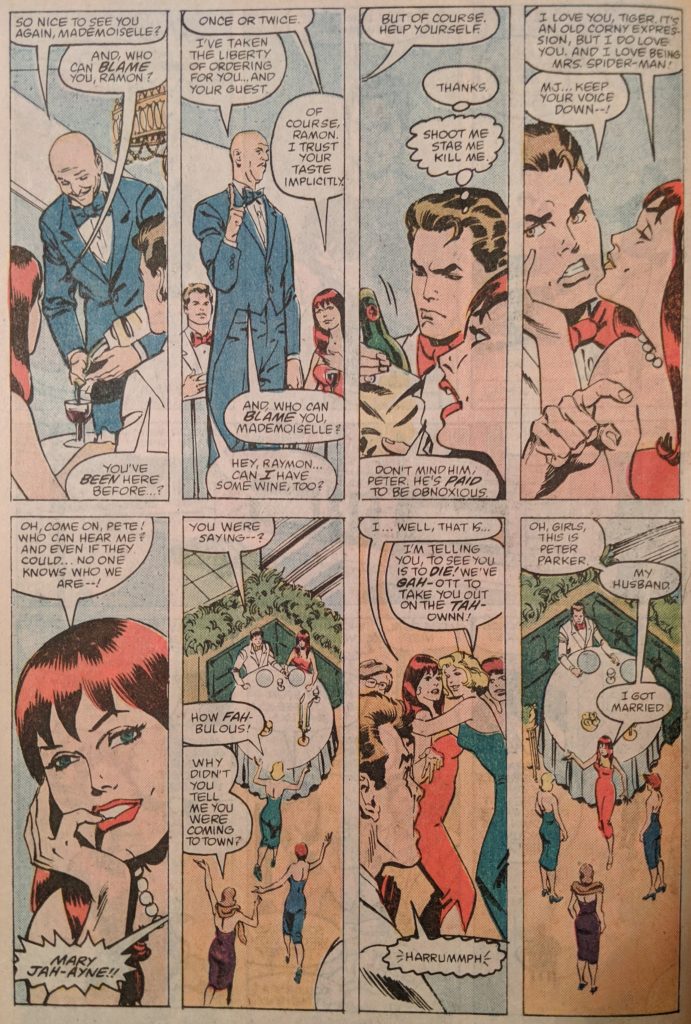 MJ's buddies are not impressed, and then the fancy French head of a famous modeling agency walks over to make Peter feel even worse (He calls him "Msr. Watson," which is a nice touch). Peter runs to the bathroom, and then Carmine here says he wants to sign MJ to an exclusive contract and make her famous. Peter's still feeling bad about the whole thing on the drive back to the villa, so MJ once again startles him out of his mood, this time driving a little crazy, before they get to canoodling in the car. When they finally go back to the villa, the lights are on, and they didn't leave them on before they left. Peter goes in first to catch their intruder off guard and discovers…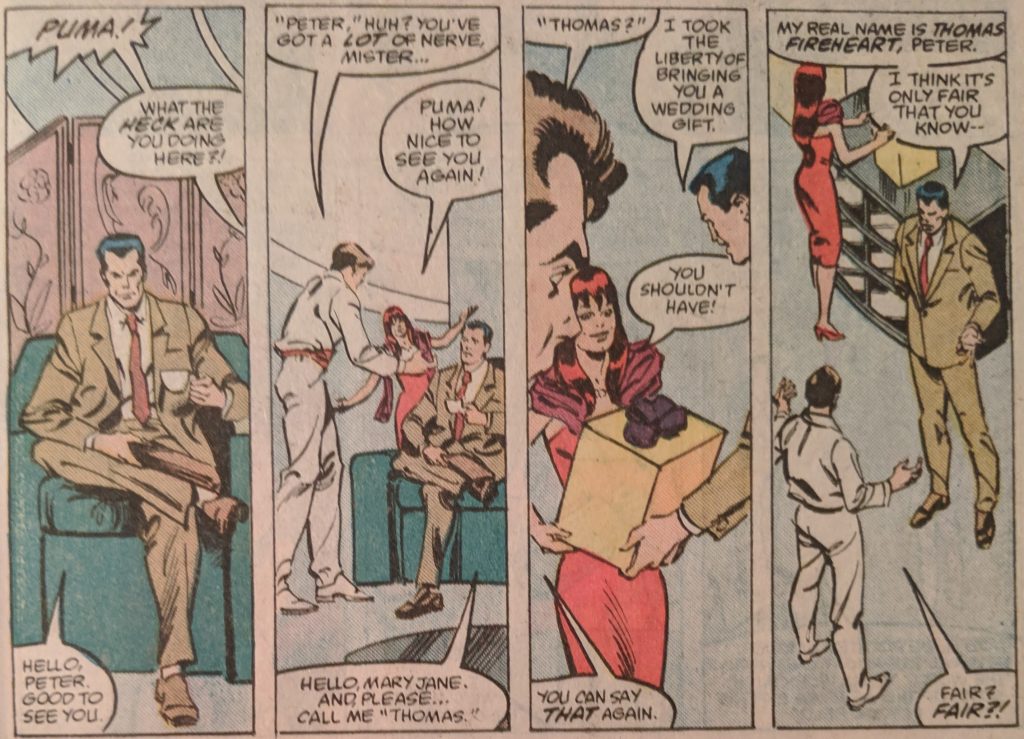 MJ's history with Puma is almost as awkward as Peter's, as you may recall. She's handling this pretty well. The box contains crystal lovebirds, and they're not the only gift Thomas has in mind: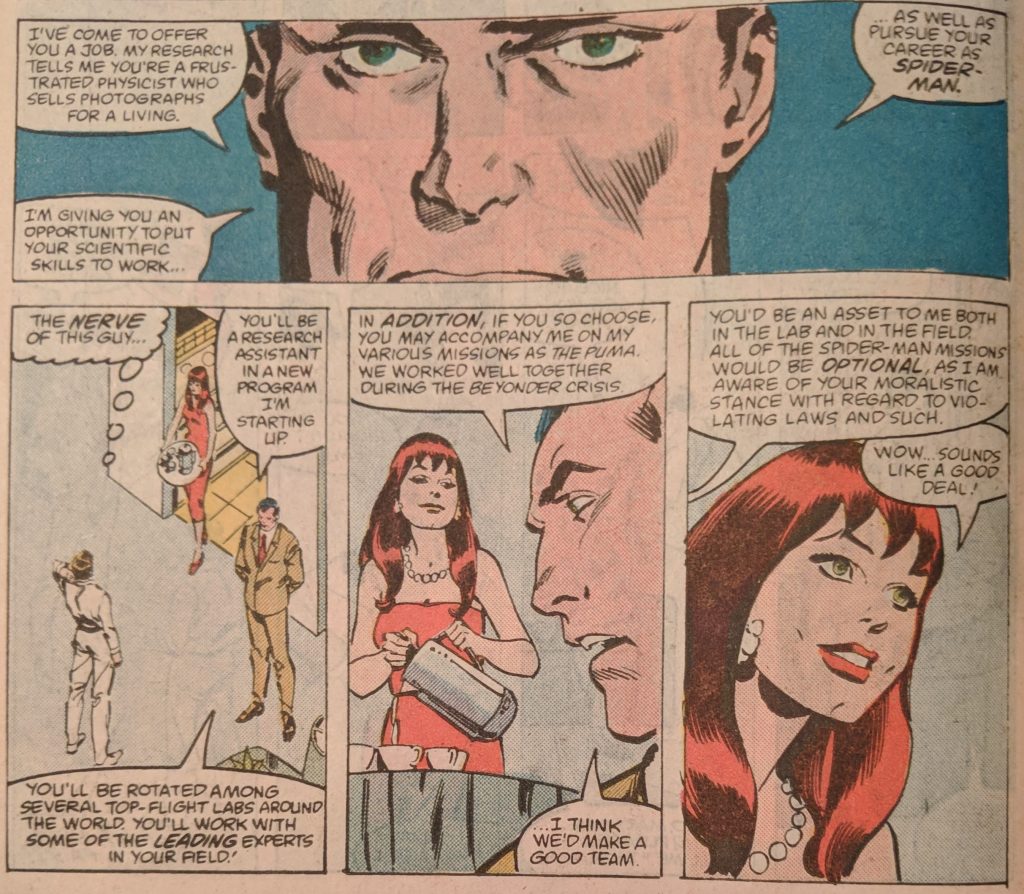 I mean, their history aside, sounds like a sweet gig. MJ thinks so. Fireheart says he's here on a Puma mission, and if Peter's interested in this offer, to meet him tomorrow at his office. He also mentions Peter will start at $80,000 a year (In 1987 dollars!). It all sounds pretty boss. So, naturally, Peter can't sleep, and walks along the beach fretting over it all. Thinking about how all his science training in his life has gone to waste, and how this would be a great opportunity, except that he doesn't like Puma. Can you imagine if he'd taken this offer? It would've been an even more radical change to the Spider-Man mythos than this marriage. Might've been interesting. Anyway, the next night, Peter does show up at Thomas' office, where he sets out the plot: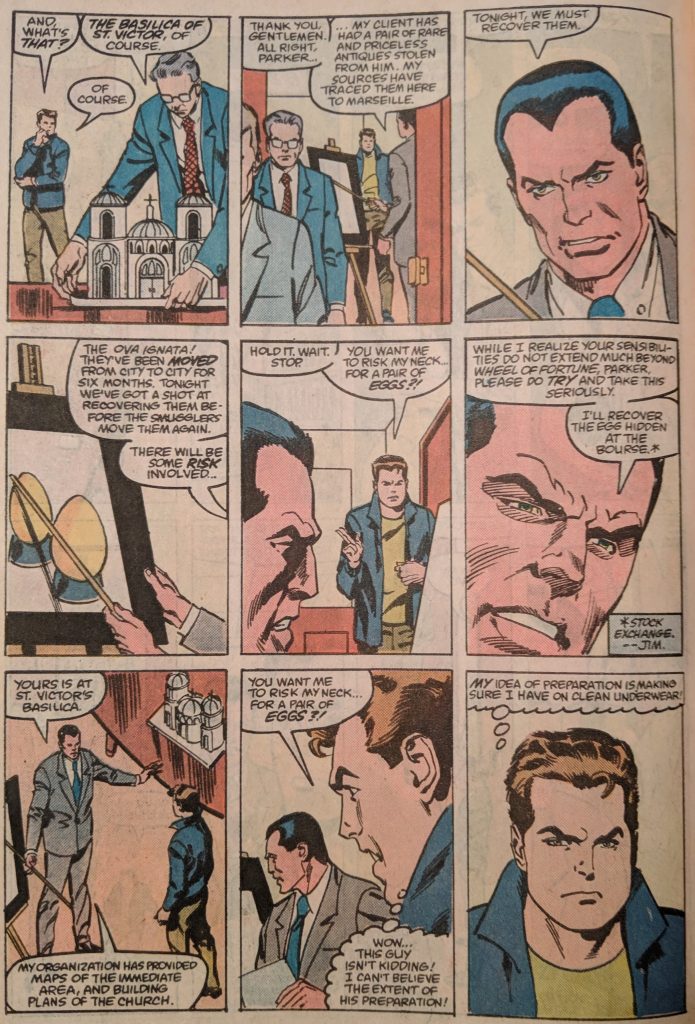 Thomas has even had a Spidey costume made for him since he didn't bring one on his honeymoon. We cut away to see MJ's buddies from the restaurant have come to take her out for a night on the town, and then back to Peter, who's freaked out that they even replicated his webshooters, and wonders what kind of surveillance he's been under.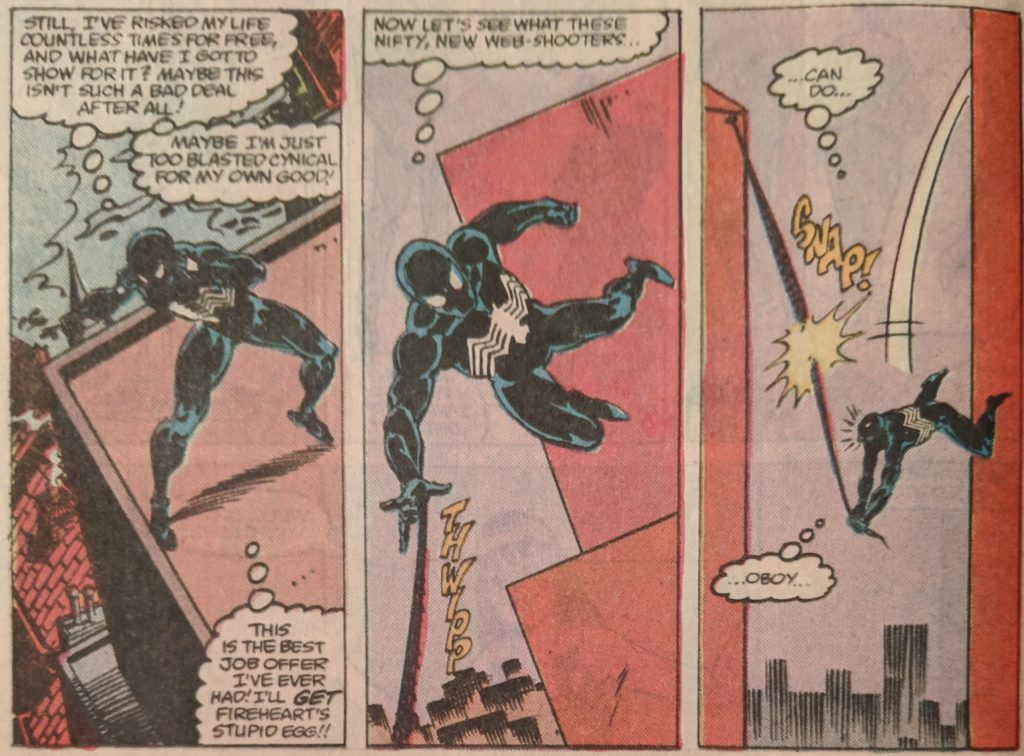 Fireheart Industries' scientists couldn't replicate the web formula. Spidey tries to save himself, but the webs keep snapping, and he falls in a barrel of fish. So he returns to to the Fireheart building, breaking into their lab to make webfluid. He's impressed by what he sees in there, though, and finally seems kind of interested in the job. We make sure MJ's still out clubbing, then switch back to Spidey, who's almost managed to fix his webbing, but it's turning acidic when exposed to air. He's running late, so he enters the building from the roof instead of the basement, as Thomas suggested.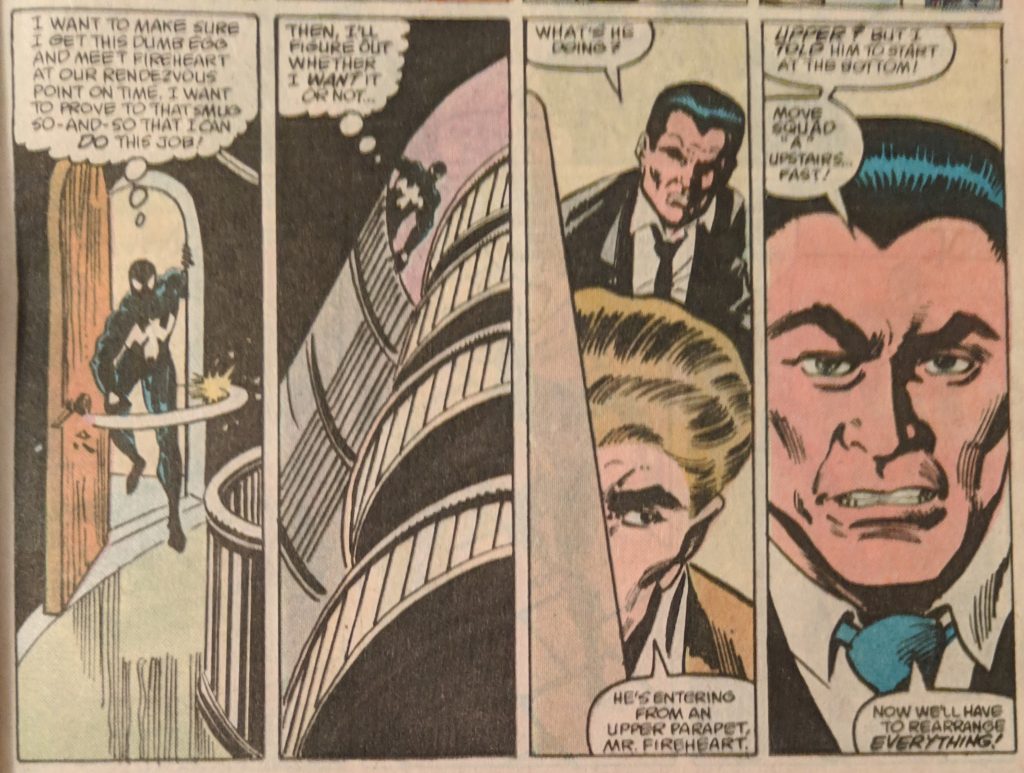 Yeah, the whole thing's just an audition. You can feel that when Spidey finds out, this deal is off. But for now, he's sneaking around the church, and runs into a priest who doesn't speak English before they both get shot at. By ninjas.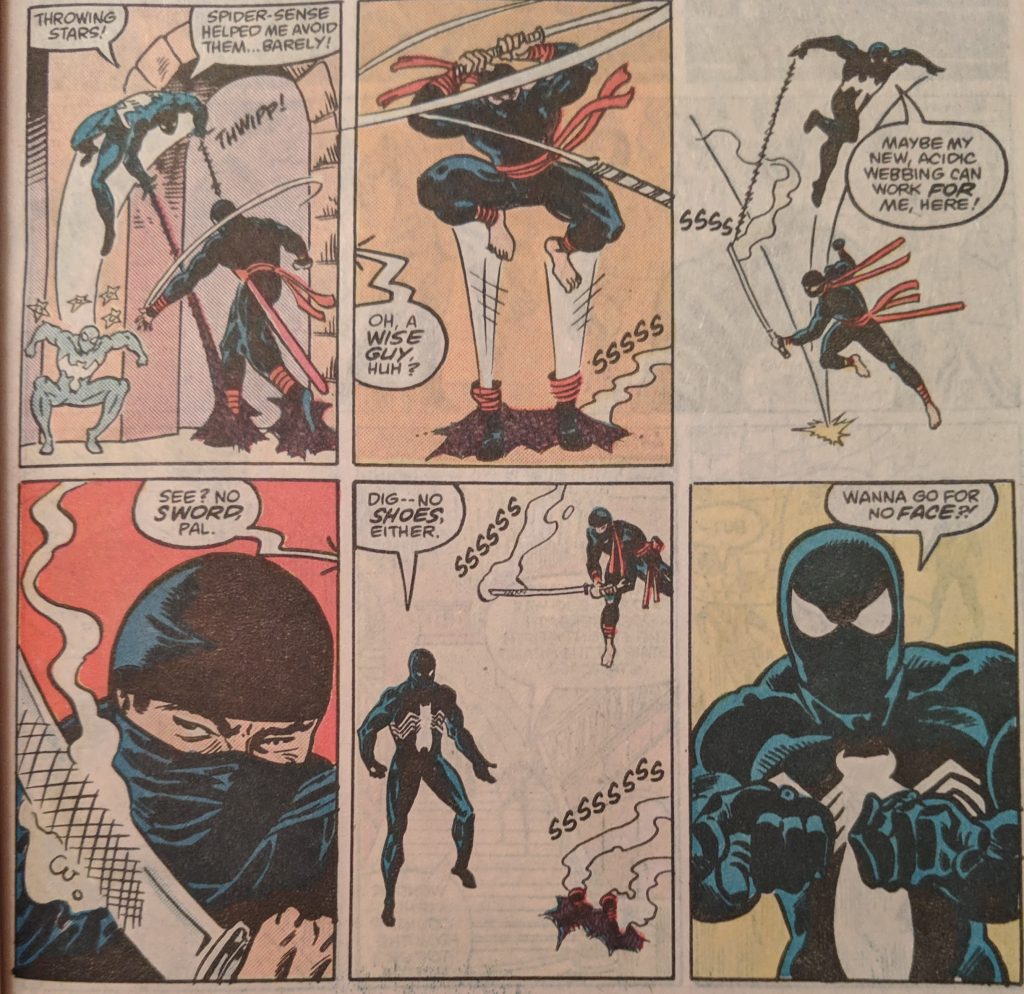 It's the 80s, after all. As Spider-Man descends into the church's basement, we cut away to MJ. Still dancing? Still dancing. Got it. Then Spider-Man arrives at where the intel he got tells him the egg should be.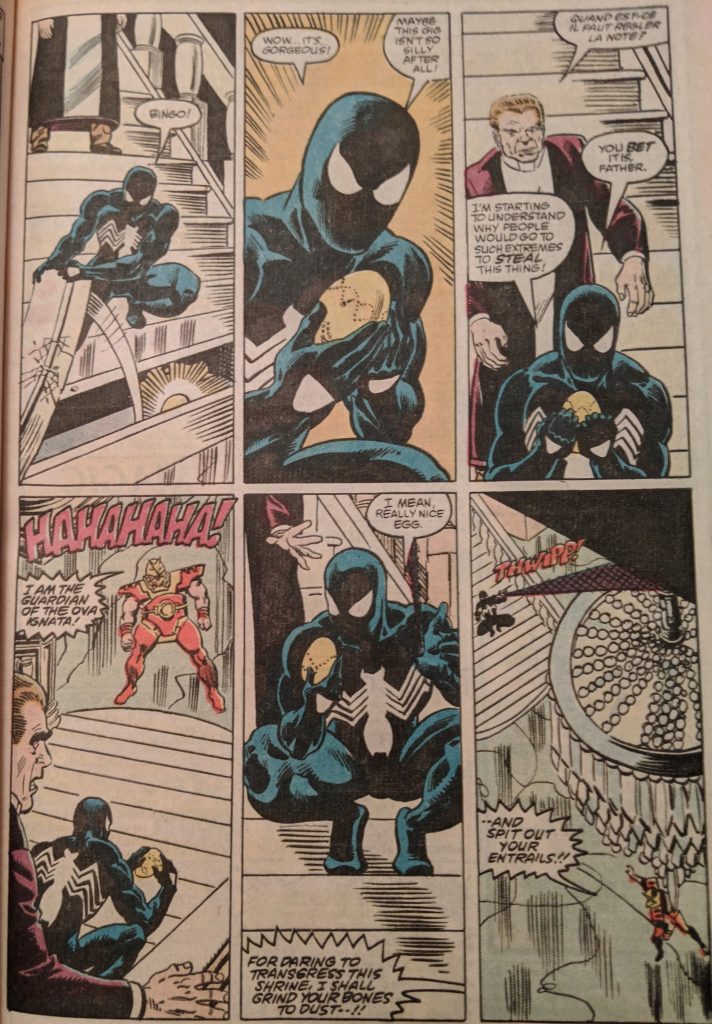 Puma's guys aren't being very subtle in this bit. Spidey's newly acidic webbing makes the chandelier fall on the guy, taking him out instantly. This might not be a bad idea for webbing, really. Then the priest pulls a gun on him and tells him to hand over the egg. What about MJ? Still partying?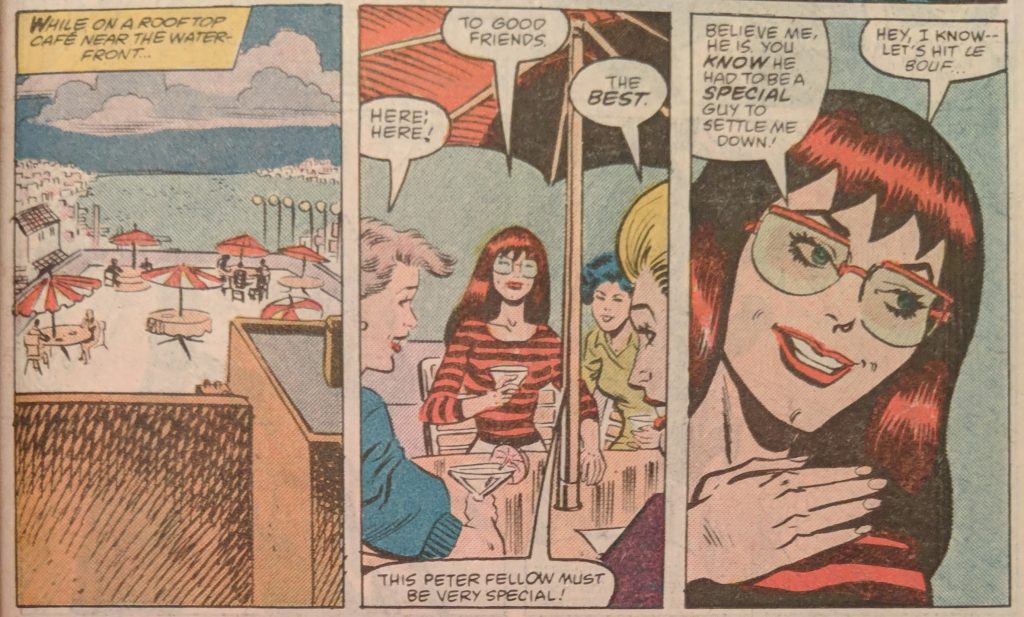 Partying so hard she's picked up a random pair of glasses somewhere. Back at the church, Spider-Man is not impressed by gun-haver, and tells him to just shoot him. He tries, but Spidey is obviously far too fast for him. Then the priest gets zapped all of a sudden.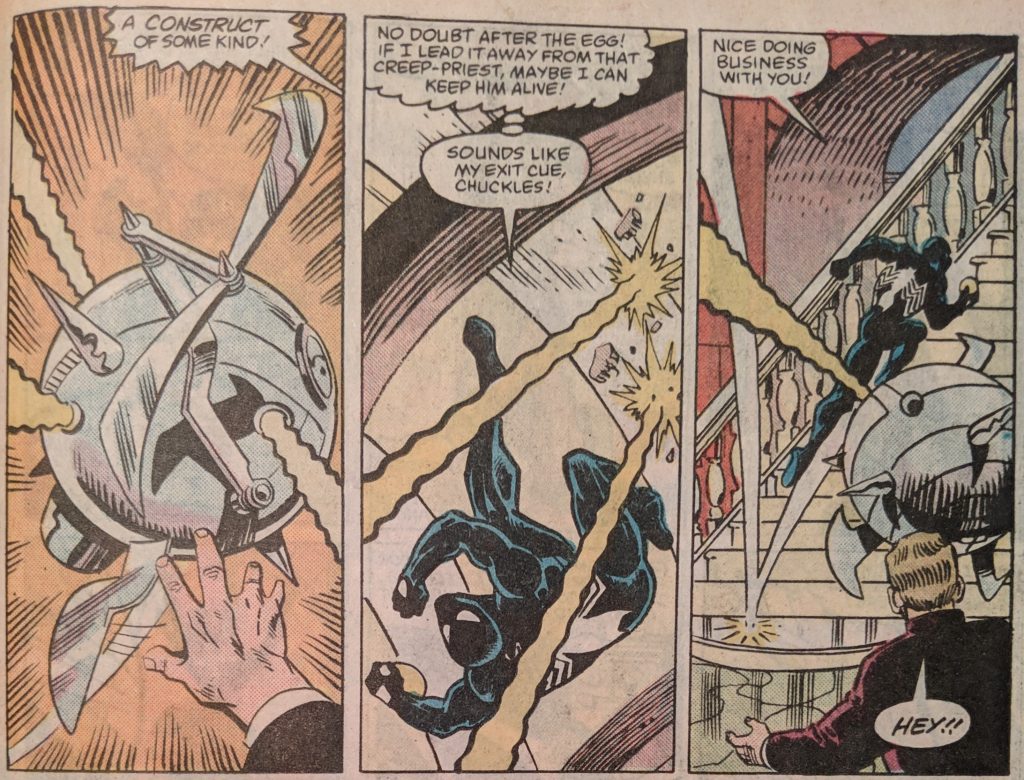 Marvel has acquired the rights to the ball from Phantasm! Maybe not. We check the reaction of Thomas, who sent the weird robot, but doesn't seem to have sent the gun guy. Thomas leaves for their planned meeting place, certain Spider-Man will complete his mission and grousing that he doesn't care at all about Peter, and is only doing this for his uncle. Meanwhile, Spidey makes it to a balcony, both the robot and the guy giving chase, and swings away. But then the dude falls over the side. He manages to save the guy even though his webs are acid, but now he's on the back foot dealing with the robot, and drops the egg.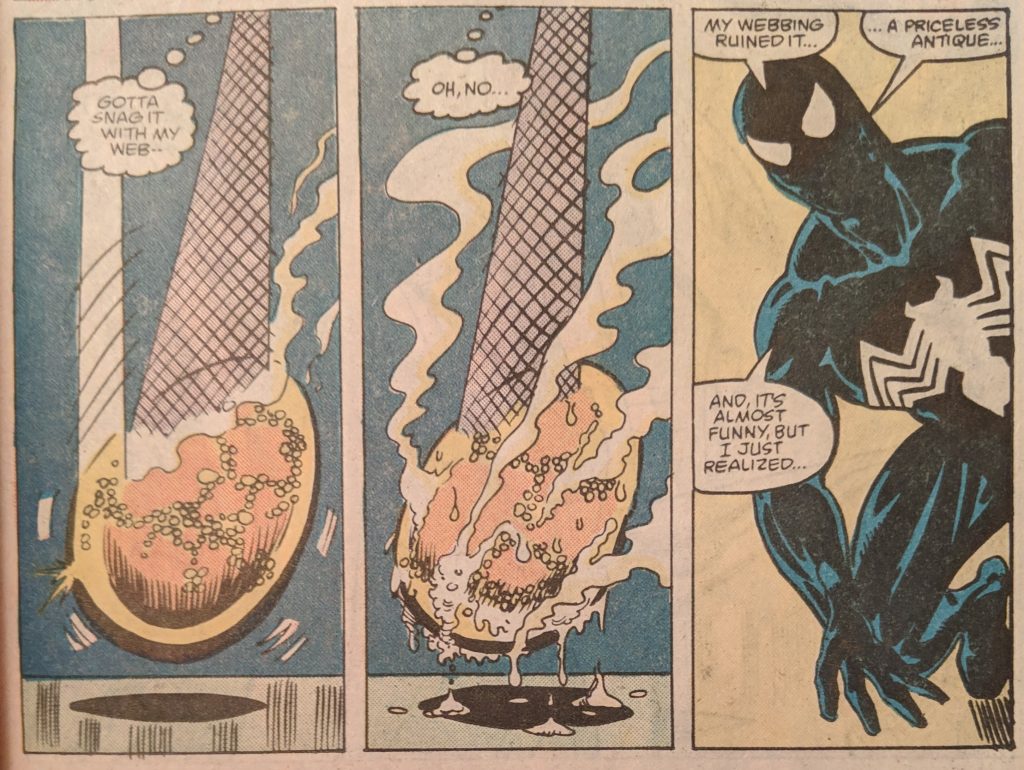 …that he actually wanted that job. Angry at himself and the robot, Spidey lunges for it, ripping it to pieces. He's feeling pretty bad until he notices a fancy microprocessor in the wreckage is just like one he admired in Fireheart Industries. We cut back to MJ, still partying the night away. There's a fun shot of her paying the tab where she started to write "Watson" on the check and had to cross it out and write "Parker." Then she notices Thomas Fireheart at a nearby table. She goes over to say hi, obviously drunk and oblivious to the fact that he's mad. Peter's late, and Thomas feels he's not taking this seriously, yadda yadda, and then Peter shows up.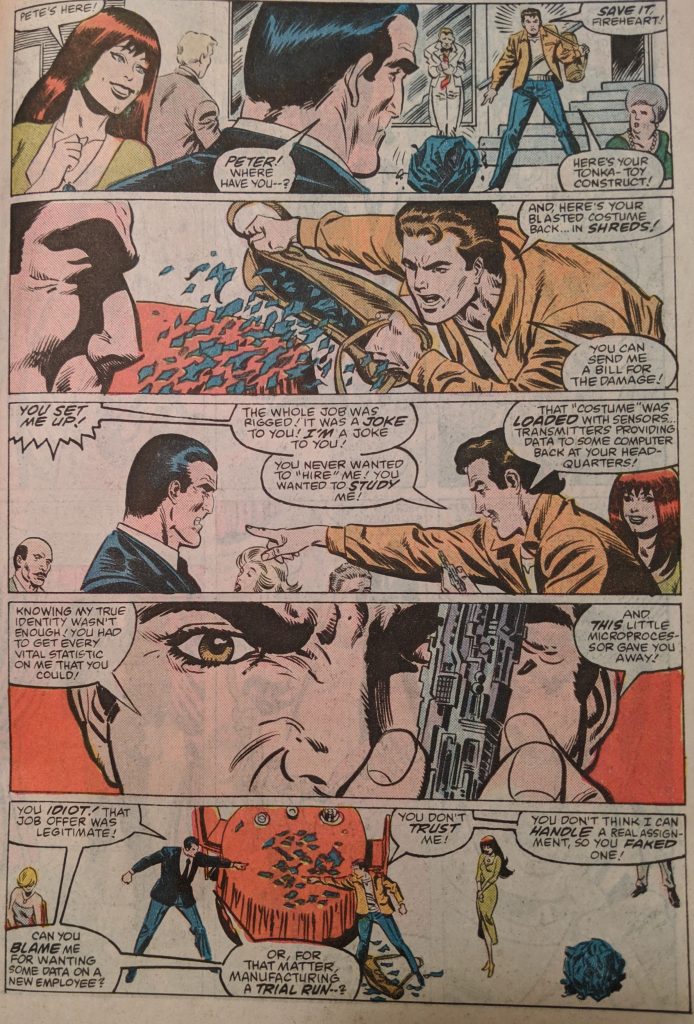 Peter winning over MJ's pals is a nice bit of business. Days later, we see Peter & MJ preparing to go home. He worries that she's upset he didn't get the job with Thomas, but of course she's not. And he just shows up, saying he wants to apologize.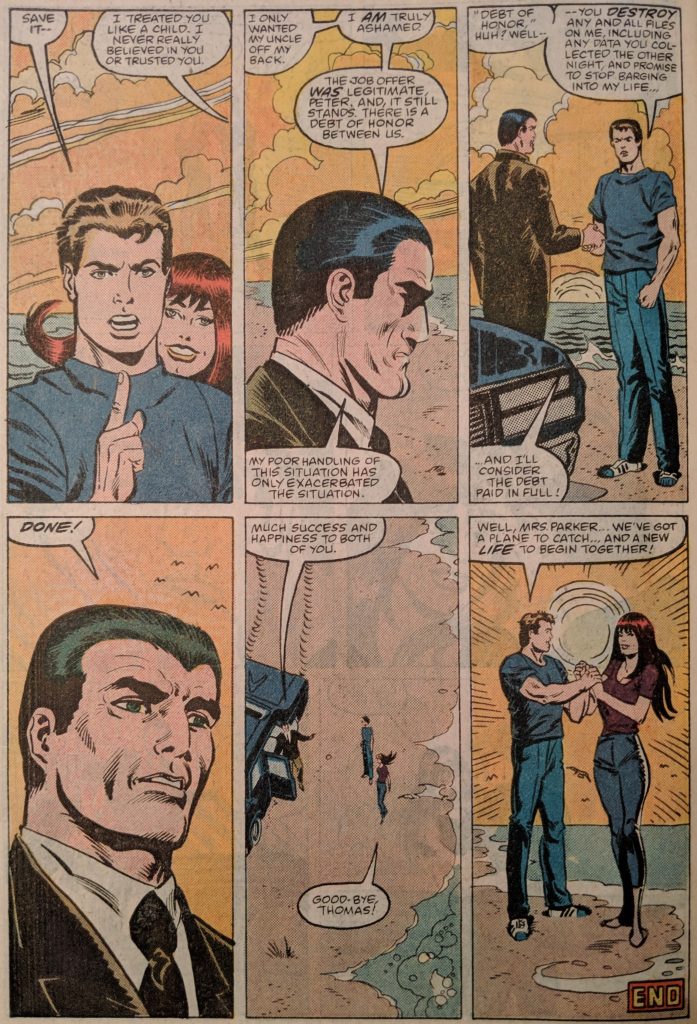 Well, there you go. The end of Spidey's dealings with The Puma. We'll definitely never see that guy agan. Mm hm. This month's Bullpen Bulletins formally announces Tom DeFalco as E-i-C to Marveldom at large. Not Spider-Man news, but as an important Spider-Man figure, seems worth noting.