Who else could possibly do this cover other than John Romita, Sr.? The interiors are just Paul Ryan, though. Not that Paul Ryan. This Paul Ryan is a workhorse comic artist whose stuff isn't terribly interesting. It's kind of crazy they didn't get someone closely associated with Spider-Man to draw this. So many of the Spidey artists of the past were still working for Marvel at the time. Either Romita, Sal Buscema, Ron Frenz, plenty of dudes. I know they all had regular gigs at the time, but it's a special occasion! Maybe no one wanted to do this. The plot comes from the very top, Editor-in-Chief Jim Shooter. Script by David Michelinie, inks by Vince Colletta, colors by Bob Sharen. The book opens in pretty typical Spidey fashion.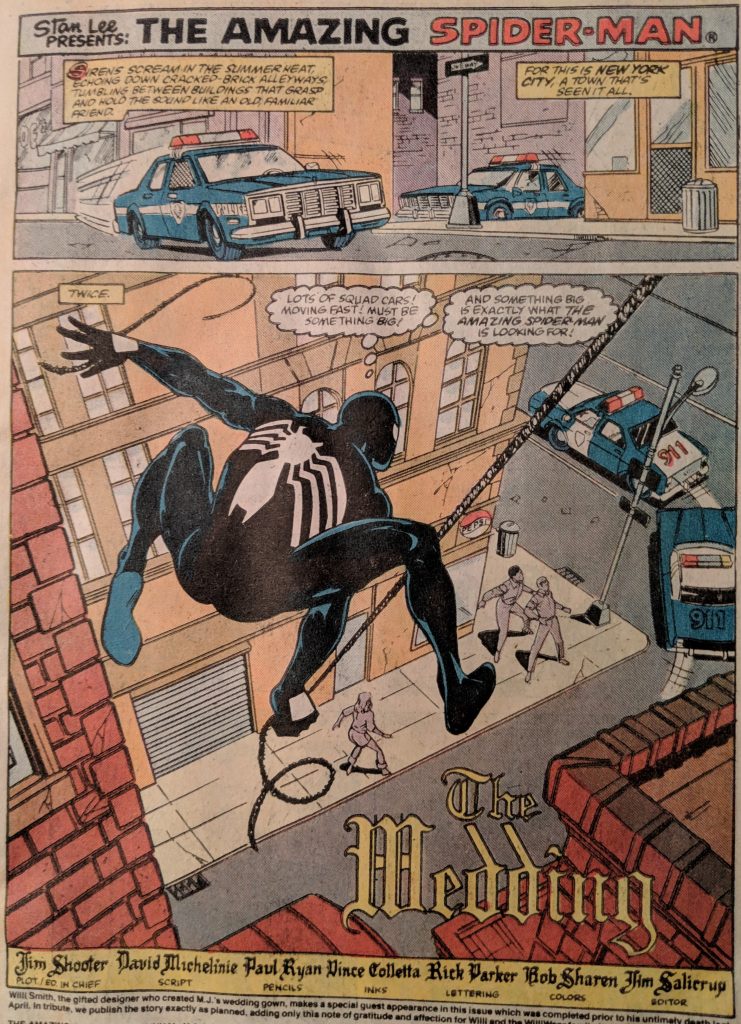 That really looks like "The Medding" to me. I can't make that a "W" in my mind. Spidey finds the cops are rushing to a police truck that's been blown open, soon learns it was carrying his old nemesis Electro, not seen on this blog in a minute. His goons busted him out, and now they're fighting the cops, so it's well past time for Spider-Man to get involved. He makes short work of the goons, but Electro is a lot more dangerous.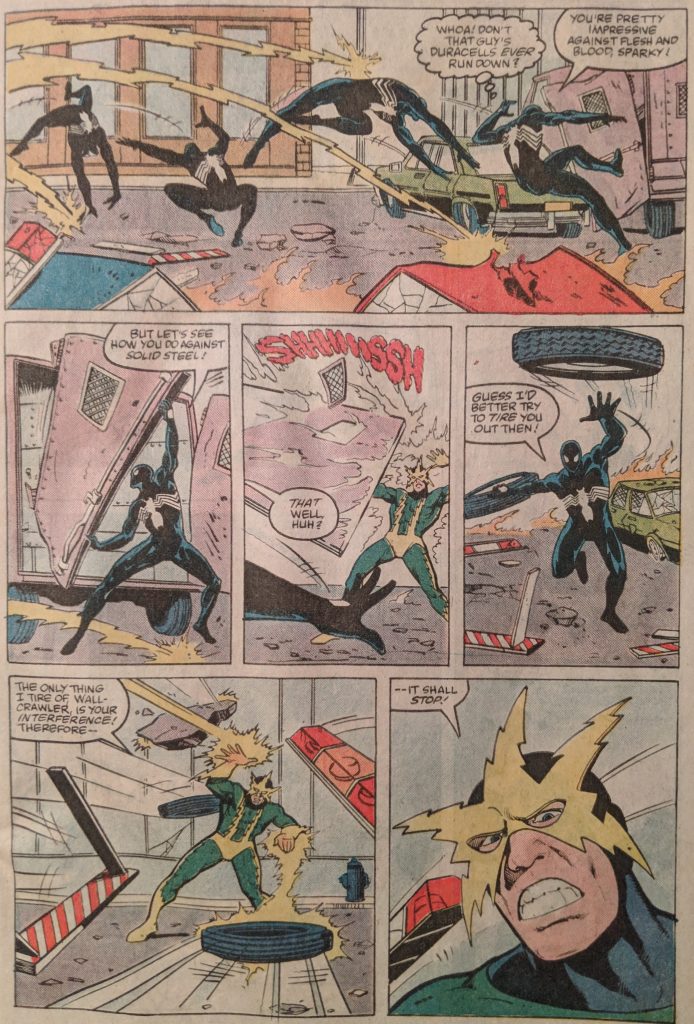 Electro's next zap shatters part of a wall, and Spidey has to disengage to save some civilians who would be crushed. Then he takes out Electro by knocking open a fire hydrant and dousing him with water.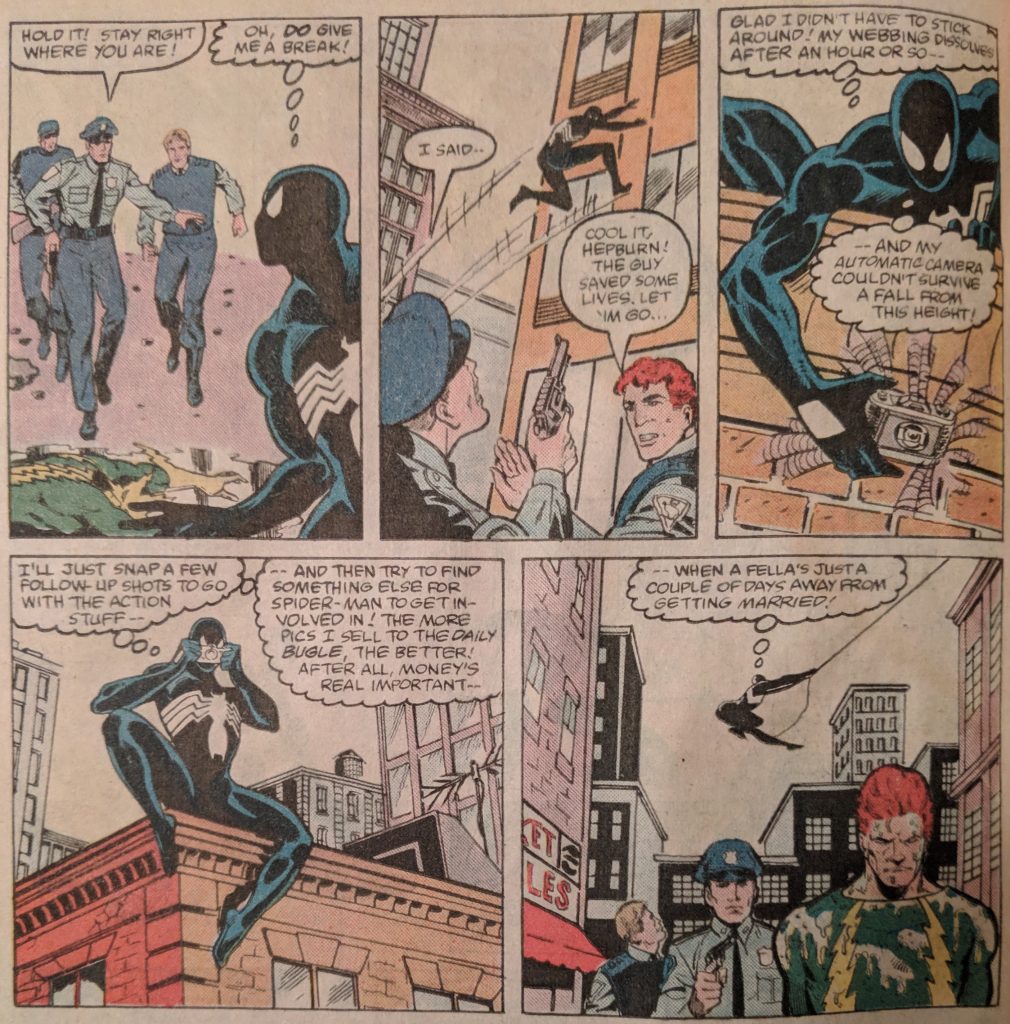 And he does, stopping a bank robbery and helping out with a fire before returning home. He gets to work developing his pictures, as he only has about an hour before…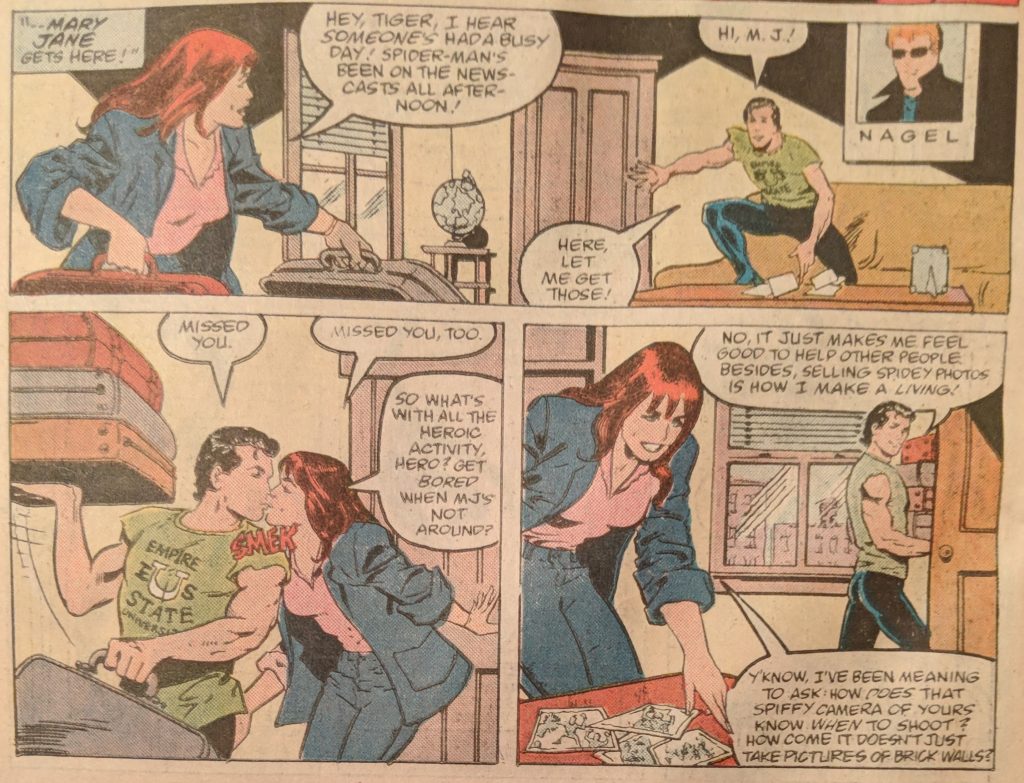 Yeah, actual supermodel Mary Jane Watson is moving into Peter's dump of an apartment instead of the other way around. Like… what? Peter says he can't wait to call Aunt May & Aunt Anna so he & MJ can tell them their plans, but MJ's on the move again. A limo is waiting outside to take her to a photoshoot. Peter frets over whether he'll be able to keep up with her lifestyle, and then he heads to The Bugle. Robbie buys all his Spidey pics, and then says he has something to show him.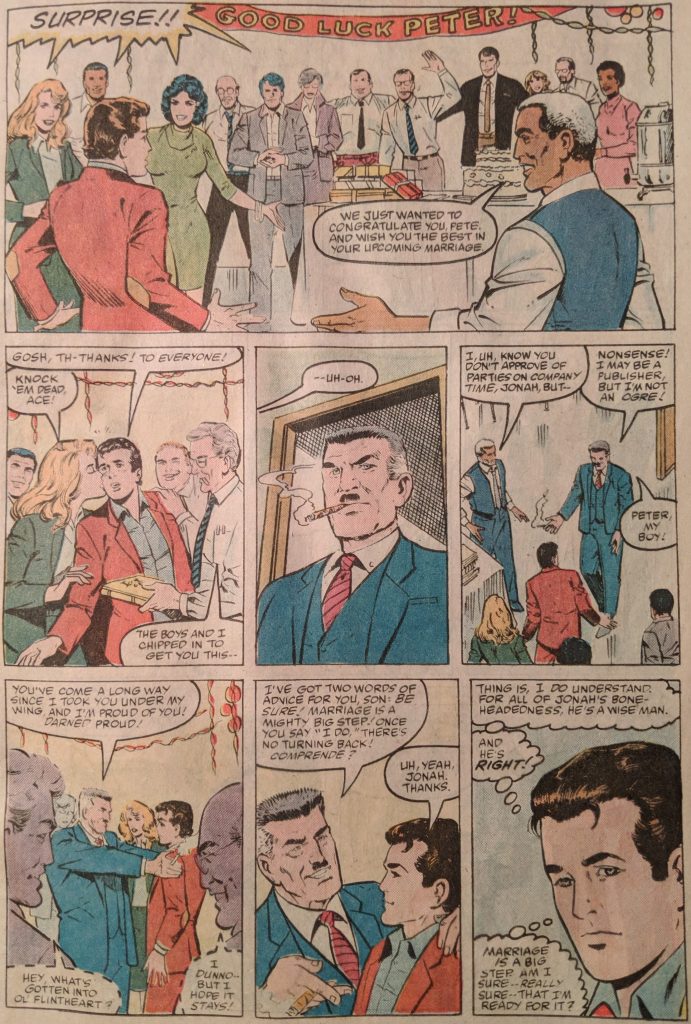 (I have no idea who is kissing Peter up there. Feel like anyone doing so should be recognizable) Here we start to see the problem I have with this issue, which is only going to snowball. Peter & MJ's wedding seems like it was thrown together at the last second, both in the comic and in real life. She's already moving into his place and he's thinking things like "Am I really sure I should get married?" From a creative standpoint, they seem to be going full steam ahead with the idea while also trying to create some tension around whether it will happen. From an in-story standpoint, Pete & MJ were only sort of dating a few days ago and now they're getting married. It all feels way too chaotic. Anyway, Robbie kinda cons JJJ into signing a big bonus check as a gift, and then Peter prepares to leave, because he's still got a lot to do. He runs into one more coworker, though.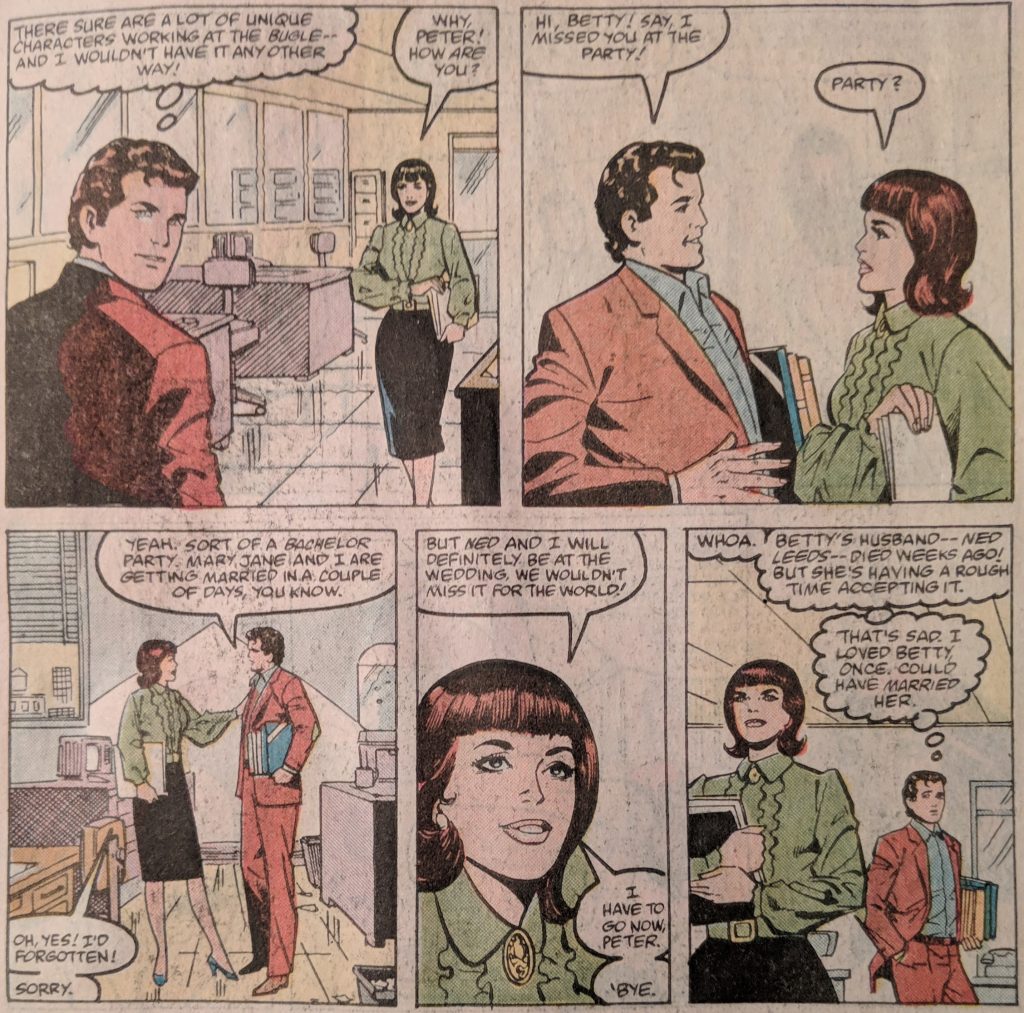 Yeah, man, by now, Ned is dead, and Betty is… a little insane. Peter thinks about how Spider-Man has negatively impacted both Betty & Ned's lives, and worries some more about his own future. The next day, he arrives at MJ's (Clearly much nicer) apartment with a surprise: Her engagement ring. Like, they didn't even have one yet. Also: whatever happened to the one from last time he proposed to her? It'd be kinda funny for him to be like "How about this time?" But, no…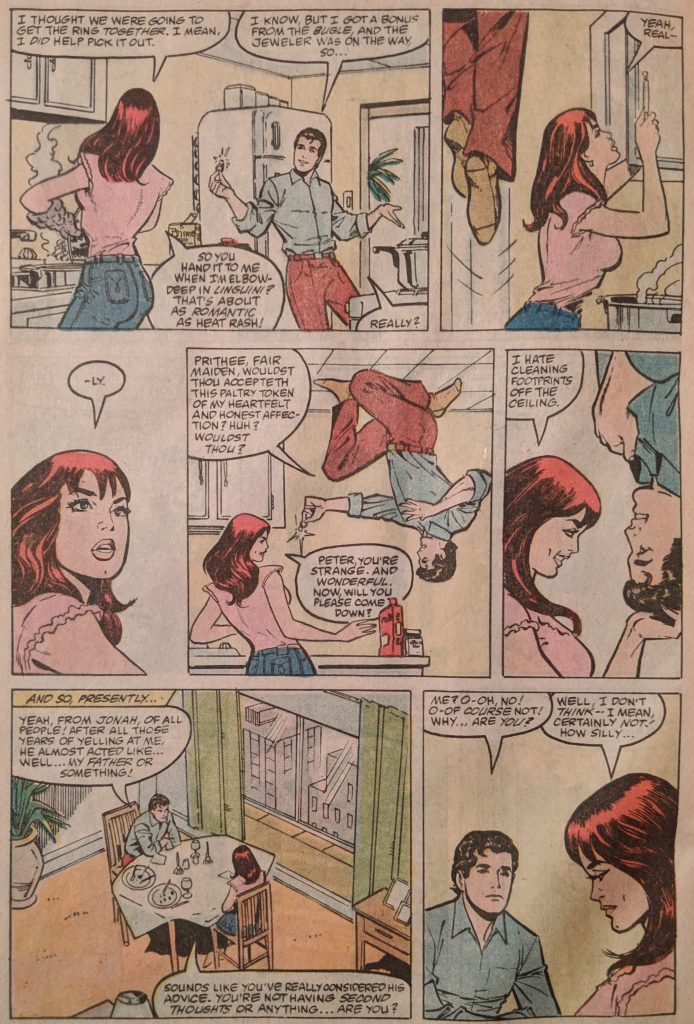 The phone rings before things can get any more awkward. A "Bruce" from "Hollywood" is calling to try to talk MJ out of getting married by asking her to go to his French villa with him. Pete is clearly uncomfortable with this, and then MJ said she has to tell "Willi" she can't do his photoshoot because it's on their wedding day. MJ's whirlwind lifestyle is clearly making him nervous, and then they split up again to go do their own thing. They barely even hang out in this comic, and they're getting married in mere days. MJ has gone to personally see Willi Smith, fashion designer, to say she can't do the shoot, but he's happy for her, and has even designed her a wedding dress. Pretty cool of him. On her way out, a man in a trenchcoat tells her he was told to give her a tape, and for her to listen to it in the nearby Ferrari.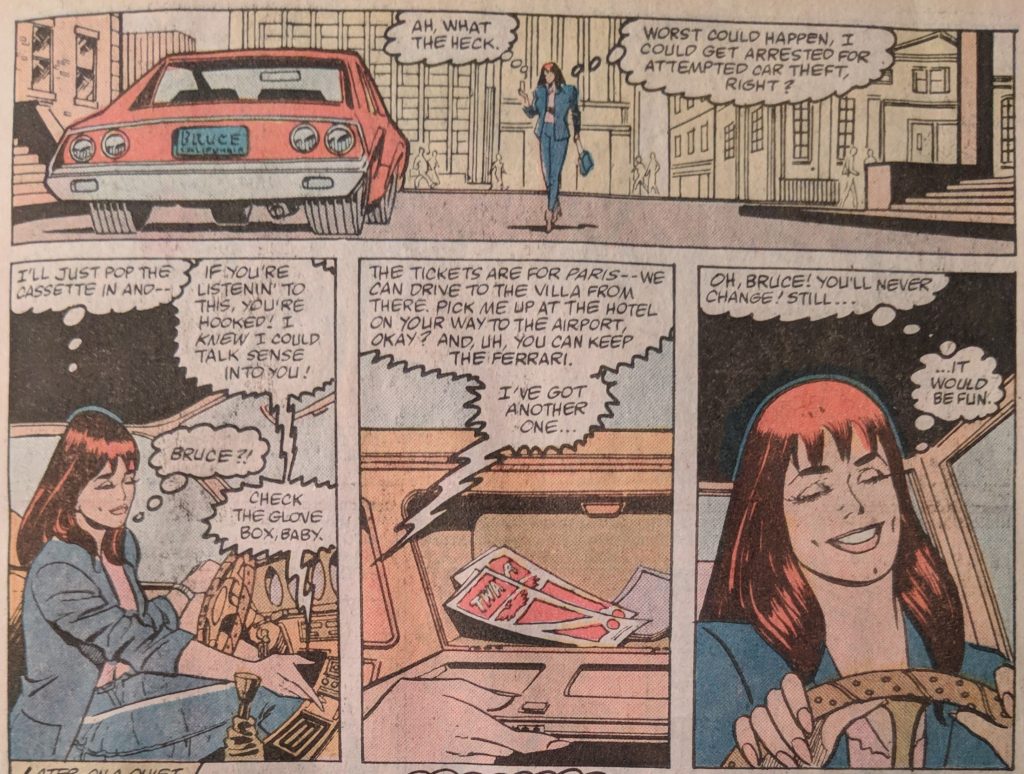 I mean, is that working for you? Do you think MJ is going to bail on the wedding for this Bruce, who sort of maybe feels like you're supposed to think of Bruce Wayne, by the way? Are they hoping her party girl past will give this plotline some heft? I dunno. This ain't Marvel 2018, when they say there's going to be a wedding, there's actually going to be a wedding. Meanwhile, Peter has arrived at Aunt May's house. He sees she's been going through photo albums, which gives us a chance to run through his past a bit, including his superhero origin and the death of Gwen Stacy. Thinking about that makes Peter worry some more about getting married. Then MJ & Aunt Anna show up. Aunt May has already guessed what's going down, and I bet Anna has, too, but nonetheless…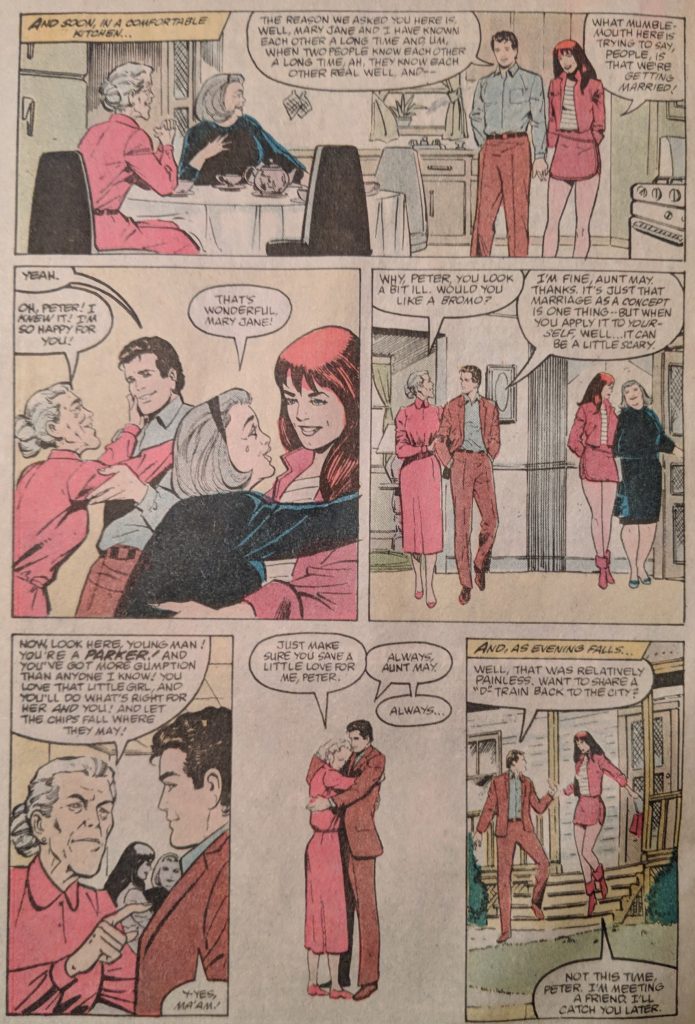 I mean, again, they're getting married in a couple days and they haven't even told their most beloved family members yet? The "friend" is Bruce, in his other Ferrari, I guess, picking MJ up right outside Aunt May's house. Peter goes home trying not to be too jealous, which proves difficult when she's out 'til 1am. But she comes back in a serious mood, saying she's just been walking around for the last few hours, trying to think. She asks what Peter does when he needs to think, and soon enough, Spider-Man is taking a pretty rattled MJ to the top of The Empire State Building.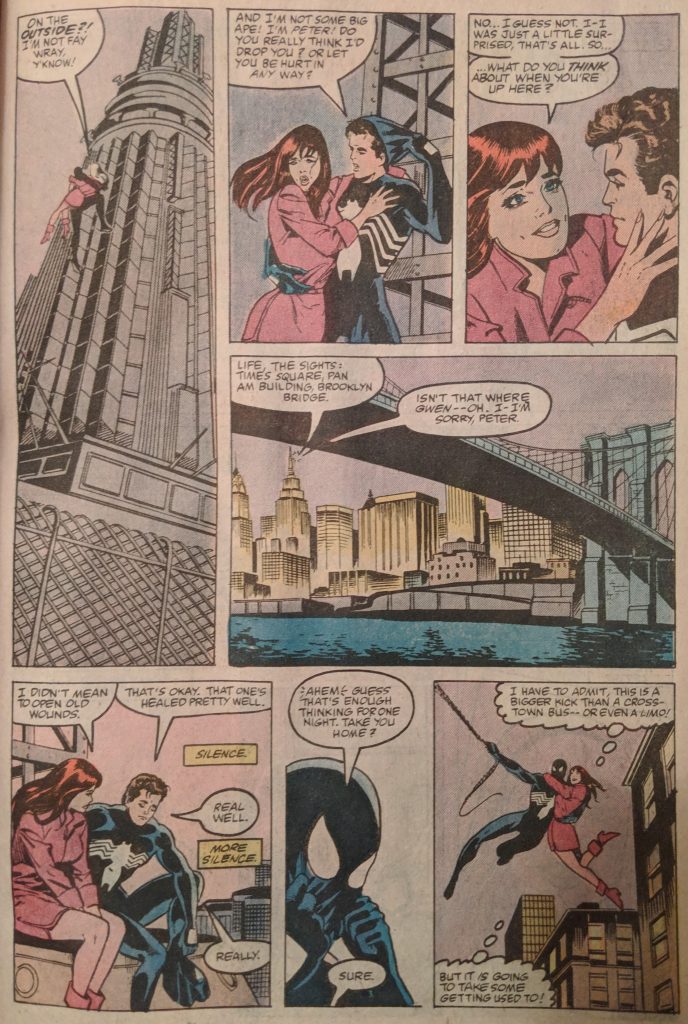 All that babbling about the bridge in ASM 121 is suddenly relevant. Peter drops MJ off at her place, and stays up literally all night looking at a picture of Gwen and worrying about the future. When MJ calls at 9am, he hasn't moved. She just got her wedding dress in, and they have to go get their marriage license and call to confirm their permit for the ceremony today. She seems really happy, but Peter is distraught. They meet up to get the marriage license and then immediately split up again. Peter has important business…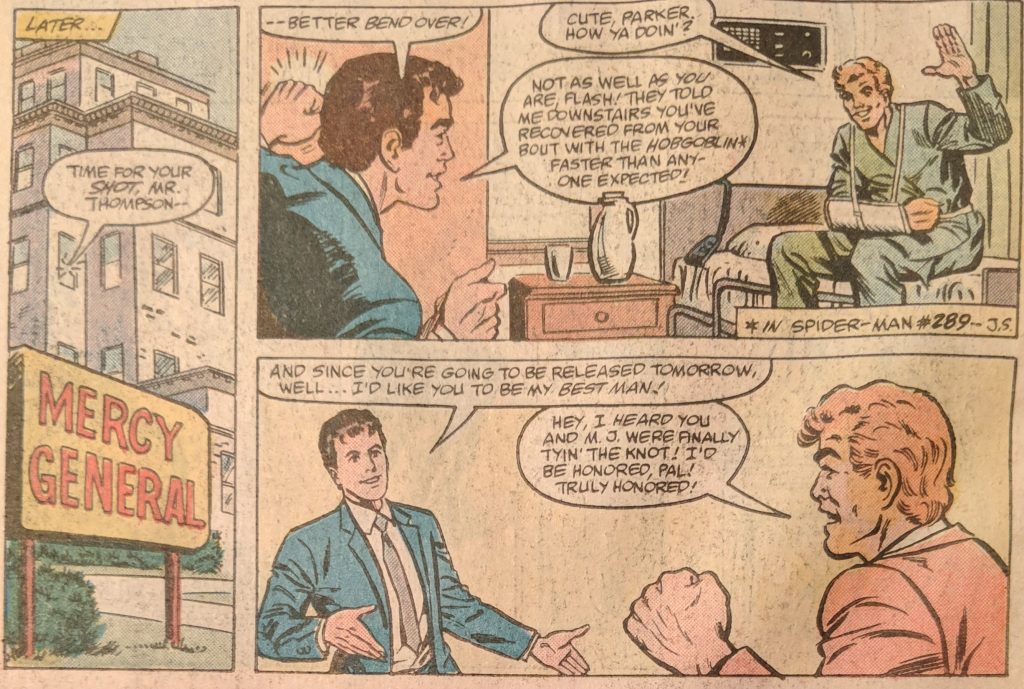 Flash insists on throwing together a bachelor party tomorrow night. By the time Peter gets to dinner tonight, though…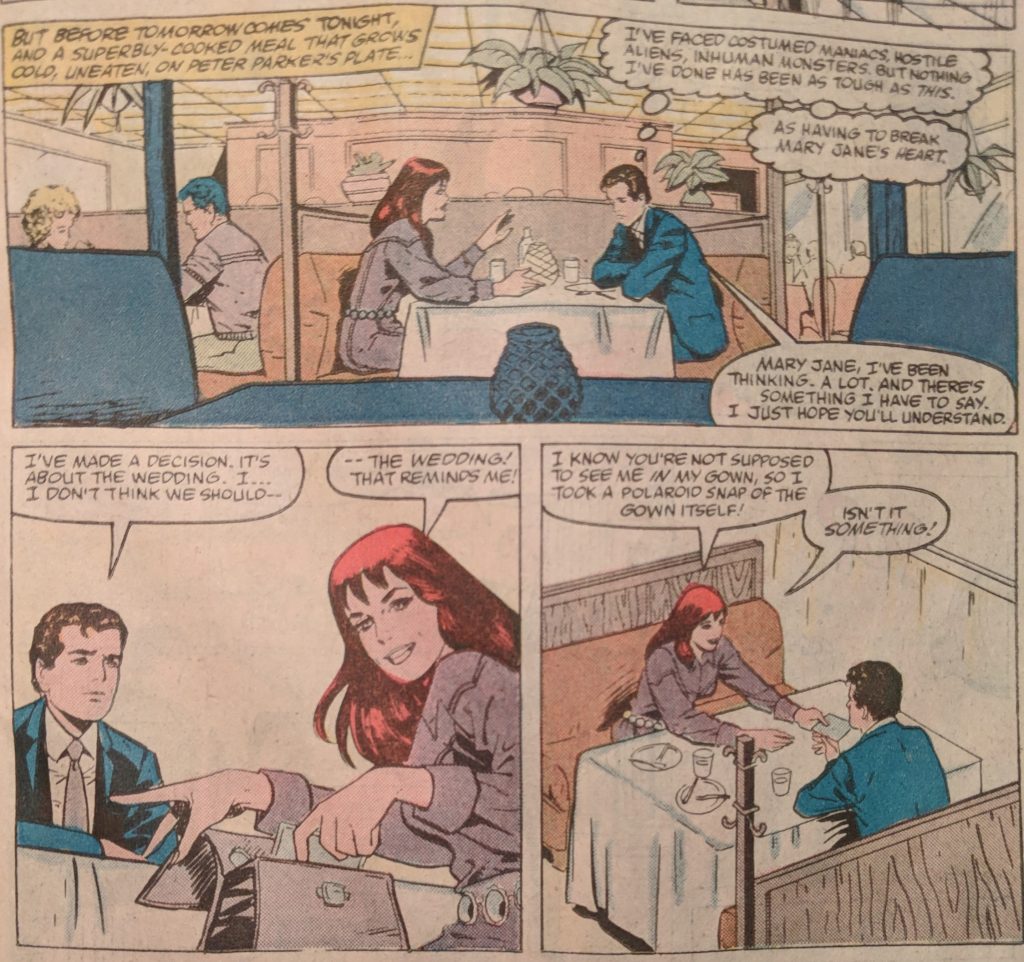 He can't finish what he was going to say after this, so he just mentions the bachelor party, and MJ says her friends are throwing her a party, too. Peter's turns out to be just him, Flash & Harry Osborn at The Coffee Bean. I guess Flash didn't really know Steve Hopkins or Phil Chang or Hector Ayala, and it's not like they had time to plan, but it would've been fun to see them. And what about good ol' Randy Robertson? Ah, well. Peter admits he's been having doubts to his old friends. Harry says marriage is the best thing that's ever happened to him.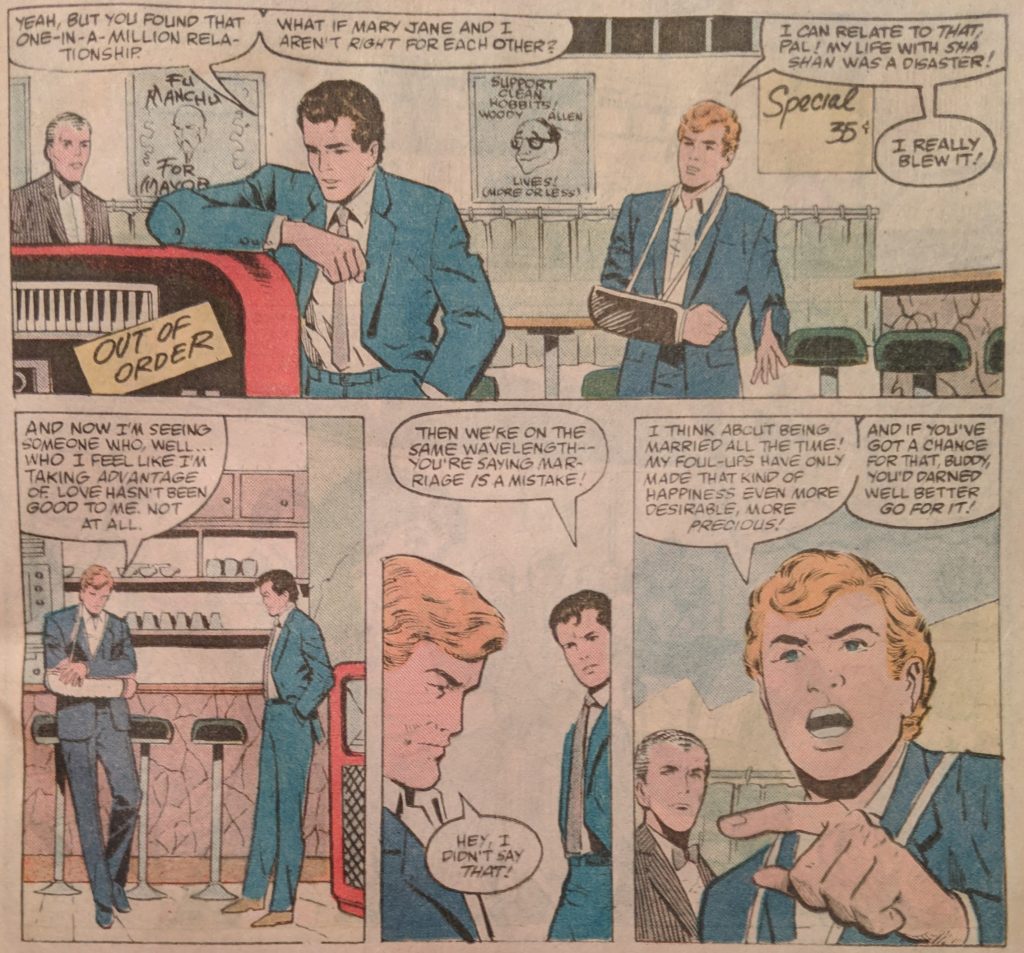 Flash is pretty persuasive, and the wedding is saved. For now. Meanwhile, MJ is at a very fancy bash at a very fancy club.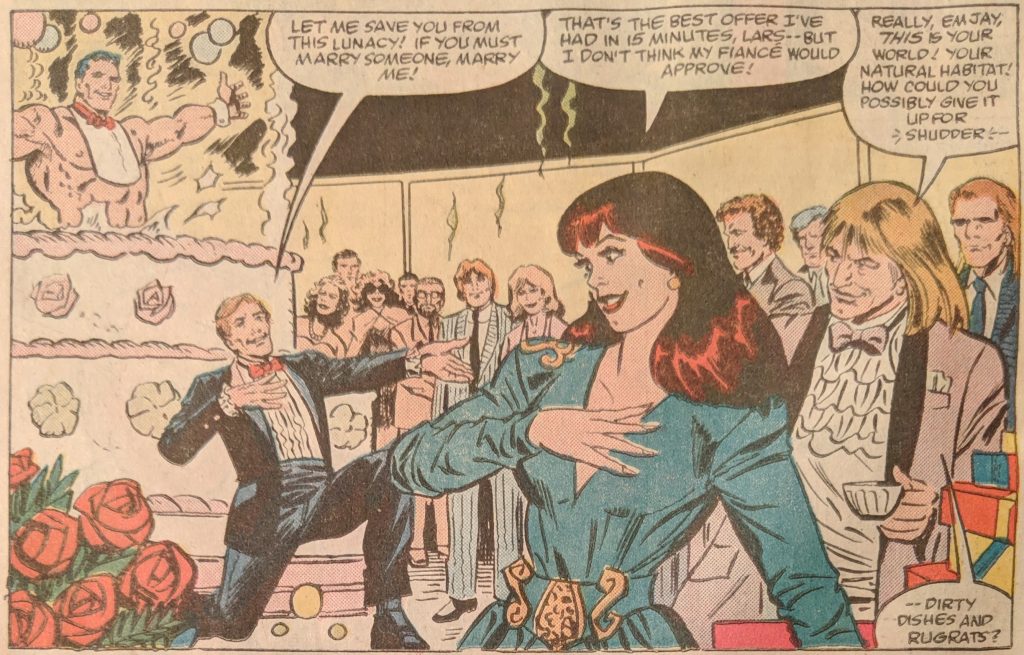 The guy popping out of the cake is hilarious. Walking home, Pete tells the boys he's definitely gonna go through with it, while at her gig, MJ gets a telegram from Bruce still trying to get her to go to France. She looks a little upset, and someone calls her on it, and she does the usual MJ move and starts dancing. Back at his place, Peter has a nightmare…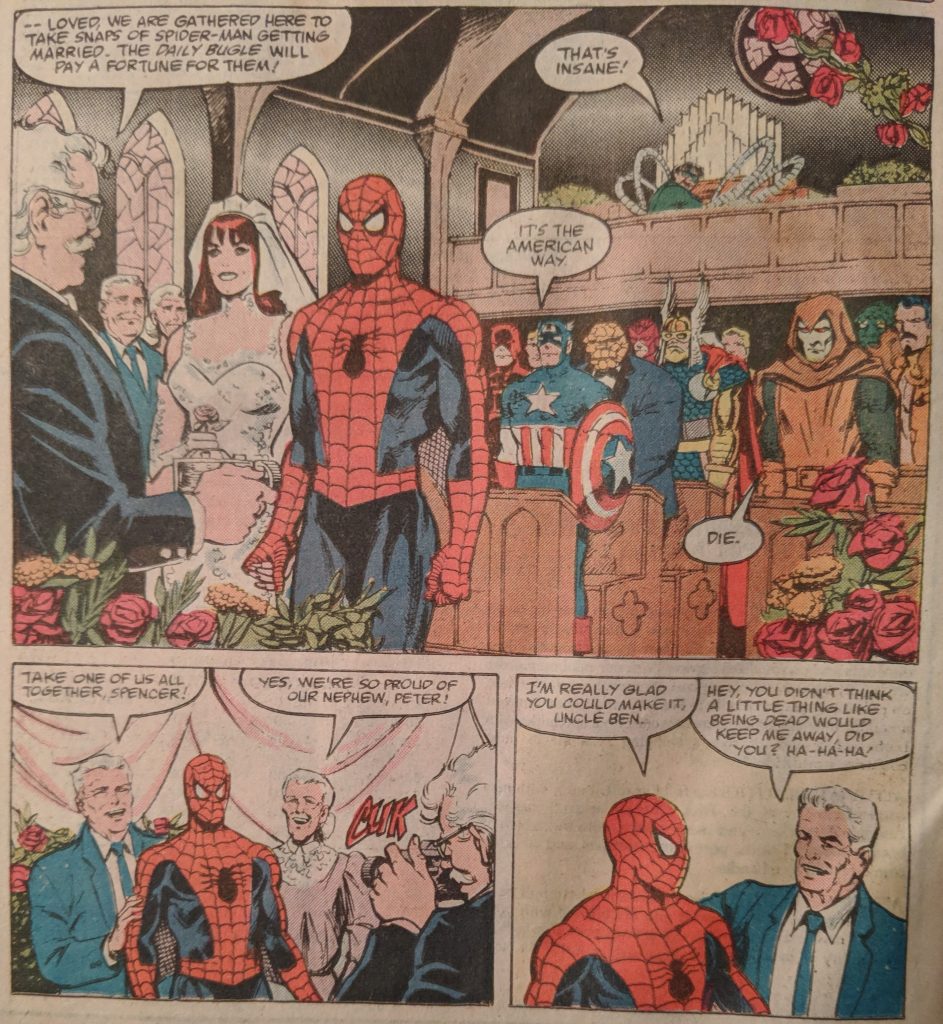 I legit love the "we are gathered here to take snaps of Spider-Man getting married" bit. My favorite part of the issue. As the nightmare spirals out of control, Gwen Stacy brings the rings before disappearing, MJ asks if Peter is having second thoughts, and during the "speak now or forever hold your peace" part, all his villains get ready to attack. But not him.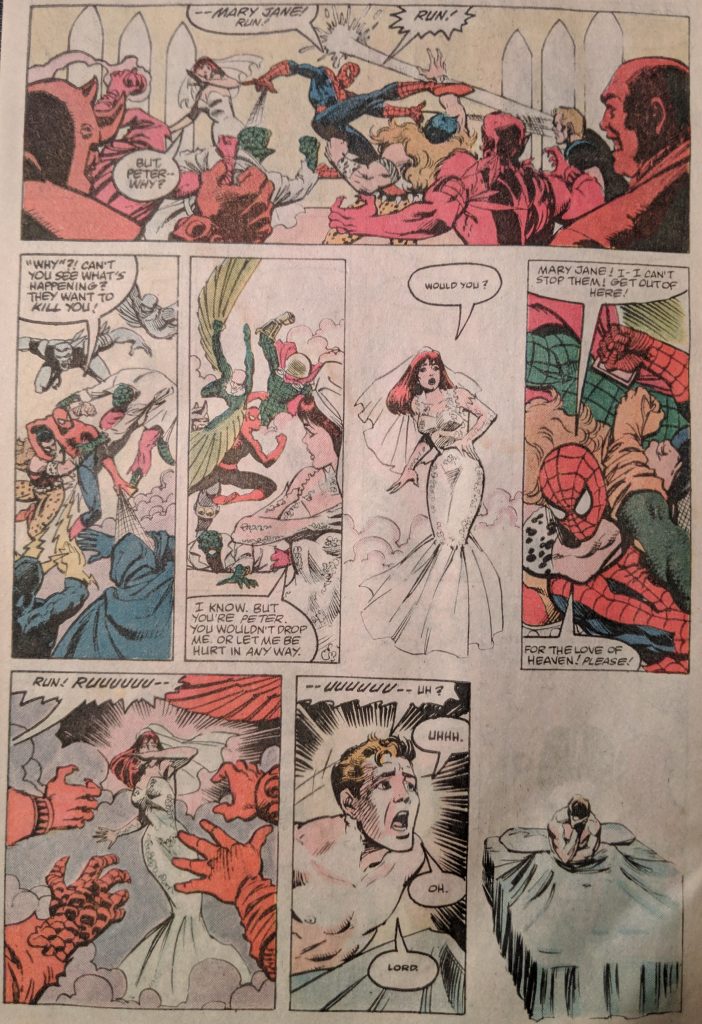 And, as MJ is leaving her party at 3am…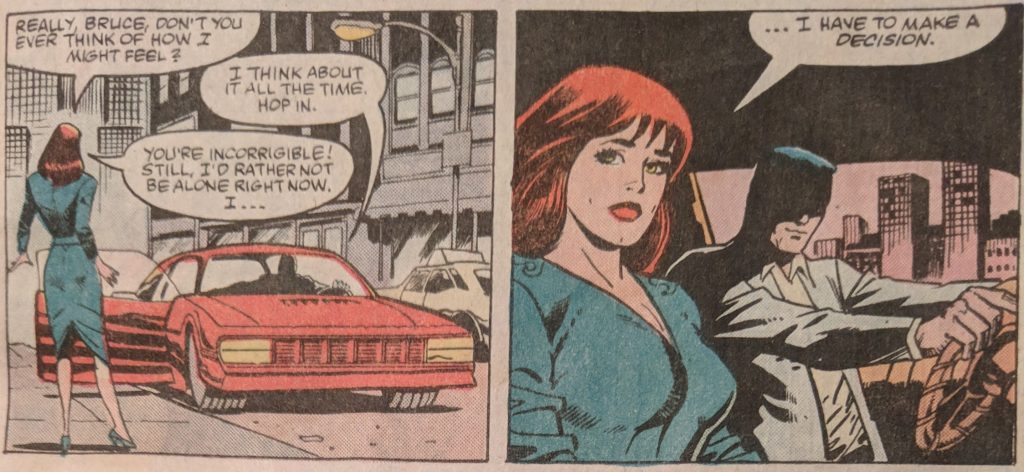 For his part, Peter has gone to the hotly debated bridge to talk to a picture of Gwen about how Spider-Man killed her and now he's worried he could kill MJ, too. The next day is the big one. Everyone's gathered for the wedding… except the bride and groom. MJ shows up late, dropped off by "Bruce," in her wedding gown, but Peter still hasn't shown, either.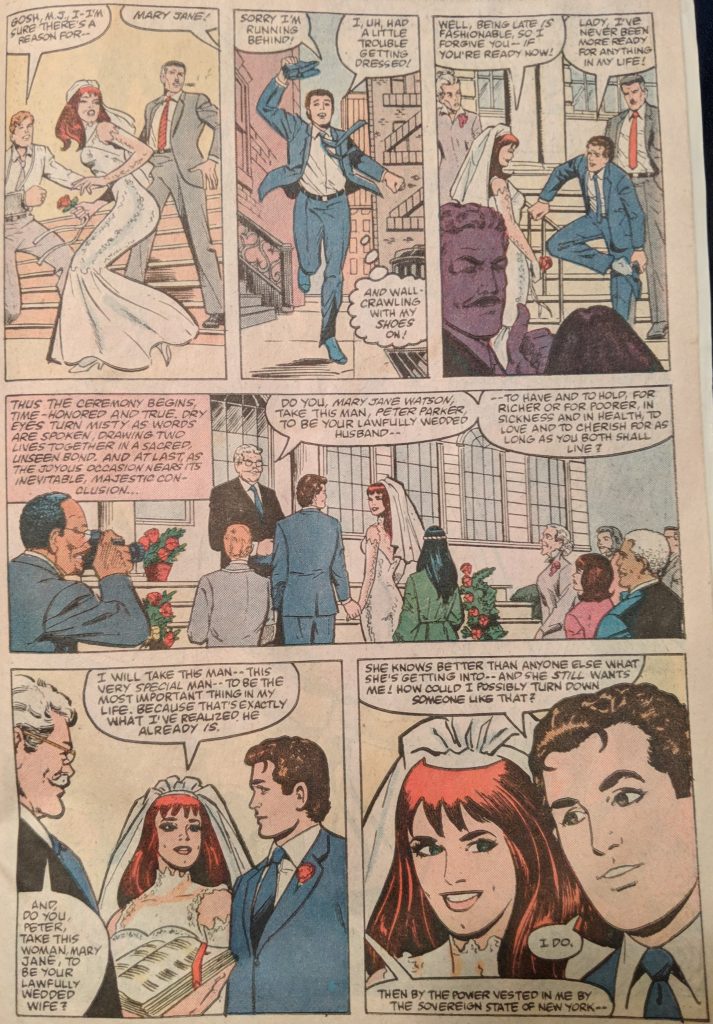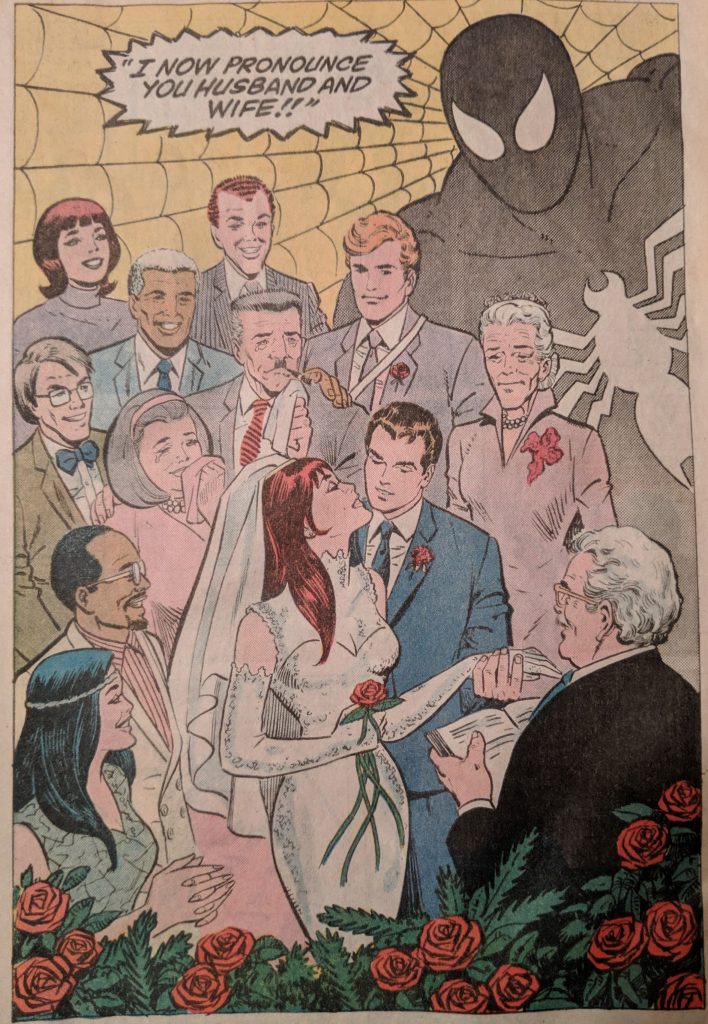 There ya go. Afterward, JJJ tells everyone The Daily Bugle is paying for the reception because it's completely tax deductible as the party begins. Peter is feeling down because he can't afford a honeymoon right now, but MJ has 2 tickets to France and a private villa, a gift from "Bruce."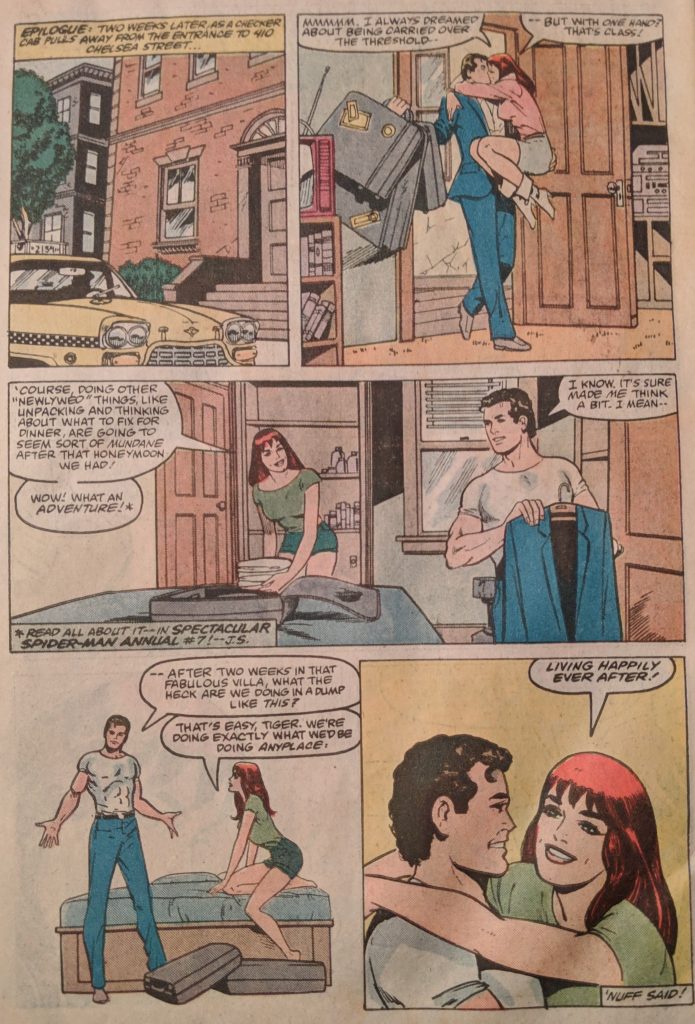 We'll be seeing that honeymoon next post. So, it is done. A controversial choice, that will lead to a far, far more controversial choice 20 years later. The story goes that Stan Lee wanted to marry Peter & MJ in the Spider-Man daily newspaper strip, which he was still writing, and therefore it was decided they had to get married in the real comics, too. To hear the people involved tell it now, though, no one actually wanted to do this. Basically all the famous comic book writers will tell you Peter Parker can't be married. It's just… no one could say no to Stan. That's not really a sound publishing strategy, but it's also kind of sweet. It probably helped that it could be used as a big marketing gimmick. And it was! Spider-Man got married in Shea Stadium in real life in a huge publicity stunt, MJ's dress really was designed by the really real designer Willi Smith, all kinds of marketing came out of this.

I've always thought the creators' objection to this was funny, though, especially Roger Stern & Tom DeFalco, because they laid such excellent ground work for it. Stern brought MJ back to the book after being out for four years, and Peter immediately had second thoughts about his relationship with Black Cat the second he saw her. They got close again, as friends this time, and then DeFalco made them way, way closer than ever before, and then put them in their complicated "sort of, not really dating, mostly just friends, but not just friends" relationship after that. This actually made a pretty natural foundation for Peter to realize he should marry his best friend. It works. It may not be what they intended, but those twists on top of their extensive history, it works. It would've been 1000 times weirder without their stories preceding it, and they both disavow all this. It's just funny.

I got this issue from a friend who had a friend who was getting rid of some comics just a few years ago. In retrospect, it's sort of weird I never got ahold of it before. You can tell from the photos it's not in the best condition, but it was also free, so I am certainly not complaining.