Alex Saviuk swaps in on pencils here. In a few months, he'll begin a very long run as penciler on Web of Spider-Man. First, though, this issue of ASM, as things heat up in Pittsburgh. The rest of the creative team holds on from last issue, as Spider-Man swings to his hotel, recapping last issue along the way. When he gets there, a TV says the robot hasn't been seen since, because, as we know, it's come to Pittsburgh. Peter is relieved that he didn't leave Manhattan to a rampage by a silly looking robot. At that moment, said silly looking robot is unloaded from Smythe's plane in crates, somehow disguised as medical components. Once he gets it put back together, the hunt begins. Meanwhile, Peter Parker arrives at Gayle's house and nervously knocks on the door.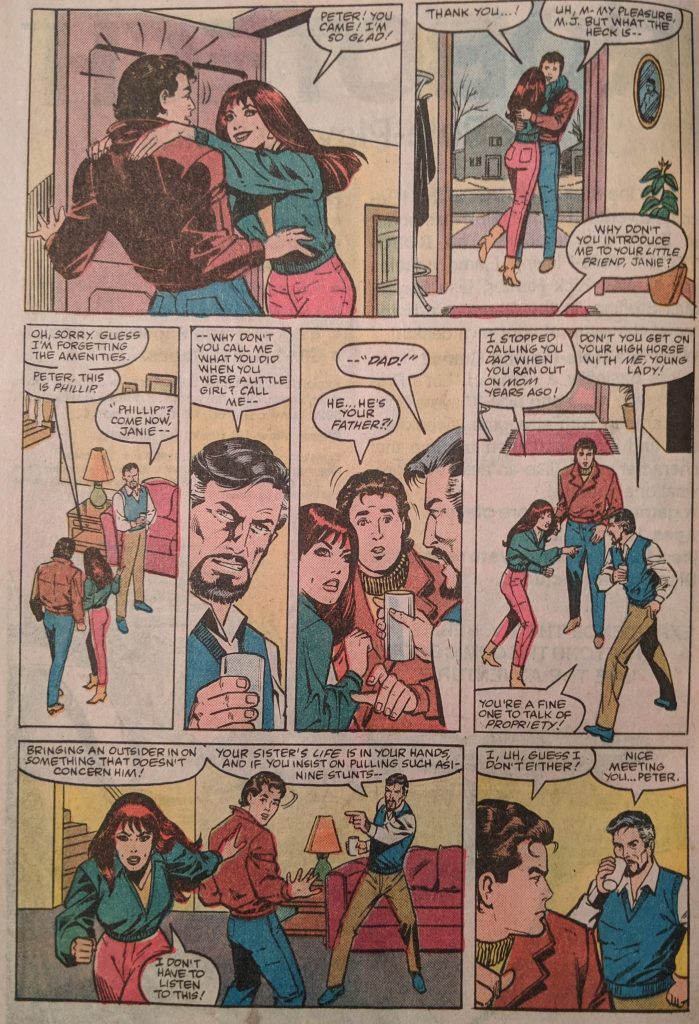 Great assertiveness, Peter! This is no way to meeting your potential father-in-law. Also: no kind of person to be your potential father-in-law. MJ climbs in her rental car, rattled, and she says they should take a ride because she needs to talk, and Peter says he needs to listen. Soon they've made it to Point State Park, for you Pittsburgh landmark fans out there, and MJ recaps her backstory from ASM 259 again in case you missed it, and then we get to the new stuff: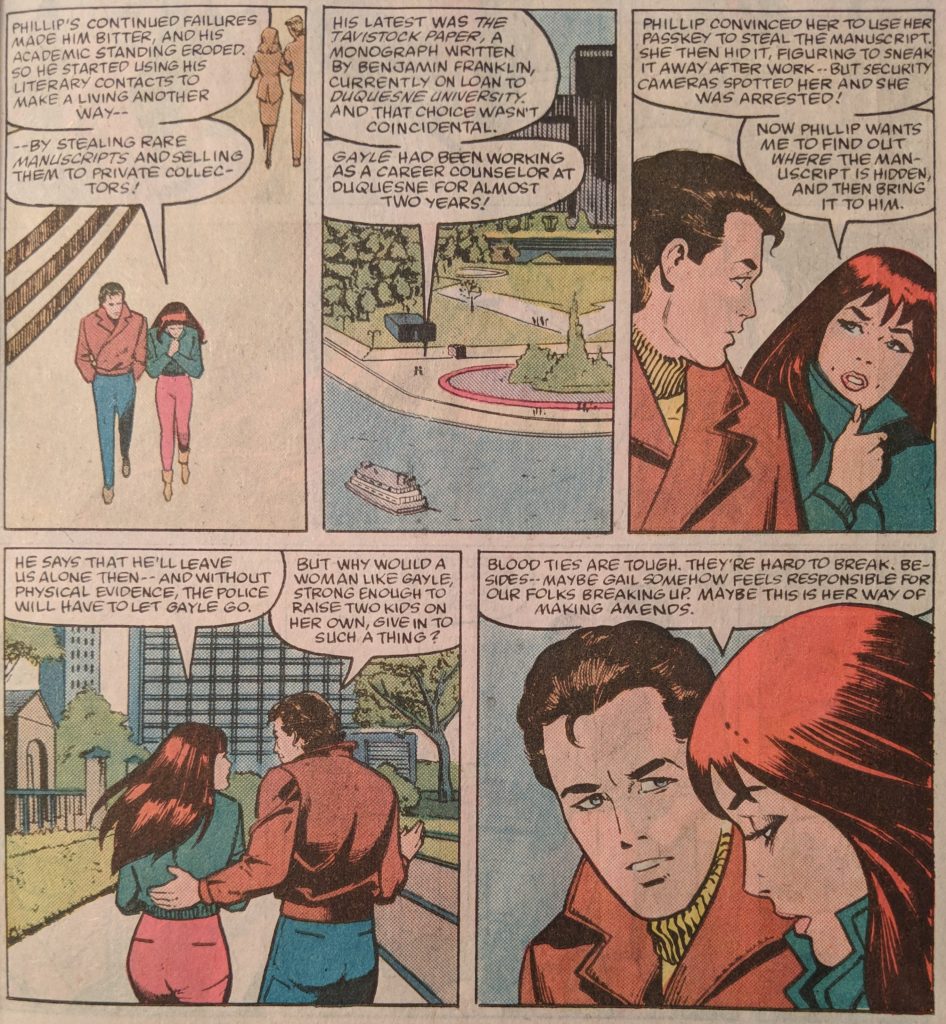 MJ sure seems to have re-committed to this relationship quickly. Also: WHAAAAAT? Peter's face really says it all. Elsewhere, Smythe has paid off a crew to move his stuff to a warehouse, where his robot begins to reassemble itself. I guess it's not a robot if he's always in it. More like a mech. I dunno. Meanwhile, Pete & MJ have gone to see Gayle (sometimes spelled "Gail" in this issue, pick one!) in prison. MJ's trying to get her to talk about this, but Gayle's bitterness just turns it into another fight, and MJ storms off. Peter is Peter, though, so he sticks around to appeal to Gayle on behalf of her children.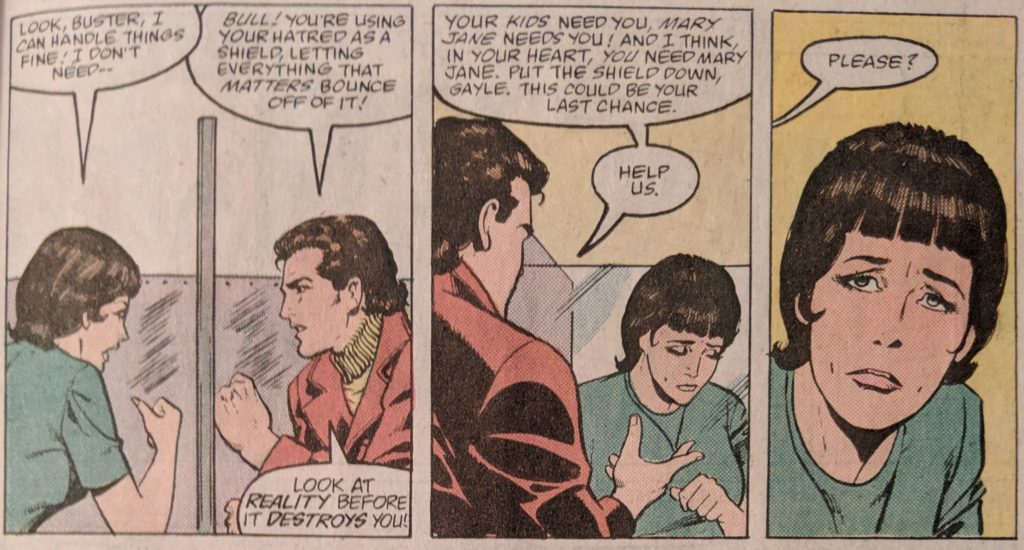 That looks like it worked. It better have, because Smythe is in his Spider-Slayer and smashing out of the warehouse now, so Peter's about to have other things to do.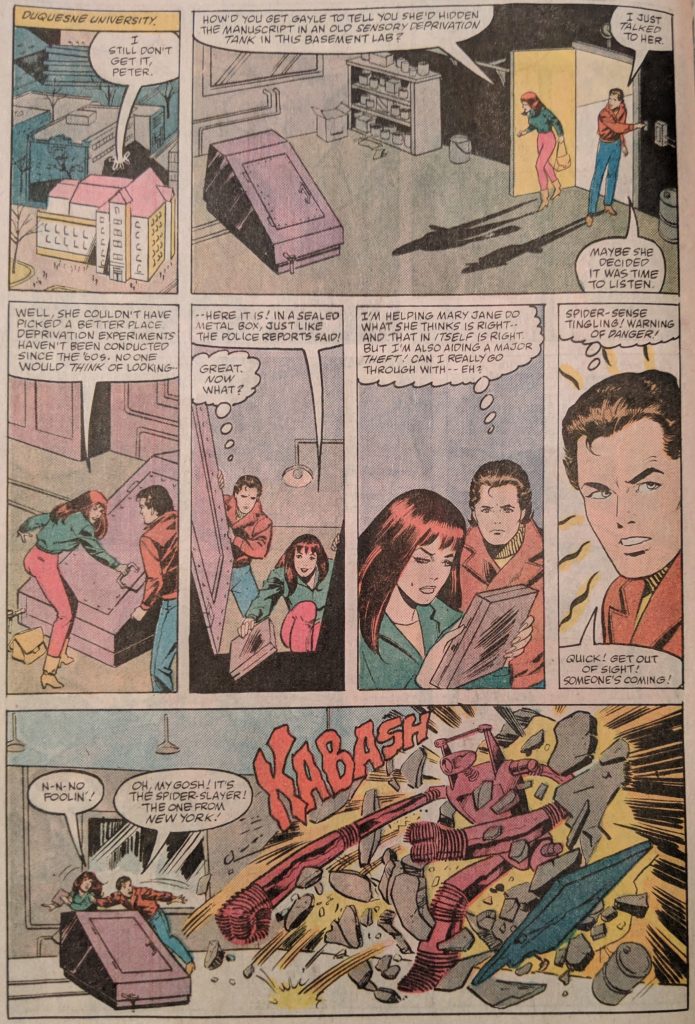 Peter tries to lower the lights so MJ can sneak out, but her movement trips some sensors. Smythe knows she's an associate of Spider-Man's from his previous appearance, and is pretty happy to see her here, and then…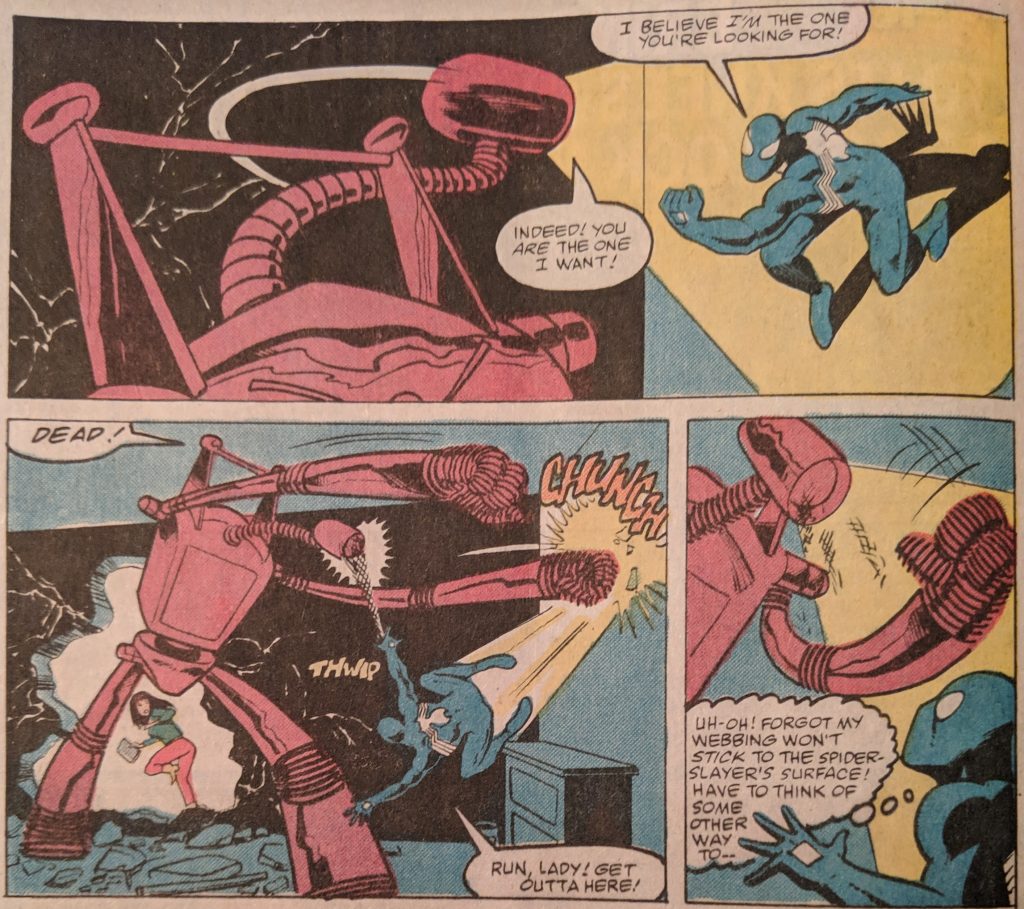 I can't believe we made it past the staples without a fight scene in a comic made before 2000! Spidey leads Smythe out of the building toward The Liberty Bridge (Hi, Pittsburghers!), hoping it leads to a more open area where no one will get hurt, while MJ jumps in her car to follow, hoping to help somehow. As they get to the bridge, Smythe suddenly shoots a bunch of tentacles out of the robot's hand.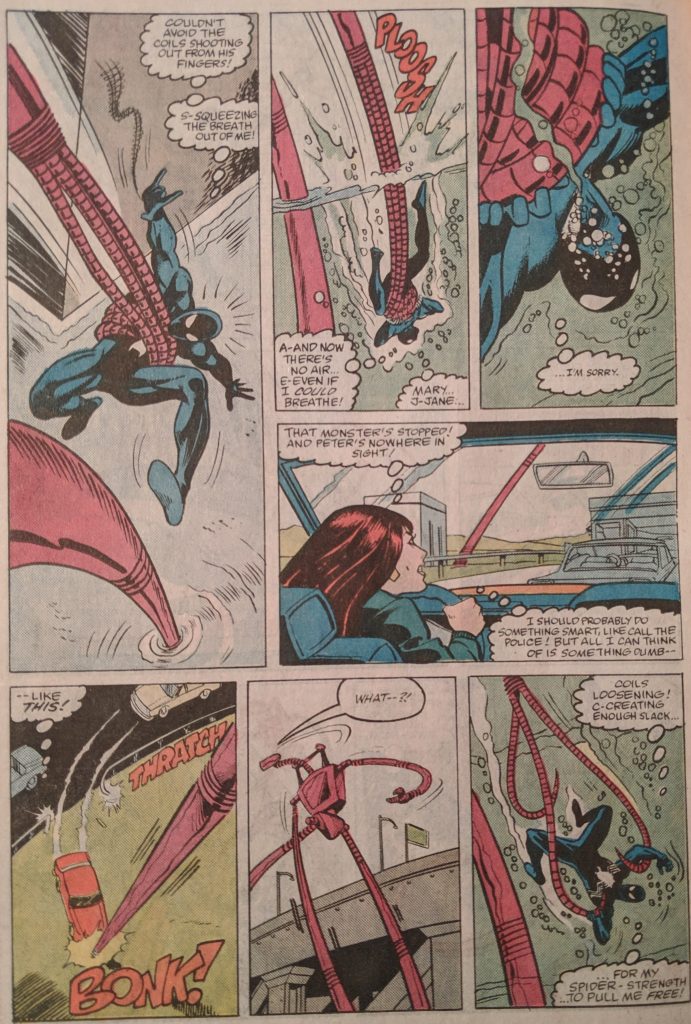 Get 'im, MJ! You can afford the damage to your bill at the rental place! Spidey gets loose and get back to up the bridge, not yet knowing MJ saved him, and get doused with gas again for his troubles. As Smythe wails on the weakened Spidey, MJ gos nuts.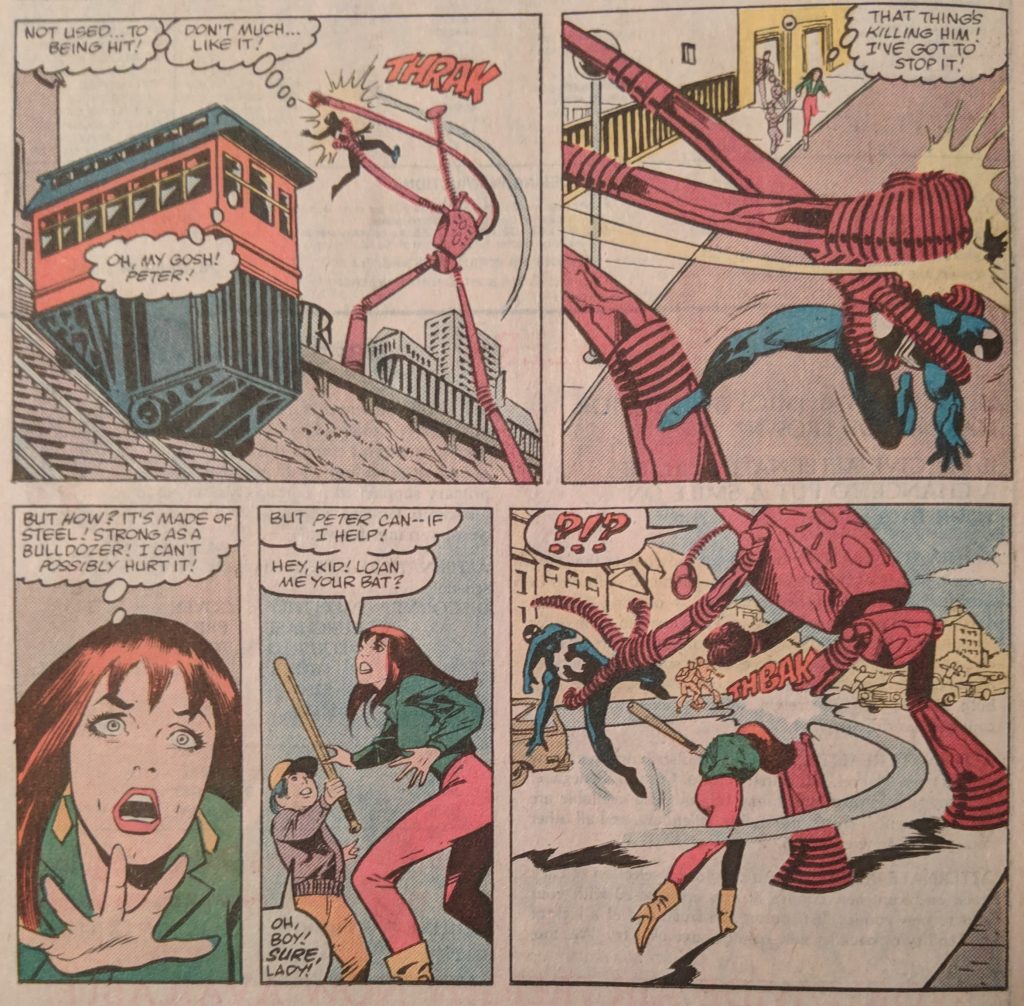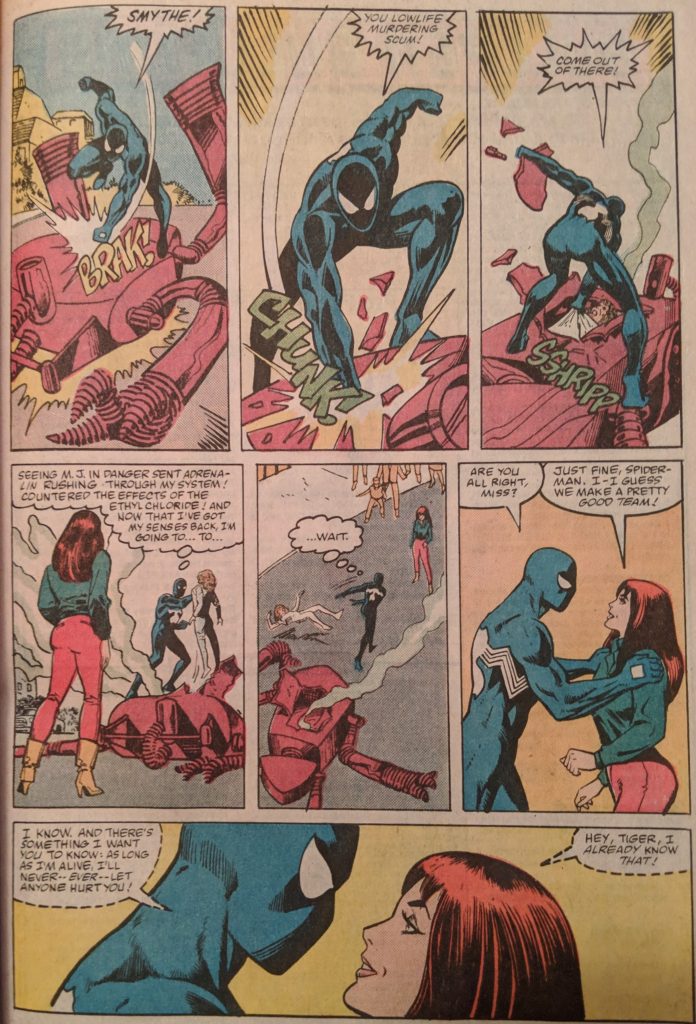 Ride or die! Smythe picks her up and threatens to kill her just as Spidey comes to, and well, that was a mistake. Smythe is well done with all this, and Spider-Man tells him he'll get the same treatment his robot just did if he ever threatens anyone again before taking off. MJ says she'll give a statement to the cops and then head back to her hotel so he knows where to meet her. Three hours later, the 2 of them return to Gayle's house so MJ can deliver the manuscript to her dad. Peter has decided he can't go along with this, and plans to put a tracer on Phillip so he can get him later.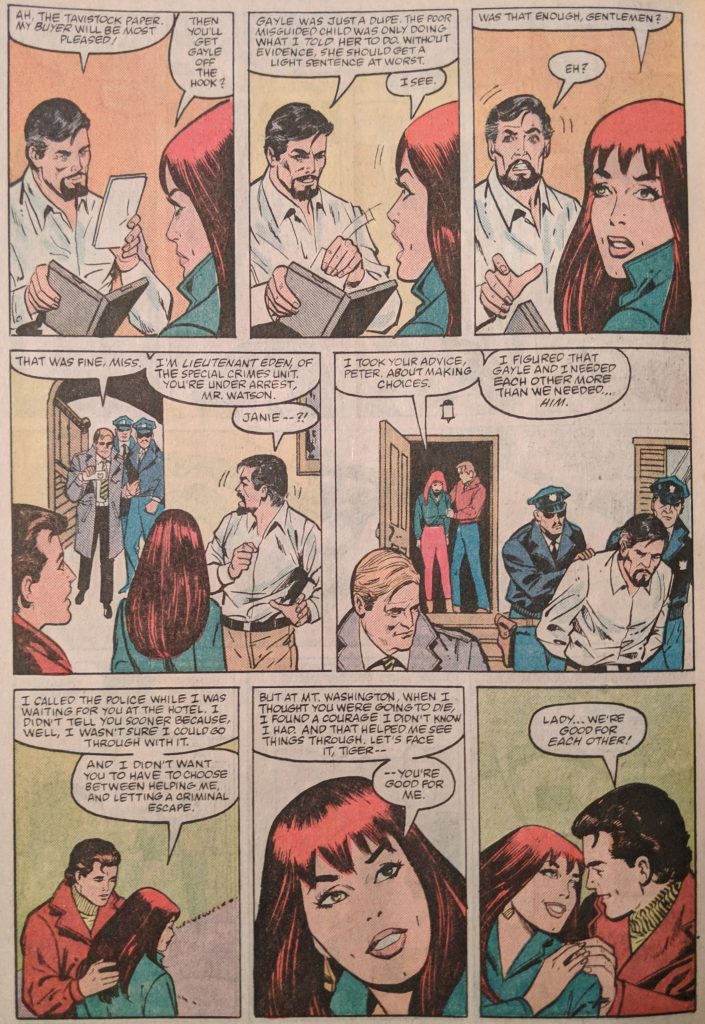 They're working a little too hard to sell you on this relationship, but I guess they didn't have much choice, really. Anyway…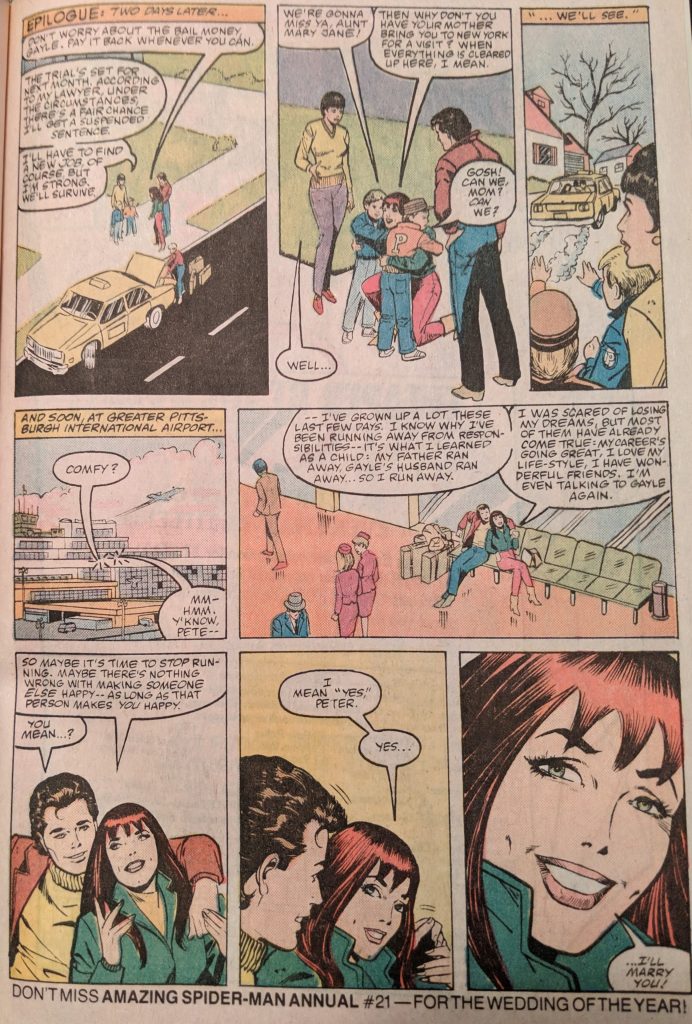 There you have it. After decades of ups and downs in their relationship, they're making it official. And we'll see it go down next time.

It's always kinda crazy to read ads for comic shops in old comics. In this one, Mile High Comics, the company with the worst website on Planet Earth, is selling back issues. You can get ASM 121 & 122 for $12.00 each. And these days, at least, Mile High is always way overpriced, so that was probably outrageous as recently as 1987. $12 for the death of Gwen. Crazy. I should fill out the form.