Certain people on the internet would have you believe this cover was from a failed Spider-Man movie or TV show, but don't be fooled, gang. Marvel did a whole bunch of photo covers as a fun stunt around this time, including this one. Here we have a classic example of a fill-in. Bob Layton writes & draws, Carlos Garzon inks, and Christie Scheele colors. I guess everybody needed a break after all the recent madness. The Amazing Spider-Man is swinging into Newark Airport as we get going. The President is arriving on Airforce One, and Robbie wants pictures. But Peter's not the only photographer in the building, there's also one DJ Jones, who we meet as his colleagues talk about what a scumbag he is  right before we see him steal a flight attendant's wallet.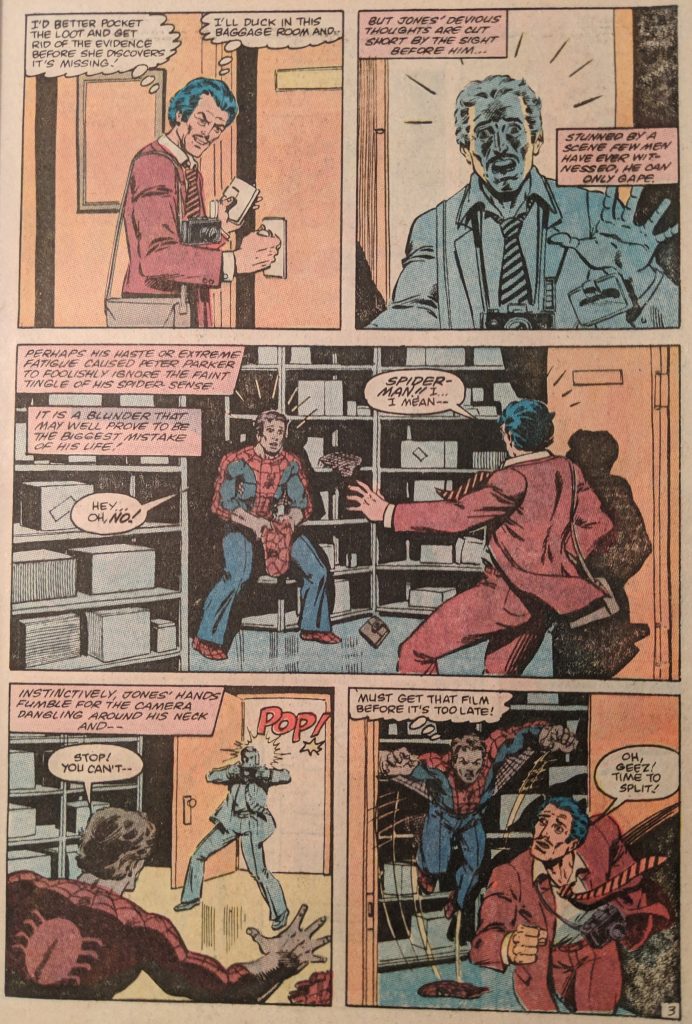 Just like the cover said! Jones gets a head start running for it as Peter has to duck back into the closet to finish changing clothes. As Spider-Man leaps into action, Jones leaps into a baggage return carousel, slides outside and then steals one of those carts they drive the luggage around on, hoping to escape Spidey on a famously slow vehicle. It doesn't work.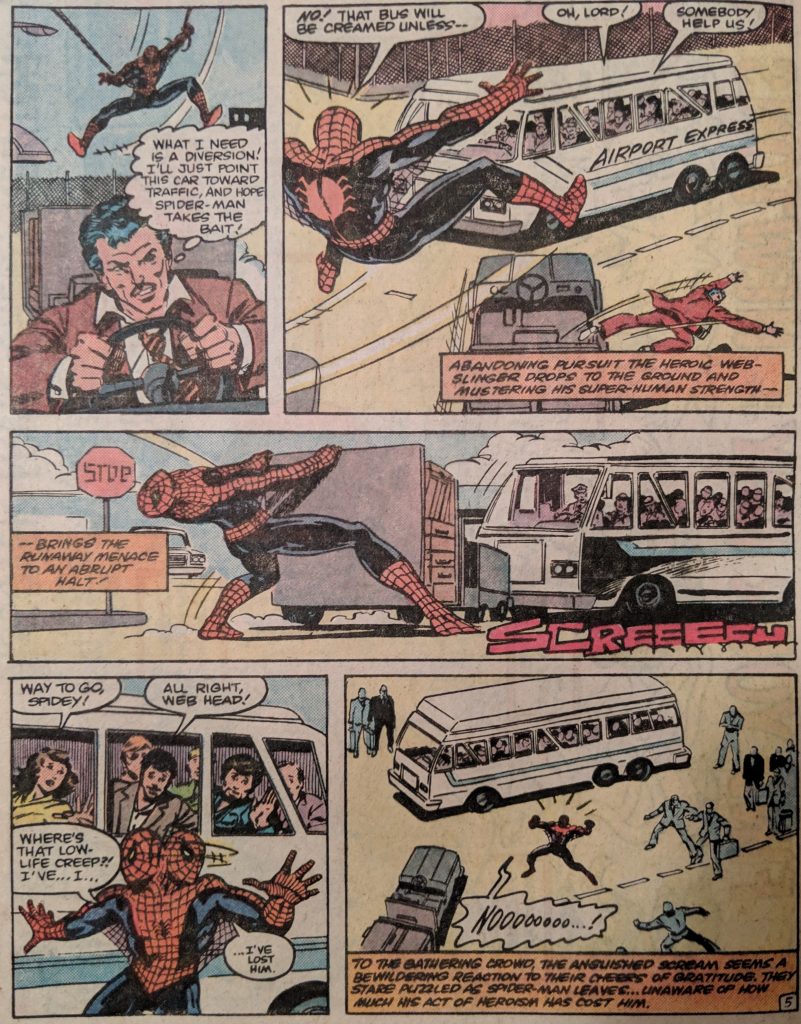 True to the ol' Parker luck, saving the bus allows Jones the time he needs to escape. Later, we watch both Jones and Peter sit and think. Jones is trying to decide how best to profit from his photo, while Peter worries about what Jones will do, and what he might do even if he catches him. Jones decides to go to a mob bar, while Peter goes where he always goes when he's in trouble: The Daily Bugle.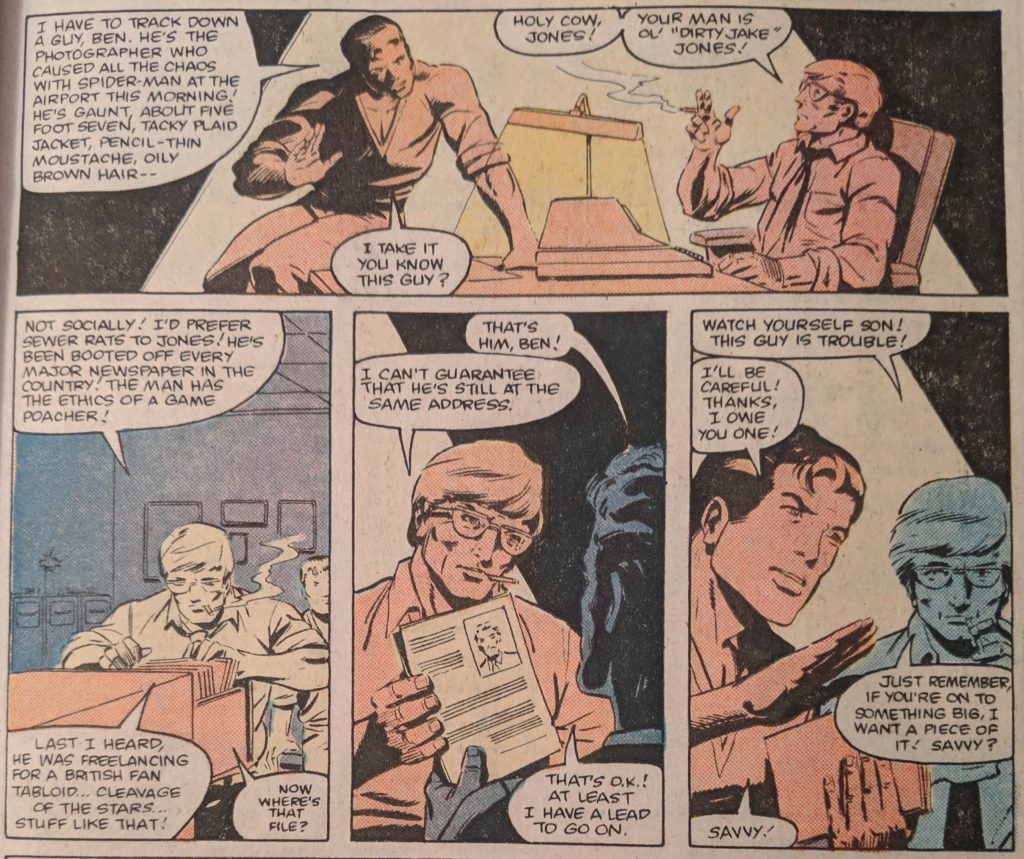 Elsewhere, Jones is trying to sell Spidey's ID to literally the first guy he sees in the mob bar, and a gang of goons quickly descends on him before he gets tossed out for his troubles by a dude literally named Bluto. However…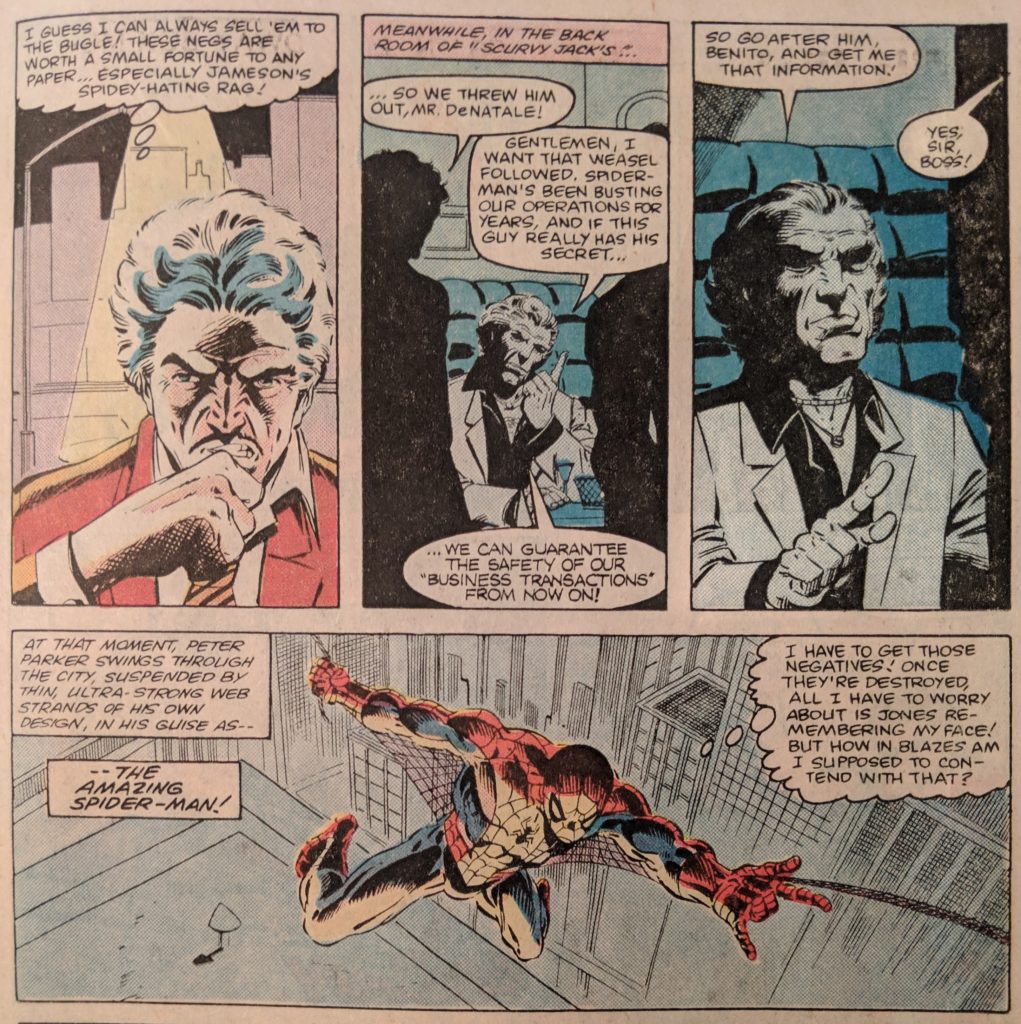 Jones goes home, only to find the same goons from the bar waiting for him. They offer him a deal: He gives them the info he has on Spider-Man, and they don't kill him. Bluto is counting down from 10 before he shoots, but…
As Spidey beats up all the goons, Jones escapes yet again. But now, DeNatale's mob thinks Jones set them up to fight Spider-Man, and they want blood. So, Spider-Man catches up to his fleeing prey just in time for a much larger gang of goons to corner him in an alley. Spidey thinks all he has to do is nothing, and his problems go away, flashes back to his origin just in case you didn't know his thoughts on letting crimes happen, and then dives in. With a wacky plan.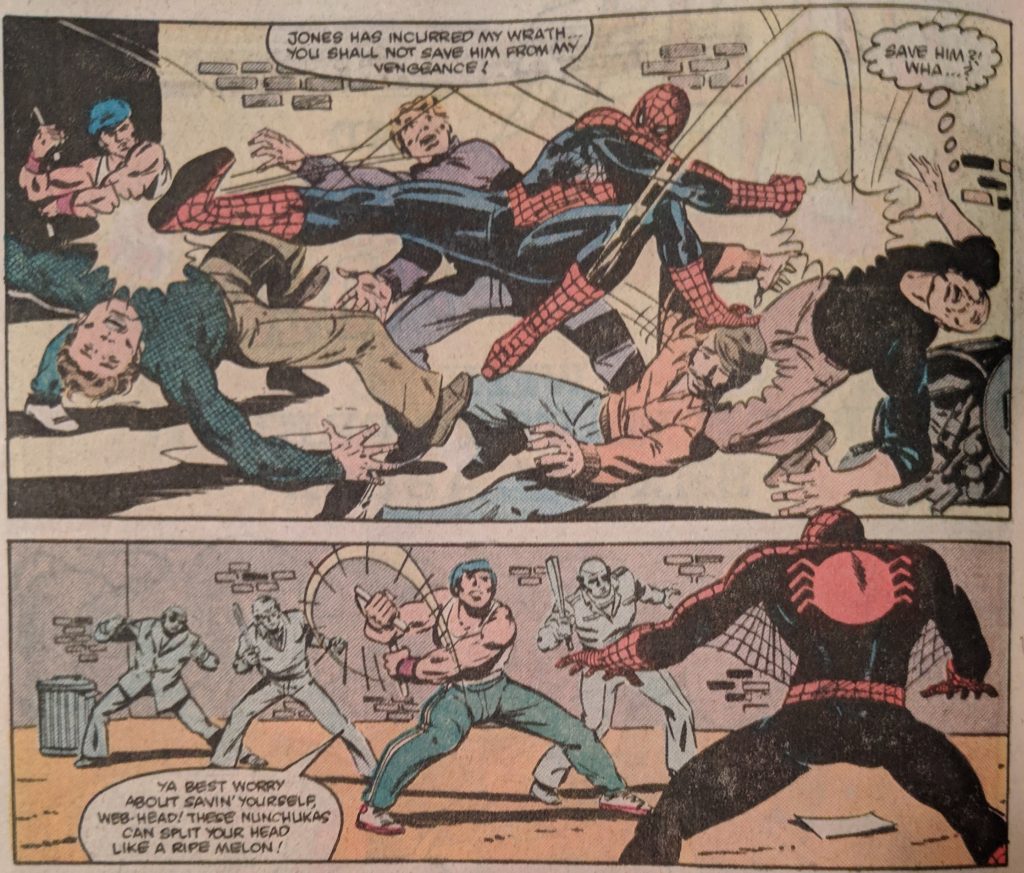 It's the 80s, man, all your mob goons have nunchucks now! Spidey just webs them and knocks dude out. It's kinda like that scene in Indiana Jones. Speaking of people named Jones, Spidey's attempt to make the goons think he's trying to kill DJ Jones is working too well on Jones himself, who is freaking out and tries to run for it. Spidey webs the end of the alleyway, and then starts laying it on thick, talking like a supervillain about vengeance and how humans are his prey as he leaps around the shadows, terrifying his victim.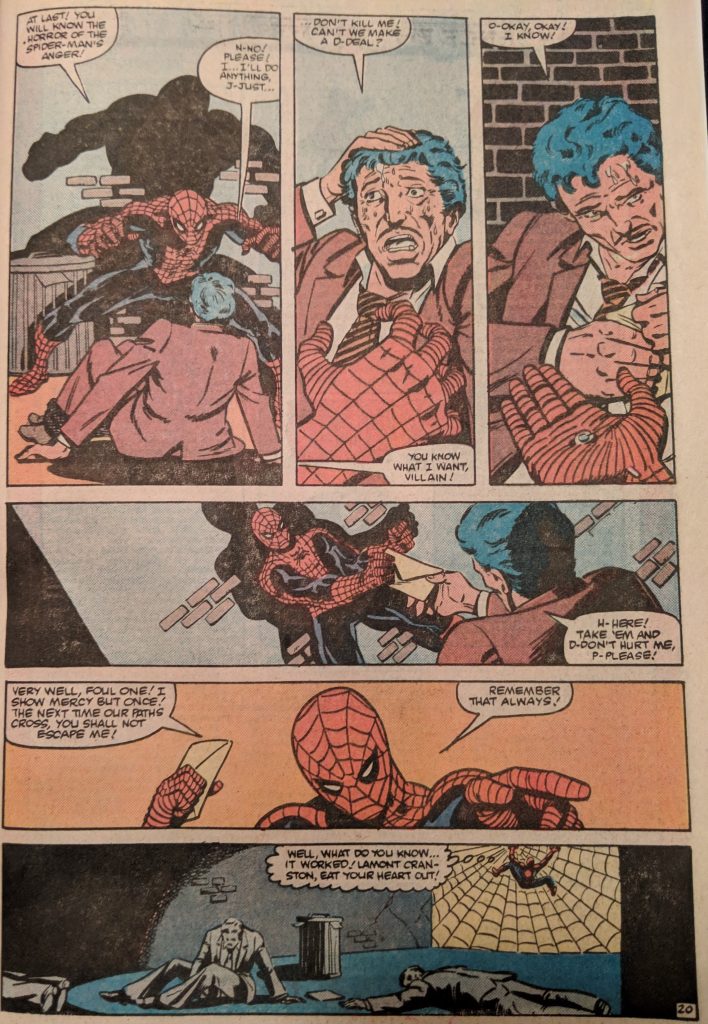 In an epilogue, Jones walks the streets of Manhattan, thinking he better leave town, but also thinking one day he should come back and try to figure out which of the millions of people who lives in New York is Spider-Man. I bet he doesn't, though. As fill-ins go, pretty fun. A novel idea and a fast-paced story, and Spidey getting to play the villain in the end is funny. In the letter page, still talking about ASM 255 (Man, that's out of date), one Y.L. Maeshiro says Ron Frenz is the best Spider-Man artist ever, describing him as a combination of Steve Ditko and Sal Buscema. I don't know what to say to that. It's an astute analysis of Frenz' art, and also evidence against him, not for him. Ah, well. Art's subjective, after all. This is our last ASM of this time period for now. Tune in next time for the big 100th issue of Spectacular Spider-Man!