Spider-Man makes his first appearance in MTU since losing the alien. I've got the publication timeline all out of whack now, for the record. This issue came out the same month as ASM 258, but like… 258 he loses the suit. 259 he has a long chat with MJ that clearly takes place at least a day later, getting the classic suit back out at the end to go hunt The Hobgoblin. Then he fights the Hobgoblin in 260 & 261. I figured that run of ASM had no room for other books, but in 260, he says it's been a week since 259, so I guess some of this stuff goes there. And that's not even getting into the trouble TAC has been causing. I don't know. I'm winging it. It has, at least, clearly been a bit since MTU 146 as this one gets rolling, brought to you by Cary Burkett, Greg LaRoque, Mike Esposito & Juilanna Ferriter. The captions make a point to let you know this is "one of the first" times Spidey's been out in the red & blues since losing the alien. Spidey thinks he's only just gotten up in the air today (Maybe this is him right after 259? What about TAC 96?) when his Spidey Sense goes off.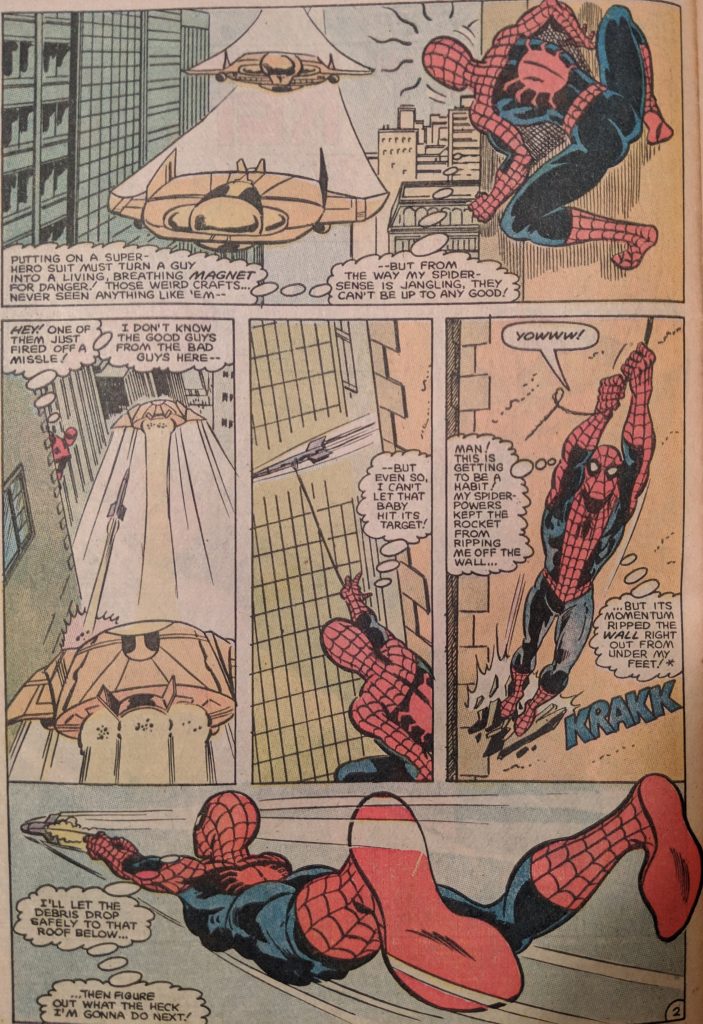 Spidey prevents the missile from hitting the other ship, but now he's being dragged all over Manhattan by it. Meanwhile, The Human Torch is moving into his new place.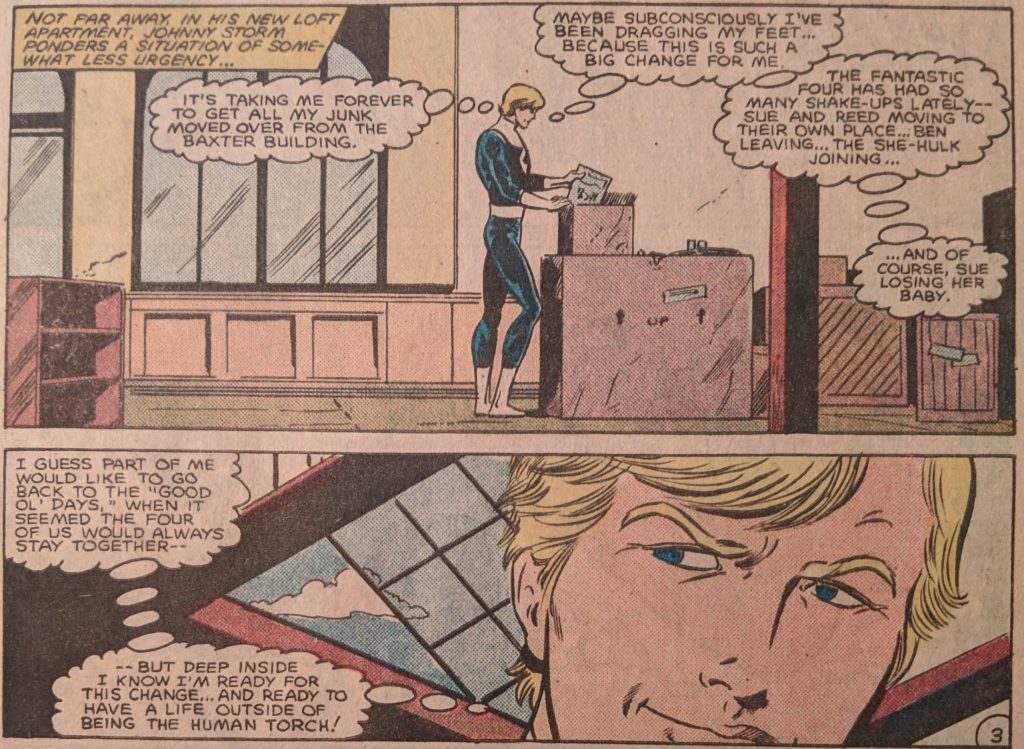 Got all that? A lot going on with the FF in their book. As it happens. Spider-Man manages to steer the missile into a water tower right out Johnny's window. The explosion knocks him out, so Johnny flies out to the rescue.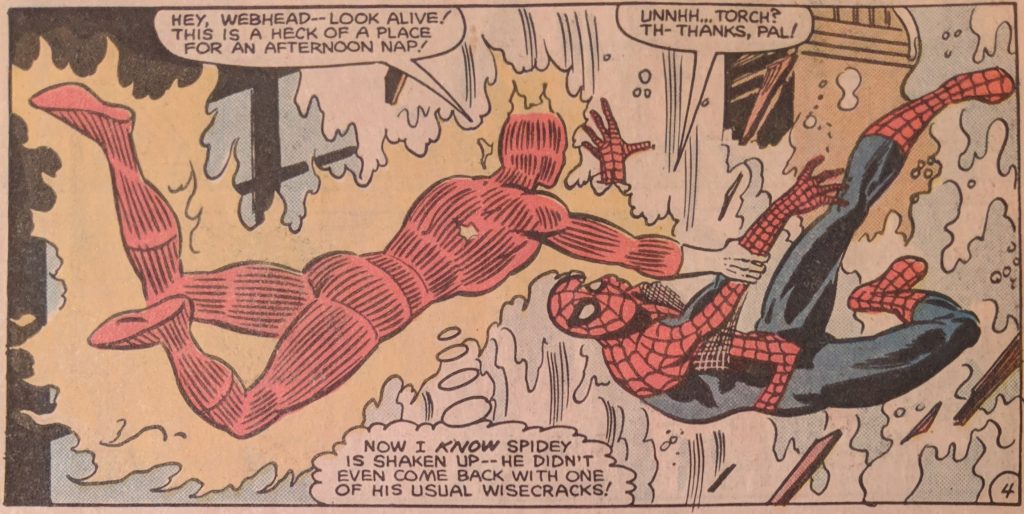 The two strange flying machines are still after each other above them, and a missile connects as our heroes watch. Torch flies up to try to rescue the pilot, while Spider-Man saves people below from being crushed by the out of control ship.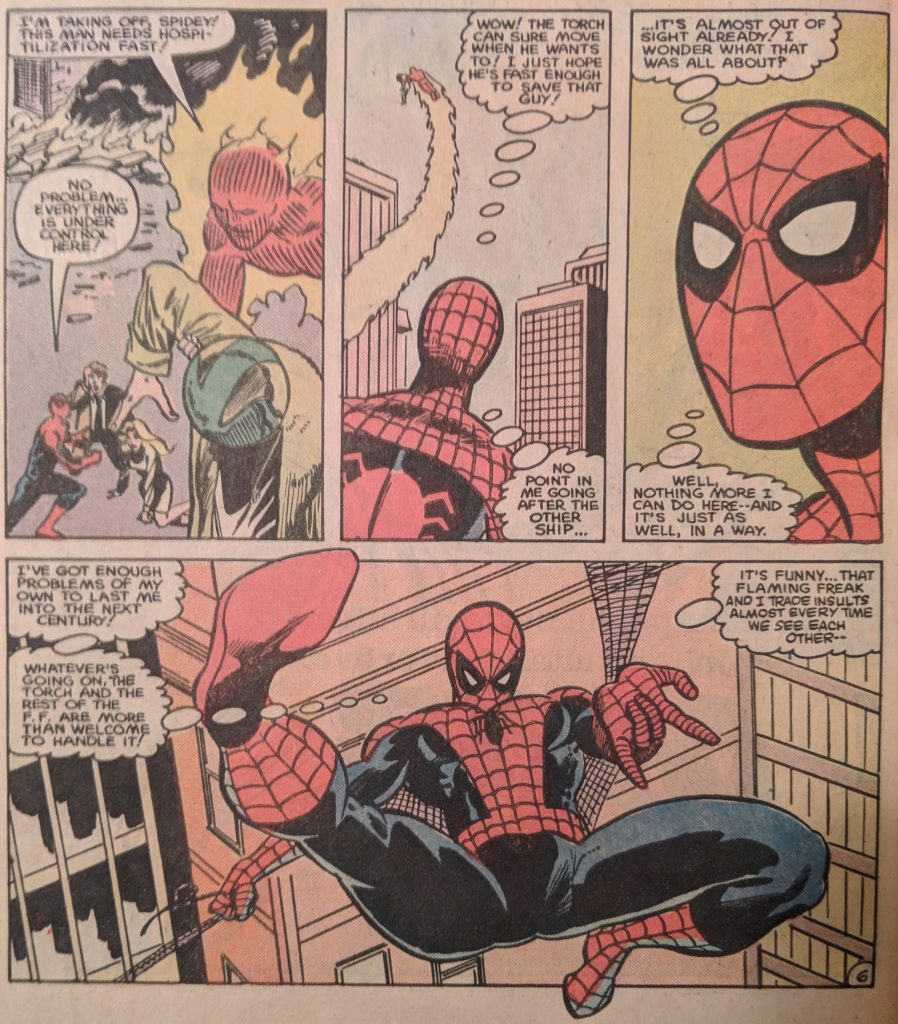 Spidey then recaps how he lost his suit in case you don't read ASM, and then recaps how Torch inspired him to defeat Dr. Octopus in ASM 3, for some reason, as he swings home and puts on a robe to relax (This guy loves robes!). But he soon has a visitor, a Mr. Abbott of the World Peace Association, who sets off his Spider Sense.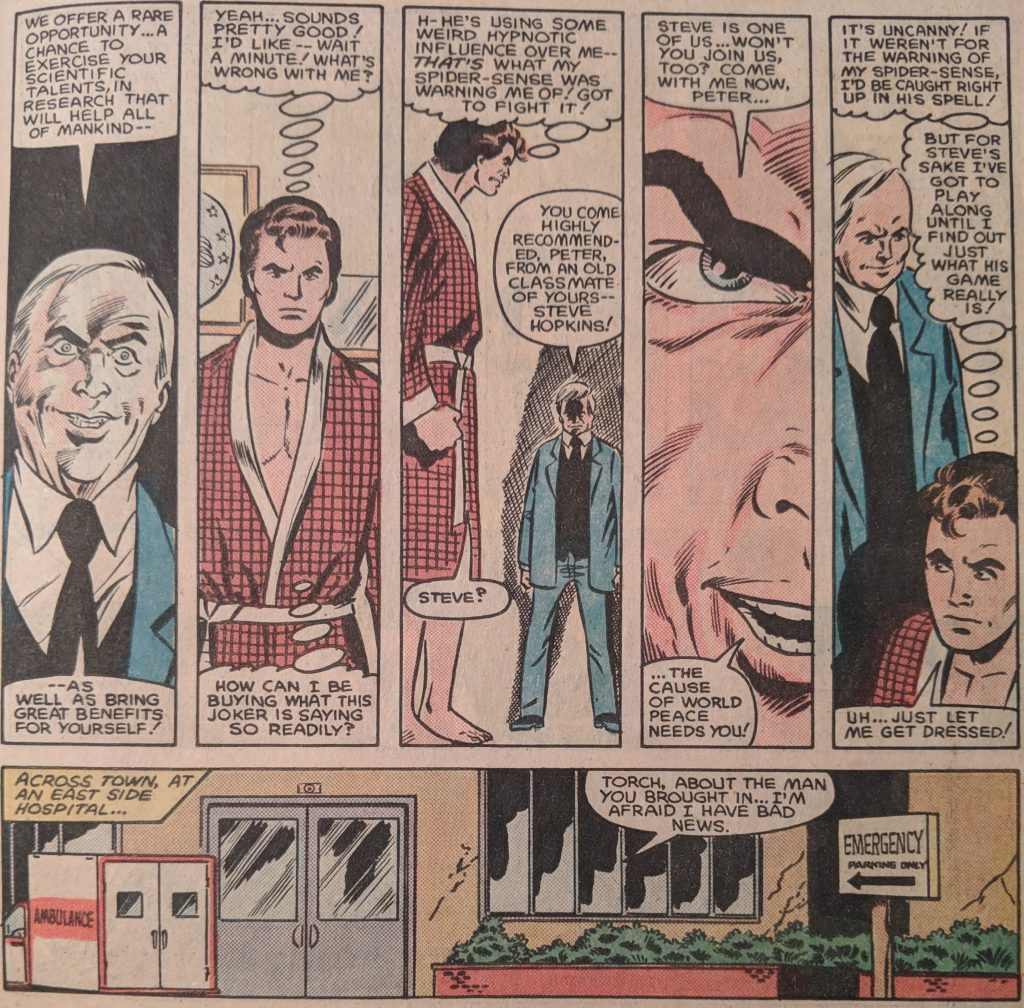 Steve Hopkins! We haven't gotten to see him in awhile. I hope he makes it out of this ok. As Peter plays along, we catch up with Johnny, who's at the hospital. He's told the guy he saved isn't gonna make it, but is asking for him.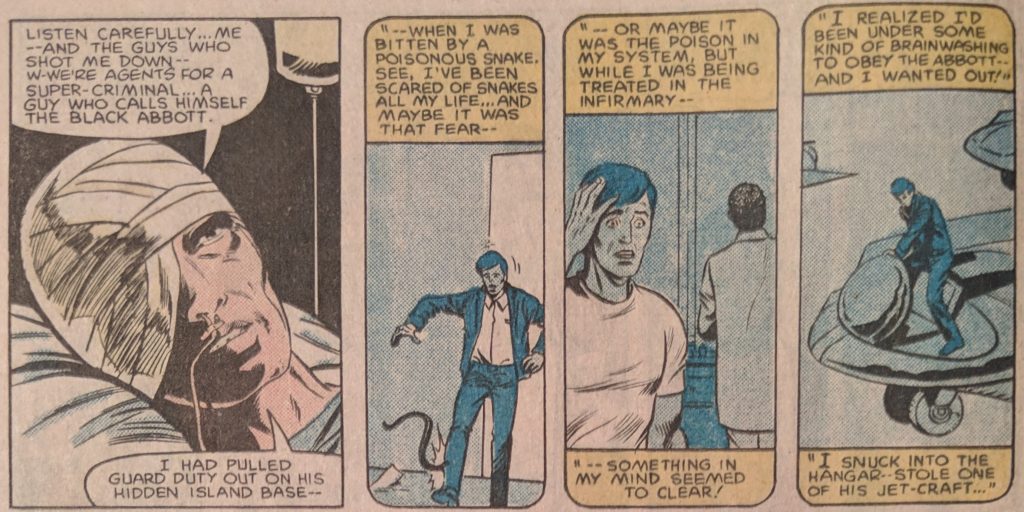 He tells Johnny The Abbott is planning a raid on Ryker's Island, and while he gets the details, we turn to a dome-shaped building on an island off the coast of New Jersey, where Peter Parker is learning that all the people The Abbott has brainwashed are working on "a device to bring peace to our troubled world."
Right about then, The Torch reaches the island thanks to the intel he got from ol' dude. He takes out a guard, but is seen on camera by The Black Abbott, who dispatches some goons who are surprisingly effective.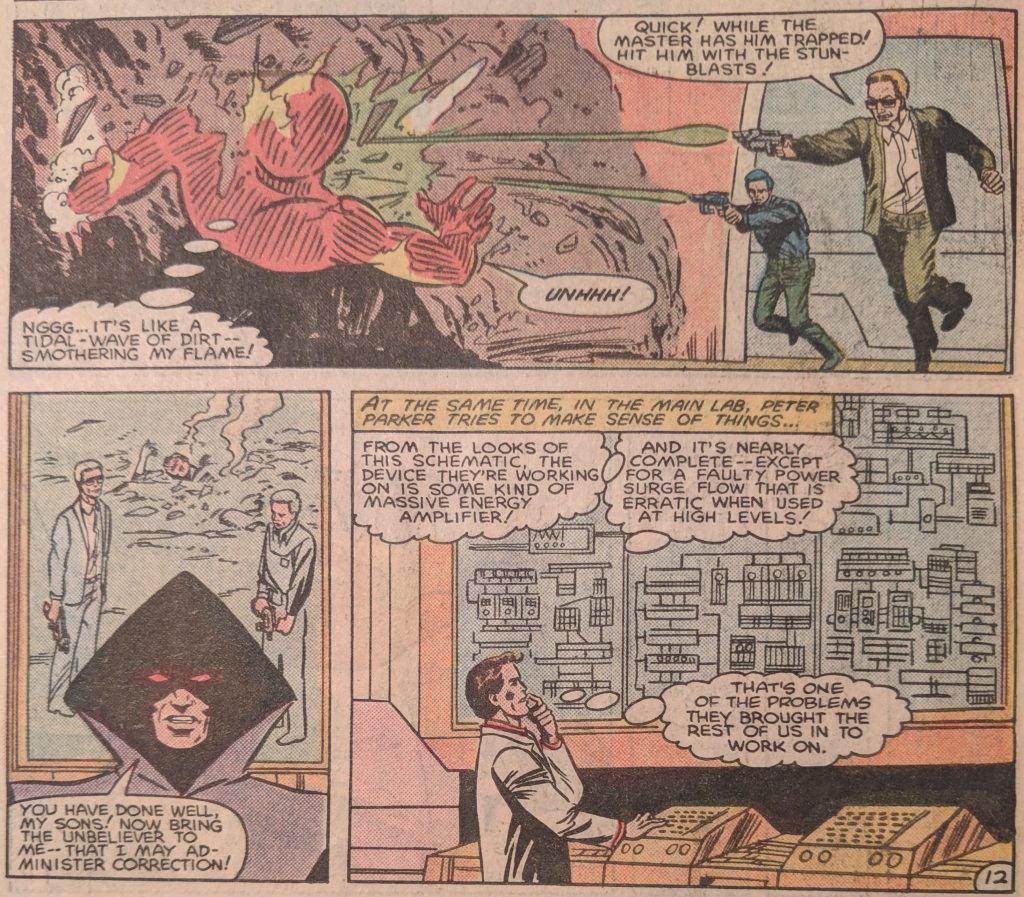 Peter causes a power outage as a distraction and slips away to get into his work clothes, while elsewhere in the compound, The Black Abbott prepares to use a small prototype of his device on the Torch. It's a device to amplify his mind control powers, of course. Spider-Man sees this happening when he stumbles on the control room for the security cameras, and threatens the guard to tell him where that's going down. Meanwhile, The Abbott has finished brainwashing Torch so he won't interfere with the plan to raid Ryker's and brainwash the murderers inside.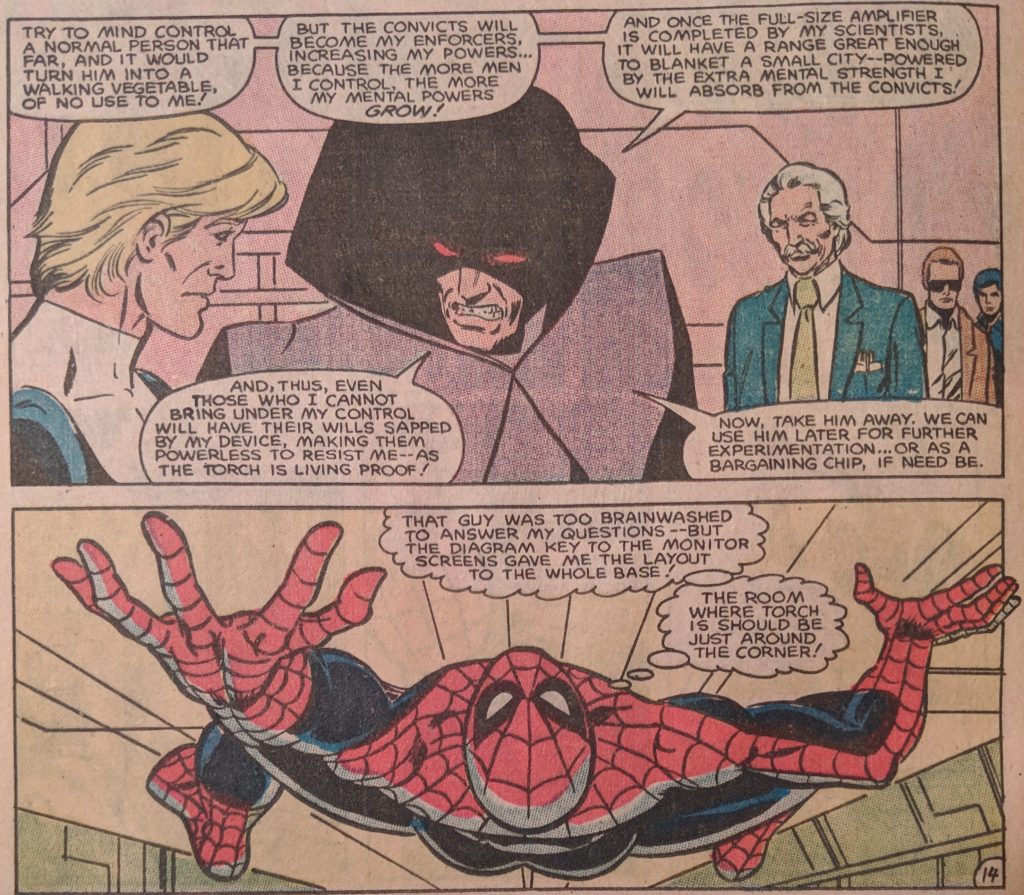 Spidey happens upon the guards leading Torch away and takes them out, but Johnny's so brainwashed he just stands there. So Spider-Man uses the only tool available, and lets loose a string of insults until anger overcomes Johnny's hypnosis. His last dig is his most vicious, saying it's a good thing Sue lost her child so it wouldn't have to grow up with Johnny as an uncle.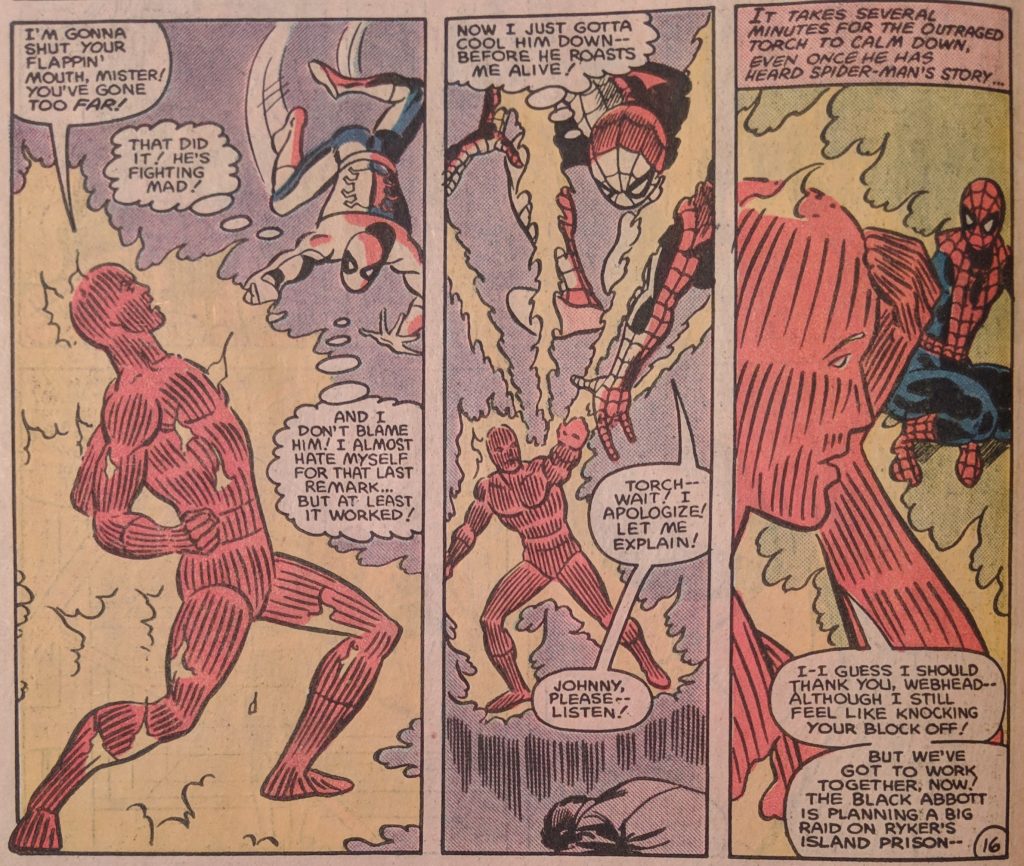 Three panels has to be a new record for the traditional hero vs. hero fight, and then our guys rush off to the Black Abbott's aircraft hangar, where a small army is ready to assault the prison.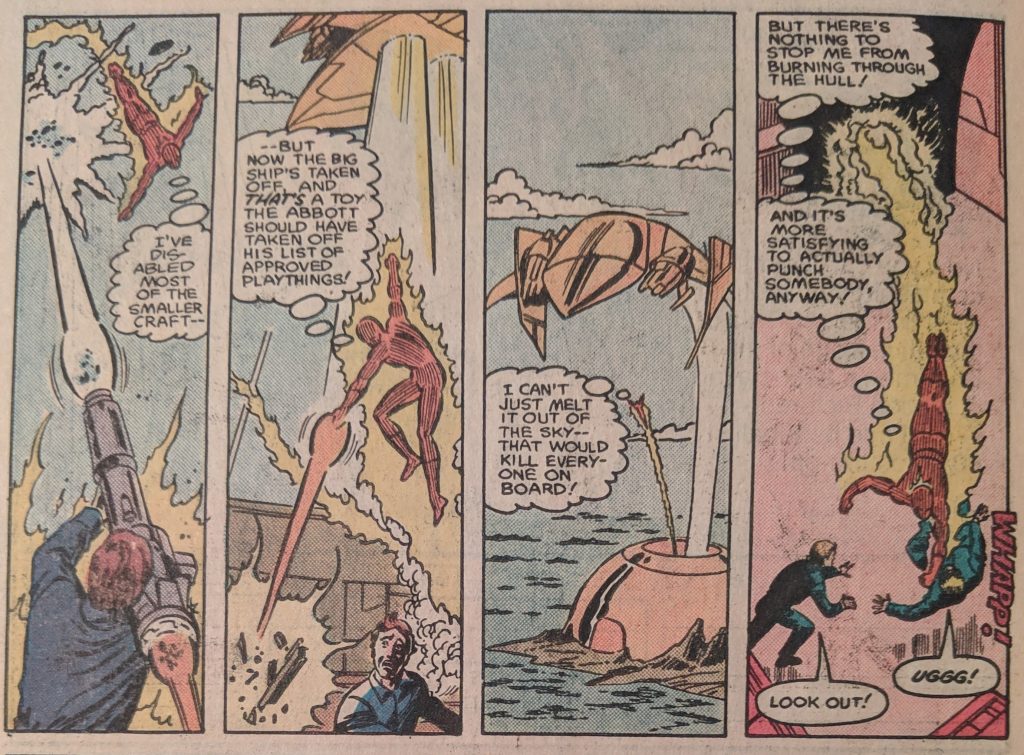 Torch starts burning the ships, and after an explosion from a blown fuel tank, The Black Abbott beats a hasty retreat.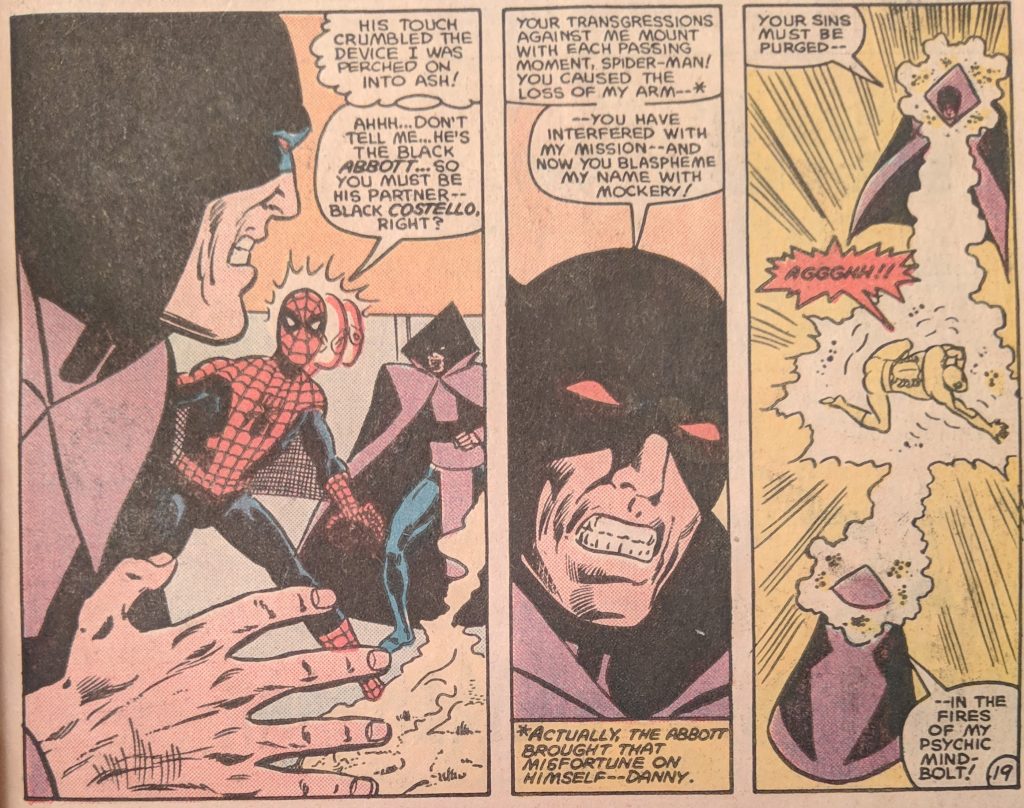 The Torch gets taken down by "an industrial fire extinguisher," though, as we cut to Spider-Man catching up to the fleeing Abbott. He tries his hypnosis again and once again almost pulls it off, and then a 2nd Black Abbott appears. What?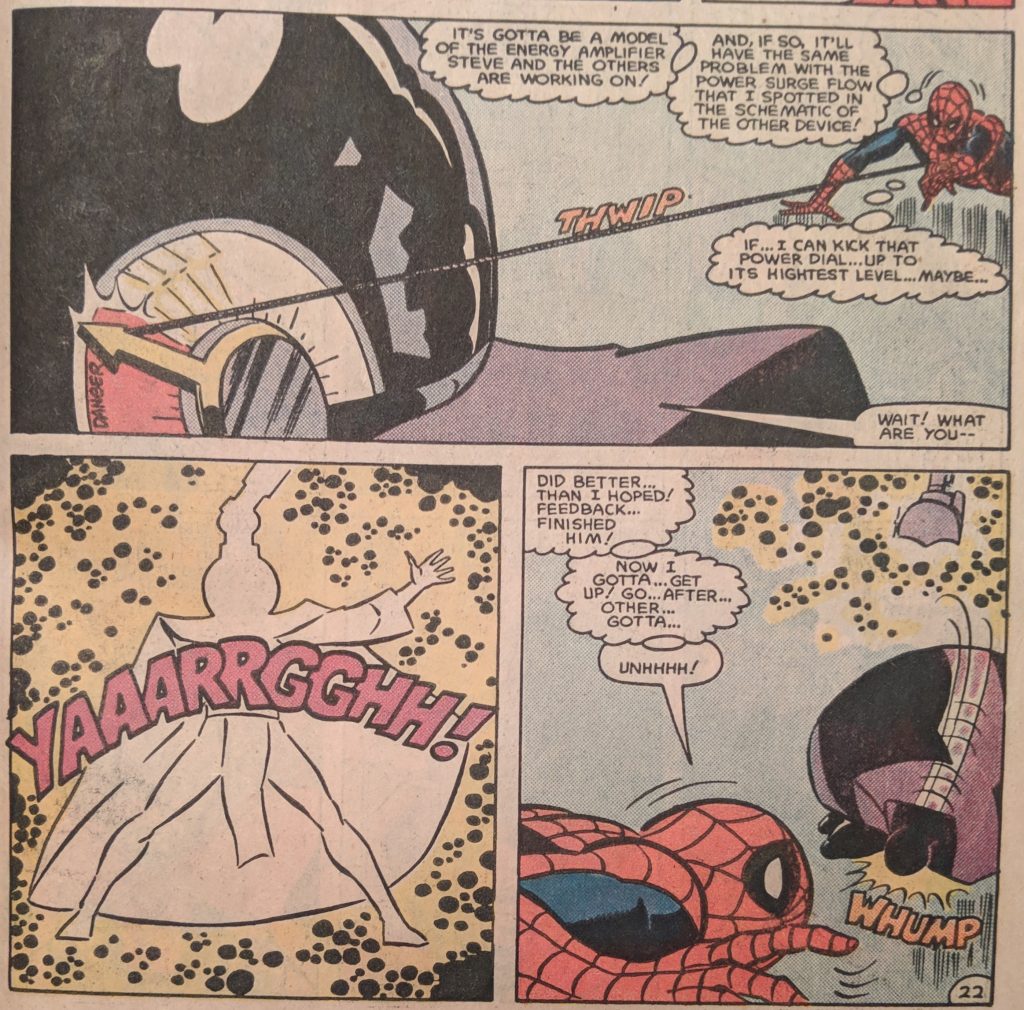 So, Spidey's in trouble, Torch is in trouble, and this issue is almost over! How can they wrap this up? Well, Johnny manages to just fight some dudes, no fire needed, and then dives out of the ship after regaining his flame to destroy it (Don't worry, the dudes inside all parachuted out). Back at the base, the Black Abbott(s?) decide to use their smaller machine to wipe Spidey's brain and make him a slave, as one leaves to evacuate the operation while the other sticks around to finish Spidey off.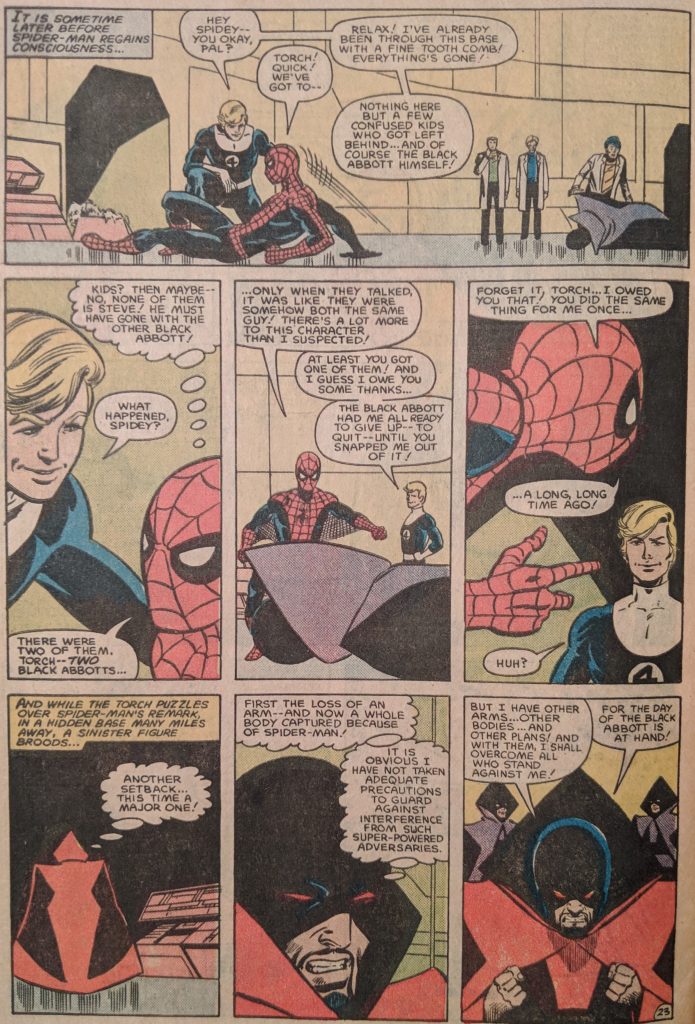 There sure are a lot of this Black Abbott guy. He's a pretty good villain design, I wonder if he ever showed up anywhere else? Aside from the next issue of Team-Up, that is, where he's apparently gonna square off with Spidey & Thor. Surprisingly, the last page of this issue reprints 6 panels from ASM 258 of the alien suit trying to break out of its prison, just to make sure we're all on the same page, I guess? That's odd.