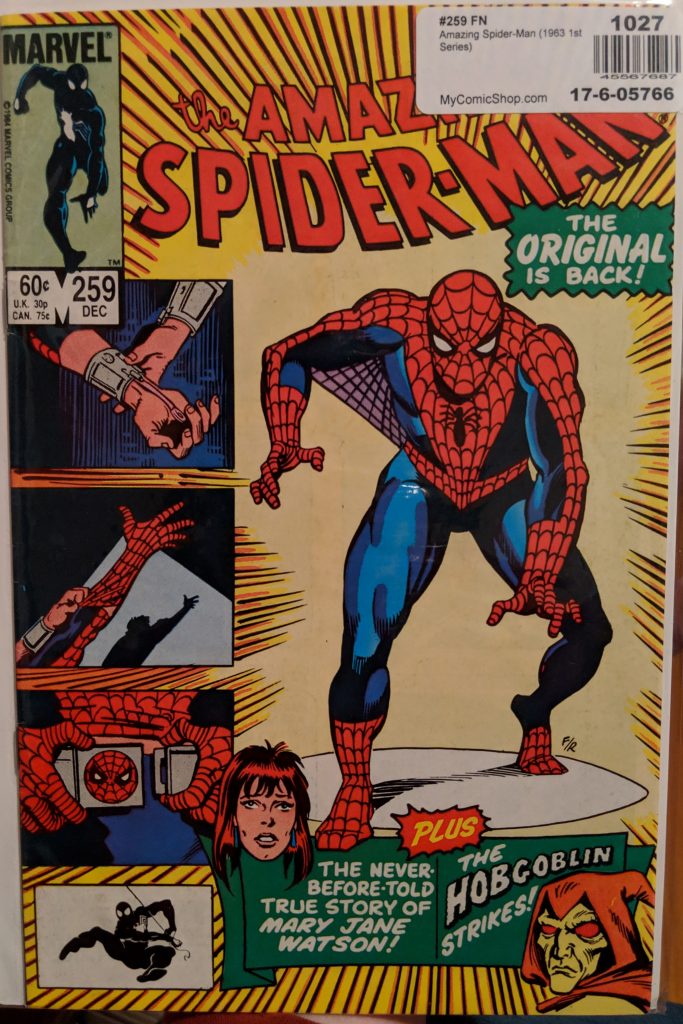 Back on MTU 140, I said I had 2 beefs with Ron Frenz, but only described one. The 2nd one wouldn't be completely obvious until now. He draws just like Sal Buscema… except for Spider-Man, for whom he does a Steve Ditko impression. It feels weird and vaguely disrespectful to just ape the original master. He was sort of doing it with the black suit, but it was obviously harder to tell that way. He did Ditko's thunderthighs, Ditko-style fight choreography, and even Ditko's little "bop" punch effect, but it was harder to compare without the classic outfit. It's coming back, though, so it'll be obvious for a bit. But not yet, because as promised last issue, it's time for A Real Adult Conversation!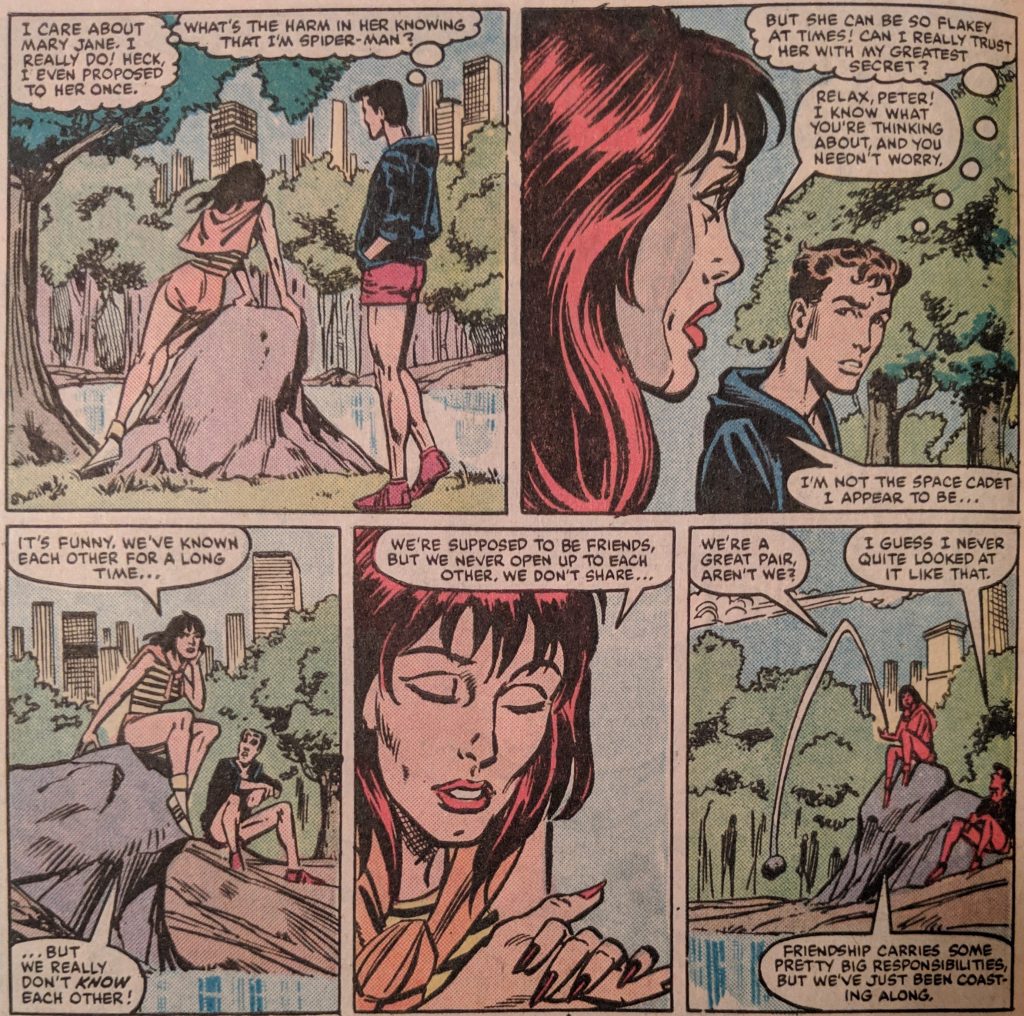 MJ has a point. The ladies of Spider-Man (And most other comics) weren't exactly fleshed out, 3D characters in the old days, and MJ hadn't been a major player for 4 years until Roger Stern brought her back (and then she vanished for another 6 months when the new team came on). Now she's back, in an era with somewhat more realistic writing, and her days of being a ditzy party girl with rare moments of real humanity are over. That begins with telling Peter her backstory, which incredibly, has never been explored. This is 1984! MJ has been a character for damn near 20 years and all we know about her life, family and history is she has an aunt named Anna. She tells him her parents met in college, and her Mom wanted to move to New York to be an actor, but her dad insisted they stay in their small town because he had a teaching job.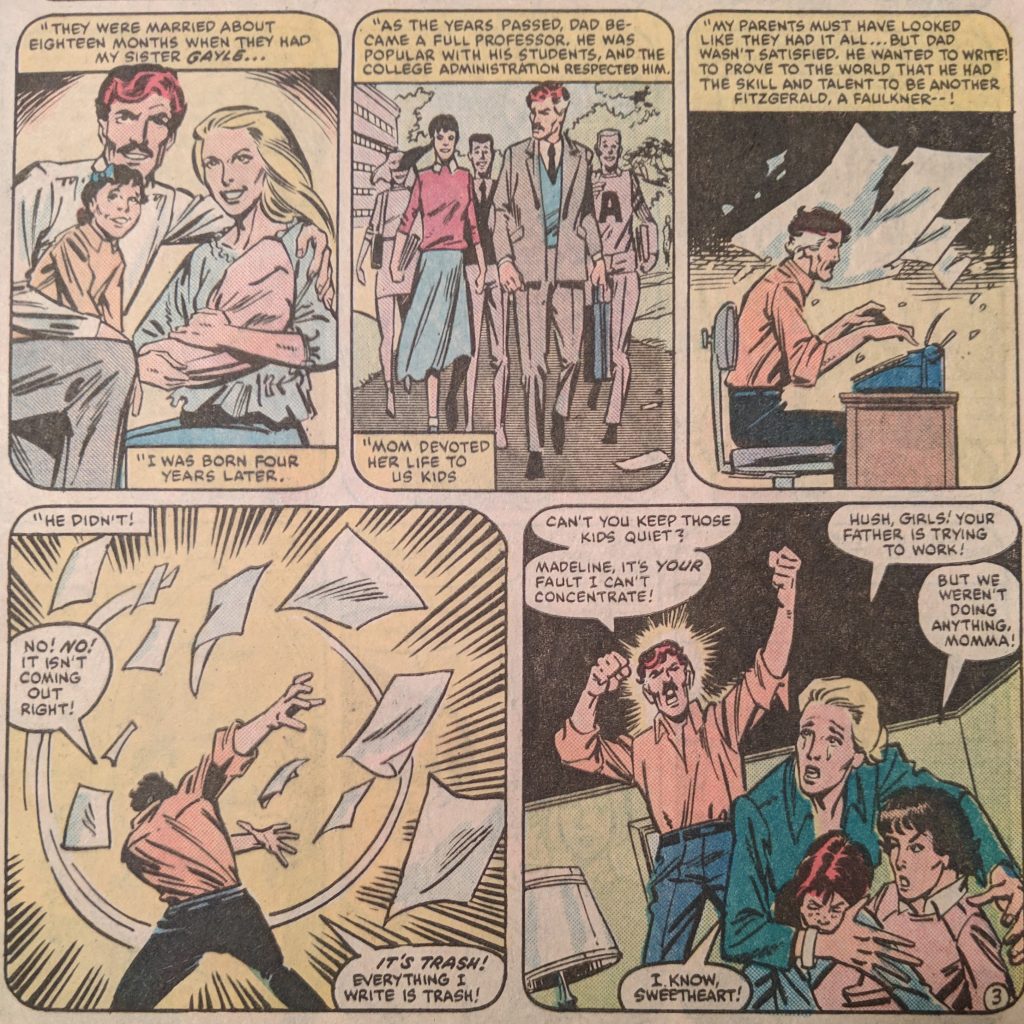 Comics are full of bad dads, and they really proliferated in the 80s. This is about when The Hulk suddenly became the product of an abusive father, also, if memory serves, and it seems like every single villain started getting an abusive father backstory, too. Dad started moving the family from town to town and job to job, which made it hard for MJ to make friends, so she became a class clown and started developing her big personality to cope, while her sister got serious about studying dance.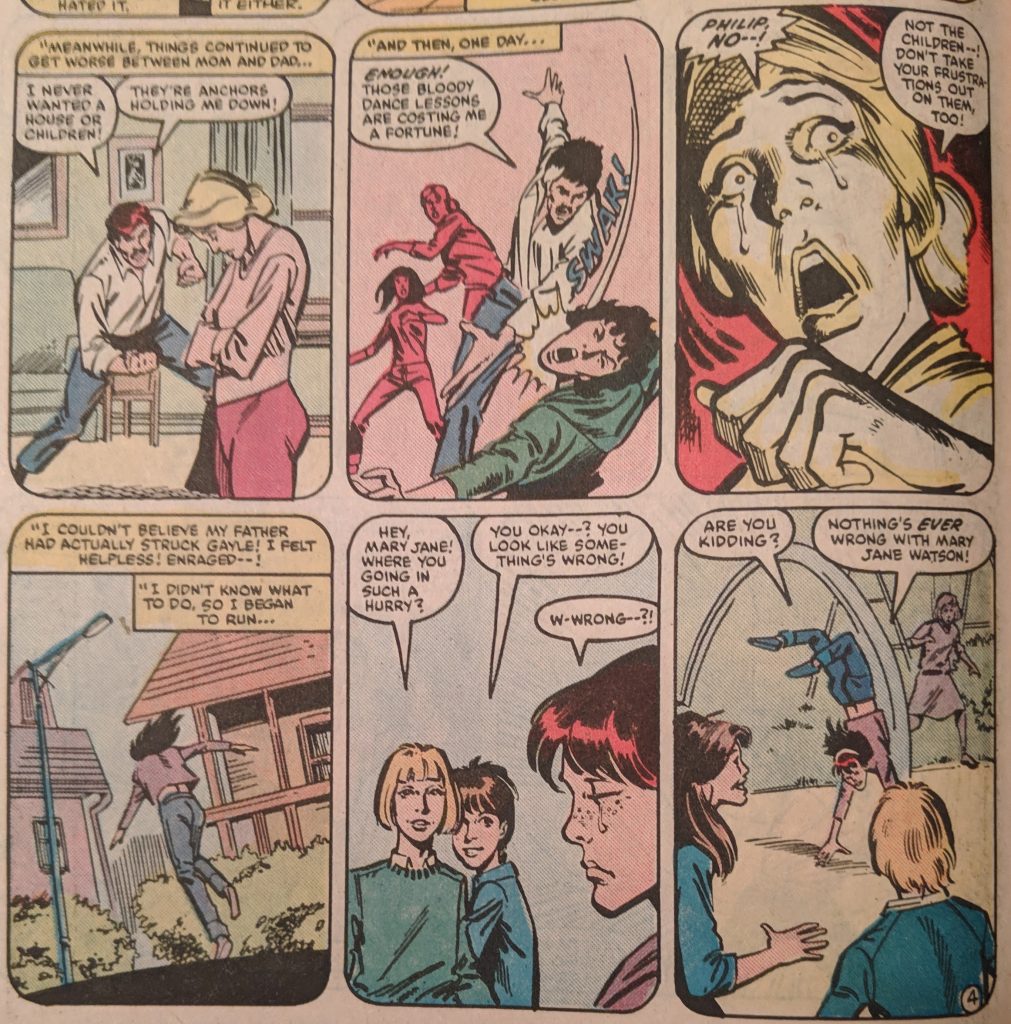 And so was born Mary Jane Watson, the girl who never has a bad day. Her Mom finally left her dad, taking her & Gayle and fleeing while he was being honored by his college. After a messy divorce, MJ & her family lived with different relatives around the country because they didn't have much money, but they were mostly resentful.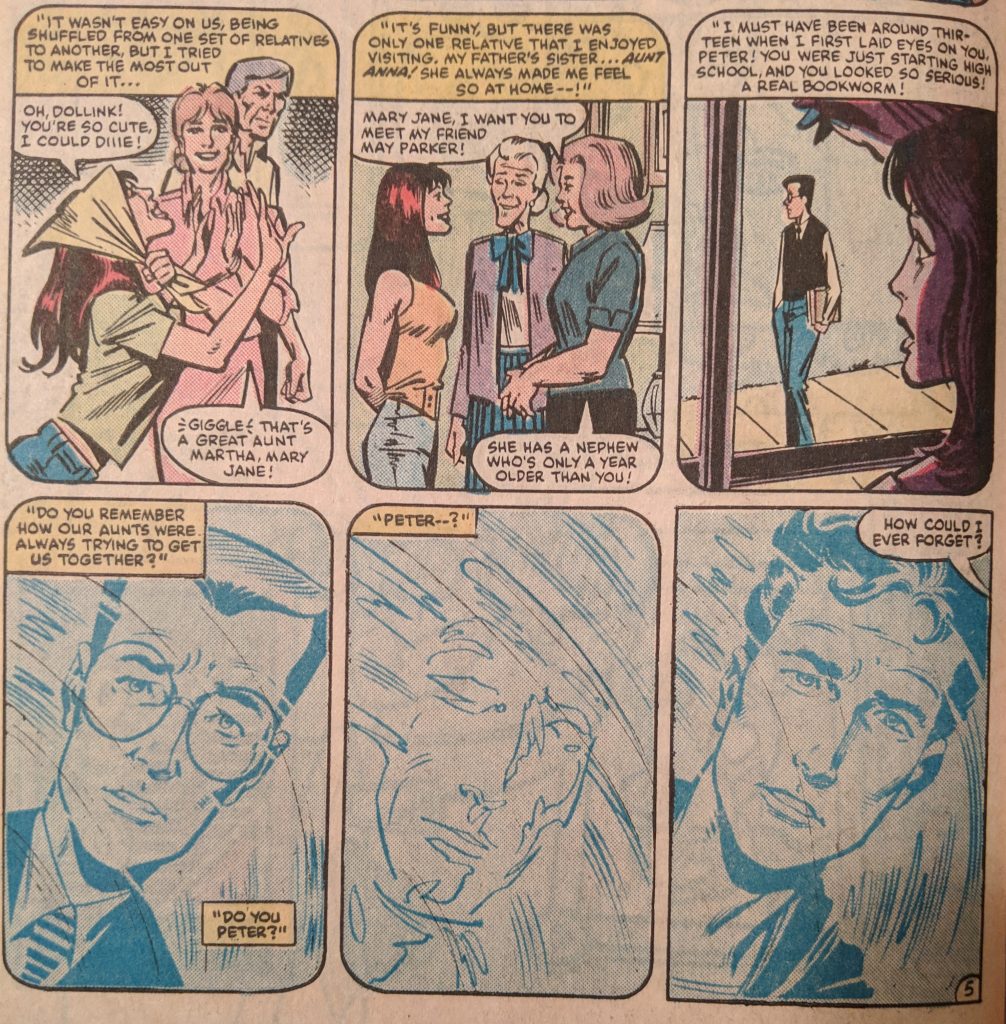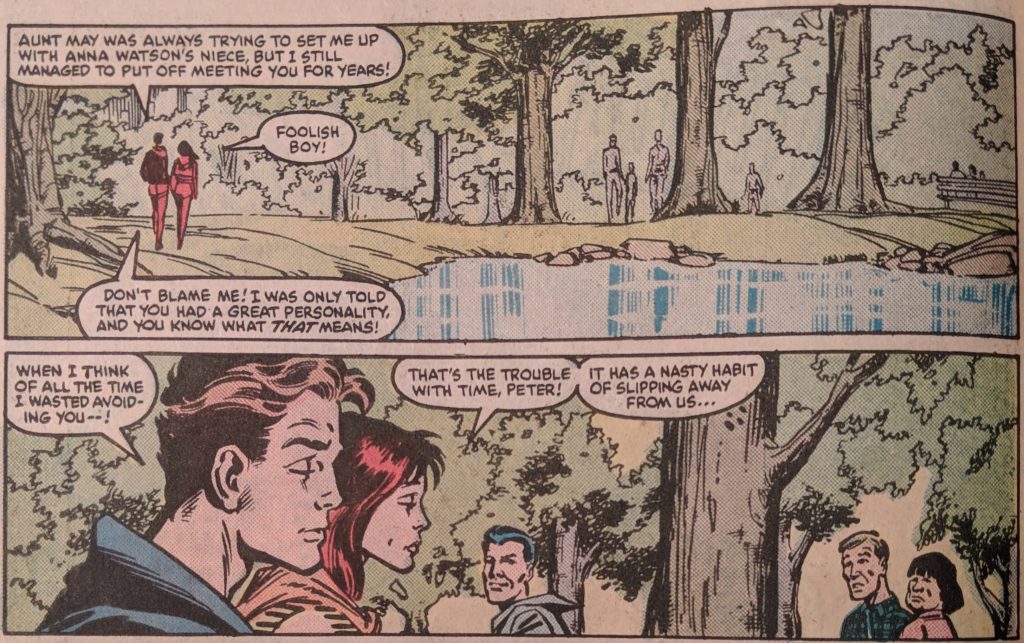 As they continue to revisit the past, we shift our focus elsewhere, because even though this issue's focus is a Real Adult Conversation, this is a superhero comic, so something's gotta blow up. In this case, the side of an illicit casino housed in some old train cars.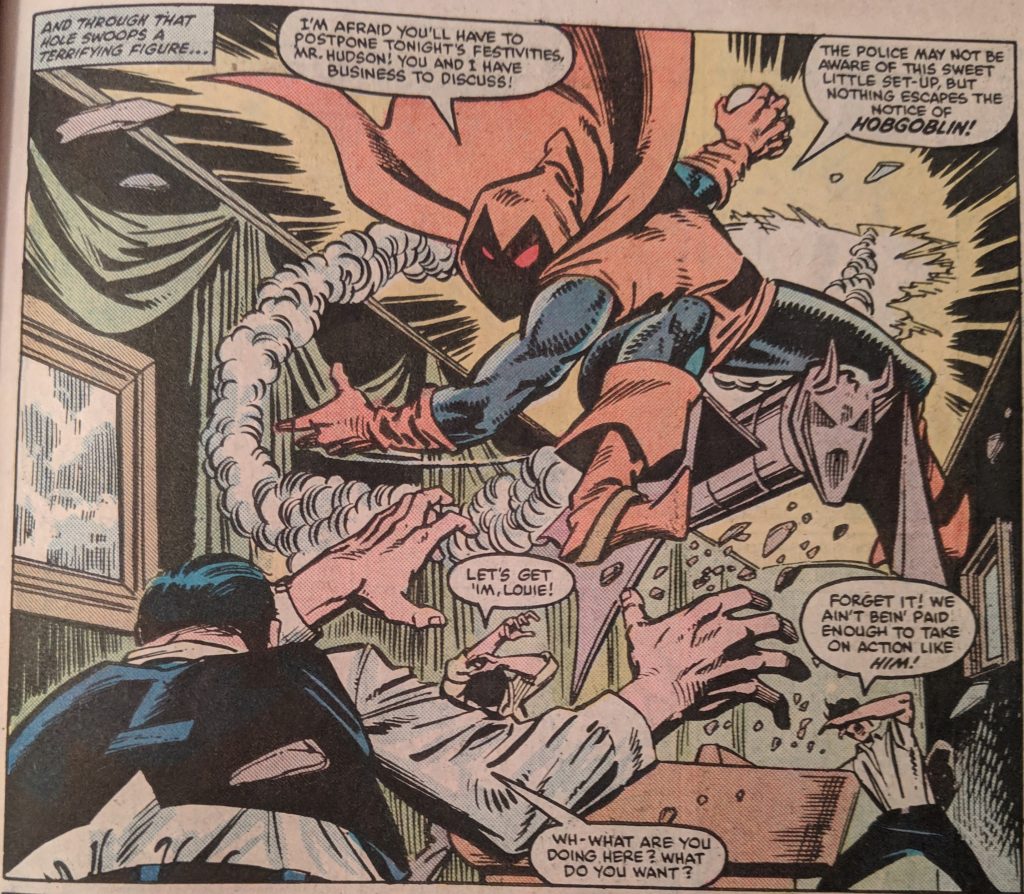 Hobby cuts himself in for 10% of this operation, even though Hudson says he's already giving Kingpin a cut. But Hobgoblin says he'll make life miserable for Hudson and his patrons if he doesn't get what he wants, and just leaves. He makes a good argument. Back in the park, Peter asks MJ what happened to her dad. She says he lives in Oregon, but they have no contact. She tried to write him a few times, but got no answer. Meanwhile, she and the rest of her family found a more permanent home with her Mom's cousin, a Frank Brown, who let them live with him as long as her Mom would take care of his 3 kids. Having some stability improved their lives, and her sister Gayle flourished as a dancer and dated the captain of the football team and all that.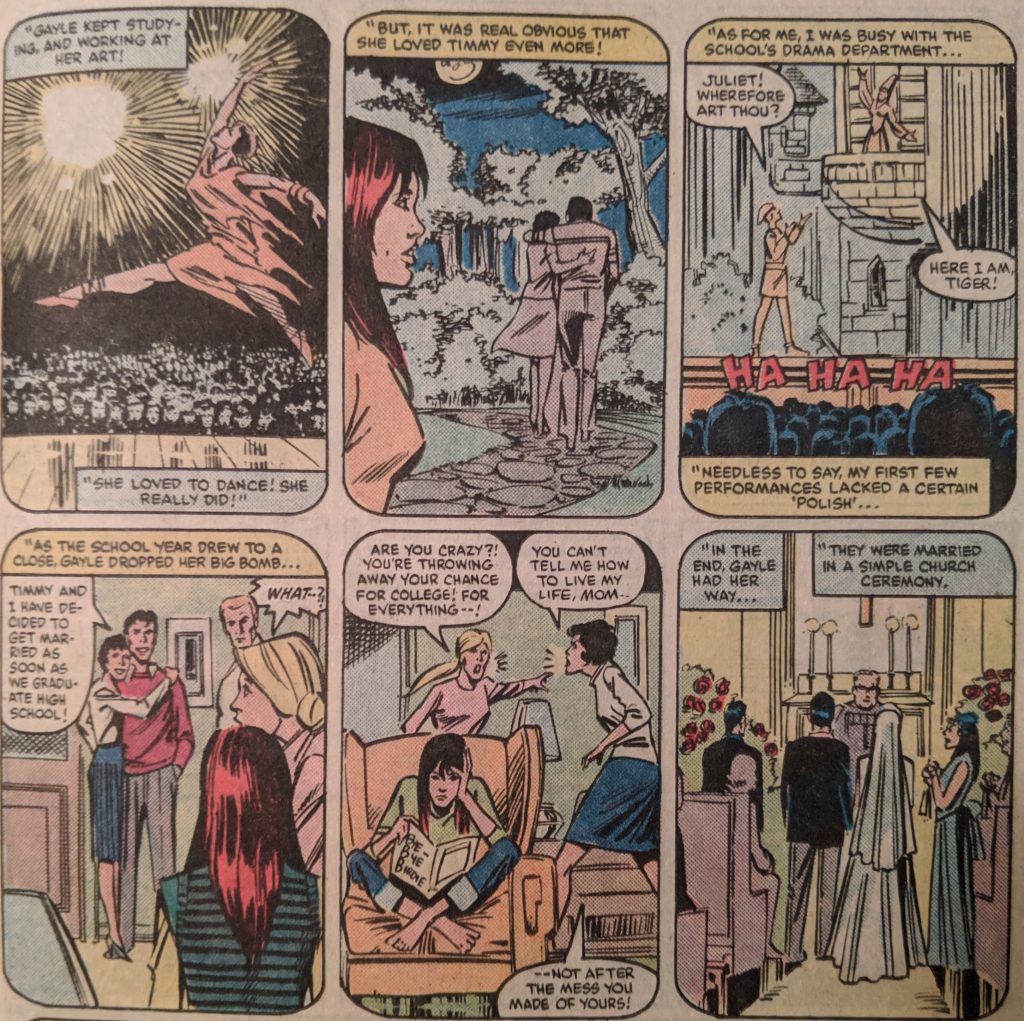 I just really love that panel of the play. Gayle & Timmy moved away, while MJ kept acting and got pretty good at it. Then Gayle had a kid, still in her late teens, and her husband didn't seem too happy about it, seeming "like a desperate caged animal…"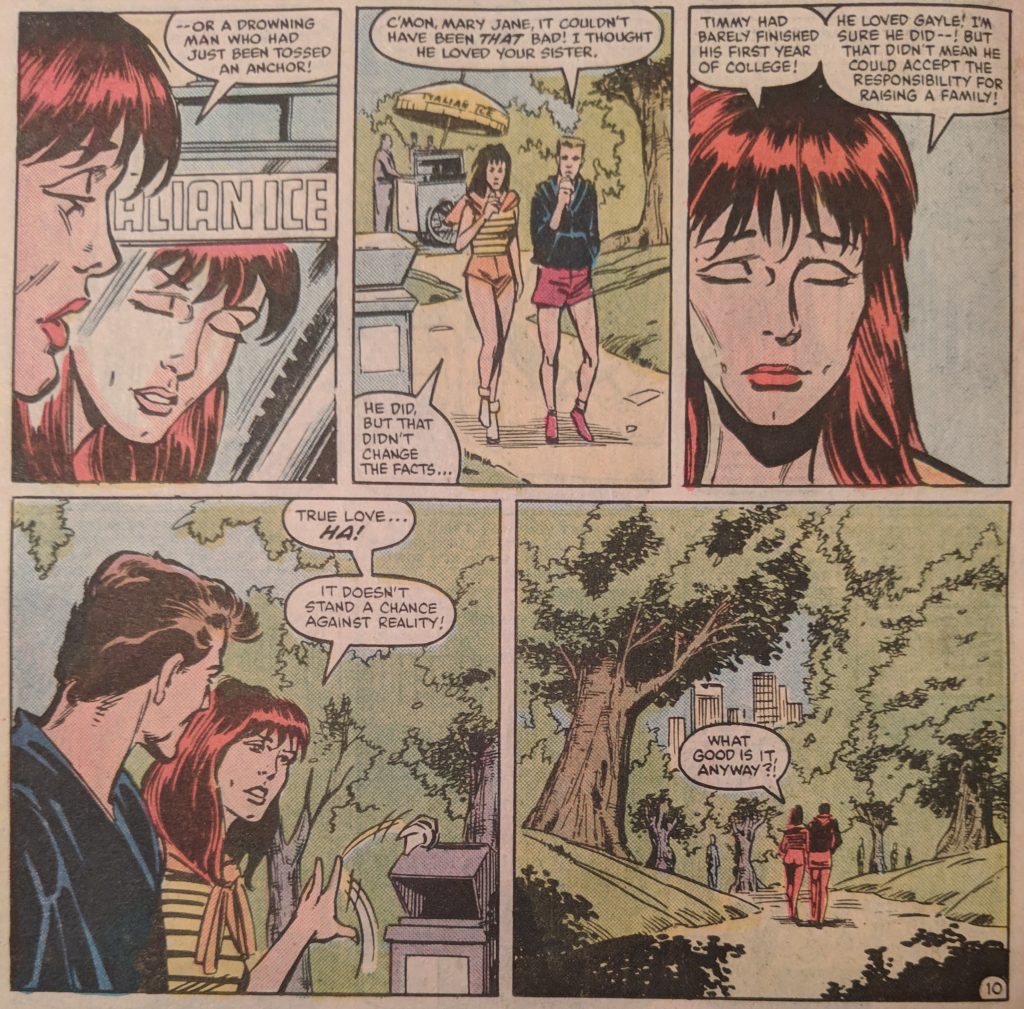 Not too far away, The Hobgoblin hits another illegal gambling den, this time behind a bakery. These guys are dumb enough to fight, but… that's dumb. He offers the owner the same deal as before and takes off again. Back in the park, MJ continues her story…
Things went from bad to worse when MJ's Mom continued to weaken until they learned she was dying. MJ dropped her acting to get a part-time job to help with bills, but her Mom was gone before her sister could have her second child. At the funeral, her sister tried to reassure her…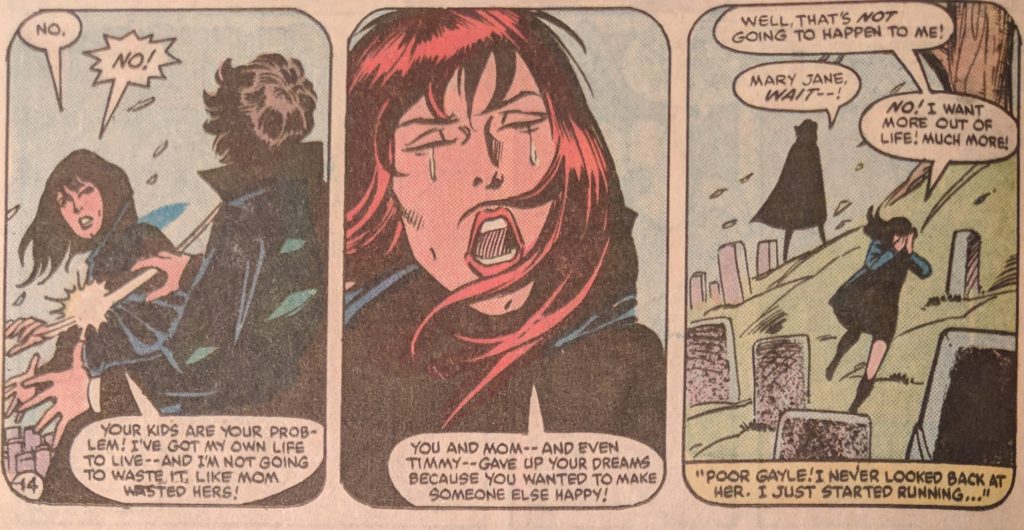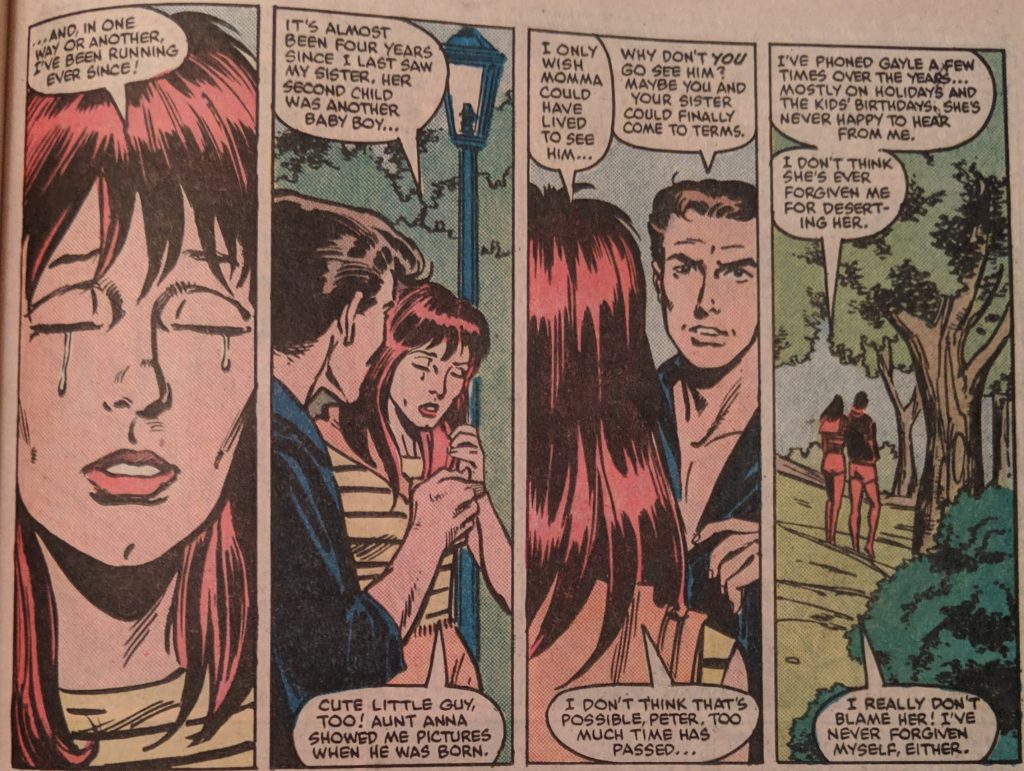 Pete thinks about how Aunt May once told him he & MJ had a lot in common, but he never realized she'd suffered a lot of loss in her life, same as him. This leads him to thinking about how he hasn't fixed things with Aunt May. MJ says she didn't mean to dump all her grief on him.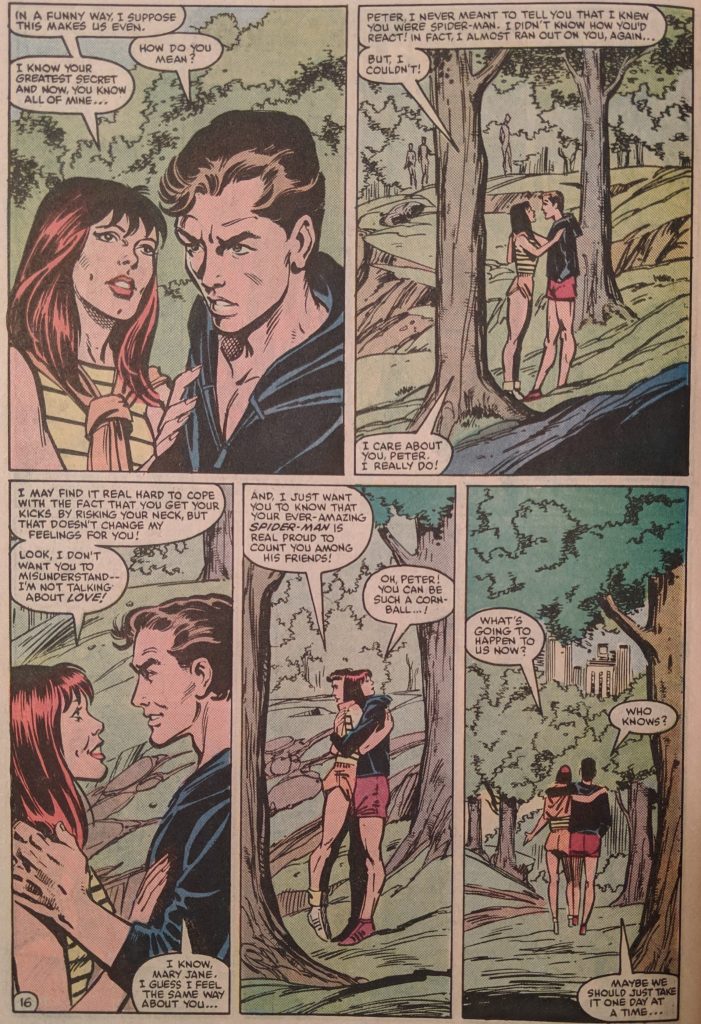 Best friends! That's a welcome development for them after all these years. We pause for an interlude at The Baxter Building, where Reed has been trying to use a "thought transmitter" to communicate with the suit, but it's refusing to talk to him. It's mad at being trapped. Then we go see The Rose with The Hobgoblin, back from his day of terrorizing bookies.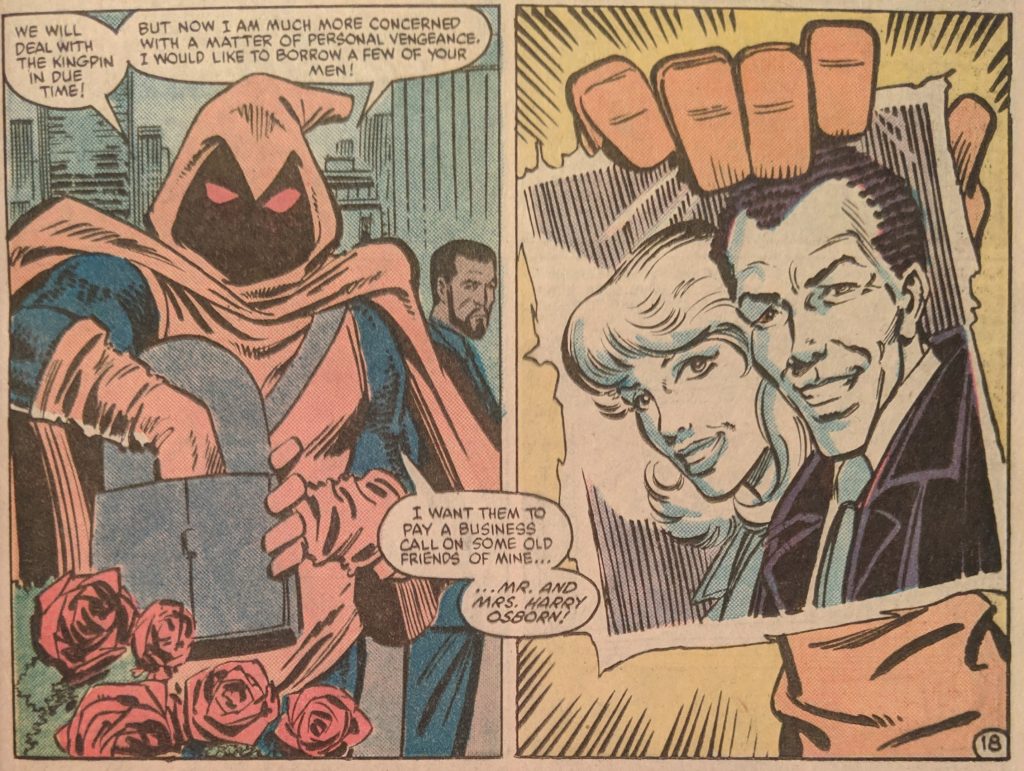 Old friends?! How literal should we take that? Who is The Hobgoblin? Funny thing is, at this point, I'm not sure anyone knew. Roger Stern's choice had been vetoed when he left, and I don't know if DeFalco had told his plans to editorial yet, but they weren't going to be received well when he did. The behind-the-scenes story of The Hobgoblin is kind of a rollercoaster itself, and bound to keep popping up as we look at 80s comics.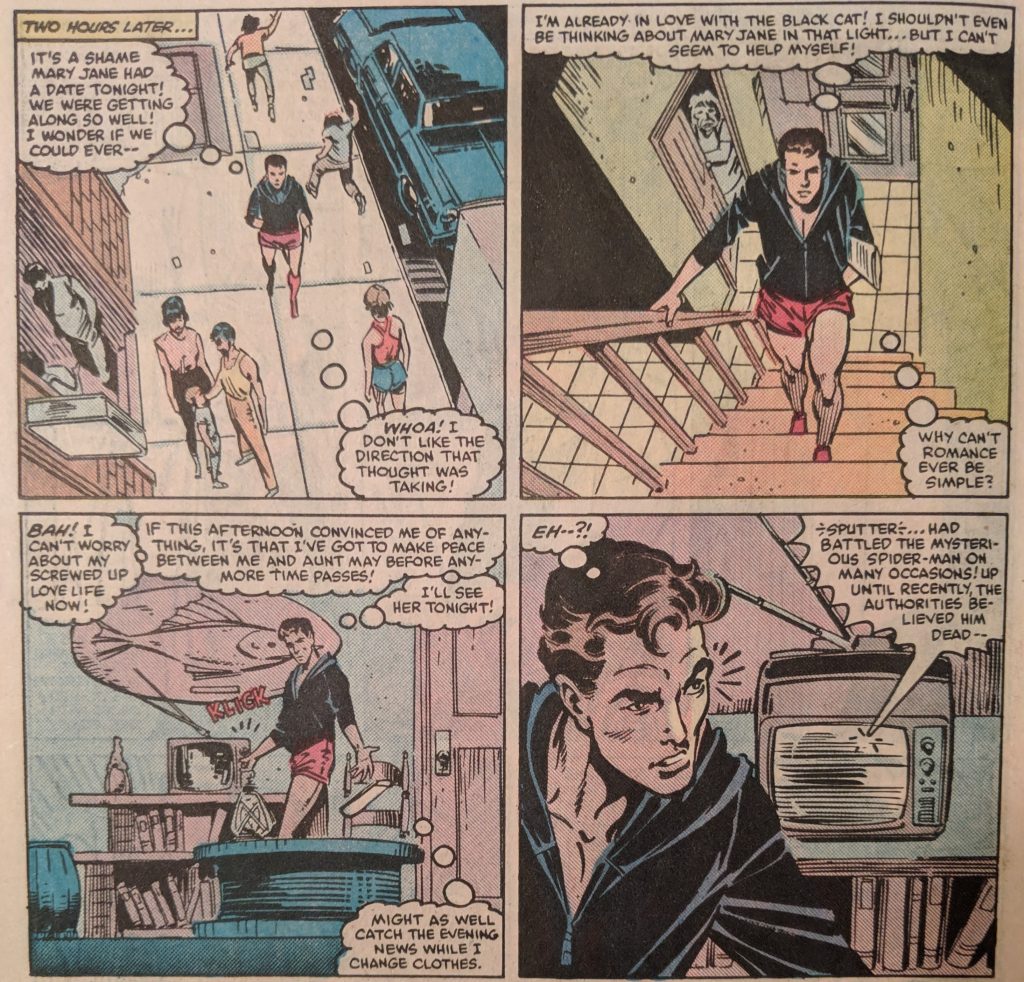 The news is about The Hobgoblin's campaign of terror today, and all Peter's other plans get cancelled.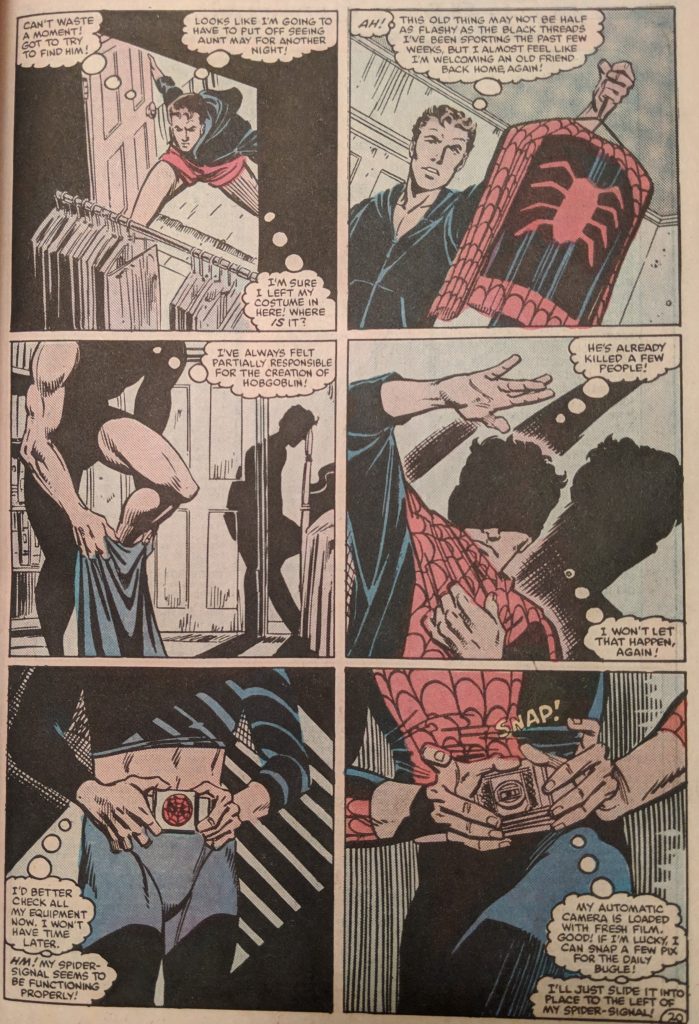 It takes Peter a whole 2nd page to finish getting his kit on, they really milked the whole "hero suiting up" bit…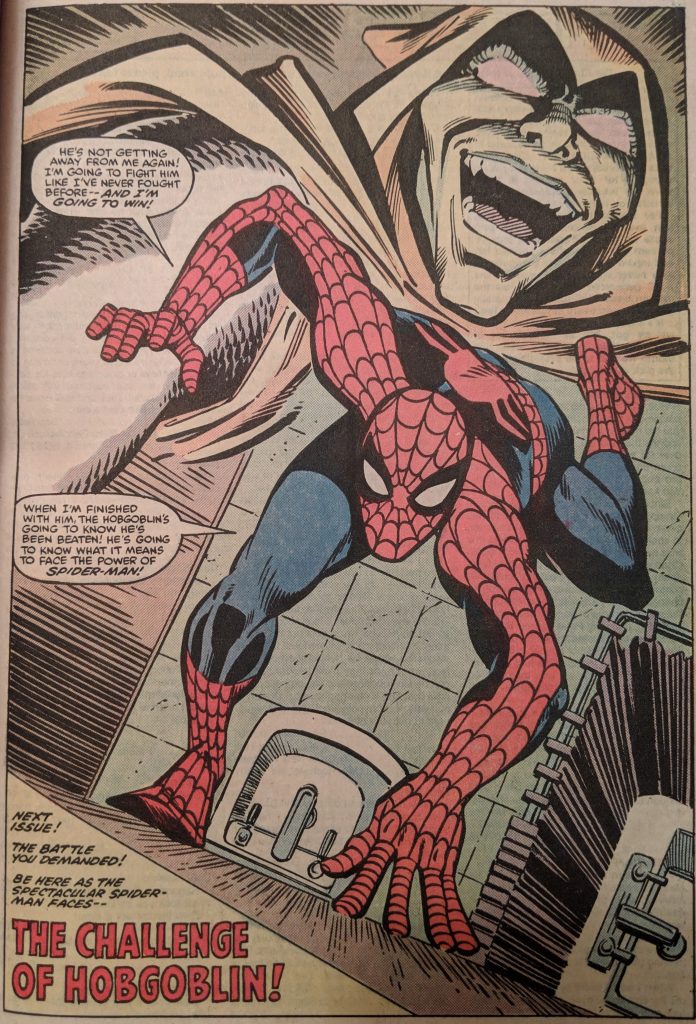 And thus did the classic suit return. Real classic, the early 1960s suit. For the moment. Reading this one as one of my earliest exposures to Mary Jane surely played a big role in my affection for her as a character. When I started reading monthly comics, they were already recently married (Spoilers?), so I just took it for granted that she was the co-star of Spider-Man, anyway, but firming up her backstory really gave her depth and made her seem like a complex person. Even though they didn't discuss it much here, this issue did a great job of letting you feel the weight of the history these two share.
The back of the book has a 2-page letter column with the first reactions to Spidey's new (old?) costume shown in ASM, and they're pretty hyperbolic in both directions. None more hyperbolic than a letter ending with "it makes me want to puke!" from one Tony Starks. Is that Ghostface? Not one but two ladies get printed saying it was sexy, one guy says he'll never buy the comic again, and one guy said ASM 252 can replace the definition of "genius" in the dictionary. Overall, though, it seems like people mostly loved it, and uh, they just got rid of it. Seems like an awkward situation…