This is one of those issues where it's hard not to just post the whole book. It's jam packed with important events. Bob Sharen hops back in on colors as Peter deals with the shock of MJ telling him she knows his secret.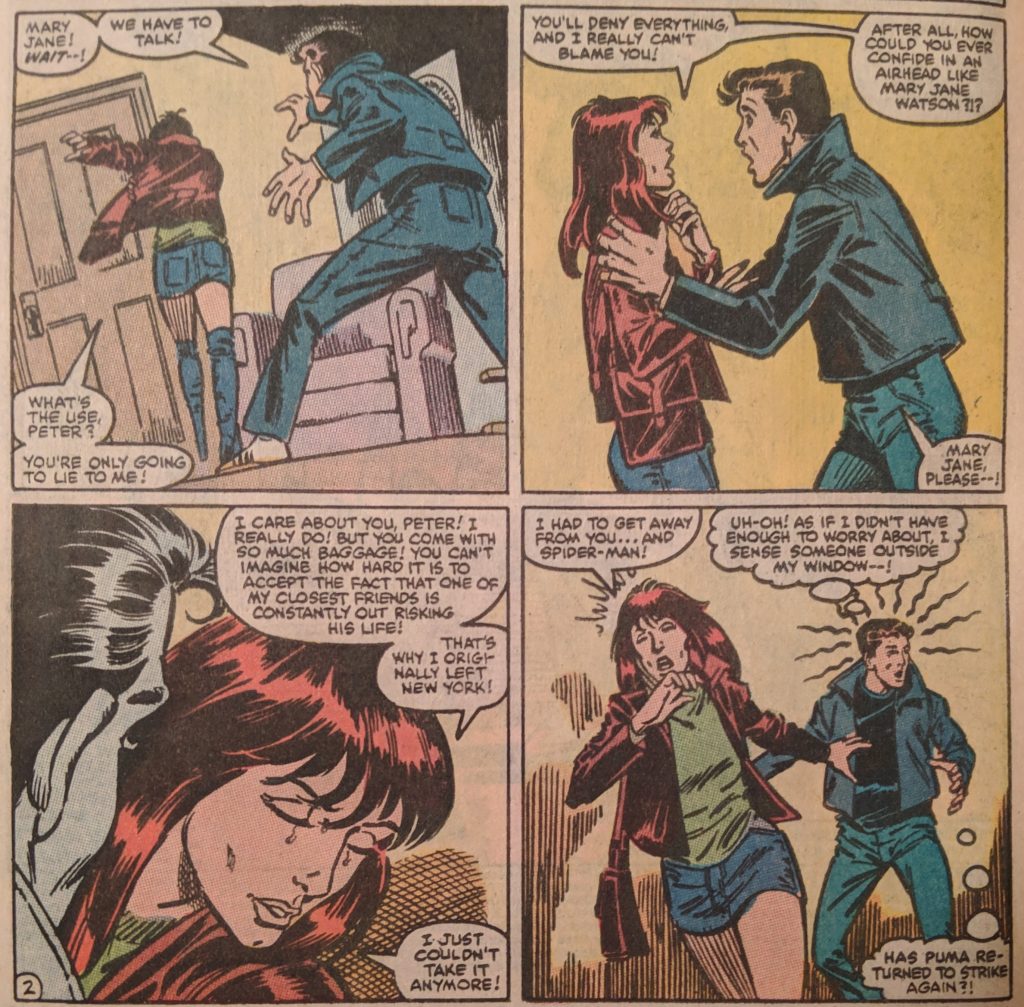 Nope. It's worse than that.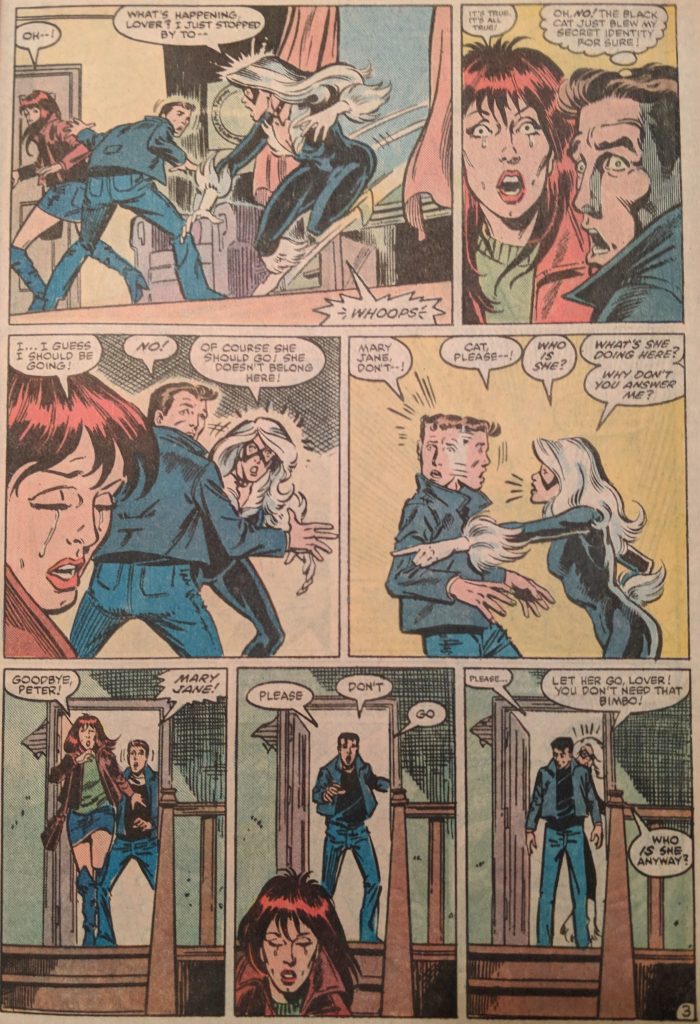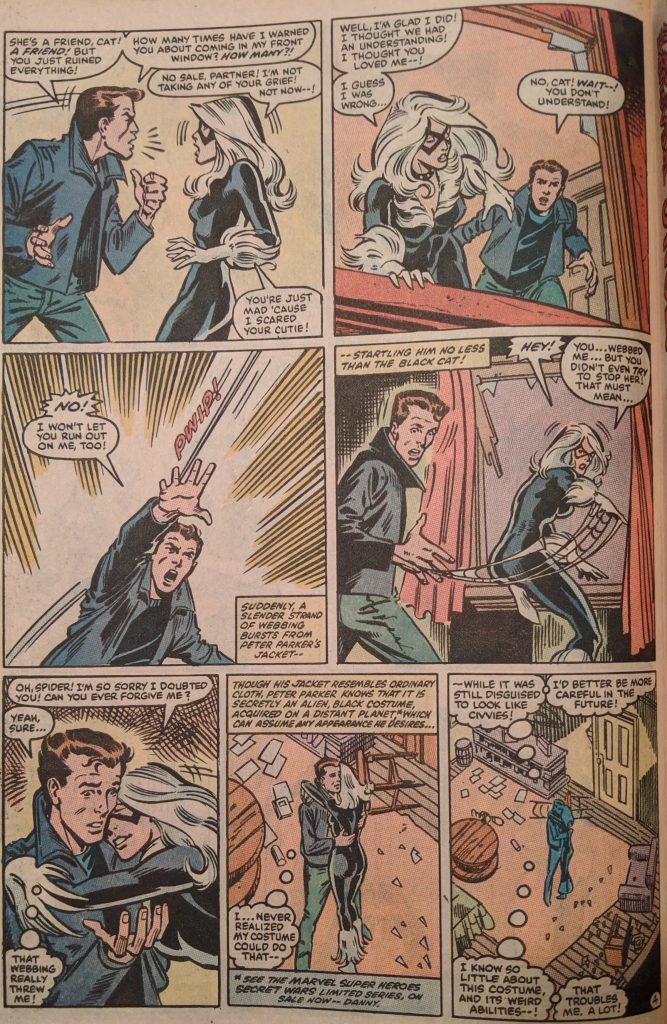 This wildly dysfunctional pairing is saved! We cut to New Mexico for a second, where Thomas Fireheart asks his assistant to get him anything she can on Spider-Man to study, so he can be ready for their "next and final meeting." Back in New York, Peter has just finished boarding up his windows (Mrs. Muggins is always on his case when he's not doing anything, but something like this happens and we never see her) and worrying. About Puma knowing where he lives, about MJ knowing who he is, about the whole thing. He tries to call MJ, but she doesn't answer. She's packing a bag.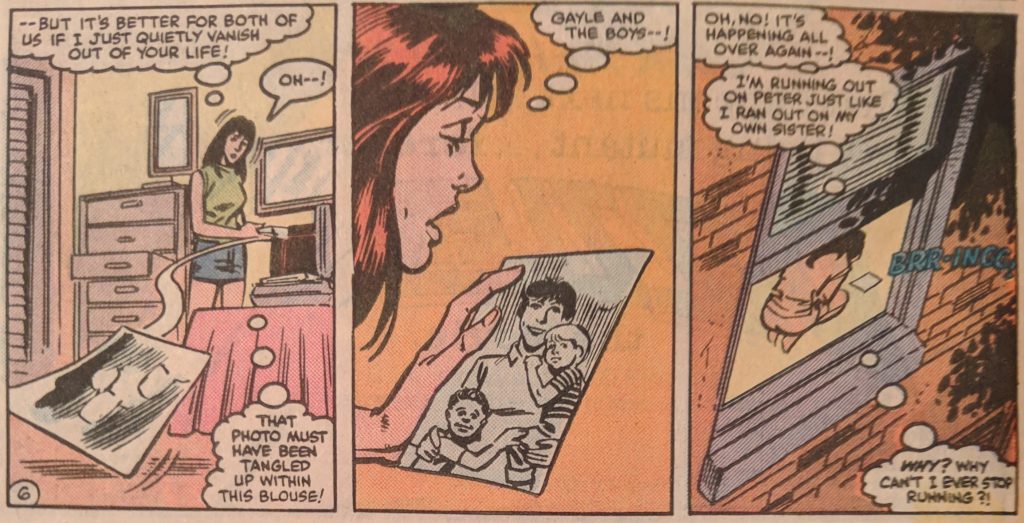 Peter sinks into a chair, thinking his life has spun completely out of control. His situations with Aunt May, MJ, Black Cat, and all his various enemies just feel like too much. He's got one more thing to worry about, though: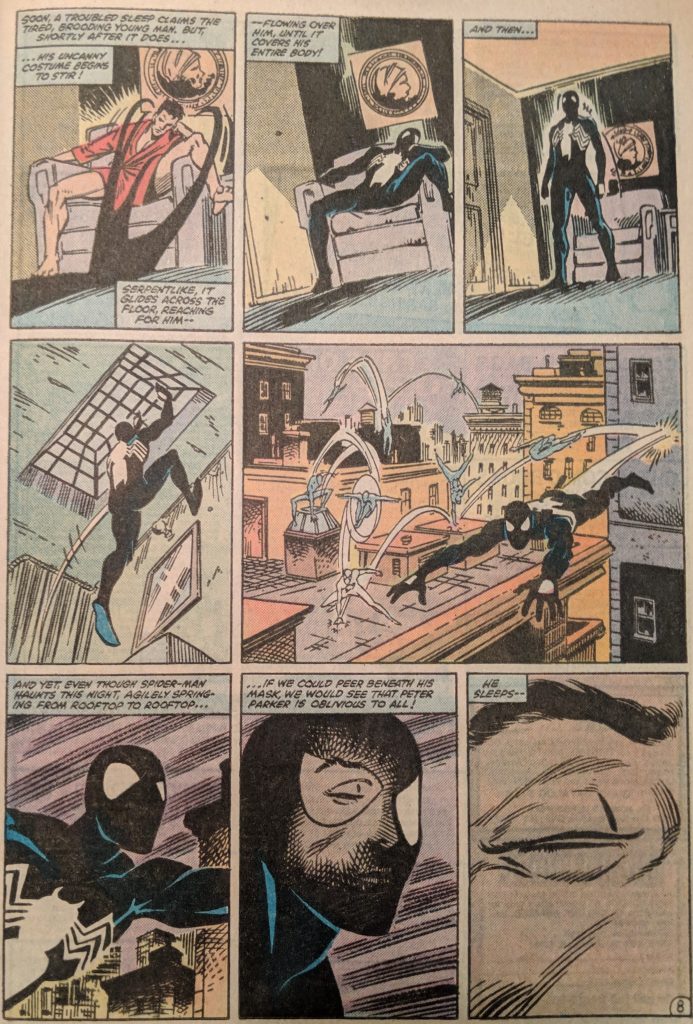 There it is. All the clues were there. Weird that is already happened in TAC, though. I can't get over that. As the suit drives Peter's body around New York, he has a nightmare depicted on the cover. He's running through a strange, empty void when his two costumes appear, fighting over him, then grabbing him, seemingly about to tear him apart, and then he wakes up. It's the middle of the afternoon, he's missed another day. He thinks he saw the costume moving when he woke up, but dismisses it. Still, he decides to finally go let Reed Richards check it out like he wanted to, and swings by The Baxter Building. He's let in by a little robot named HUBERT (A reference to the Fantastic Four cartoon that replaced The Human Torch with a similar robot named HERBIE), and is soon in one of Reed's labs. Reed secretly suspects there's more to Spidey's suit, but says nothing as he begins testing.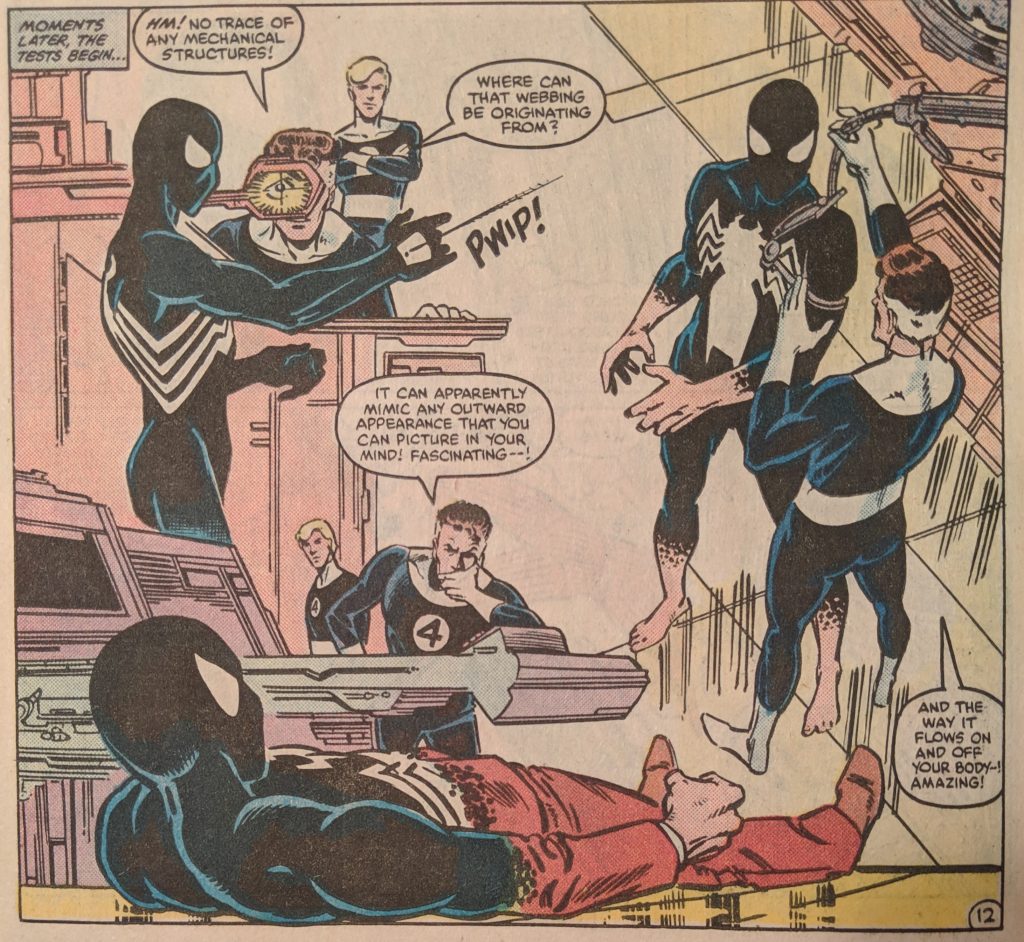 (Sue and Ben seem to be out somewhere) While that's going on, we catch up with The Rose, who is still talking to The Hobgoblin from last issue. He isn't convinced this is the real guy, since he's alleged to have died in ASM 251, so he has a bunch of his goons attack. Presumably because they thought this issue was short on action, because it's not much of a fight, and it's not a very convincing reason for one. It's interesting to me, though, for the art. Aside from TAC 85, every appearance of the character before last issue was draw by John Romita, Jr. He established a posture for him, a body language for him, that his face disappears into shadow at a certain distance, even facial tics, like the way one eye opens wider than the other when he's plotting. And Frenz really, really sticks to it. His art is nothing like Romita's, but his Hobgoblin acts and looks as much like JRJR as Frenz can muster, probably because there's really not much other reference available.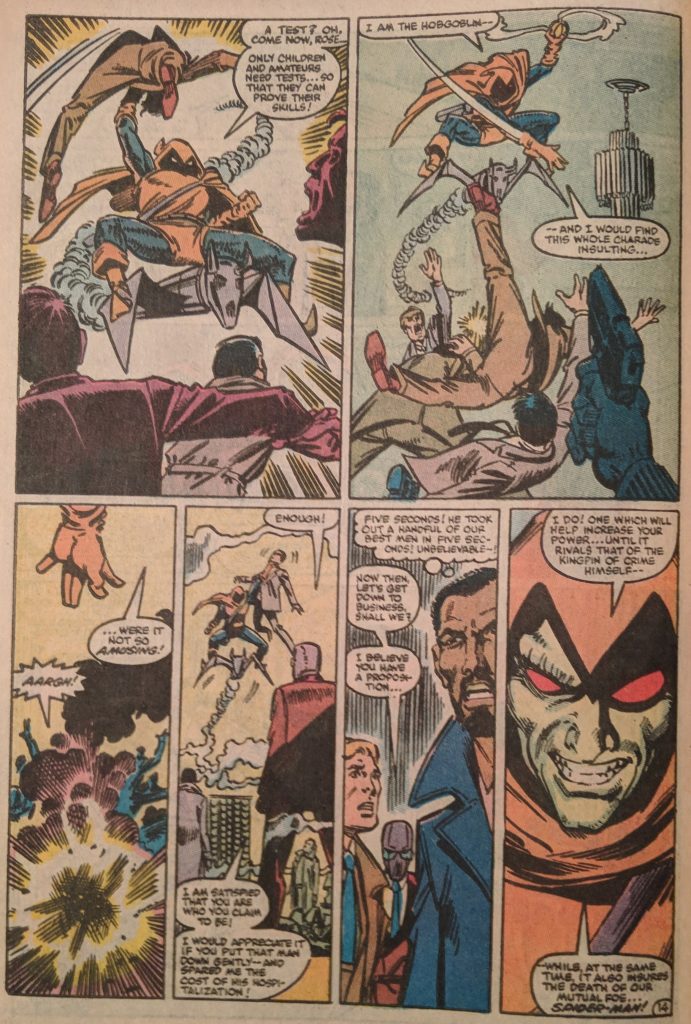 An alliance between two of Spidey's 3 newest foes seems like bad news, but also, this plot doesn't really progress at all from where it was last issue. Just too much going on, boys, wait your turn. Back at the Baxter Building, The Torch asks Spidey if he ever thinks about Battleworld, and Spidey says it still gives him the shakes. Rather amusingly, in the actual Secret Wars comic, Spider-Man still isn't even in this new suit. That would happen the month after this issue of ASM. And I get the feeling the writing staff didn't necessarily even know what would happen in Secret Wars, or maybe they were being vague on purpose since they were being published so far out of sync, because the way people talk about what happened there always feels a little off. Anyway, Reed has finished his testing, and…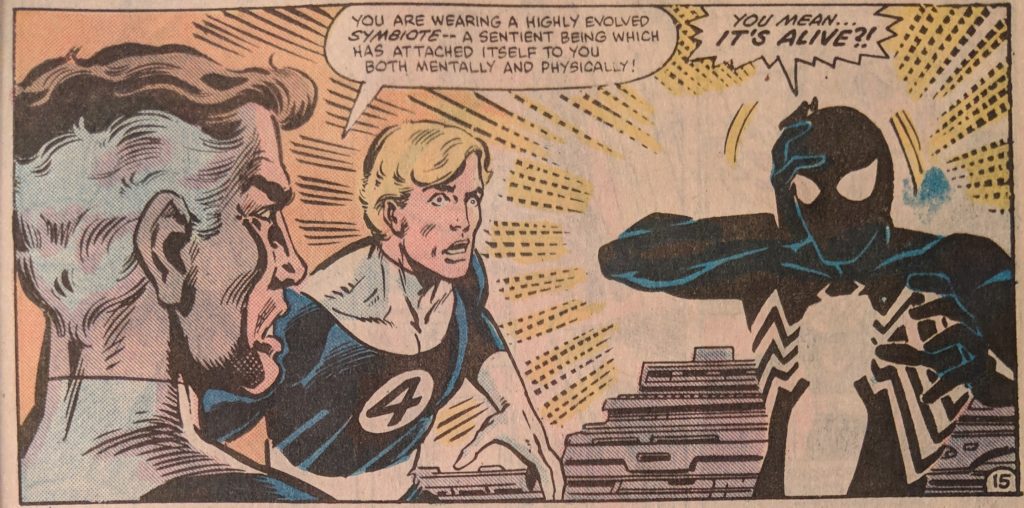 Yikes!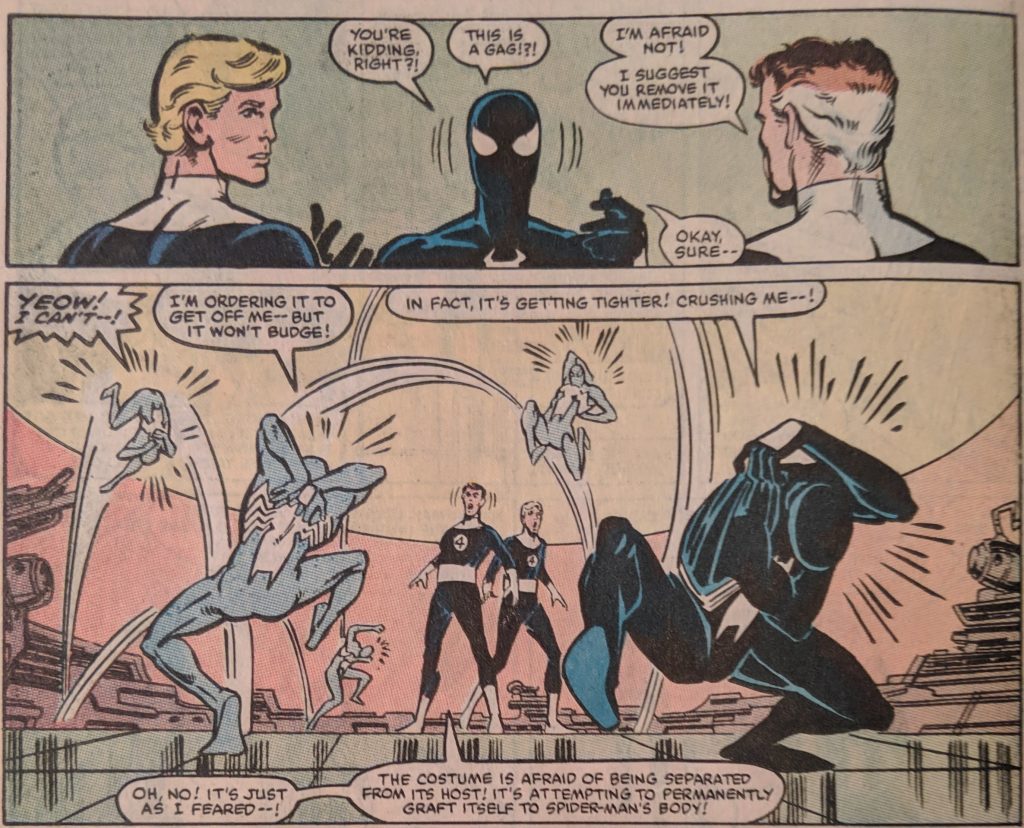 Torch suggests he can try to burn it off (Good idea, dude, just kill them both), but Reed instead tries a special sonic blaster he happened to have lying around.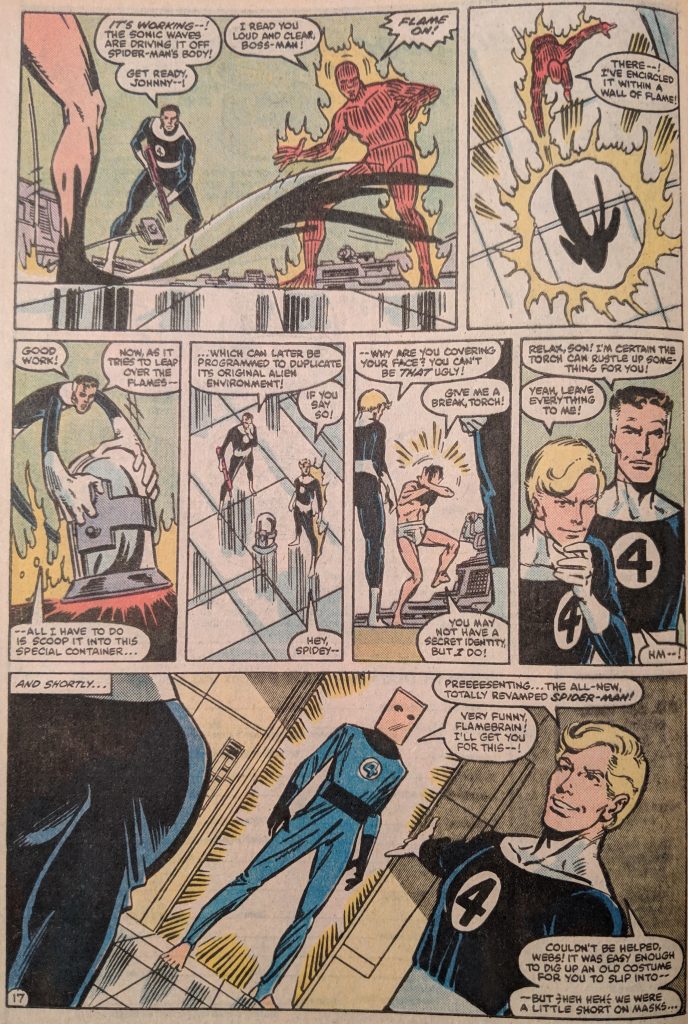 The Amazing Bag-Man! This issue is so full of memorable stuff. Reed gives Bag-Man his camera, which fell out of the alien when it got zapped. Johnny wonders why Spider-Man carries a camera (Think about it for a second, Torch!) and then gives him a lift part way home in The Fantasticar since he doesn't have any webs. Bag-Man is obviously freaking out and disoriented and suddenly thinks he knows why he's been so tired lately, so naturally, this is when he happens upon a huge shootout between goons robbing a liquor store and a cop. They manage to shoot the cop and one of them takes a hostage as The Amazing Bag-Man leaps in. He handles the goons, no problem, but a whole bunch of reporters arrive on the scene.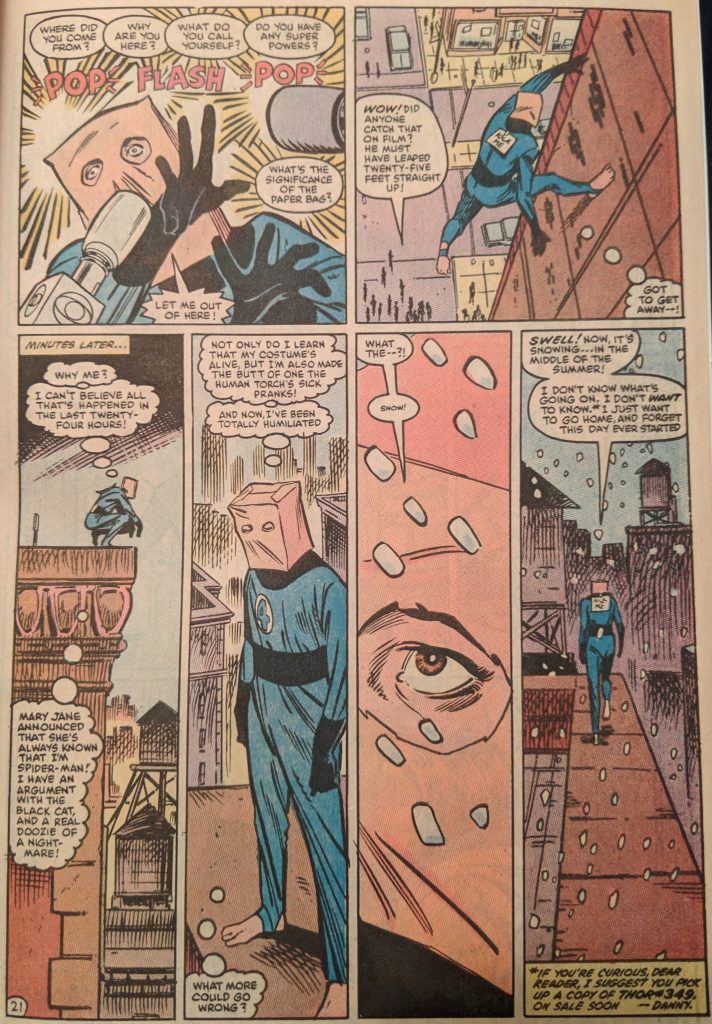 Yes, that's a "kick me" sign on his back. Johnny is a true friend. The snow is a result of Malekith the Dark Elf unleashing the Casket of Ancient Winters in Walt Simonson's legendary Thor run. It snowed in every Marvel comic this month. Isn't that cool? I wish stunts like that still happened. Not a giant, involved crossover, just a little reminder this is all happening in the same place. Back home, Peter Parker watches himself get embarrassed on the news, where he has been named "The Unknown Superhero" (Which I do believe is a Gong Show reference?), but which also lets him know the cop lived, to his relief.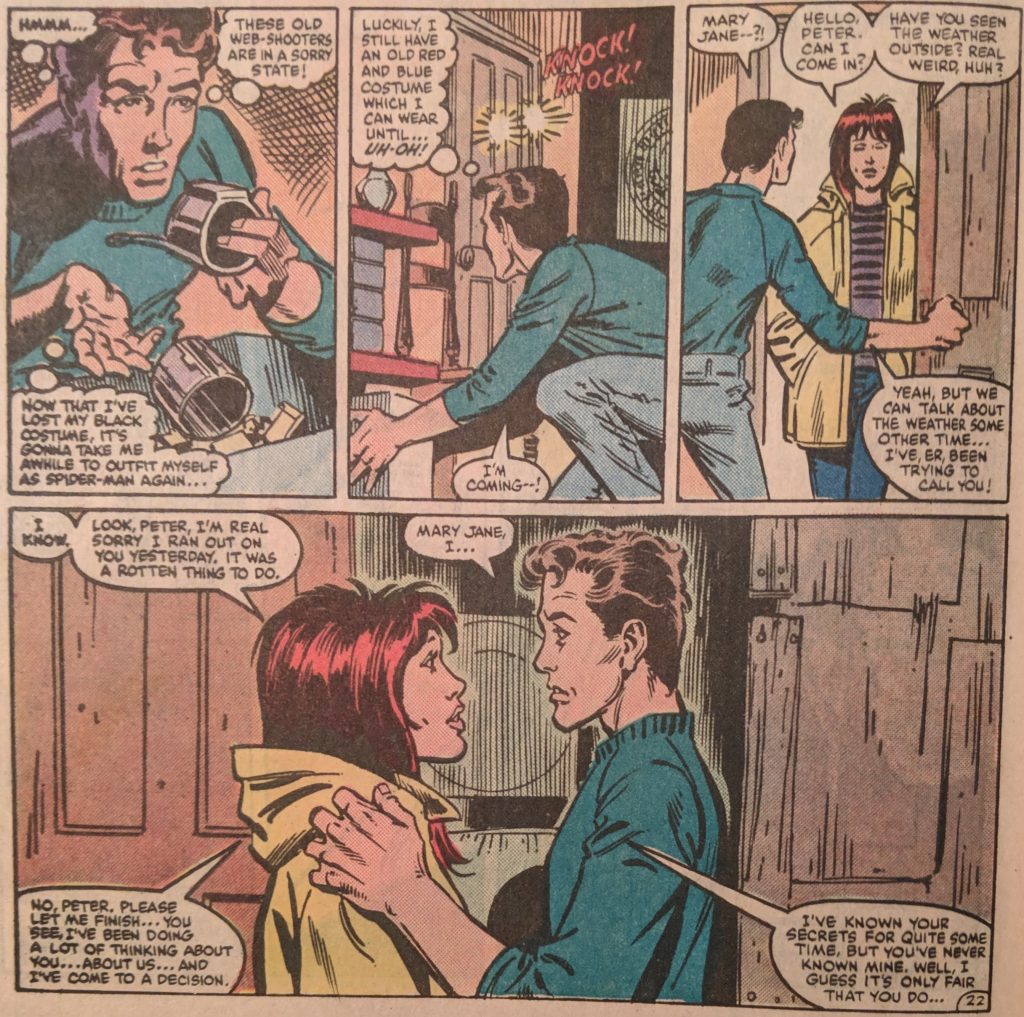 Get ready, True Believers, because next issue is going to have one of the most shocking events in pre-21st century comics: A Real Adult Conversation! But before we go, one last thing: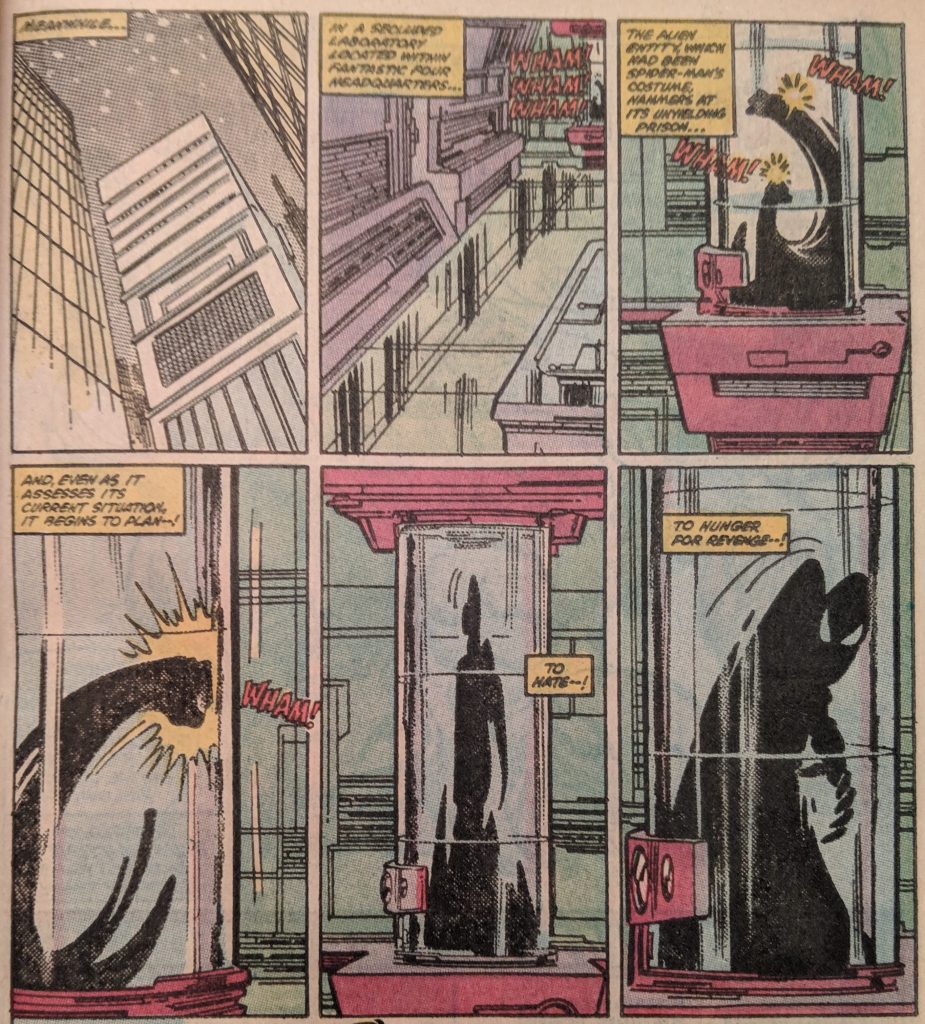 A lot to unpack here. The shocking truth about the alien suit is a big deal, but for the longtime reader, nothing tops MJ's revelation. It makes you want to re-read her every appearance before and see how well it holds up. Some are surprisingly solid. DeFalco is smart to tie it to her seeming to panic and leave town after he proposed to her in the 70s, for example. The original idea was she was just afraid of commitment, but now… We'll get to more on that next issue. I mean, no previous writer knew this would happen, so it's not exactly foolproof. But it can be fun. And since, as I've said before, I read this story very early in my comic collecting journey, that's how I've read all her old appearances as I've come by them: Could she know here or not? Then there's the suit! By modern standards, the story of the suit is remarkably lean and restrained. It percolated in the background with hints and allusions before coming to a head here, but it's only been 6 issues since it was introduced. A story like this woulda gone on for a couple years in 21st century comics, or like 5 years in 1990s comics, and yet this didn't feel too brief or rushed or anything. Very economical storytelling. Maybe too economical, as we'll see in future issues. And packing both the MJ story and the shock end ("end") of the alien costume story into one issue? Pretty intense. Come back next time for grownups chatting.