We pick up with Black Cat helping the badly wounded Spidey back to his apartment. He doesn't think anything's broken, but he's really weak, and says his general tiredness lately isn't helping. Cat helps him get to bed to get some rest.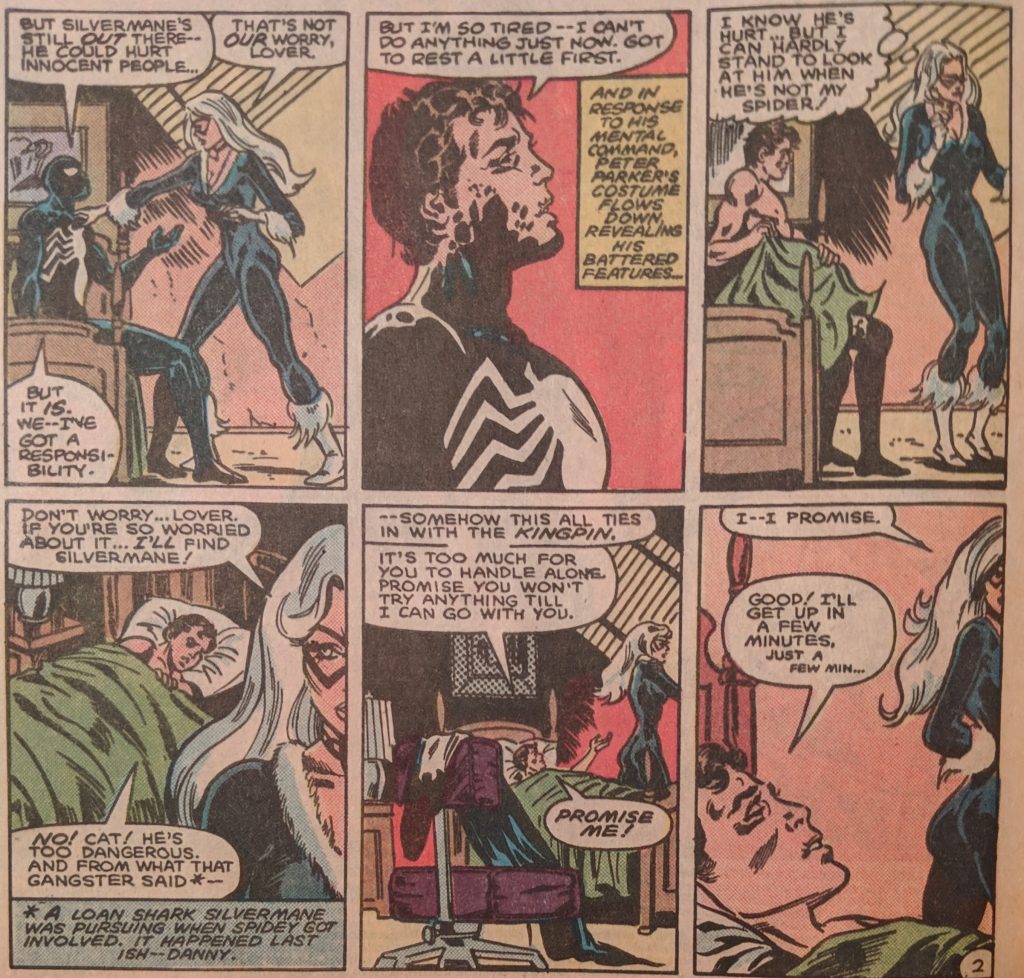 Also worried getting involved might reveal her secret dealings with Kingpin, Black Cat keeps her promise. Elsewhere, the shambling cyborg Silvermane keeps tearing a path through the streets toward some unknown destination. As Kingpin and The Answer watch his progress from a video monitor, The Answer figures it out. As Silvermane rips through the ground into the sewer, he clues Kingpin in.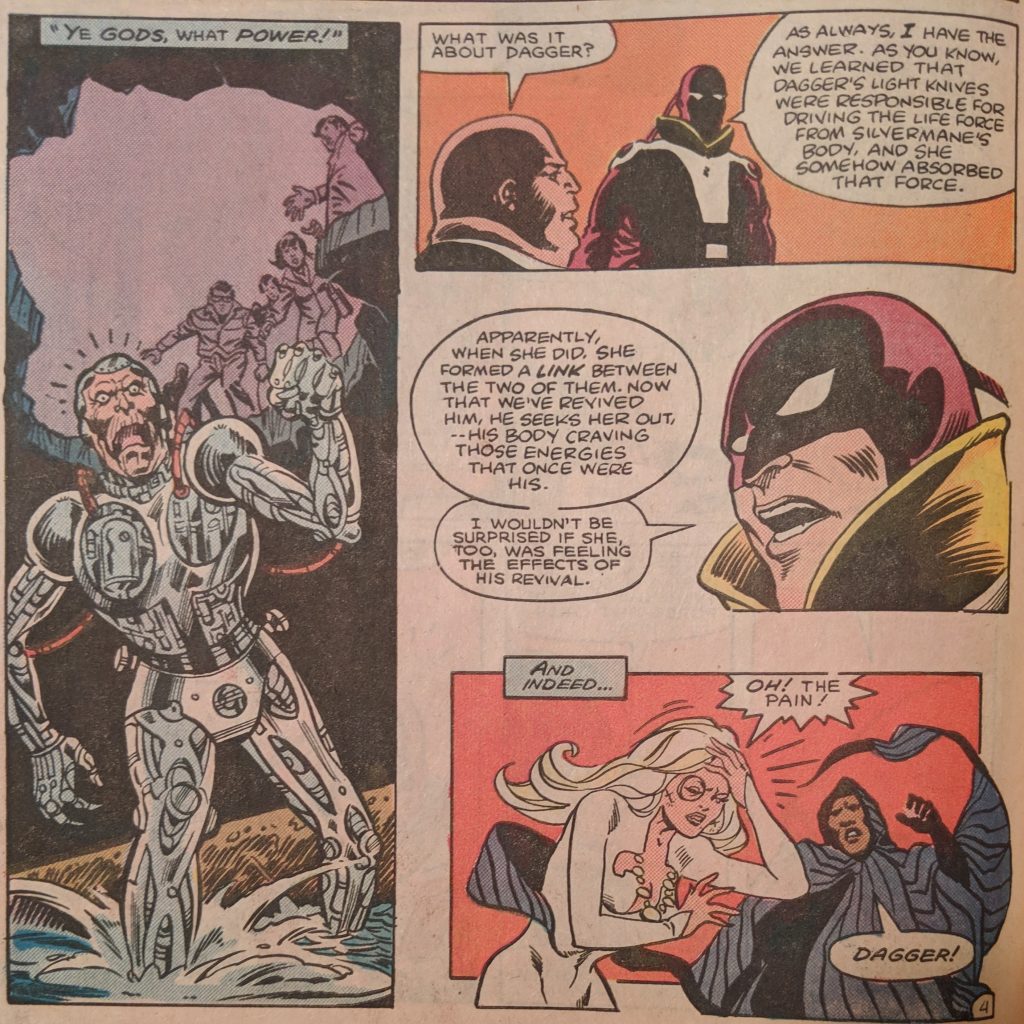 Answer guesses correctly, and Dagger's in a bad way, though she doesn't understand why. All she knows is she's losing her light, and Cloak needs that to stop the darkness that is always growing within him, and they're in trouble. Then we cut to a scene that really surprises me.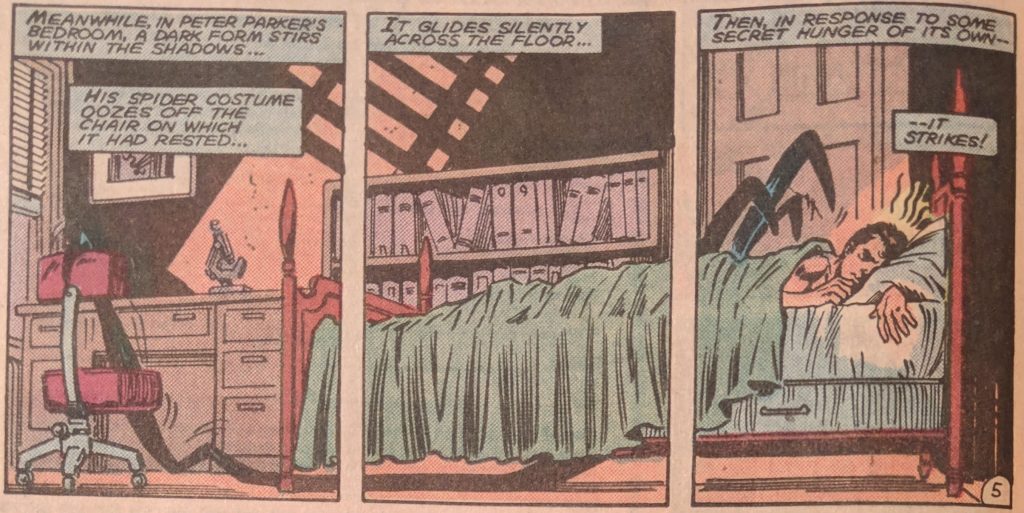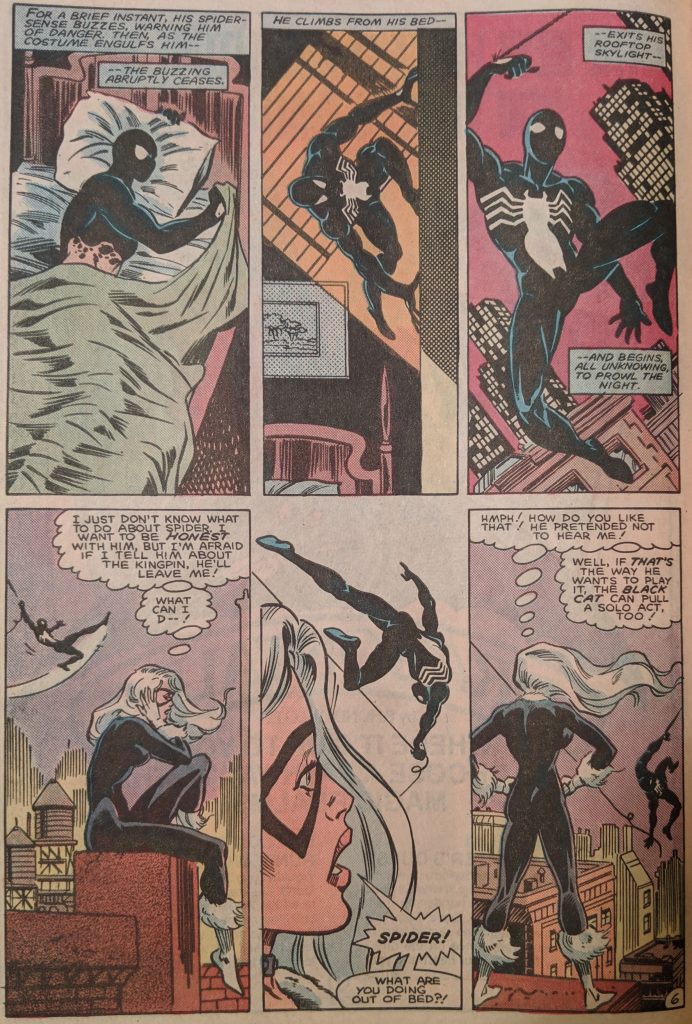 Yeah, man, the suit is taking Peter out for joyrides while he's asleep, and that's why he's tired all the time! A shocking twist! Here's the thing, though: a different version of this same revelation is in ASM 258, which was published a month after this (And 256-258 all flow right into each other, so we're a little behind there). Never having read this before, and with ASM being the prime comic, I never considered that this big moment could happen anywhere else. I am thoroughly surprised they let this huge moment happen in TAC first. In ASM, though, Black Cat isn't involved. Cat gets so mad that she decides to go find Dagger so she can stop Silvermane herself. At the same time, Kingpin is checking on his wife Vanessa, who's in a bad way after the events of Daredevil 180. Being sick is kind of her whole deal throughout the years. The doctor says it's as though the light of her soul has been snuffed out.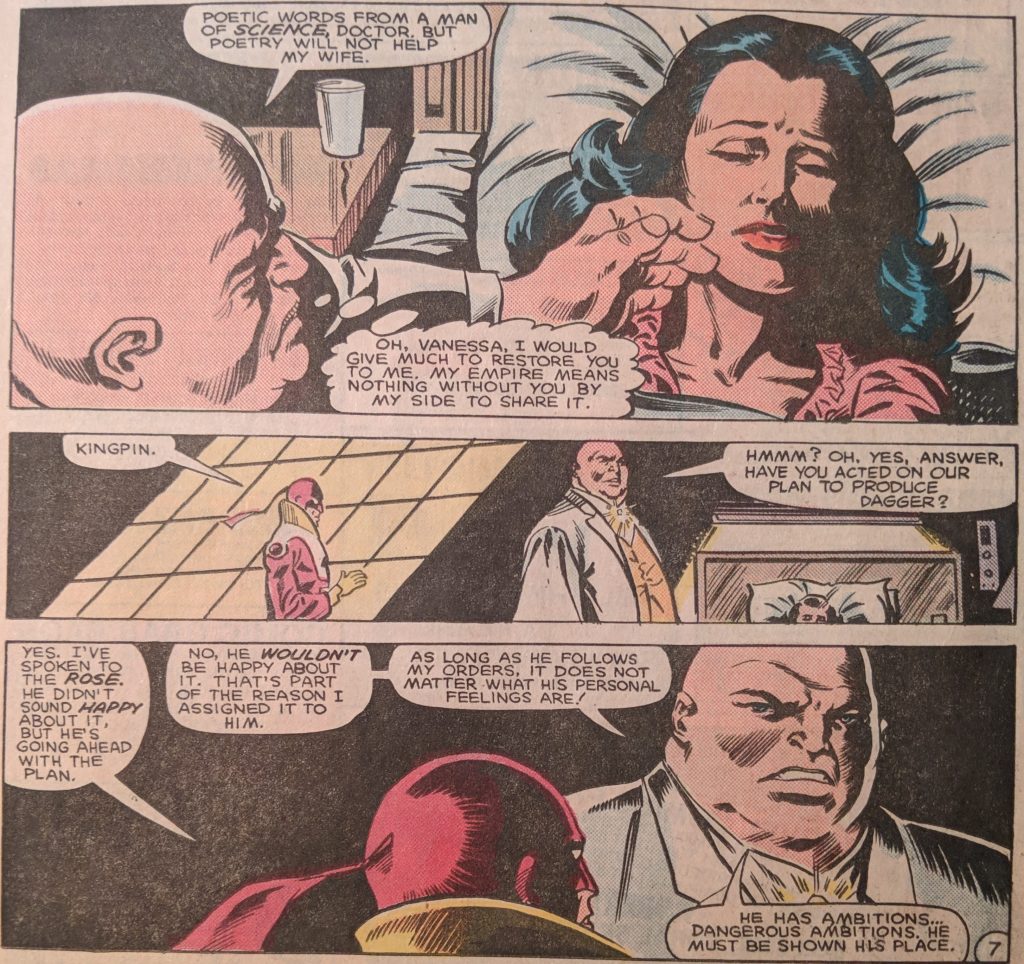 The Rose has been ordered to set up a drug deal, and is as upset about it as Kingpin predicts, but follows orders. Hours later, the suit is still driving Spider-Man around unconscious, Felicia is learning about The Rose's big heroin sale, and Silvermane is still plowing through the sewers. Cloak & Dagger pick some junkies to pump for info about the big drug deal, Dagger using her power to cure their addiction in the process, and Silvermane senses this and begins tearing his way up out of the sewer, so…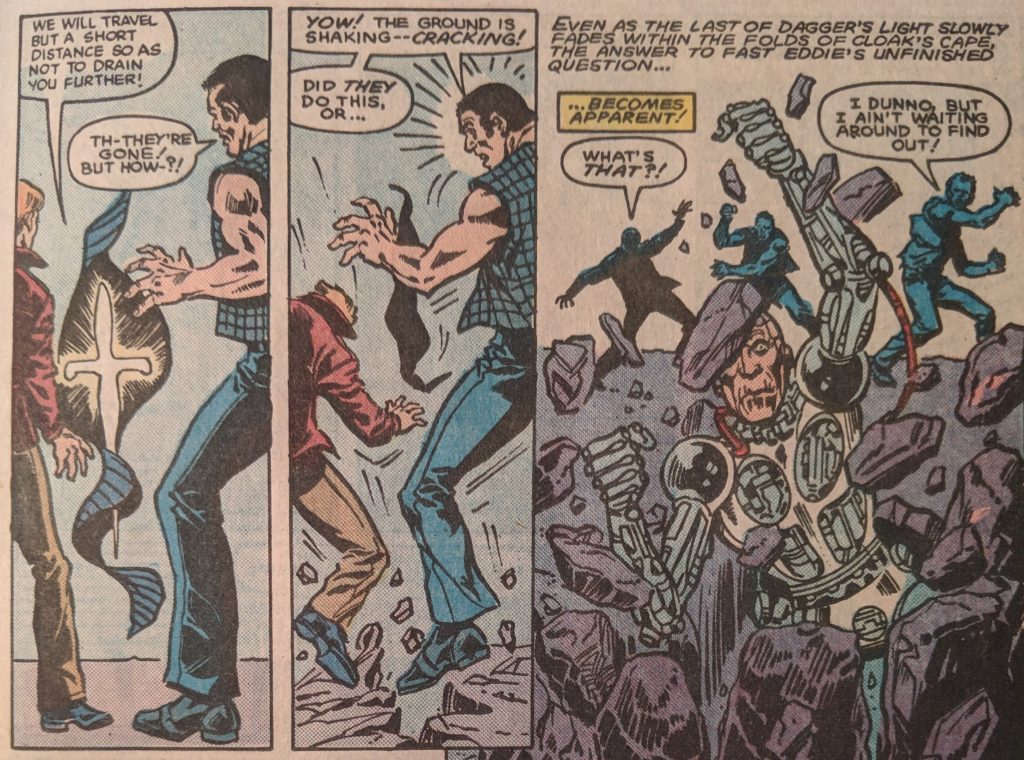 Silvermane just stands there, lost now that Dagger is gone. Meanwhile, the suit takes Peter home, and no sooner does it slip off of him than he wakes up.
As he takes off, Spidey thinks things would be easier if he could live and ordinary life, and we get a brief check-in with a wide variety of cast members…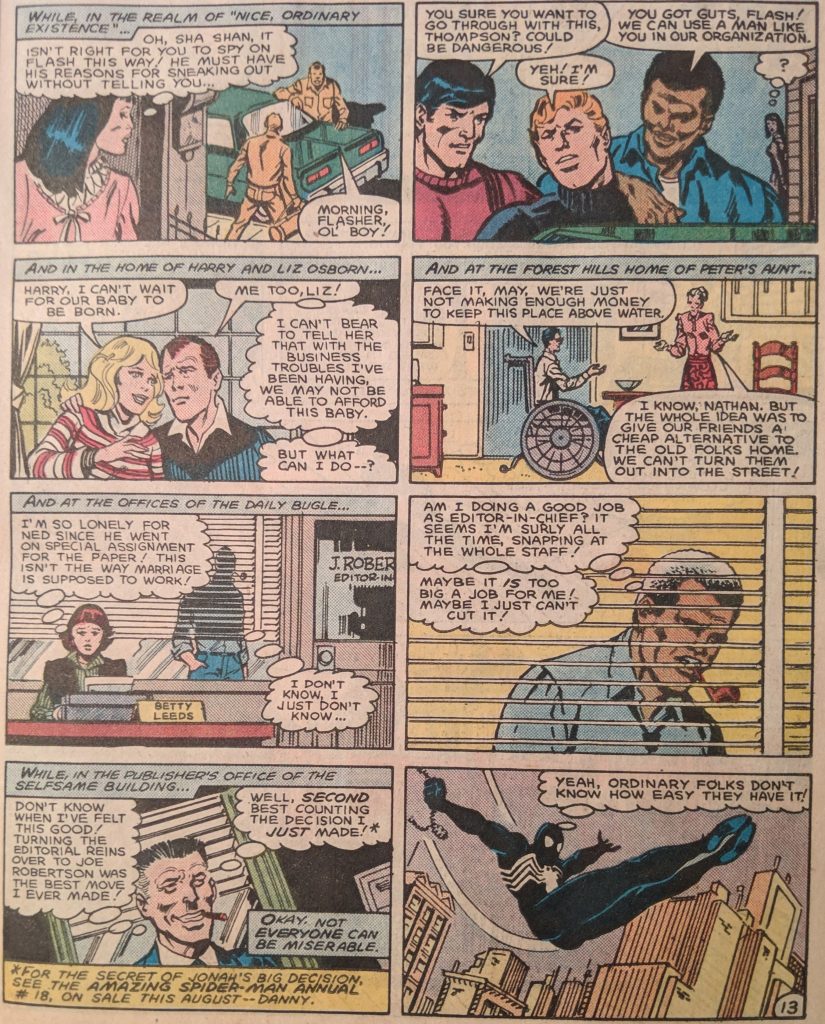 That's pretty unusual, but kinda cool, actually. Spidey can't turn up any leads, so he calls Ben Urich, who's heard about the big drug deal and lets him know. I kinda think someone calling you out of the blue to ask if there's any big heroin sales going on seems suspicious, but what do I know? Anyway, now everyone's on a collision course. The Rose sets up the heroin deal down at the docks, and soon Black Cat, Spider-Man, Cloak & Dagger all show up, with The Answer watching from the shadows. Cloak & Dagger go after the drug dealers, and then…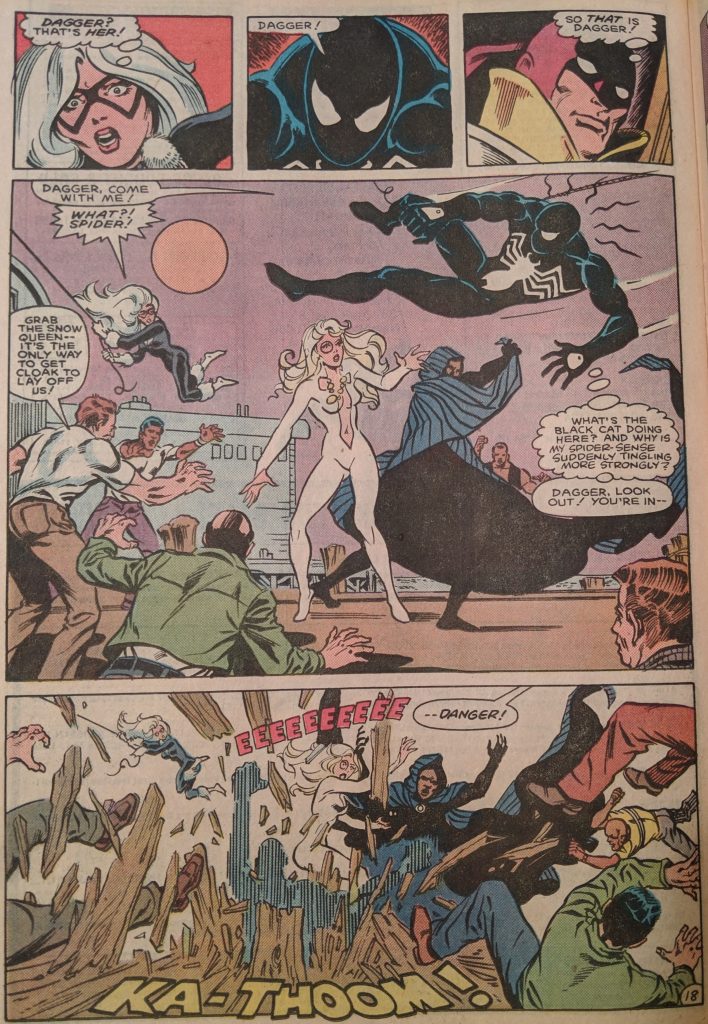 Silvermane, of course. He grabs Dagger and everyone argues over how to help her, while The Rose sees what's going and decides he wants her, too, so he can control Silvermane, so he sends his trusty Lieutenants, Varley & Johnston to go get her. And in spite of the superpowered melee out there, they actually go.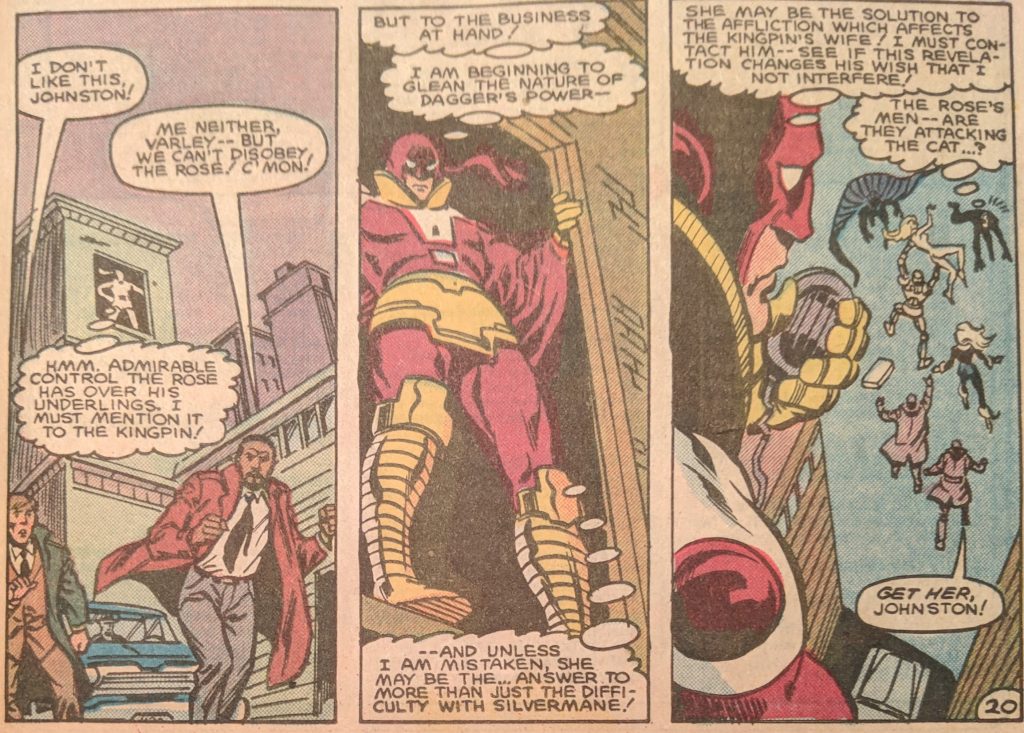 As the goons run in, Spidey thinks they're going to grab Felicia and dives toward them, but Black Cat's bad luck powers cause everyone to miss her, even him. Then literally all these people wind up in a pile grabbing for Dagger when…
Well, then. What a mess. And since there's no way TAC 96 can take place before ASM 259, how are they going to deal with the delay in resolving this? I'll very be curious to see. The letter column is about TAC 90, and mostly a debate about whether Black Cat is cool, but also a lot of praise for the new costume, even though it barely appeared in that issue. This one guy needs to chill out: