Spidey teams up with Canada's premiere super team! Not a team-up I think I've ever seen before. We're here with the great Lousie Simonson writing, Paul Neary penciling, Sam De La Rosa inking, and Christie Scheele coloring. We begin with Peter bringing pictures of his recent battles with The Answer to Robbie.

That's trouble. Peter hits the roof, recapping his recent deal for you, and then Black Cat drops in on him. He tries to explain that he's having a bad day, but as usual, she doesn't want to hear it. She's the best. She leaps away saying "catch me if you can" and he tries. On the next page, things get weird fast:

Ok, so, that would be The Collector, of Guardians of the Galaxy movie fame. As to what anything he's saying means, you are on your own!

Wow, the Genie did not look like that in Aladdin. Spidey is whisked away to The Collector's ship, where he introduces himself, and after some banter, locates his Plodex, which is an alien race in Marvel comics who count among their number Marrina, the fish lady from Alpha Flight. But while she doesn't have a tail, he's still happy to collect her. First, he has the genie put Spider-Man in "The Pearl of Great Price," which is… I guess a Bible reference and also a Book of Mormon? Random, Weezie! Simonson is clearly having a great time with this weird, weird villain. Then he has a monkey fetch him a flute that commands a giant alien snake whose gaze hypnotizes anyone who sees it (wow, ok) and now Marrina is under its spell. And so is the genie and everything else in the collection except The Collector and Spider-Man, still stuck in a giant pearl, but he now pops out of it, seemingly unnoticed. Then we cut to Marrina's teammates looking for her distress call. That would be Sasquatch, who is a sasquatch, Puck, who is small but powerful, Shaman, who is a shaman (Look, I didn't name them), and the twins, Northstar and Aurora. Another member, Snowbird, is sitting this mission out due to injury, and their former leader, Guardian, has recently become dead (He gets better, don't worry). They have no luck, though, because she's in space and whatnot.

He did his best! Hey, it turns out they're not in space, Collector's ship is still floating above the ocean, and Alpha Flight finds it. Inside, oh wow, ok, inside, The Collector tells Marrina she's a Plodex. She didn't know. I really don't know a lot about Alpha Flight. How The Plodex sent ships out all over the galaxy to put eggs on different worlds…

Sasquatch is the only member of the team Spider-Man has met before. He's still stuck in the fly field thingie, and after some brief introductions, the "boxers" appear, "ten dimensional traps from the vegan timeline!" The what now?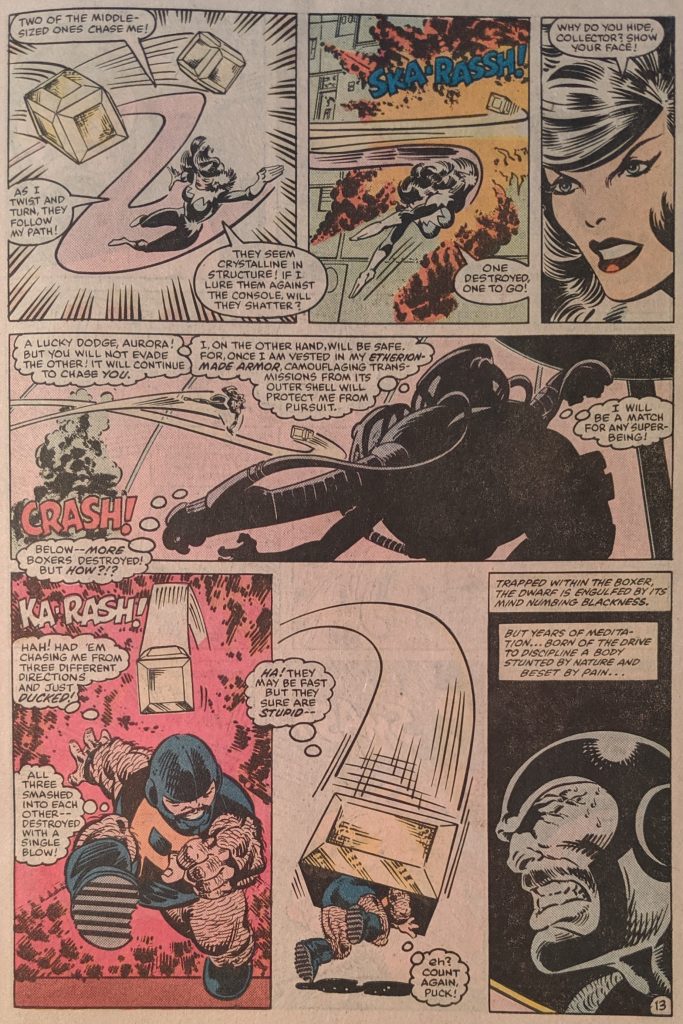 Puck escapes the box, while the others keep breaking the ones chasing them. Aurora is caught by one as The Collector reappears in some big crazy armor. Sasquatch and Northstar crush some more boxes and accidentally free some of the collection while Puck tries to get Marrina loose. Sasquatch, though, is going crazy, which I guess is a thing for him, attacking friend and foe alike.

Uh-oh! The legendarily dangerous Plodex are loose. Except… nothing happens? Puck catches some crystal shards and starts using them to free Marrina, while The Collector ejects from most of his armor to grab that flute to try to hypnotize everyone. Spidey is just about to free Aurora when he hears the flute kick up.

Spidey sees the big snake waking up, but webs its hypno-eyes and then knocks it out. Then he frees Aurora while Puck frees Marrina, but now the Plodex are waking up for real this time. Marrina is torn between meeting her people and having to fight them. But also…

I guess there's some kinda multiple personality thing goin' on with Aurora, I don't really know. Spider-Man is completely fed up with these insane Alpha Flight weirdos, and I don't blame him, but he's off to try to help Puck & Marrina with their alien opponents. Then one of the Plodex grabs Aurora, sending Northstar into his 5th or 6th rage this issue. Sasquatch continues smashing his way through the aliens until he hears Aurora crying out for help, then makes a beeline for her, still smashing aliens. But, of course, she's Jeanne-Marie right now, so he terrifies her. This team is complicated, man.

Ok, yeah. The Collector's ship crashes into the ocean, and Marrina makes a water spout to hold the other Plodex inside while Puck stops The Collector from escaping. But, now outside the ship, The Collector says the fighting has now endangered the entire universe.

Nice shout out from Lousie to her husband's legendary Thor run.

Oookay! The Alphas split up, Puck & Northstar dropping Spidey back in New York. He stops by Black Cat's place to let her know he's ok. She says she specifically didn't go all over town asking people where he is again because she knew that would make him mad. I guess that's nice? But then he's off home to rest after this weird caper.

Wah wah. What a bizarre ride of a story. It is followed by a very brief story about a married couple in Albany, NY, freaked out by news of a superhero battle in their town. It's just a little "day in the life thing" about some regular people dealing with living in a world of superheroes. Spider-Man's not even involved. Odd thing. And that's that.