Weird looking Spider-Man on that cover. Questionable proportions. Weird design on that bad guy, too. For the last 2 issues, Greg LaRocque has just been providing breakdowns, and Mike Esposito has been doing finished line art. Now LaRocque is doing tighter pencils, and Esposito's credit is just for inking, and you can tell. That's one of the fun alchemical things about comics. It's right after the end of last issue. Captain Marvel is unable to become human again. She tells Spider-Man that she gained her powers when a different interdimensional machine blew up, and he thinks this sounds like something he was researching in school. I find that hard to believe, but alright.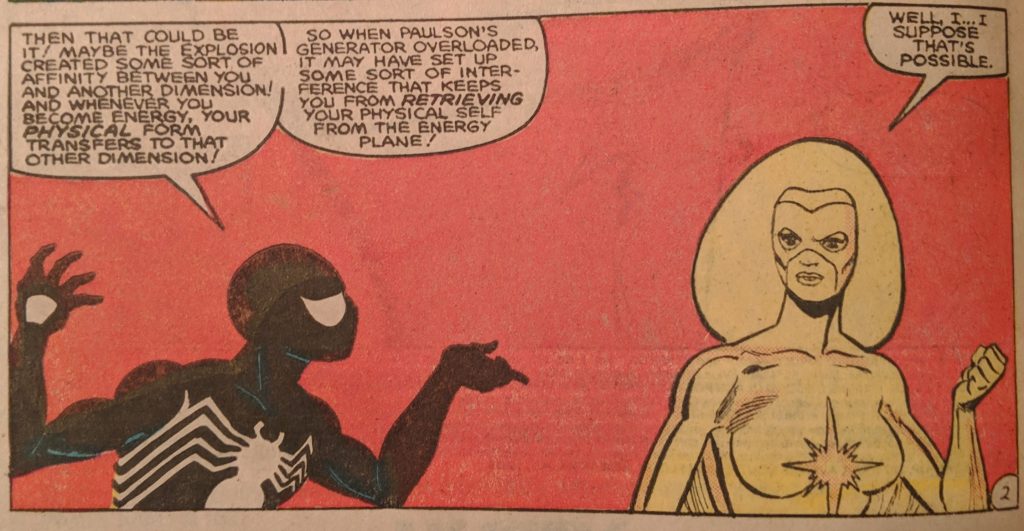 ANYTHING is possible! Spidey tries to activate one of the wrist-mounted teleporters last issue's goons were using, but it doesn't help, and Paulson has gone totally nuts now, wandering around mumbling about how he's saved the world, so he's no help, either. Then Starfox flies through the hole in the wall from last issue with Paulson's partner from last issue. Eros says Jarvis told him about the battle at the mansion, and then he followed the beacon in their Quinjet here, where he found homeboy skulking away from the scene. Cap and Spidey catch him up on what's been going on, and then…
So this Dr. Lorber happens to have a prototype for the PRIDE machine which can only move a few people, which happens to be how many they need it to move. He puts a control device on Spidey's wrist, which he absorbs into his suit. It is decided that Monica shouldn't go because she's already unstable, and who knows what would happen to her, and then Spidey & Starfox zap to a strange, alien world. I always enjoy watching writers of multipart Team-Up stories figure out how to move people in and out of an ongoing plot. They're only there for a second before the guy on the cover lobs a mace at Spidey, and our guys end up fighting a bunch of dudes who conveniently speak English.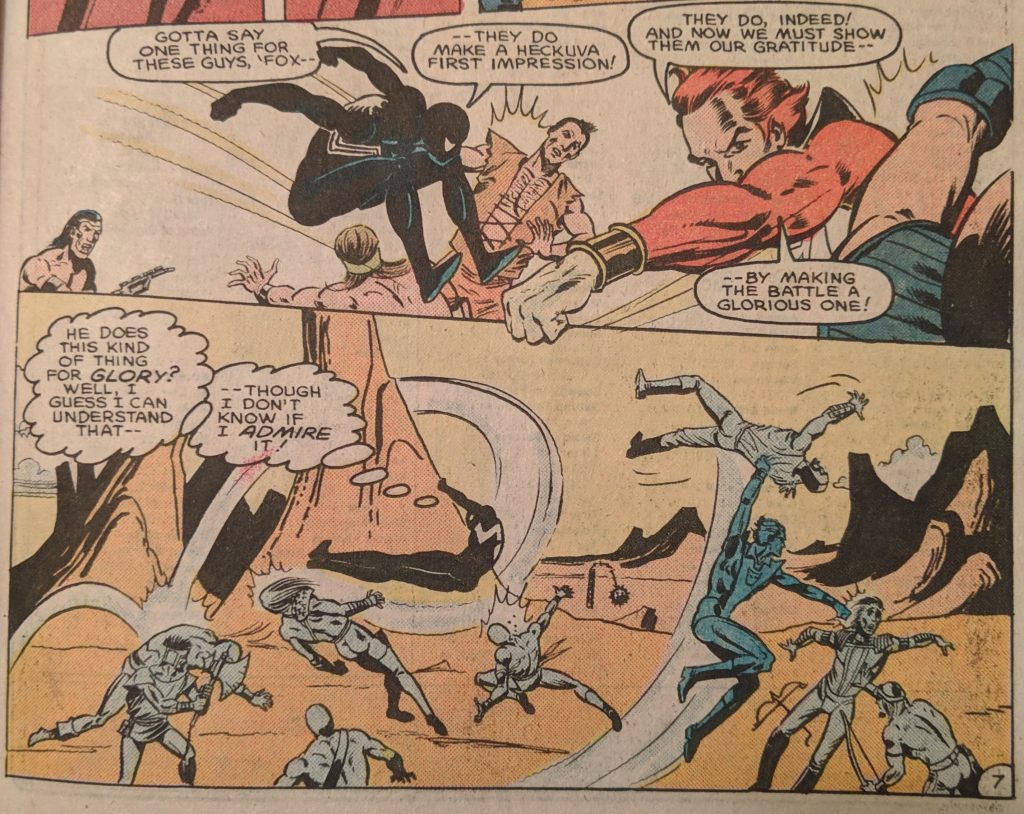 These guys are quickly chased off not by our heroes, but by a gang of warrior women who throw flaming crystal ninja stars (and also speak English). Starfox says "apparently in this dimension, speech is transmitted telepathically as well as vocally, Spider-Man." Well, isn't that helpful?
Is this a stealth pitch for something? This feels way too thought out to be a single issue of Team-Up. The Elysians take the Earthmen to their base, where they're told fighting is generally something women do in their society, but they could tell these two were fighters based on their "warrior garb," and that's why they jumped in to help them.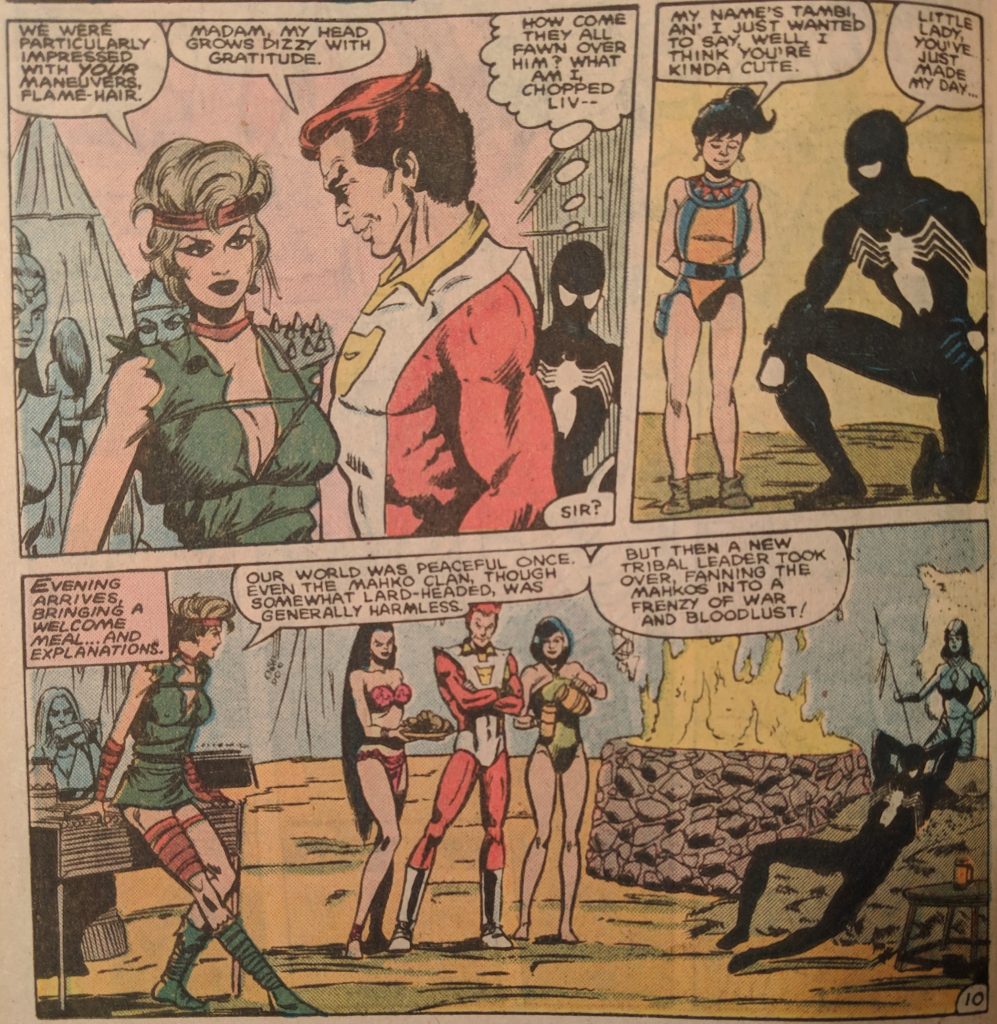 This bad guy leader is named Will-Killer, we're told he would've wiped out their whole race if they hadn't found "the machine." Guess what, it's the PRIDE generator. Time moves differently here, so they've had it for weeks, I think you get the idea, this sort of thing happens all the time in comics. They use the machine to create a force field around their home. Anyone who walks into it gets zapped into another dimension, though they only know they disappear. Late at night, Spidey & Starfox resolve to go beat up the Mahkos themselves, so the Elysians can safely turn off the machine and help Captain Marvel. So they wait for the shield to be taken down so a patrol can leave, and sneak out.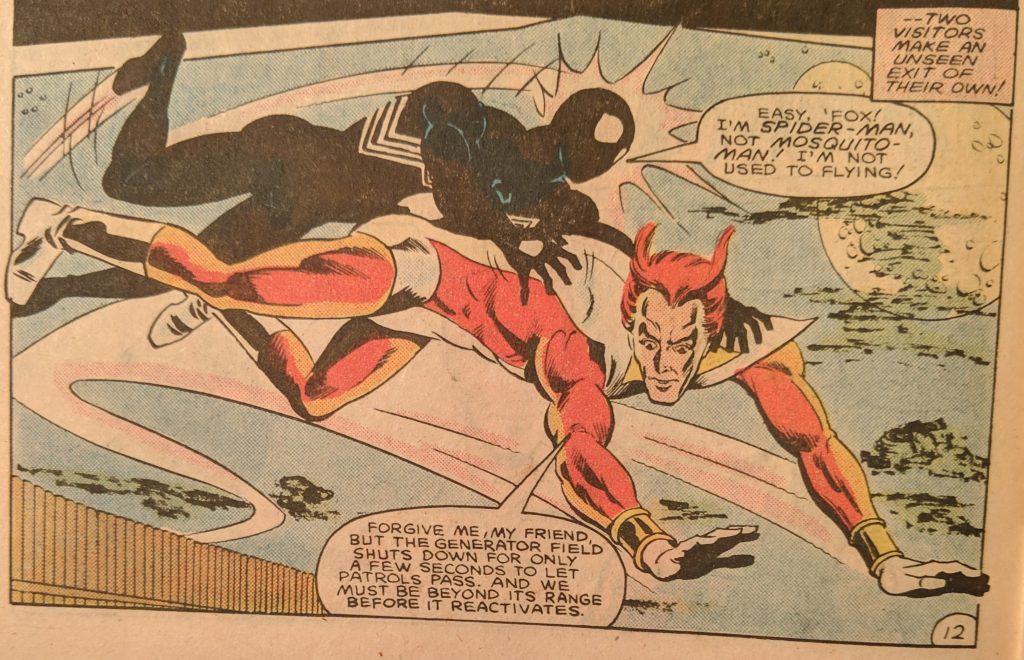 Starfox drops them right in the middle of the Mahko camp, assuming he can easily defeat whoever Will-Killer is with his super strength and whatnot. Will-Killer turns out to be the guy on the cover, and then…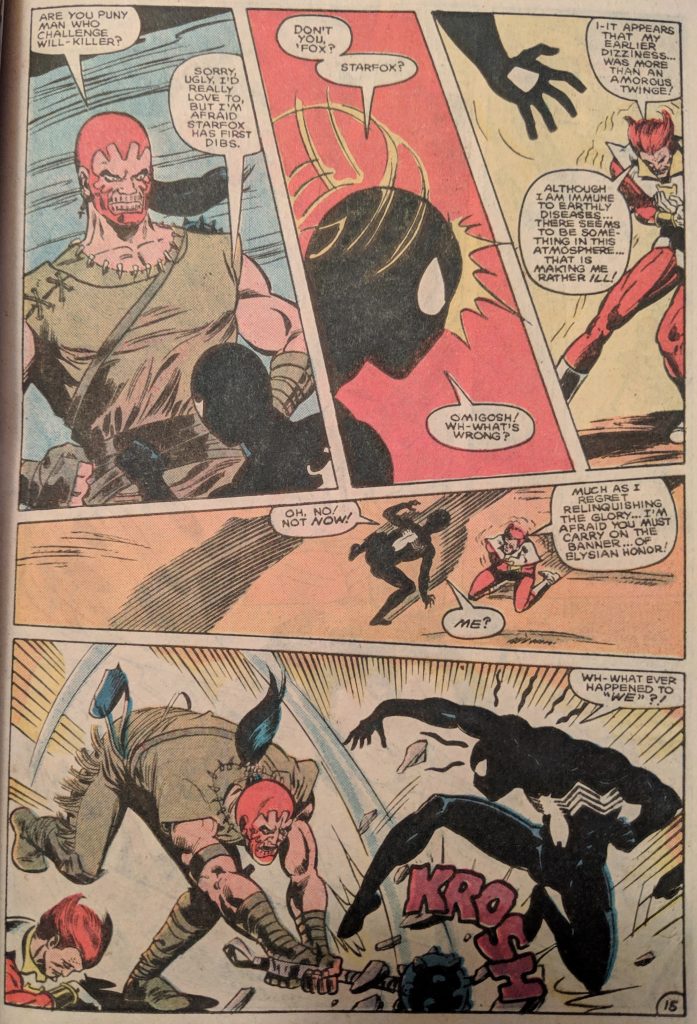 So it's Spidey vs. Will-Killer for the fate of this world and/or Captain Marvel! Will-Killer shows off various cool gadgets which Spider-Man is impressed by, continuing to make this feel like a pitch for another series or maybe even a toy line, and then he gets down to business. Will-Killer proves strong enough to shake off several blows from Spider-Man, who then gets distracted by a worsening Starfox just long enough to get smashed in the face.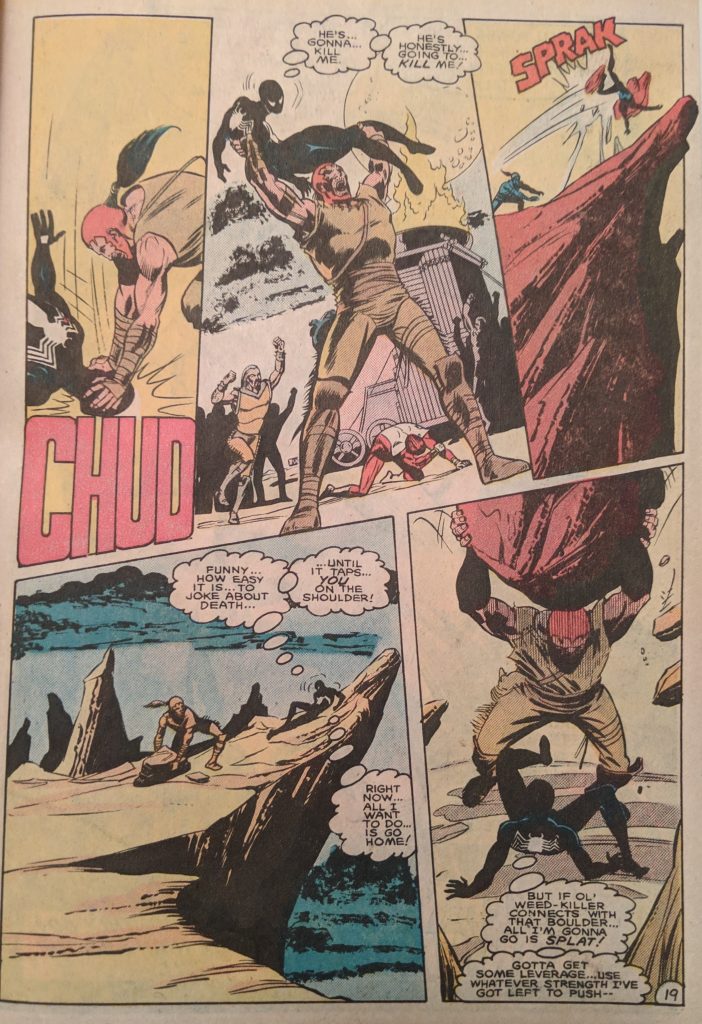 CHUD! Spidey flips his opponent into the big rock on the cliff, but this time it shatters, and Will-Killer goes toppling over the side. Spidey obviously didn't mean to kill the guy, but he doesn't have much time to think about it, as the rest of the gang is advancing on him. Suddenly, inexplicably, Starfox is feeling a little better, and manages to knock over their giant fire tower, scattering the Mahko. Starfox is now feeling well enough to fly them back, even, how convenient! They explain to the Elysians that the Mahko are defeated and convince them to destroy the machine. Then Spidey hits the gadget on his wrist and he and a reluctant Starfox return to Earth without a moment to spare.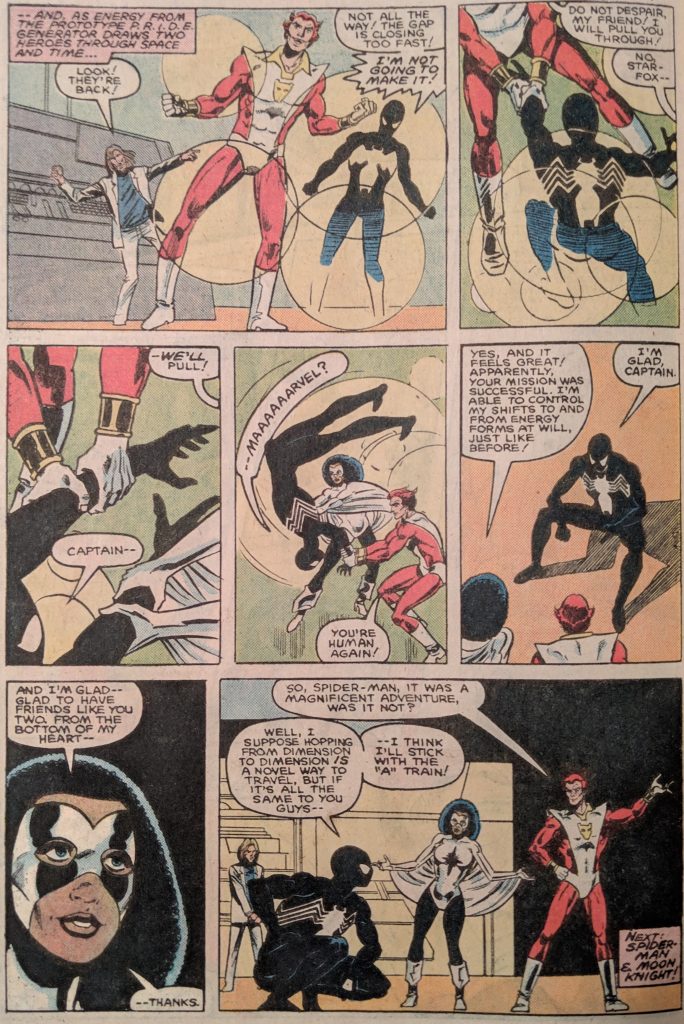 Neat & tidy. Ya know, in all these years, it never occurred to me until now that publishing a book called "The Saga of the Alien Costume" that only collects the ASM issues from this period was kinda rude to the staff of MTU and TAC. I know people have always thought of ASM as the "real" Spidey comic no matter how many were being published at the time, but everybody was doing their best, I'm sure. I guess the most important beats relating to the suit did all happen in ASM. I dunno. Maybe I'm overthinking it.