This one's another Ebay find. I got MTU 140-150 for just $7.99 pretty early in my quest. The early days were the best, because there was so much I didn't have, especially in all the titles that weren't ASM, that I could find bulk bargains on stuff. This one's by David Michelinie, Greg LaRocque, Mike Esposito & Bob Sharen continue on as the art team, and will for the rest of the series. Captain Marvel! It hasn't been long since we saw her debut here on the blog, but it's been a few years' worth of comics in the timeline. She's become a member of the Avengers and everything, she's doing good. Let's see what she's up to. We open in a room-sized model of New York that looks like the set for a Godzilla movie.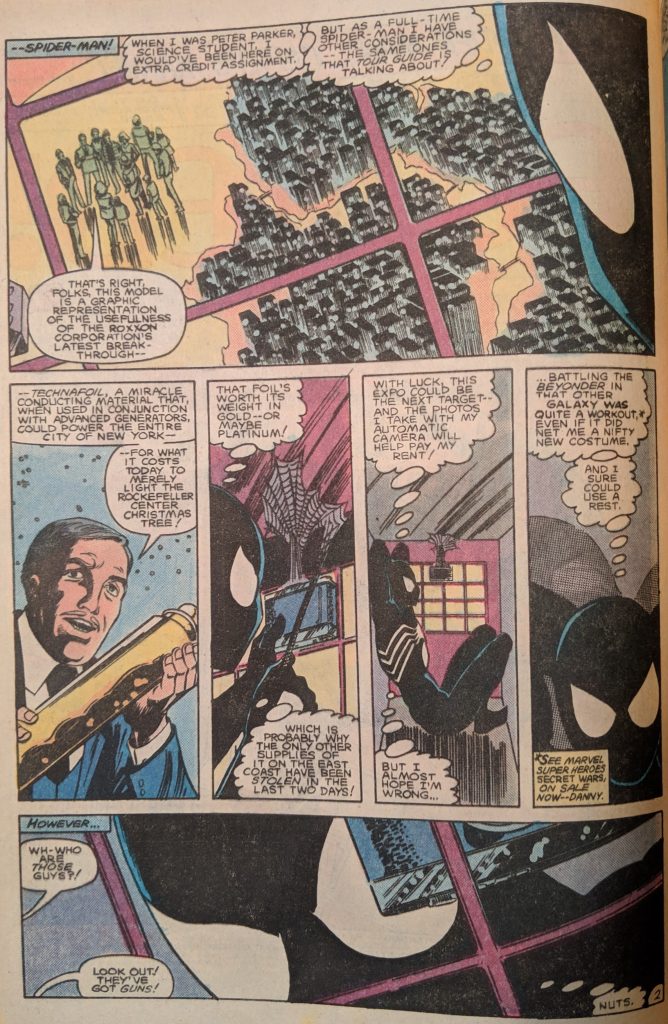 Aaaaalright. Well, naturally, no rest for Spider-Man, because as soon as he says that, goons in henchman outfits rush in. They helpfully let us know they're shooting a security guard with "gelatin bullets filled with knockout juice" so we don't have to worry about him, and then Spider-Man leaps in.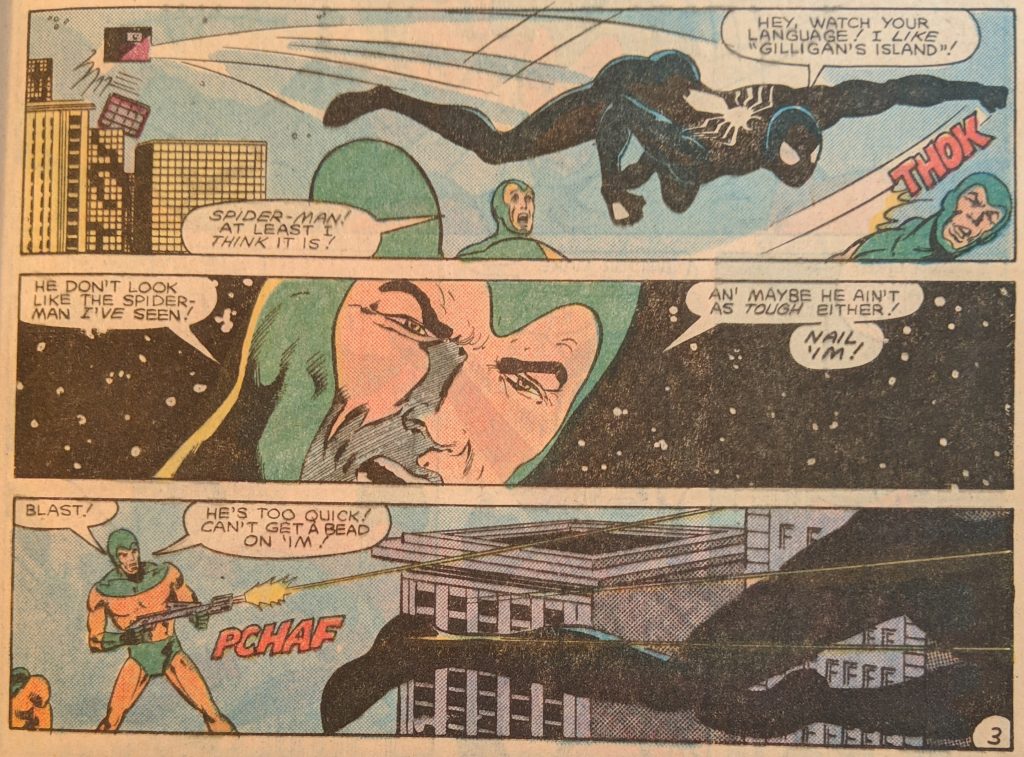 Spidey's got some junk in his trunk this month. He handily defeats all the goons except the guy holding the stuff, who teleports them all out, leaving Spider-Man to explain things to the police. Meanwhile, on Long Island, Monica Rambeau is visiting the Maritime Museum, thinking about her old life in New Orleans, where the sea was her life.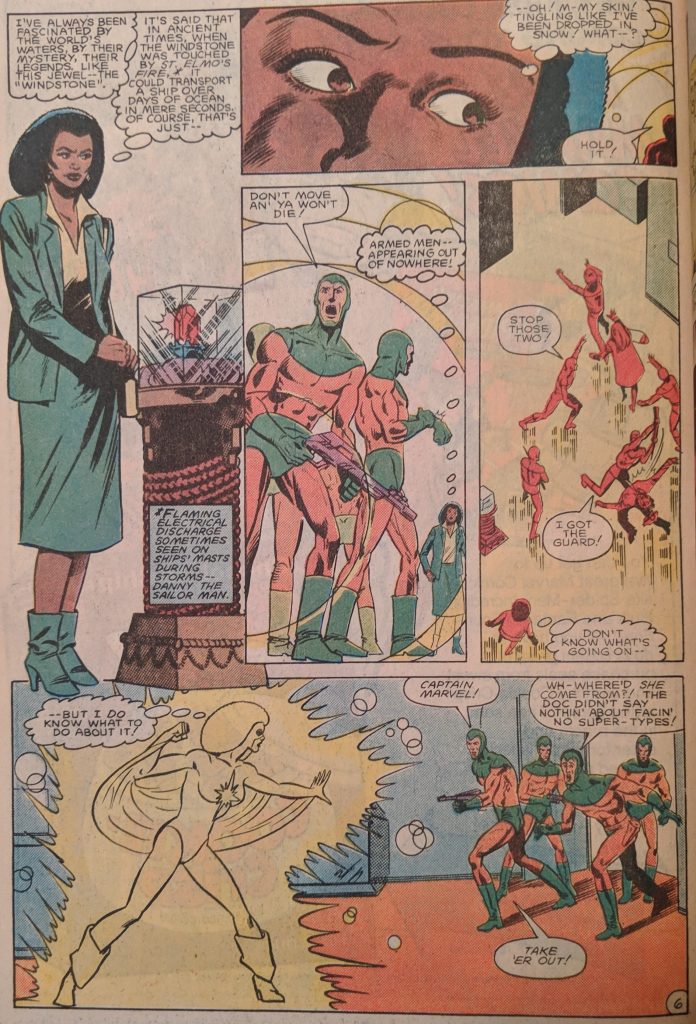 Are these guys just pretending to have real bullets or did they not get the memo about Jell-O guns? No, these guys at least think they're shooting to kill, but Captain Marvel can turn her body into light, so they can't do much to her as one of them steals The Windstone. I dunno about this thing. Turning herself into electricity, she zaps all the goons but one, who does a runner. She flies out of the building after him.
Oh ho. Monica's powers being knocked out by that teleportation field is a surprise. Especially for her. She almost splatters onto the street, but regains her powers at the last second. Returning to The Museum, she finds the curator worrying these guys might come back for the stone, so Monica offers to take it to Avengers Mansion. Then we turn our attention to "The Paulson Foundation," a research institute in the suburbs, where were learn a Dr. Paulson sent all the goons out on their missions, and he's mad about not getting The Windstone.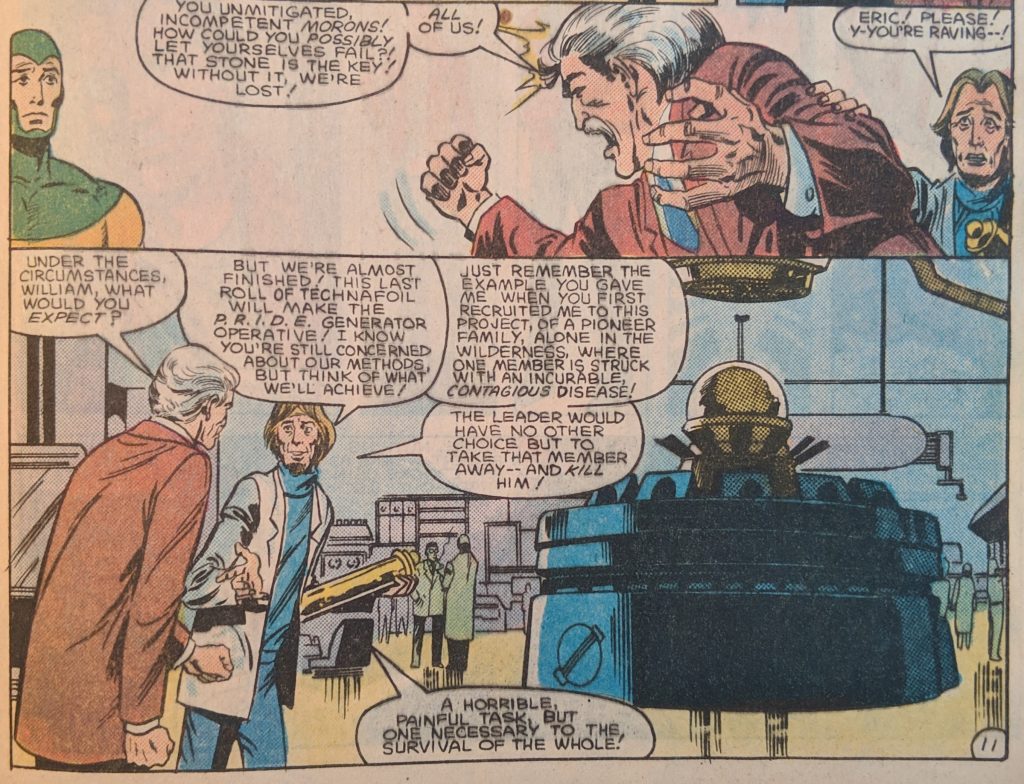 After that seemingly random analogy, without really telling us what the machine does, Dr. Paulson feels conflicted about pushing the button and wiping a billion human beings from the face of the Earth. Whoa, guy, listen to that doubt! What're these weirdos up to? Back in Manhattan, Peter Parker heads to The Daily Bugle, going through the morgue for any other incidents of vanishing goons, when he's approached by, uh, Bert.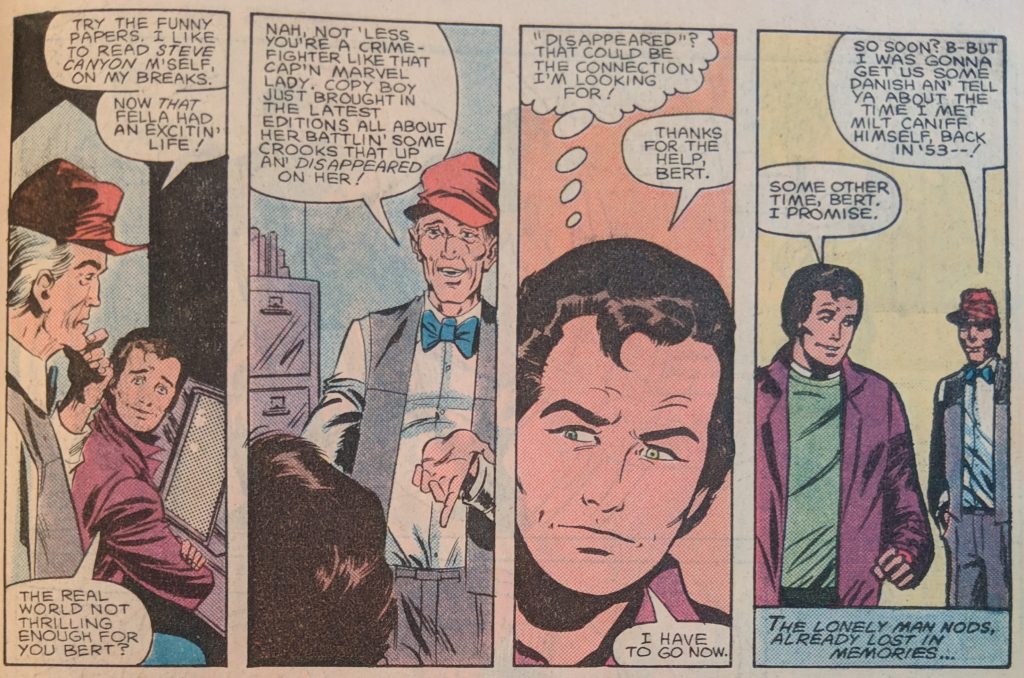 I don't know who Bert is, maybe he lives down here, we're not told. But thanks for the exposition, Bert! The aforementioned CM is just putting the stone into a vault at Avengers Mansion, when Starfox, aka Eros, aka Thanos' much nicer brother and her fellow Avenger, lets her know they're the only ones home right now and he's got a date with all of the Rockettes. Eros can control how people feel about him, among other powers, and is generally a wildly creepy character, even though he's a good guy. He flies off and leaves Monica alone to worry about her powers going out on her, and as soon as he's gone…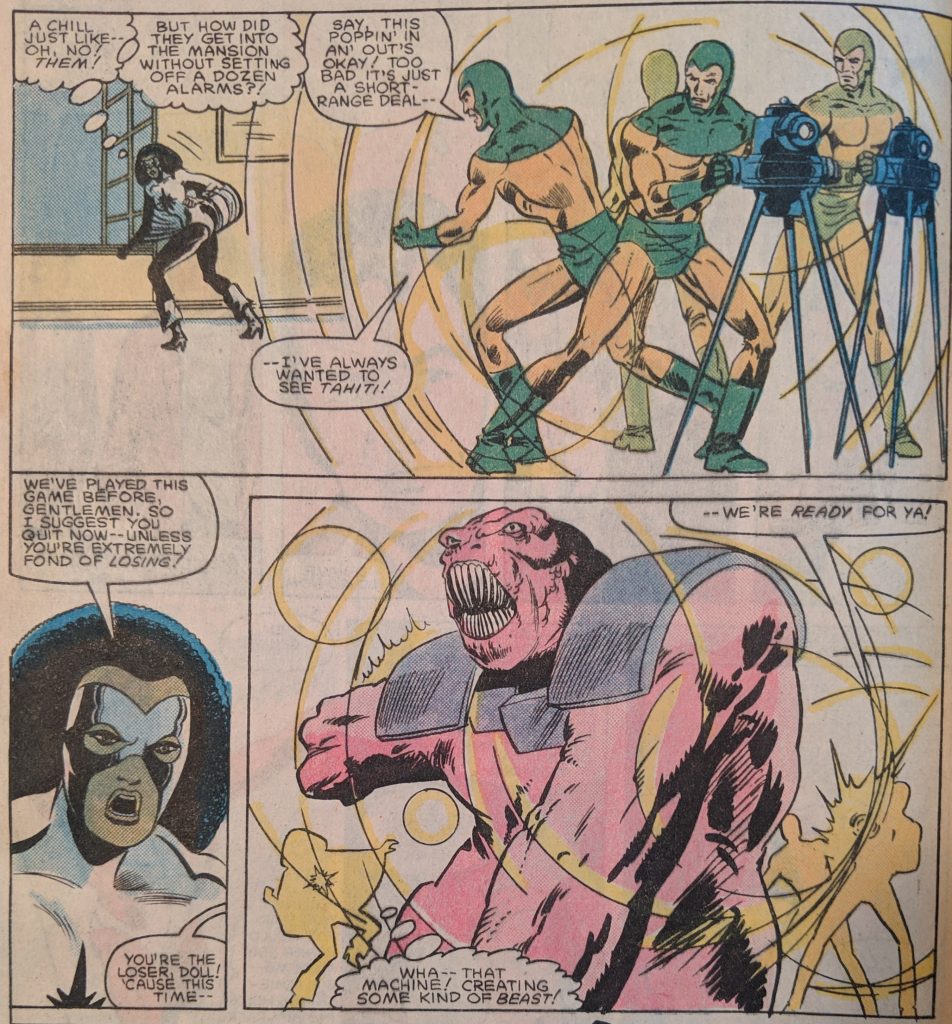 CM finds not only that her electricity form doesn't bother the monster, but it can grab her in her light form somehow, as the goons set up their 2nd machine in front of the vault. Luckily,  Spider-Man is right outside, trying to decide how to approach the Avengers when a hole is blasted in the wall, and he hops on in.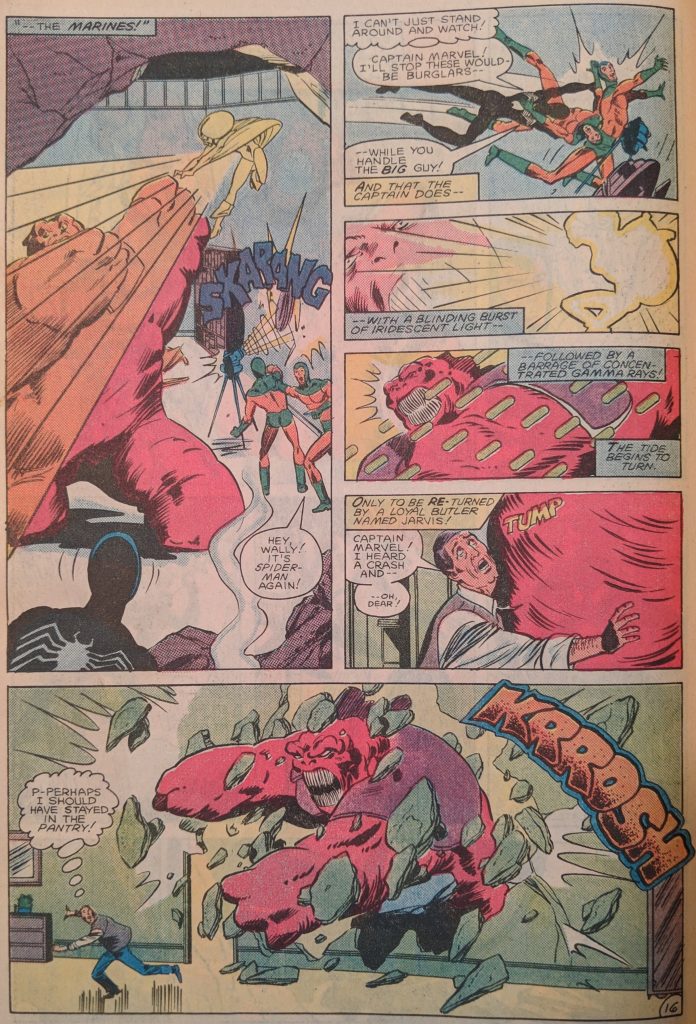 Oh, Jarvis. The big beastie starts chasing him, and the heroes rescue him. They then leap into action against the monster, but it and all the goons do their disappearing act. Spidey just manages to tag one of them with a tracer on his way out, but he knows his range is limited and these guys could be anywhere. CM mentions them saying their teleport can't take them too far, so they hop in a Quinjet and go hunting. And they better hurry, because those weirdos have put The Windstone on top of their murder machine and declared it complete. It's time for Dr. Paulson to flip the switch, and in his hesitation, he notices the tracer on his goon's leg. Too late, though, as Spidey & Captain Marvel come blasting through the wall.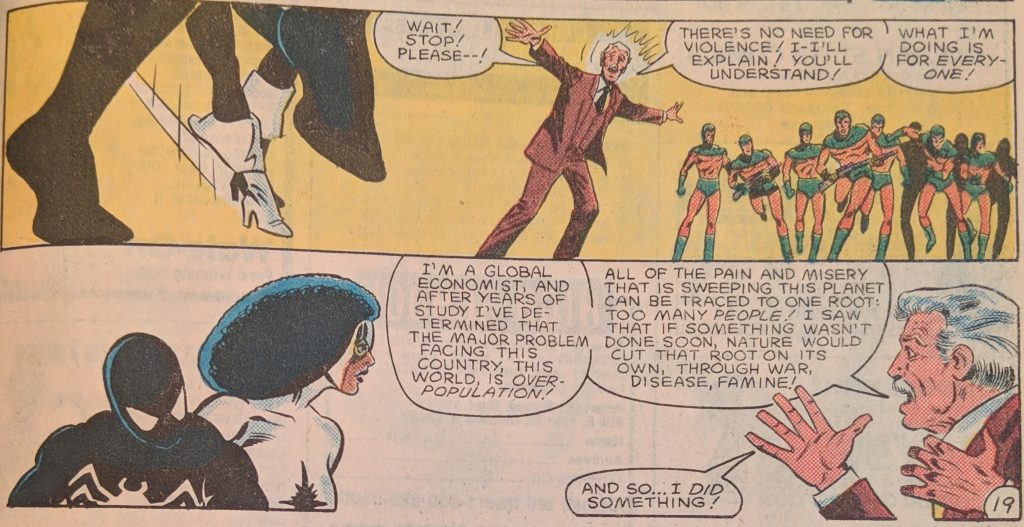 He created the Population Reduction by InterDimensional Expulsion machine (hur hur), which breaches other dimensions. They've used it to teleport their goons and to bring in that big monster from another dimension, and he plans to zap "all world capitols" into another dimension, reducing the population and leaving the world's "cowardly" governments to their fate. Honestly, the zapping all governments into another dimension plan is pretty appealing, but come on, man, this is terrible, so it's fightin' time. Paulson flips the switch before our heroes get past the goons, though, and the room begins to go crazy, bits of other dimensions warping in and out all over. Spidey decides that if the gem is what's used to focus the machine, he'll just redirect the gem.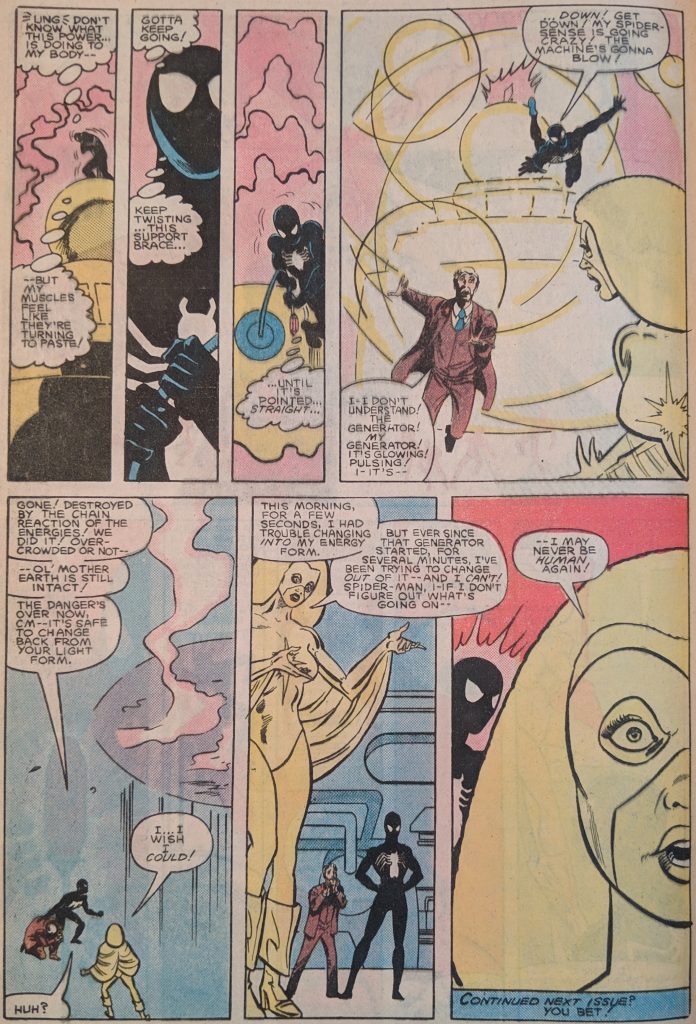 Uh-oh! Next time, the adventure continues, and Starfox returns to play a larger role.