Well, what is it? Let's find out. We begin with this: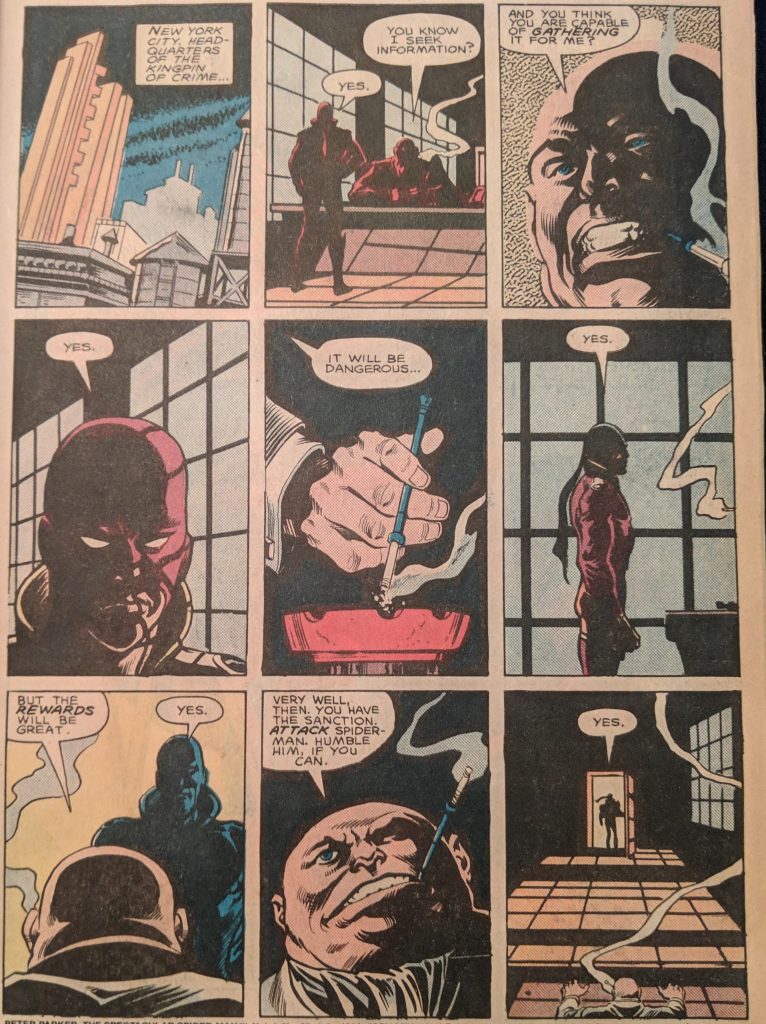 That'll be the guy spying on Spidey from last issue. From there we turn to Spider-Man & The Black Cat making out upside down, because… well, just because, I guess. For the 2nd time in as many issues, Spider-Man starts talking about his personal life (This time clearly establishing that ASM 254 happened "the other day"), and Black Cat shuts him down, not at all interested in Peter Parker. Such a healthy relationship. Peter sure thinks so: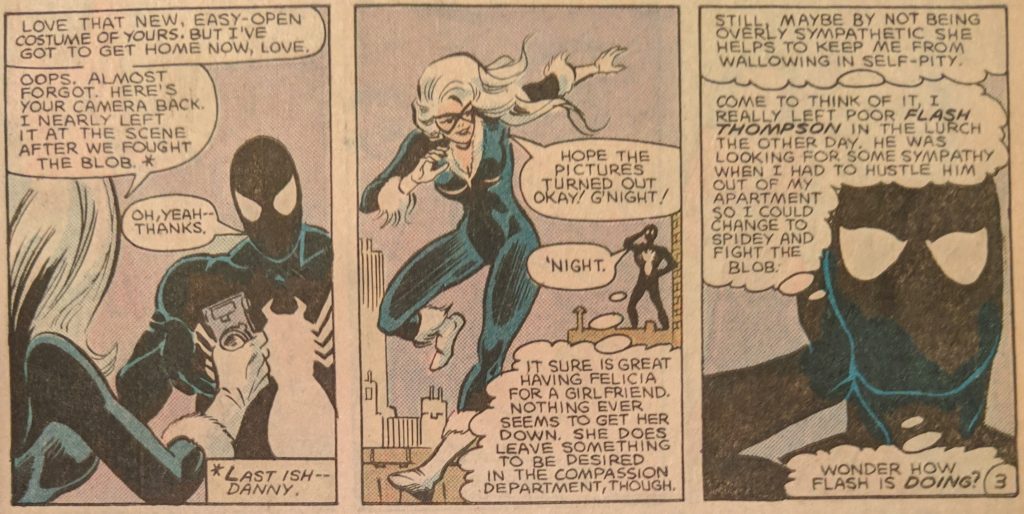 I suppose we've all lied to ourselves for love. Speaking of Flash & Sha Shan's troubles, she's worried that he's not around, and that she's somehow pushed him away, when he shows up…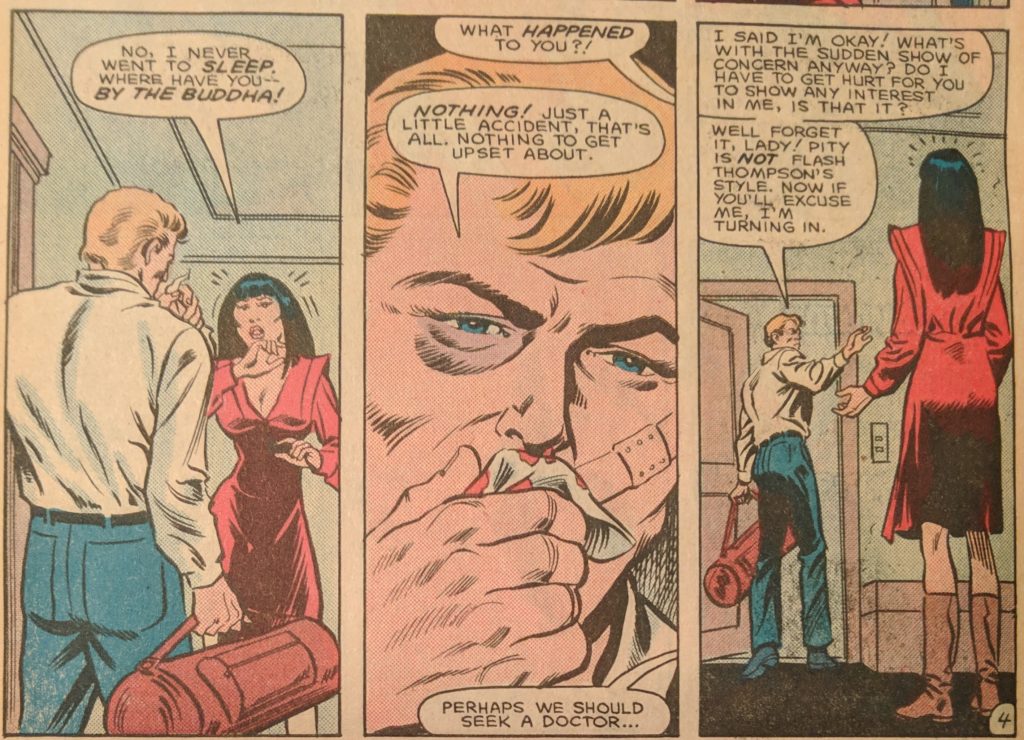 Another healthy relationship! What's Flash up to? We're not going to find out right now, since we go see Peter Parker arriving at The Daily Bugle to develop pictures of his fight with The Blob he runs into JJJ and decides to show him his photos, which catches the ire of Robbie, who calls him into his office.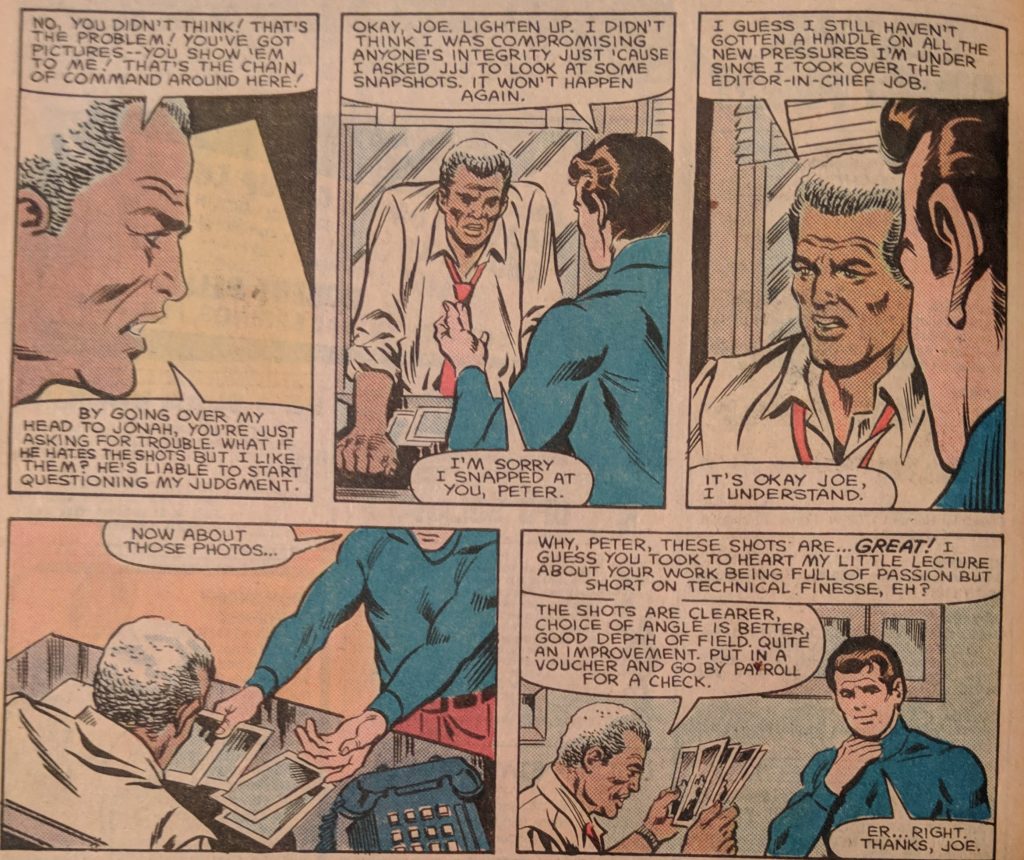 Peter is feeling weird since Felicia took those photos, and then finds out he's got to wait 5 days for the funds to clear, so he's broke. He fills out a credit card application and goes to sleep… but in a few hours, Felicia appears, knocking on the window, saying she thinks someone is following her.
Meeting on the roof, Spidey sees Felicia is genuinely freaked out, and they get as high up as they can to get a better vantage point to look for her stalker, and then Spidey's danger sense goes off.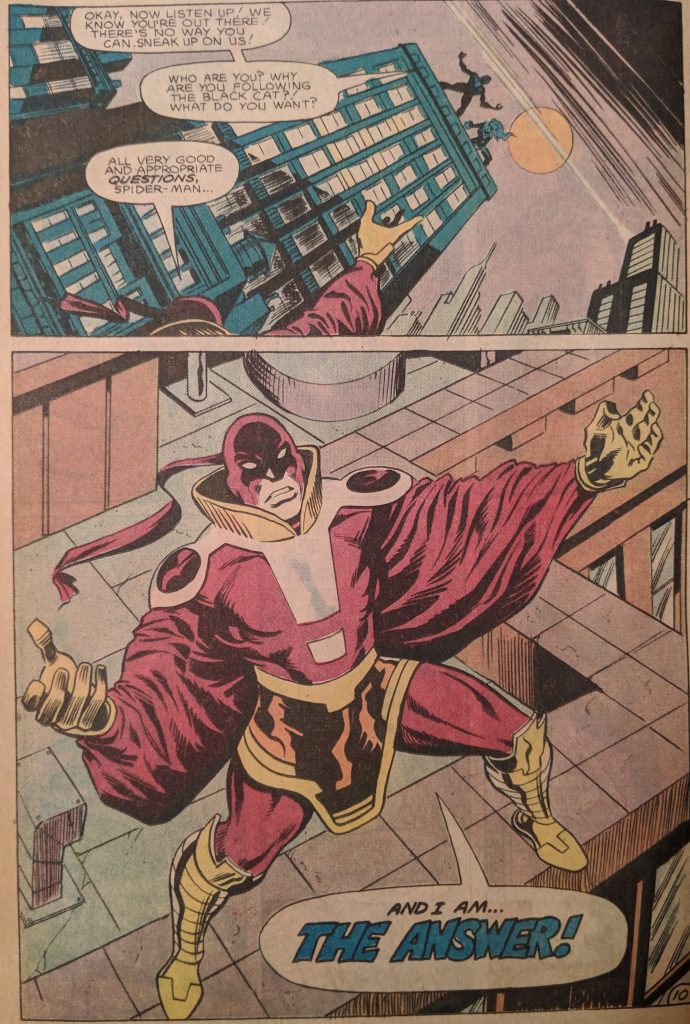 Decades prior to this, Steve Ditko created a character called The Question for Charlton Comics (He's now owned by DC). One wonders if this guy isn't a reference to one of Ditko's most famous creations in the world of another. He says he's here to test Spider-Man's mettle as he flies up to them. Spidey gives Felicia his camera and then drops down into combat. They mix it up awhile, The Answer avoiding his web and talking about how, since he's studied Spider-Man in combat, he knows his tricks.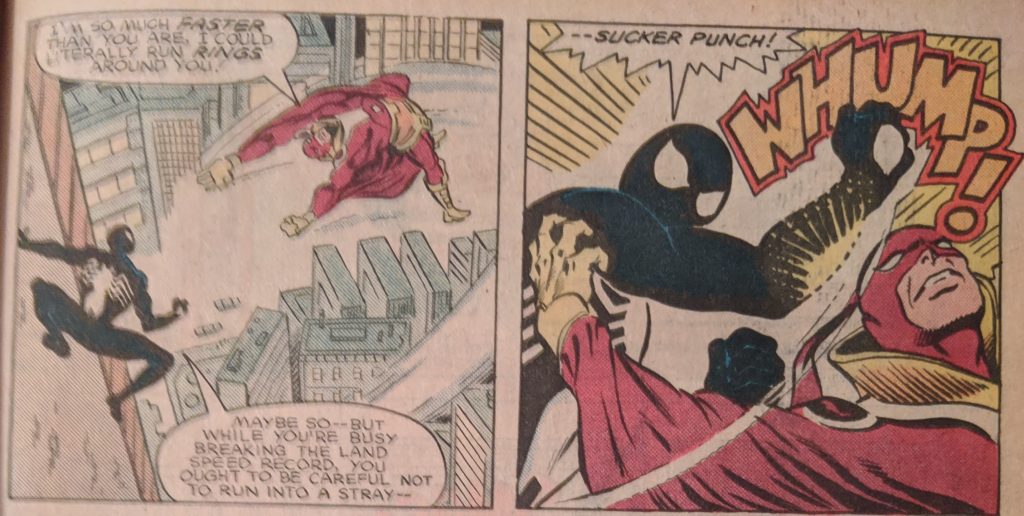 Spidey uses the opening to put a pretty serious beating on The Answer that ends with him smashing into a chimney, but he just stands up and dusts himself off.

So… is this guy's power adapting to stuff? He drives Spidey right through a hapless family's living room, then begins wailing on Spider-Man with a lightspeed flurry of punches until Black Cat leaps between them.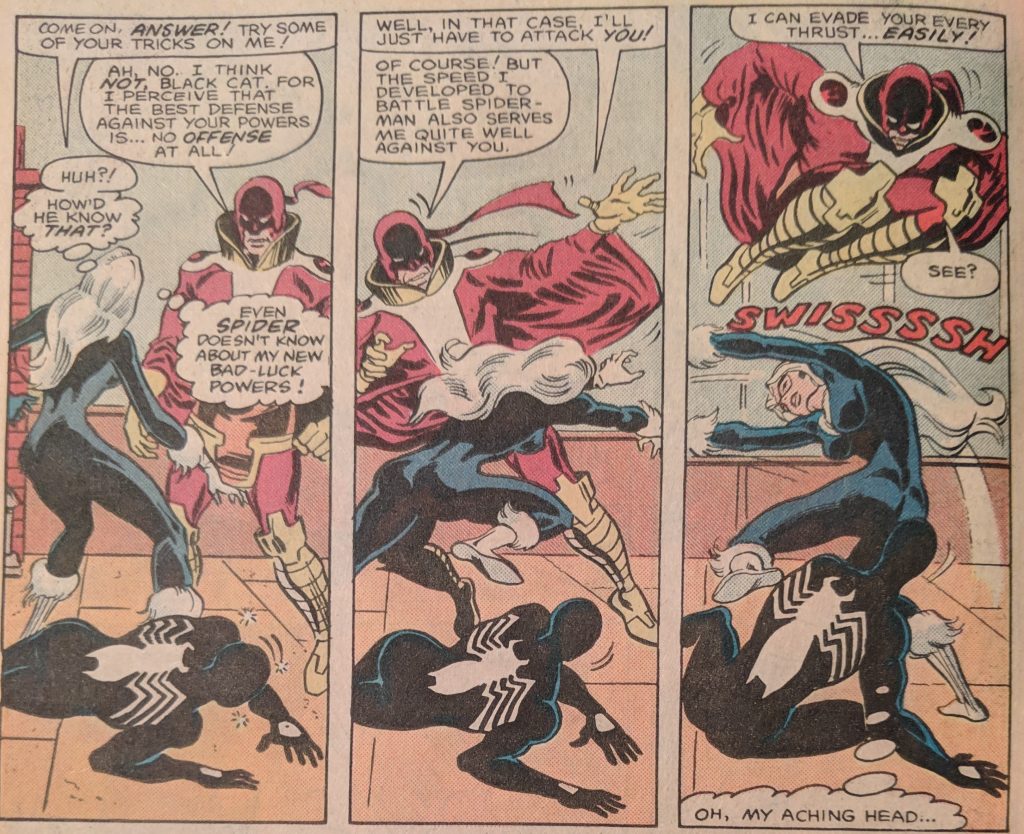 The Cat keeps The Answer distracted long enough for Spidey to come to and toss a big web net over him. With The Answer down, Spidey is ready to get some, uh, answers, and then he randomly bangs his knee jumping over a chimney? Why did that happen? I mean, it happened so they could so this, but…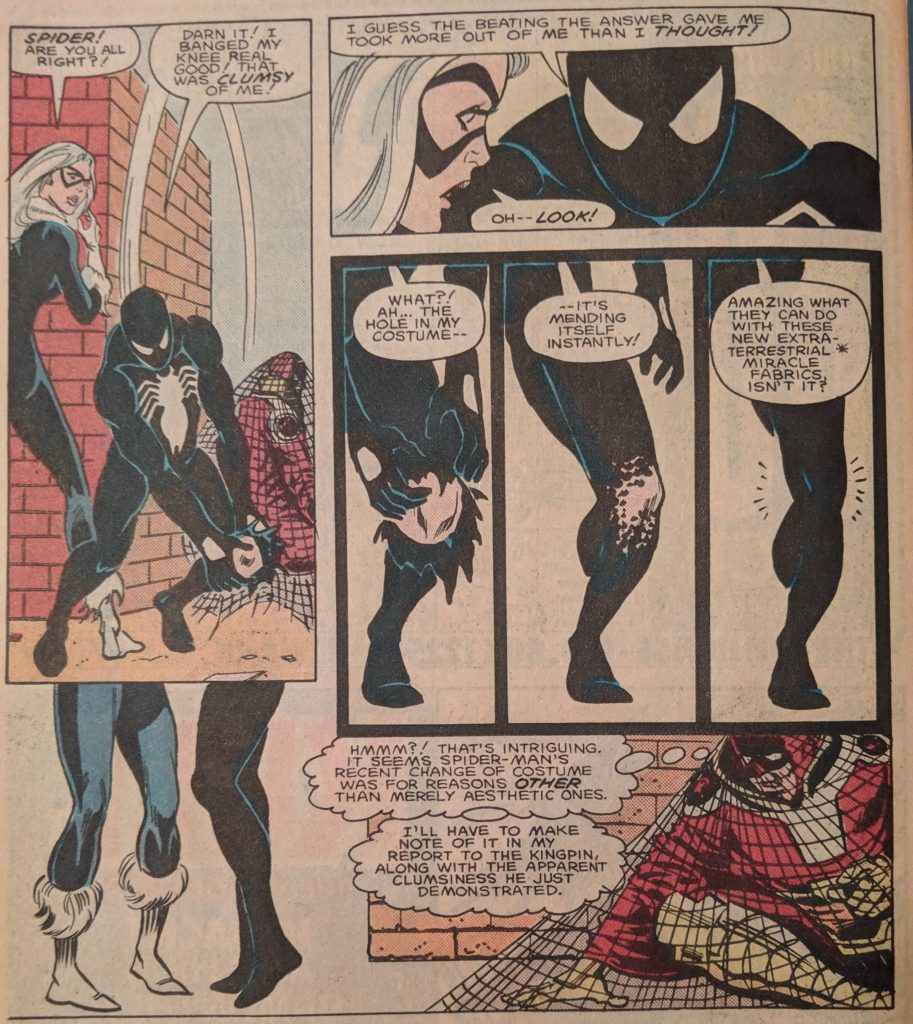 ….but like why, tho? Then The Answers just slips out of the net, having made his costume super slick to avoid being webbed up (Ok, sure?), and throws the net back at the heroes. And Spidey's hurt knee buckles under him when he tries to jump away, sending him tumbling into Felicia and them both trapped. But then The Answer says he's learned all he needs to and just… flies away.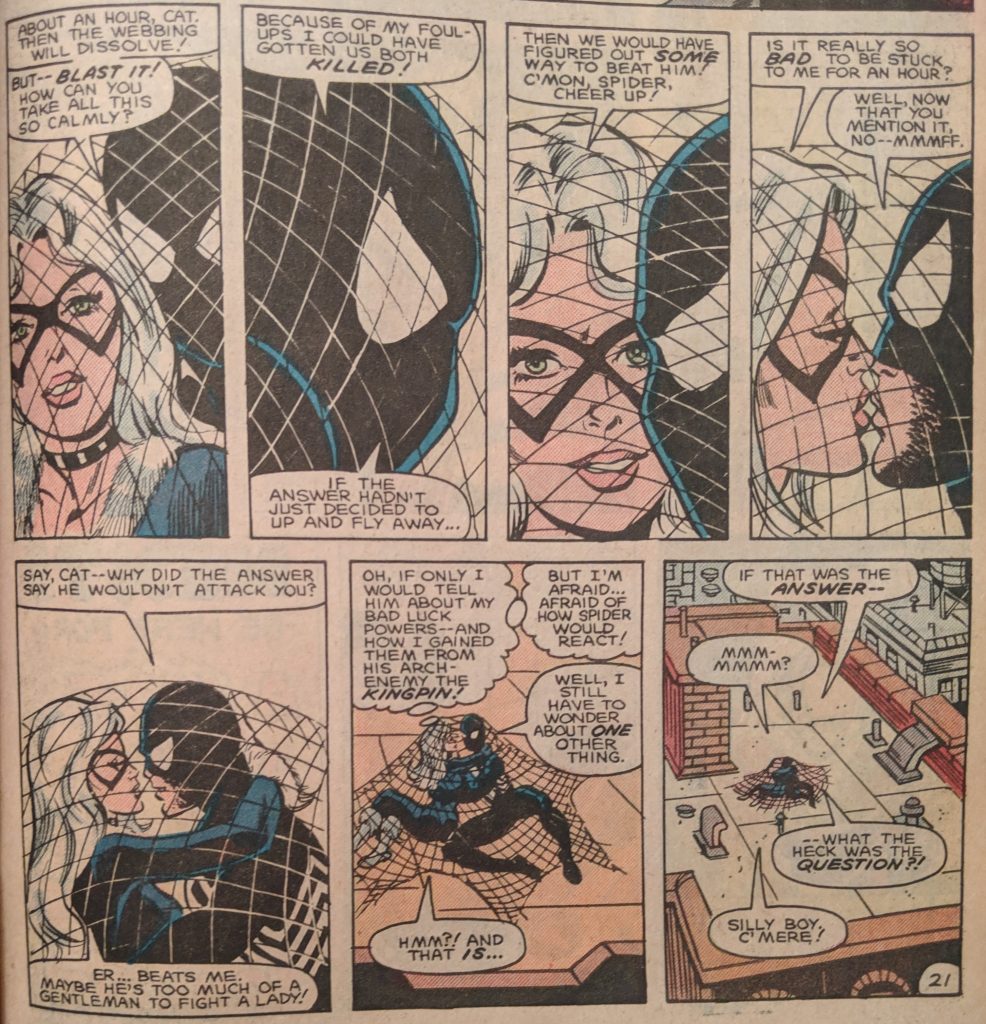 As we leave our heroes in the same basic place we found them at the beginning, we cut to another page of The Answer before The Kingpin, reporting in the same terse answers that he's learned all he needs to about Spidey, and about The Black Cat's powers. Seems like Kingpin's got a plan. And we'll probably see what that is next issue.