Would that the amazing team of Art Adams and Mike Mignola were providing more than just the cover to this issue, another win from The Great Ebay Hysteria of 2018. Not as pricey as ASM 252, but with some degree of debate about what constitutes the true first appearance of the new suit, it can fetch high prices. Happily, I didn't pay one. Patience pays off. Note that we've only seen 2 people draw the new suit so far, and they've both drawn the big spider a little differently. Time to check back in on the court case from MTU 140. The story continues from a plot by Tom Defalco, but this issue is scripted by Jim Owlsey, aka Christopher Priest, the man who would one day reinvent The Black Panther, creating a lot of the foundation for the movie, even. Right now, though, he's an assistant editor and sometimes writer at Marvel, and his style is way less florid than Bill Mantlo's making the transition a bit jarring. Greg LaRocque swaps in on breakdowns, while Mike Esposito remains on finishes and Glynis Wein continues on colors.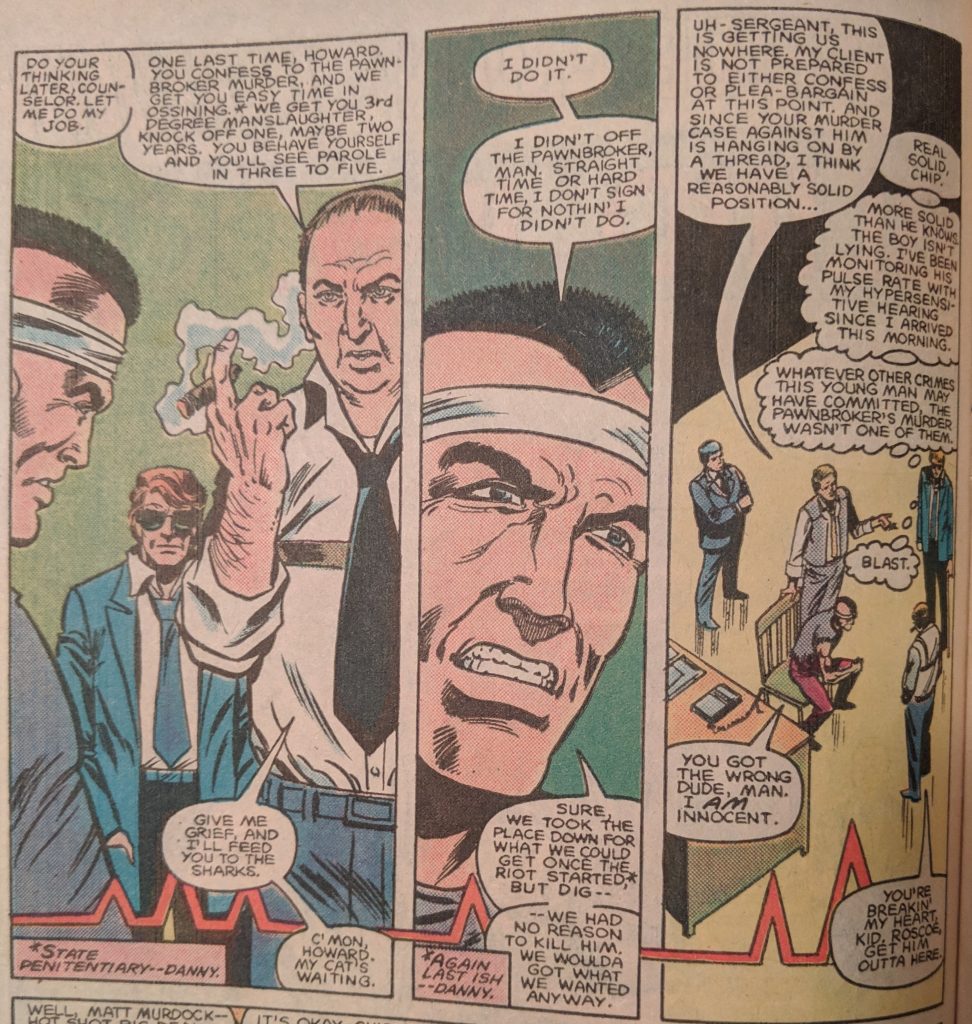 Since this hood (Whose comic book tough guy name, Cool Breeze, is much better than the usual "Slag" or "Motor" or whatever. There was even a rapper named Cool Breeze in the 90s) didn't do the crime, Matt's no closer to justice as he checks in with Ben Urich out in the hallway to recap last issue. Then Matt pulls a Batman on Ben to go switch to Daredevil.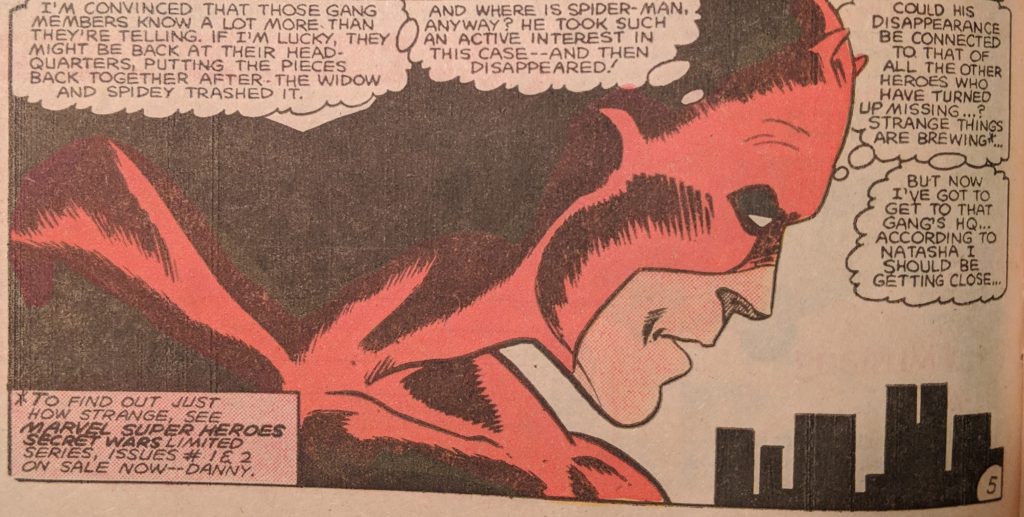 "Could one guy disappearing be related to a whole bunch of his peers disappearing? HMMMMM." As DD heads to the gang hideout, Natasha is pulling up to the pawnshop with her homeboy, Ivan. I don't really know who he is, but he seems to be her driver. She goes inside to find a whole bunch of the gang members. She's about to get rough when…

Hm. While that's happening, DD is at their hideout, whupping up everyone present, fully the Frank Miller version of the character now, brutal and stern, as opposed to the last time we saw him on this blog.

You'd think he'd be even more brutal, though, because I looked it up, and when this came out, Elektra was just killed last month! DD's doing prrrretty well, all things considered. We shall assume this takes place prior to that. Anyway, he leaves one dude conscious to talk to him, and then we take a one-page break to see The Kingpin doing his usual "fight a small army of dudes in uncomfortably small undies" thing while his right-hand man, The Arranger, gives him his daily report.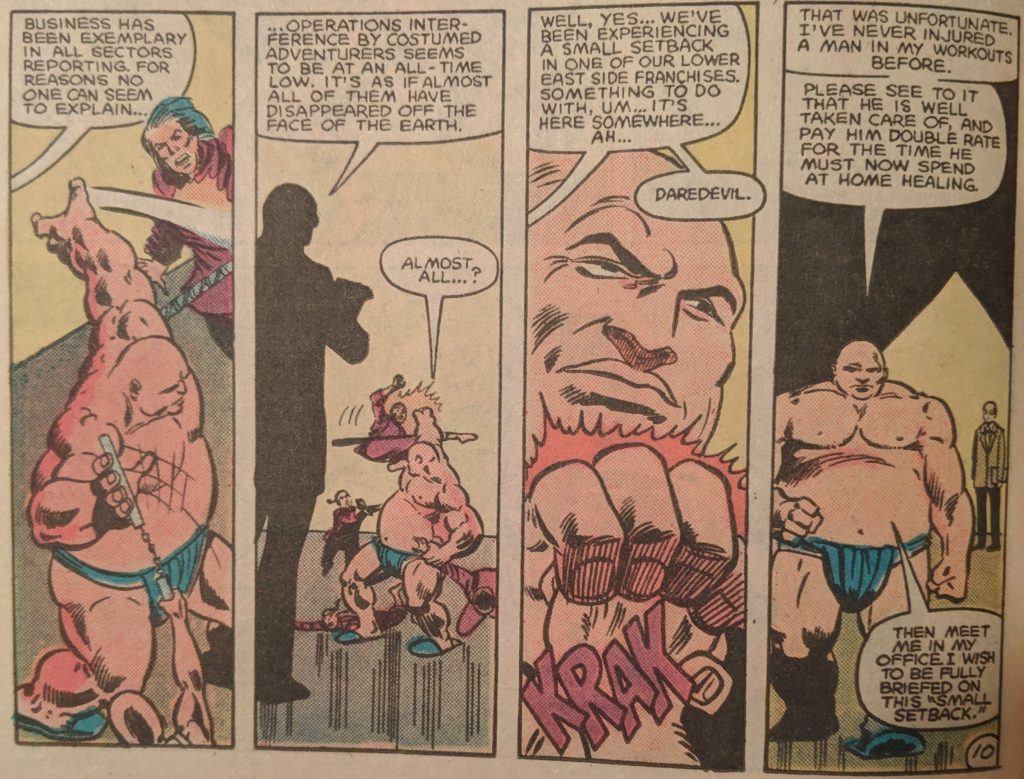 Is that going to be a problem? This issue is half-over already. Back to Matt Murdock, now visiting his client, and he's not happy. Juan's story about being a good kid set up for a fall last issue isn't true. He was a member of the gang, but he was holding out on them, so they set him up for the murder. This is a pretty jarring change. Later, at his place, Matt's in his DD suit, telling 'Tasha he just wants to quit, and she's all for it. He can't REALLY quit, though, he's Matt Murdock…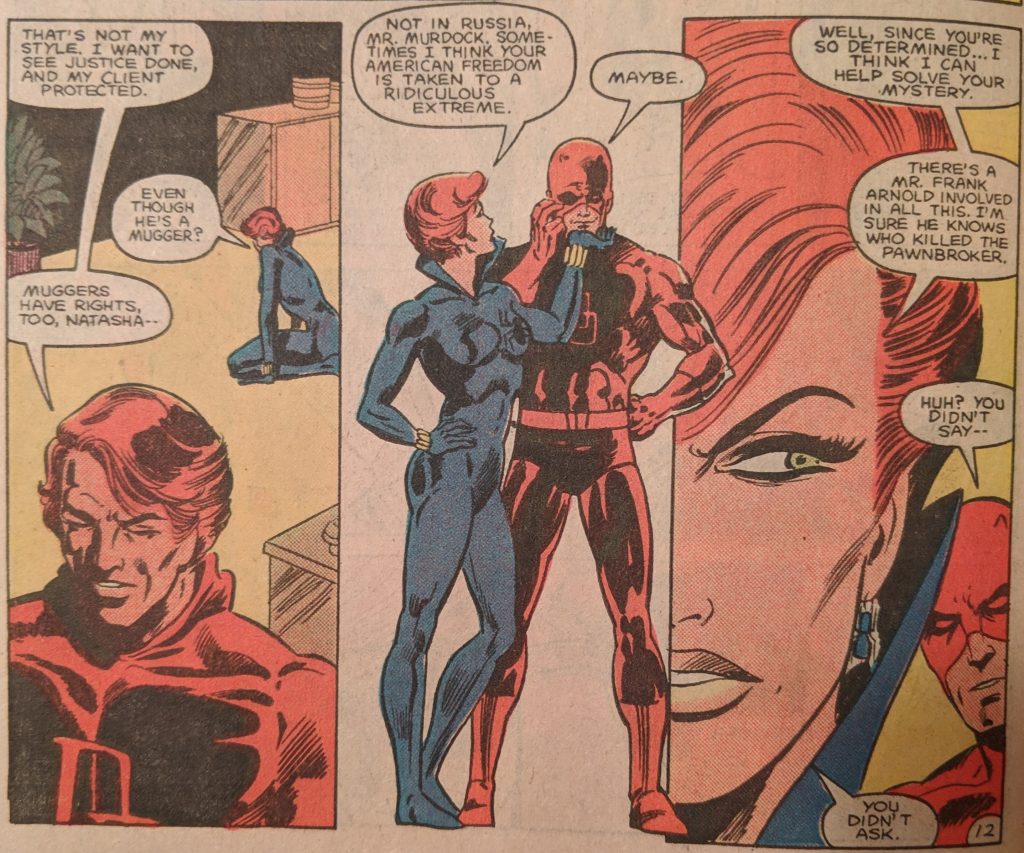 Weird timing, Nat! At that moment, in Central Park, a reporter is recapping what happened "just minutes ago," when Spider-Man & Curt Connors came flying out of the Beyonder's space-thing, as seen in ASM 252. This issue offers a faster version of the same scene with necessarily different dialogue. Part of it is told in flashback, by the guy who had the thermos, and the rest is in real time, picking up with Spidey trying to recover his normal clothes. Interesting choice. I guess they felt their readers deserved to know what happened, sort of, quickly, if they don't read ASM. The next day (So we started before ASM 252 and are now past it), a still jazzed Peter Parker heads into work at The Bugle…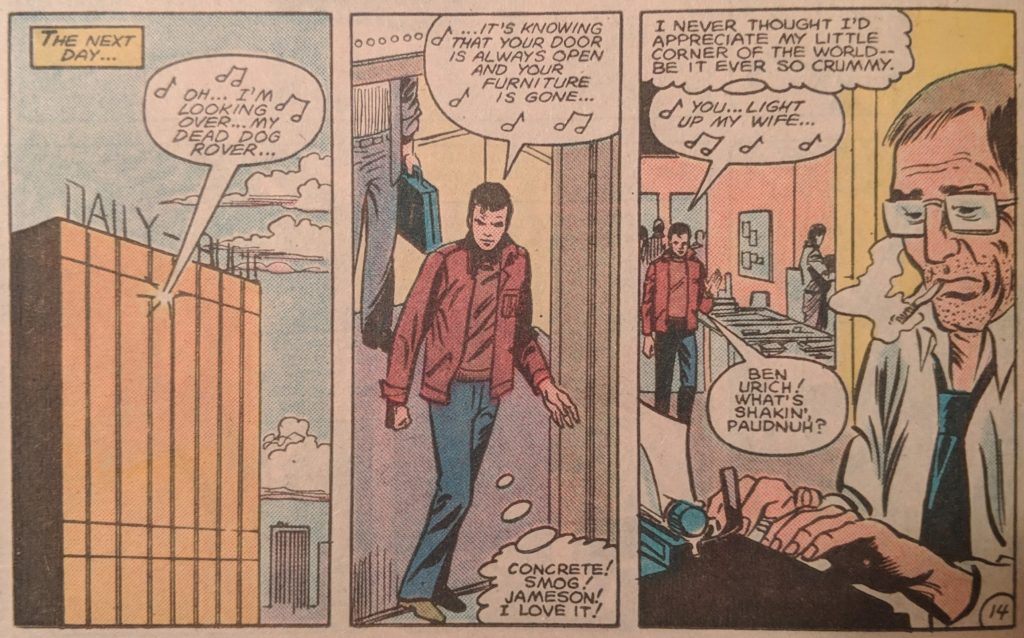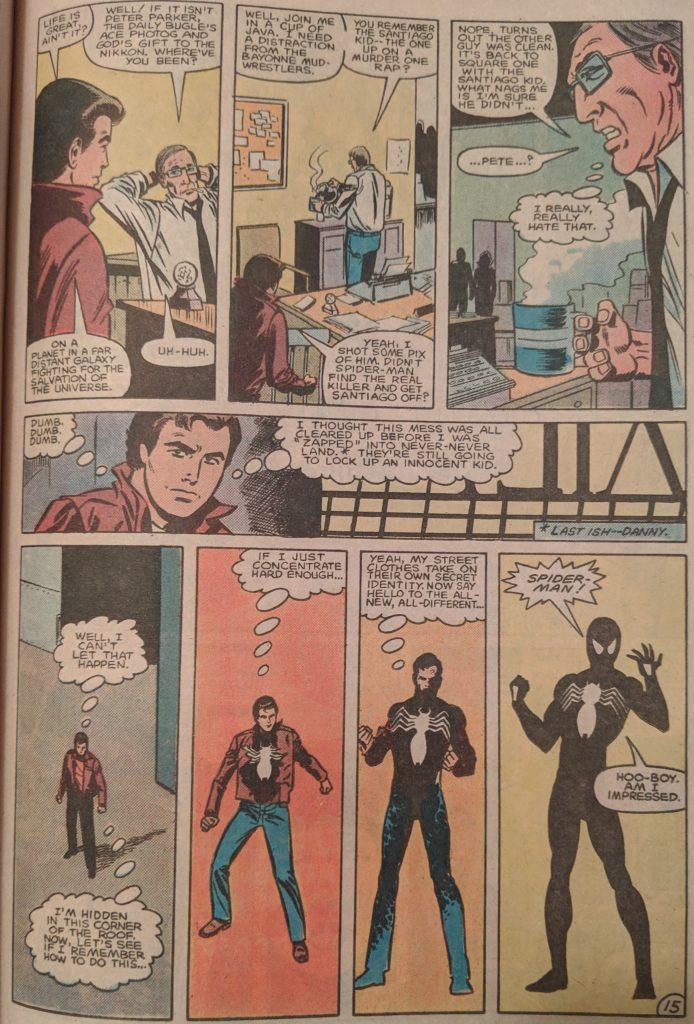 Flatout telling Ben where he's been is pretty funny. And they have to take a sec to show the MTU audience how the new suit works. Now it's off to adventure, as Spider-Man heads to the offices of Nelson & Murdock, but Matt's not in, and Foggy & their current secretary Becky don't recognize him.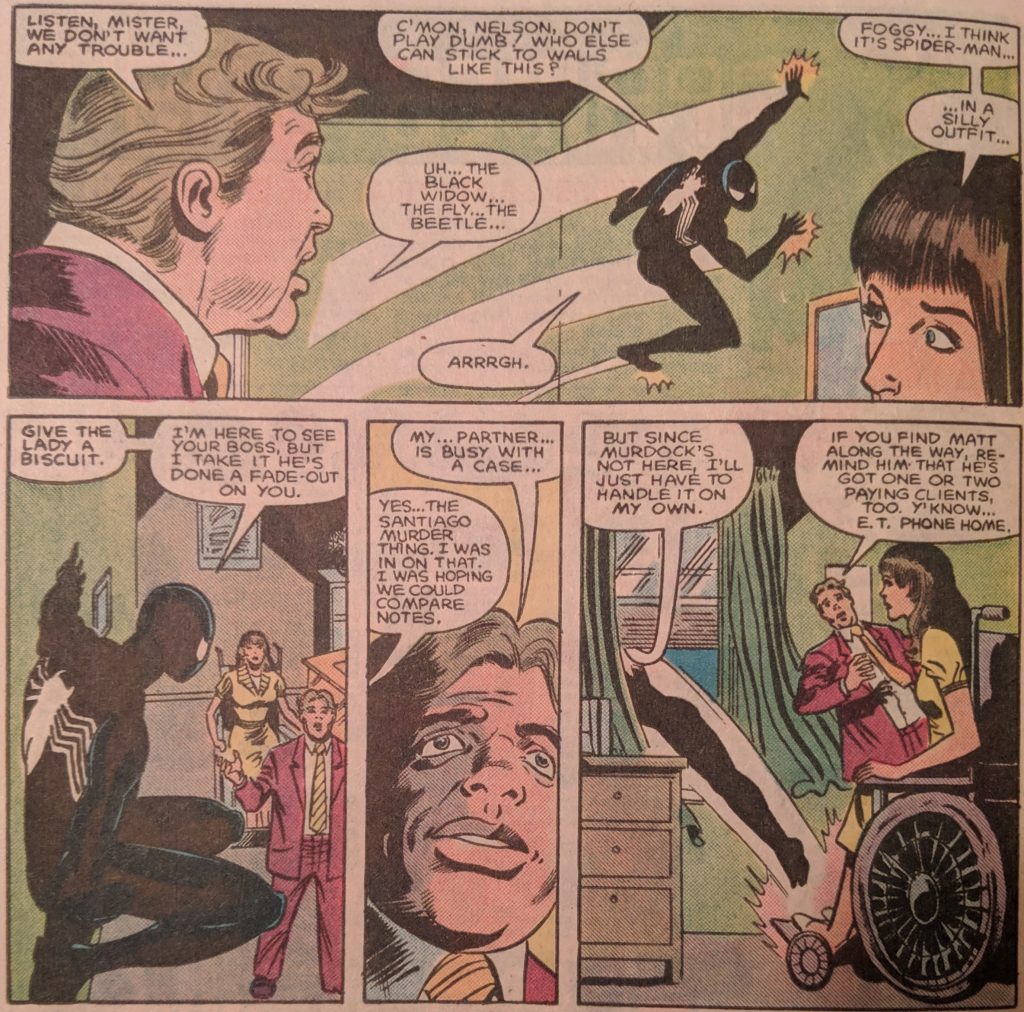 As a lot of artists will, Esposito is really taking advantage of the suit being black. As Spidey wonders where Matt is, Daredevil & Black Widow are headed back to the pawnshop, but are stopped by The Arranger, saying Fisk has a proposition for Daredevil. At the same time, Spidey sees the gang members from earlier loading a bunch of the stolen goods from last issue into a "U CARRY" truck (Get it?). Owsley has Spidey say either they're making off with the stolen goods, or "I could be wrong. And Gary Coleman could be a KKK high druid." I don't think you'll find a white writer in comics then, and maybe now, who would've been willing to put his name on that joke, that's pretty funny. As he follows the truck to that same ol' pawnshop, the situation finally reveals itself…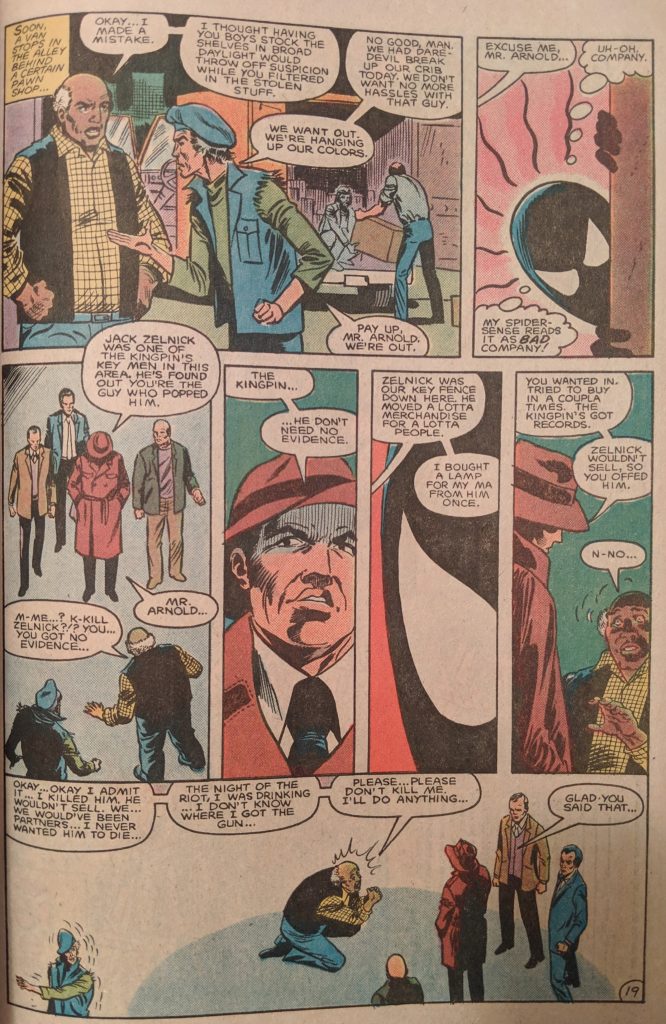 Spidey leaps in, just happy one of the goons called him by name in his new suit, but his fun is cut short.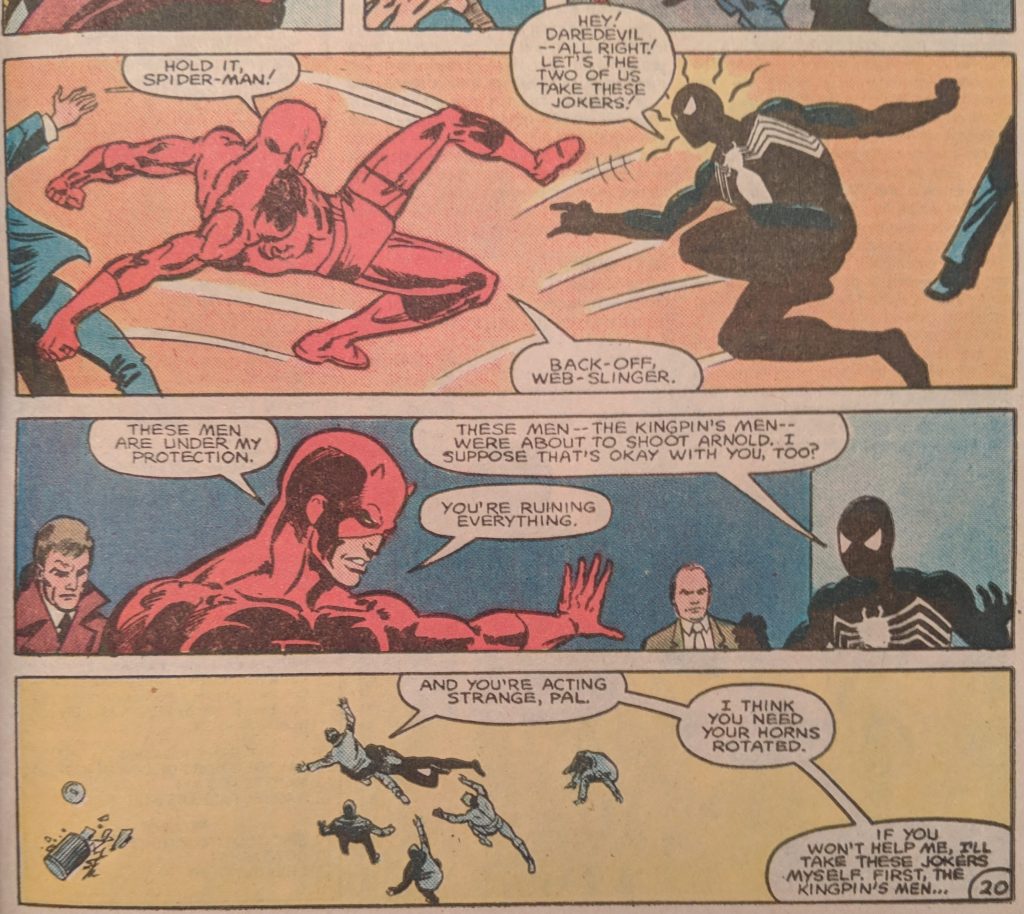 While they're having it out, Black Widow has followed Arnold as he tries to escape. He threatens to use his gun, the same one that killed the previous owner, but of course, Natasha is far more intimidating that he is, and he hands it over.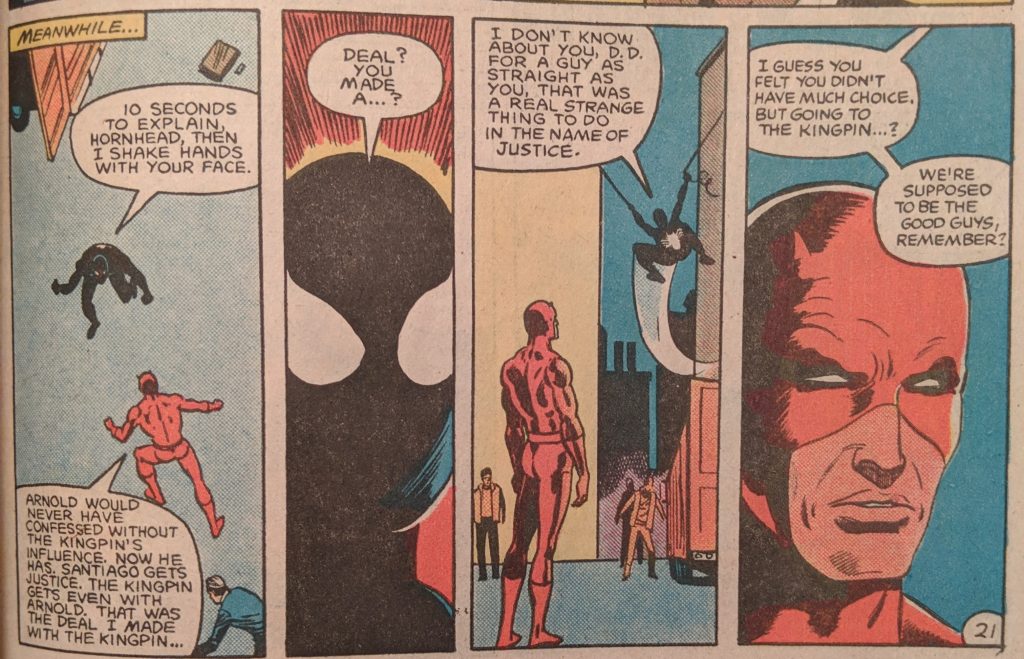 Man, that's something. Was DD going to let those dudes kill Arnold? The leader did sort of seem like he wasn't going to kill him before Spidey dove in. That's weird. And, strangely, not the last time this kind of situation will present itself between Spidey & DD. But that's for later. For now…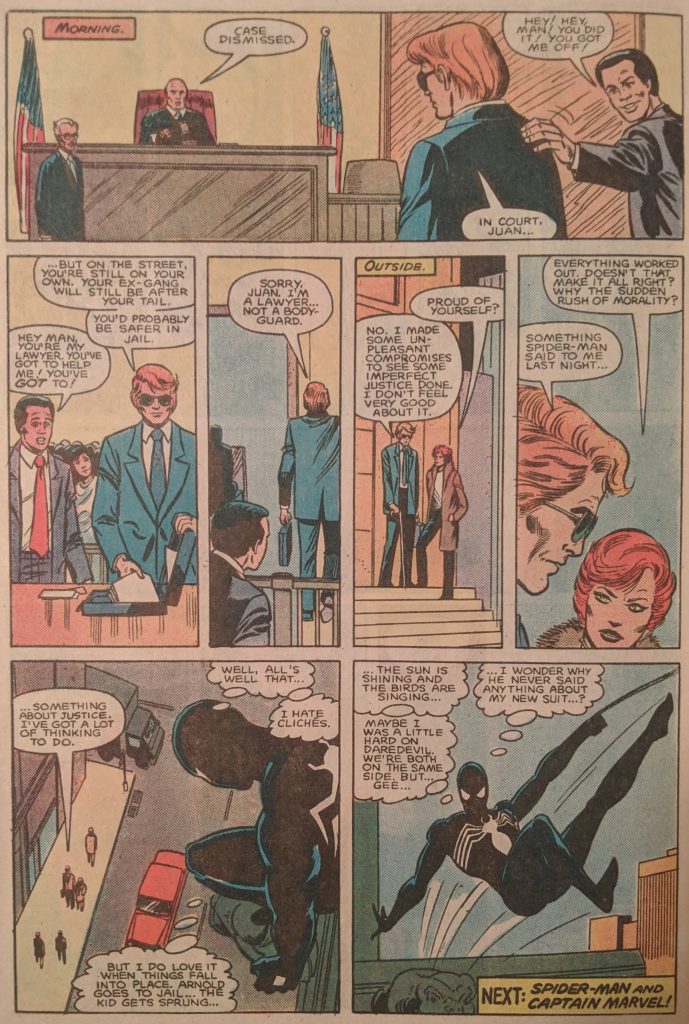 Weeeeeird ending, man! And now for something even weirder. Around this time, Marvel did a stunt called "Assistant Editors Month." The gimmick was that the editors of all the comics were away somewheres, so their assistants were in charge, and under this conceit, Marvel published some really wacky comics. But honestly, maybe nothing wackier than Marvel Team-Up 137…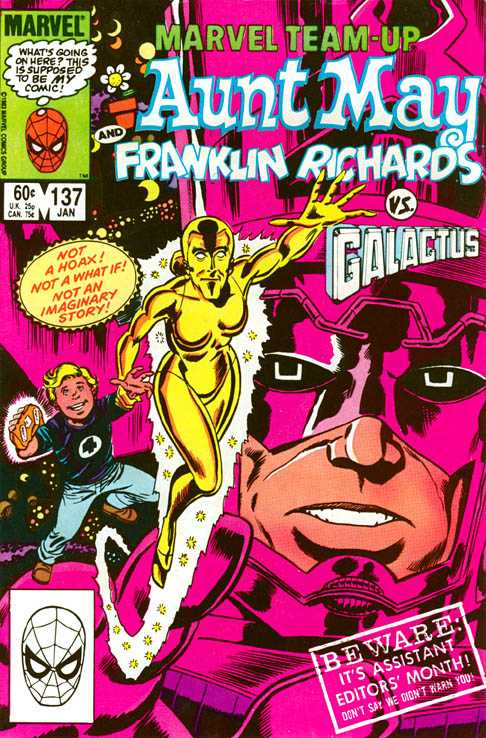 I'll give you a second to take that in. Ok. Now, I've not read that one, but it's pretty notorious, as you'd imagine. Well, this issue is where they can publish letters about that issue, and the first one seemed noteworthy enough to write this whole tangent.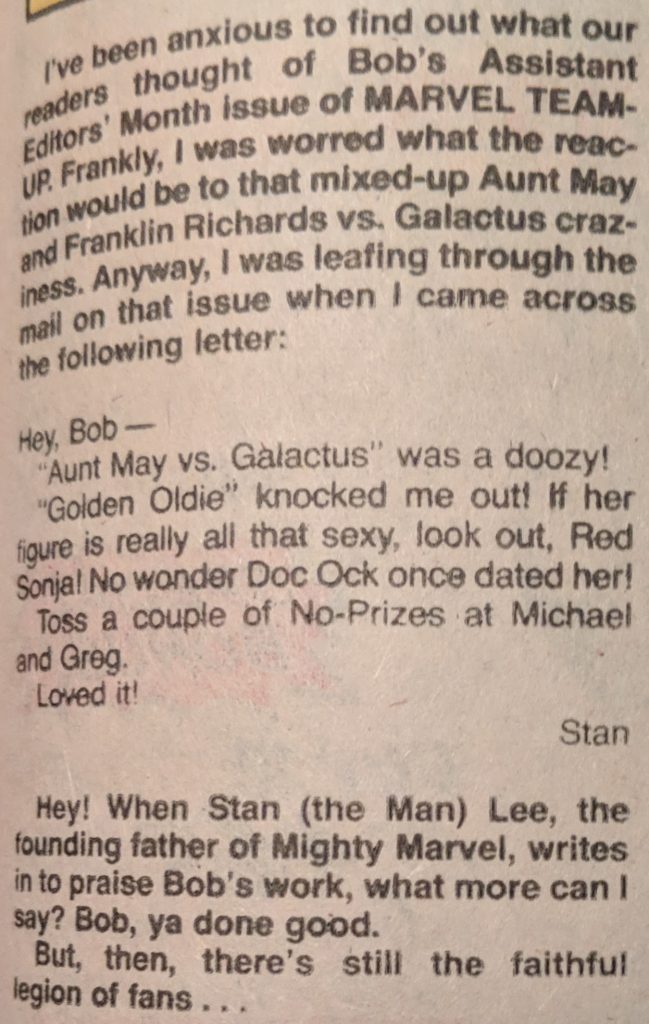 Stan Lee sure loved the dames.