It was years and years before I obtained and read the end of this 2-parter. It's one of those weird things about decades of collecting comics. I read ASM 231, I'm sure, a dozen times. I didn't have a lot of comics and it was an interesting artifact of a past age. It's printed on my brain. ASM 232, I have probably read twice before now, and always as an adult. It doesn't have the mythic power of 231 in my mind. That's what chasing this silly hobby for so long is like.

So, Hyde has appeared and demanded Spidey hand over The Cobra so he can kill him. As I mentioned last time, I only found out these guys' beginnings this last year, reading Thor Epic Collections (In spite of my pursuit of all these Spider-Man comics, I am a great lover of the Epic Collection line. I've been using it to read up on Thor and Captain America mostly, it's a great program). Did you know Hyde is a guy who read Dr. Jekyll & Mr Hyde and thought "That seems plausible," and then made himself a potion to turn into Mr. Hyde? Because that is 100% his real origin. Incredible.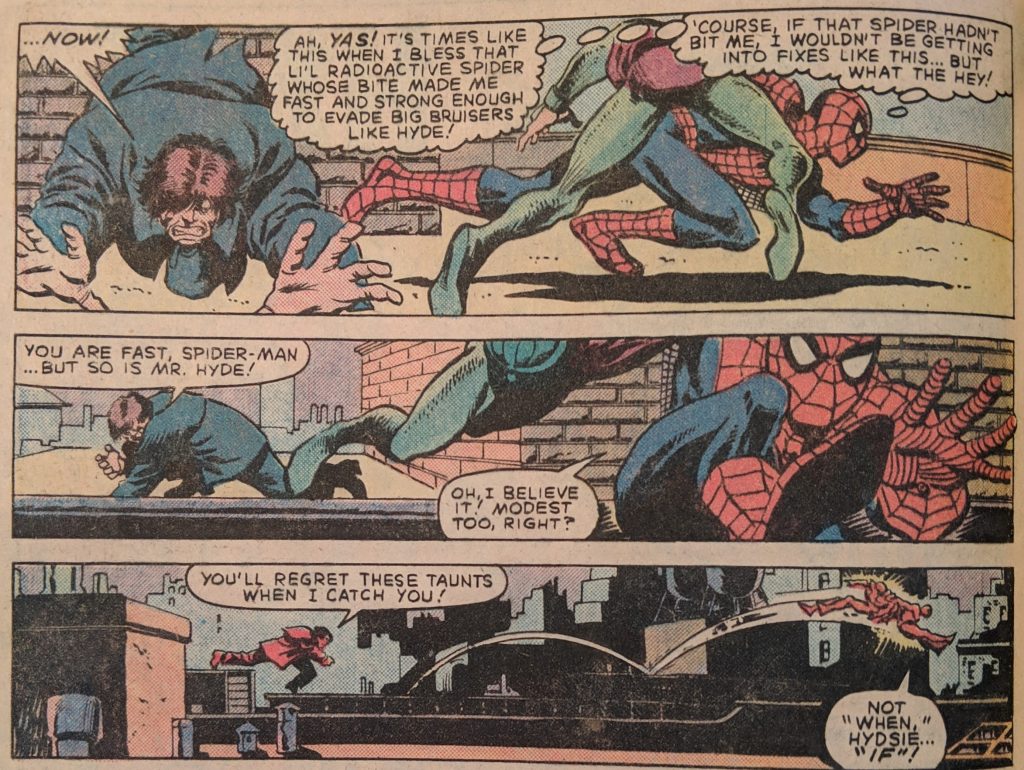 Yaaaas! Hyde chucks a big air exhaust at his fleeing foes, and when that doesn't work, rips a live wire out of the roof and starts using it like a whip, but Spidey stays one step ahead of him, Cobra still in tow, as he makes for the police station. Ned & Marla have already gotten there, and Lance Bannon has been sent to join them. Marla's not sure Spider-Man is really coming, but then a loud boom outside lets everybody know it's about to get real. Outside, a cab driver has barely survived a chunk of masonry falling on his cab as Hyde is throwing whole pieces of buildings now. Spidey realizes this is out of control and he can't escape, so…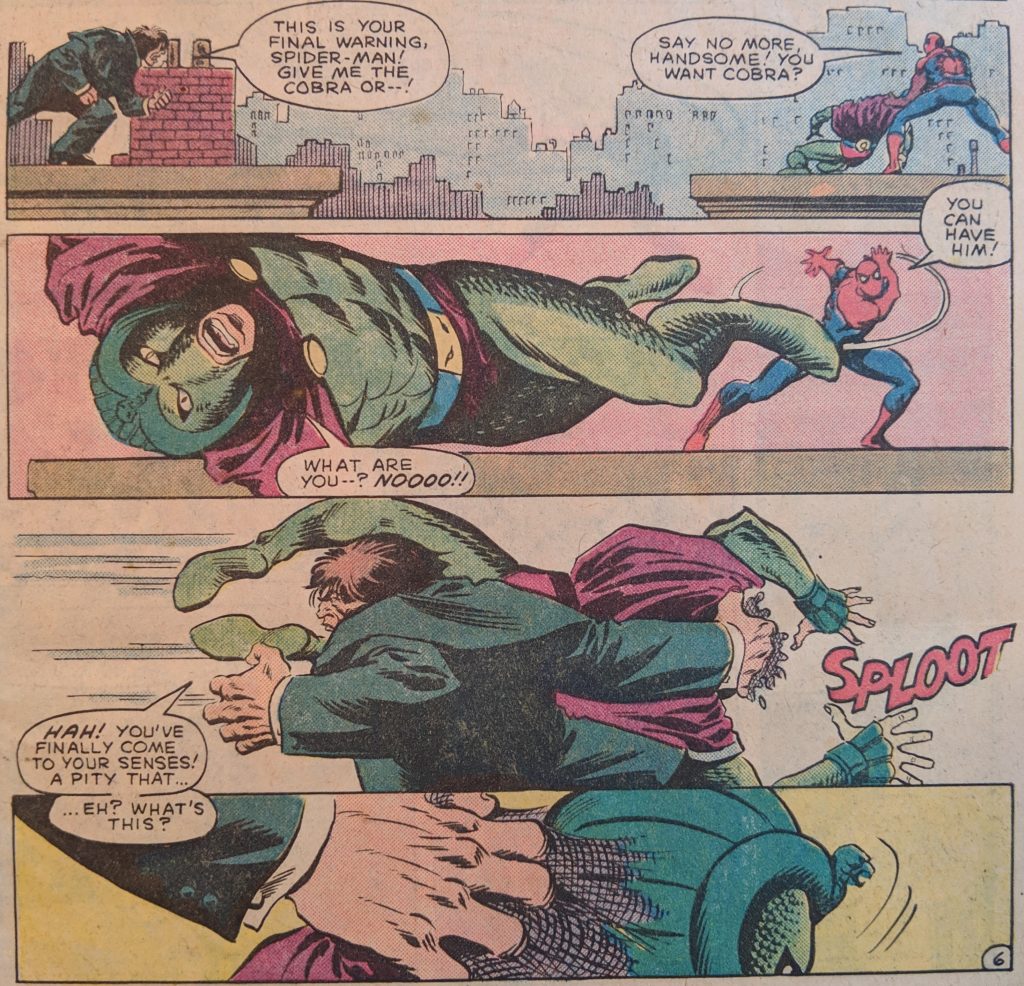 Now Cobra is stuck to Hyde's hand instead of Spider-Man's. This seems a little counterproductive. Sure, Hyde's mad enough to want to kill Spidey now, but his primary objective is killing Cobra, and Spidey literally just put Cobra's head in his hand, he could crush it like a grape. But instead, Hyde throws a chimney at Spidey, who webs it and slings it back, to no avail. On the next roof over, Ned & Lance have come up to get a better view, Bannon not taking any precautions as he leans over the edge to get photos. This turns out to be a mistake when Hyde topples a couple of water towers and sends thousands of gallons churning right at him.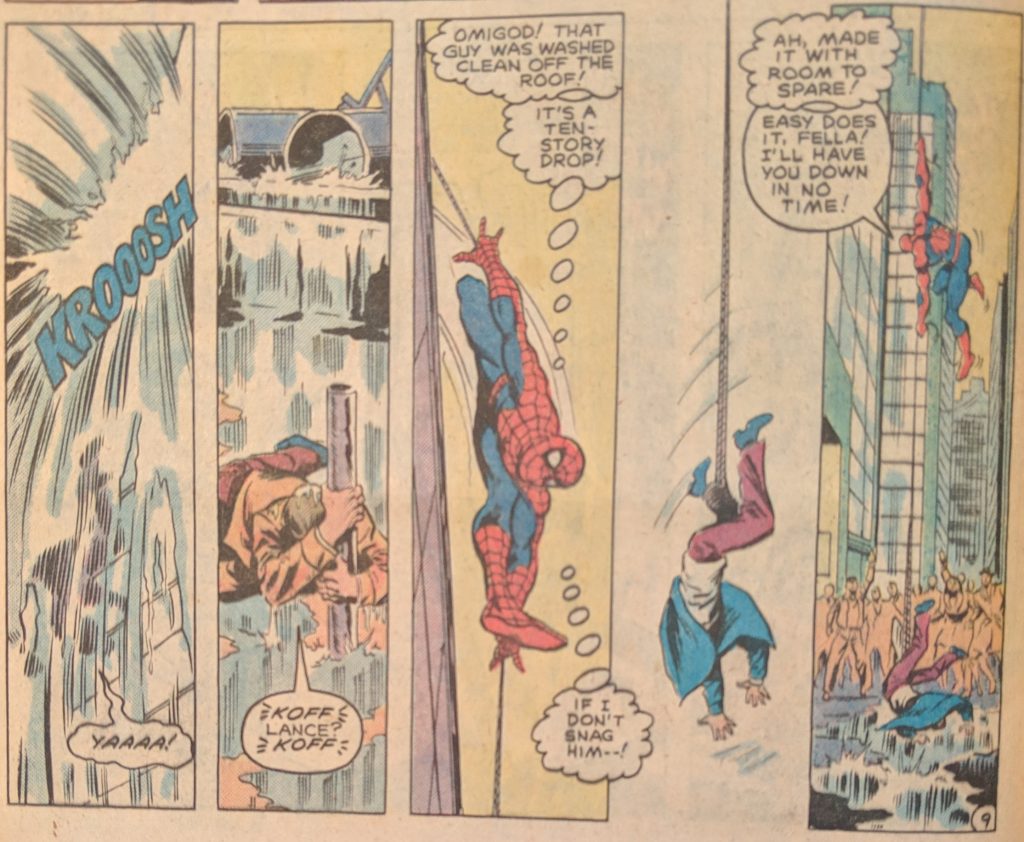 I always wondered if comic dudes saying "ohmigod!" was getting around some comics code restriction or just trying to sound scared. I still don't know, but people said it a whole lot in the old days. Spidey doesn't even know he's just rescued his chief rival at the Bugle, who is supremely ungrateful because Spidey didn't save his camera, too. So he webs up Bannon's mouth and gets back to the fight.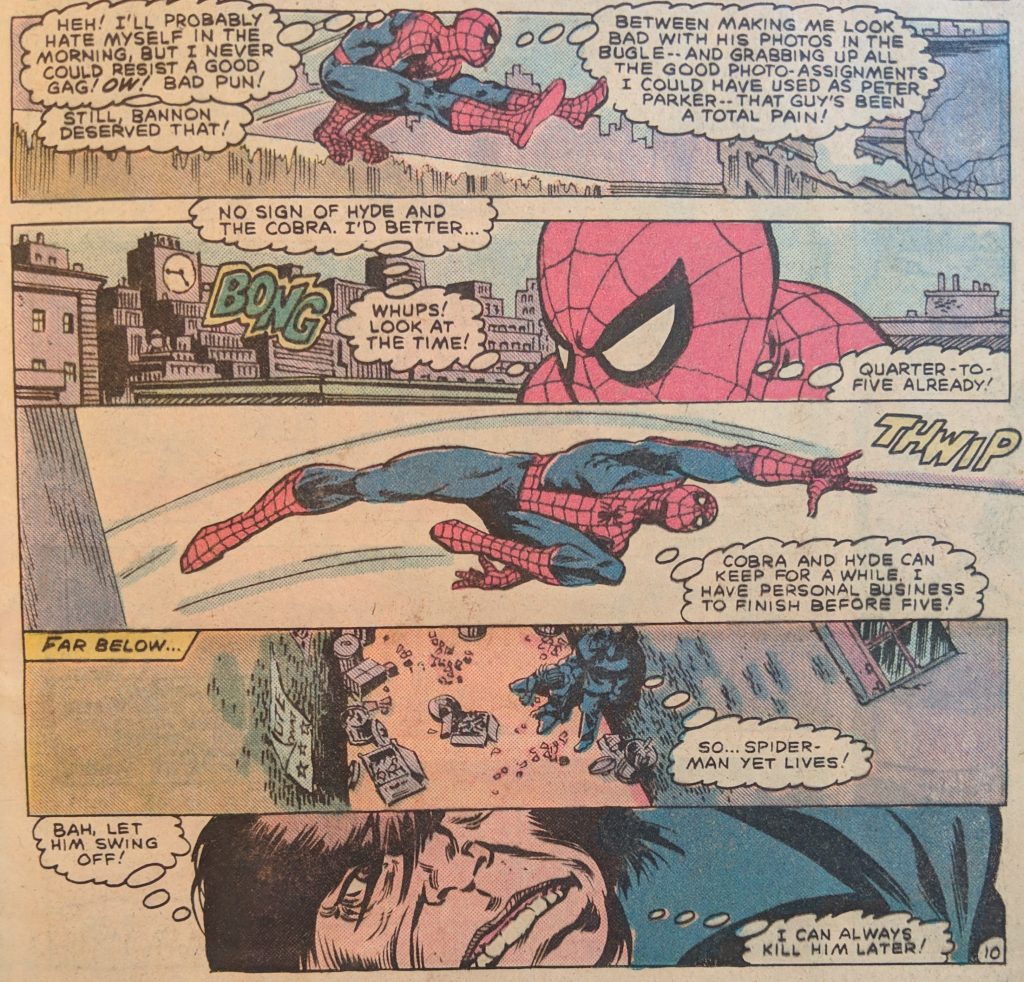 Pretty unlike our man to just leave Cobra to die like that. But it's even weirder that Hyde doesn't kill him. At least, not yet. He gets Cobra to tell him where he's been hiding out and how he sneaks in, and then knocks him out and trudges off. And just what did Peter Parker have to run off to that was so pressing?

The end of an era. The gang of misfits he's spent so much time with working here are going to be phased out of the book pretty quickly. Marcy Kane is wanting Peter to come see something in a lab, but he says he's in a hurry and disappears in the stairwell. Turns out, she wanted him to come to a surprise party with the above-mentioned lovable misfits. Aw. No one is more upset than Deb Whitman, who's pretty sure she knows Peter ran away to be Spider-Man and isn't sure what to do with this information. Elsewhere, Hyde has return to his regular human form of Dr. Calvin Zabo (Really!) and put his cloak over the unconscious Cobra to make it look like he's just stumbling in drunk with an old friend, which gets them into Cobra's swanky apartment.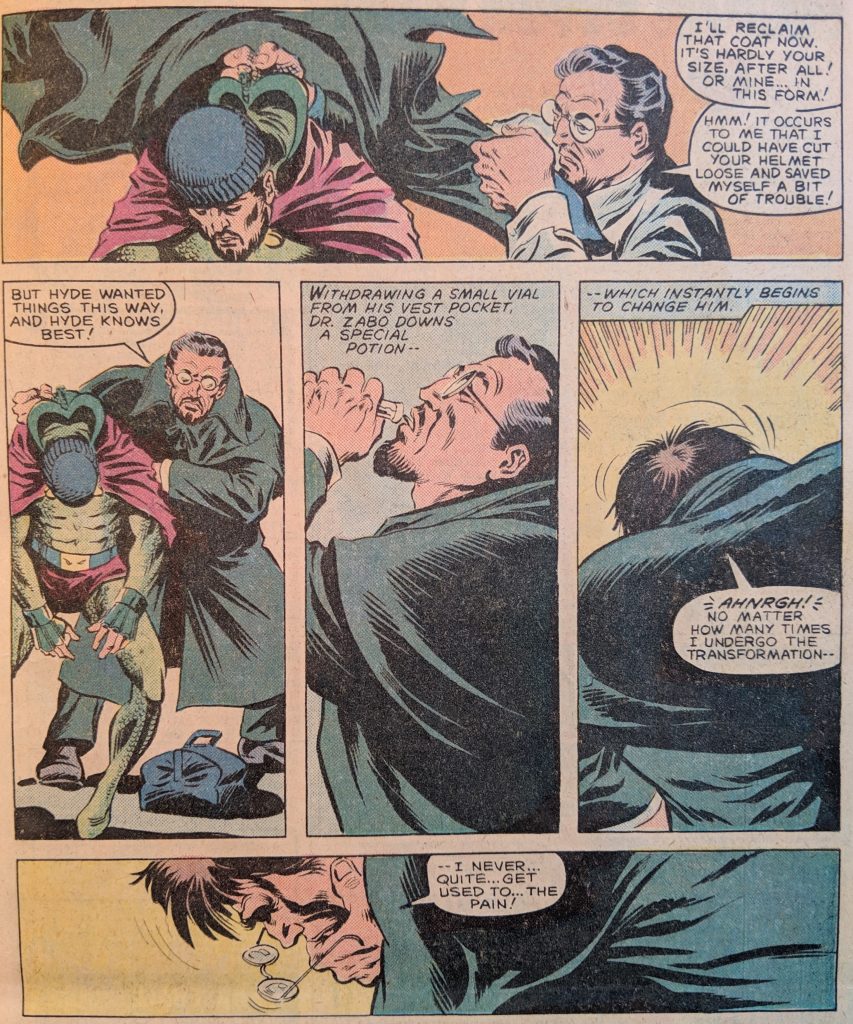 As you can see, Zabo & Hyde is different from, say, Bruce Banner & The Hulk, because Zabo much prefers to be Hyde. But, as Zabo, he was able to get some "concentrated acid" (One wonders how that conversation went with his hand webbed to a dude) which he uses to get his hand off Cobra. Then he methodically puts Cobra's costume back together properly while binding his wrists and ankles, because he wants his treacherous old partner to look like himself as he's ripped apart. Lovely man! But guess who smashes through the window?


Romita, Jr. is really having some fun these days, filling each book with panels like this…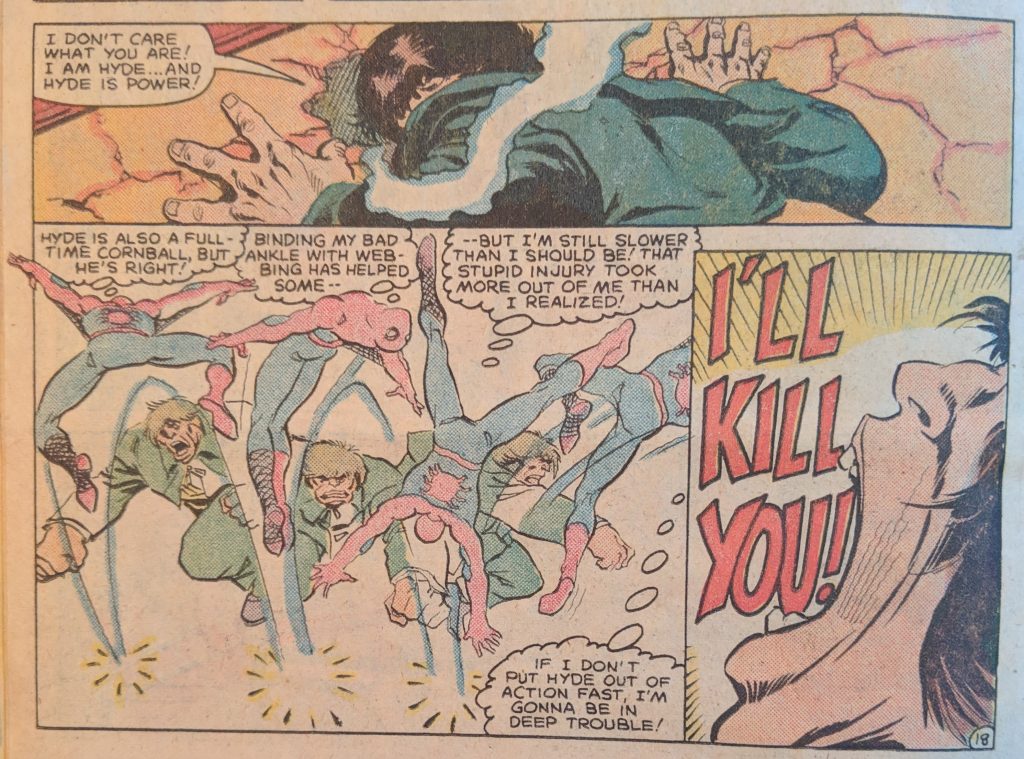 …as he goads Hyde into chasing him through a surprisingly thick set of indoor bushes so he can web his face, and like this…

Spidey didn't actually expect Hyde to go flying out the wall and down to the street, and briefly worries he killed him. But, lucky for both of them, Hyde is alive. Knocked out cold but alive. Back inside, Cobra has slipped free of Hyde's restraints and is about to give the cops the slip, too, but…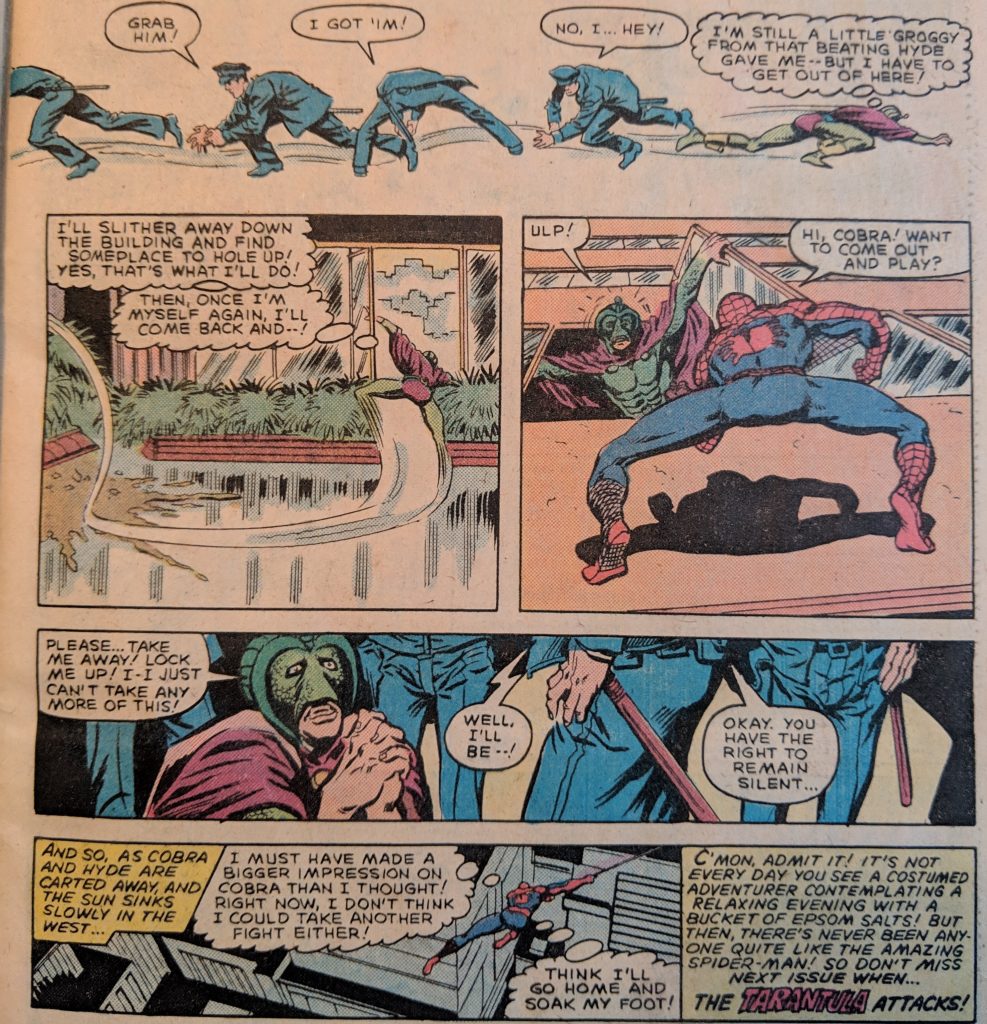 And that's that. Another fun adventure. Stern & Romita are really gelling by this point, and they're just getting warmed up. In the letter page, people are pretty upset that Black Cat died (Again,in the exact same way she "died" back in ASM 195). You guys must be new here…