This one's been with me for a long time… but where'd it come from? I'm not sure. It's pretty beat up. Feels like it didn't come from a store. Like it was a garage sale or something. I dunno. But it turned out to be part of the Stern/Romita puzzle I spent like 15 years assembling, so it was much appreciated. Still got Jim Mooney on inks and Bob Sharen on colors as The Cobra makes a pretty daring move and breaks into a police lock up. The guards on duty are paranoid because someone ripped off a different police evidence room recently… and they should be.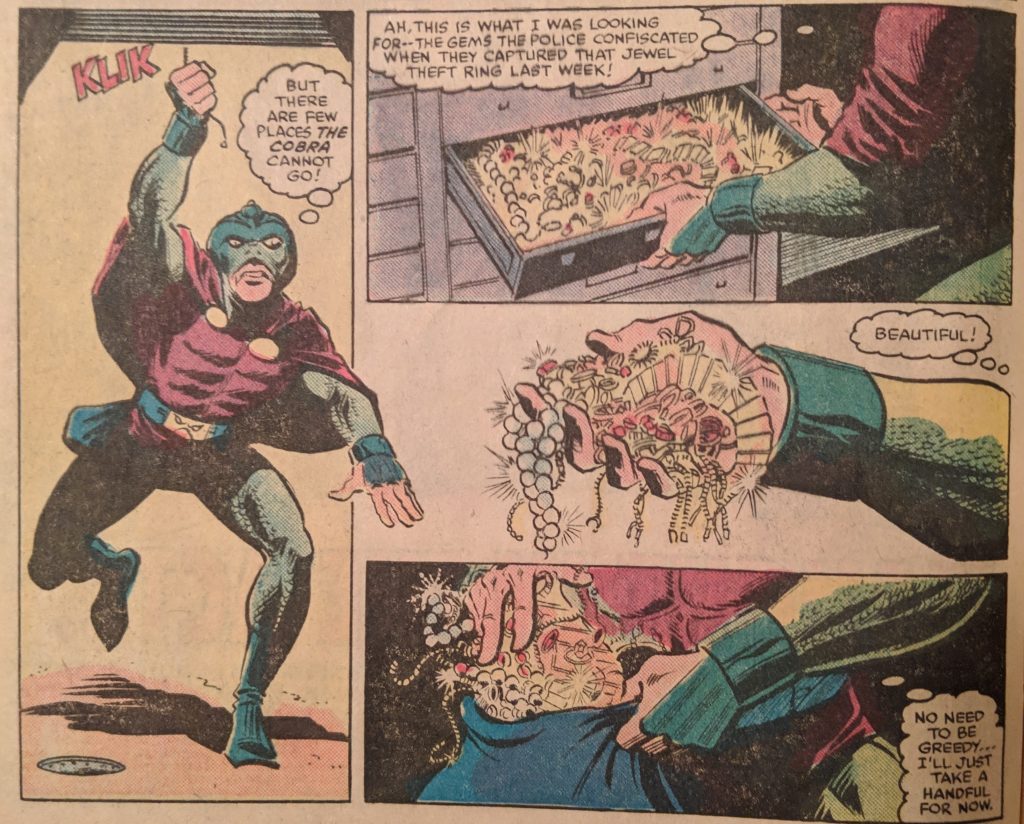 The Cobra's deal is he can squeeze into any space, and so he escapes down a drain pipe. The perfect crime. He slithers on home to his penthouse apartment (Which he got in an embezzlement scheme), satisfied with this easy scheme he's come up with. As he relaxes, he thinks about his old partner, Mr. Hyde, presumed dead after a battle in Captain America 252, and how glad he is to be rid of him. Meanwhile, Peter Parker has just finished sewing himself a 2nd Spider-Man suit. The team takes this opportunity to make a slight change to the suit.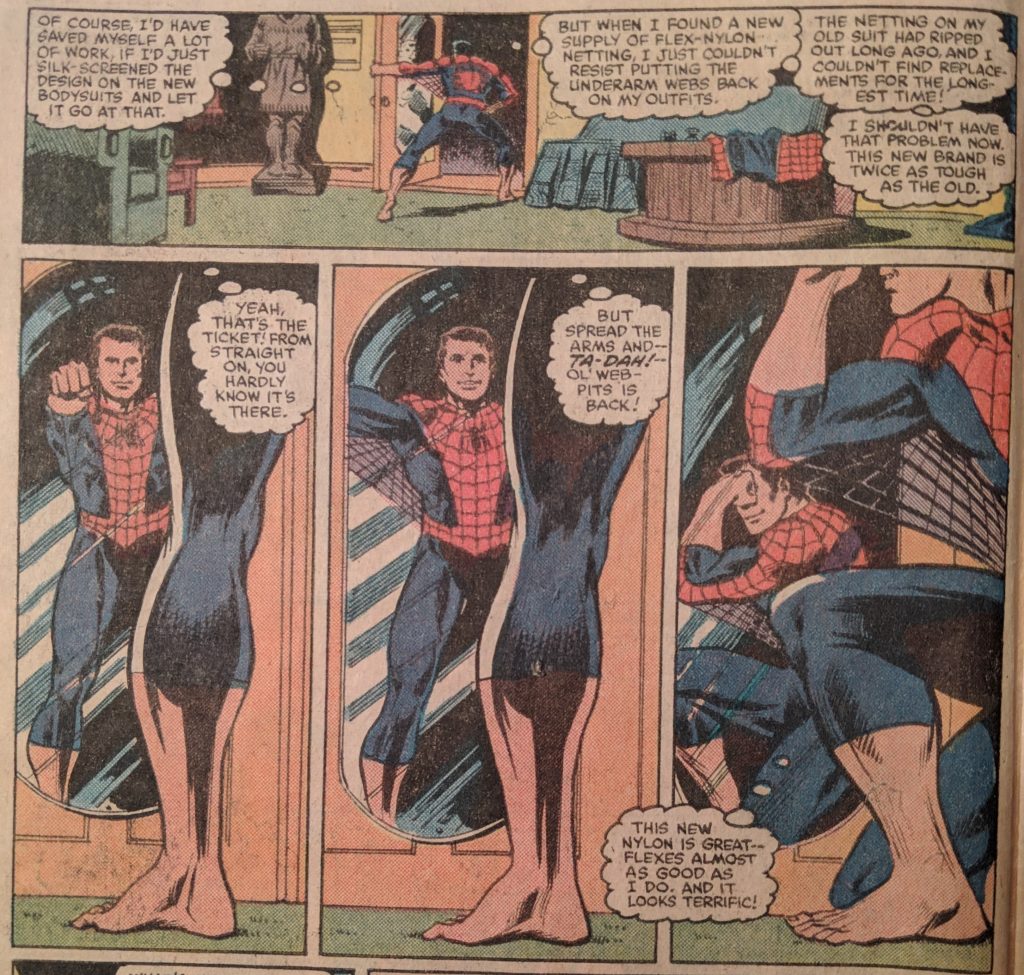 It's been a long time since anyone drew Spidey with Ditko's underarm webs, at this point. Seems like once a decade, someone wants to bring them back. I always thought they were cool, too. Peter decides to go out and swing around in his new suit. He's having a good time as we briefly cut to a mysterious shadowy figure, prowling the city and seeking revenge on someone. Who could that be? Later on, Stern picks up a thread from his Spectacular run at The Daily Bugle, where JJJ is conferring with Marla Madison, and calls in Ned Leeds.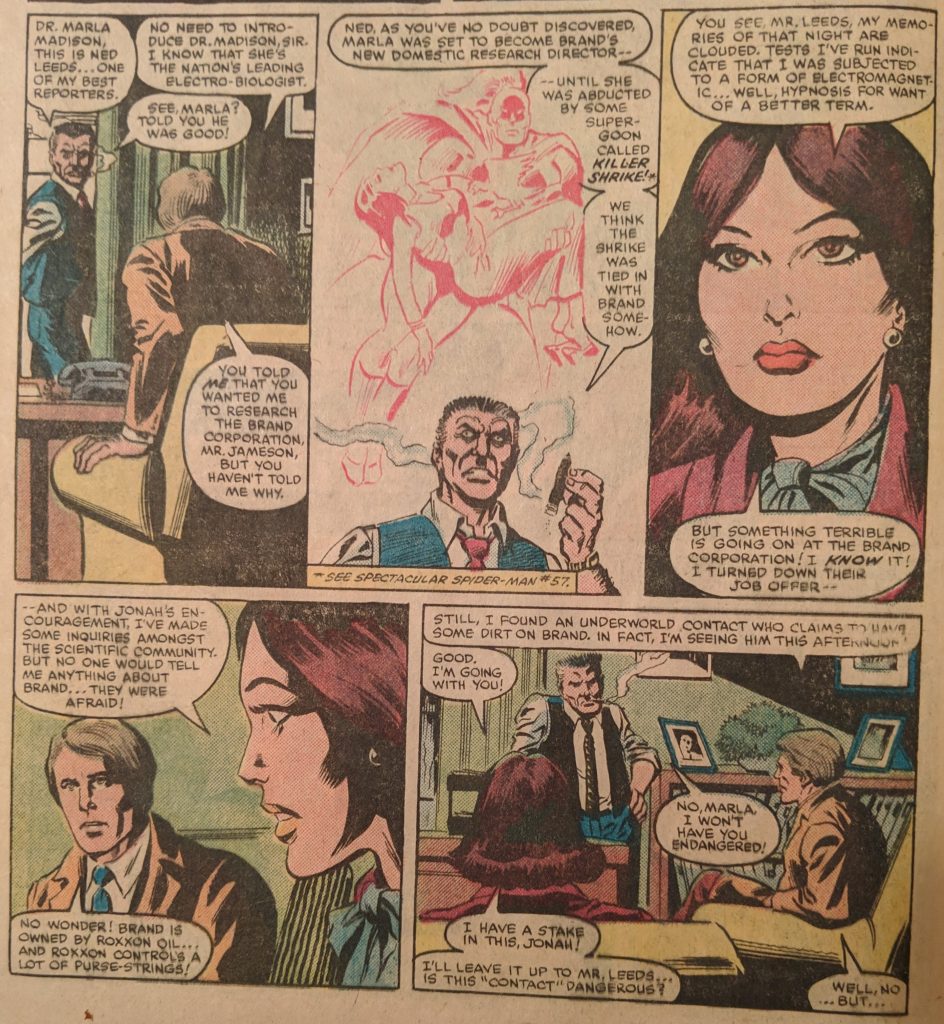 Ned and Marla are set to go, but Ned stops off to see Betty first. She's worried he'll get in trouble, but he promises it's safe. Then he leaves, and she finds an address book that lets her know he's headed for a dangerous part of town, and starts fretting all over again. She wants someone to talk to, so she tries to catch Peter at ESU. She gets Deb Whitman, who reminds us she suspects he's Spider-Man now before transferring Betty to the lab Pete's working in.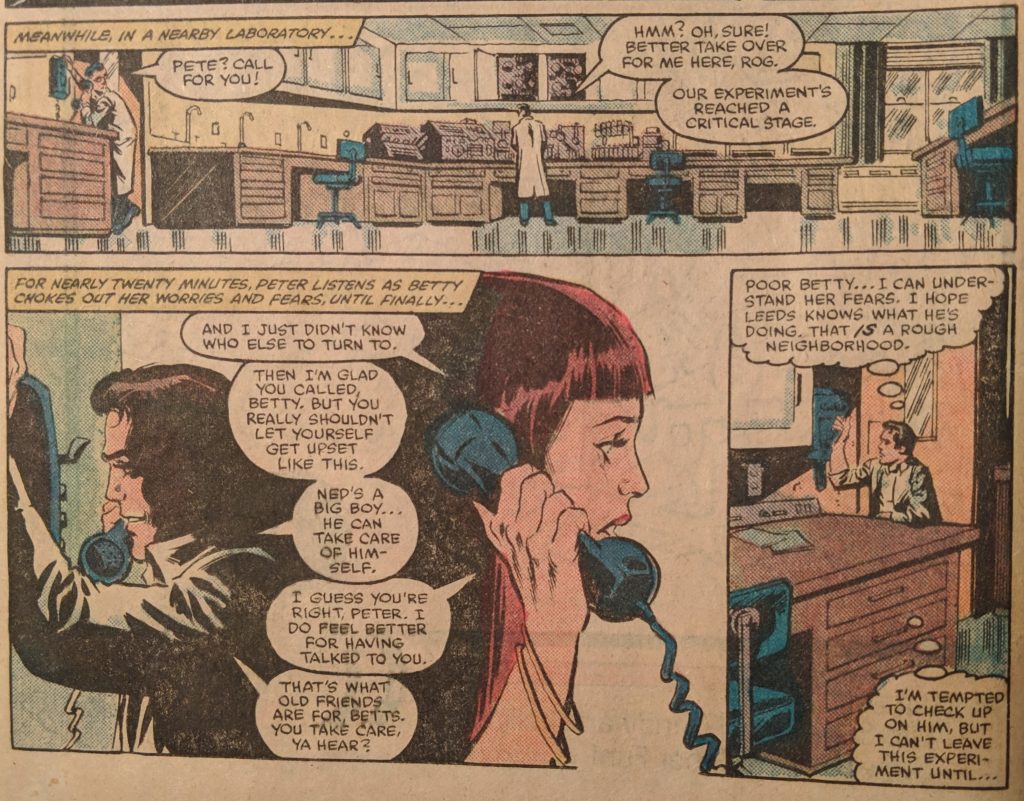 Just then, Peter's lab partner, Roger Hochberg, declares their formula a success. We don't really find out what it is, but he calls it "The Parker-Hochberg Process" and seems very excited. Work complete, Peter heads out to check up on Ned. He & Marla are just arriving at the bar they're going to meet his contact in (Ned says just be glad he didn't want to meet at Josie's, a reference to the rough bar that often pops up in Daredevil). Marla guesses the disheveled guy in a booth by himself is their man.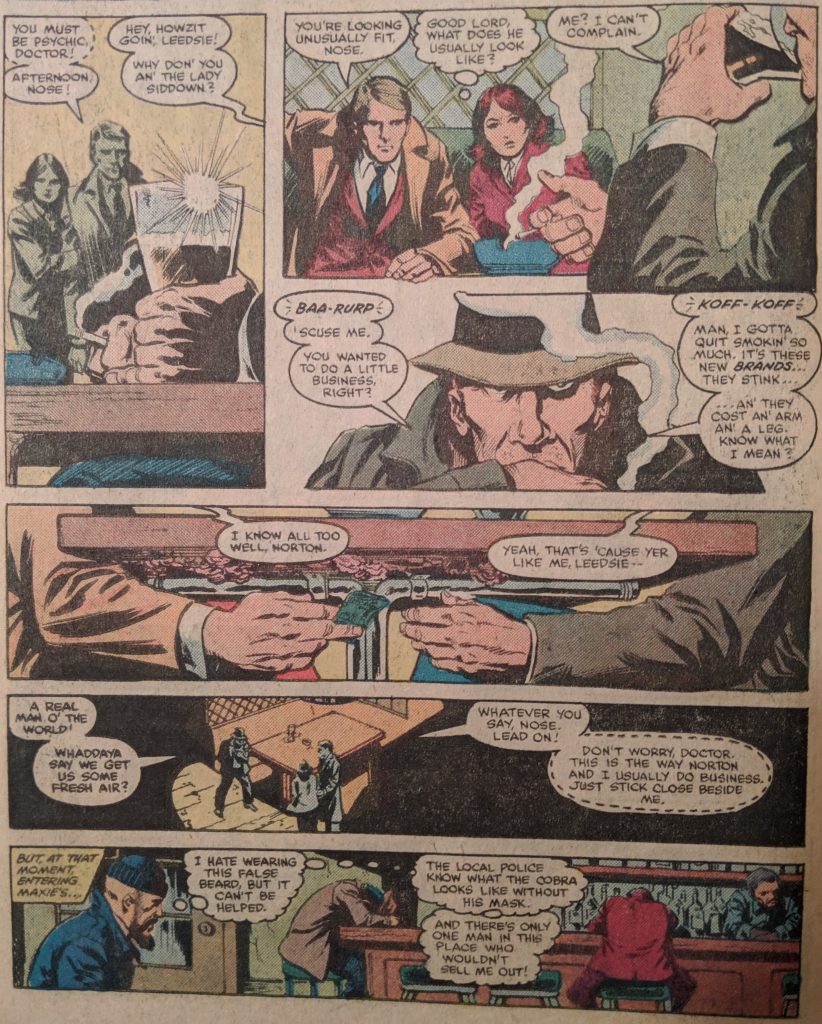 Things are going ok, except The Cobra walks in (wearing a fake beard!) to talk to the very same man Ned & Marla are talking to. And when he recognizes Ned as a reporter, he decides he's being sold out! Norton leads Ned & Marla outside to give them his tips, we see the mystery man from earlier is closing in on the same bar in search of his prey, then we see Spider-Man is almost to the bar, and THEN we see Cobra drop down on Norton, accusing him of ratting him out, so the stage is set.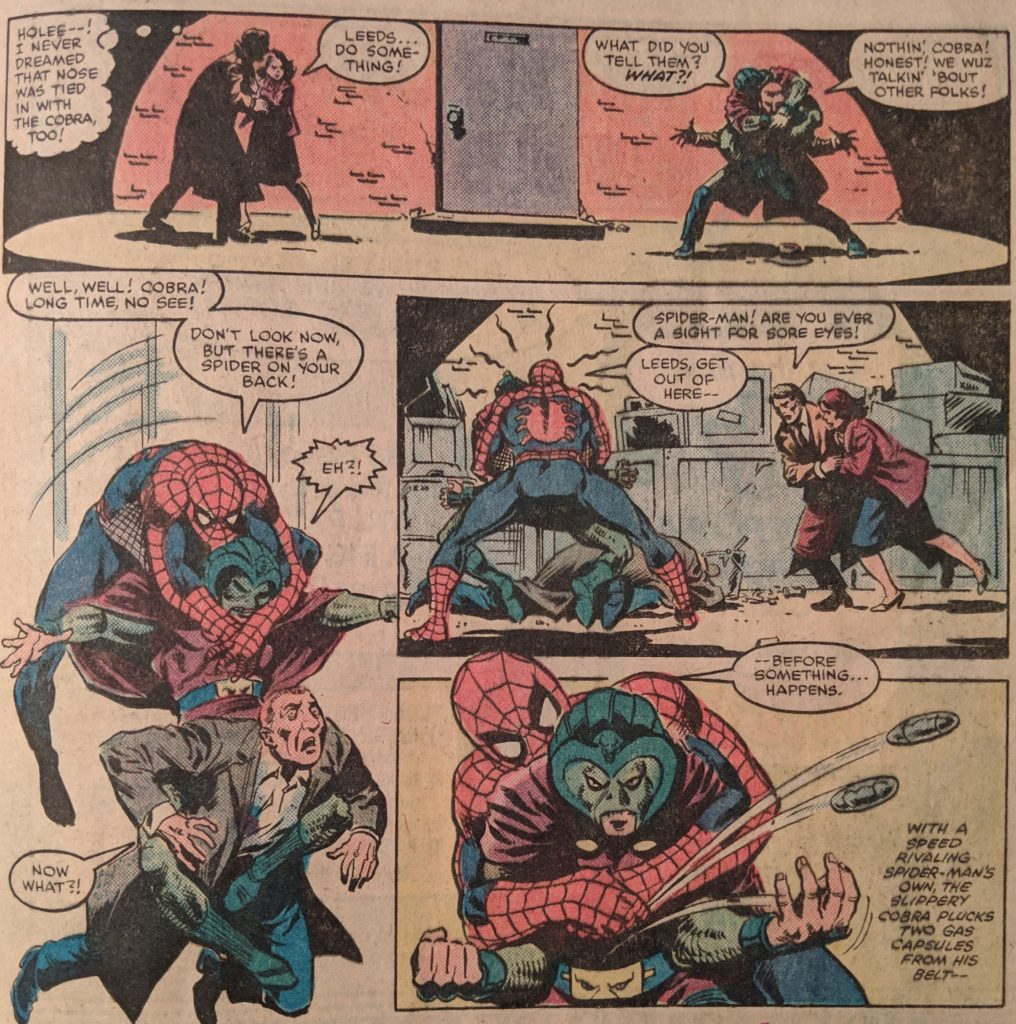 Spidey leaps over and bats the gas pellets away from Ned & Marla, but that leaves the Cobra free to skitter around and try to escape. Spidey webs up the whole alley to trap him in there, but he says a Cobra is most deadly when it's cornered (He does realize he's not a real snake, right?). Spidey tries to taunt him by reminding him of their fight in TAC 46, but Cobra goes silent and creepy. Then he feints like he's going to attack Marla and instead shoots his venom darts into Ned's gut. Spidey freaks out, thinking he's surely dead, but the darts went into Ned's tape recorder, so he's fine. While that was going on, Norton ran back inside, and Cobra has now followed to strangle him. But Spidey is there to tackle him back outside. As Cobra slithers away, Spidey manages to web his leg.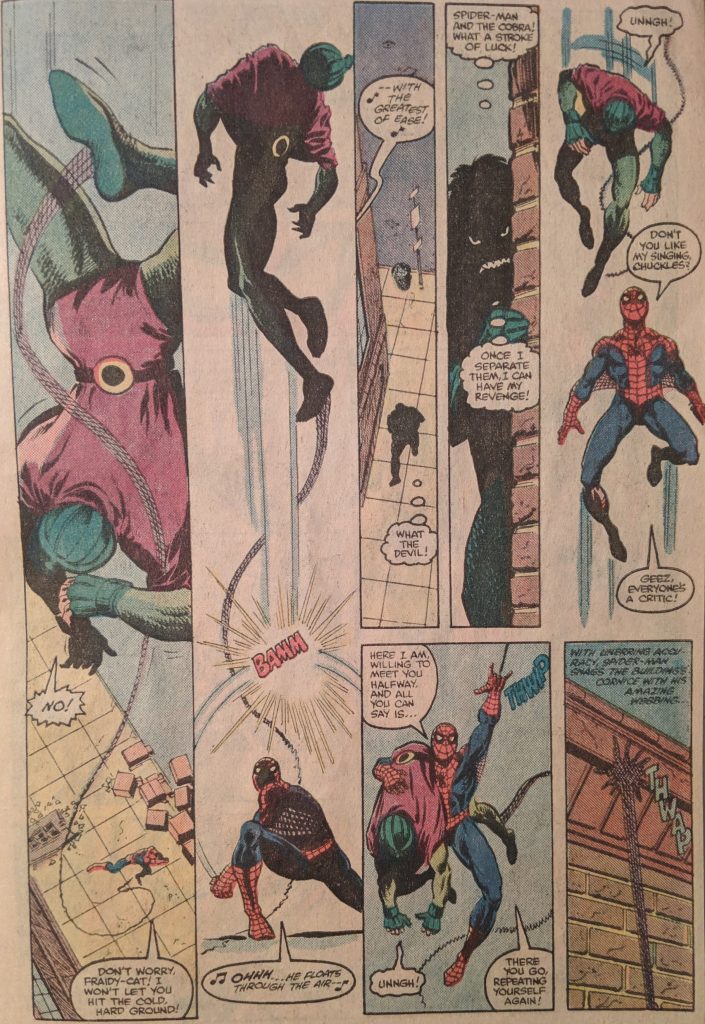 Spidey takes the unconscious Cobra down to the street and tells Ned & Marla he's gonna take their attacker to the cops. Ned says they'll come to the precinct to give statements. As Spidey swings off, Cobra beings to wake up, but that's the least of Spidey's problems as a the whole corner of a building comes sailing past him. Spidey dodges out of the way and tries to land safely, but Cobra panicking makes him twist his ankle as he hits the roof below, still clinging to his foe. And then their attacker finally appears. Surely you figured out who it was…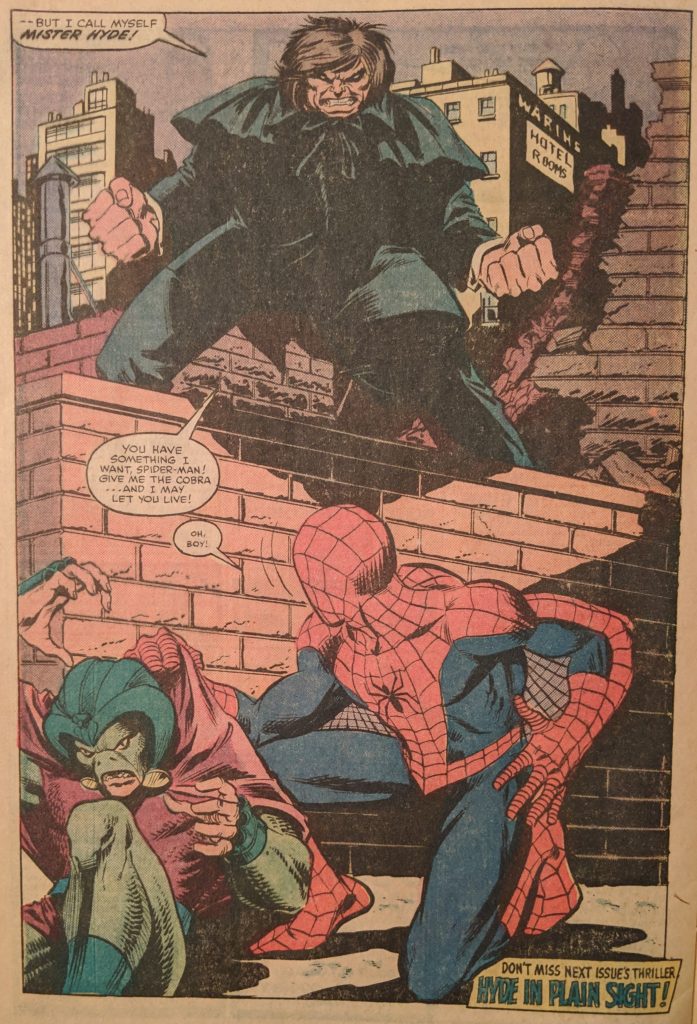 Uh-oh! This was my introduction to Cobra & Hyde. I thought it was weird that they were a team. They didn't seem to have much in common. And while I read this comic when I was just a kid, it was only last year that I found out these two started out as Thor villains, crazy as that seems, and wound up partners trying to beat him in the 60s. They fought Captain America more than once, too, especially Cobra as part of The Serpent Society. But I first saw them here, so I assumed they were Spider-Man villains. Just another example of the fun of as shared universe.