Strap in, gang, it's the first appearance of Monica Rambeau, aka the 2nd Captain Marvel! That's right, the dirt's barely settled on Mar-vell's grave and someone else is already jumping on that trademark… er, I mean, that superhero name. Maybe that's too cynical. It's crazy how you can tell this is a John Romita, Jr. cover just by those hands. This one's courtesy of Roger Stern and, in a rare treat, the art team of John Romita, Jr. AND Sr. They even give Virgina Romita a "proud wife & mom" credit. Additionally, we got colors by legendary Marvel Bullpen staffer and cartoonist Stan Goldberg. This one's packed with stars!

We get started with Peter Parker going to meet Liz & Harry Osborn at the bus terminal when he gets his head turned by a young woman.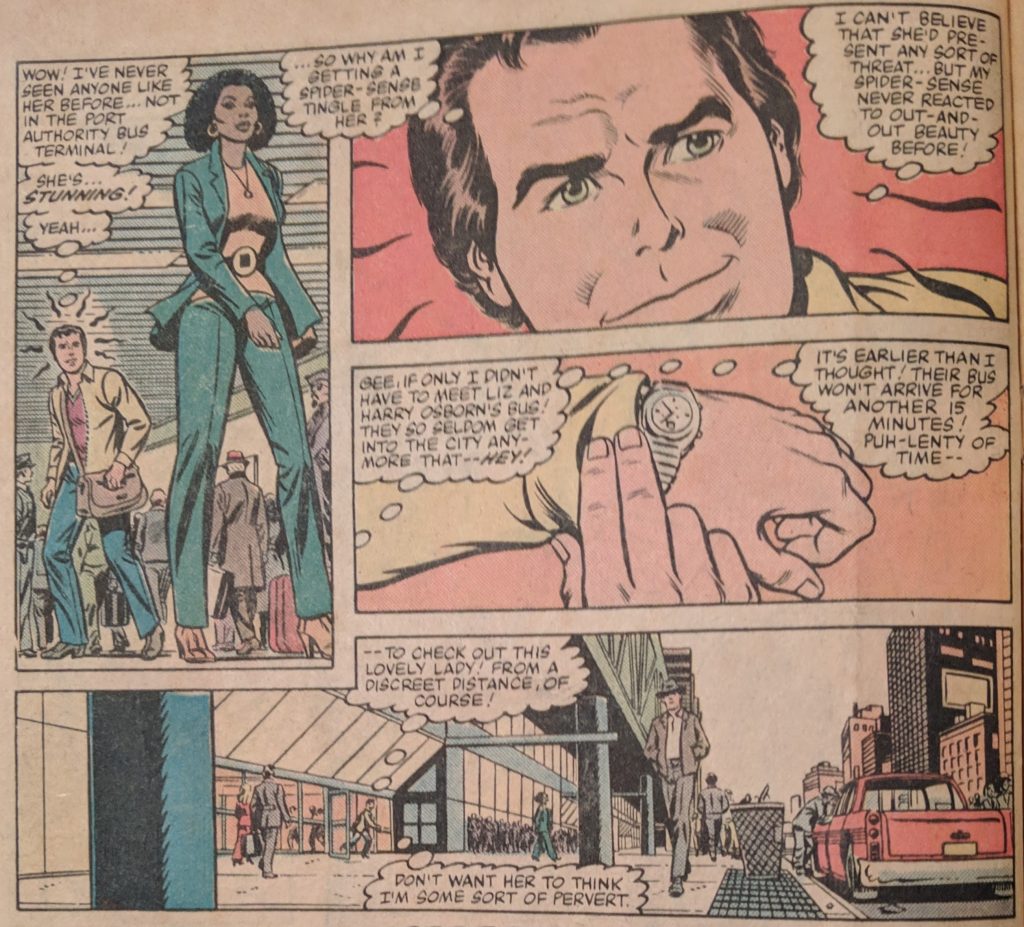 Oh, sure. Wouldn't want the woman you're following to think you're creepy! She walks into a rough neighborhood, and Peter thinks he better change clothes and play "guardian angel" for awhile. Sure enough, a couple of thugs named SCUD and MOJO (Man I love that kind of goofy nonsense) start harassing her.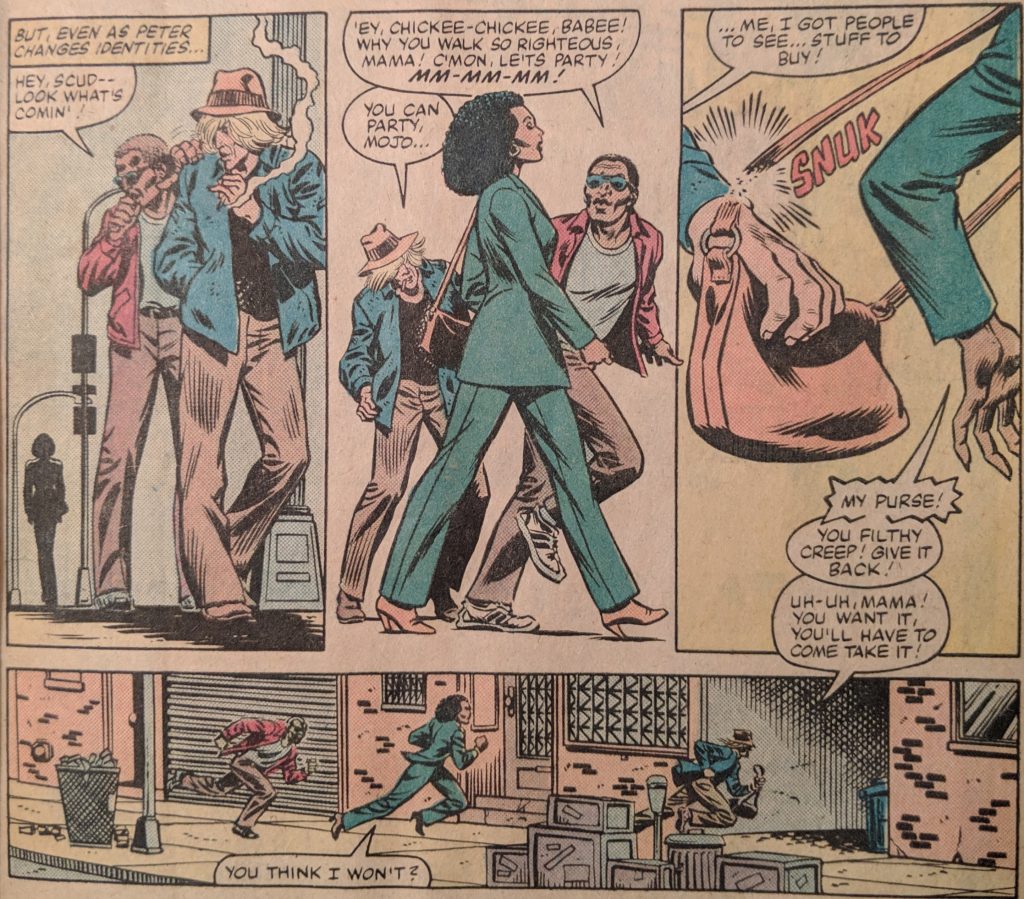 She chases "Scud" into the alley while "Mojo" grabs her from behind, but she handily judo throws him over her shoulder. He pulls a knife and she easily dispatches him. The fleeing Scud is then knocked out by Spider-Man. But…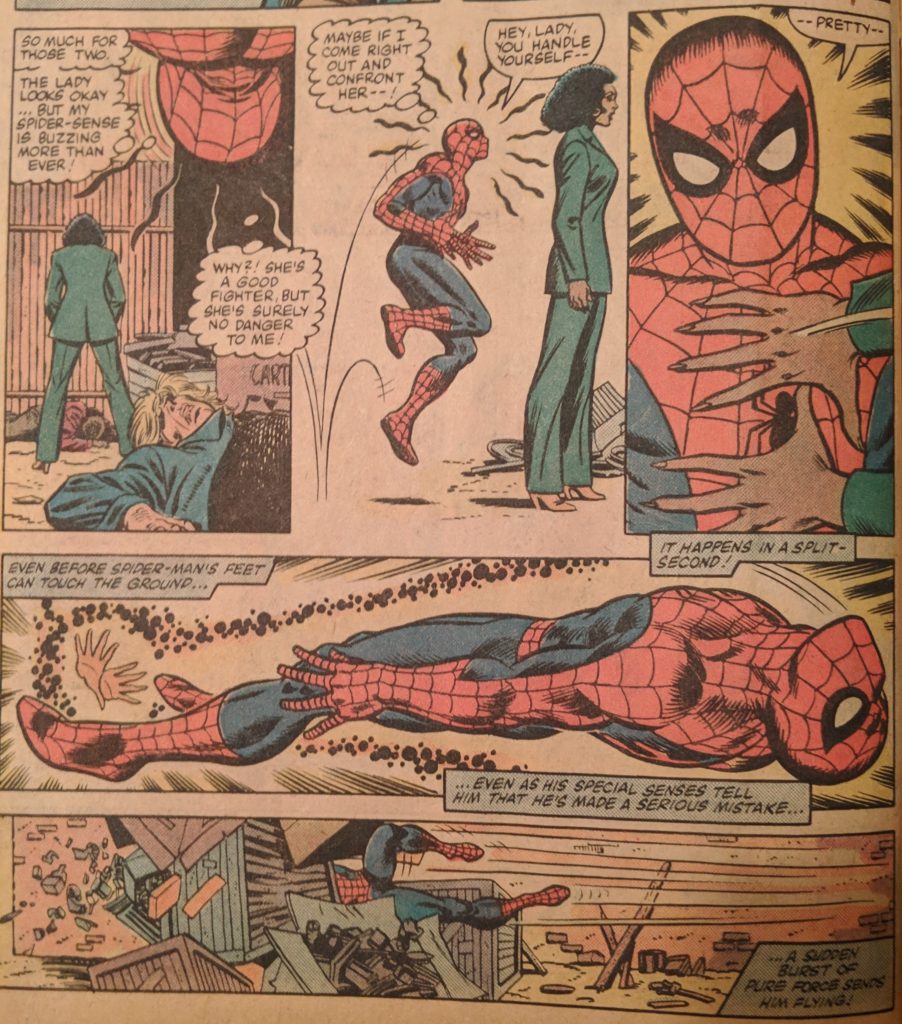 Spidey's thrown into a wall and briefly knocked out. As soon as she sees who he was, the mystery lady feels terrible about it. She just acted on impulse. Her outfit ruined by the fighting, she just discards it, revealing a superhero suit underneath (with a handy pocket to put her wallet and keys in, unlike pretty much all other heroes!), while thinking about how this is all new to her, and how if she can't learn to control her powers, the whole world is in trouble. Spidey comes to just in time to see the figure of a woman turn into a streak of light that's suddenly atop the Empire State Building in a flash.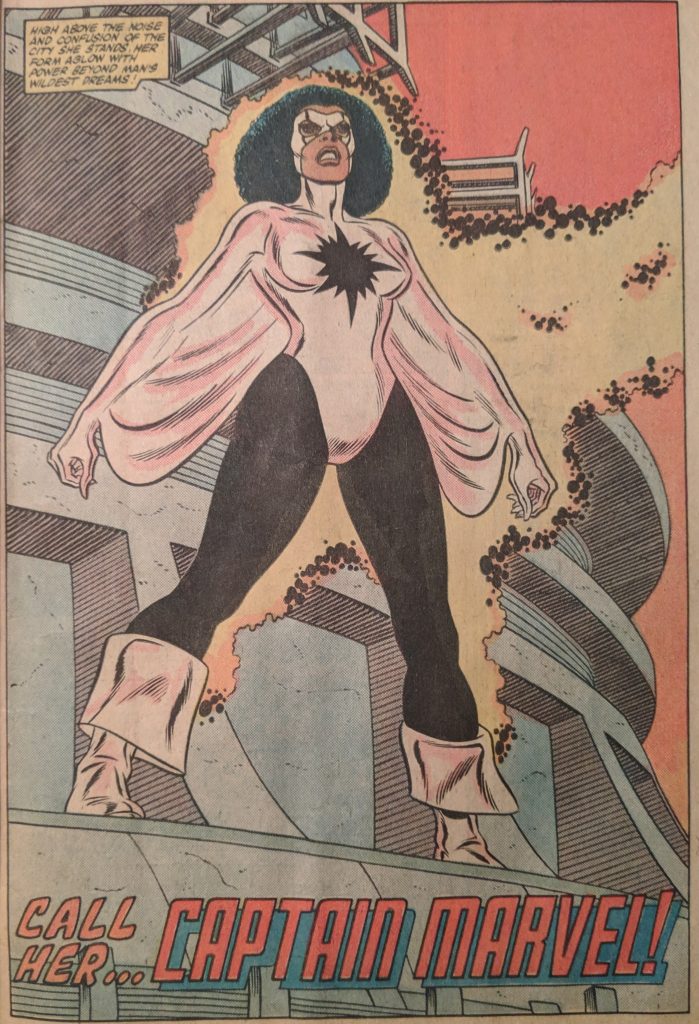 From her perch above the city, she is nice enough to flashback to her origins for us, in her hometown of New Orleans.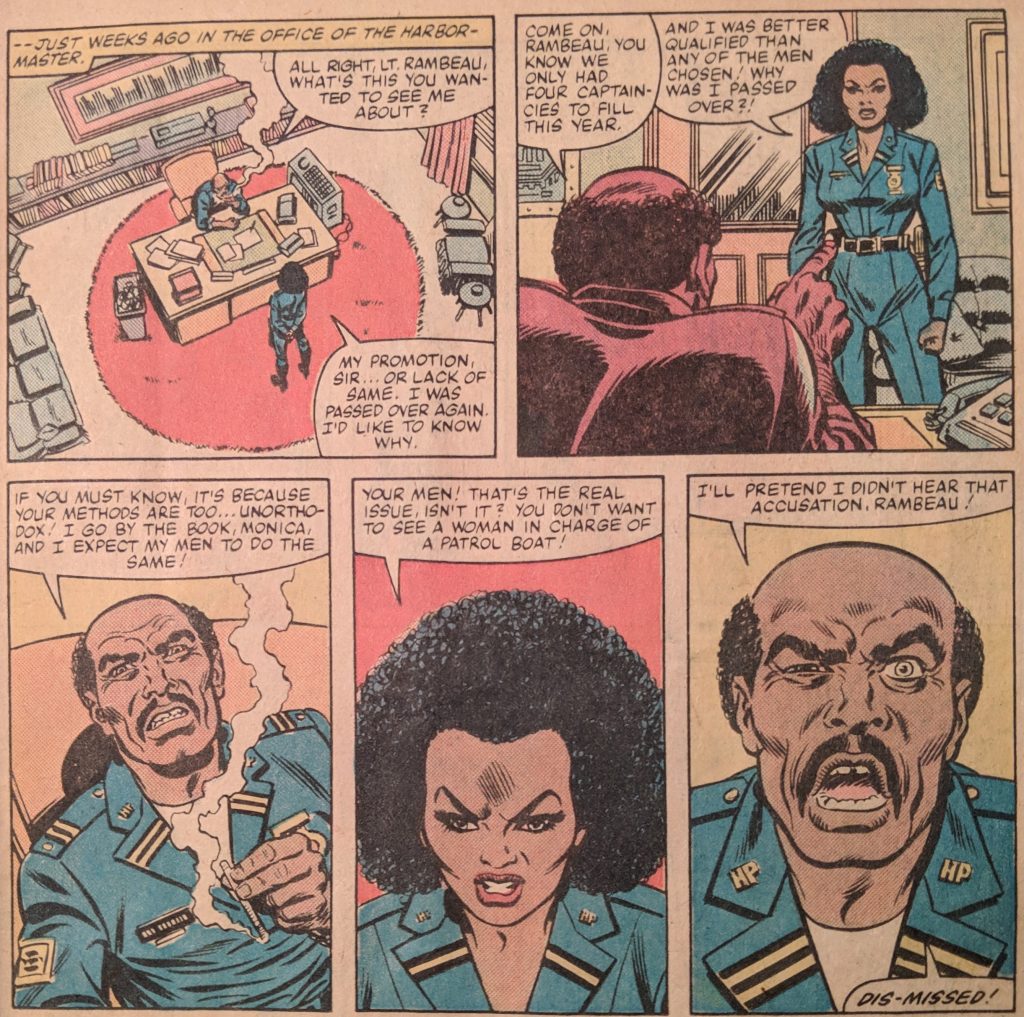 Monica stormed out of her boss's office, her coworkers making it clear this isn't uncommon, when she ran into a French physicist named Andre LeClare, who served in WWI with her grandfather. She'd heard about him. He said he's considered a bit of a crackpot, and only one person ever believed in him…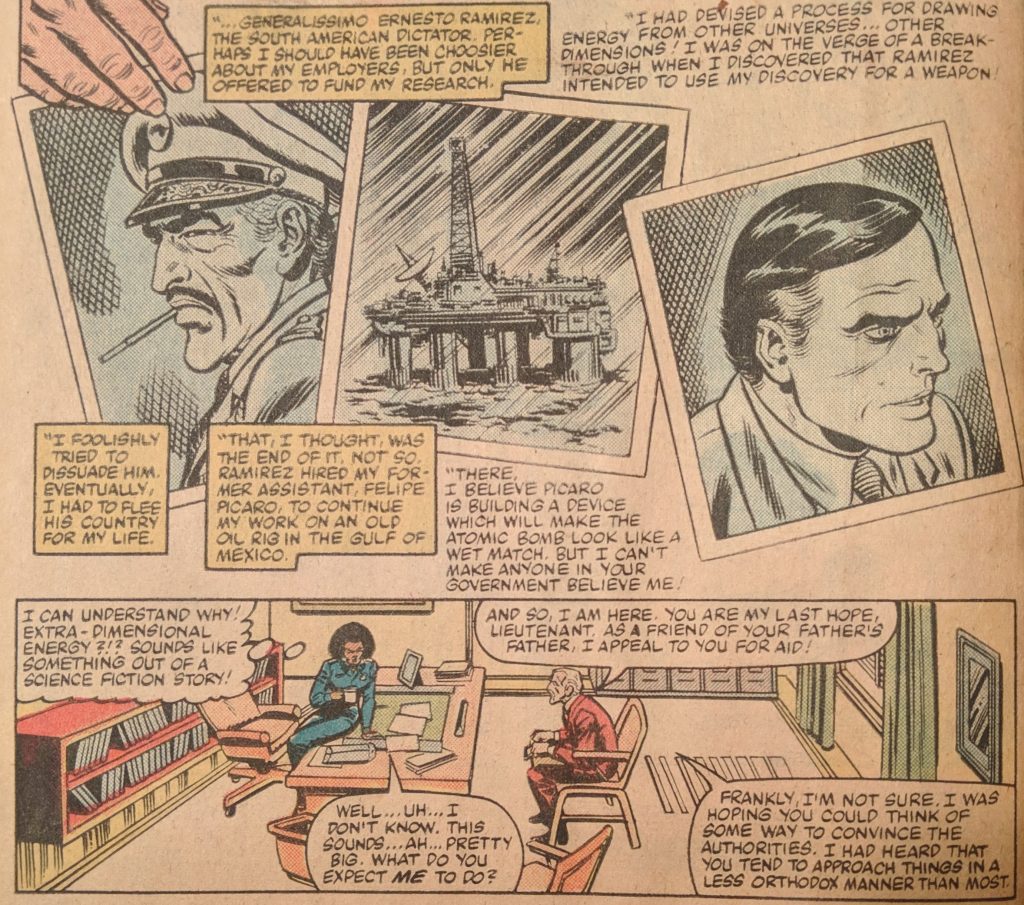 Well, that doesn't sound good. Monica told him she had the day off tomorrow, and might be able to come up with something. The next day, they took a boat out to the oil rig, which is owned by Roxxon. Never a good sign. Monica planned to sneak aboard the oil rig, see if anything was fishy, and report back to the coast guard if so. Everyone's been saying her methods are unorthodox, and, well…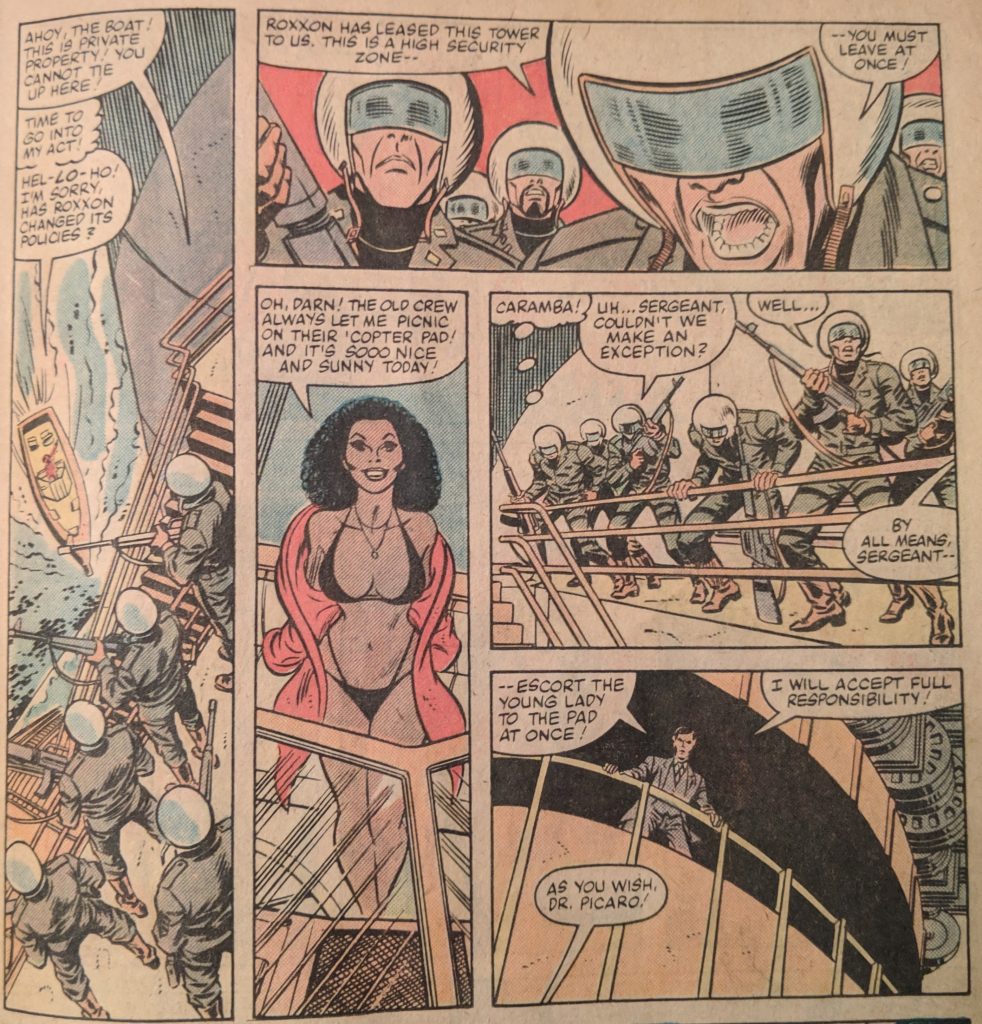 LeClare's former assistant was in charge of the rig, lending credence to the old guy's story. Monica was playing him for time when an intruder was discovered aboard. It was LeClare, of course. He was trying to shut down the device. Why bother letting Monica do her thing only to scuttle it like this? Picaro said he was fully aware the device could destroy any city within 2000 miles, and decided to test it immediately. He announced he was going to destroy Fort Benning, Georgia (Rrrrrrrrandom), and Monica lept into action: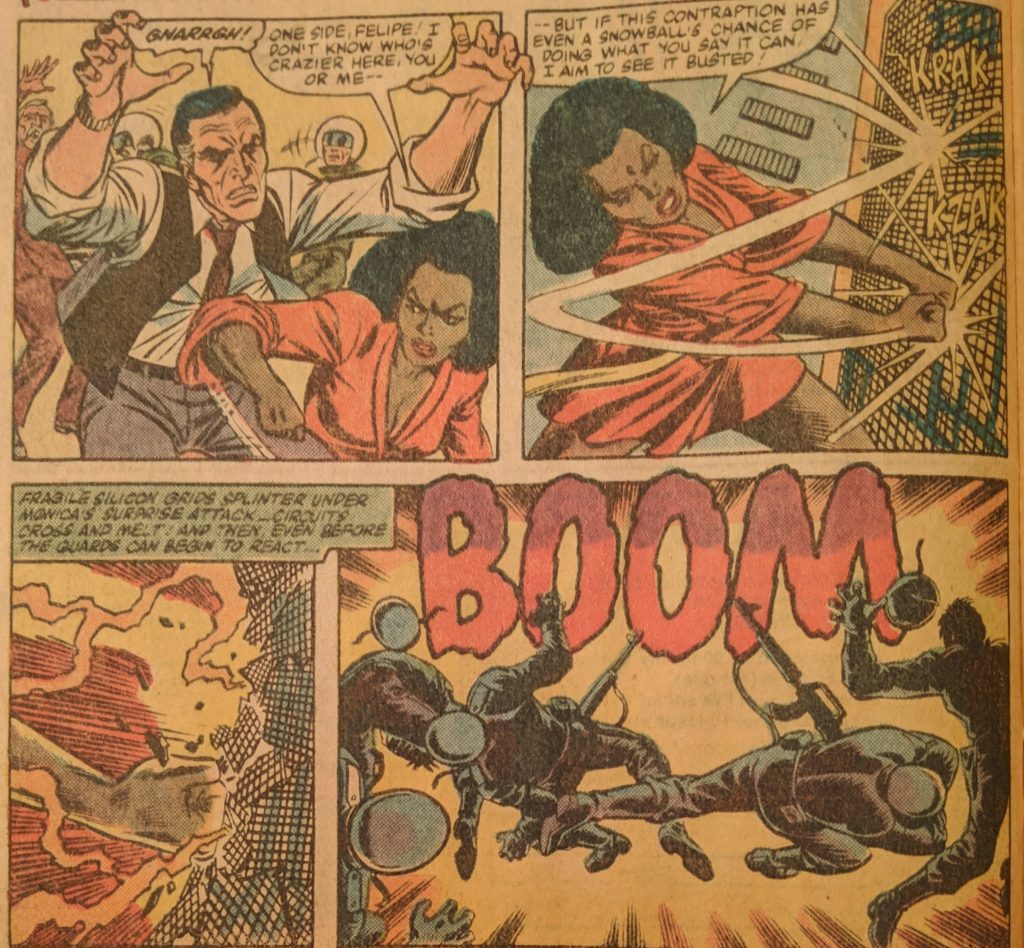 Moments later, she found herself back on the shore, confused and disoriented. She reached a building and thought she wanted to get inside, and suddenly was inside. Still confused but snapping out of it, she found a radio…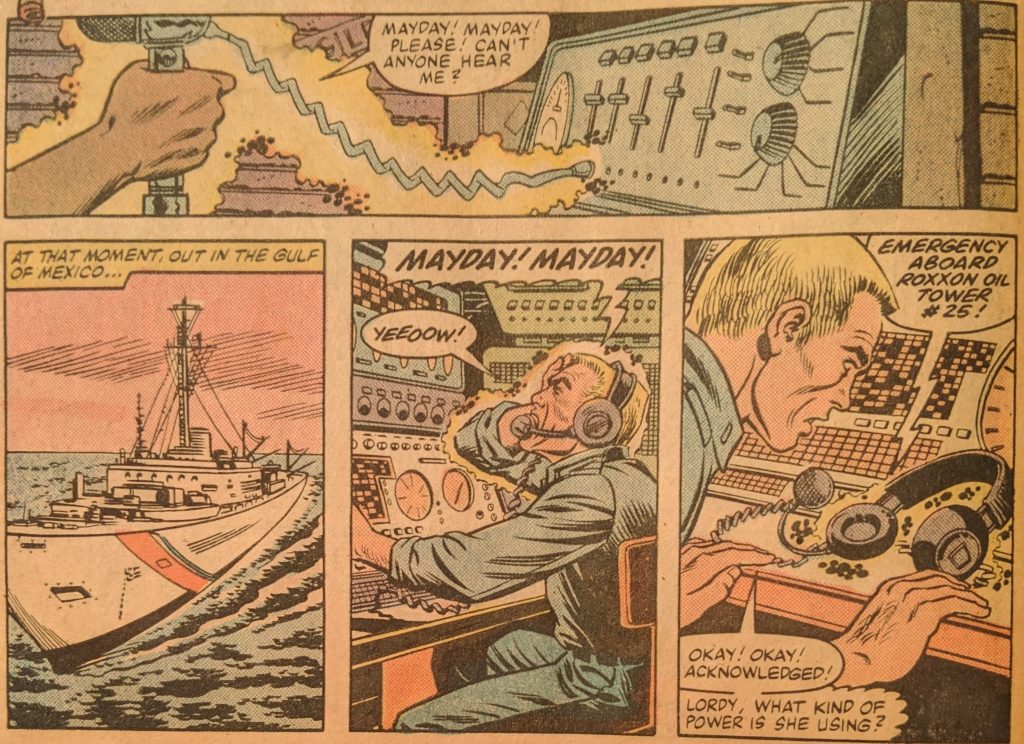 Monica realized she was back in the city, but had no idea how. She found herself in a Mardi Gras costume warehouse, as luck would have it, and so…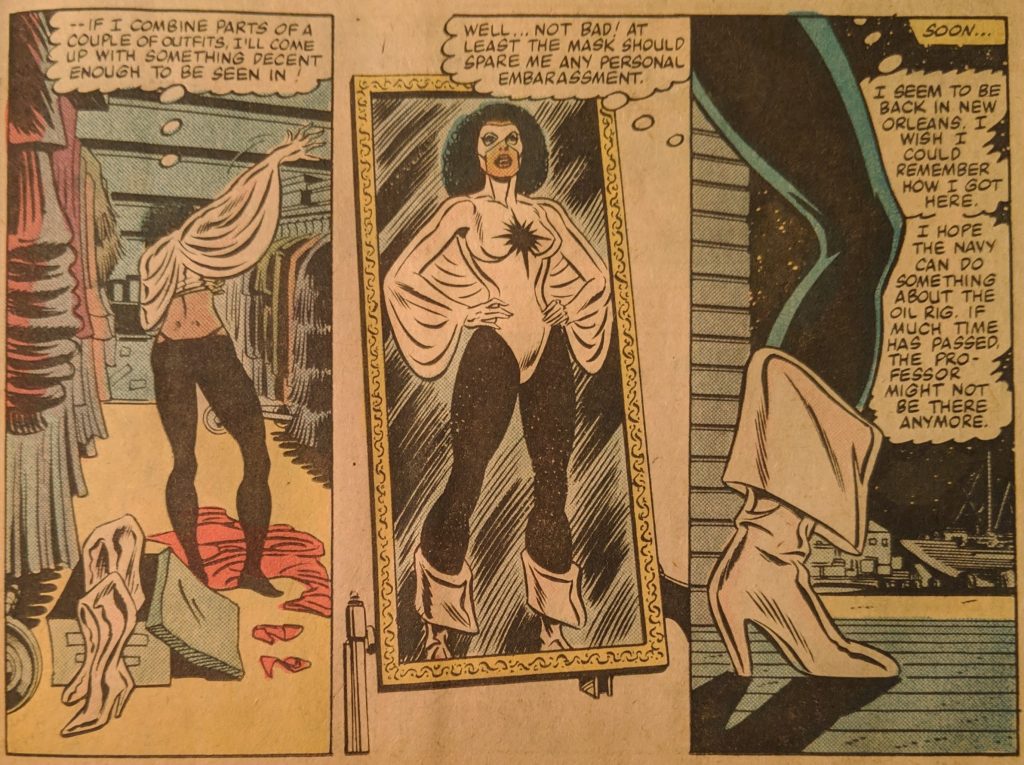 As explanations for a superhero outfit go, you could do worse, honestly. Sure doesn't look like any Mardi Gras outfits I've ever seen (No color???), but what can ya do? Back outside, she saw crazy lights on the distant oil rig, and with the thought of wanting to be out there, she turned to light and zapped over there almost instantly. Her timing just wasn't so good…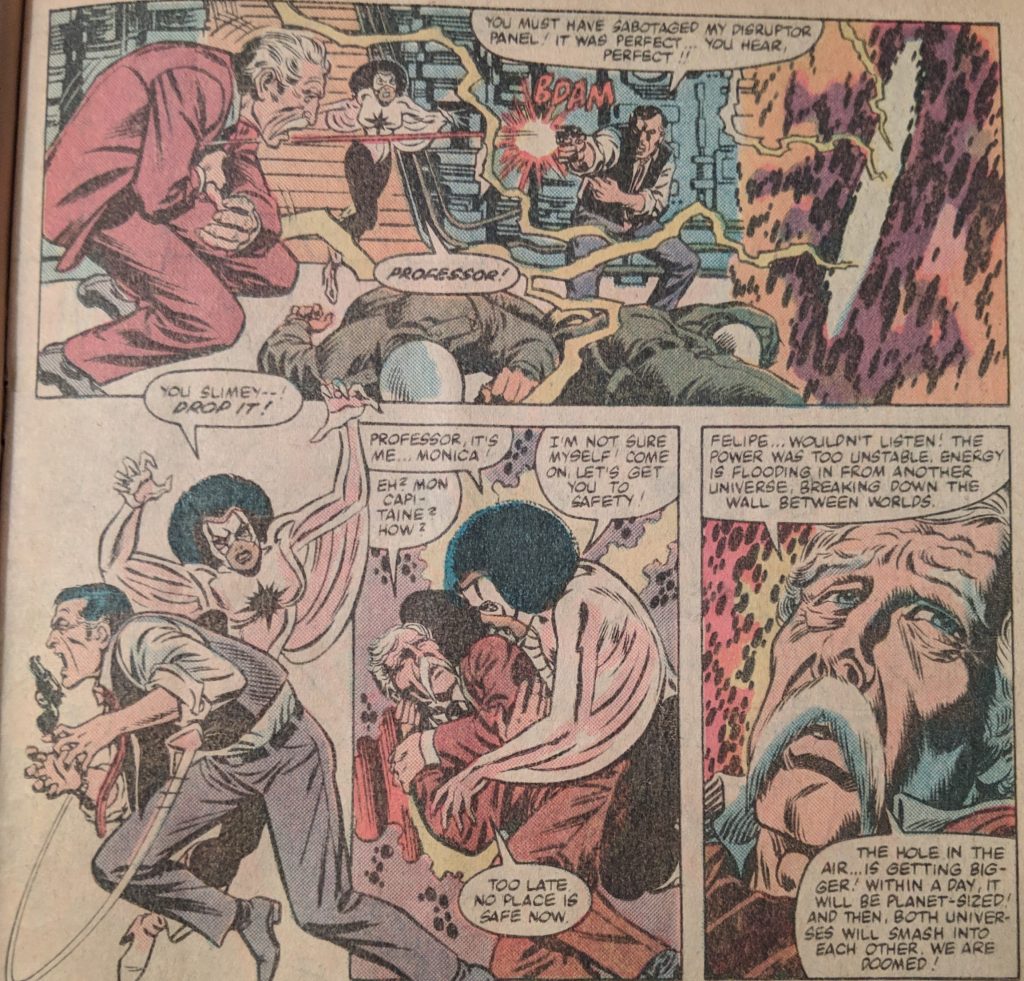 Before she could try to do anything, Monica was pulled into the anomaly. And her new weird light form actually seemed to be closing it somehow. Then Picaro decided to shoot LeClare again for good measure, and at light speed, Monica zipped across the room to stop the bullet and then take out Picaro.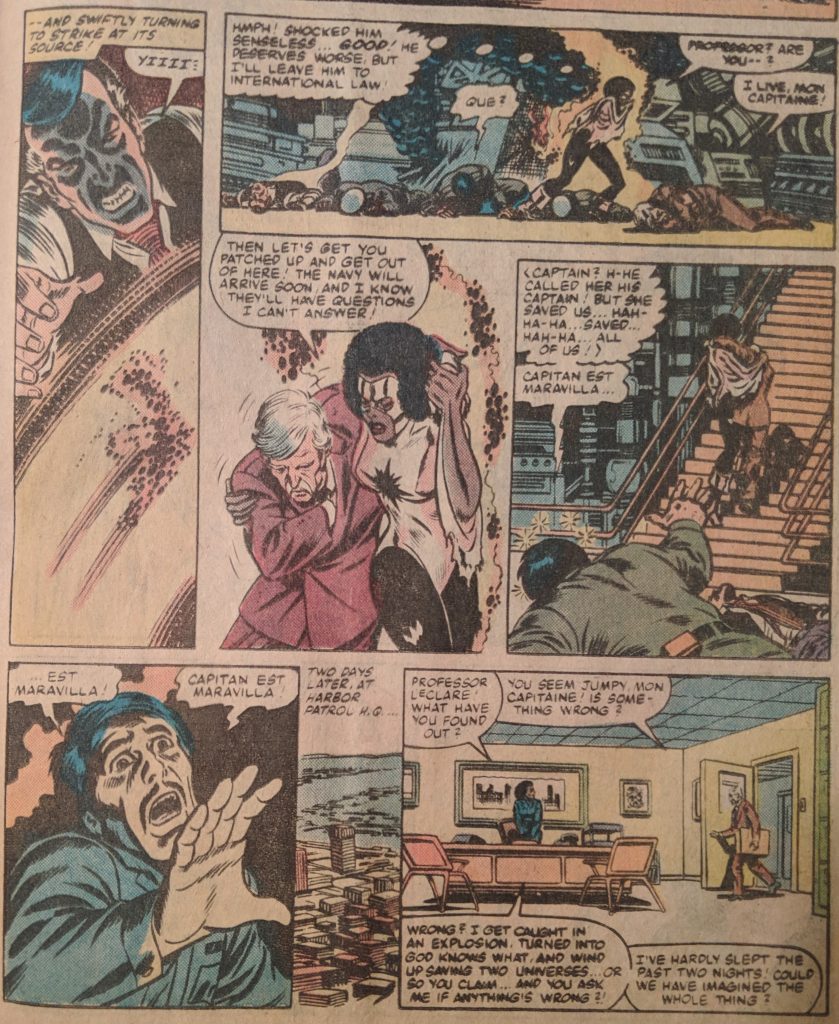 CAPTAINMARVELGETIT? LeClare's tests concluded Monica can turn into any form of electromagnetic energy. Light, radio waves, X-Rays, all sorts of things are available to her. He also (somehow?) got a copy of her suit made from unstable molecules for adventuring. But she wasn't sure she ever wanted to use her powers again.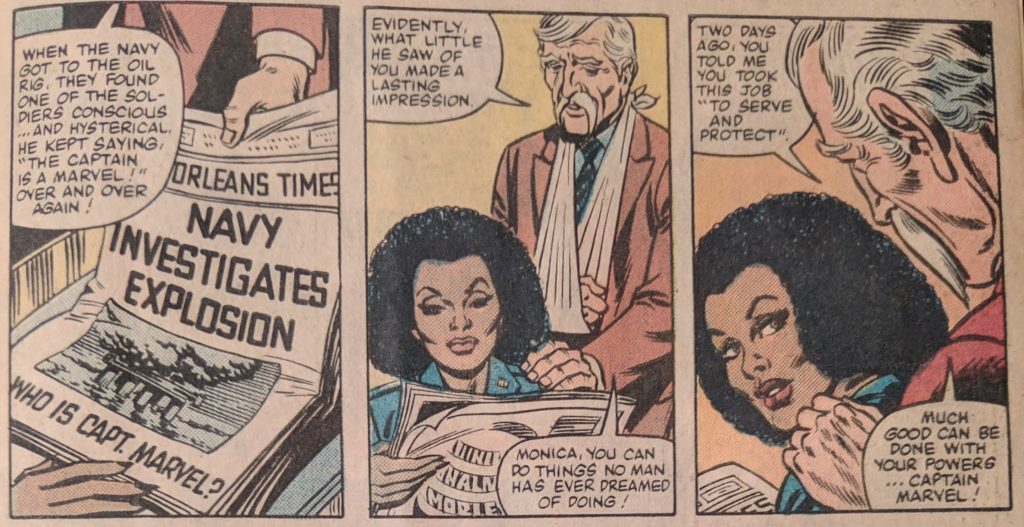 So, the emboldened Monica quit her job and took LeClare out to a celebratory breakfast. In the present now, Monica thinks that was only a few weeks ago. Now she's accepted her powers, but she feels them growing out of control, and has come to New York looking for more advanced scientific help. Hey, remember how this was a Spider-Man comic? Well, guess who was climbing up the Empire State Building while she's been recapping her origin? We now understand that she's been setting off his Spider Sense due to her out-of-control powers, even if he doesn't. He shoots a web at her more or less just to see what will happen, and she zips away in a streak of light again.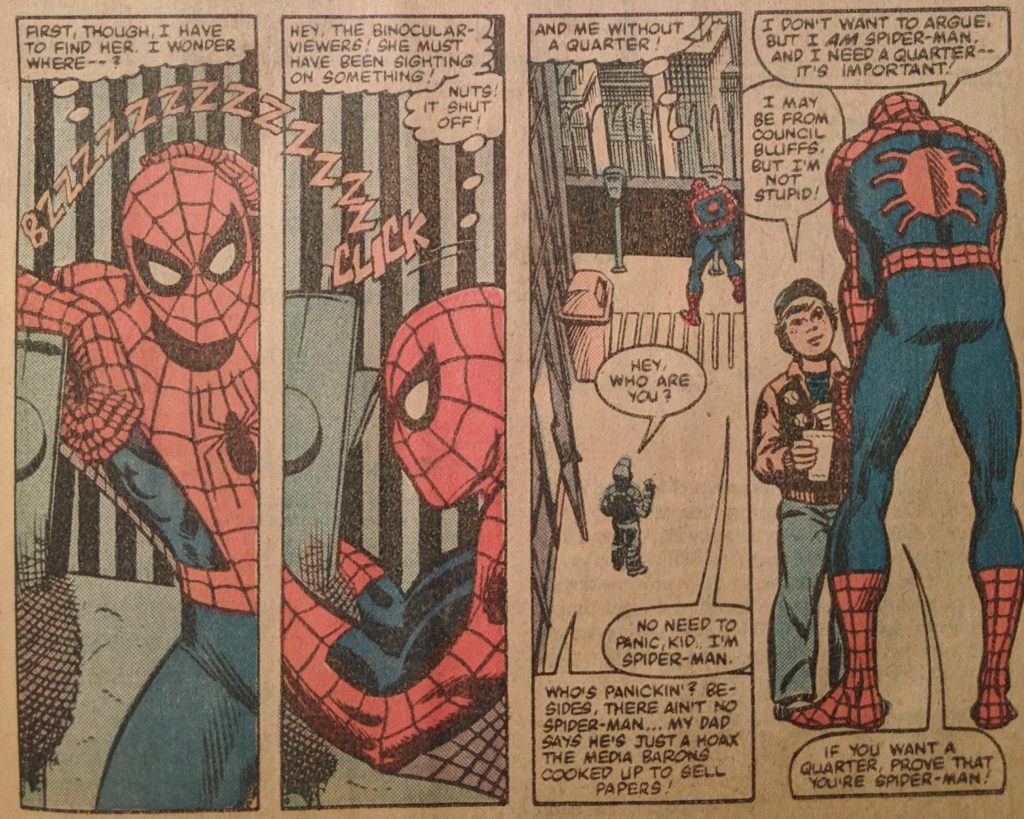 Aaaah, that classic Romita, Sr. Spidey. It only happened a few times, but his signature style combined with his son's masterful storytelling and figure work is always a wonderful alchemy. At any rate, Spidey actually does a couple of Spidey tricks for the kid to get his quarter, and finds Monica was locating the Baxter Building. Fearing the worst, he takes off as fast as he can. But she's already there, of course, and she runs into The Thing.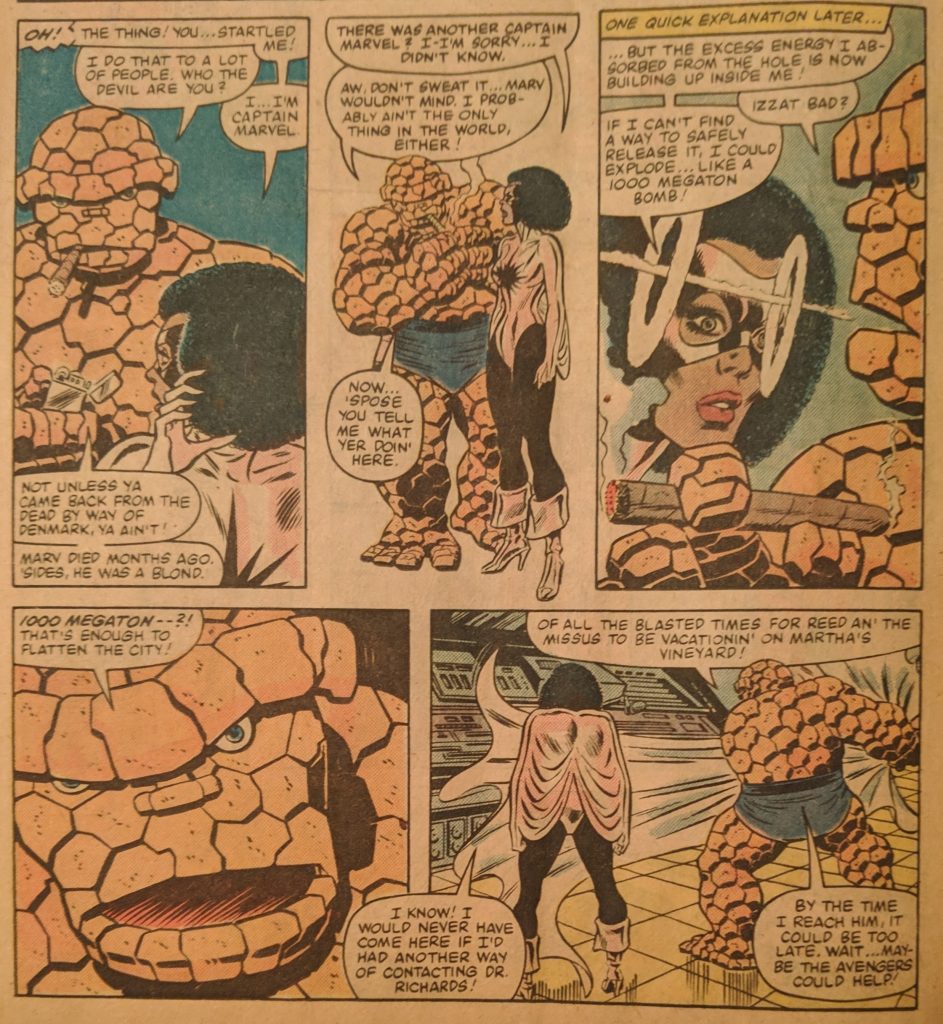 I like how Ben's just like "Sure, a stranger's in the house, come on in." When Monica finds out The Thing has a direct line to The Avengers, she just transforms into radio waves and gets to Avengers Mansion through the phone line… Just as Spider-Man finally shows up. Thing accidentally convinces Spidey she is, indeed, a threat, so he rushes off to the mansion before Thing can stop him. And at that site, Monica comes bursting through the phone line, accidentally messing up the communications system, Iron Man's armor, and the mansion's defense mechanisms, which start going off.


Jarvis runs off thinking Monica is a threat just as Spider-Man is arriving, even further re-enforcing the idea that she's evil, as she tries to find the "adamantium containment chamber" Iron Man told her about that might be able to contain her if she explodes. Then Spidey catches up with her and tries to web her up, but she just zaps out of it.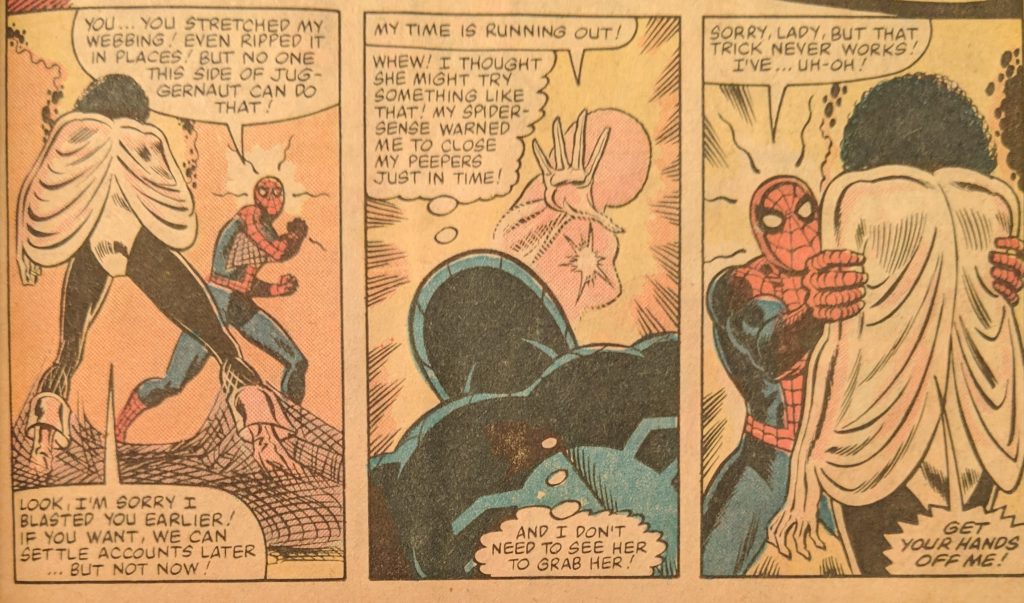 Spidey manages to knock her out juuuust as a rejuvenated Iron Man and The Wasp show up to tell him he messed up. Now she's unconscious, Monica could explode any minute. So Iron Man whips up some kind of gimmick to syphon offer he excess energy through his suit, which depends on Spidey coating them in his webbing since it doesn't conduct electricity.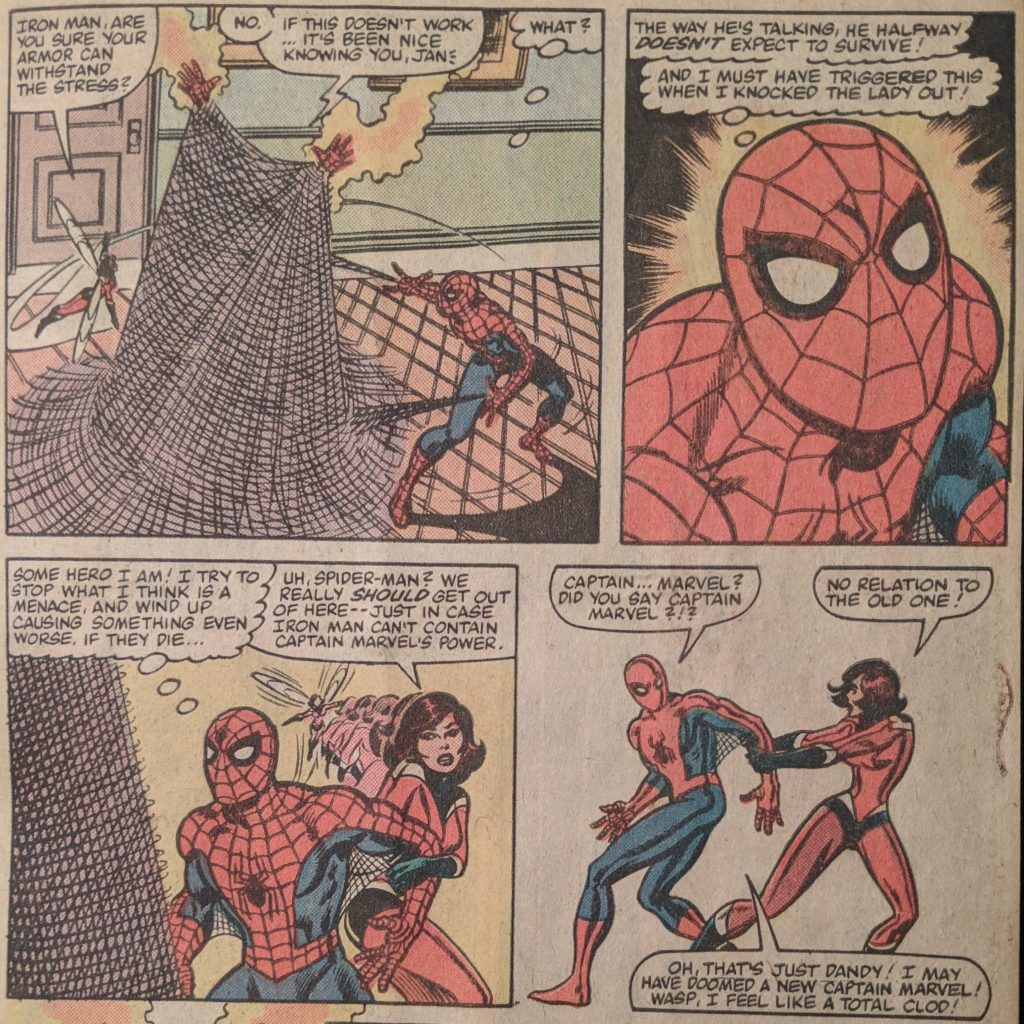 And it works! The new Captain Marvel is saved, and so is the city. The Thing arrives in a taxi, but the fireworks are over…

As it turns out, Harry & Liz missed their bus and had to catch a later one, so they only just showed up. Sometimes, things work out for ol' Pete.

Rather more a Captain Marvel showcase than a Spider-Man comic, especially with poor Spidey running around doing the wrong thing at every turn. Pretty solid character introduction, though. This Captain Marvel was the total package. A simple, timeless costume design, unique powers, everything you want, and already pretty rare in 1982. She would go on to a successful career as an Avenger on various teams, and to a couple of other codenames (Photon and Spectrum). And of course, she just appeared as a young girl in the 90s in the Captain Marvel movie, paving the way for Monica to become a hero in the movies. Prrrretty solid.