Nothing! Not even a full team of X-Men! What hope does our man have in the face of such destructive power? Stern, Romita, Jr., Mooney & Wein remain the creative team. Things get rolling with Madame Web, a strange psychic introduced by Denny O'Neil & John Romita, Jr., having a nightmare about a huge creature trying to kill her, and a spider-themed champion failing to stop it. She awakes in a panic, and she knows who to call…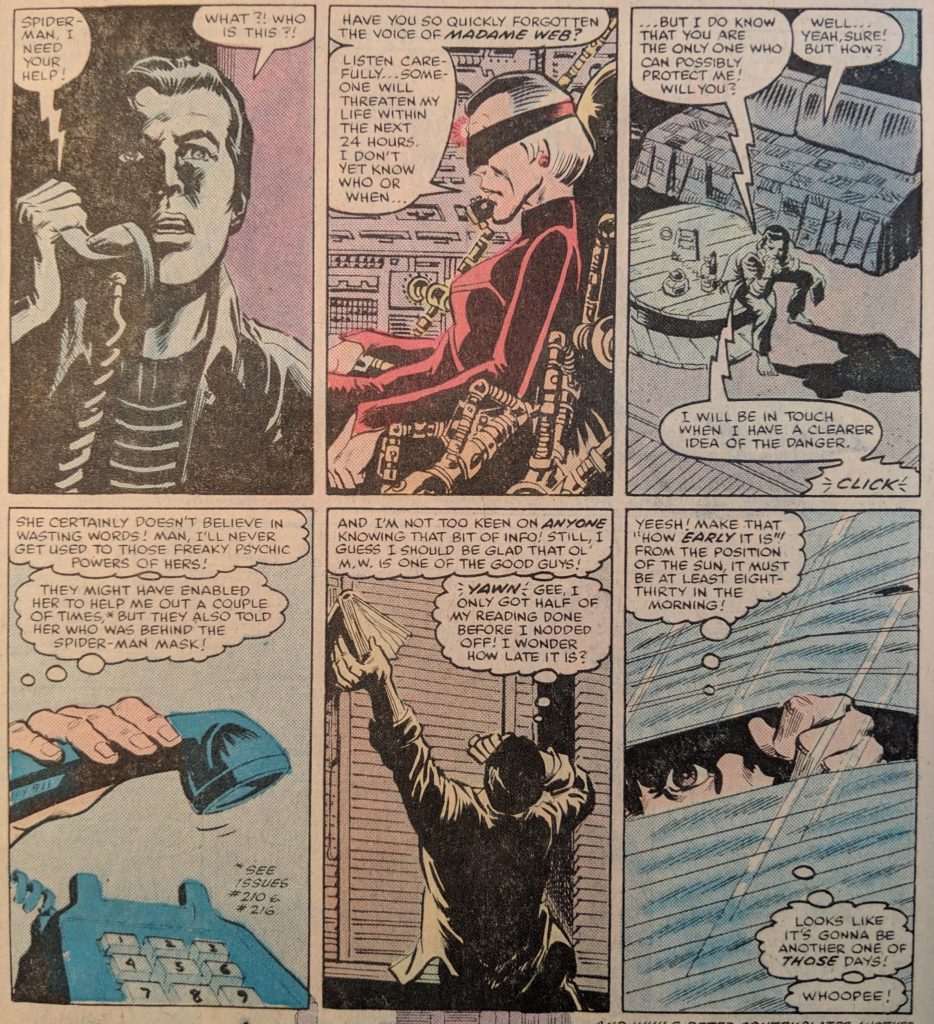 Meanwhile, out in the harbor, a big fancy boat is pulling into New York, and it contains X-Men foes Black Tom Cassidy and The Juggernaut…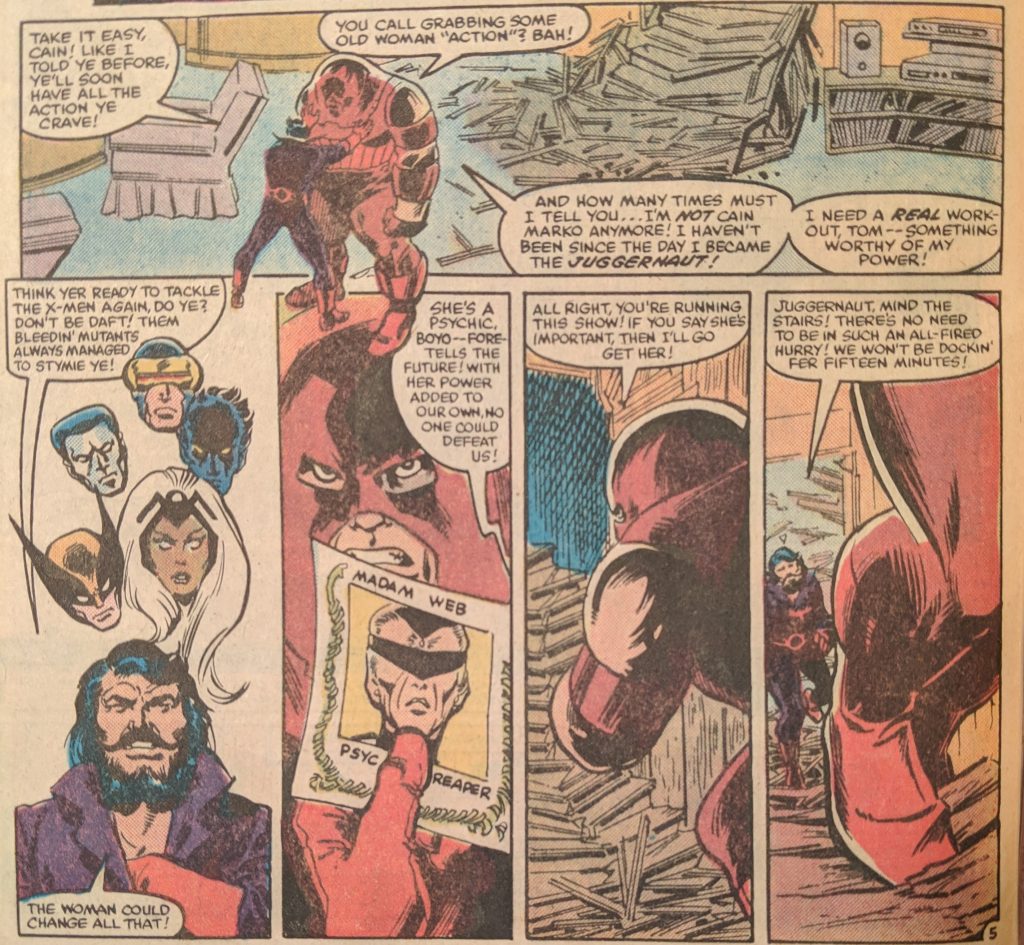 As Juggernaut trudges across the bottom of the harbor, unkillable as always, Madam Web gets a sense that her tormentor is on his way, and knows she needs to contact Spider-Man again. He's at The Daily Bugle at the moment, checking in with the usual suspects, when Betty Brant shows up out of the blue. We've not seen her in something like 40 issues, if memory serves, and as you'll recall, things were extremely awkward when we did.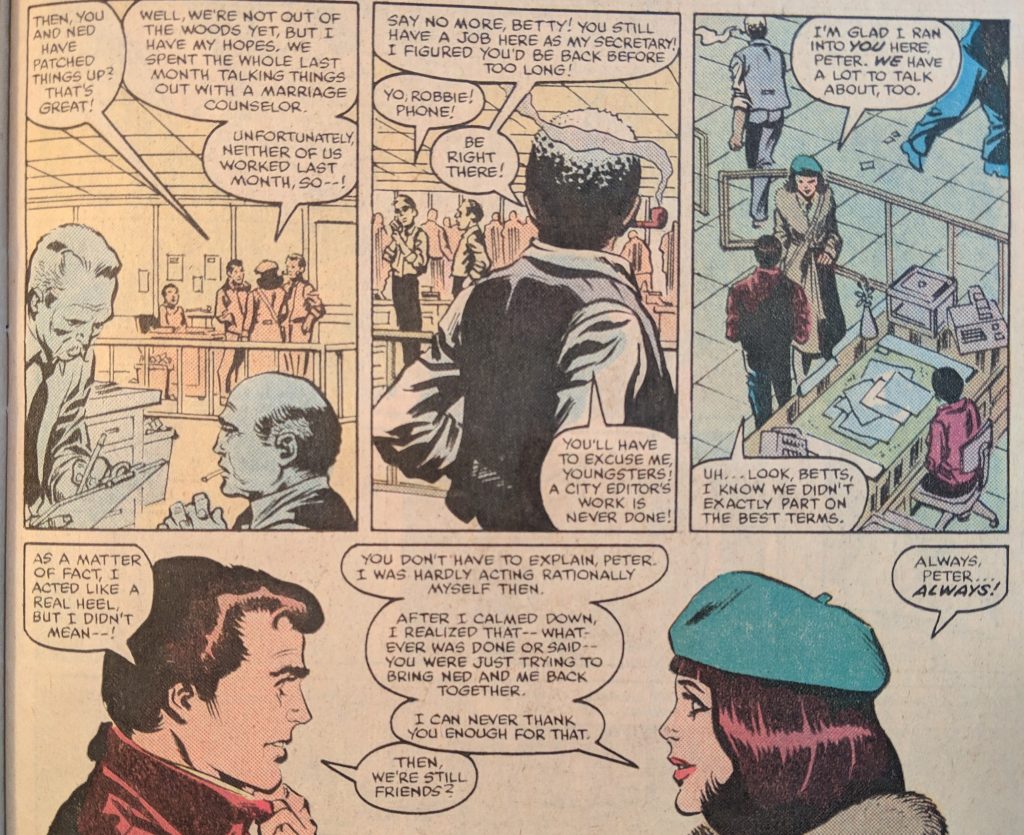 Stern does a nice and much appreciated job of sweeping that nonsense under the rug in just a few panels. But then, Madame Web calls Glory Grant's phone for Peter, telling him his foe will be coming up out of the sea, and it's on. Peter rushes off, wondering if this means he'll have to fight The Submariner, as Juggernaut emerges from the water and begins stomping toward Madame Web's place. As the two combatants converge on each other, look how dynamic and energetic Romita, Jr.'s Spider-Man is as he swings around…

As he comes into his own, JRJR's Spidey is more active and visually interesting than anyone's since Ditko. Spidey rounds a corner and sees his foe… and unfortunately for him, he's got no prior knowledge of The Juggernaut. He decides to try a sucker punch move and launch himself into a kick in the back of Juggernaut's head, but Juggernaut doesn't even notice, while Spider-Man is knocked back with such force that he barely avoids smashing himself into a building. He tries to web him next, but Juggernaut's weird mystical deal provides a force field around him, the web doesn't even get to him. Spidey's next plan is far more complicated. He webs up all the side streets to keep people away, then rips a hole in the ground well in front of Juggy and then just… waits.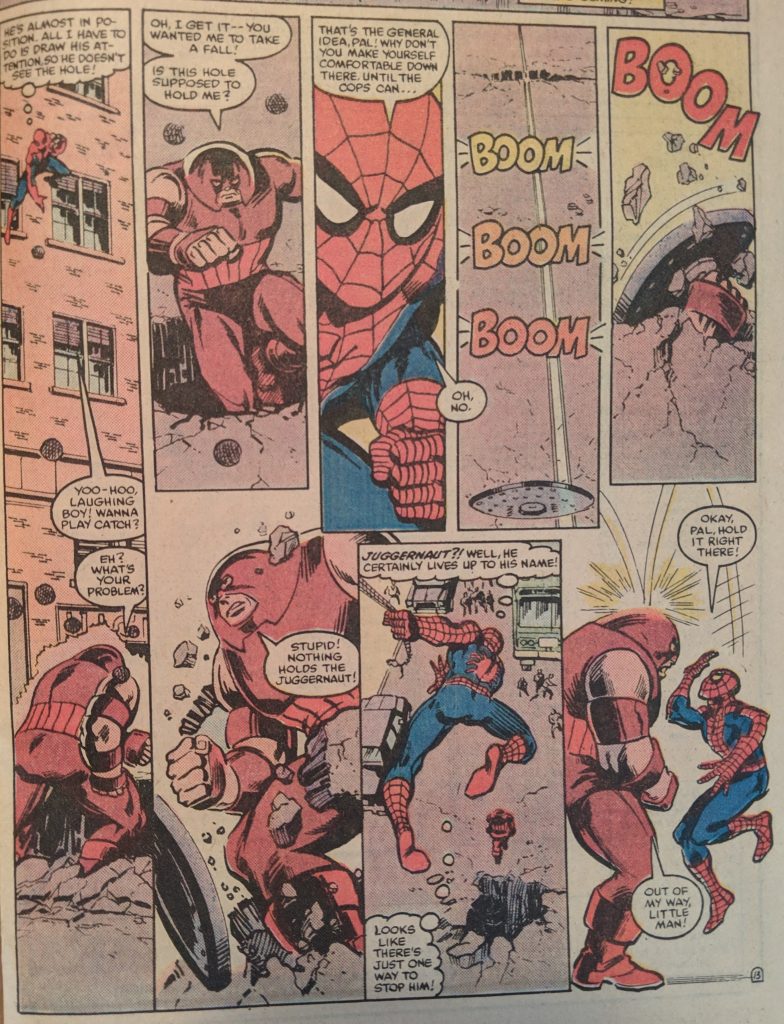 And so it goes. A man who can't be stopped vs. a man who never gives up. Spider-Man tries to wrestle him to the ground, and when the doesn't work, in true Spidey fashion, he decides to just annoy him to death, sitting on his back and saying he won't leave until Juggernaut stops. So Juggernaut just grabs onto his arm.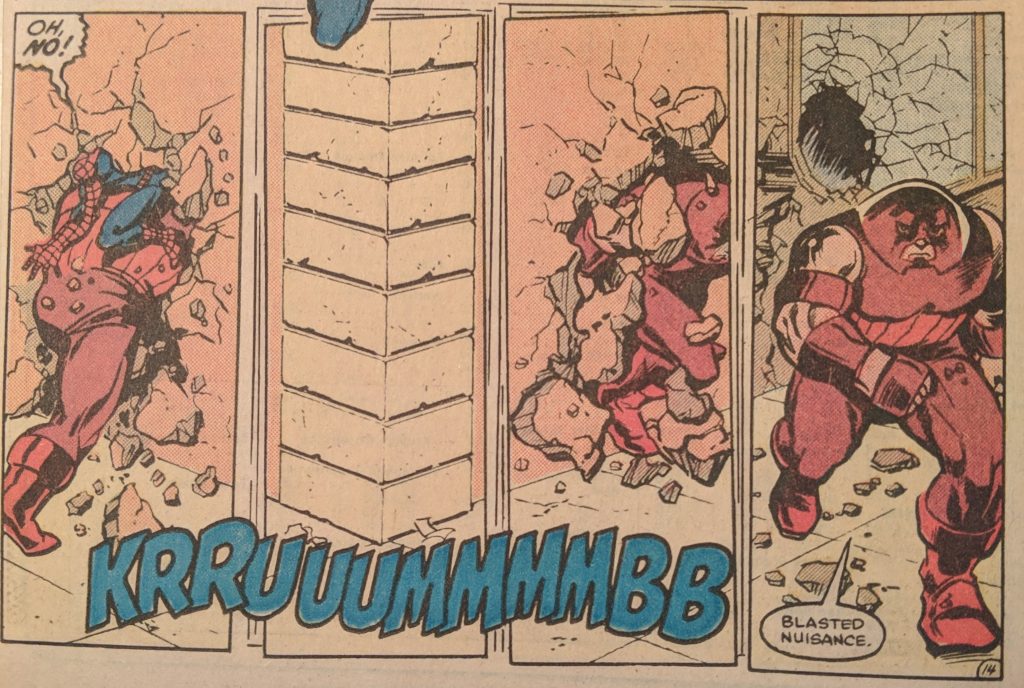 Woof. In the ruins of the offices Juggernaut just smashed, Spidey pulls himself to his feet, and a ringing phone turns out to be Madame Web, saying she's gotten a psychic mention of the word "Cyttorak," the god who gives Juggernaut his power. Spidey thinks that sounds like something he's heard from Dr. Strange in the past, but he's not sure. He tells MW to call The Avengers or the FF, some real muscle, but they're all busy (And since this is the much more tight continuity of the early 80s, a note even lets you know you can read FF 241 and Avengers 219 to see what they're doing right now). Meanwhile, Spider-Man has arrived at Dr. Strange's house. Strange isn't home, as usual, but Wong is there. Spidey asks if he's ever heard of The Juggernaut.

As our man leaps back into the fray, Juggernaut has caused a massive traffic jam, and the cops have surrounded him to harmlessly shoot at him, and still The Juggernaut just marches toward Madame Web's place. Spider-Man has decided Juggy's gotten too close, and swung on ahead of him. When Juggernaut arrives, the stairs are all webbed up, but of course…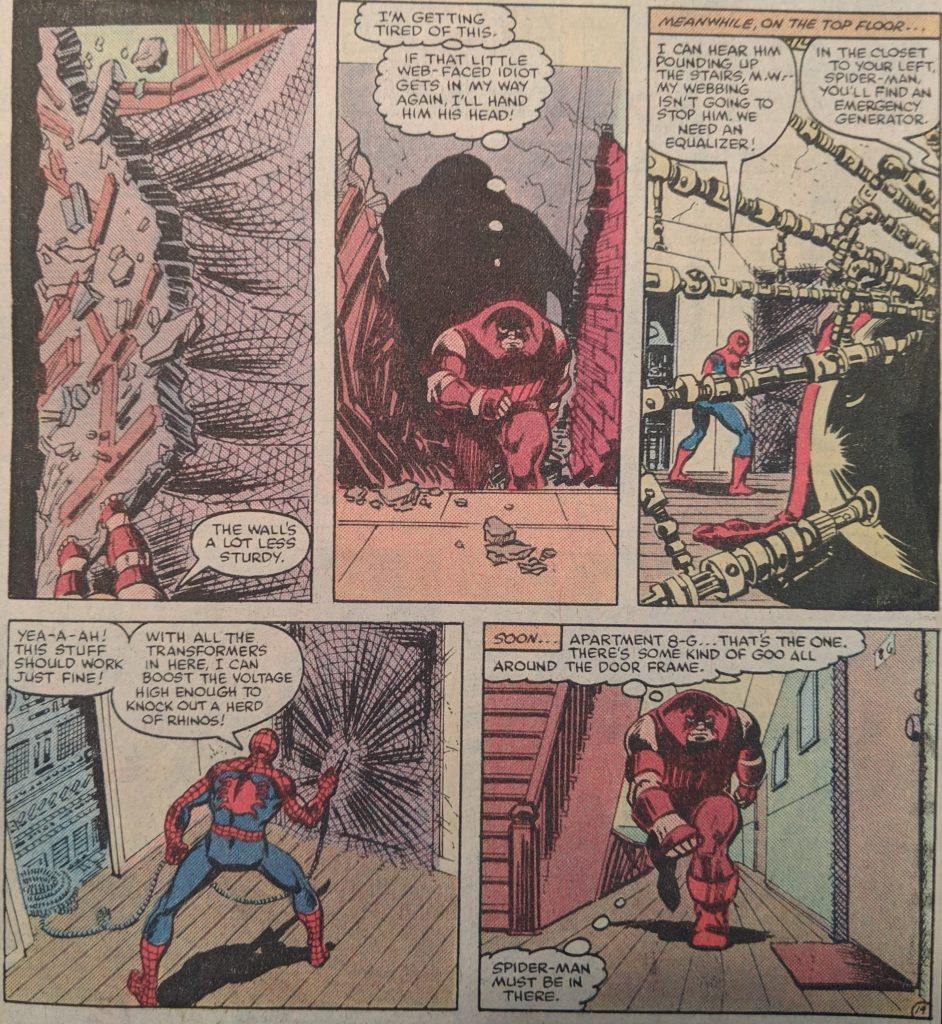 Spidey has electrified the steel door to the apartment, but nothing stops the Juggernaut, so soon enough he's through it. Spider-Man tries his best, but he's soon buried under a collapsing ceiling. And then Juggernaut pulls Madame Web from the, well, web of electronics that keep her alive.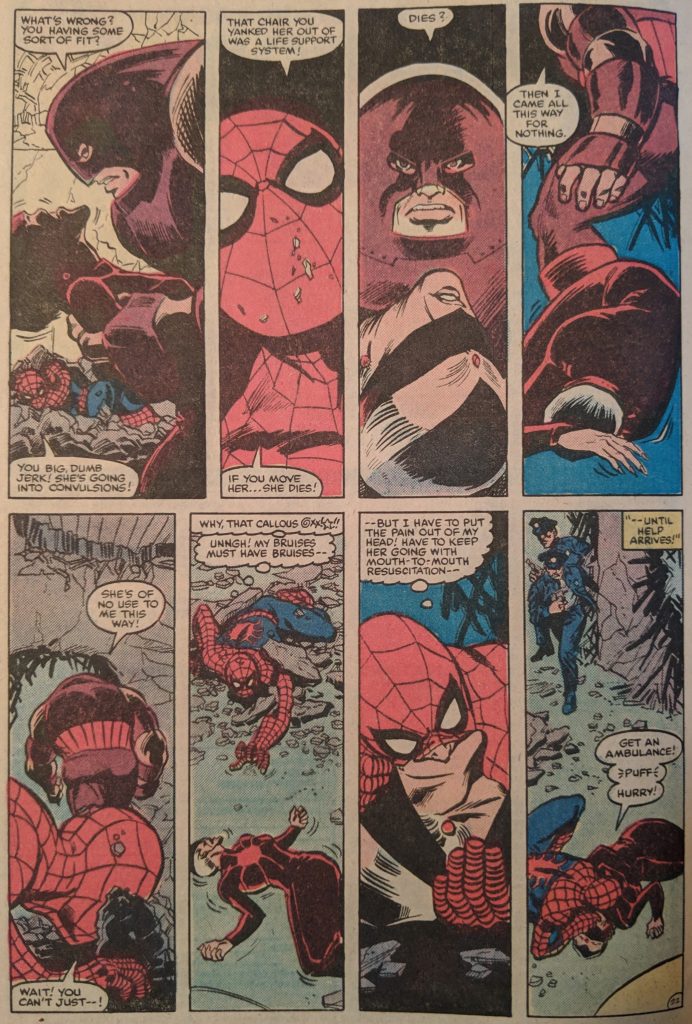 Paramedics arrive and put Madame Web on life support, but they don't know if she'll make it. And as we know, nothing motivates Spider-Man like guilt, and with her possible death on his head, a furious webslinger lights out of there to find and somehow punish The Juggernaut. And that's to be continued… Can our hero possibly triumph? We'll find out next issue!