It's a fill-in! I've never read it. When I was collecting the Stern/JRJR run, I found out this wasn't them and skipped it. But I have it now. Terrible cover by Mike Nasser & Joe Rubenstein. Empty composition, lumpy Spider-Man figure, weird looking dead guy. Sheesh. The actual comic is by writer Jan Strnad, the always-welcome Rick Leonardi on pencils, Dave Simmons inking and Bob Sharen hanging in there for colors. Not the first Leonardi fill-in on ASM, not the last. Love that guy. Anyway, Murder By Spider? Is it as offbeat and shocking as we've been told? Let's see.

It is the requisite dark & stormy night, and Spider-Man keeps swinging by this old house, a mounting sense of dread that he can't explain motivating him.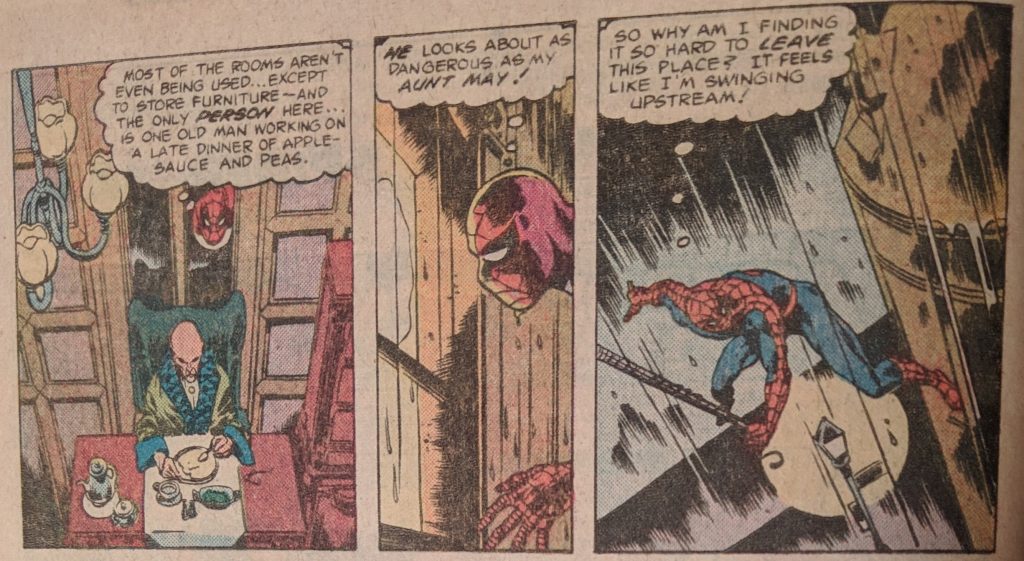 He swings away before he can see a small army of spiders march up the limbs of this Adlai Schmidt, and then we hear a scream from outside. Spidey's already gone, though, bemoaning the fact he can't even find some crime to stop. He settles for bothering a gang, hoping to "scare them straight," as it were. But as he swoops down, something strange happens: he's overcome by an inexplicable, mindless rage.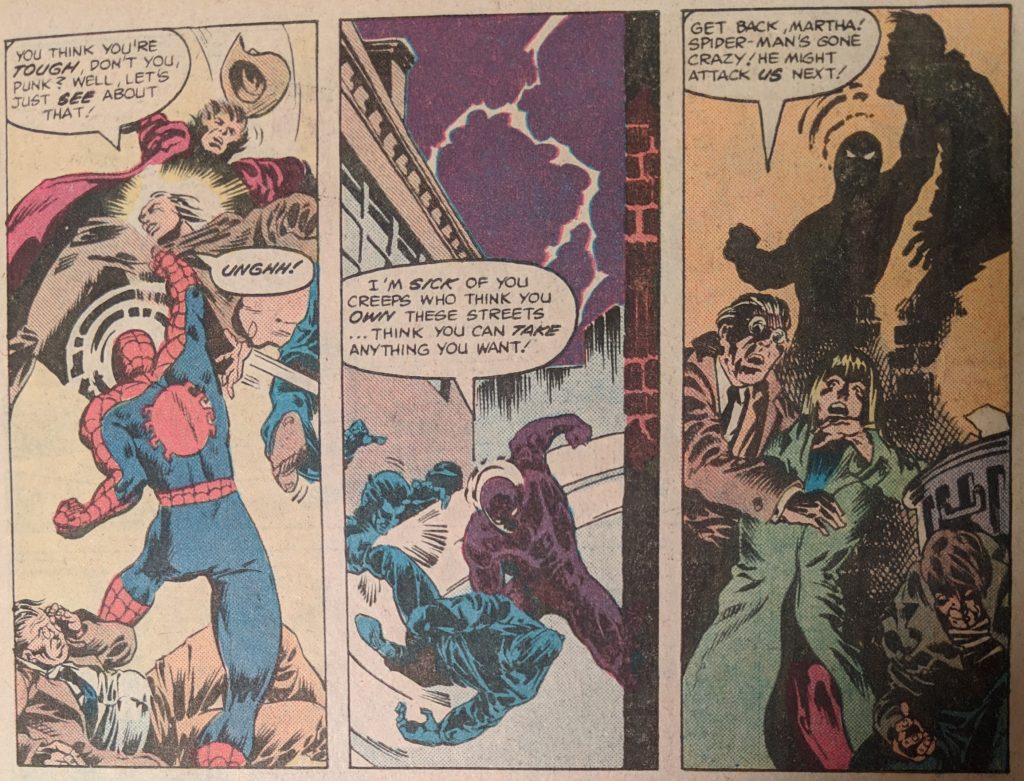 Before he can do anything he regrets, he snaps out of it and runs away. He can't explain what happened. The next day, Peter Parker is at The Daily Bugle, still freaked out by his actions last night, and now freaked out by the Bugle headline that a man was bitten to death by spiders. The same man he was spying on. And worse, JJJ has naturally blamed it on him, and tells him all about how Spider-Man is behind it. After JJJ storms, off, Robbie tells Peter Schmidt left behind a fortune in antiques, but has no family to claim them, so they're being put up for auction. Peter thinks he'll check out that auction to see if anything seems off. Now that Black Cat's "dead," he figures maybe he can take Deb Whitman. So classy. Meanwhile, in a seedy bar, a guy pays another guy for services rendered, and is given a pair of antique earrings. Seems like something that could've come from Schmidt's house. Then we jump ahead a week to the auction, which is being held right in the old house. Peter is creeped out, and barely paying attention to Deb as usual until a real rude guy snatches an antique quill pen out of her hand and declares he's just bought all the French items in the collection.

"Junque." Peter thinks he better follow that guy, and abandons Deb as usual, she has the usual thoughts about how lame he is and he has the usual thoughts about how bad he feels, ugh. Same ol, same ol. He follows Junque's car, but soon gets the strange feeling he had the night before, calling him somewhere, and he abandons the chase to follow it. It takes him to a building known for its rich residents. He's seen swinging in an open window, so the cops are on their way. As the feeling lures him further into the building, he suddenly feels the rage build up like it did last night. He comes to a conclusion: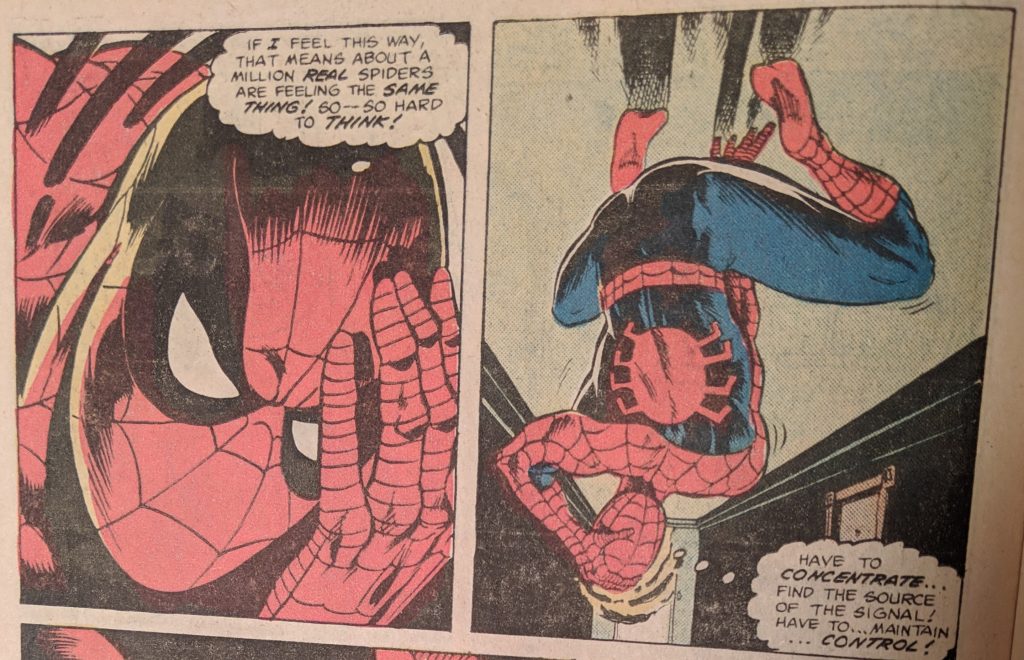 I… am not sold on this premise. But then he hears a scream and leaps off toward it. The cops beat him there, though, and he has to muscle through them to get inside.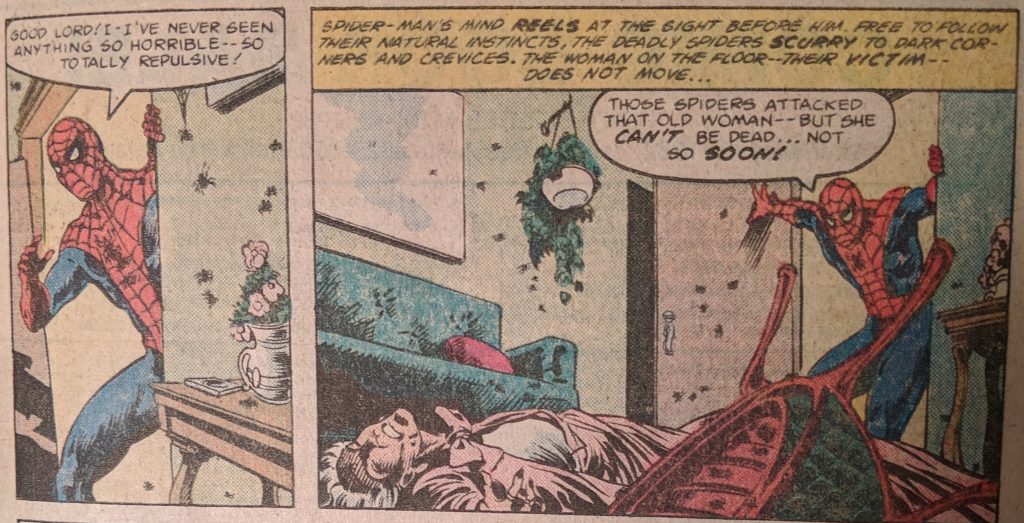 Spidey picks up the still breathing but unconscious woman, and amid a hail of gunfire, flips out the window to get her to a hospital as fast as possible. The old lady's going to make it thanks to his quick action, but he's stolen her earrings. On the way over, he's worked out that something has to be emitting the signal drawing the spiders (and him) to these crime scenes, and he thinks he'll find the transmitter in the earrings. And they just happen to be the earrings given as payment for the previous killing. Speaking of which, later that night, the guy who gave those earrings reads about Spider-Man interfering in this latest attack.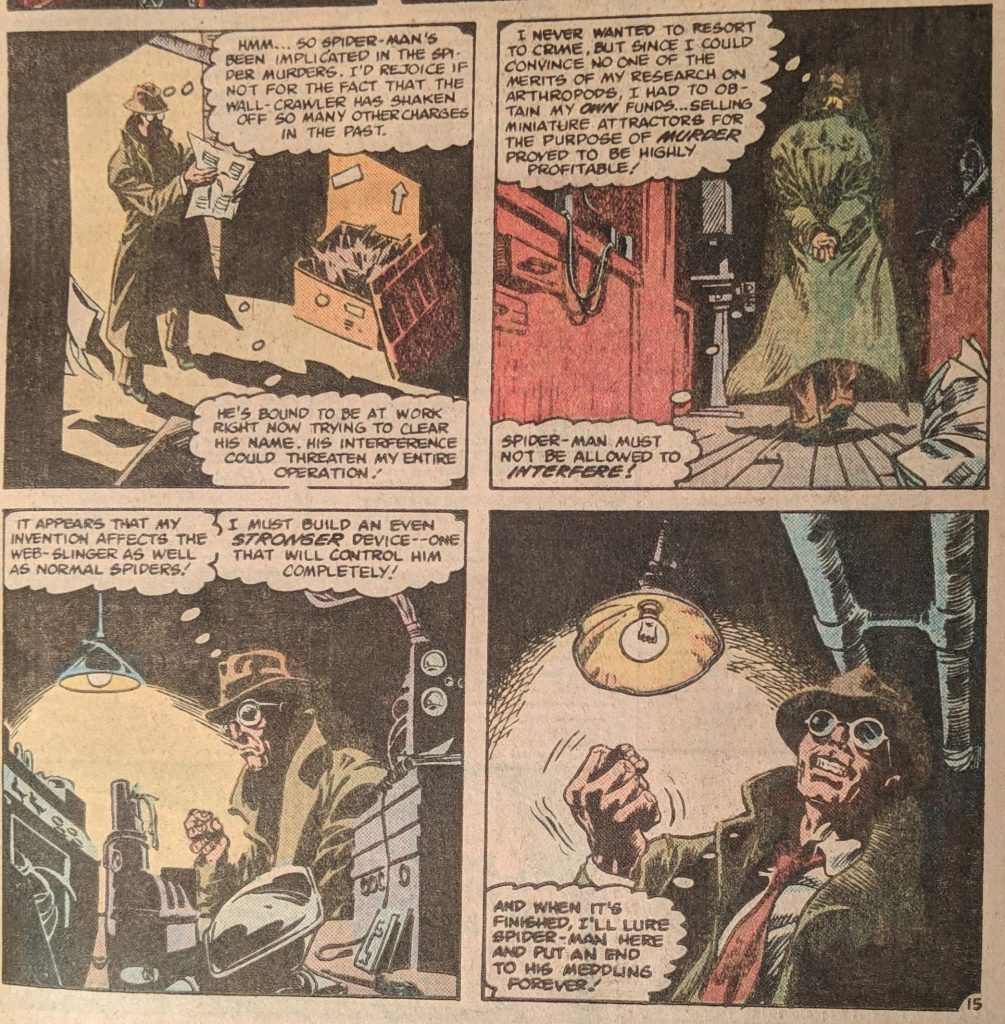 Sure, ok. No sillier than Dr. Doom contacting Spider-Man on his Spider Sense like it was a radio way back in the day. The next day, we find Spidey out swinging around. He's confirmed there was a transmitter in the earrings, but he's no closer to finding the culprit. His only hope is to swing around until he hears "the murder signal" again. And soon he does. He follows it to an old warehouse, where the guy in the glasses is waiting for him. Spidey tells him this is all over.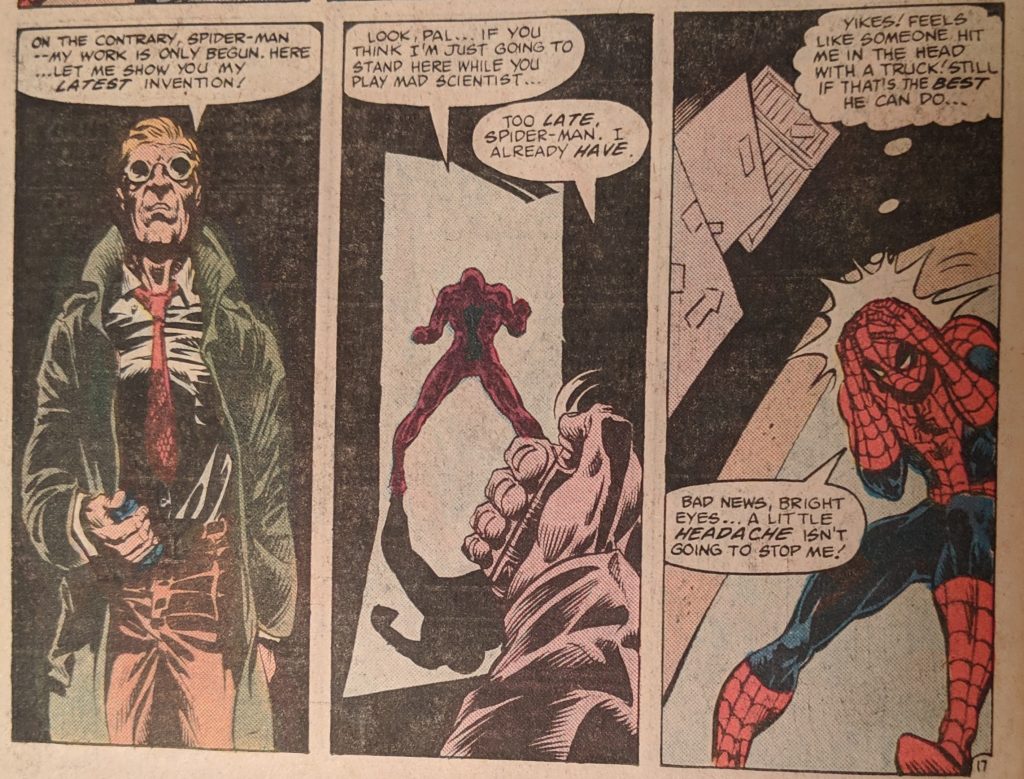 Spider-Man closes in on the guy, who helpfully lets us know Junque wanted Schmidt killed and the old lady's nephew wanted her money, but then a big crate drops on him, and he barely dodges it in time.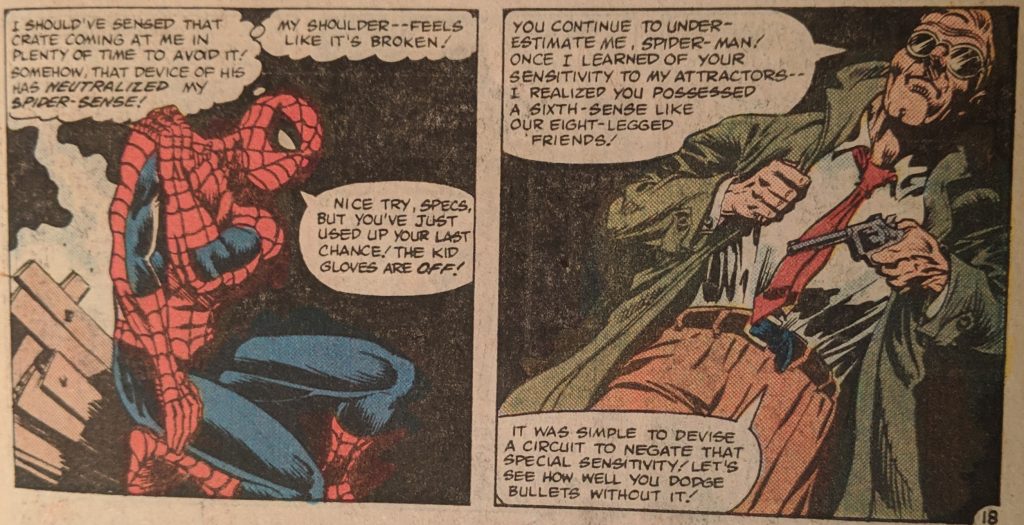 The Spider Sense is such a dubious thing. I really wish writers would let it be. It doesn't make sense, it's pretty silly already… don't lean into that. Don't build a whole plot around it. Use it and all, it's there and it can be interesting, but just… let it be. Anyhow, turns out Spidey's actually pretty good at dodging bullets without his Spider Sense, letting the guy empty his revolver without connecting once. Disarmed, the still unnamed villain acts scared and runs into the next room while planting a bomb on the door. Without his Spider Sense to detect it, Spidey's finished. Except it blows up and then he comes running in unharmed. He explains that he made a web shield and then threw something at the door just to be safe, not that I think he really needed to justify his existence.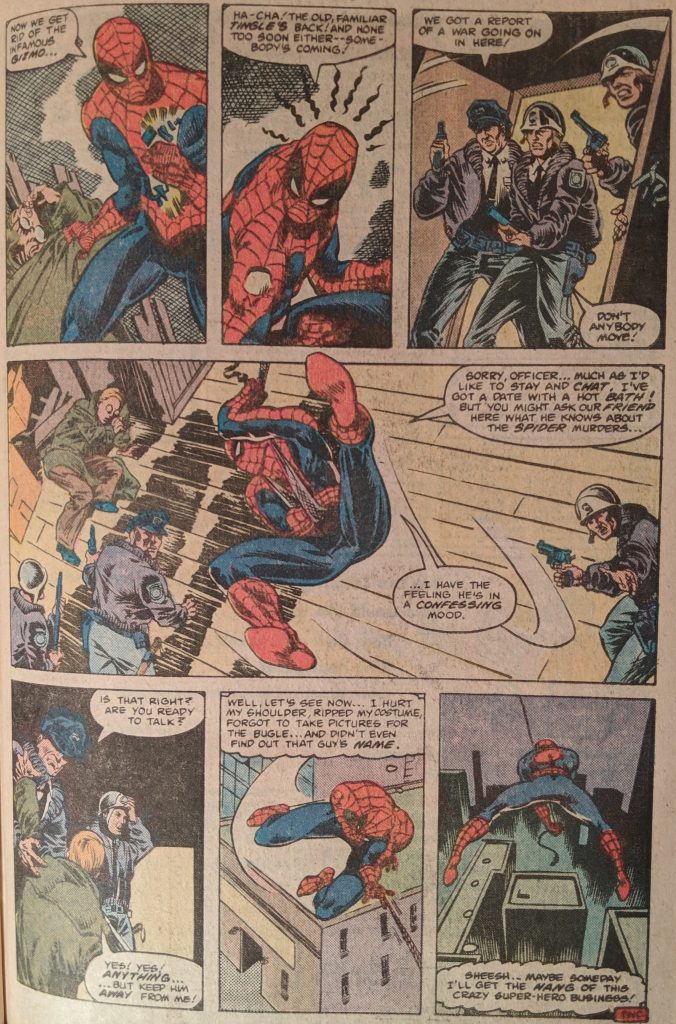 That was certainly offbeat. Not especially shocking. Not especially good, either. Looked nice, though. I believe this is the only fill-in during the Stern/Romita run, so get ready for nothing but hits from ASM for a good while here. Would that the same could be said for Marvel Team-Up…