Today's adventure begins with The Valkyrie flying around on her flying horse. The Valkyrie is Brunnhilde, an actual figure from Norse myth and leader of, well, The Valkyries in the Marvel U, and her horse is Aragorn. She's one of The Defenders, but tonight she's out on her own. When she sees a couple being harassed by gang members, she dives into action, quite literally, off of her flying horse.

Guys, I know goons not taking superheroes seriously is an everyday thing in comics of this vintage, but… This giant armored woman just leapt off her flying horse, which just swooped down out of the sky, to slap his buddies around with her giant sword, with which she is adept enough to slap them with instead of cutting them, and and this guy is like "Pssh, whatever." A guy getting powers from a radioactive spider is more believable than this dude's dialogue. Valkyrie rips a lamp post out of the ground and brandishes it as a weapon, and suddenly ol dude isn't so sure of himself anymore, and the whole gang runs off. Val's so nice she walks the couple she saved home for awhile, chatting. Then she broods about wishing she had a special someone for a sec before summoning Aragorn. But as she flies off, the energy… spirit or whatever… of the two aliens from last issue finds her, and after a recap of last issue, they… enter her sword? I guess they, like, possess it. As Peter Parker gives up on trying to write an essay and swings off into the night as Spider-Man, the alien ghosts begin to fill Valkyrie's mind with false memories, convincing her her fellow Defenders are in trouble, and the only way to save them is to find and kill Spider-Man & Thor! Uh-oh. As she flies off looking for them, Spider-Man is headed right for her, and also…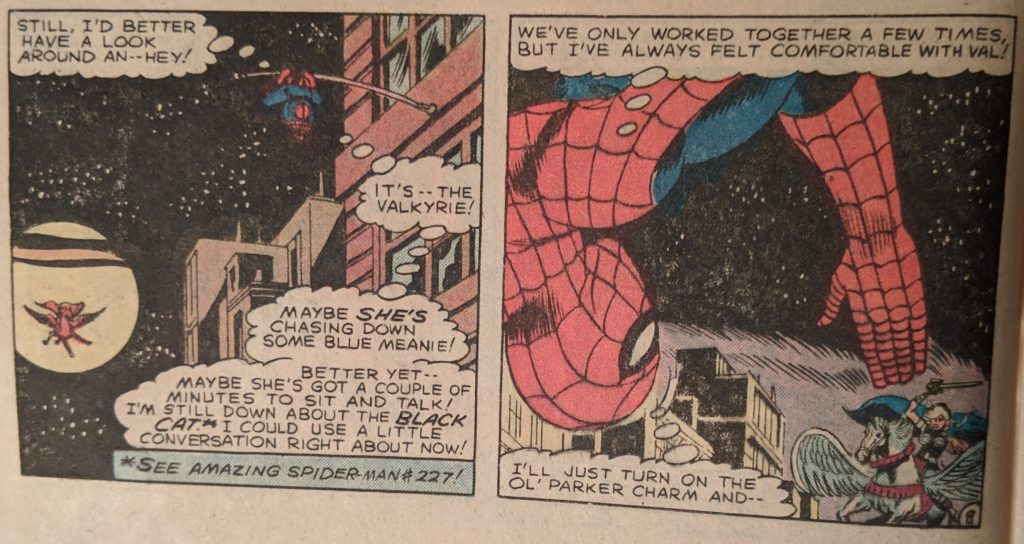 Well, that's weird. She is not in the mood to talk, and instead starts vigorously trying to kill him.

I have neither of those comics Spidey mentions, but we'll take his word for it. We'll eventually be looking at their meeting in MTU 34, but I guess that was so long ago he didn't feel like mentioning it. Pretty weird for him to just spell out the ol' Marvel "two heroes battle over a misunderstanding" trope like that. Valkyrie continues trying to kill Spidey, but at one point, when she throws her sword at him, she seems to become herself again for a moment. The sword, meanwhile, gets sticking in a pole, and seems to be trying to free itself, cluing Spidey into the fact that it's the problem, but then Val has swooped in and recovered it, so the fighting continues. Spider-Man decides the only person who can help him is Dr. Strange, and begins leading Valkyrie toward Strange's home, picking up a whole parade in the process…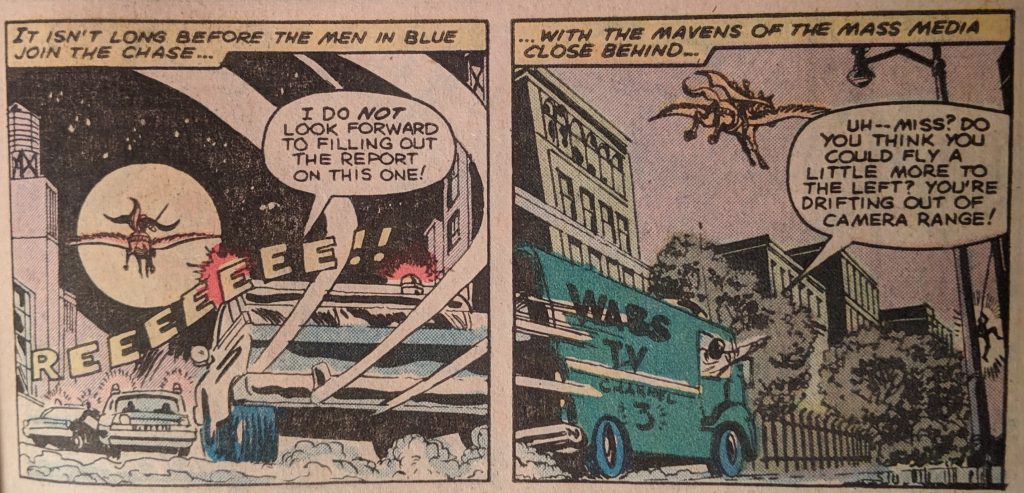 Lots of Komedy Business in this issue. When they finally get to Strange's house, Wong informs Spidey that Strange isn't home, and then it's back to fightin', in full view of the TV cameras. And who should be watching but Dr. Don Blake. He drops some weird exposition on us…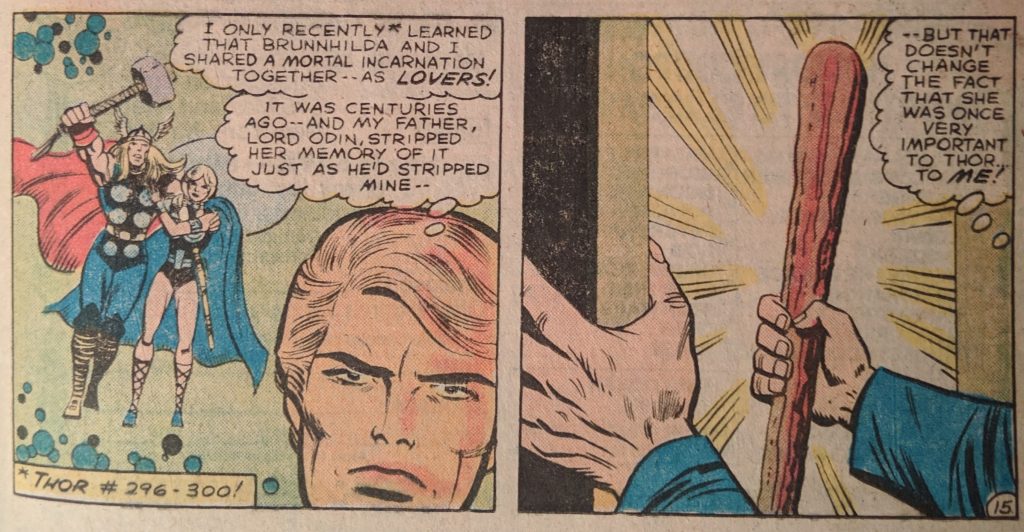 (Ah, Simonson's legendary run on Thor is a couple years in the future, ok) Thor then zooms off to help Val beat up Spider-Man. I was not aware of this moment in Thor history. Back at the fight, Spidey is still mostly trying not to hurt Val when he sees Thor flying in and assumes he's finally getting some help.

But then Val clobbers Thor in mid-speech, so they begin fighting, and that gives Spider-Man some breathing room to snatch Dragonfang out of Valkyrie's hand.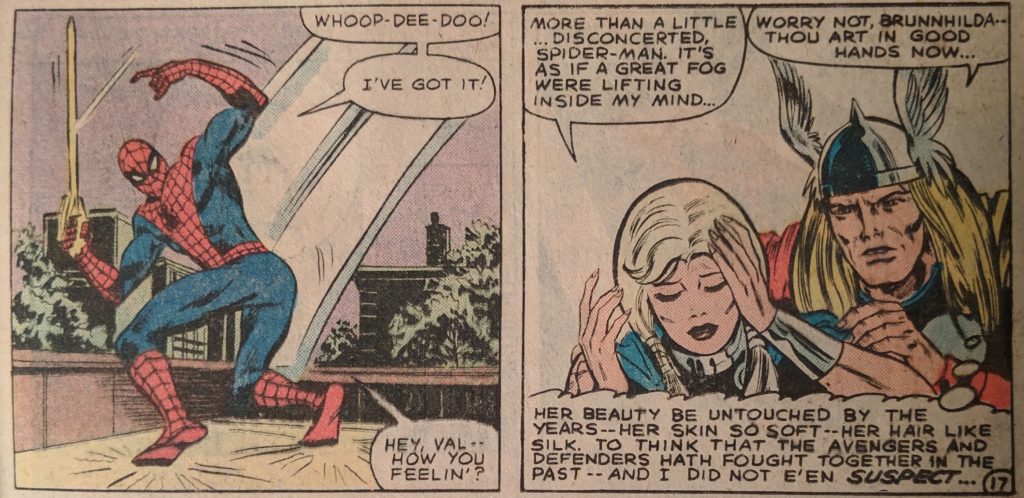 Thor going from 0 to 100 real quick. While he's getting weird, the sword starts talking to Spider-Man, telling him it will kill him itself, and then shoots off into the sky dragging him along, like the cover said it would. There follows a ludicrous sequence of the sword flying Spidey into the air while trying to stab him, the whole thing going out live on TV. And where are Thor & Val?

Pretty heroic of Thor. Spidey eventually manages to angle the sword back down to the roof.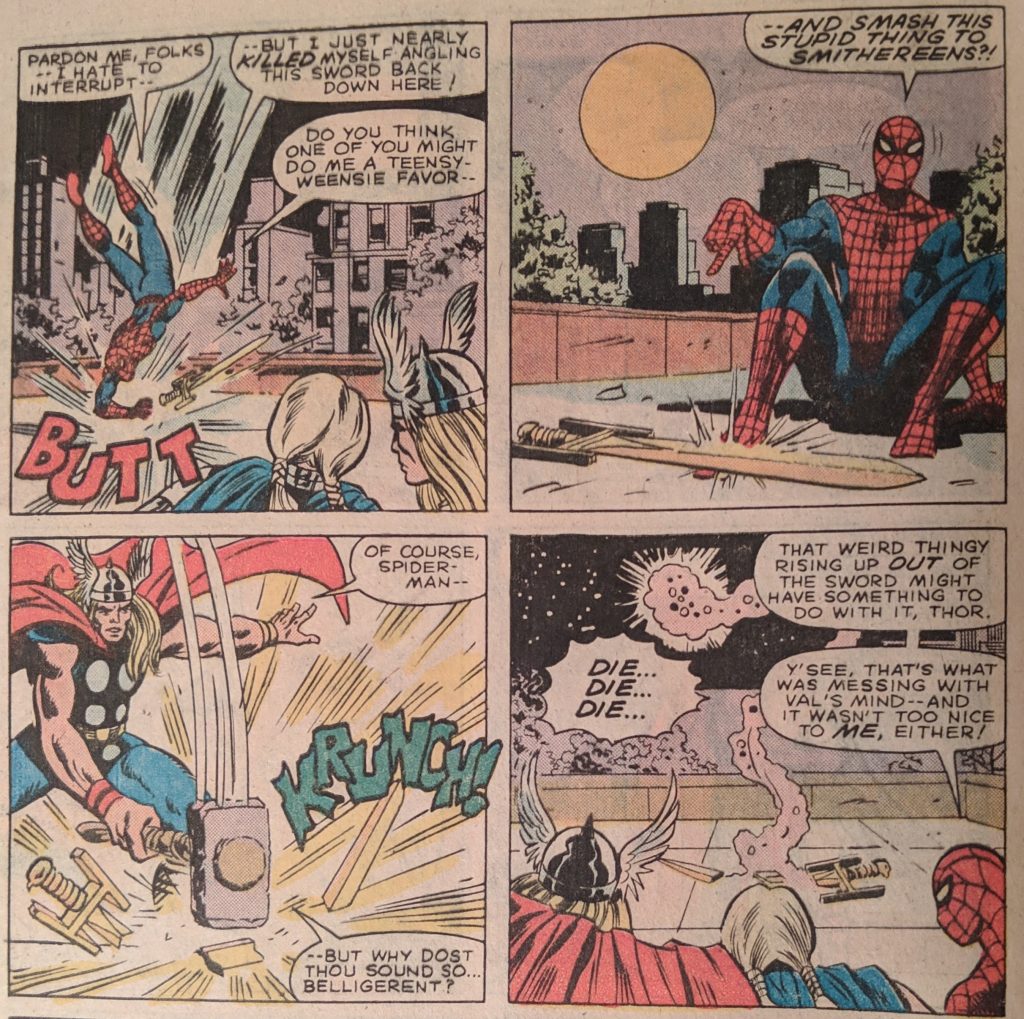 Yes, that says "BUTT." The sound of Spider-Man crashing into a roof… is "BUTT." Thor uses Mjolnir to open a wormhole in space and chuck the malignant space ghost into it, ending the conflict. Brunnhilde is crushed over the loss of her sword, but Thor says it can be restored in Asgard. So she whistles up her horse and they fly off.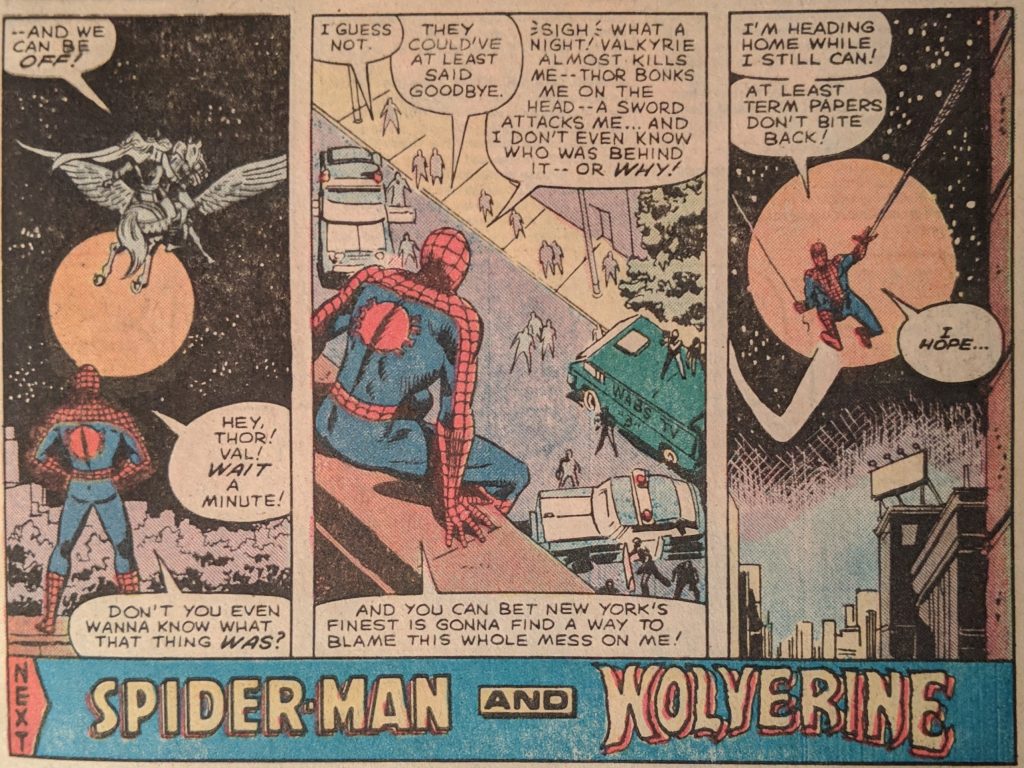 Well, then. That was a wacky one. JM DeMatteis only really has 2 speeds when it comes to Spider-Man: Absurdly grim and just plain absurd. The grimness will be more a fixture of his late 80s and 90s work, but there's plenty of wacky business going on this period.