Hey, kids, it's Marvel Fanfare! A place where creators could do short stories outside the main line of books. Often a showcase for great talents too busy, too slow or just not interested enough to do a monthly book, all on fancy glossy paper stock, a real rarity for its era. And how better to kick things off than a Spidey tale in the X-Men world? This one has a front cover by the legend Michael Golden, a back cover by Frank Miller and the interior covers are a 2-page shot of Spidey & The Silver Surfer by John Byrne & Terry Austin. Tons of huge names just on the covers. Spidey appeared in seven issues of Fanfare, and as of this writing, I have 4 of those. The main feature is written by Chris Claremont with art by Golden (He even colors it), and it's called "Fast Descent Into HELL!" Yeesh, ok.

We begin with a Tanya Anderssen being flown to the remote "mountain top chalet" of Warren Worthington, aka The Angel, the millionaire mutant who used to be an X-Man. He's there with his lady, Candy Southern. She's in, but Warren's out flying around with the local eagles. When he comes down, he's told Tanya wants him to help her find Dr. Carl Lykos, also known as the X-Men villain Sauron, a were-dinosaur who feeds on peoples' life energy like a vampire. Yeah, I totally just typed that! She says they were childhood friends and are former lovers. She blames herself for his condition, since he caught the dinosaur man while defending her from pteranodons in Tierra del Fuego, a mysterious place in South America where dinosaurs still live (Not to be confused with The Savage Land). This paragraph is really something, isn't it? So now she wants to find him and help him. I guess maybe he's not appeared in a comic book since way back in X-Men 61 in the 60s? Not an expert.

Fair enough, but what's all this got to do with Spider-Man? Well, as it happens, J. Jonah Jameson has found out about Warren & Tanya's impending trip to The Savage Land. He wants the story, and he wants photos by a photographer who's been to The Savage Land before. You know, of course, that he refers to their absurd adventure together in ASM 103 & 104. Peter is not into it.

Well, ok. Seems like "money" isn't much of a demand, but ok. So Peter is on this helicopter with Warren & Tanya, and then it does what any flying vehicle does when entering The Savage Land It explodes, this time crashing into a Pteradon.

Peter, Warren & Tayna regroup on the ground, conveniently separated from the pilots, and soon happen upon the ruin of a futuristic citadel from a more recent X-Men adventure, where they're attacked by the locals. Angel takes to the air, but they got dinoriders up there, and he suddenly has some kind of fainting spell and hits the ground. Peter defends Tanya, but they get backed up to a cliff over a river he recognizes from his previous time here. Asking her if she can swim, he pushes her over the cliff so he can do his thing without distractions. He also puts on his suit for some reason.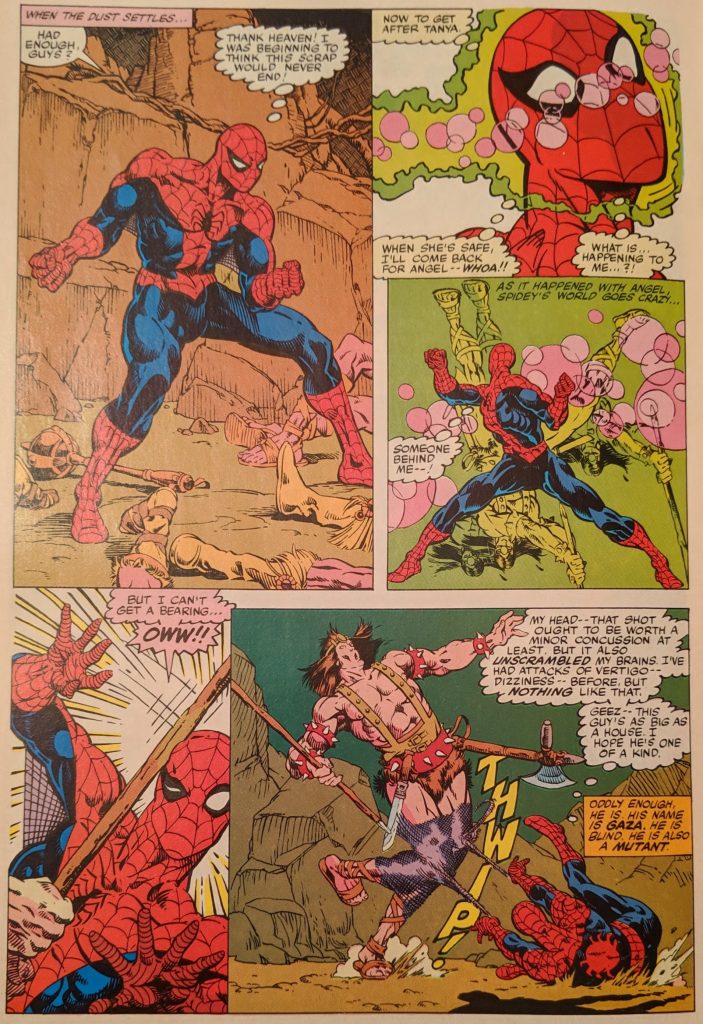 He gets knocked out by a big 4-armed dude named Barabus, and that leaves Tanya running through the prehistoric jungle all by herself. She runs into a T-Rex and things aren't looking good for her as we check back in with Spidey…

Our guy tries to break loose, so Veritgo hits him with the whammy again, and then they turn the devolving ray on him! And that's To Be Continued! Heck of a cliffhanger. Fanfare issues would contain an editorial comic from editor/writer/artist Al Milgrom (Who did all those jobs for Spider-Man comics over the years) and one from Editor-in-Chief Jim Shooter. He's Al's for this momentous first issue:

The 2nd feature is a Daredevil Christmas story by noted DD writer Roger McKenzie and legendary X-Men artist Paul Smith, but that's not really our focus here, so come back next time to see what happens to Spidey in The Savage Land.