I wonder who won this bike? It was on the covers of all the books for months. Get used to seeing it for awhile. So, continuing from last issue, Cap & Spidey are still falling out of a flying mountain while Nick Fury is strapped to a nuke headed for Washington, DC. Spider-Man's never died from falling out of the sky before, though, and he's not about to start now: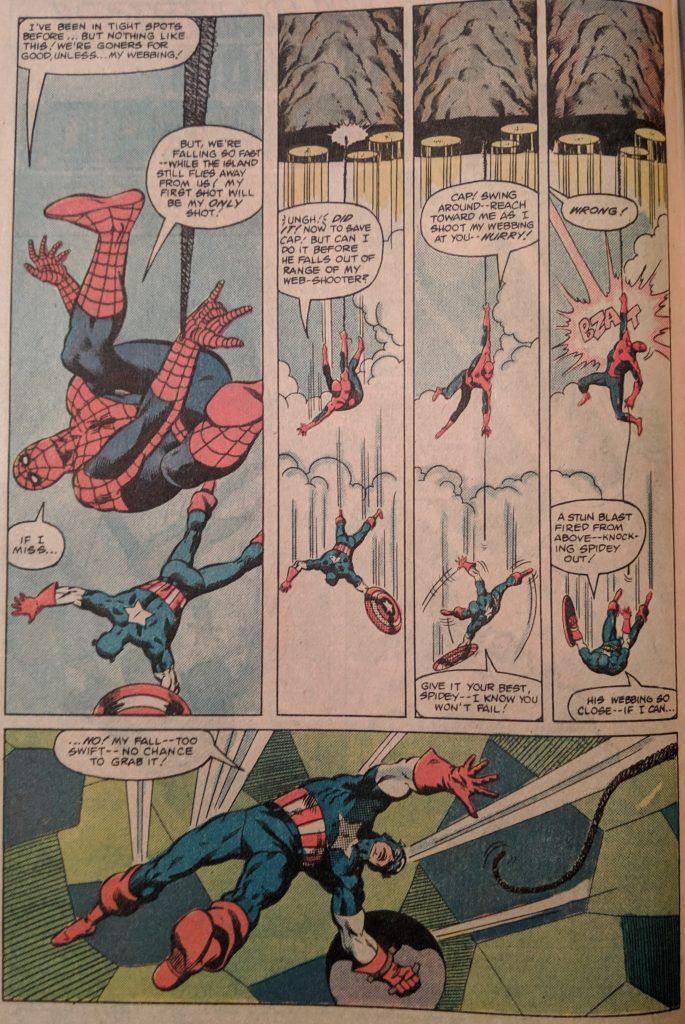 Not content to just let Cap fall to his death, SULTAN sends his robots down after him. Cap has a pretty spectacular aerial battle with them while pontificating about how much cooler it is to be a person than a robot…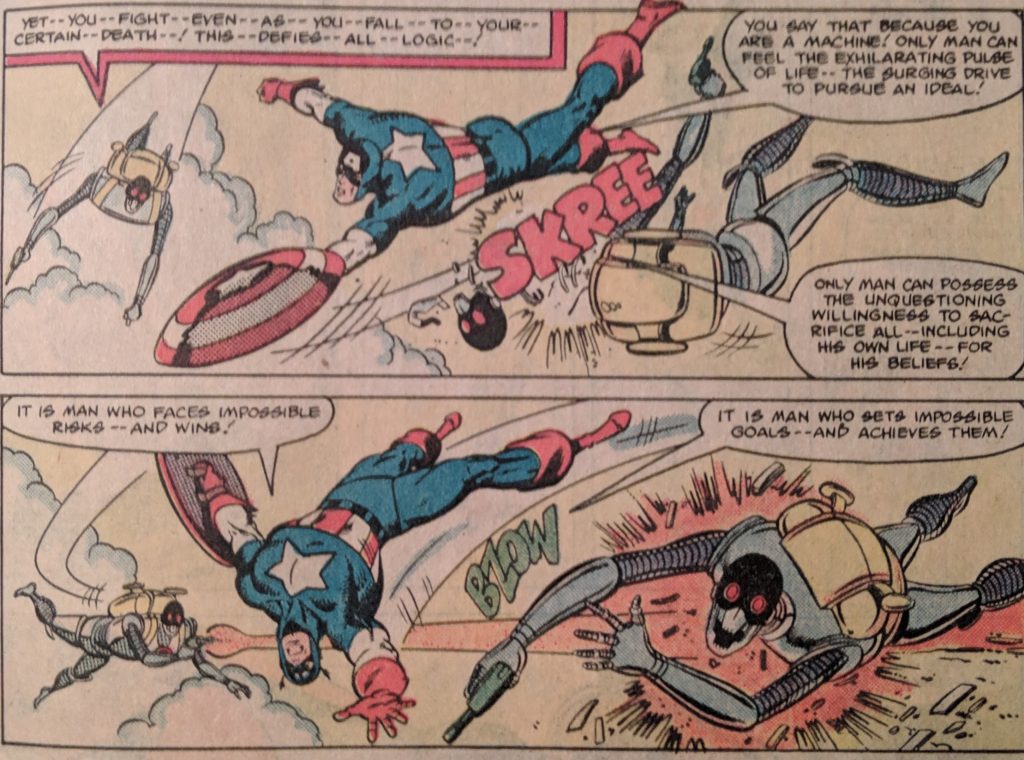 Then he wrestles the jetpack off one of the robots and flies back up, still constantly referencing WWII for some reason. How long was David Anthony Kraft on this book? This is miserable. Hey, we should check in with Nick Fury, flying to his death on a nuclear missile.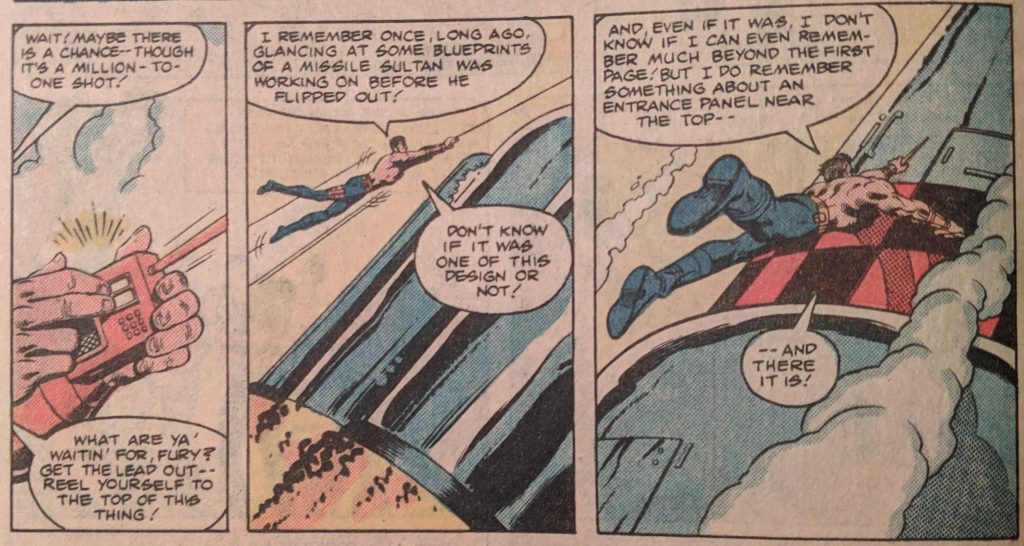 Nick manages to get inside the giant missile, and then HE starts making WWII references, too, until he finds out the truth: The missile is a decoy. The real bomb is the entire flying island itself. Still dangling from which, the unconscious Spider-Man finally lets go of his web, but is swept up by Cap. He flies them back into the flying mountain, and it's once again time for battle. And if you think the barely relevant WWII references are over, think again!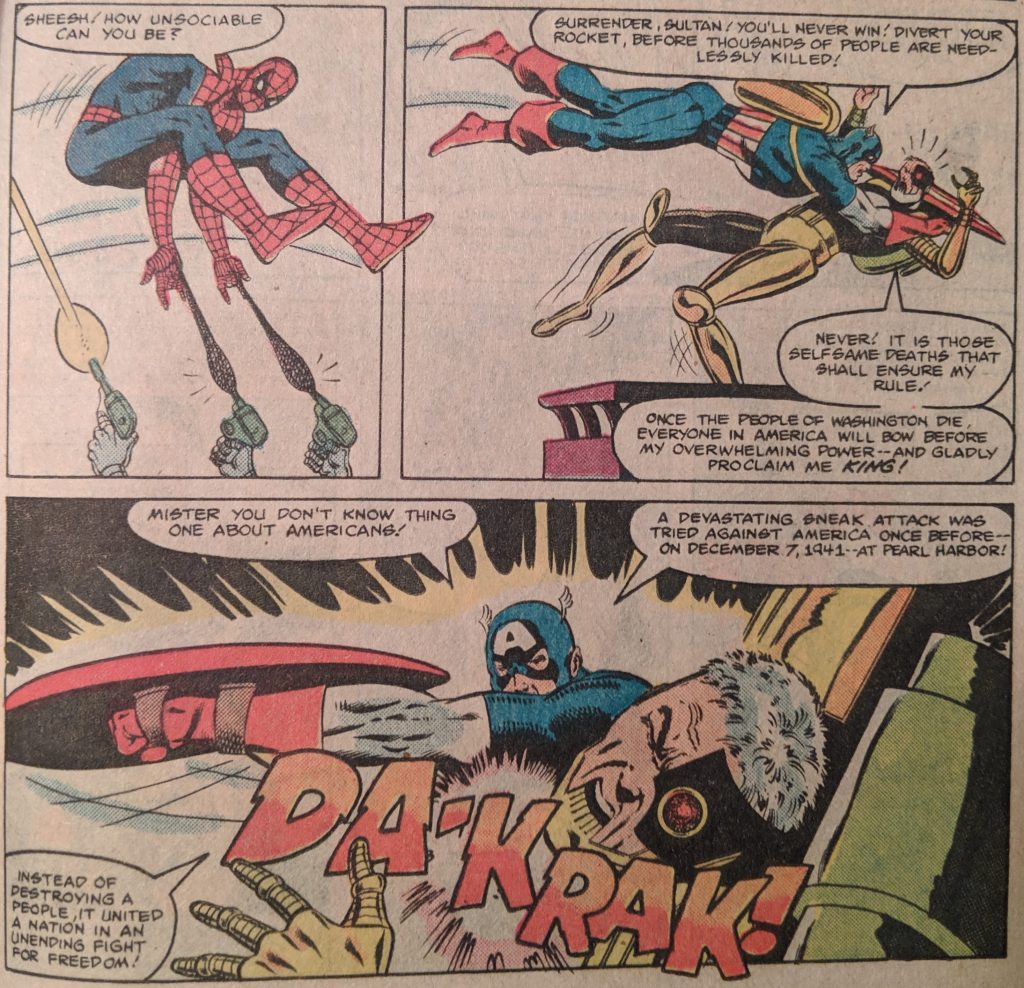 Cap's like a kid who just learned a new word and can't stop saying it. Everyone is familiar with WWII, dude, you don't have to keep giving all these lectures. He shatters the power pack on SULTAN's back, taking him out of the fight, but a tiny device flies out of his mechanical body and out of the mountain. To Cap's surprise, the SULTAN appears to be dead, and as a result, the robots have stopped attacking, and now it seems like the mountain is about to explode. Cap flies them out with his jetpack, but it turns out the mountain was just deploying some new thrusters to go faster. Meanwhile, as Cap has previously mentioned while stealing it, the jetpack can't hold 2 people aloft, so the heroes crash land in the forest below. They're trying to decide what to do next when it becomes obvious.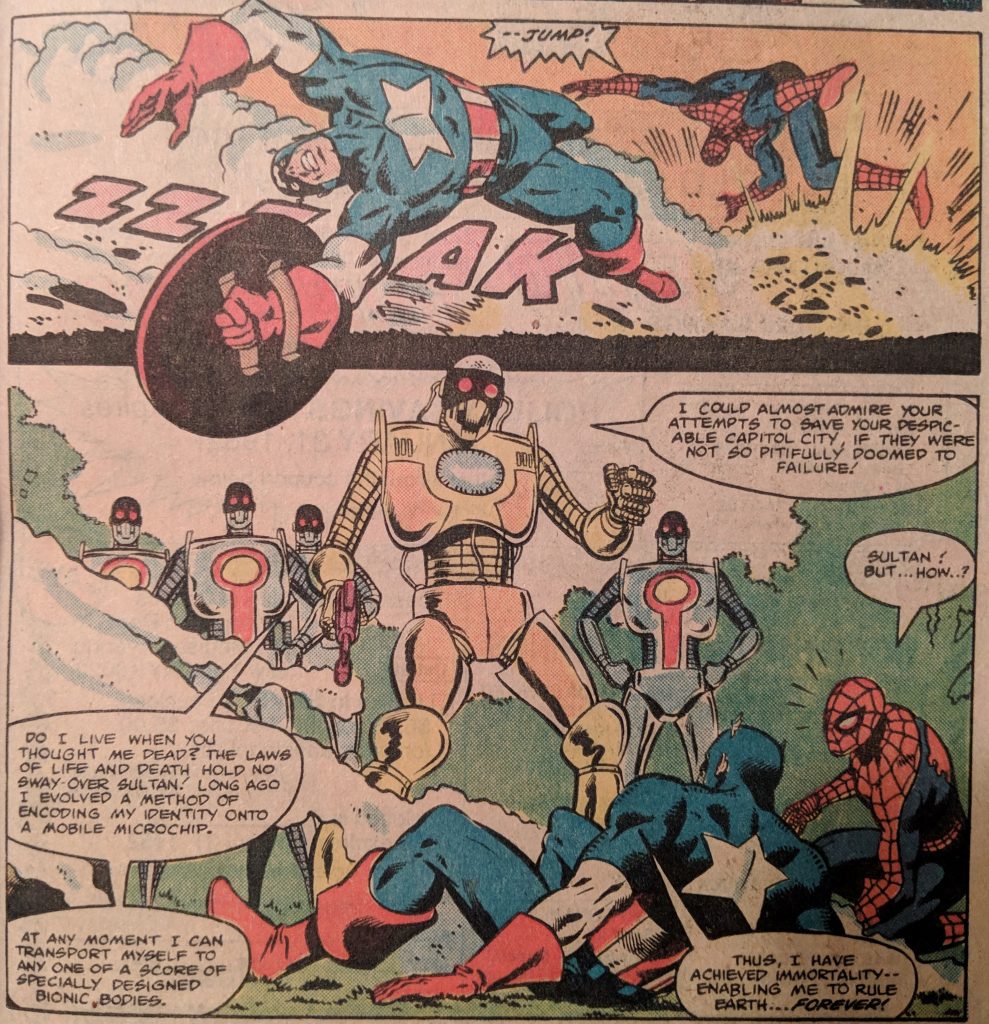 Cap & Spidey get to doing their thing, but then it looks like DC gets hit by the nuke in the distance. Cap is enraged, but SULTAN overpowers him. It's his bad luck that he chose sonic blasts as his weapon of choice, though, as Cap gets his vibranium shield in front of him and causes his weapons to feedback into him. Once again, the tiny device flies out of him to seek another robot body…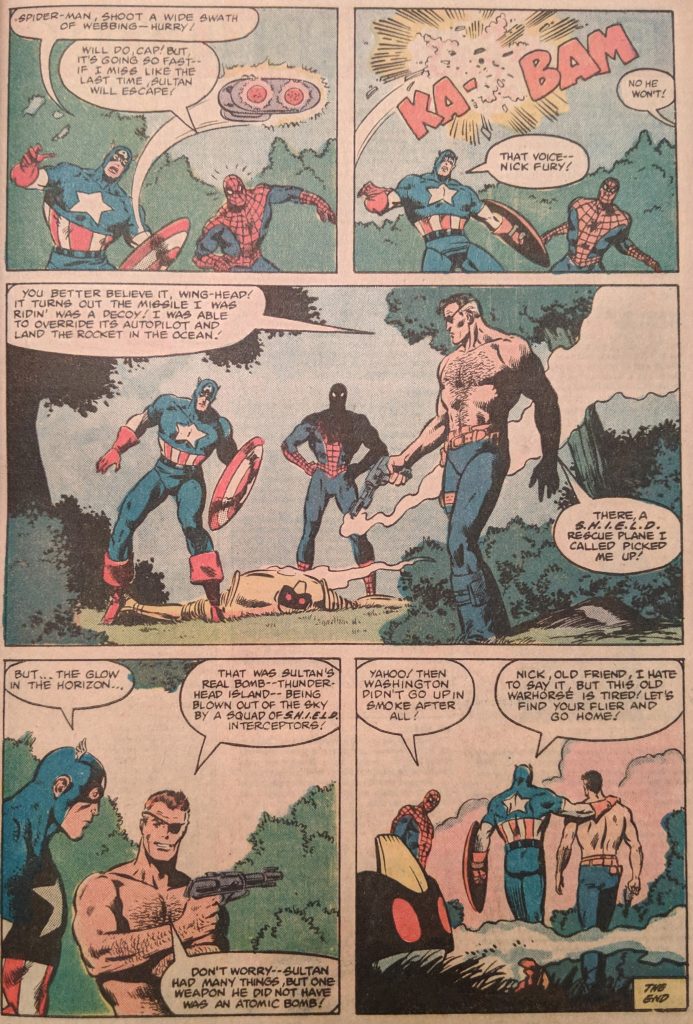 And so the day is saved… by Nick Fury & SHIELD. Cap & Spidey fought a good fight, but they didn't really do anything to stop the missiles or even SULTAN, in the end. Pretty odd story, all told.

So it turns out David Anthony Kraft was just filling in during the run of JM DeMatteis on these 2 issues. That's good news. I feel like the series would've been cancelled if this version of Captain America went on much longer. How frustrating, too, to have such an unbearable script over prime Mike Zeck drawing two of Marvel's greatest in action. Oh, well. Can't win 'em all.